I'm undecided as to whether this is the coolest idea ever, or just plain strange. Now that I think about it, those two things don't have to be mutually exclusive, so maybe both?
EVA Air's Hello Kitty Father's Day flight
This week EVA Air has started selling tickets for a special Father's Day flight, which will operate on August 8, 2020. There's a lot that makes this flight unique.
For one, the special flight will operate from Taipei Taoyuan Airport to Taipei Taoyuan Airport. That's right, it will fly, but it will end up exactly where it started, given the restrictions on international travel at the moment.
During the roughly 2hr45min flight, the plane will fly towards Japan, cruising at just 20,000 to 25,000 feet. The plane will fly over Taiwan's eastern coastline, passing Guishan Island, the east coast of Hua, then heading south to Eluanbi and Xiaoliuqiu, before returning north.
The flight will operate with the flight number BR5288, which apparently sounds similar to "BR I love Dad" in Chinese… hah. It will depart at 10:30 AM, and will return by 1:15 PM.
Tickets on this flight cost 5,288TWD (~180USD) for economy, and 6,288TWD (~215USD) for business class. That sure is a reasonable premium for business class.
Another thing that will make this flight special is that it will be operated by one of EVA Air's special Hello Kitty Airbus A330-300s. Onboard, meal service will include a selection of seafood chirashi-sushi rice designed by Michelin three-star chef Motoke Nakamura, as well as beef sambal noodles.
Furthermore, passengers will receive amenity kits and EVA Air and Sanrio gifts, and will have the opportunity to purchase Hello Kitty duty-free items at a discount.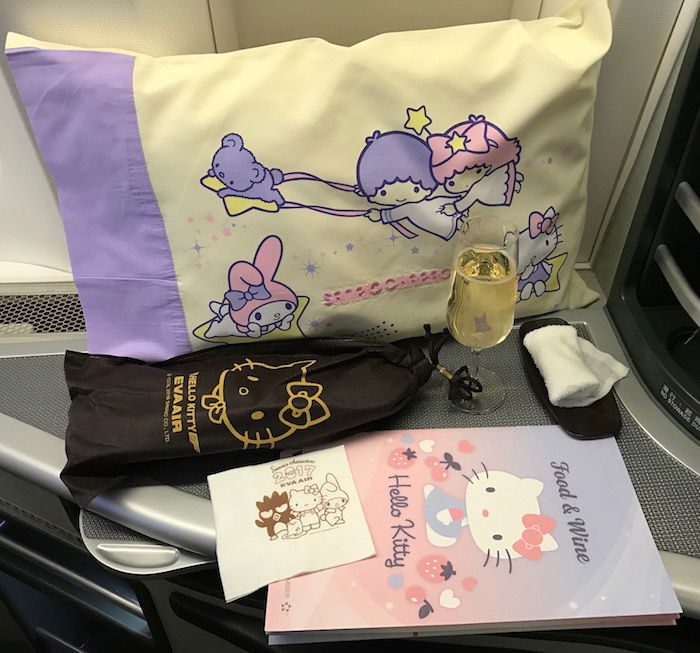 The typical EVA Air Hello Kitty service items
There have been "fake" flights in Taiwan prior to this
This isn't even the first unusual aviation experience we've seen offered in Taiwan during the pandemic.
Earlier this month, Taipei Songshan Airport offered passengers a "simulated" flying experience, whereby they could check-in, clear security, and board an aircraft. However, the plane didn't actually go anywhere, but rather just sat on the tarmac.
Thousands of people applied to take part in this, so this was a very sought after experience.
Bottom line
For Father's Day, EVA Air will be operating a special sightseeing flight of sorts on a Hello Kitty Airbus A330. With international travel being a challenge right now, this is a cool way to be able to fly without actually going anywhere.
I'm still undecided as to whether this is totally awesome or kind of strange…
What do you make of this EVA Air Hello Kitty flight?
(Tip of the hat to Robert L)