The "big three" global alliances can be really helpful for frequent flyers, in terms of earning and redeeming miles, and receiving consistent benefits and recognition across airlines.
However, for the most part these alliances aren't growing much anymore, as airlines instead focus on other partnerships, including joint ventures.
In December 2018 it was revealed that Royal Air Maroc will be joining the oneworld alliance, which was an exciting announcement. This will be the first airline to join oneworld as a full member in six years, and will be the first African airline to join oneworld (for what it's worth, Alaska Airlines is also joining oneworld in 2021).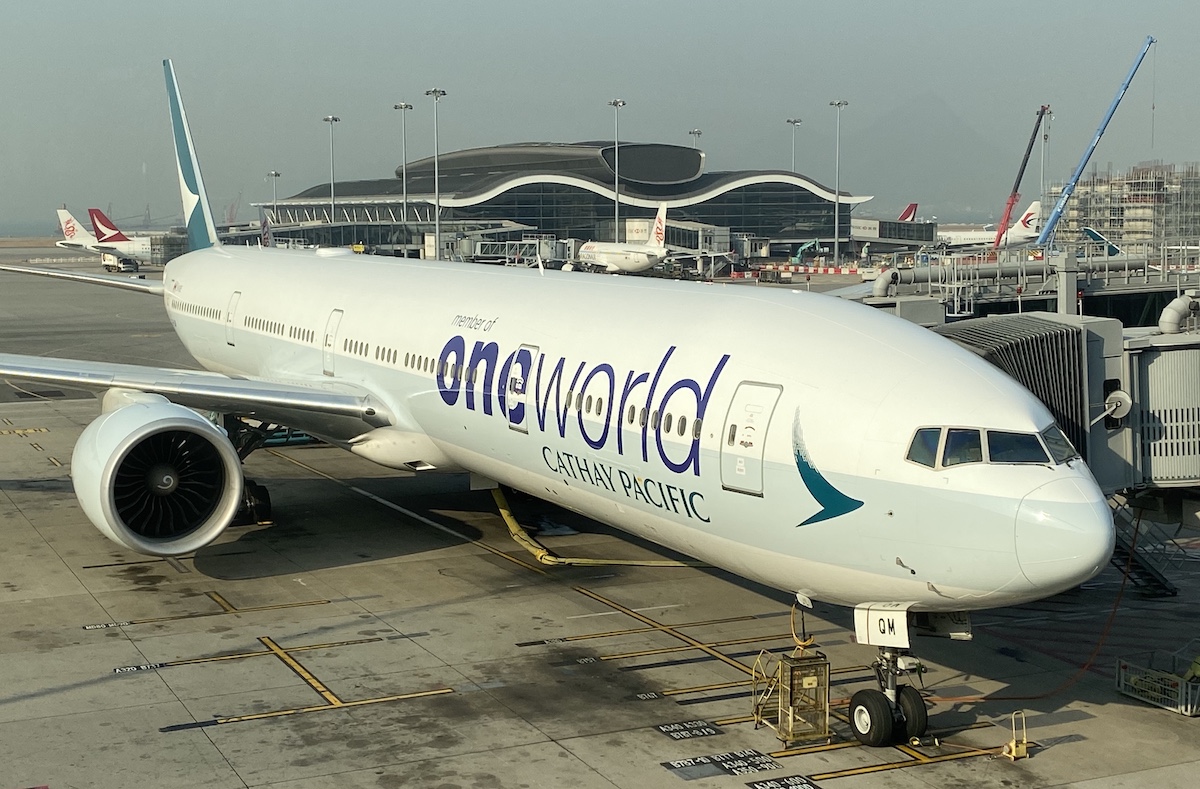 The oneworld alliance is finally getting a new member airline
At the time we were just told that the airline would join the alliance around the middle of 2020, though no exact date was given. Well, we now have a better sense of when that's happening.
Royal Air Maroc Joining Oneworld On March 31, 2020
Air Journal reports that Royal Air Maroc will be joining oneworld as of March 31, 2020. That's certainly earlier than I was expecting, as I anticipated they would join sometime over summer. That's great news.
It's normal for it to take a while for airlines to join alliances. They have to align their systems and policies, and given how outdated a lot of airline tech is, that can be quite an undertaking.
Royal Air Maroc will be the next airline to join oneworld
Royal Air Maroc Is A Great Fit For Oneworld
Is this the most exciting addition to an alliance ever? No, most definitely not. Royal Air Maroc is a fairly small airline, with around 60 planes. However, they're a logical fit for the alliance:
Royal Air Maroc already partners with Iberia and Qatar
Royal Air Maroc will be oneworld's first African airline
Morocco is a hot travel destination right now
Royal Air Maroc often has great fares, so this will be an excellent option for earning oneworld miles
Royal Air Maroc releases a good amount of award availability (including in business class, where they usually have at least two seats), though obviously that may change as they join oneworld
Most importantly they're a non-controversial addition, since many major airlines joining oneworld may cause one of the founding members to exercise their veto rights
Where Does Royal Air Maroc Fly?
Royal Air Maroc has five destinations in North America, all of which they serve out of Casablanca. They fly to:
Boston
Miami
Montreal
New York JFK
Washington Dulles
On top of that, Royal Air Maroc operates flights to Sao Paulo and Rio de Janeiro in South America, to select destinations in the Middle East, and to destinations across Europe and Africa. So I'm especially excited about all the new African destinations that oneworld loyalists will have access to.
Here's their routemap (though it hasn't been updated in a while, as it doesn't reflect Boston, which was launched in June 2019):
It's also worth noting that American will start summer seasonal service between Philadelphia and Casablanca in 2020, so that will provide some connectivity to the Royal Air Maroc network.
How Is Royal Air Maroc's Business Class?
RAM exclusively operates Boeing 787s on their routes to North America, though in the meantime they have both 787-8s and 787-9s, which feature different onboard products.
On Royal Air Maroc 787-8s they have fully flat business class seats in a 2-2-2 configuration. It's an odd configuration, but still good when you consider how short the flights are.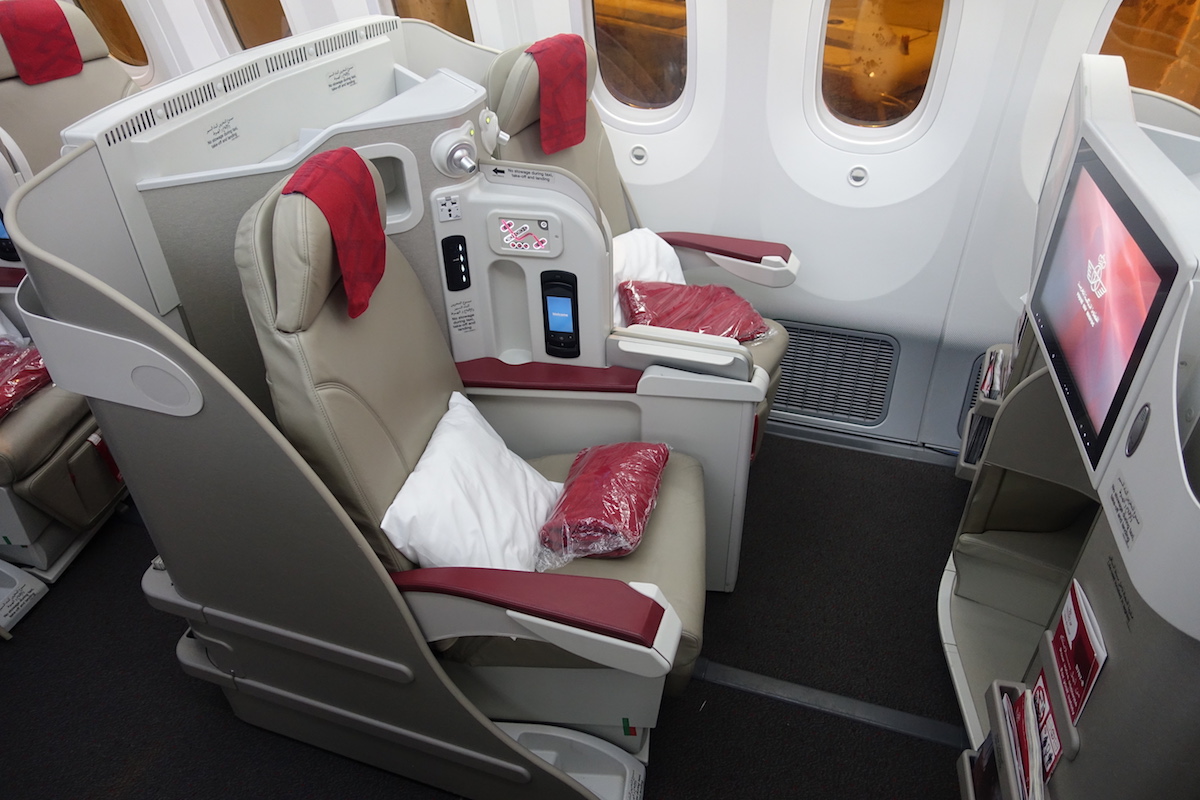 Royal Air Maroc 787-8 business class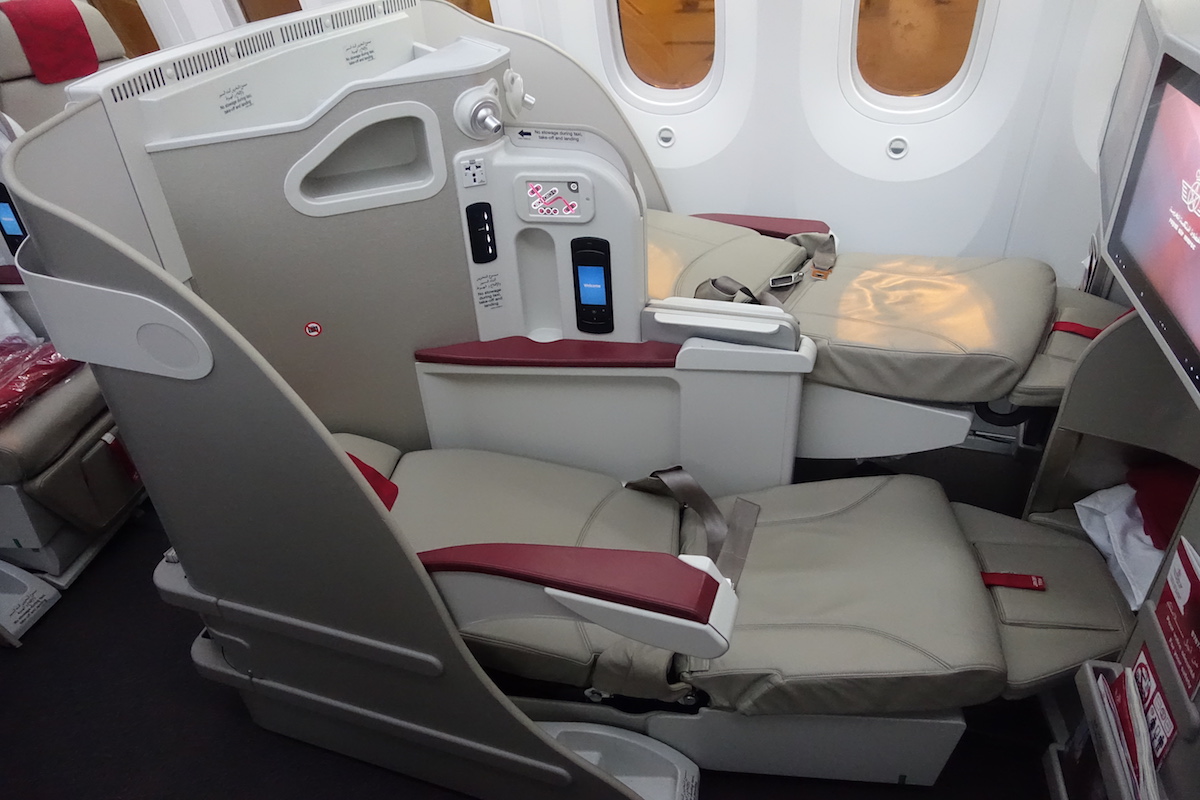 Royal Air Maroc 787-8 business class
Royal Air Maroc 787-9s feature superior reverse herringbone business class seats, in a 1-2-1 configuration. This is an excellent product.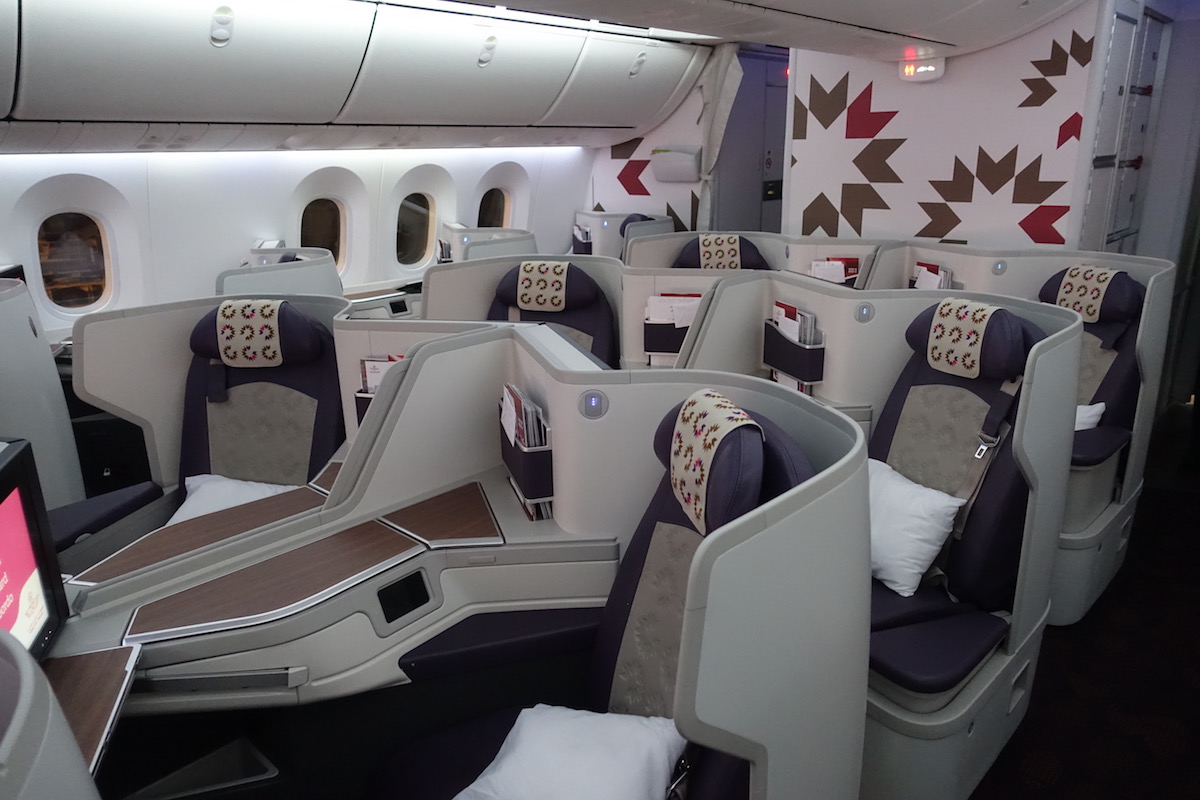 Royal Air Maroc 787-9 business class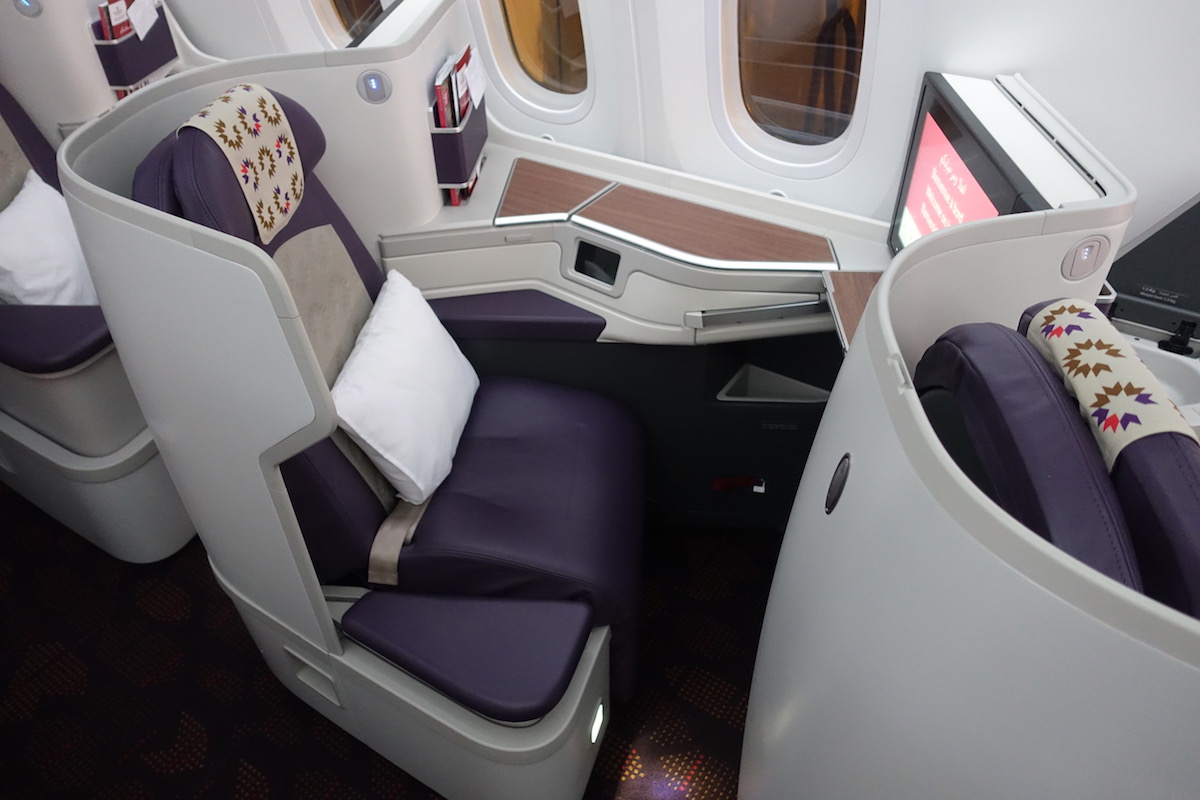 Royal Air Maroc 787-9 business class
All around I find Royal Air Maroc's service to be friendly, and their food is pretty good as well.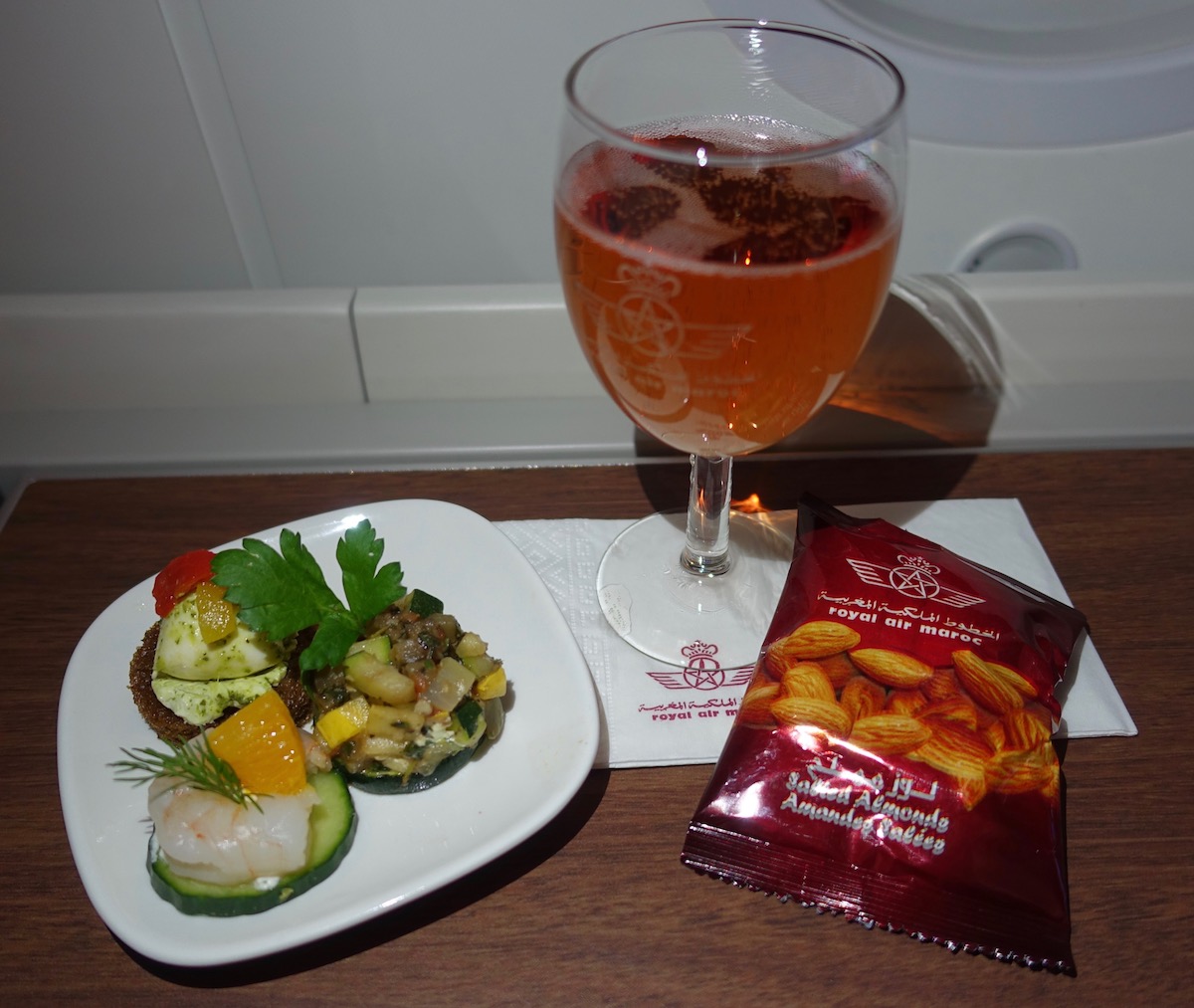 Royal Air Maroc business class catering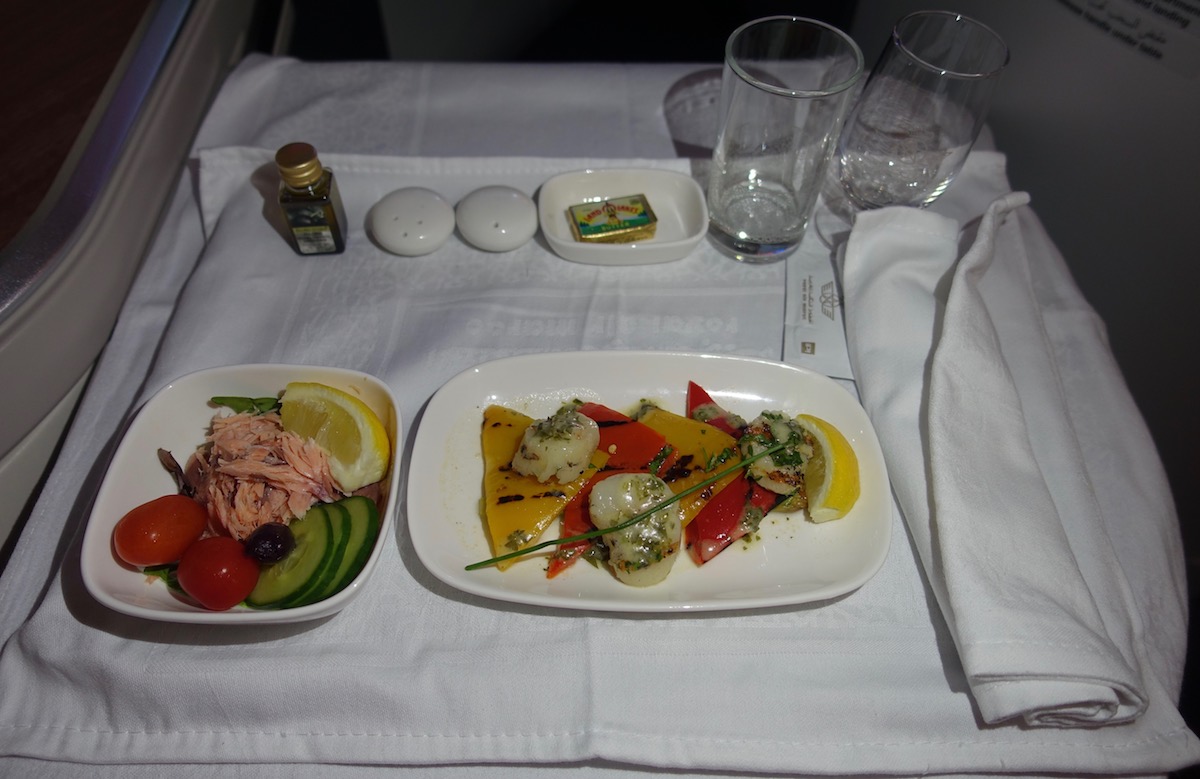 Royal Air Maroc business class catering
If you're connecting on Royal Air Maroc to Europe or another destination, there's another cool thing to be aware of. Royal Air Maroc's 737s feature proper business class seats, similar to what you'd find in domestic first class within the US.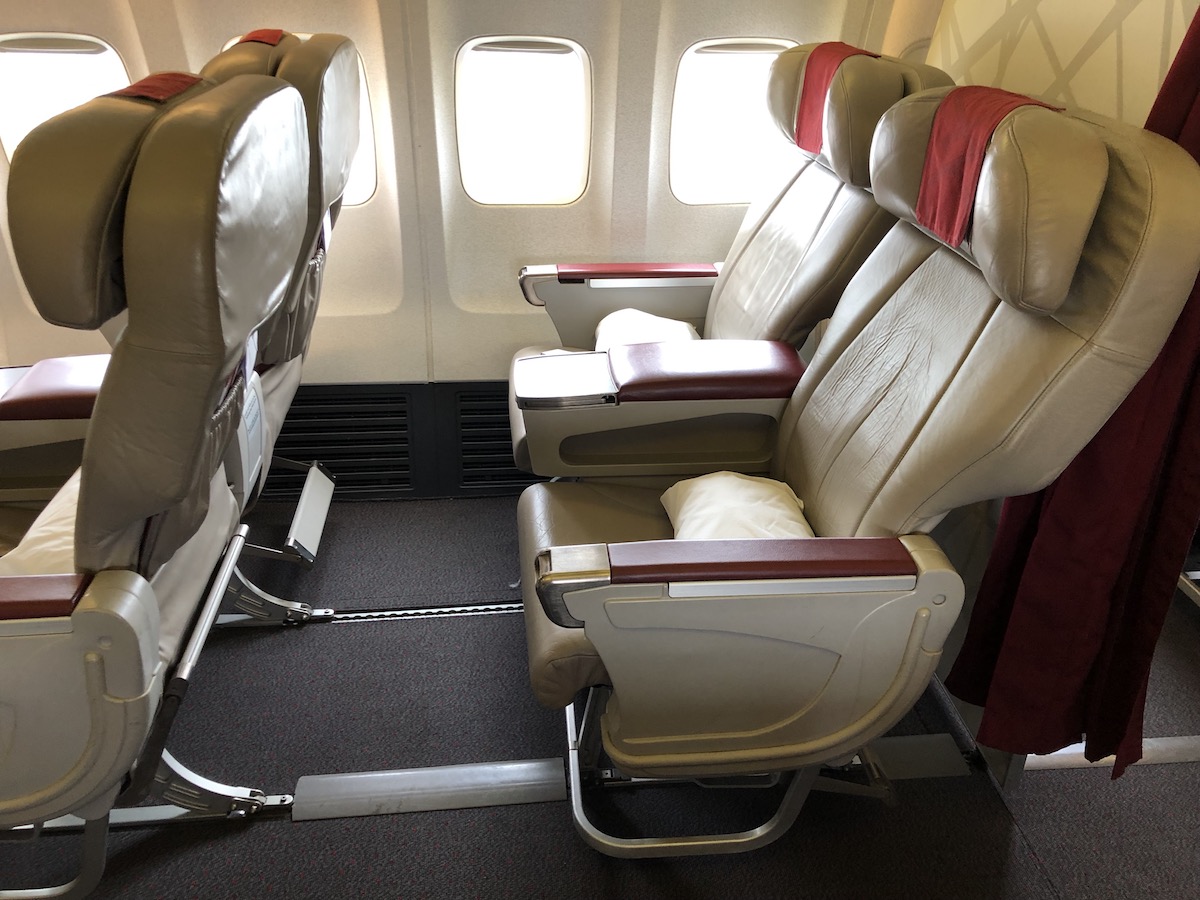 Royal Air Maroc 737 business class
This is much better than what you'd usually find on an intra-Europe flight, for example, where business class is just economy with a blocked middle seat. So in many cases Royal Air Maroc is a comfortable way to get to Europe as well.
Bottom Line
I'm excited to hear that Royal Air Maroc will be joining oneworld on March 31, 2020, which is earlier than I was initially expecting.
While I wouldn't consider this a game changer for the alliance at large (unless you specifically fly to secondary African markets often), this is nonetheless a positive development. Royal Air Maroc serves an area that's otherwise not currently well served by oneworld.
The airline has a solid onboard product and is good about releasing award space, so I could both see myself earning and redeeming miles for travel on them.
Are you excited about Royal Air Maroc joining oneworld in a few months?
(Tip of the hat to Point Me To The Plane)