Turks & Caicos On A Whim
We planned our trip to Turks & Caicos pretty last minute, just a couple of days before departure. I wanted to share my experience with the entry requirements, since they're kind of simple, but also kind of complicated. I didn't see a whole lot about this online before our visit, so hopefully my experience can help others.
Turks & Caicos entry requirements
At the time we planned our trip, there were four main entry requirements for Turks & Caicos (let me emphasize that travel restrictions are constantly changing, so check the Turks & Caicos' official page for current restrictions):
All visitors 16 years of age and older need to be fully vaccinated (though there's no requirement to be boosted)
A negative COVID-19 test result is required within three days of travel; either a PCR or rapid antigen test is sufficient, and children under two years old are exempt from this requirement
Special COVID-19 medical insurance that covers any expenses you may incur as a result of getting coronavirus
A completed travel authorization form, submitted at least 24 hours before your trip
The requirement to be fully vaccinated is pretty straightforward, and needing a test pre-travel was also straightforward, given that a rapid antigen does the trick (and those are easy to get with fast results). So let me talk a bit about the pre-travel Turks & Caicos travel authorization, the insurance requirement, and my experience on arrival.
Turks & Caicos travel insurance
Turks & Caicos requires travel insurance that covers coronavirus medical costs and full hospitalization, doctors visits, prescriptions, and air ambulance. The following are the recommended insurance providers:
Travelex
Seven Corners
TripMate
Aura
HTH World Wide
Allianz Global Assistance
Generali Insurance
Global Rescue
HDI Global
Travel Guard
Travel Insured International
Trawick
Arch RoamRight
Apex Travel Limited
After doing some Googling, I decided to go with Aura insurance, and the process of getting insurance was simple. The company charges $9.80 per person per day, but the minimum cost is $69 per person per trip.
On the plus side, getting insurance was easy — it took only a few minutes, and I was issued a policy immediately.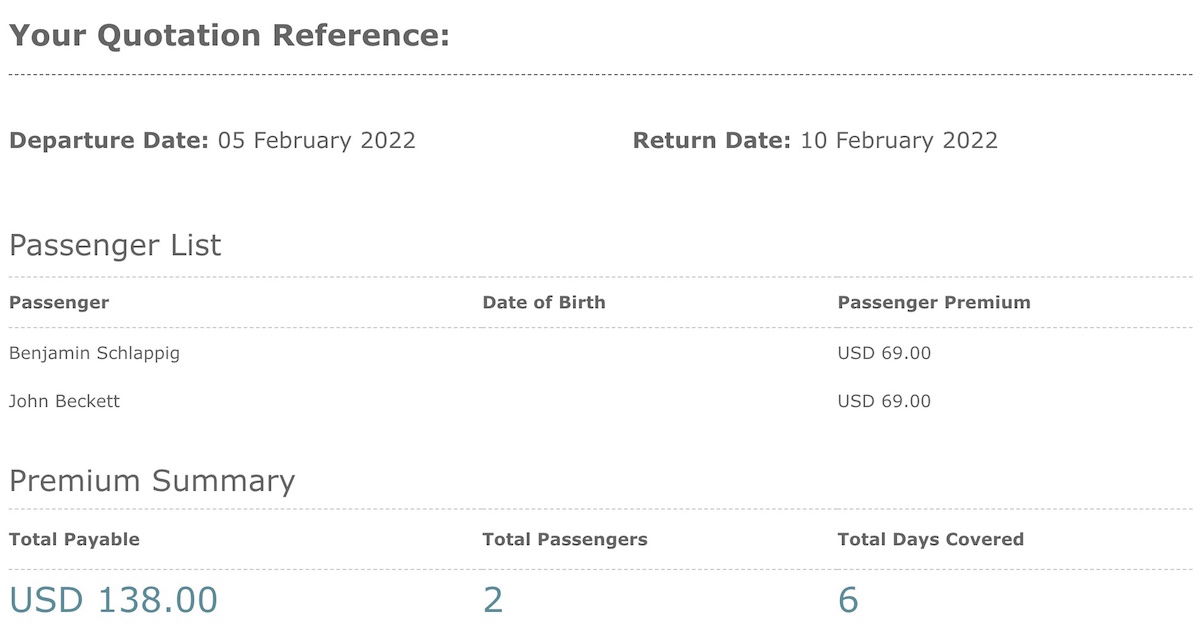 Unfortunately credit card insurance won't qualify for this requirement, so this does add to the cost of a trip to Turks & Caicos. Then again, other countries charge higher entry fees.
Turks & Caicos travel authorization
Turks & Caicos requires all visitors to complete a travel authorization prior to travel. It's recommended that you submit this at least 24 hours prior to travel, though it's noted that "shorter times can be accommodated."
The actual information requested with the travel authorization was roughly what you'd expect. I first had to register and then receive a one time password.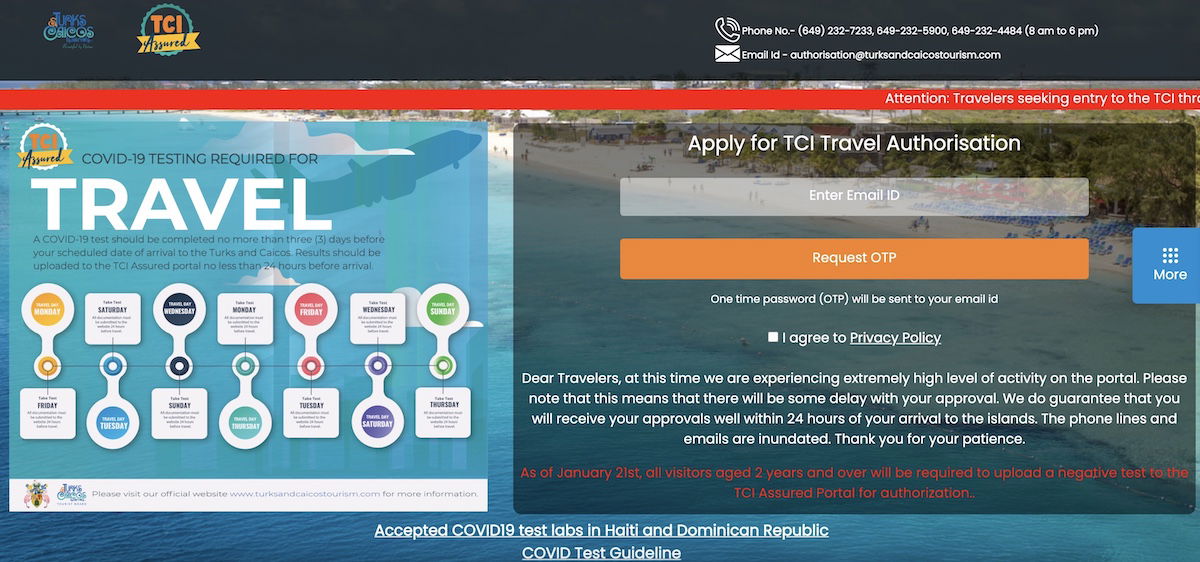 I then had to provide personal information, including my name, date of birth, address, occupation, and more.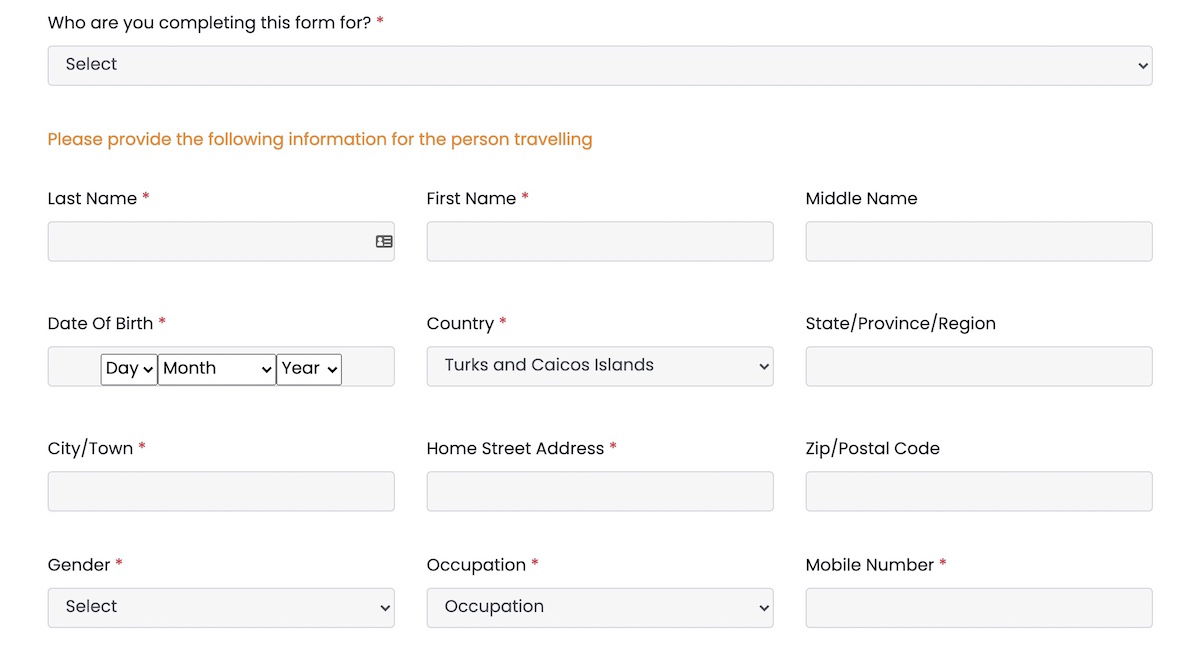 Oddly you're asked if you have any family members traveling with you, but then you need to fill out a separate form for them anyway, so I just had to provide the same information twice.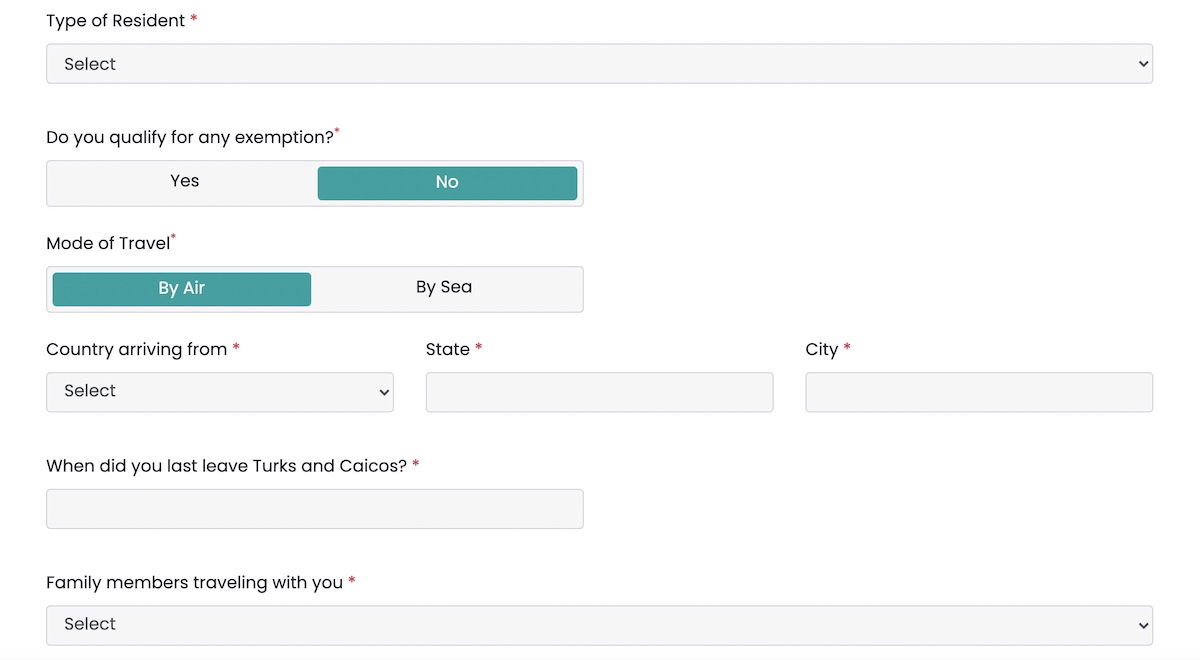 Then I had to fill out a health questionnaire, and was asked to upload pictures of my vaccine card, negative coronavirus test, and travel insurance.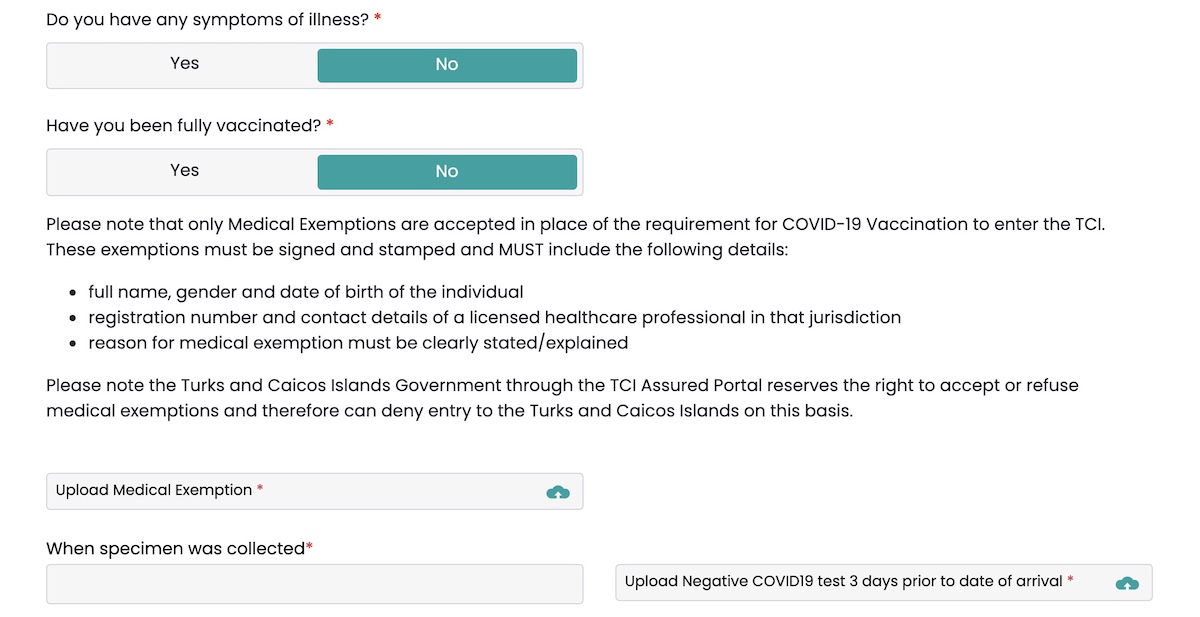 Lastly, I was asked about how long and where I was planning on staying in Turks & Caicos.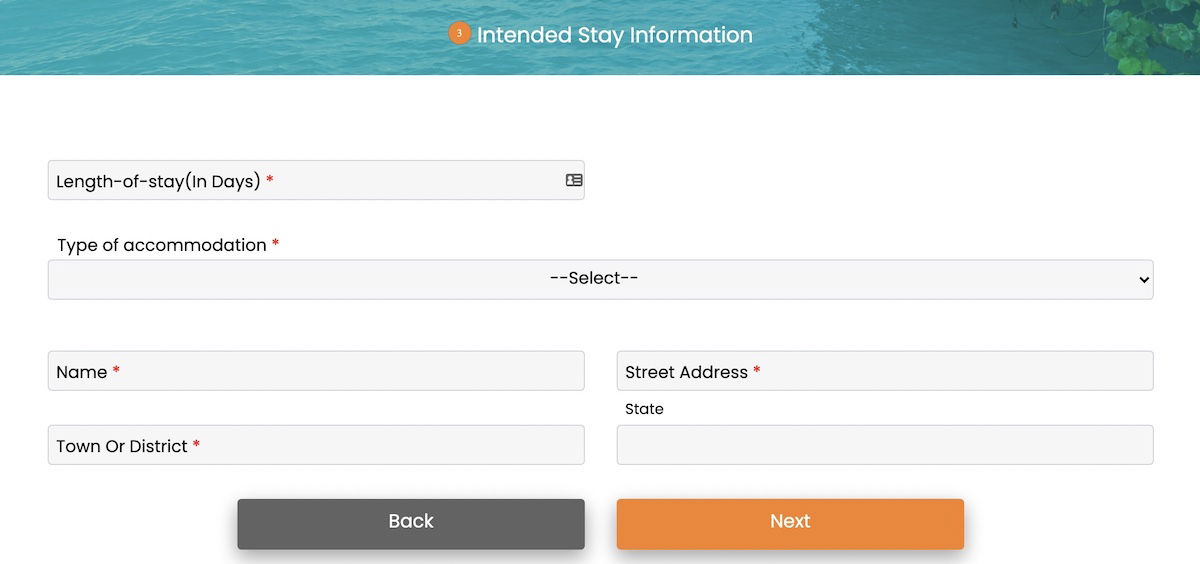 I submitted the forms around 26 hours prior to our flight from Fort Lauderdale to Providenciales.

Just about an hour after submitting these documents, I received an email confirming that everything had been approved. Despite this authorization, I still had to provide all of these documents while checking in for my flight.
Turks & Caicos arrivals experience
Fortunately when we arrive in Turks & Caicos there were no other planes that landed around the same time, so there was virtually no wait there.
Before getting to the actual immigration officer, we had to once again show our vaccine cards, proof of negative tests, and our travel authorizations. This was all easy enough.
One quick thing to note — we really lucked out that there was no wait at immigration, though I've also heard of many people having to wait an hour or more after immigration, depending on how many other flights arrive around the same time.
That's why I think it's at least worth being aware that Turks & Caicos has a VIP arrivals service. For $75 per person you can get a fast track through immigration. That would have been a complete waste of money in our case, but if you arrive at a popular time and would otherwise have to wait an hour, I'm sure that's a cost many people would be willing to pay.
Another thing to note, while we're at it. When you land at Providenciales Airport there are no private taxis available for hire. The only options are shared vans that will potentially stop at multiple resorts. This isn't necessarily that inefficient (it probably added 15 minutes to our driving time), but if you want a private transfer you'll have to arrange it in advance. Our shuttle to the Ritz-Carlton cost $34 per couple.
Bottom line
Turks & Caicos is open to vaccinated visitors, though there are some hoops to jump through. You need to get tested within three days of travel (rapid antigen tests are okay), you need to buy travel insurance (which will cost around $10 per person per day), and you need to fill out a pre-travel authorization form (ideally 24 hours before departure).
None of this was a major inconvenience, and we also lucked out that we arrived at a time when the airport was empty, so there was no wait at immigration.
If you've traveled to Turks & Caicos, what was your experience with the entry requirements?