---
This was the first time that we had passed through London since the new Queen's Terminal opened and we were curious to see it. I don't remember that much of my last visit to London Heathrow other than the Star Alliance airlines were sharing a common, mostly nondescript lounge that seemed to have few if any windows.
With the opening of Terminal 2, there are now so many choices for Star Alliance flyers at London Heathrow that it's almost overwhelming. As business class passengers, we had our pick, but there are also a couple lounge options available to those with a credit card with lounge access in London. Ben has recently reviewed all of them — Lufthansa, Singapore, Air Canada, and United. That meant there was no need for me to take one for the team and we could just head to the best. Which is considered to be the United Club. That's not a misprint.
Not only was the United Club rated the best but it was also undeniably the most convenient as it turned out to be right next to our gate. We headed over, though got sidetracked for a long time at the kids play structure as you approach the pier. It's an impressive space filled with kids, and is even staffed by a Heathrow employee. Judging by the no photography signs posted in the vicinity, the Brits are camera shy, so you'll have to take my word for it.
Anyway, we made it to the United Club at around 10:45 AM. We were greeted at the reception and then informed that we needed to answer the obligatory questions about our bags.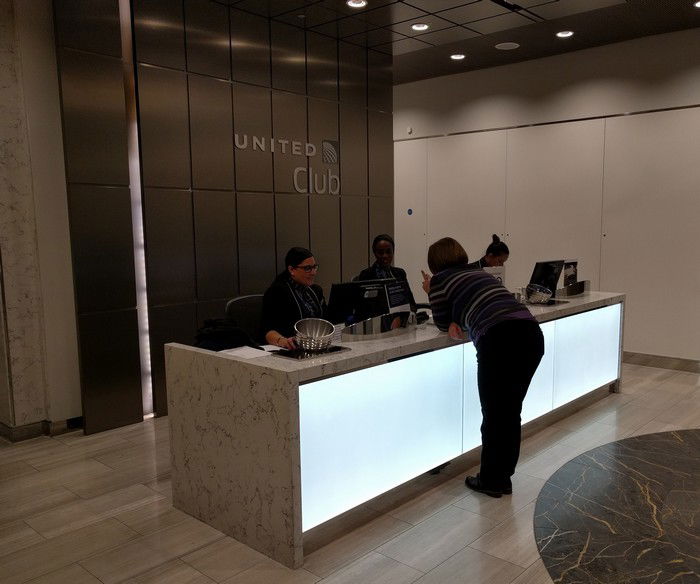 United Club London Heathrow reception
We headed into the club which was packed, as expected, since it was just before a huge bank of United flights were departing to the US. I actually waited to take most of these pictures until the place cleared out a bit. But trust me, it was full.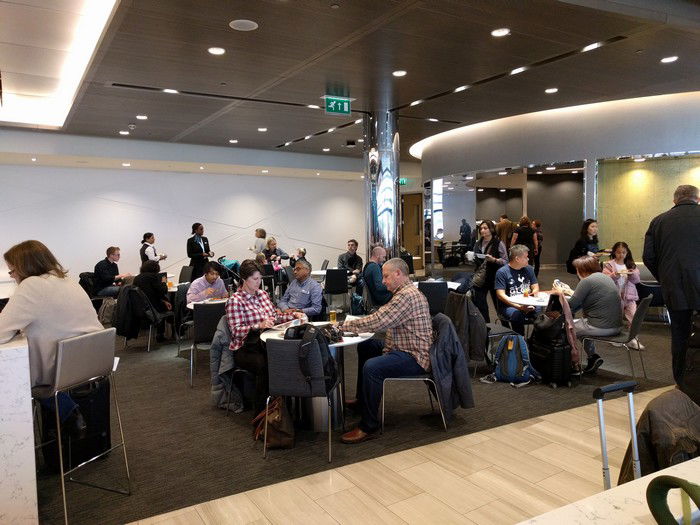 United Club London Heathrow
The club itself is mostly a rectangular open room with various seating areas.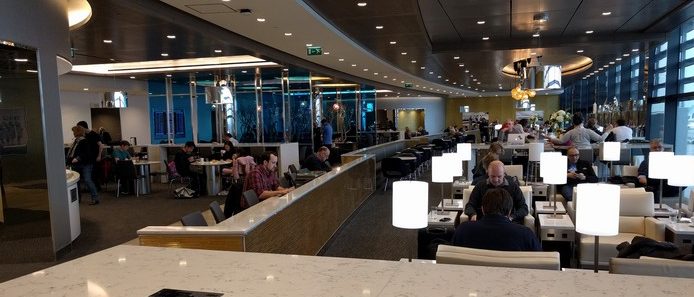 United Club London Heathrow lounge
And a long bar that is apparently the longest at the airport.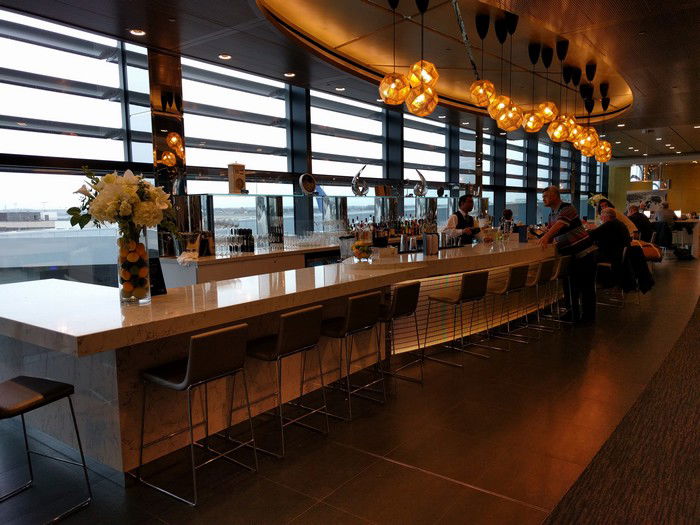 United Club London Heathrow bar
After wandering around, we managed to find seating for five at a table in the bar area. Again, I took this picture as we were leaving.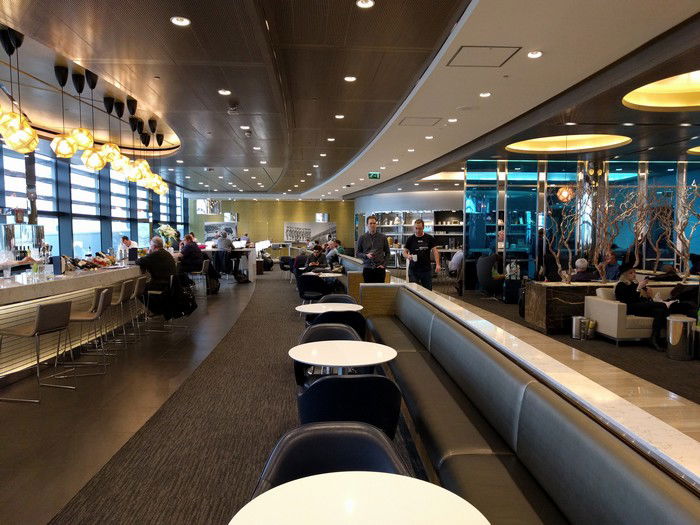 United Club London Heathrow
One of the staff members even brought us a high chair which I don't think I've ever seen in a United Club before.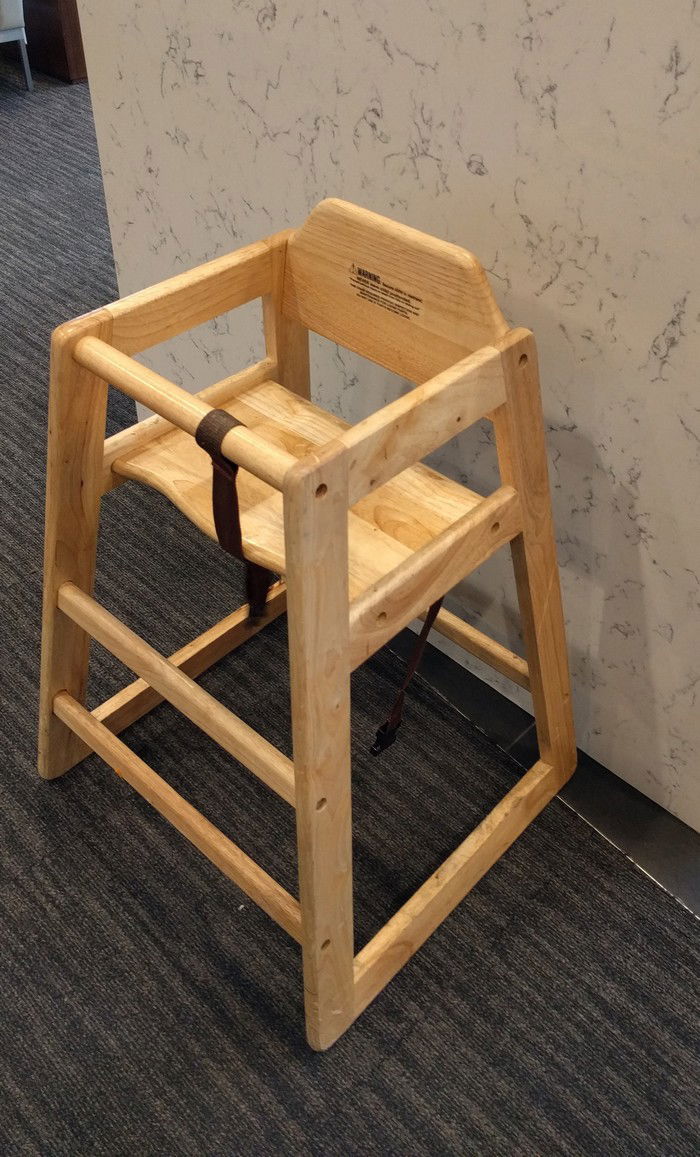 United Club London Heathrow
A tip for other families would be to check the "round room" at the back, as I later realized that it was less crowded, even when the rest of the place was full. I think some people don't realize that room is there and never make it to the far reaches of the club.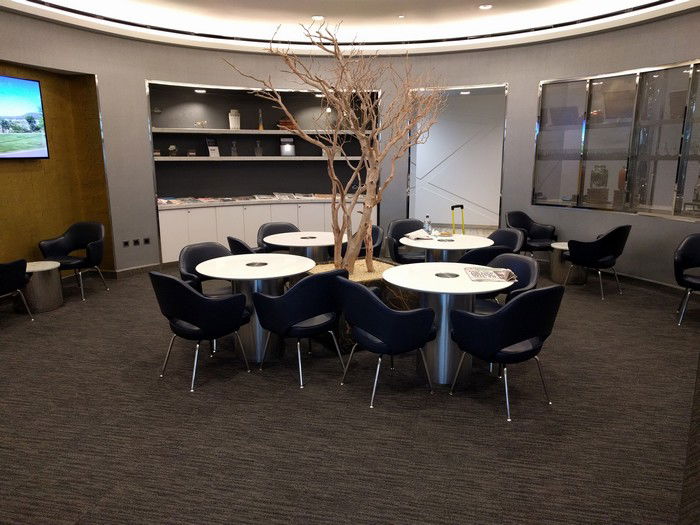 United Club London Heathrow
Breakfast was nearly over when we arrived, and lunch was just coming out. That meant we got to sample both.
It was the best food that I've ever seen at a United Club. Here were the lunch offerings.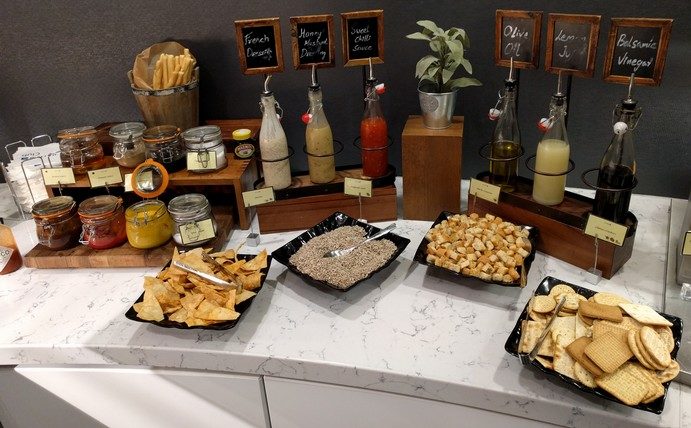 United Club London Heathrow lunch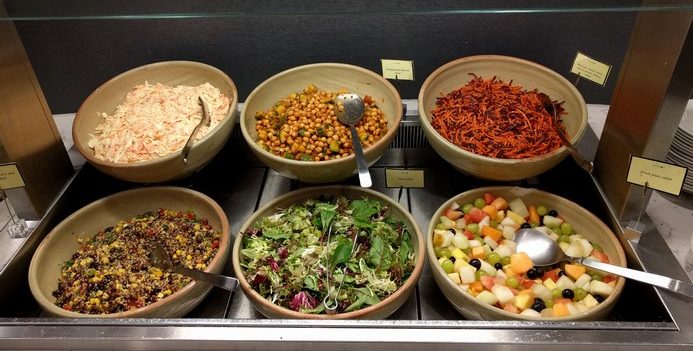 United Club London Heathrow lunch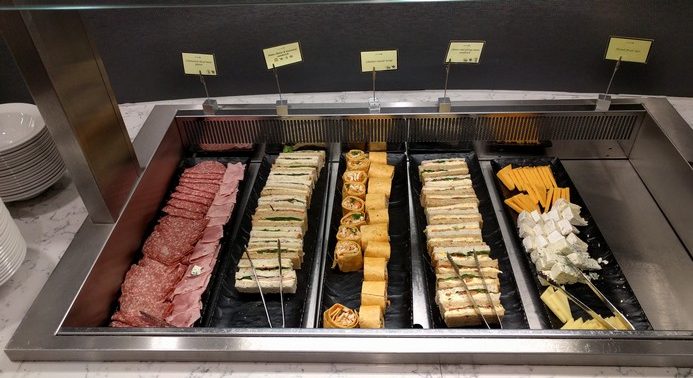 United Club London Heathrow lunch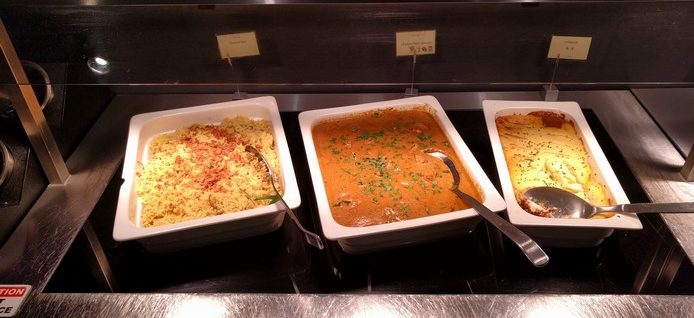 United Club London Heathrow lunch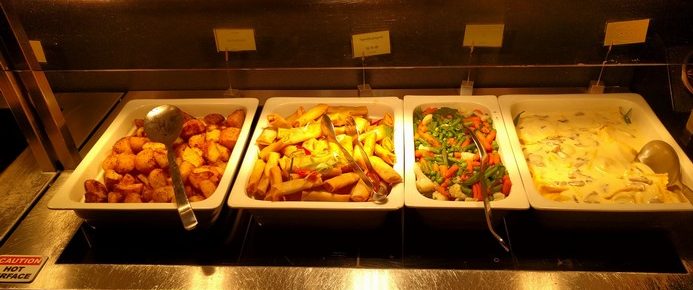 United Club London Heathrow lunch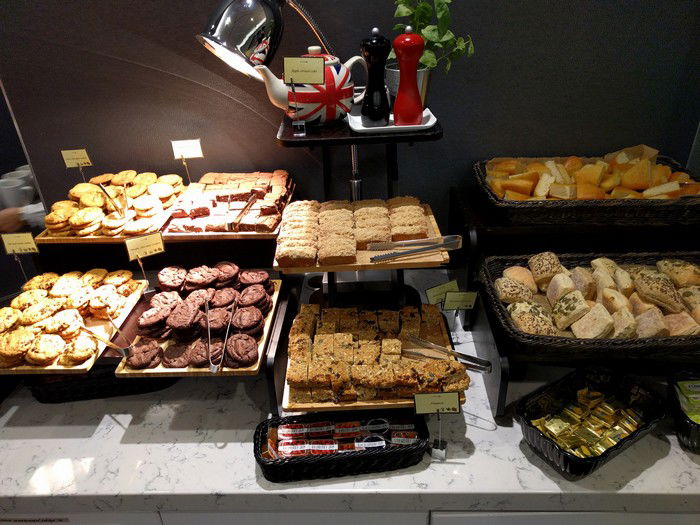 United Club London Heathrow lunch
The soft drinks were self-serve which I appreciate. My kids, of course, thought the small British cans were funny.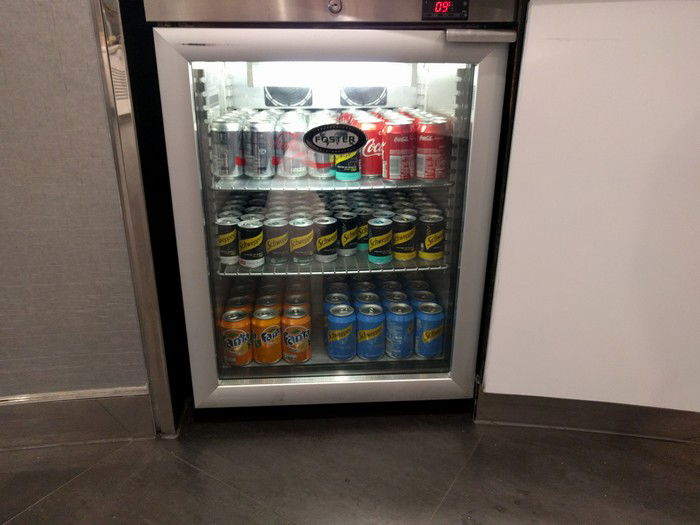 United Club London Heathrow
They also had some fancy juices.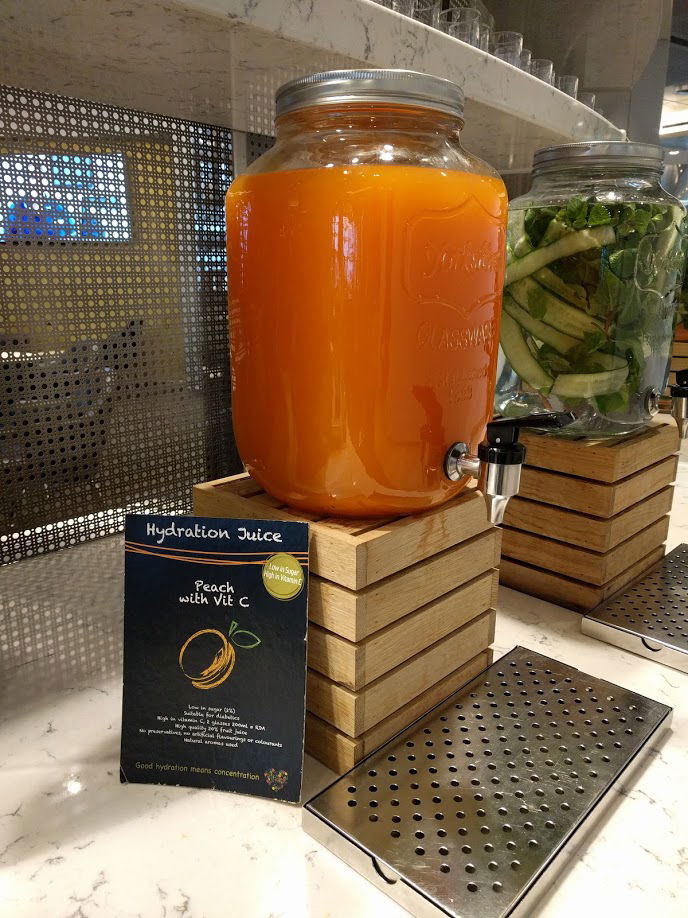 United Club London Heathrow
There is a lot to like about the United Club London Heathrow. But when it comes to the restrooms, I'm not sure what they were thinking.
Don't get me wrong, they are beautiful. But they are literally individual rest rooms. Which is, in theory, really nice, and actually perfect for parents who need to accompany their kids to the bathroom.
Except there are only five of them. For a Club that can seat 280 guests!
That might be a decent ratio for an office environment where people do their business at random points throughout the day, but at an airport club a lot of people are going to want to go at once. That's kind of the point.
Making matters worse, the individual restrooms are accessed from a small vestibule so there's nowhere for a line to form.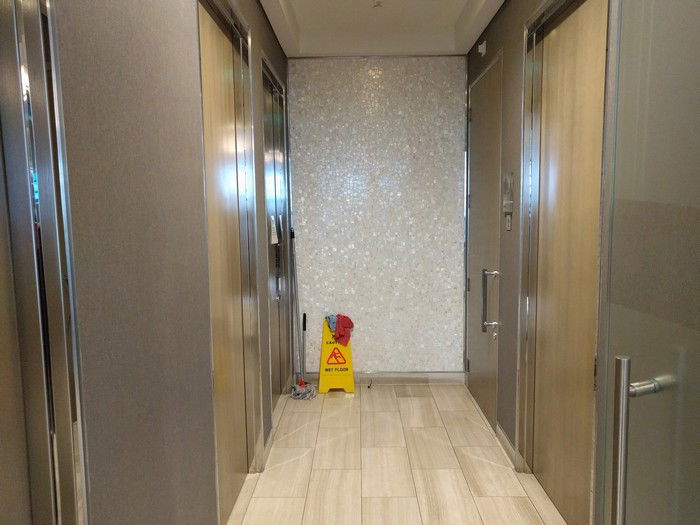 United Club London Heathrow
Finally, since I'm in the midst of a rant, the vacant/occupied sign on the door is small and hard to read for little eyes.
Now to be fair, there was a bathroom attendant during the busy period who was ostensibly managing the situation, but she really wasn't very effective. My son came back upset saying she told him that he couldn't go to the bathroom, which I would interpret as her trying to tell him that all the rooms were full. But still.
Once you have your private restroom, it's quite nice of course.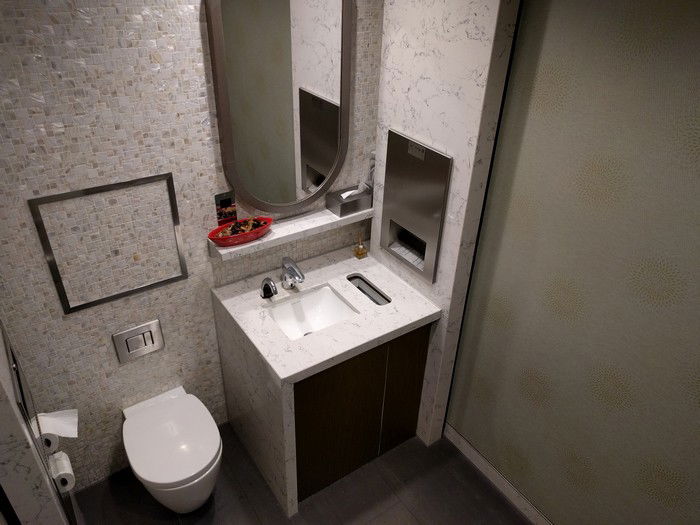 United Club London Heathrow restroom
Interestingly, there are just as many showers rooms as restrooms. Except showers are a luxury, toilets are a necessity.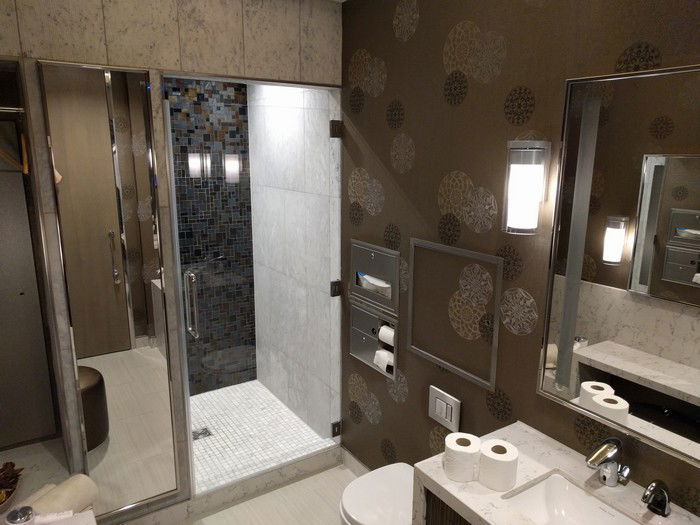 United Club London Heathrow shower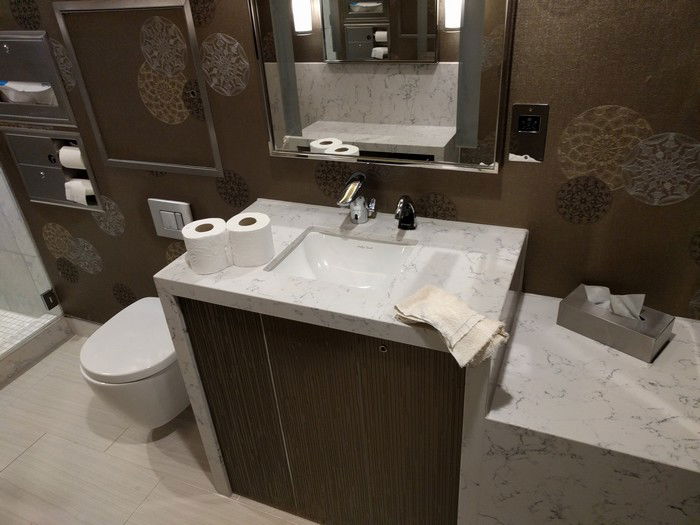 United Club London Heathrow shower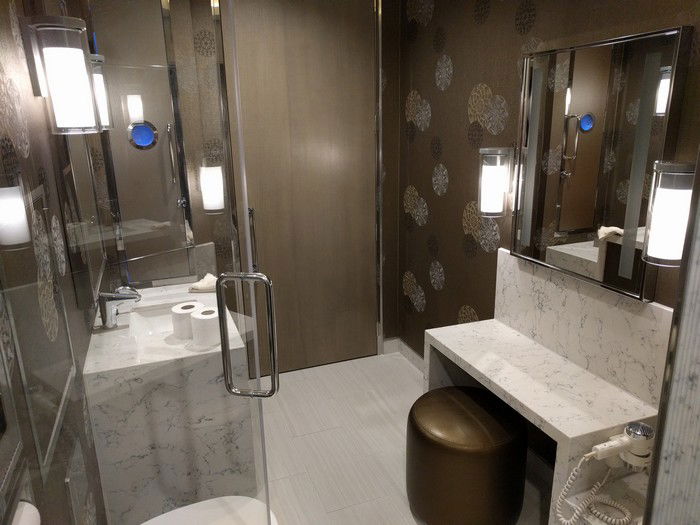 United Club London Heathrow shower
So I'm sorry United, but this is just bad design. I don't need extreme privacy — if I did, I'd be on the First Class side of the club — I just want to do my business and be on my way. If the line for the restrooms gets too long, I wouldn't hesitate to go get a shower room since they have toilets as well. That seems inefficient, but when you gotta go, you gotta go.
Anyway, we then headed down to the gate for our United "Polaris" flight to Chicago. Since that flight wasn't all that different from the Houston to Frankfurt one, I'm going to skip the review. See you in Chicago!
United Club London Heathrow bottom line
The United Club London is a beautiful and welcome addition to the network. The food options are the best I've ever seen at any United Club.
The only disappointing aspect is the relative shortage of restroom facilities. The ones that they have are luxurious. They just need more of them.