---
No trip to Oslo in the winter would be complete without playing in the snow. And there's no better way to do that then to sled the Korketrekkeren, Oslo's city-operated toboggan run.
But let's be clear — this is not your leisurely ride down a gentle slope in the park. Korketrekkeren translates to "corkscrew" and that should give you an idea of what you're in for. This is basically the bobsled run that was built for the 1952 Winter Olympics. It's 1.25 miles long with over 800 feet of vertical. Depending on your skill and insanity, you might just hit speeds in excess of 25 MPH. On a sled with no brakes and minimal steering.
If you search on YouTube, you'll find videos of the course with titles such as Death Sled and The Madness.
And oh man is it fun. Like unbelievably fun. If you're an adrenaline junkie, this is about the most fun you can have on steel rails.
If it's not obvious yet, this isn't an activity for everyone. You should be in good physical condition and have some experience going fast on snow. I used to ski a lot and it turns out that those skills translate pretty well to speed sledding. Or at least well enough that I never crashed.
You should also decide if your kids are ready to fly solo. We decided that even our 5- and 4-year olds who have started ski lessons weren't quite ready. So they rode with us and had a blast.
If you think you're up to the challenge, here's what you need to know.
Buy A Metro Ticket
The beauty of sledding at Korketrekkeren is that it's served by public transportation. Not only can you ride the metro to the hill, you can actually use it as your ski lift. That's pretty awesome.
So you're going to want to buy a 24-hour ticket on the metro, which will let you ride as much as you want for an entire day. It's basically your lift ticket. (Though I never once saw anyone checking for tickets.)
We stayed in the city center so we rode the metro out from Jernbanetorget station which is linked to the Oslo central train station.
You need a ticket for zone 1. The cost is 90 NOK per adult, half price for kids. On the weekends, kids ride free with adults, though we inadvertently bought them tickets anyway. Oops!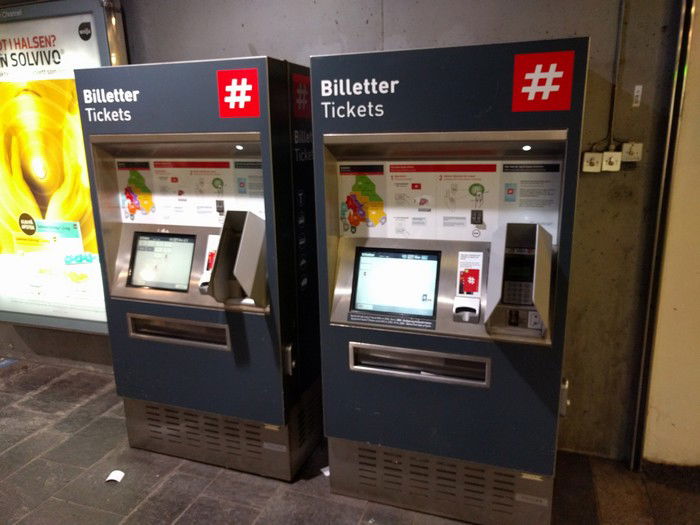 Ticket kiosk for the Oslo metro
Once you have your ticket, head down to the platform and board the #1 train to Frognerseteren.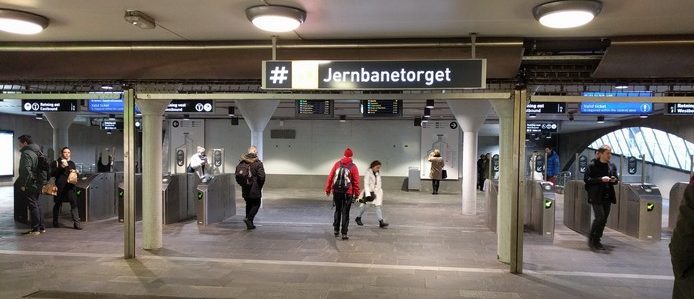 Jernbanetorget station in downtown Oslo
Ride To Frognerseteren
Metro 1 line starts out underground but quickly pops to the surface after a few stops. It's a scenic ride up through the neighborhoods of Oslo where you'll see more and more snow as you slowly gain elevation.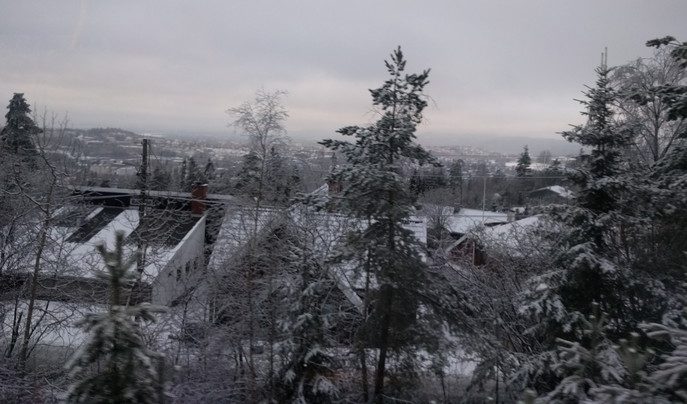 Metro line 1 to Frognerseteren
The ride itself is gorgeous, passing beautiful snow-covered wood houses and scenic vistas.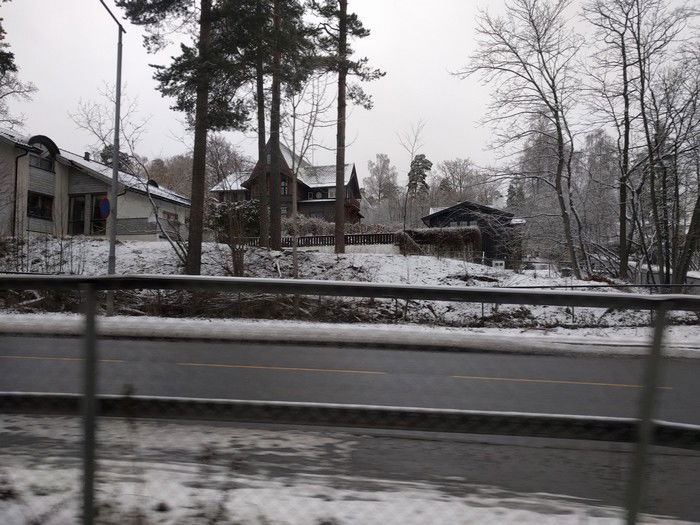 Metro line 1 to Frognerseteren
At the Midstuen station, our urban metro car seemingly transformed into a Vail gondola as a mass of sledders boarded with their sledges in hand.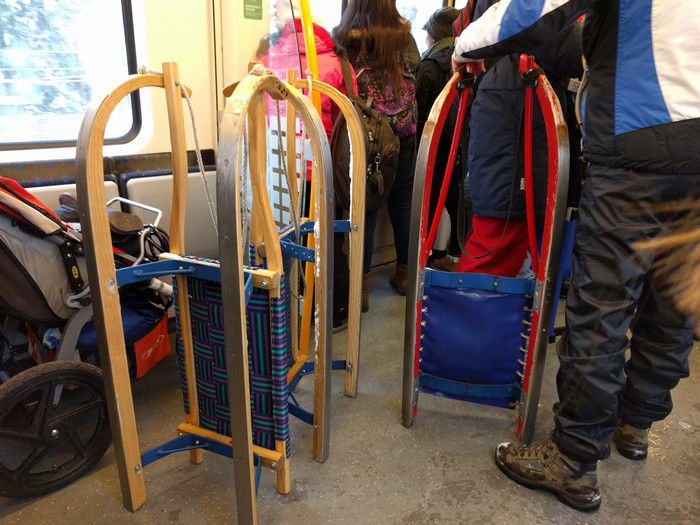 Metro line 1 to Frognerseteren
Midstuen is the lower end of the sledding run so this is where you board to ride the lift metro back to the top.
Unlike at most ski resorts, here you rent your sled at the top so stay on the train until you get to Frognerseteren, which is the end of the line.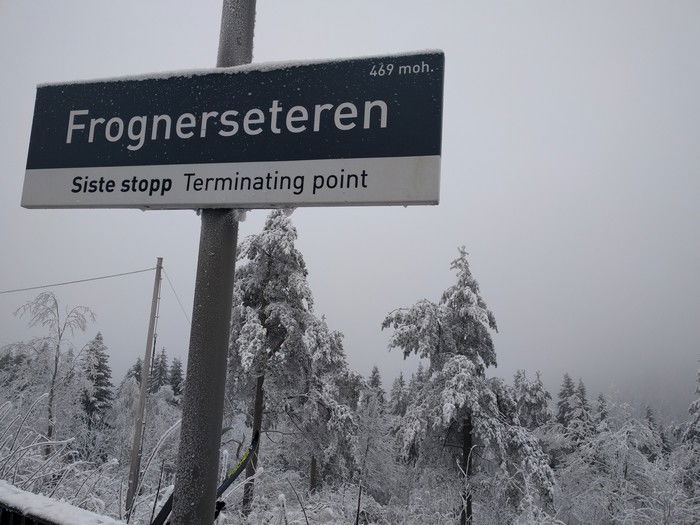 Frognerseteren station
It's a beautiful alpine wonderland.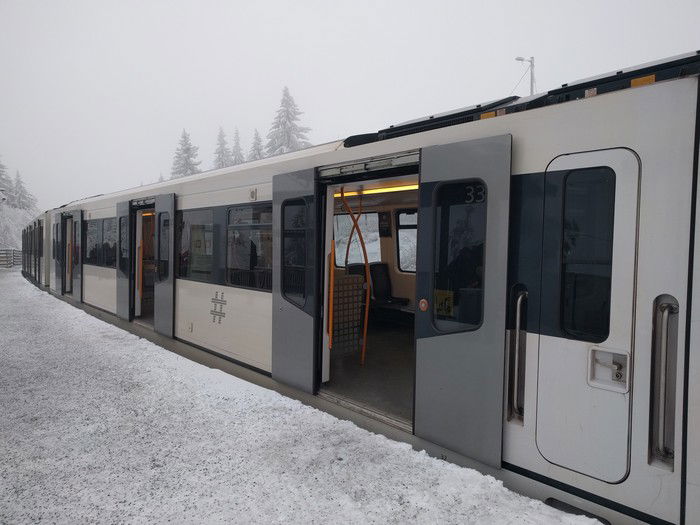 Frognerseteren station
Rent A Sled
As you exit the tram, you want to turn left and follow the sledders down the hill. This part of the trail is easy enough to walk down — and hard to sled — because they spread pebbles on it to increase the traction for the walkers. In a couple hundred feet or so the trail splits. The main sledding run goes straight but you want to turn right and continue walking down a gentler path to where the sled rental shop is. Just follow signs to Frognerseteren.
We rented our sled from Skiservice Kjelkeutleie Sledges. They rent metal sleds, which I've heard are better. There is another sled rental shop over behind the restaurant, but I don't know much about them.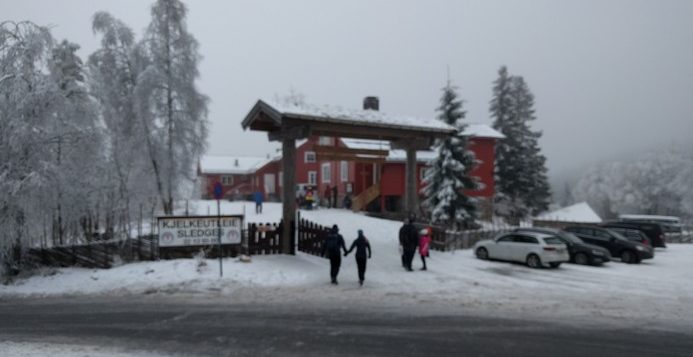 Skiservice Kjelkeutleie Sledges
There was a line out the door when we arrived, but it moved quickly. Once inside, you'll fill out a brief form with your name and contact info which you give to the staff along with your payment in exchange for a sledge.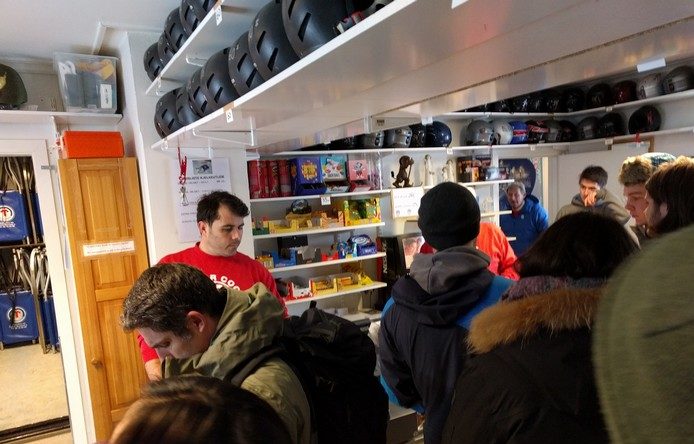 Skiservice Kjelkeutleie Sledges
Having decided that even our 5-year old was too young to sled by himself, I just rented one adult sledge. We also took one adult and one child helmet (included with the price of the sledge rental), since we were intending to share the equipment between the whole family. Our youngest is too young to sled at all, so one adult was going to have to be waiting at all times. We had brought the rest of our gear from home.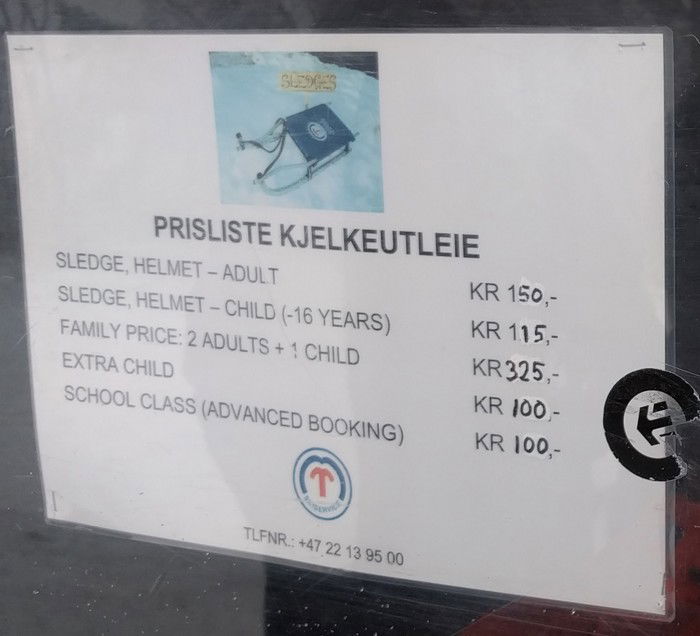 Skiservice Kjelkeutleie Sledges prices
It costs an extra 25 krone to return the sled at Midstuen, otherwise you have to bring it back up the hill which is basically a waste of an hour. You can wait to pay the return fee at the bottom of the hill, but then it's cash only so you really want to pay in advance. I don't really understand why they don't just bundle the return fee into the sled rental. I mean, who wants to ride back up the hill to return their sled just to save $3?
They also have a map of the area. It looks more like a pirate treasure map.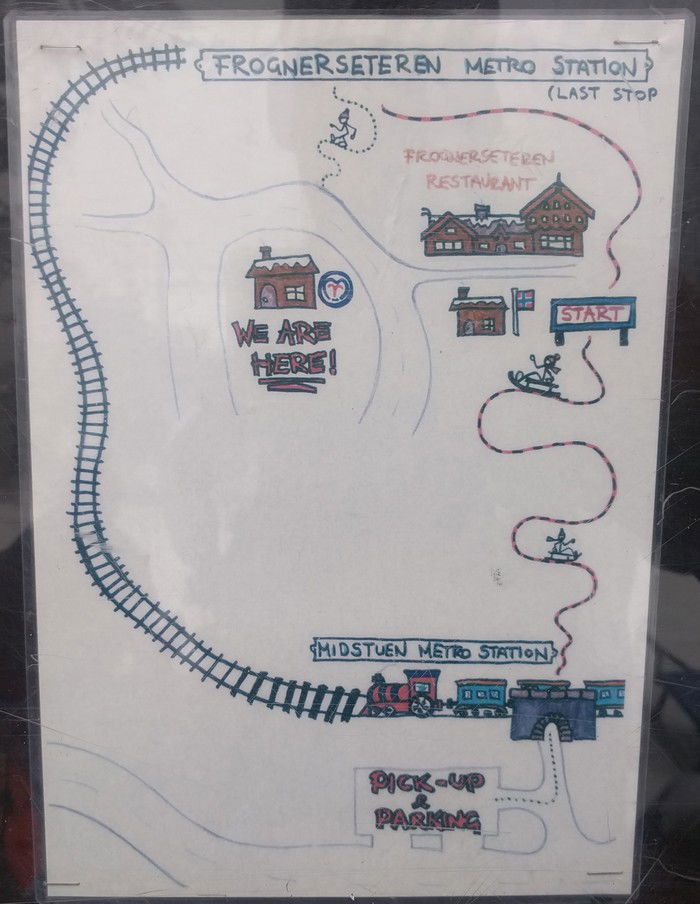 Map of the Frognersetern area
Notice the little dude walking down from the Frognerseteren metro station? That's the path you want to take to find the sled rental shop. Once you have your sled, you want to continue straight on the dashed line for the upper part of the sledding run. That is to say, you can sled to the start of the sledding run. Only in Norway…
Gear Up
You can basically wear whatever you want, it just depends on how long you want to sled and how comfortable you want to be. I literally saw people in everything from jeans and sneakers to ski suits. That said, I recommend dressing for the conditions if you can.
We are a winter-loving family so it was pretty easy for us to bring the kids' snow gear from home. Sure, it took up a little bit of space in the luggage, but that's what enabled us to get out and explore.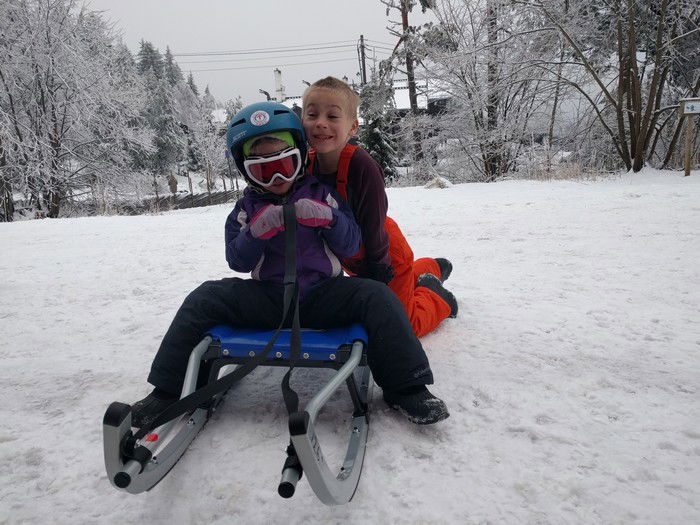 Sledding Korketrekkeren
I had my ski pants, winter jacket, and goggles. I then wore my Vasque lightweight hiking boots that I usually wear on our trips. But I also wore my Gore-tex gaiters to keep the snow from going up my pant legs or into my boots. That worked really well.
And most importantly, I looked just as hardcore as the Norwegians.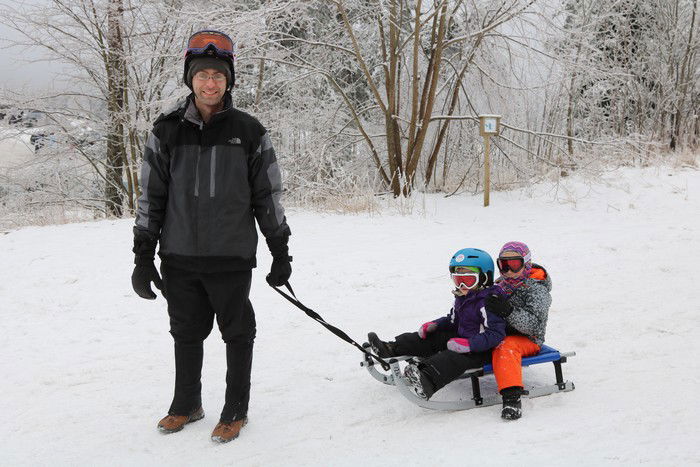 Sledding Korketrekkeren
If nothing else, I do recommend the goggles because if you're braking with your heels, snow flies up in your face and it's good to be able to see where you're going. And…you are going to be going fast. Really fast. Goggles also prevent wind blindness.
Find The Starting Point
From the sled rental shop, walk down the road a bit toward the restaurant. After you come to a parking area, turn left and you'll be sort of below the restaurant. A few hundred feet further you want to cross to the right side of the road, and then, in that general vicinity, you'll find the start of the sledding run.
Just be careful as there are a ton of cross country ski trails in the area which are not what you want. The entrance to the sledding run has a gate which I assume is closed when there isn't enough snow. If in doubt, follow the crowd.
Become One With The Sled
The course is relatively gentle at the beginning. This will give you some time to get a feel for how the sled handles. I suggest making an effort to practice turning, slowing down, and stopping now otherwise you'll regret it later.
Roughly speaking, if you want to turn right, you need to create some drag on the right side of your sled. So you can either dig in your right heel or drop you right hand. Do the opposite to turn left. Once you get the hang of it, you can get a little fancy by leaning into the the curve to turn the sled.
Now if you want to slow down — and I promise you will — you need to create an equal amount of drag on both sides of the sled. So dig in both heels. Now say you want to slow down and turn right. In that case you dig in both heels, but dig in a little more on the right side. The key is learning how much pressure to apply to get the sled to do what you want.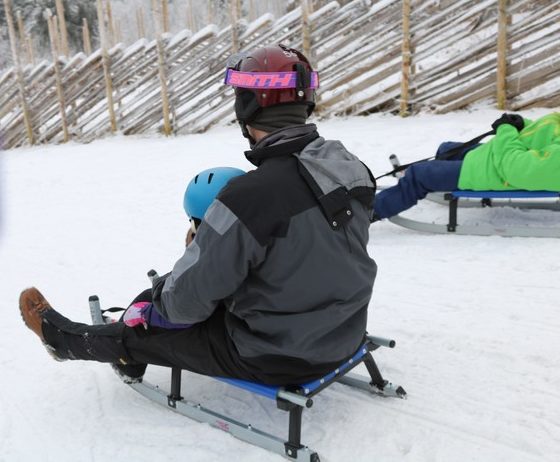 Sledding Korketrekkeren
Shred It
After the opening curves you'll hit a flat spot which will probably require you to get off and walk a bit. This is a good point to catch your breath 'cause it's all downhill from here.
Once you're ready, push off and hang on because the rest of the course is a series of twists and turns mixed with straight on hills. Depending on the conditions, there will be some bumps along the way too. Just keep your head up and be ready to dodge all manner of obstacles. If you crash or come to a stop, look behind you to see if anyone is about to run over you and then get out of the way.
Also, try to keep track of your equipment to avoid a yard sale. My wife got drilled in the thigh by someone's runaway sled. It left an epic bruise. There are a lot of novices out there so be careful.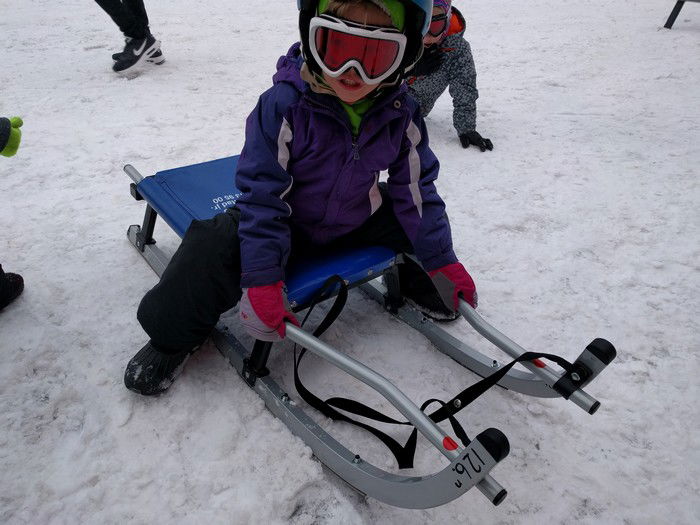 Sledding Korketrekkeren
Rinse and Repeat
The end of the run is also rather flat but if you came barreling fast enough through the final curve I found that it's possible to sled all the way to Midstuen metro station.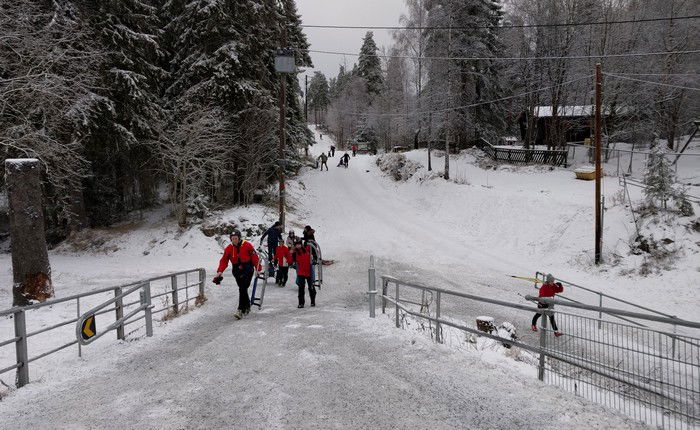 Midstuen station
That's really convenient if you see the train pulling in because if you miss it, you'll end up waiting awhile for the next one.
Or if you've decided that this is the last run of the day, you can return your sled to the rental guys — they had a marked vehicle parked there which made it fairly obvious.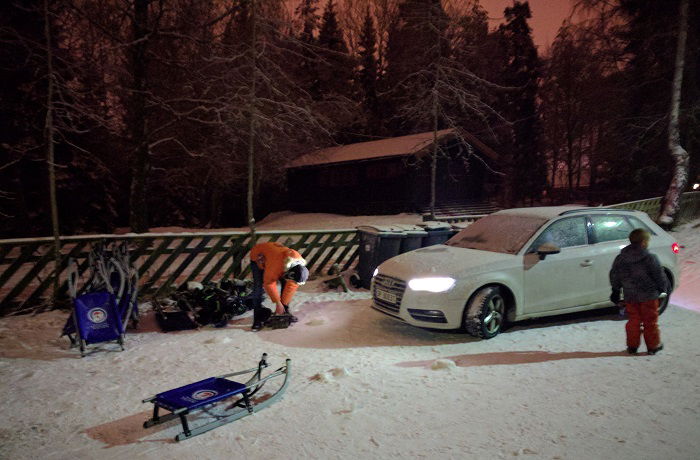 It takes about 8-10 minutes to ride the course if you don't stop much, then 16 minutes to ride back up on the metro. You'll also need to wait for the train and that can take up to 15 minutes depending on your luck.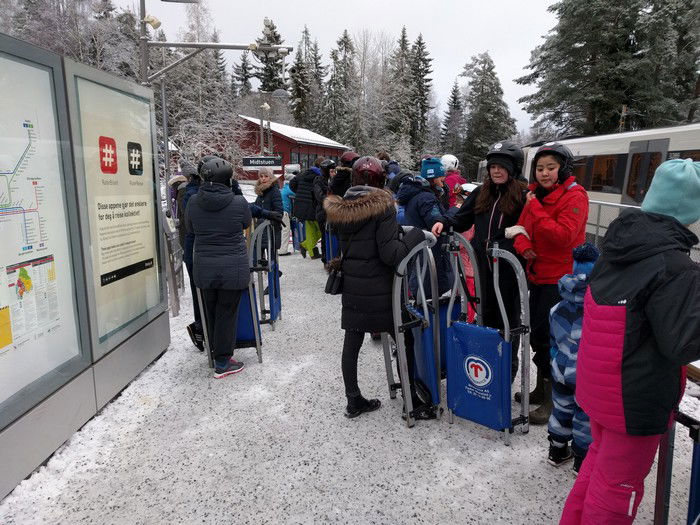 Midstuen metro station
So you can expect to get in one run every 35-45 minutes, more or less.
The sledding run is open:
Monday to Friday from 10 AM to 9 PM
Saturday 9 AM to 9 PM
Sunday 9 AM to 6 PM
Yes, there are even streetlights so you can keep on sledding after the sun goes down which is a good thing in a land where the winter days are short.
But be careful. Night sledding, like night skiing, has its own challenges. The snow tends to become icier making the course even faster. Then you lose contrast in the low light so it's harder to discern bumps and curves in the course. That's not helped by the fact that there just aren't that many streetlights. Then again, the light poles along the side of the run didn't seem to be padded, so I'm just as glad that there weren't that many of them.
That said, the crowds thinned out after the sun went down, leaving mostly hardcore sledders. In some ways, that made it safer.
When we finally returned the sled at 7 PM, I think I had gotten in close to 10 runs. That was enough that I definitely felt it the next day — this is an athletic form of sledding. You'll be using groin, gluteal, and ankle muscles you probably didn't know you had.
Track Your Stats
You're obviously going to want to brag to your friends about how fast you were going on two rails. The best way to prove how awesome you were is to get one of the ski tracker apps for your phone. I used the aptly named Ski Tracker, though I'm sure there are plenty of others.
On my fastest run, I hit 26.5 MPH which is kind of crazy for a sled.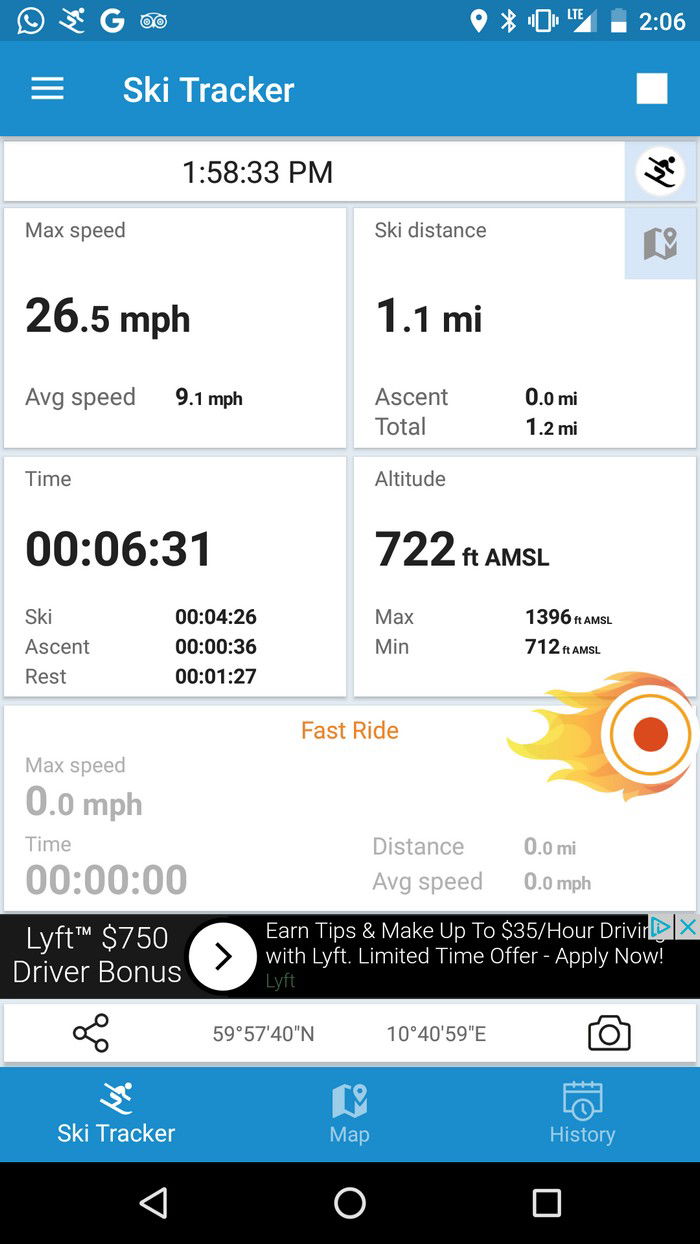 Ski Tracker app
That more you weigh, the faster you'll go. My fastest run was with my son where our combined weight was pushing 250 pounds. We were passing almost everyone, whether we wanted to or not. That said, a few guys did pass us which probably means they were probably going over 30 MPH.
If you have a GoPro, that'd be even better. I don't, so there was no way I was going to be able to shoot video. But here's one someone shot at Korketrekkeren called The Madness.
Sledding Korketrekkeren Bottom Line
Sledding at Korketrekkeren was definitely the highlight of our trip to Oslo. Seriously, this is just about the most fun you can have on two rails.
That said, you should decide for yourself if you are physically fit as this is a lot more than riding a sled down the bunny hill at your local park. You need to pay attention, make good decisions, and be reasonably athletic. But if you think you're up to the challenge, I bet you'll have a blast.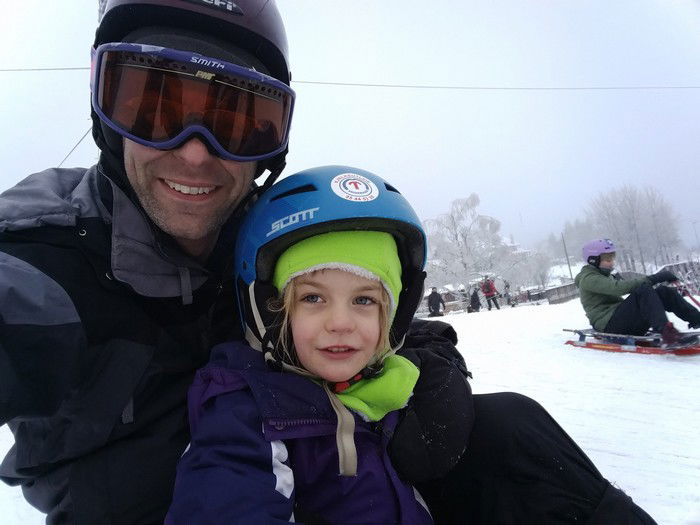 Sledding at Korketrekkeren
Do you think you'd like to give speed sledding at Korketrekkeren a shot?