---
We spent part of our stay in Oslo at the Hotel Folketeateret, but decided we might as well give another Clarion Collection property a try. That's not to say there was anything wrong with the Hotel Folketeateret per se, as it's truly a wonderful property with excellent service. It's just that their rooms were a little small for our family of five.
So we decided to see what was behind door #2 and headed over to the Clarion Collection Hotel Bastion for the reminder of our stay. I'm sure glad we did, as the Hotel Bastion is a real gem. We quickly fell in love with the old-world style of the hotel. I mean, who doesn't want to come back from a long day of sledding and sit by a crackling fire?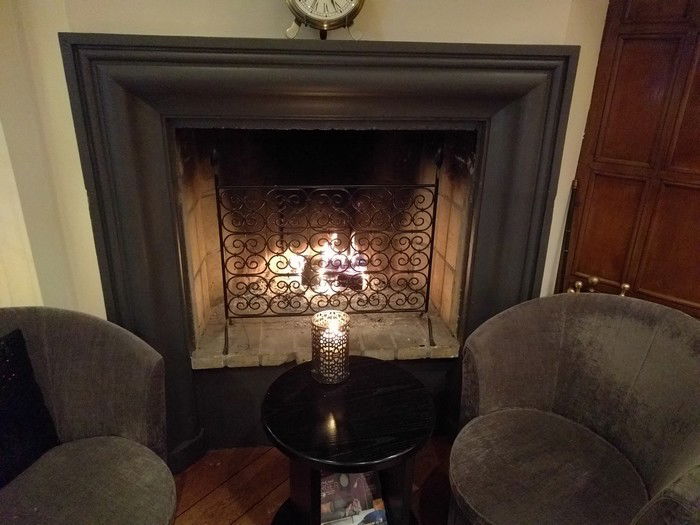 Hotel Bastion
Like the other Clarion Collection hotels in Oslo, the Hotel Bastion costs 16,000 Choice points per night. Assuming that you purchase those using the cash-and-points booking strategy, that equates to $120 per night which is an absolute steal considering that covers your room, breakfast, afternoon snack, and dinner. For our family of five, the food each day was worth at least half of that.
The Hotel Bastion is located in a relatively quiet area about halfway between the Oslo Opera House and the Akershus Fortress. It's a 5-10 minute walk to Oslo Central Station, in mostly the opposite direction of Hotel Folketeateret. There aren't really any restaurants, shopping, or much of anything else in the immediate vicinity — I think I noticed one coffee shop but that was about it.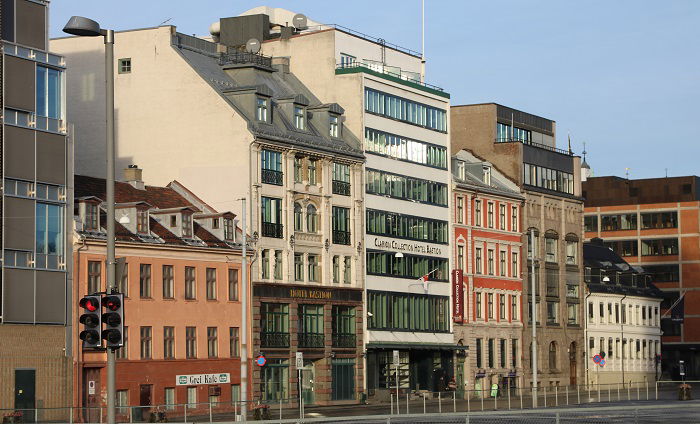 Hotel Bastion Street
The entryway to the hotel is small like you would expect from a boutique hotel. It appears to only have steps which is not so great for luggage or strollers.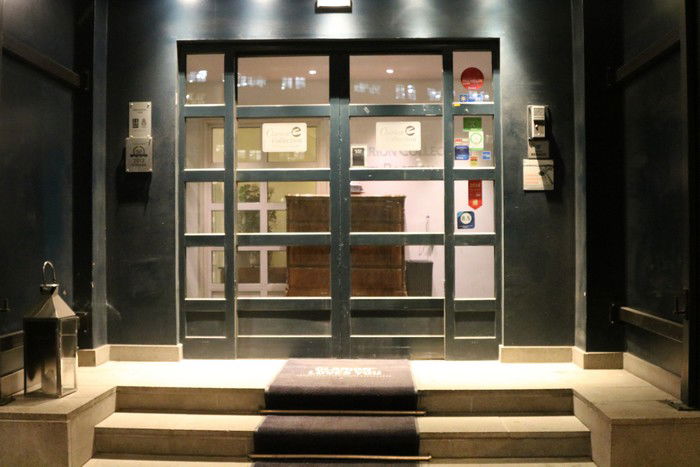 Hotel Bastion Entrance
But upon closer examination, there is a secret unmarked door to the right leading to a ramp which connects right inside to the lobby. This door wasn't always unlocked from the outside, but we had no trouble accessing it from inside.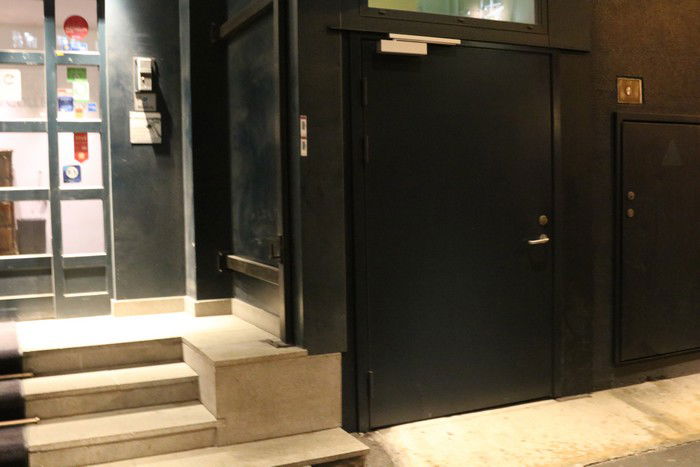 Hotel Bastion Secret Ramp
Either by steps or secret ramp, you arrive in a small foyer from which the main lobby is visible through another set of automatic doors.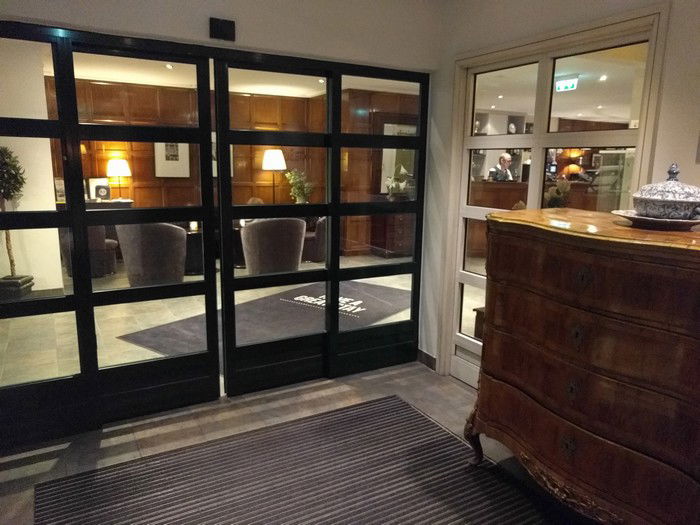 Hotel Bastion Foyer
The lobby of the Hotel Bastion is small but very welcoming. There is a small sitting area before you get to the reception desk which sort of doubles as a bar.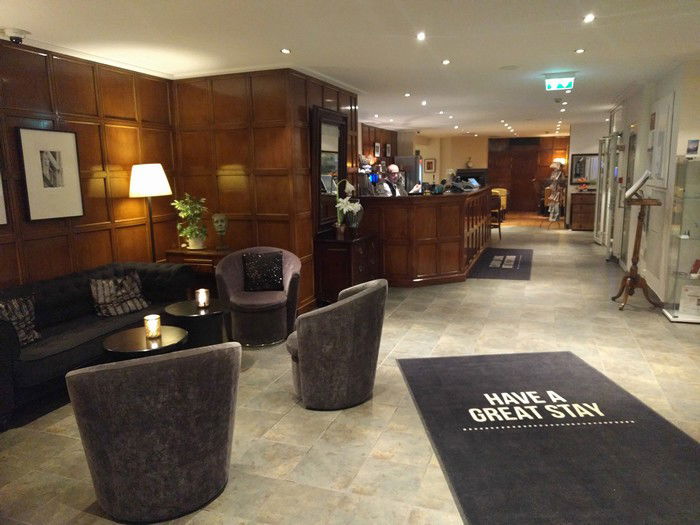 Hotel Bastion Lobby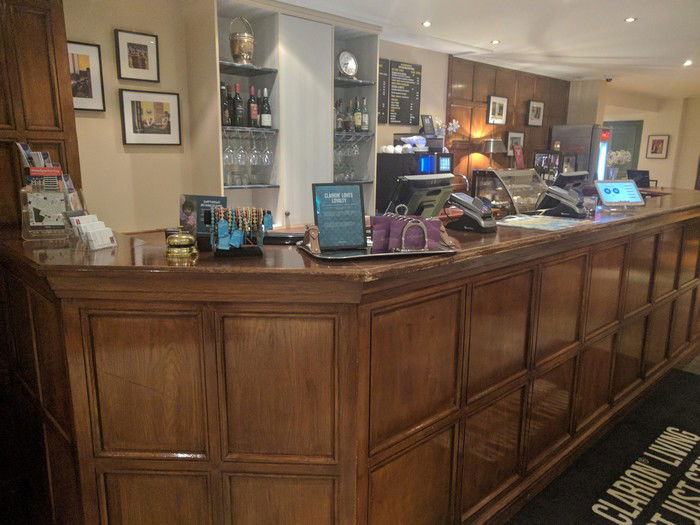 Hotel Bastion Front Desk
Apparently Nordic Choice elite members can just pick up their room keys without talking to anyone. While convenient, this seems like it could be a security risk. But maybe there are no bad hombres in Norway…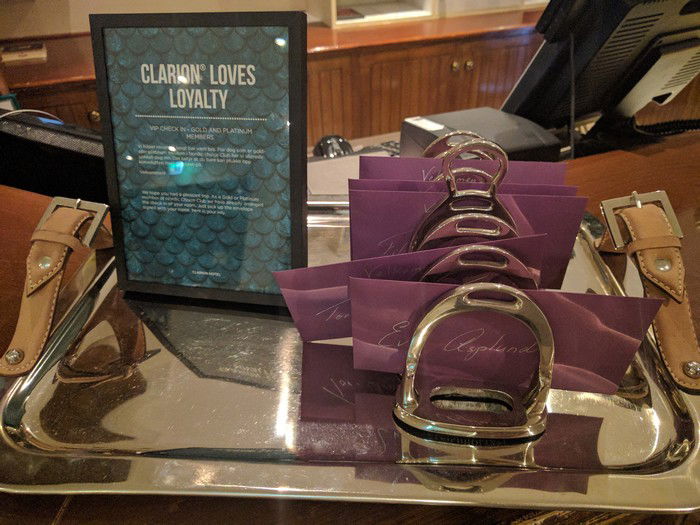 Hotel Bastion
The agent was very welcoming and quickly checked us in. Come to think of it, I'm not sure if he ever asked to see my identification. He explained that breakfast would be served in the morning starting at 6:30 AM, evening dinner from 6 PM to 9 PM, and mid-afternoon make-your-own pancakes from 3 PM to 5 PM.
Looking at my kids, he noted that we had booked the family room. I was getting excited at the sound of that.
I had read some reviews which said the elevator was ridiculously small. It's not a freight elevator or anything, but we could fit our stroller and entire family without issue. The sign said it had a capacity of 13 people, so I really don't know what they were talking about.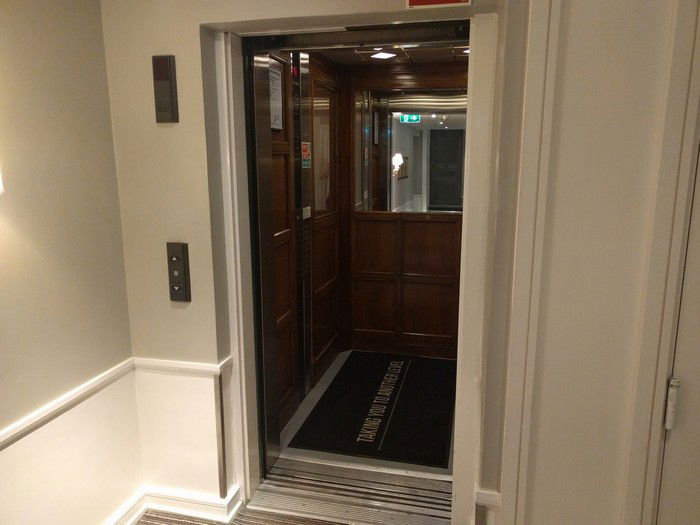 Hotel Bastion Elevator
The hotel has a lot of character with interesting nooks and crannies to explore.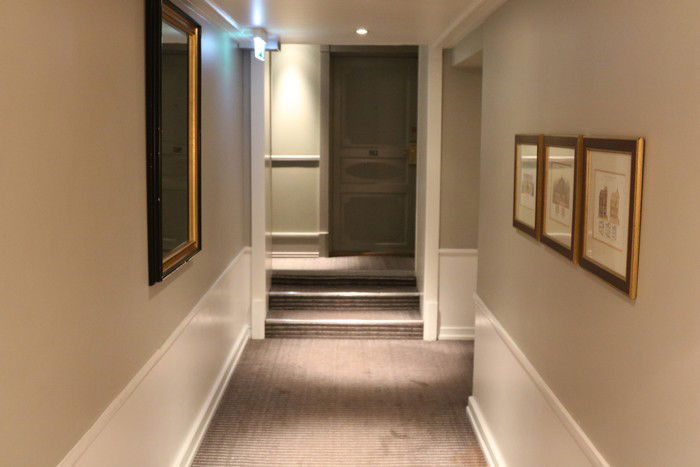 Hotel Bastion Hallway
There was also architectural-themed art on the walls.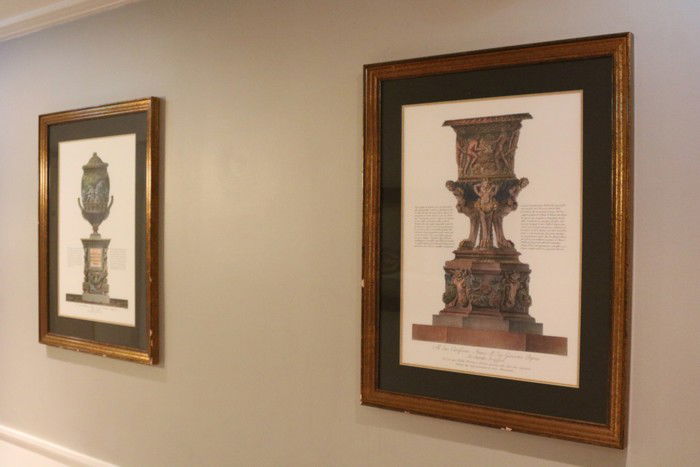 Hotel Bastion Art
I'm guessing that the hotel is two conjoined buildings, which means there are a few steps in places. Our room was on the same level as the elevator, however, which made it easy to move the stroller around.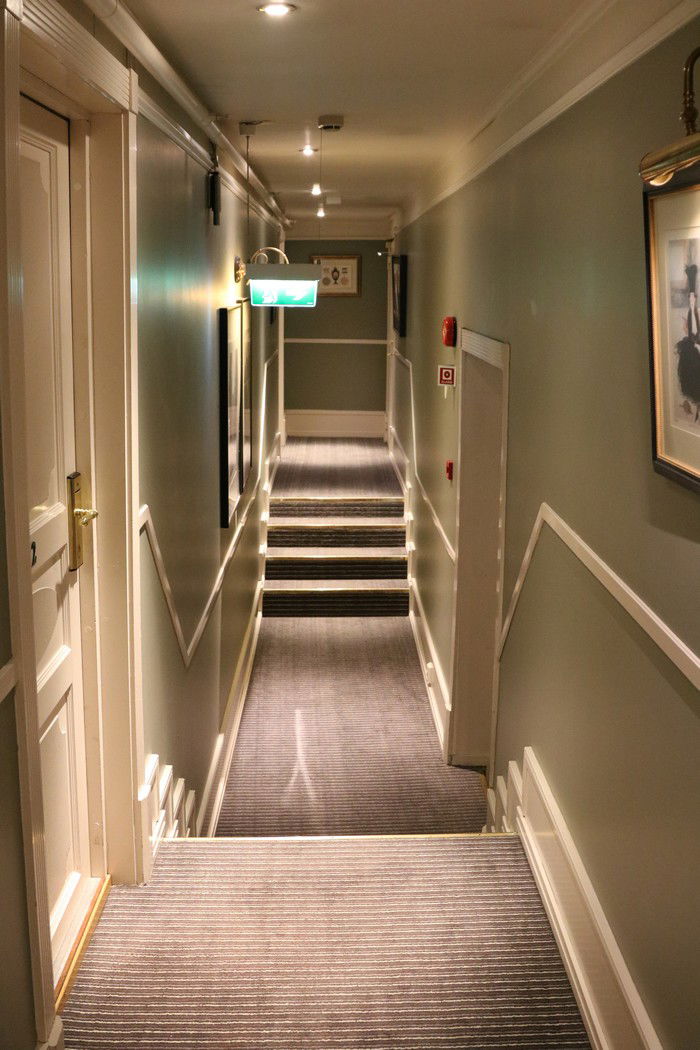 Hotel Bastion Quirky Hallway
There was also a cool spiraly-square staircase.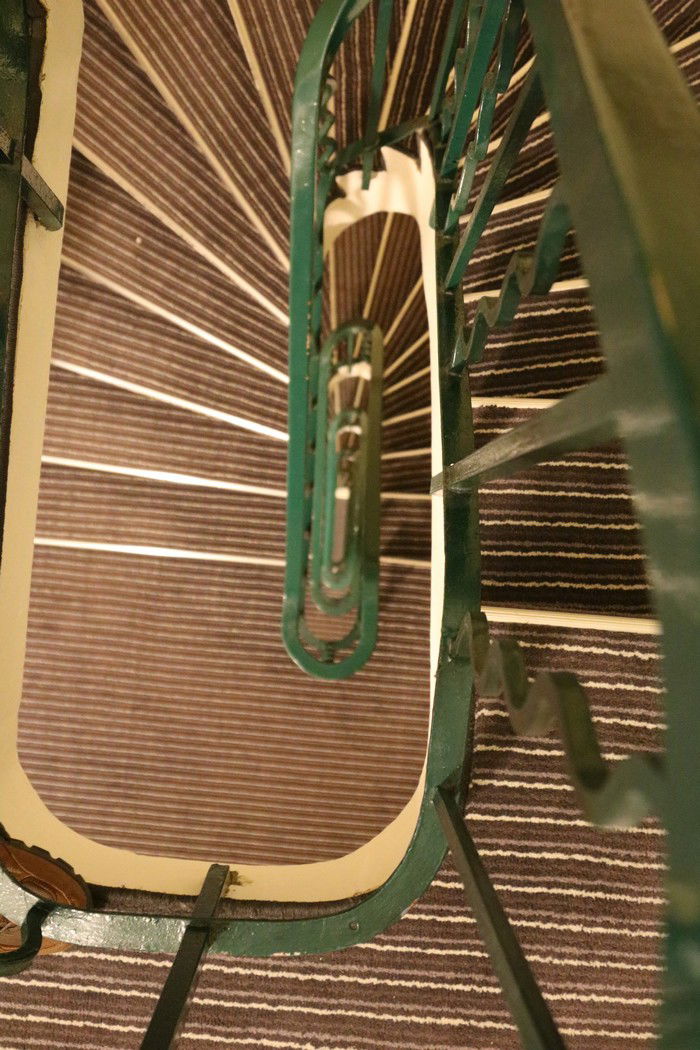 Hotel Bastion Spiral Staircase
We had been assigned rooms 505 and 506. That's right, the family room is really a two-room suite. Can you say amazing?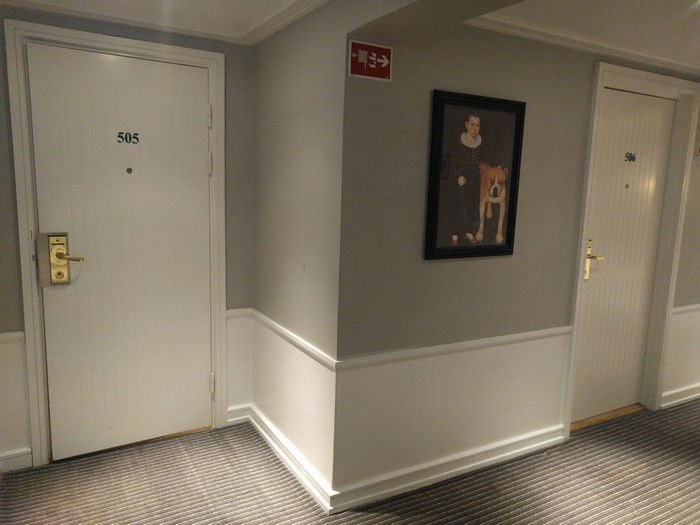 Hotel Bastion Family Room
The second bedroom is an interior room with no windows. It sort of sits in the middle of the hotel and is basically a peninsula surrounded by hallways on three sides.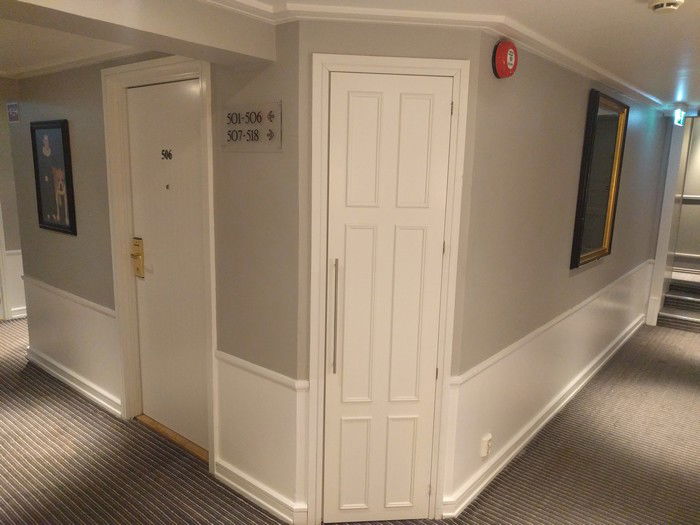 Hotel Bastion Family Room
Judging from the floorplan, I'd say there might be one of these suites on each floor, except maybe the top. So there might be a half-dozen or so in total. I've labeled our rooms on the map.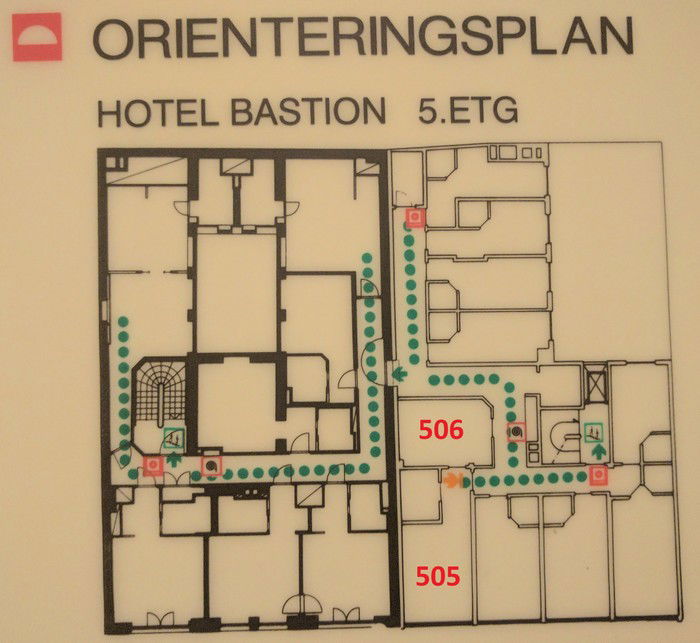 Hotel Bastion Floor Plan
The first thing we noticed was that the door to the room opened outward, unlike most hotel rooms which open inward. The door locking mechanism is also unique as you can leave it in an unlocked state. I'm not sure why you'd want to leave your room unlocked, but you can. The key card actually has two ends — one to lock, and the other to unlock.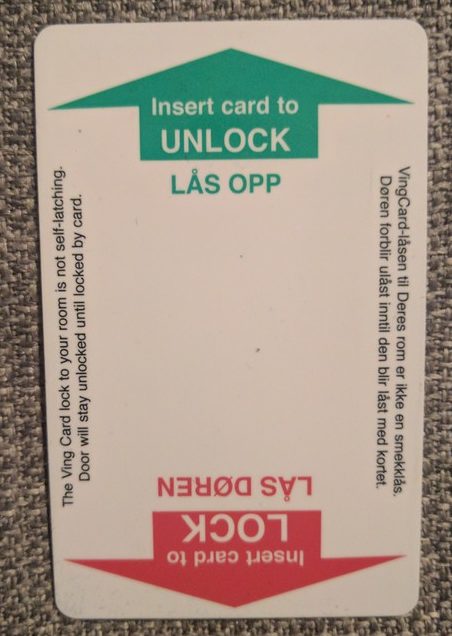 Hotel Bastion Keycard
By Oslo standards, the suite was huge. I mean, even the main room by itself was bigger than our room at the Hotel Folketeateret. The door opened into a short hallway with the main bedroom to the left, the second "kids" bedroom to the right, and the bathroom straight across. Here's a view of the connector from the kids room.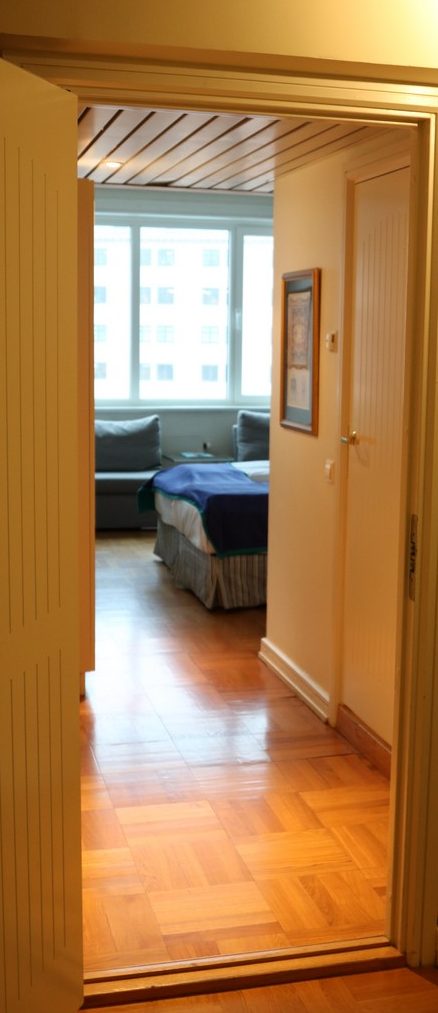 Hotel Bastion Family Room Entryway
In addition the bed, the main bedroom also had a chaise and a chair in front of the window. Our room faced the street which has a parking lot on the other side, then an entrance ramp to a tunnel, and finally a big building beyond that. We could also see a bit of the opera house, which was pretty cool.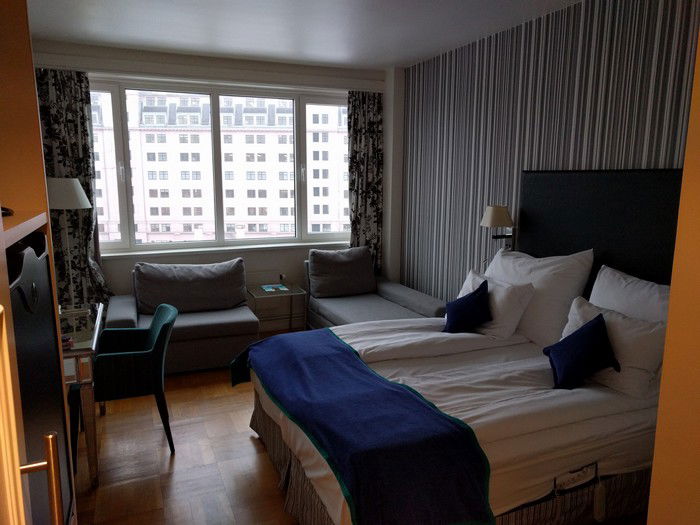 Hotel Bastion Family Room Main Bedroom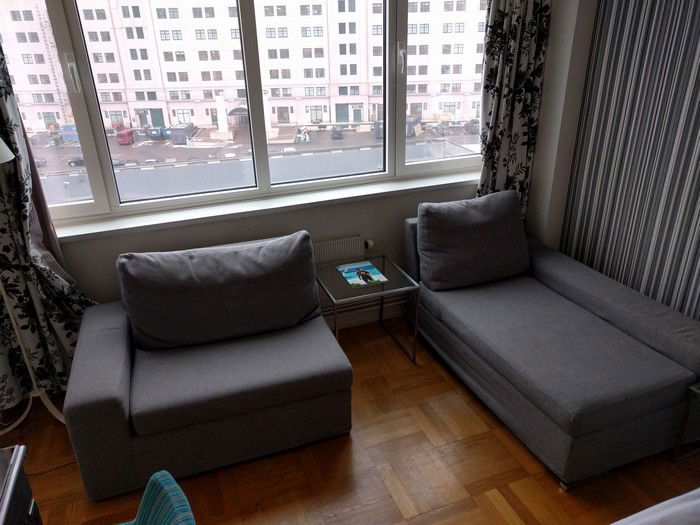 Hotel Bastion Main Bedroom
Here's the view looking back from the main bedroom towards the entry and the kids bedroom.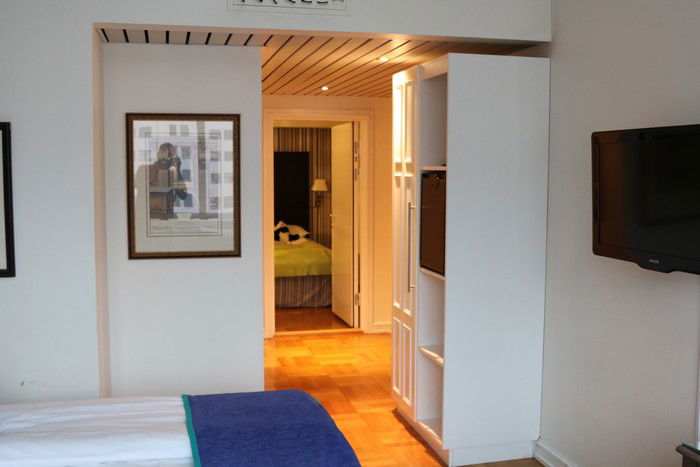 Hotel Bastion Main Bedroom
The bed was very similar to that of the Hotel Folketeateret, including separate duvets and the same gigantic pillow that I'm still not sure what to do with. This bed, however, was adjustable. You could raise the head or the foot and there was a control on each side. I played with it a bit, but we didn't really use it. Otherwise, the bed was perfectly comfortable.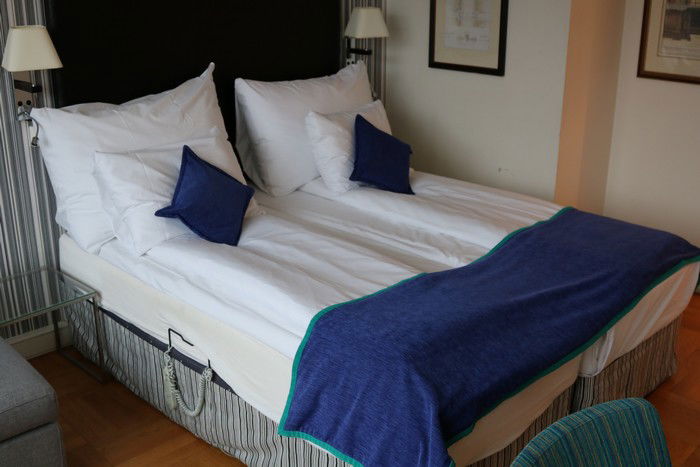 Hotel Bastion Master Bed
There was also a proper desk.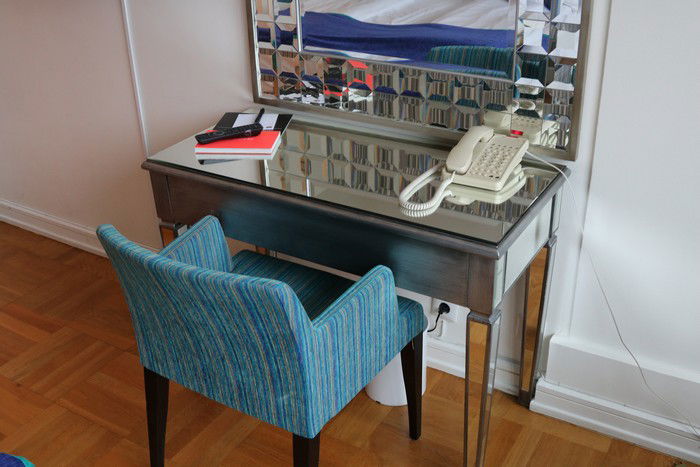 Hotel Bastion Desk
There was a combination closet and mini-bar. The refrigerator was empty, just the way I like it. There was also a teapot and a nice assortment of teas.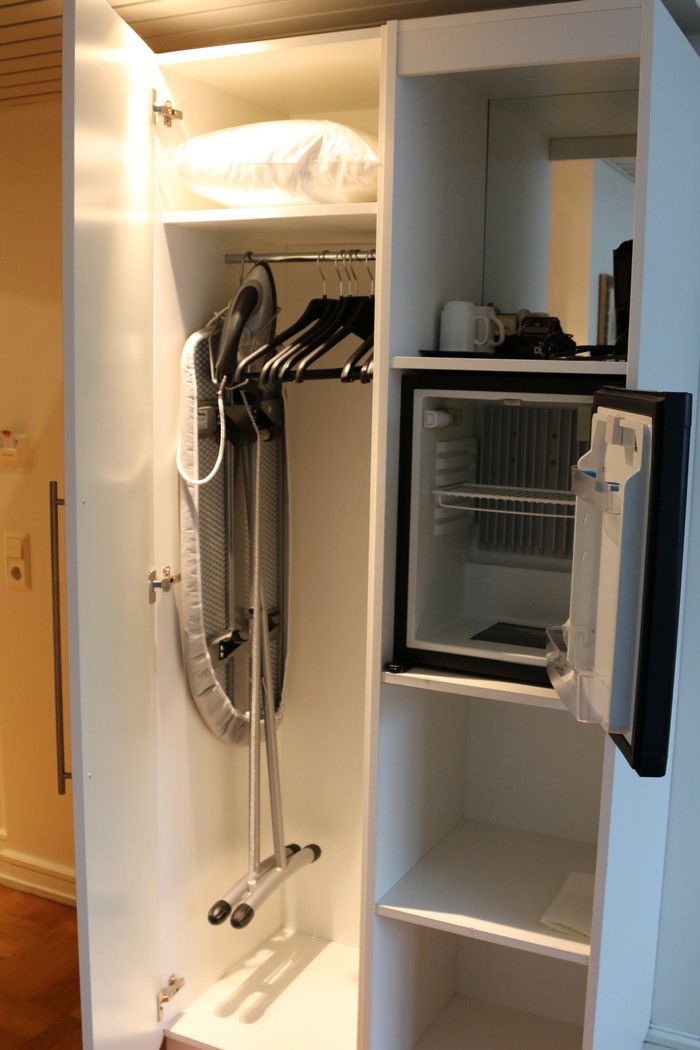 Hotel Bastion Closet
Apparently you can have them stock the fridge, though it wasn't clear to me whether you pay for that service in addition to the cost of any items you consume. Anyway, I like to be able to put my own items in the fridge, so I was happy that it was empty.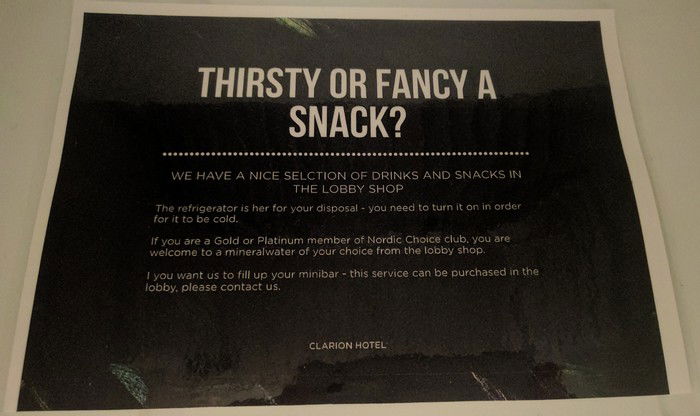 Hotel Bastion
The kids' room was roughly the same size as the main bedroom.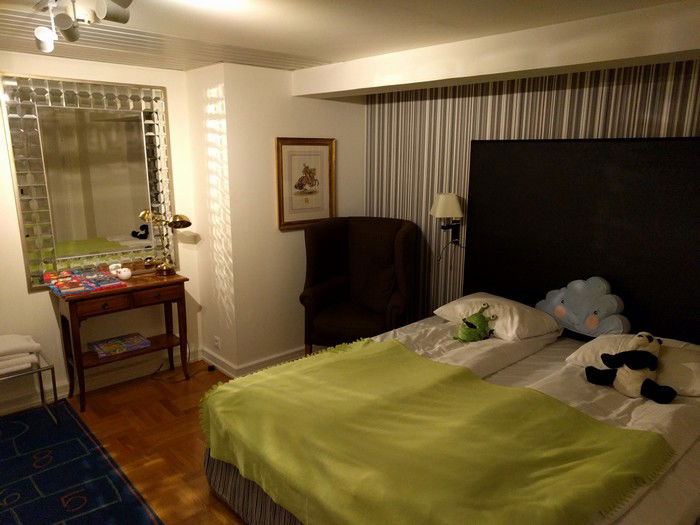 Hotel Bastion Kids' Bedroom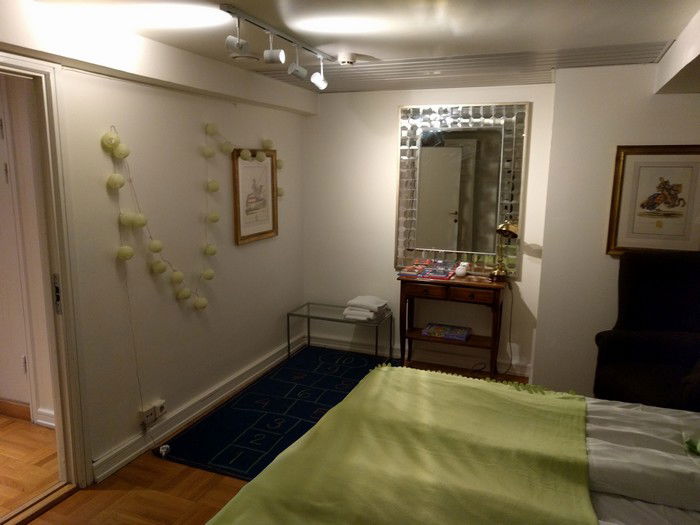 Hotel Bastion Kids' Bedroom
The room came with its own collection of stuffed animals which our kids thought was awesome.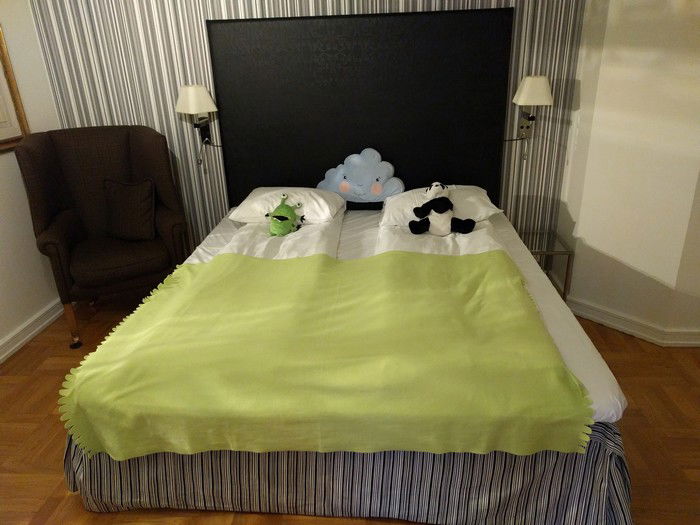 Hotel Bastion Kids Bed
There were also some Norwegian language children's books on the dresser, a collection of Winnie the Pooh jigsaw puzzles, and a nightlight.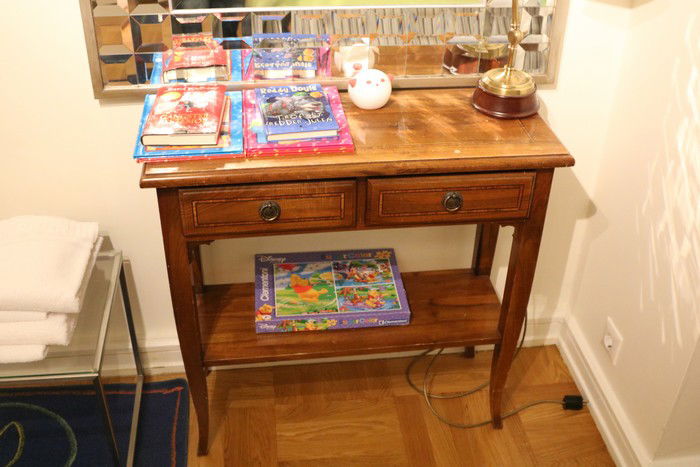 Hotel Bastion Kids Bedroom
The kids room had its own closet and its own exterior door. We put the pack-and-play in front of the door to discourage the kids from going out. The room also has a door that separates it from the other living space.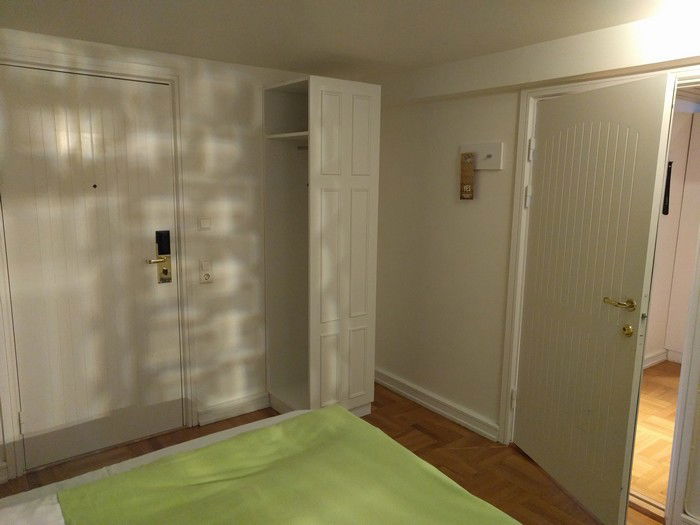 Hotel Bastion Kids Bedroom
The bathroom was square with plenty of space.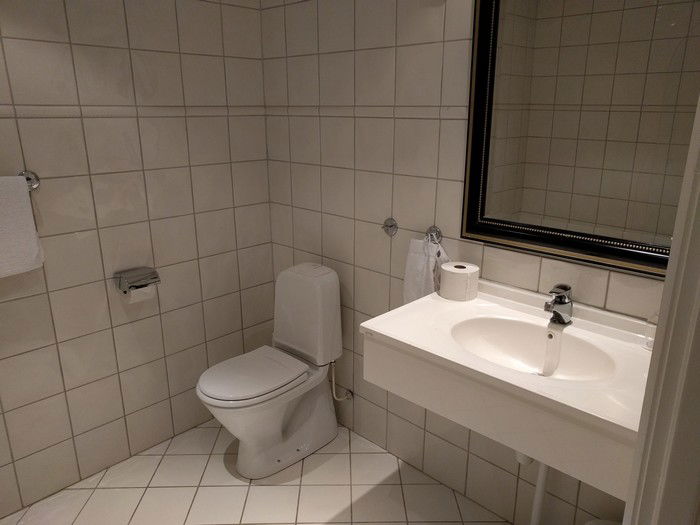 Hotel Bastion Bathroom
It had a combo tub and shower. Sometimes it took a while for the water to get hot, but it eventually did and then it was really hot.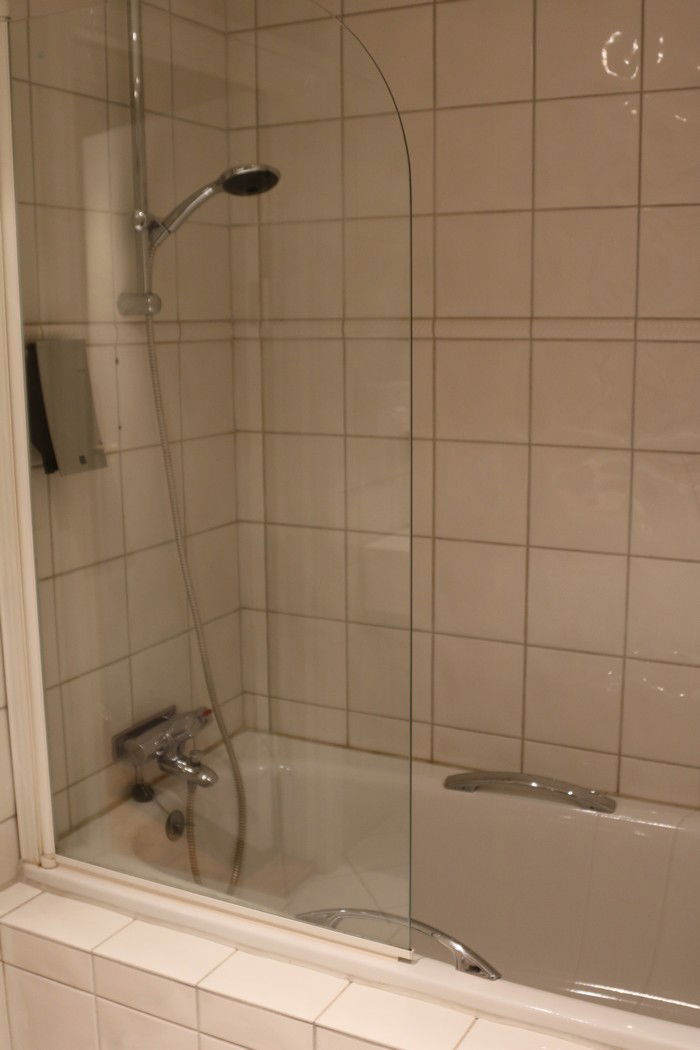 Hotel Bastion Bathroom
There were no toiletries provided other than the soap dispenser on the wall. That was fine for us, but some may want to bring their own.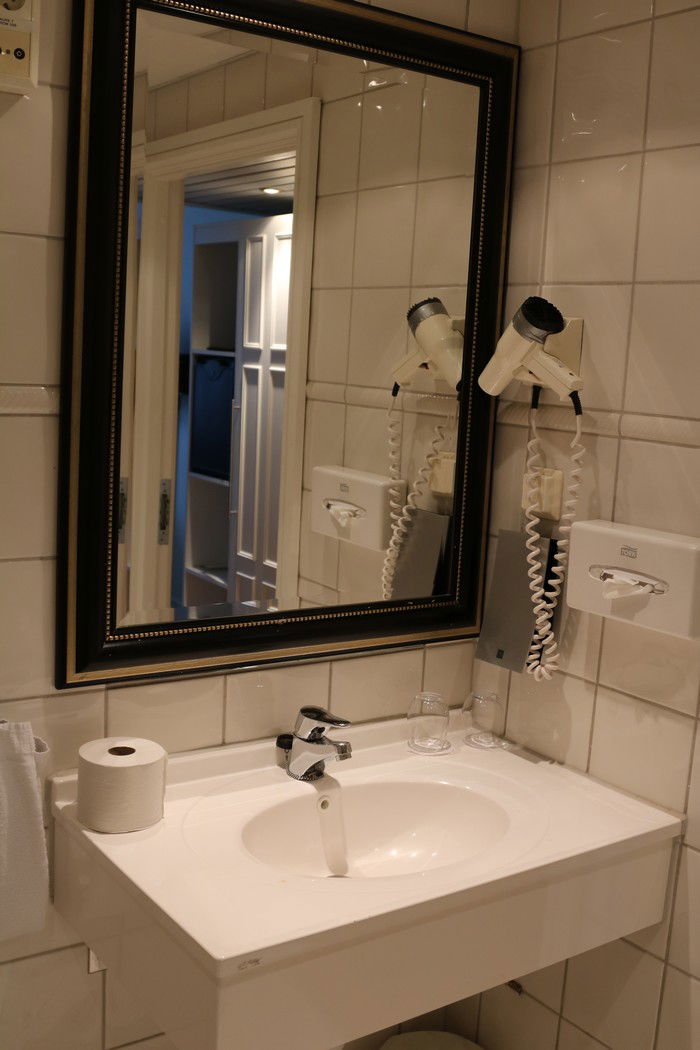 Hotel Bastion Bathroom
Hotel Bastion Common Space
The Hotel Bastion has some nice common space towards the back of the first floor behind the reception area.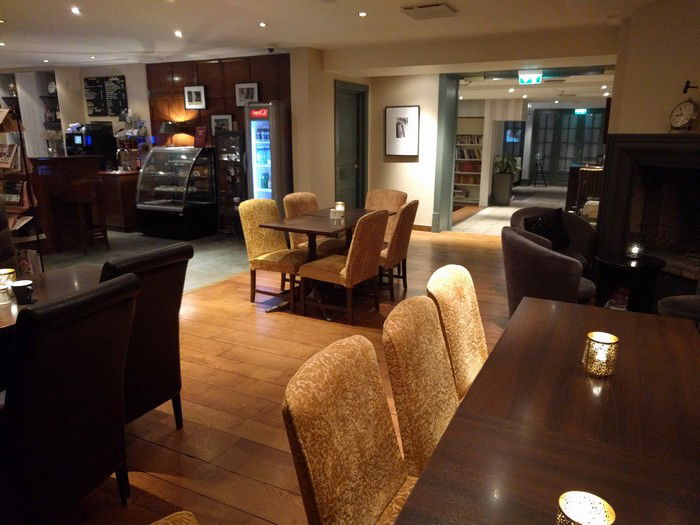 Hotel Bastion Common Space
Then the dining room where breakfast, dinner, and snacks are served is to the right.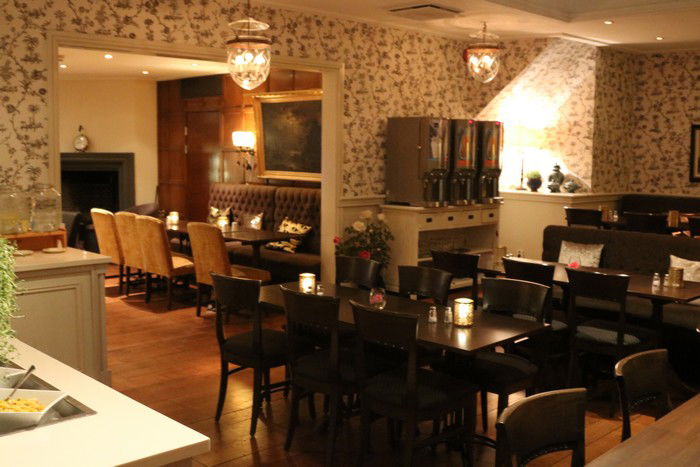 Hotel Bastion Dining Room
Turning left takes you through a hallway that leads to a small yet comfy TV lounge and sitting area. There were also some small toys and a rocking horse for the kids.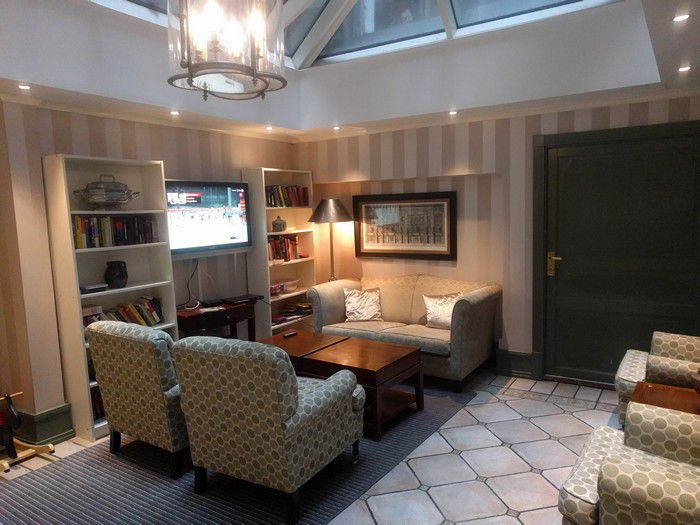 Hotel Bastion TV Lounge
I thought the skylight was pretty cool, especially while it was snowing.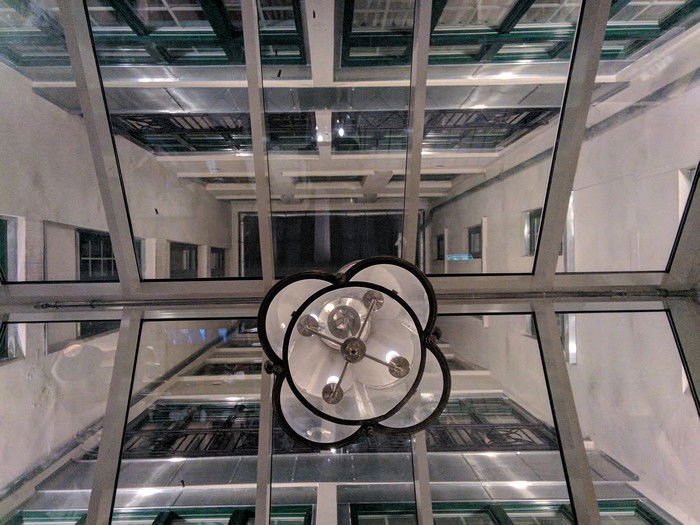 Hotel Bastion Skylight
There's also a nice sitting area back there.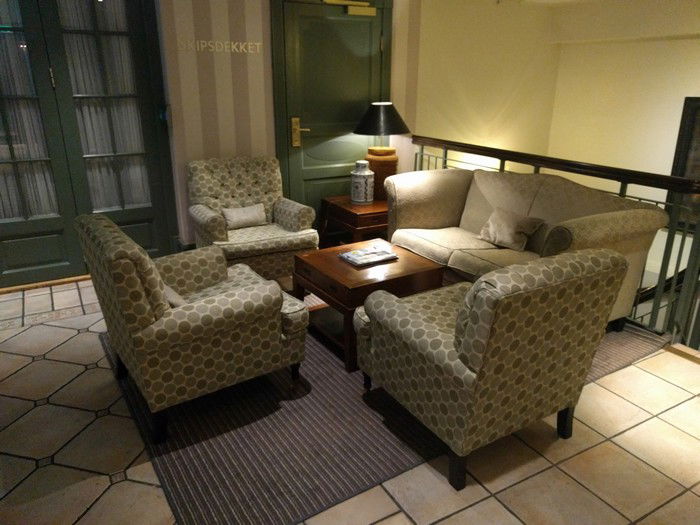 Hotel Bastion Sitting Area
The Hotel Bastion has a modest gym in the basement.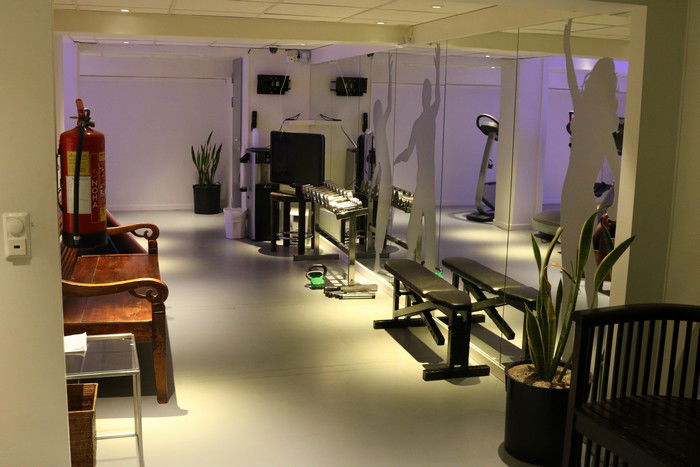 Hotel Bastion Gym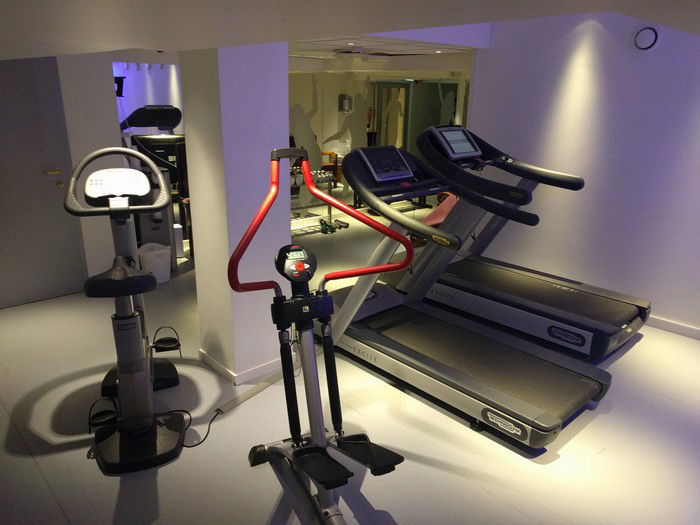 Hotel Bastion Gym
There were locker rooms by the gym.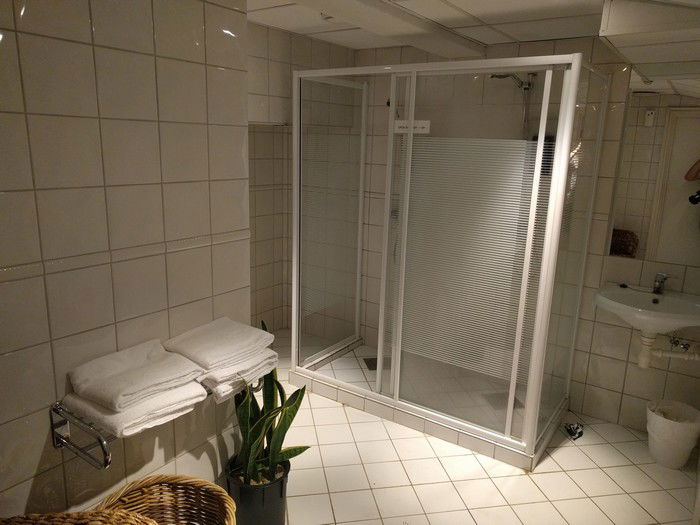 Hotel Bastion Locker Room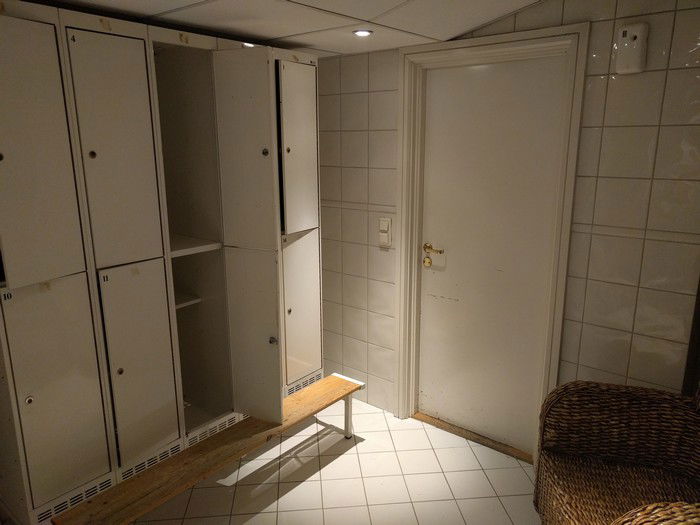 Hotel Bastion Sauna
And a sauna. It was hot when I poked my head in, but sadly I didn't have a chance to partake.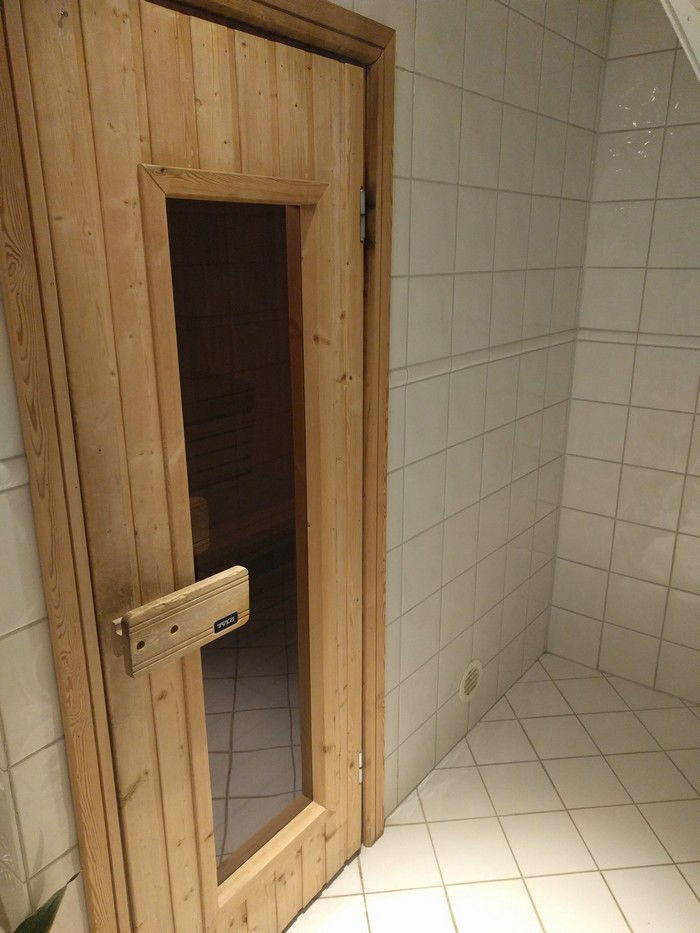 Hotel Bastion Sauna
Another cool feature is a guest washer and dryer. The washer might actually be free considering the coin slot is sort of dismantled.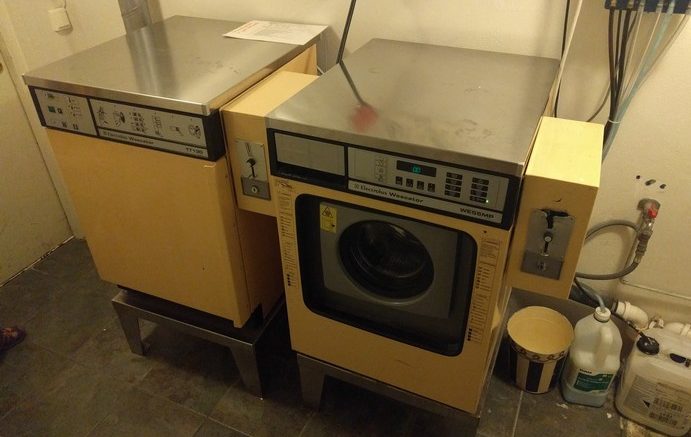 Hotel Bastion Guest Laundry
Complimentary Breakfast, Snacks, and Dinner
Arguably the biggest reason to stay at a Clarion Collection hotel in Norway is that they provide breakfast, snacks, and dinner. The Hotel Bastion didn't disappoint.
The complimentary meals are served in the dining room which is at the back of the main floor. I loved this space. It felt like we had stepped back in time to a simpler era where travelers would sit down together and share a meal.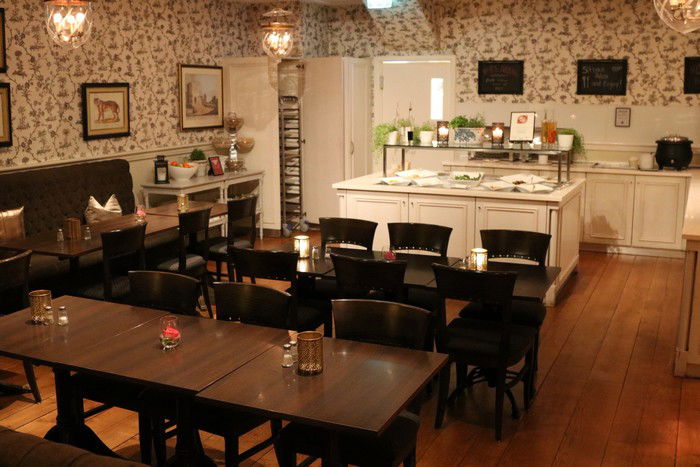 Hotel Bastion Dining Room
We had no trouble getting seating for our family of five during our stay, though I can imagine it might get busier during the summer.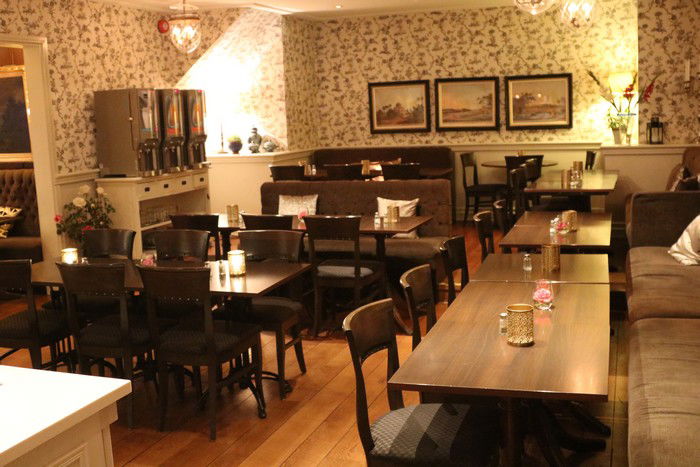 Hotel Bastion Dining Room
Did I mention how much I loved the dark woodwork, wallpaper, lighting, and everything about this hotel? It just felt so homey, especially with the snow gently falling outside.
We were able to request a high chair for the little one.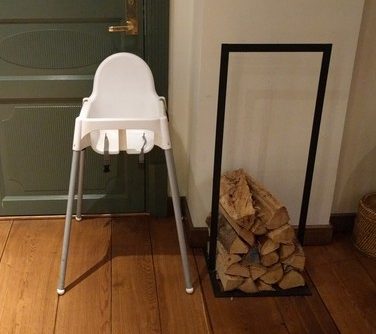 Hotel Bastion Baby Chair
Breakfast was a nice spread of hot and cold items. There were three kinds of eggs on offer.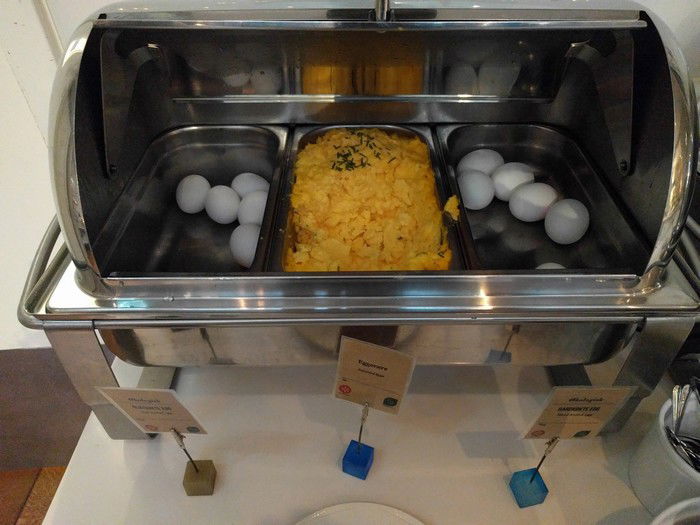 Hotel Bastion Breakfast
Or you could make your own. Same with the pancakes.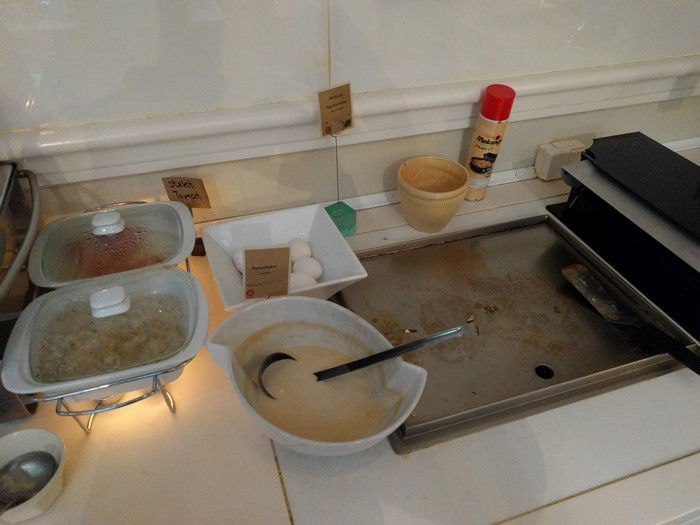 Hotel Bastion Breakfast
Then there was bacon, beans, and sausages.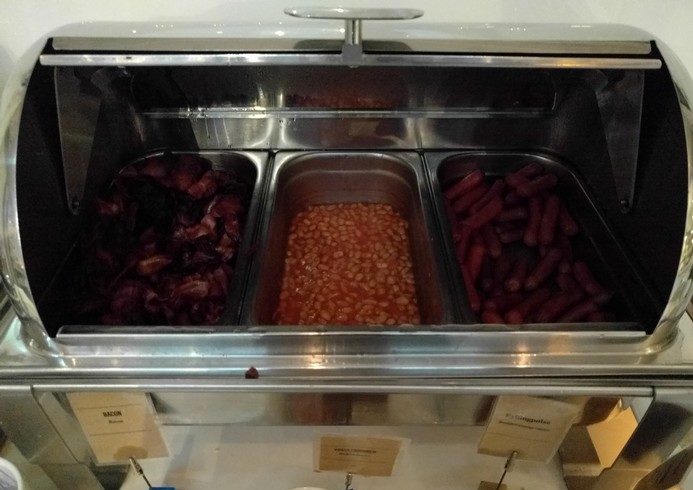 Hotel Bastion Breakfast
Along with a wide array of meats and cheeses. And caviar.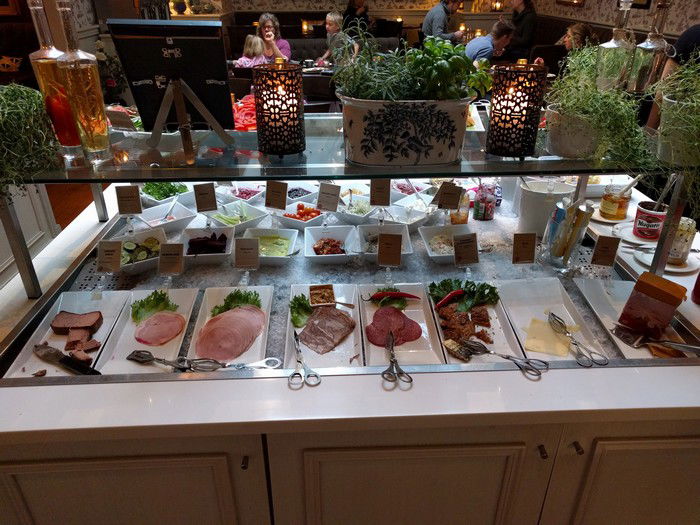 Hotel Bastion Breakfast
On the other side of the buffet were salad fixings and yogurt.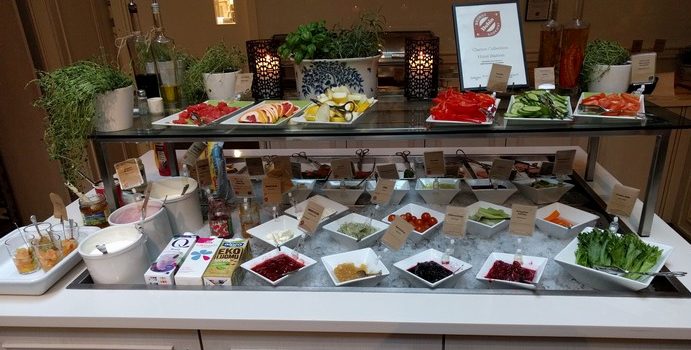 Hotel Bastion Breakfast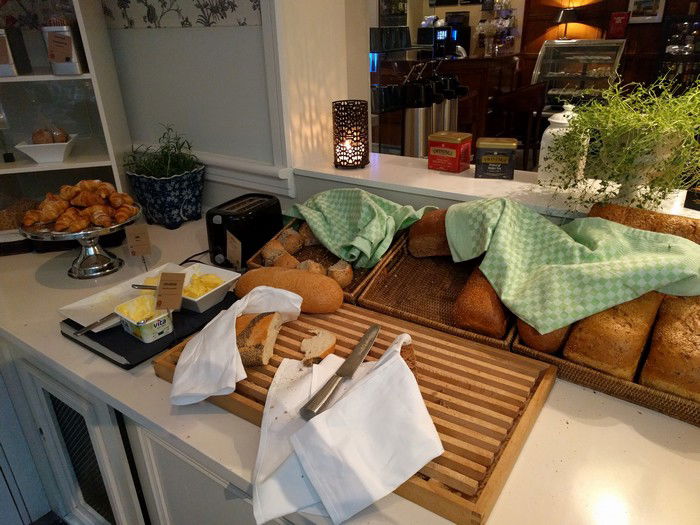 Hotel Bastion Breakfast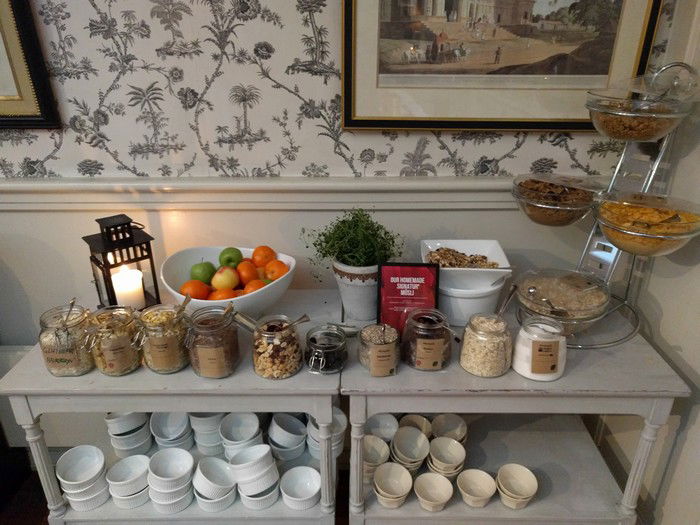 Hotel Bastion Breakfast
Another feature of Clarion Collection hotels is the afternoon snack. The Hotel Bastion has make-your-own pancakes from 3 PM to 5 PM daily.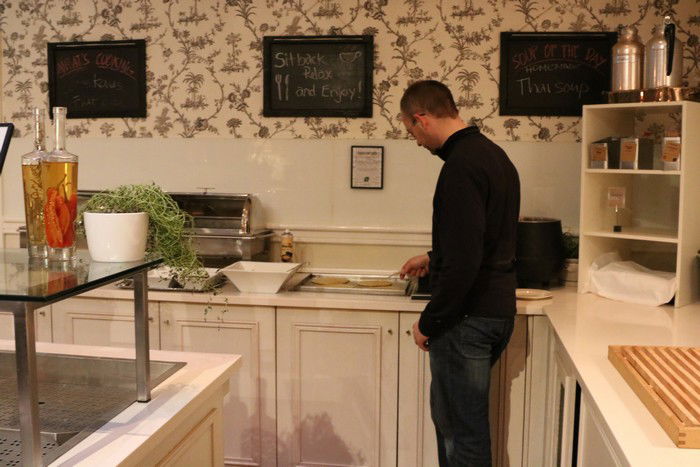 Hotel Bastion Pancakes
There were fruit toppings, including raspberry and blueberry jams, and white granulated sugar. I was surprised that they didn't have butter, so I asked for some and they brought it out. There was also Norwegian brown cheese available during the snack hours. It's kind of a constant at every meal. I think it's pretty good stuff, so I'm not complaining.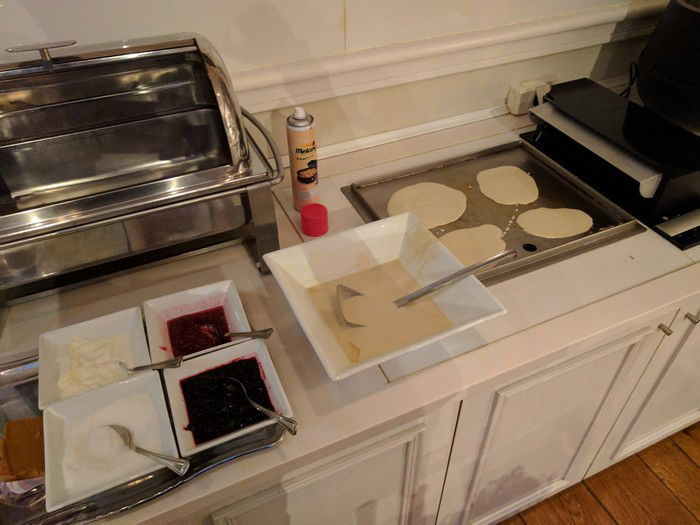 Hotel Bastion Pancakes
The evening meal is a basic yet solid offering consisting of one main hot dish, soup, and then an array of cold meats and salads. I didn't see a published menu, so you just show up and see what the chef made that day. The door to the kitchen has a window, so you can even peek in if you like.
My wife commented that each of the main dishes seemed to be something that you could slow cook all day in a crock pot like maybe they kick it off each morning with breakfast. At any rate, it's all cooked right there and the quality is excellent, even if it's not fancy.
One night we had taco meat with nachos and rice. Another it was a pork stew. Like I said, it's all relatively basic, but really good.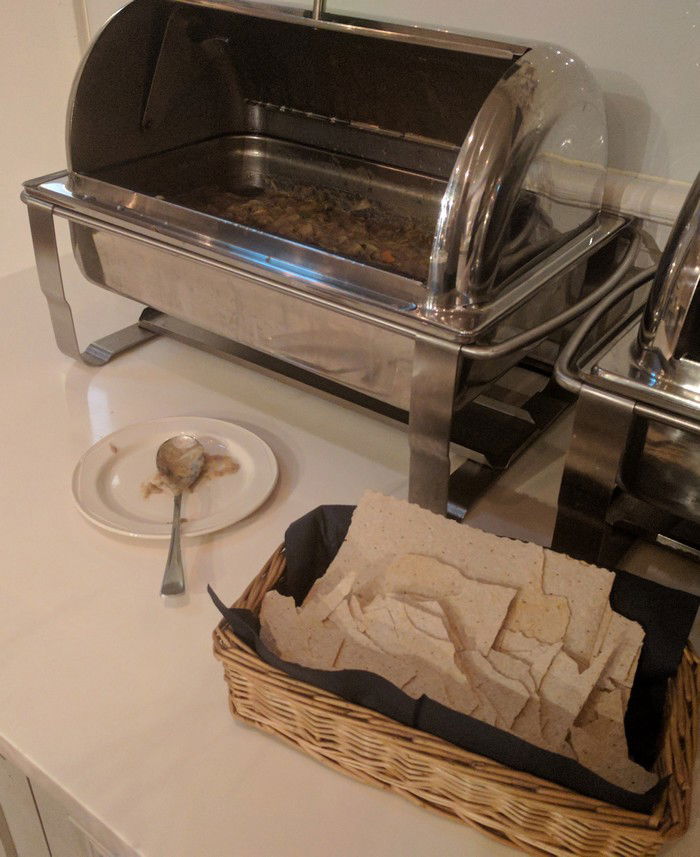 Hotel Bastion Dinner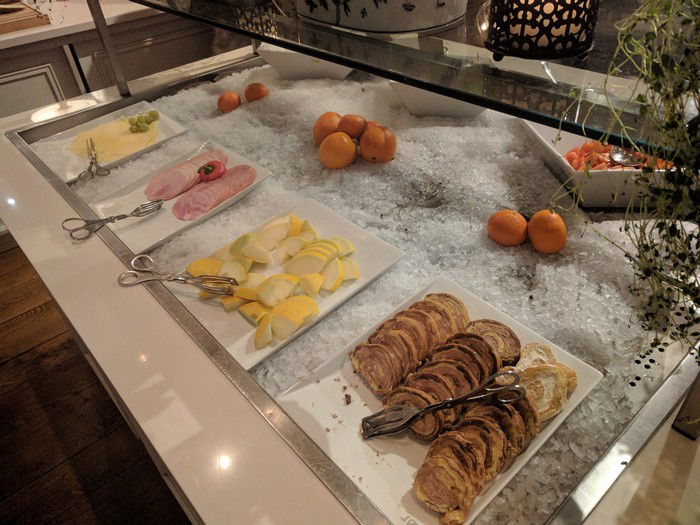 Hotel Bastion Dinner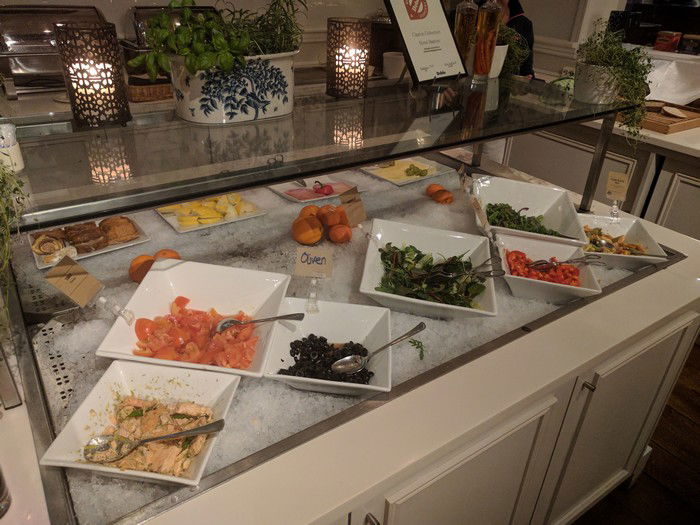 Hotel Bastion Dinner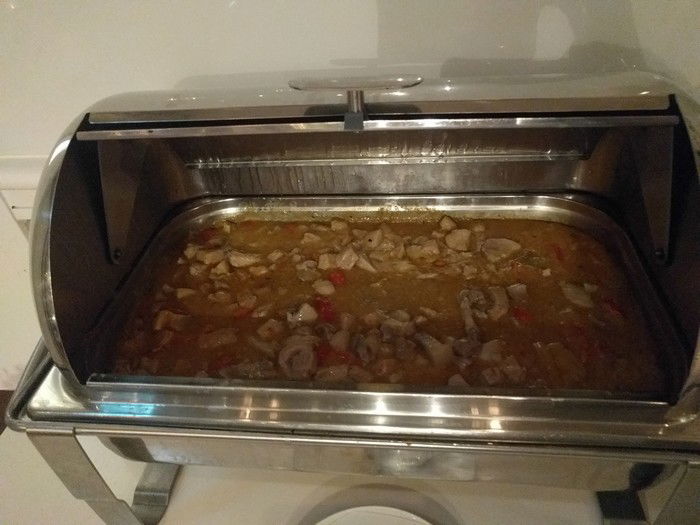 Hotel Bastion Dinner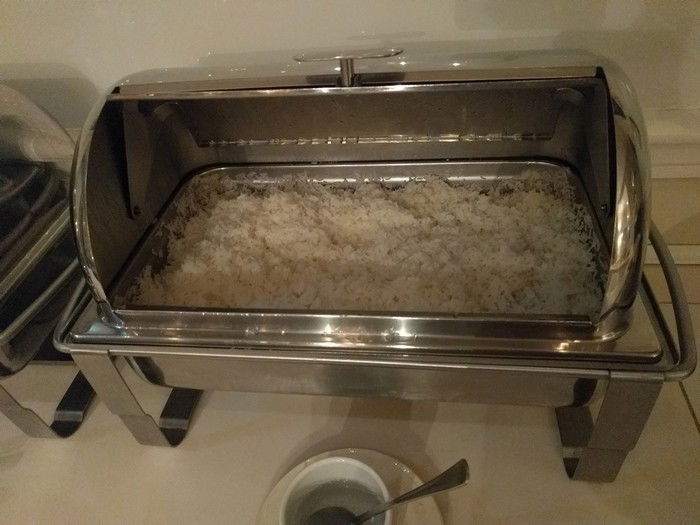 Hotel Bastion Dinner
The soups ranged from broccoli to Thai.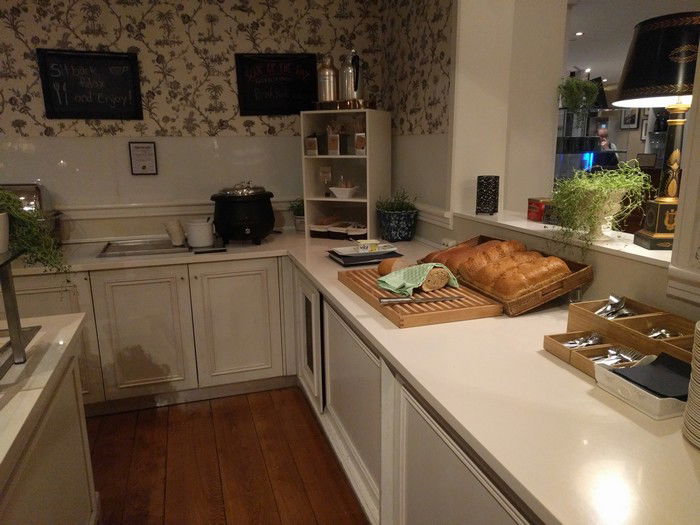 Hotel Bastion Dinner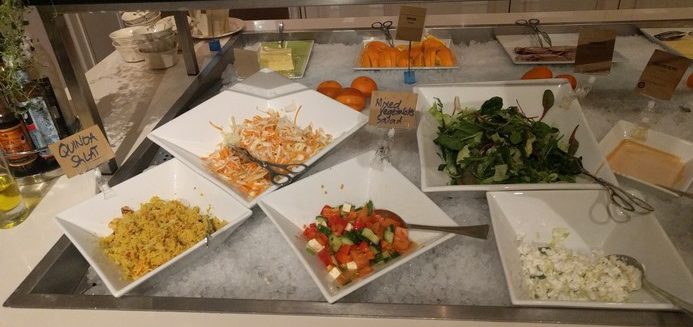 Hotel Bastion Dinner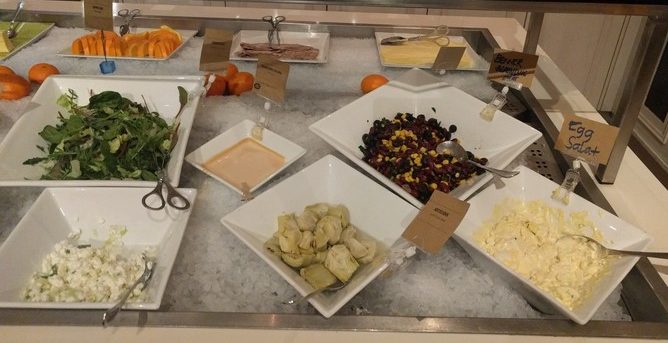 Hotel Bastion Dinner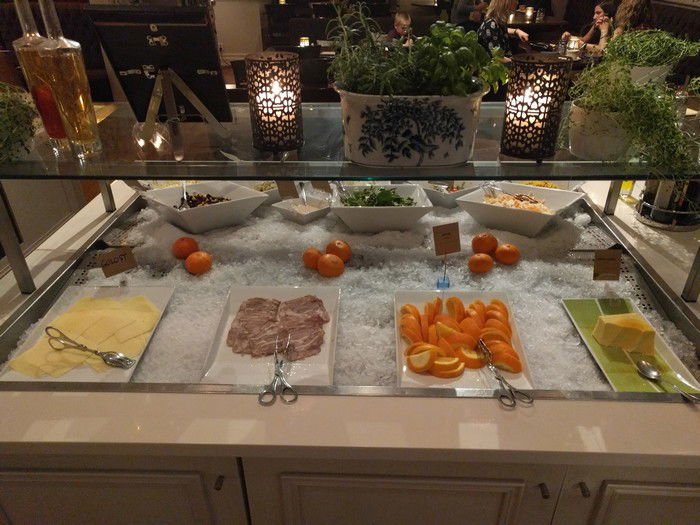 Hotel Bastion Dinner
Drinks other than water can be purchased separately.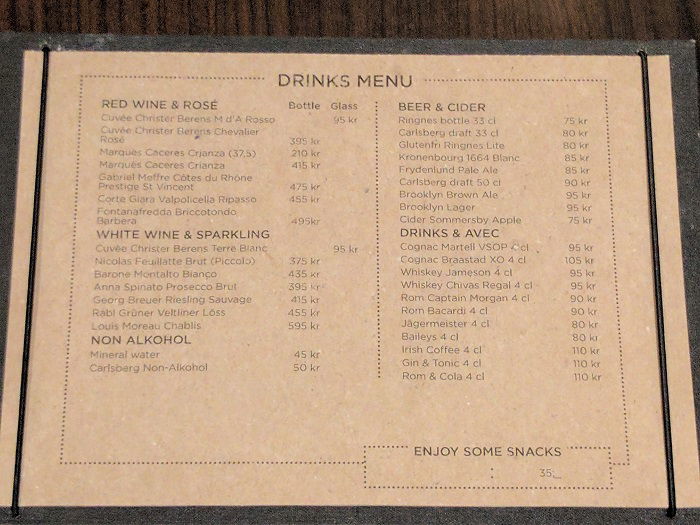 Hotel Bastion Drink Menu
Then there is a coffee machine and assorted tea available in the lobby throughout the day.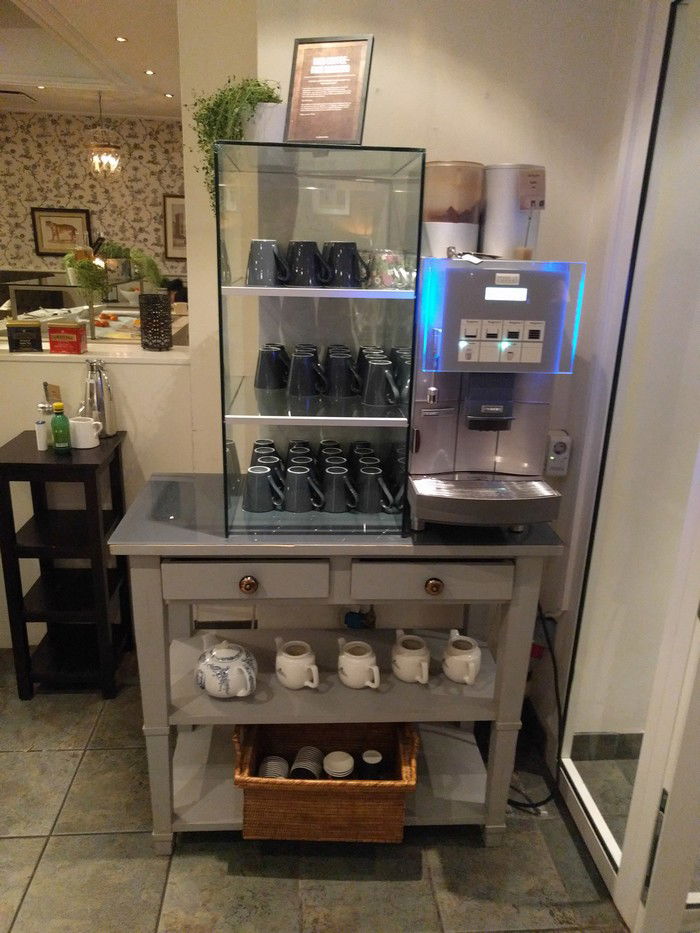 Hotel Bastion Coffee
Along with a tower of fruit.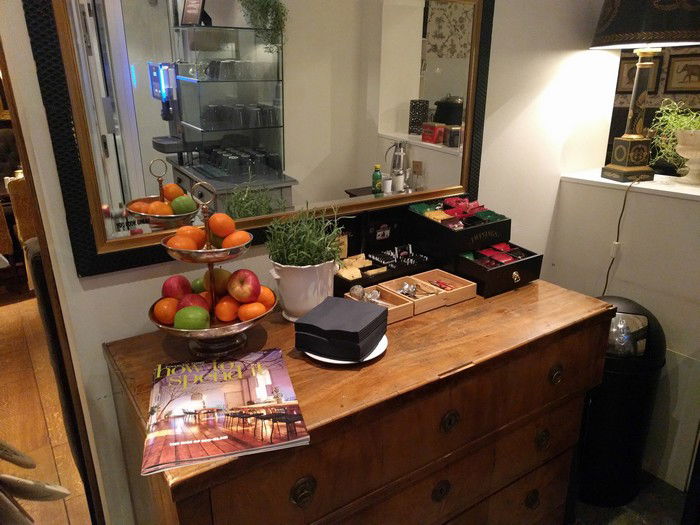 Hotel Bastion Coffee
There were also some snacks and drinks for purchase at the bar which seemed reasonably priced by Norway standards.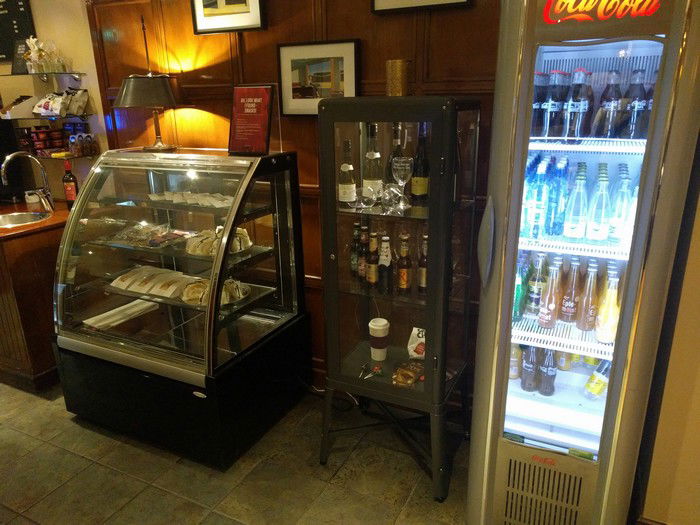 Hotel Bastion
There was also sparkling water on tap at a little station in the hallway that leads to the sitting area.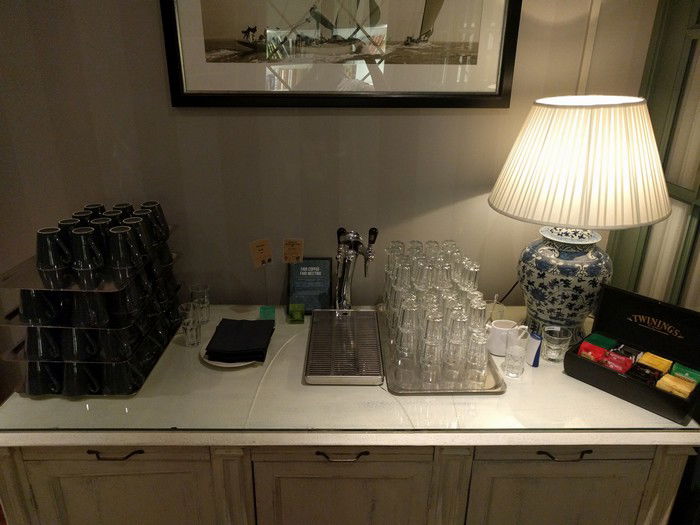 Hotel Bastion
About The Location Of The Hotel Bastion
Some of the reviews I read said that the Hotel Bastion was located in Oslo's red light district. That may be true, but we sure didn't notice much.
Well, that's not entirely true.
The first night our 1-year old was having trouble sleeping so I was up in the middle of the night trying — mostly unsuccessfully — to bounce him back to sleep. Facebook had the nerve to ask me if I was at the Paradise Showbar and Club. I showed it to my wife and she said that Zuck should include an "I Wish" button.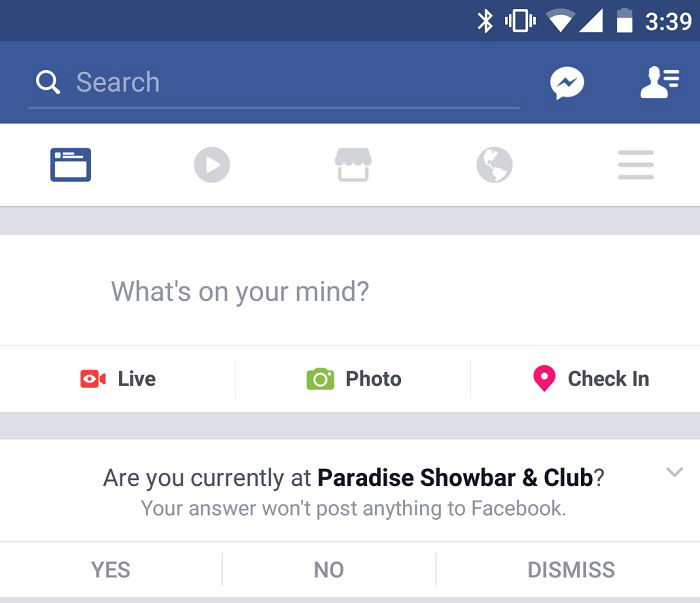 Hotel Bastion
So yeah, Facebook thinks there are some clubs in the area, though I never saw them. We did pass some Thai massage parlors adjacent to the hotel though.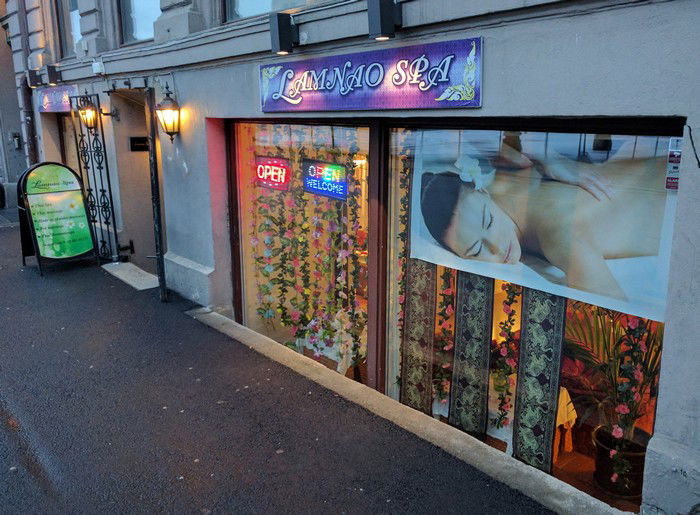 Hotel Bastion
Clarion Collection Hotel Bastion Bottom Line
We fell in love with the Hotel Bastion and would absolutely stay here again.
This is not a shiny new hotel by any stretch of the imagination, but that's not the point. You should stay here if you want to experience Oslo as it might have been like a few decades ago. Don't get me wrong, the hotel has all the modern amenities you'd expect. But the dark wood decor, flowery wall paper, cozy fireplace, quirky hallways and almost communal dining will take you back to an earlier era. Everyone we interacted with was incredibly friendly and helpful.
Then of course, it's a great value for families, because you can get a legitimate two-room suite for 16,000 Choice points per night. That's an insanely awesome deal.
When I went to check out, the guy at the desk said, "Are you sure you want to leave us?"
My reply was perhaps most indicative of our stay.
"No, I don't."