This morning we flew Singapore Airlines from Moscow to Houston, a flight that departed at 9:40AM. Singapore Airlines operates out of Domodedovo Airport, which is the Moscow airport further from the city. Traffic in Moscow can be terrible, so we left the hotel extra early, at around 6AM. The drive takes about an hour, so we figured that would get us there plenty early.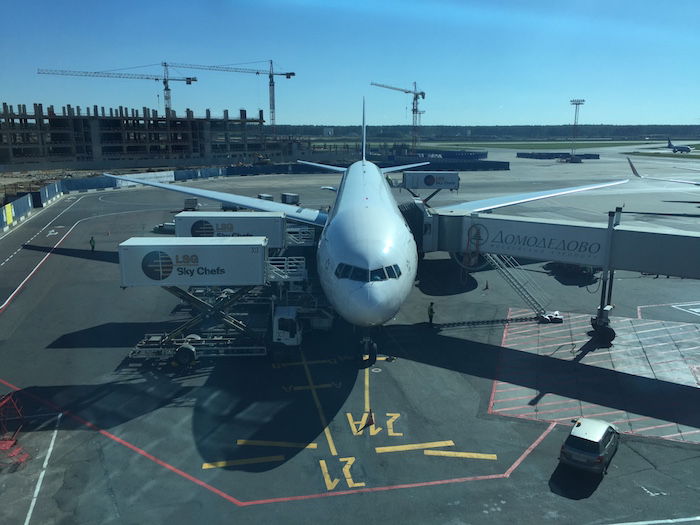 We decided to use UberBLACK, which cost a very reasonable 2,500RUB (~39USD) for the hour-long drive.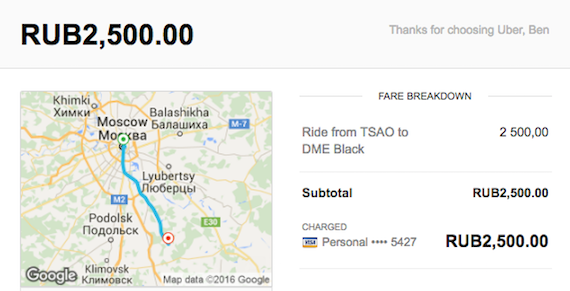 The guy who picked us up seemed friendly, at least compared to the other Uber drivers we had in Moscow. He didn't really speak English, but said "music?" as we got in the car, and then turned on some dance music.
Clubs in Moscow on the weekends seem to be insane, as people seem to party till 6AM. So as we started driving I thought to myself "this guy has probably been driving since last night," since I doubt many Uber drivers are starting at 5-6AM on a Sunday morning.
Domodedovo Airport is nearly an hour drive from the city (it's almost 50 kilometers away), so I figured that was further than he was expecting to drive when he got the request, but also that he wouldn't mind, since it's good money for him.
We got out of the city without anything strange happening, but then found ourselves on the road leading to the airport. It's basically a straight 2-3 lane road for probably 20-30 kilometers.
I was sitting in the back right of the car, so I could see the drivers eyes through the rearview mirror. I saw them open and close, open and close. And I saw that they progressively stayed closed for a long and longer amount of time. Then he started swerving, to the point that other drivers had to get out of the lane next to us. Finally he drifted so far that we nearly got in an accident, and the car next to us had to swerve onto the shoulder.
Ford speaks a little bit of Russian, so at that point he asked the driver if everything was okay. The driver said yes. Ford and I started to have a loud conversation, figuring that he'd be more likely to stay awake if there's noise in the car. But he kept swerving.
I don't know why I have such terrible luck, as I had a similar thing happen in Abu Dhabi a while back. In this case I really didn't know what to do, though we were scared for our lives:
Do we ask him to pull over on the side of the road, even though there's not really anywhere to pull over, and we can't really get out on an interstate?
We can't really communicate with him much, so what else can we really say?
So we proceeded to have a loud conversation, our palms were sweating, and on my phone I was counting down every fraction of a mile to when we'd be there. I reminded myself that there are a lot of tired people on the road, and a vast majority of people don't have accidents (though this guy was especially tired).
While I enjoy the general challenges of traveling, like finding my way around, discovering new places, etc., it's people irresponsibly doing their jobs that's my least favorite part of travel. That's significantly worse when you're traveling than when you're at home, especially when you can't speak the language, don't know the alternatives, don't know social norms, etc. I don't mind getting lost, but it sucks when you truly feel hopeless in situations like this.
Also, I wish Uber changed the information they showed drivers before a ride. As a feature, Uber doesn't show drivers the destination until they start the trip. It's intended to be a customer friendly policy, so that drivers don't turn down short trips, etc. But at the same time, I really wish they'd show it, especially since entering the destination is voluntary. Maybe the guy wouldn't have accepted the trip if he knew it were to the airport. Or who knows, maybe he still would have…
What would you do in a situation like this?