I'm making a quick trip to Germany this week to visit family, and decided to book Lufthansa first class nonstop out of Seattle: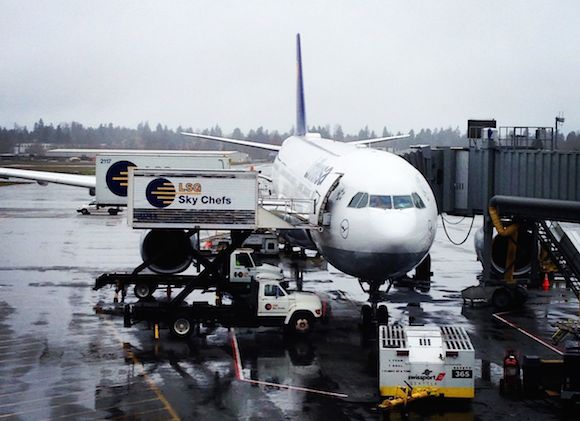 Lufthansa A330 in Seattle
I'm often accused of being a Lufthansa cheerleader, and, well, it's true. You know those 18 year olds that decide to get a tattoo with their boyfriend or girlfriend's name on it because they were "meant to be together forever and nothing can ever tear them apart?" Yeah, well I'd totally be the guy with an "I Love Lufthansa" tramp stamp. I admit it.
But for the first time I can remember, I'm actually… disappointed in Lufthansa first class.
Lufthansa A330 new first class seat
So I've flown Lufthansa's new first class before. I find it to be an incredibly elegant product. Lufthansa has an identical first class product on the A330-300 as they have on the A340-600, which I flew last year from Munich to Los Angeles.
And for that matter it's a very similar seat to what they have on the 747-8 and A380.
The only "new" first class product that's at all different is on the 747-400, which features a seat and bed combination.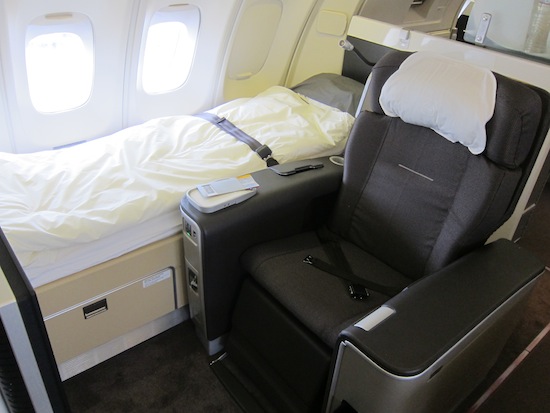 Lufthansa 747-400 first class
So while it's not a fully enclosed suite or anything, the cabin is elegant, the seats spacious, and the bedding top notch.

Lufthansa A330 first class cabin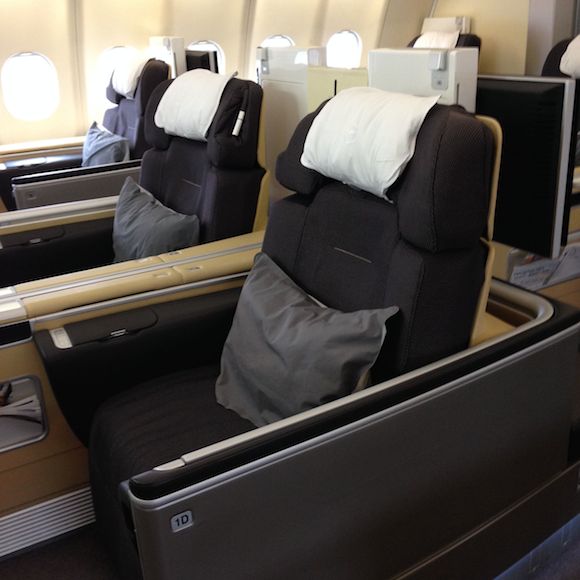 Lufthansa A330 first class seats

Lufthansa A330 first class bed
My only complaint involves FlyNet, Lufthansa's in-flight wifi provider. Last time I flew Lufthansa FlyNet was free, since apparently they were having coverage issues.
On this flight they were charging again, which I was fine with since the cost is reasonable. The only issue is that the coverage was absolute garbage, as a vast majority of websites wouldn't load.
A reasonably good meal in Lufthansa first class

The food was reasonably good by Lufthansa standards, minus the main course.
There was a delicious crab and avocado amuse bouche.

Lufthansa first class amuse bouche
That was followed by caviar.

Lufthansa first class caviar
That was followed by an appetizer trio and salad, which were top notch.

Lufthansa first class appetizer
For the main course I ordered the beef, which was chewy and inedible.

Lufthansa first class main course
And for dessert I had a delicious chocolate tart with ice cream.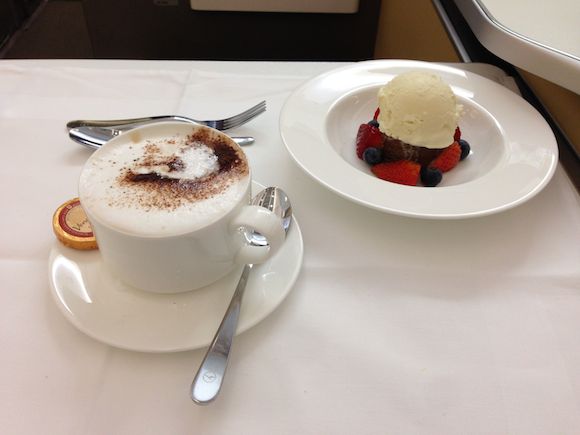 Lufthansa first class dessert
So overall the food was good.
Disappointing Lufthansa first class service
So I usually rave about Lufthansa first class service, because I usually find the flight attendants to be among the best of any western airline. I find that they usually strike a perfect balance between being attentive, professional, and warm (yes, I realize at least one of those is not a German trait).
This crew was none of the above, unfortunately. I guess the tone was really set by the purser. Without exception on every Lufthansa longhaul flight I've taken in first class, the purser comes around to distribute the menu, welcome each passenger aboard, explain we can dine whenever we'd like, etc.

Lufthansa first class menu
This purser literally just held out the menu for me to take and didn't say a word. On approach she didn't come by to see how the flight was, as is the norm. And she was even standing at the door as passengers deplaned and didn't say a word. Hands down the most indifferent purser I've ever had on Lufthansa.
Unfortunately she seemed to set the tone for the first class crew. There were two flight attendants working first class, and I didn't see either of them smile once. They just really looked like they didn't want to be there.
It was 90 minutes into the flight before the meal service began, and three hours into the flight before the dinner service was complete. And it's not even that it took three hours because they were being attentive — glasses were consistently empty.
After dinner service I didn't see the flight attendants in the cabin once.
Let me be clear — they did absolutely nothing to be actively rude — but they left a lot to be desired. I'm always proud to promote Lufthansa since I do believe they offer a world class product, but this flight left me kind of disappointed as a self proclaimed fanboy.
No more Rimowa amenity kits!
By no means a complaint, but I do feel it's worth noting that Lufthansa doesn't seem to be offering Rimowa amenity kits anymore.

Lufthansa first class pajamas, slippers, and amenity kit
Bottom line on Lufthansa first class
At the end of the day Lufthansa first class is still one of my favorite products. I've flown it literally dozens of times and this was definitely the exception rather than the rule. I do believe Lufthansa first class is still the best widely available way to fly between the US and Europe, and all things considered has an edge over Air France (not factoring in their amazing first class lounge in Paris) and British Airways.