---
Okay, we're going to do things a bit differently here, and start with the bottom line:
Visiting Elephant's World was the best thing we did in Thailand, and probably ranks as one of the top ten experiences of my life.
I mean, if you have an aggressive phobia of elephants this probably isn't for you, but otherwise — just go.
Visiting Elephant's World
Oddly, given how many people I know who have visited Thailand, I've only talked to one who has been to Elephant's World. Many people have been to the various elephant camps, so I think it's important to make the distinction.
Elephant's World is a non-profit sanctuary set up to rehabilitate elephants that have been abused and overworked. This isn't one of those places where you ride elephants or play soccer with them, which might be why it's not as popular with the various tourist programs. It's basically a retirement home for elephants.
It is however apparently popular for Thai school groups, so we were advised to go on a weekday, and to call ahead to see how busy a day was scheduled to be before booking.
Getting to Elephant's World is a bit of a haul, though if you're overnighting in Kanchanaburi they'll pick you up. We had our own driver, and it took about an hour from our airbnb to the front gates (we stopped to pick up pineapples and bananas for the elephants, which I highly recommend as well).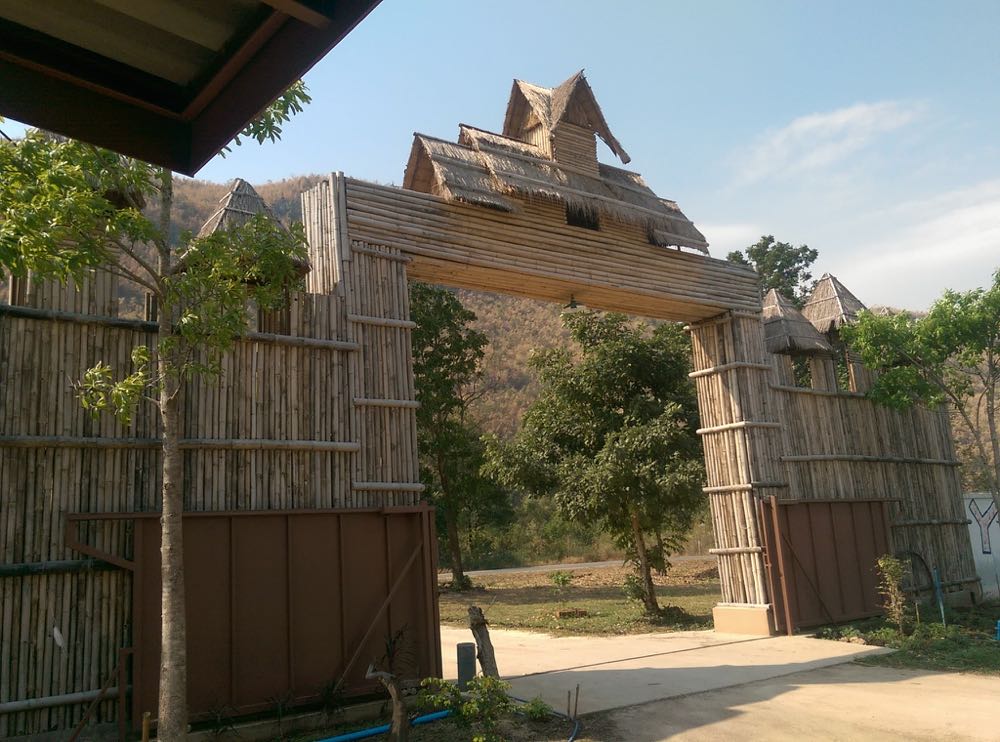 Main entrance to the sanctuary
We were quickly assigned a volunteer guide, had the rules of the place explained (mainly, don't scare or annoy the elephants), and then went to help feed breakfast to the elephants.
They could probably have managed on their own, but how fun is this?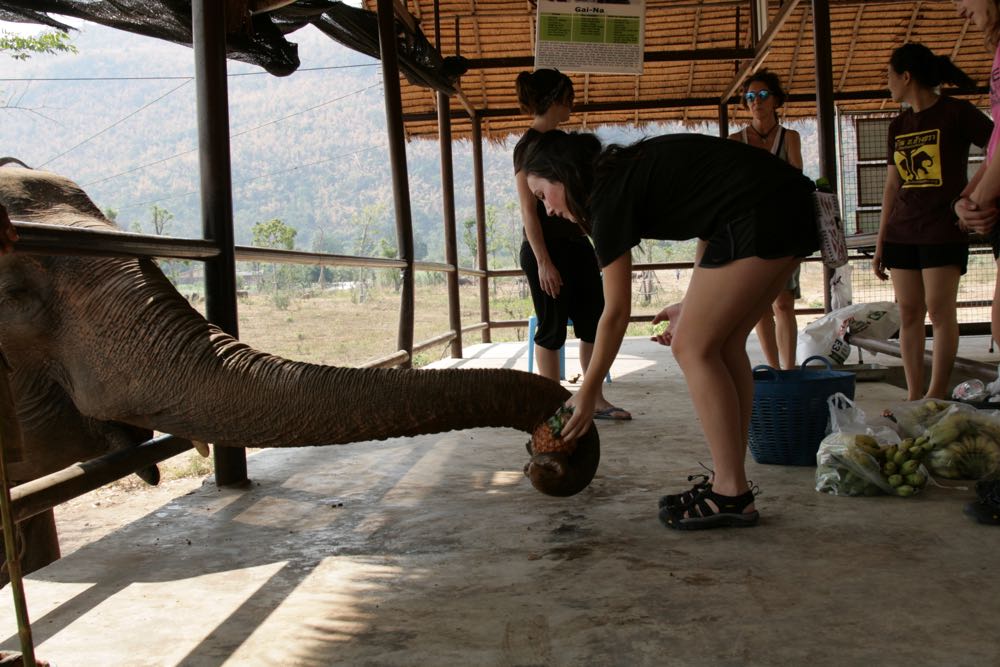 They just eat the entire pineapple!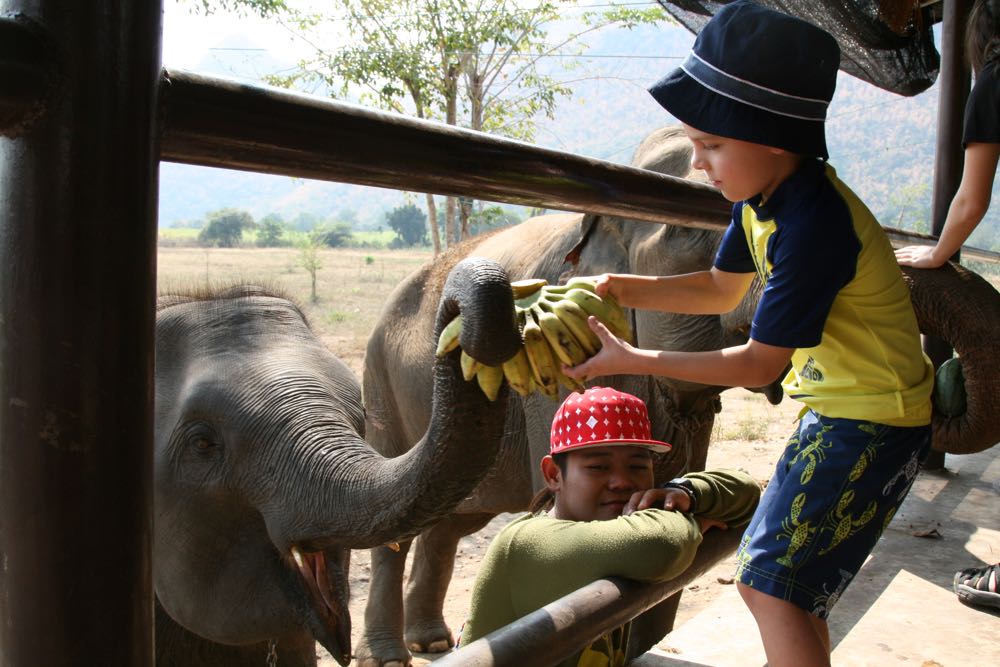 Or the whole bunch of bananas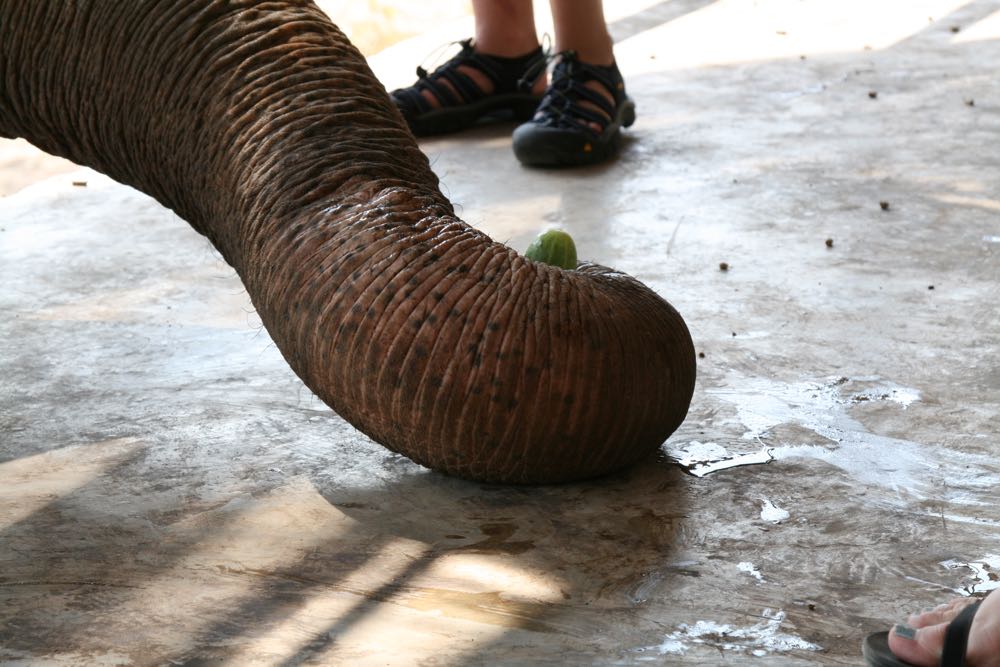 Or the squash (admittedly less impressive after the bananas)
My colleague Jordan had recommended bringing pineapples, which made us very popular.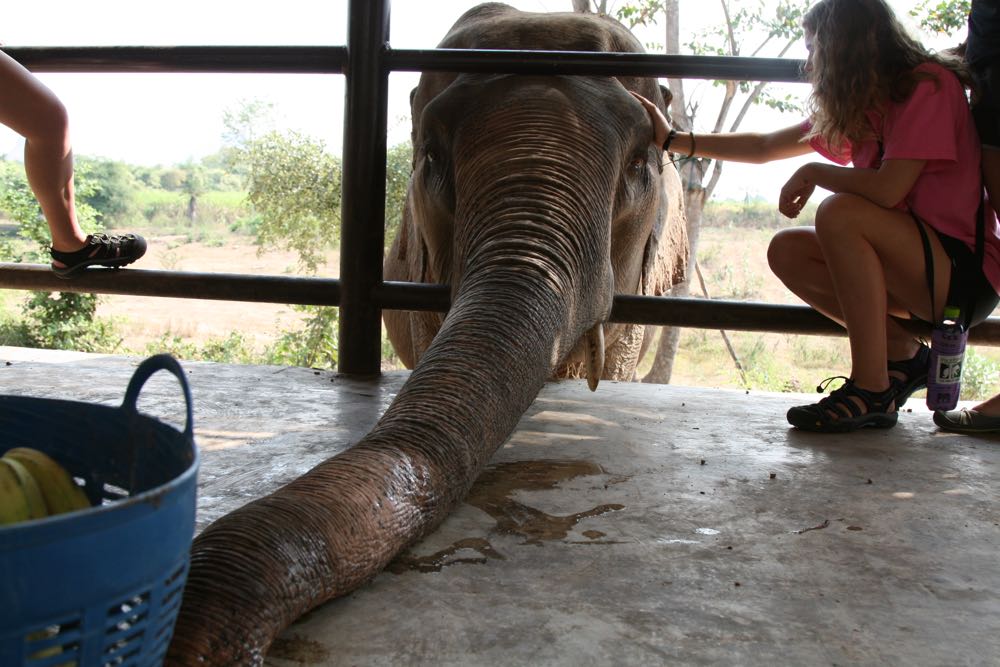 "I don't mind that you're petting me, but I really want the contents of that basket!"
We weren't even an hour in, and this was already the best day ever as far as I was concerned, but there was far more fun to be had!
After elephant-breakfast, we walked down to the river.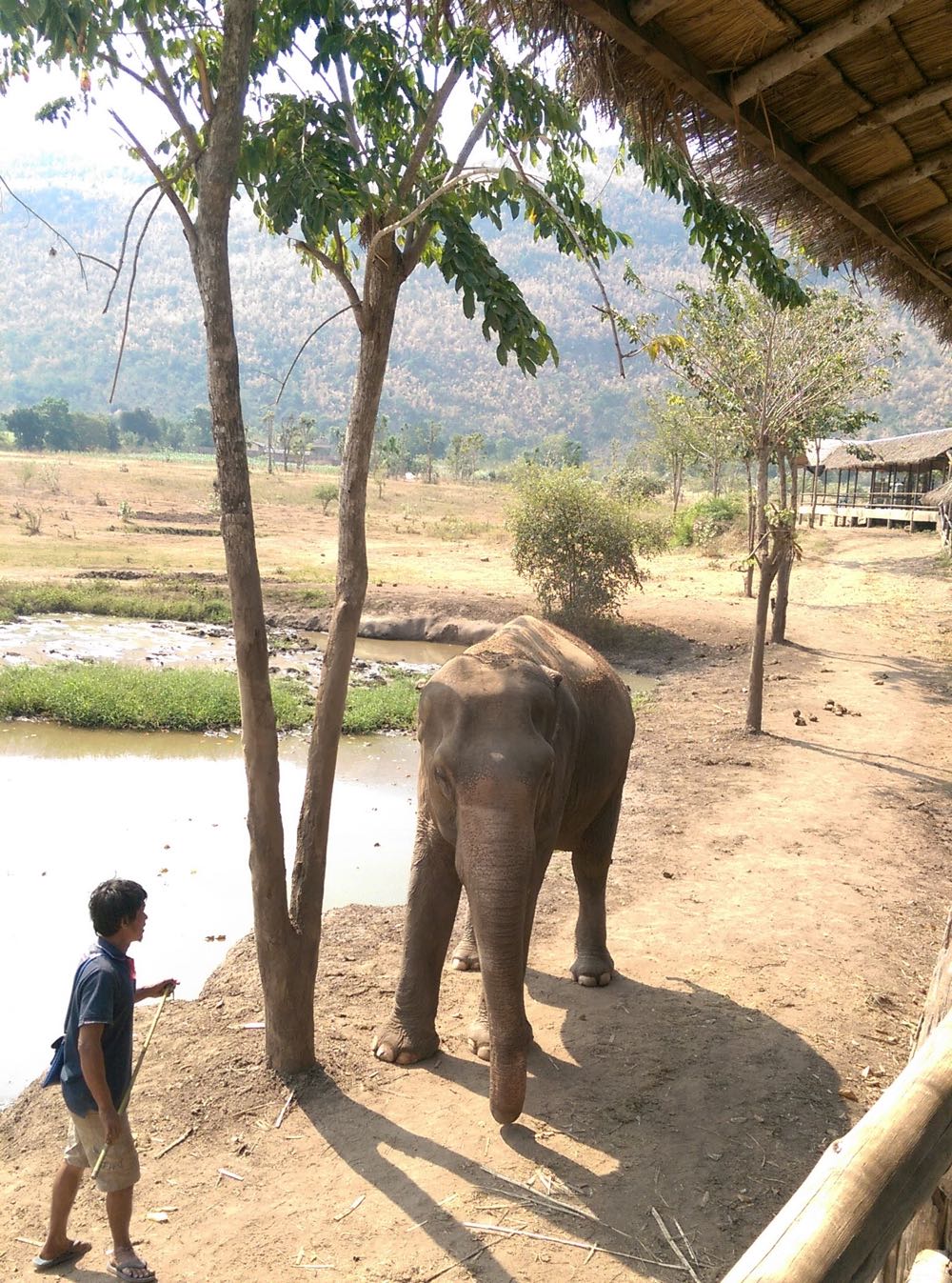 These were all trained elephants, but the mahouts only coaxed, never forced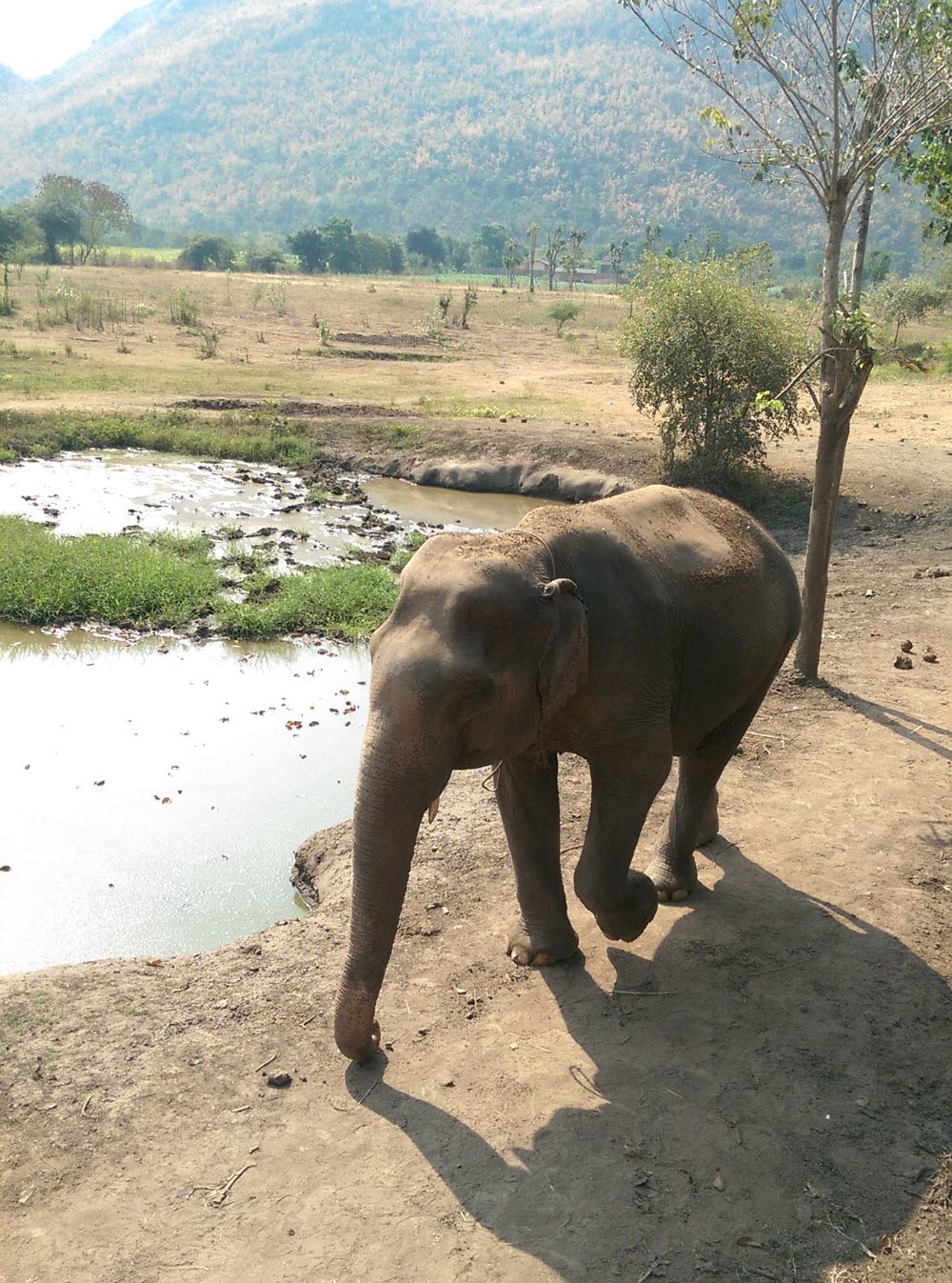 And I think the elephants mainly knew the drill anyway
Because of course, if you're an elephant and just ate pounds and pounds of fruit, you're probably thirsty.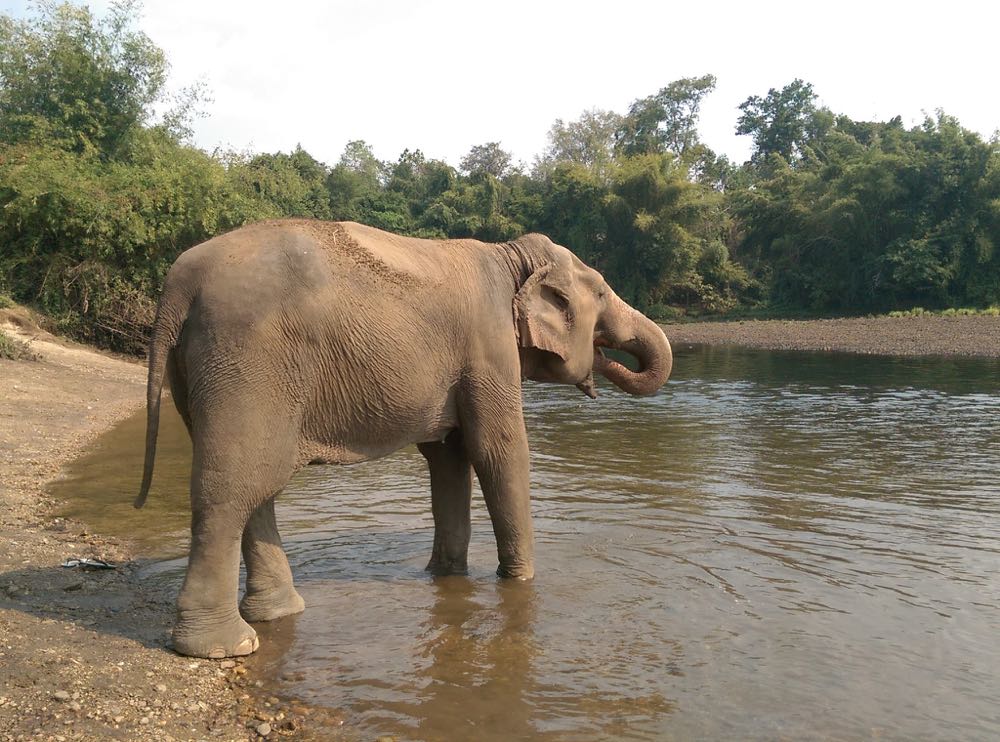 I, however, am glad I didn't have to drink that water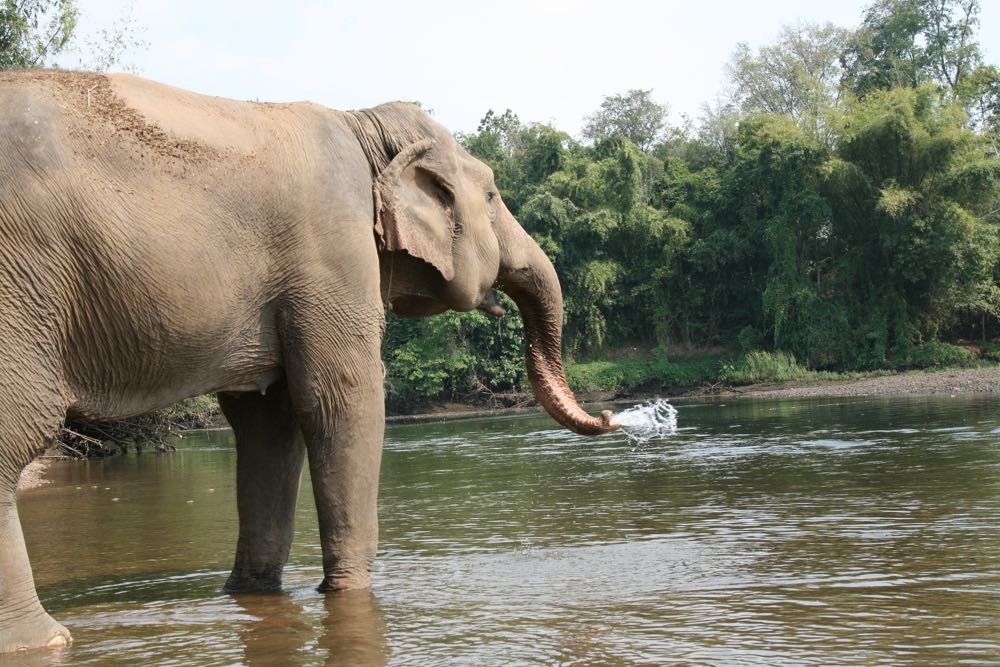 Elephant!
Elephant's World does have a pretty structured day for the people, at least, so we then headed over to a pavilion to help make sticky rice for the old elephants. There are several elephants on the property who don't have teeth anymore (awww), so a special concoction of cooked rice, veggies, and vitamins is made for them.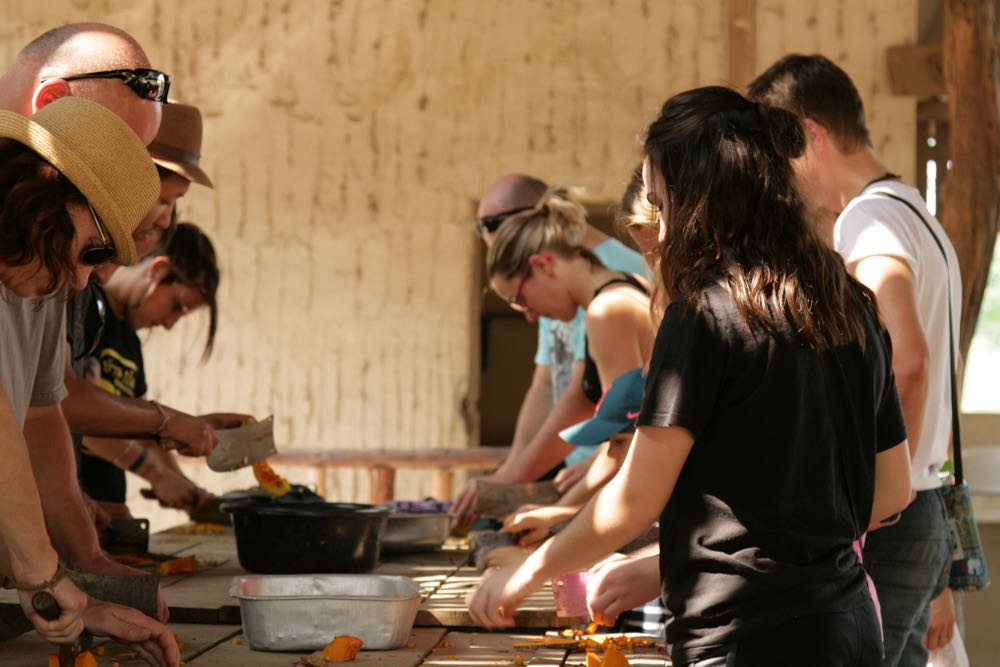 Cutting pumpkins with rusted machetes. There has to be a better process for this part.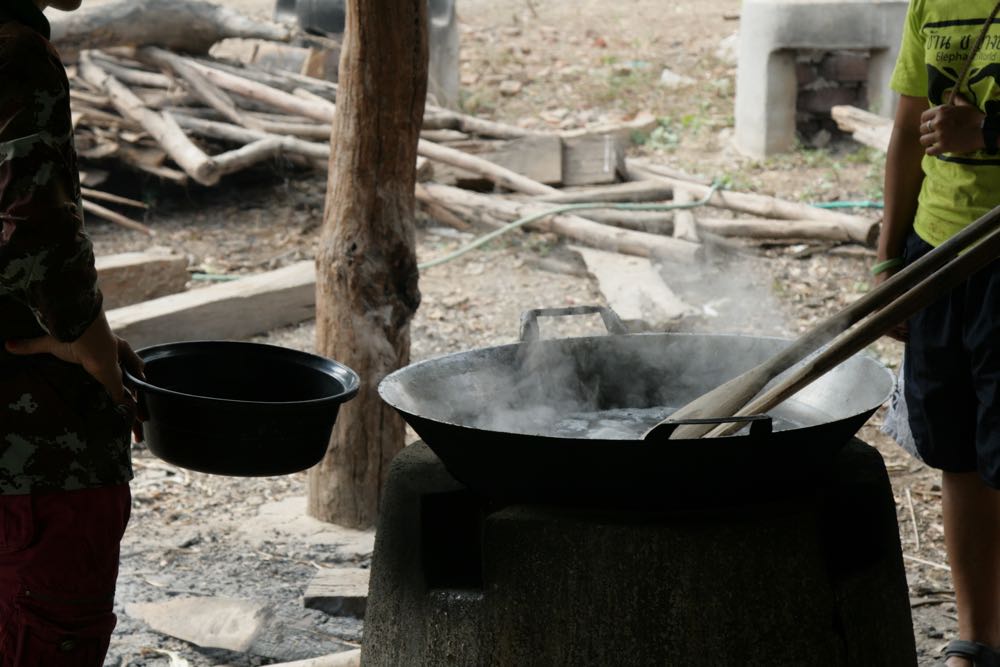 And making rice over coals. Ditto on the process improvement.
While the rice was cooling, we went to have our lunch, and I was actually really impressed with the lunch spread. There was an assortment of Thai foods, along with fruit, and while it wasn't the best food we had on our trip, I thought it was a substantial buffet for a non-profit to put out.
After lunch, we went down to the mudpits with the elephants. There were two little elephants playing with a tire and a bigger elephant (I'm unsure if it was their actual mom, or a foster mom), and gosh they were cute.
I could have watched them all day. (But I won't make y'all do that, you can click through the gallery if you'd like instead).
Eventually we left the elephants to do their thing, and went to make lunch for the elephants.
We divided back into groups to wash fruits and vegetables, or to make baskets for the elephants. Each animal had a basket with their name on it, and a whiteboard on the wall listed each elephant and their likes and dislikes. So one would get extra watermelon, one didn't like bananas much, etc.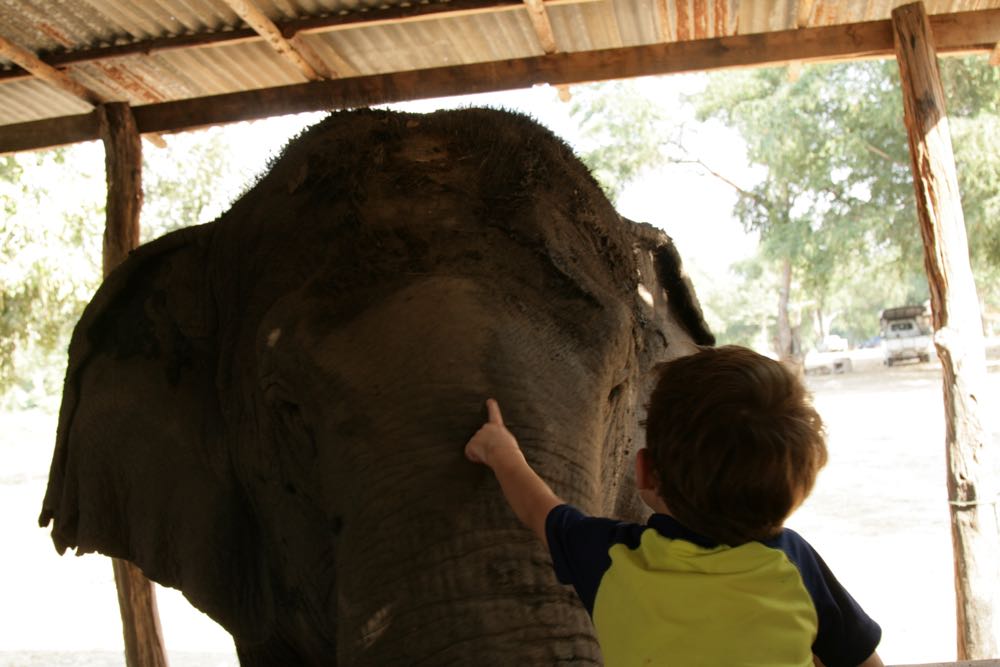 Once the baskets were prepped, we headed back down to the pavilion where we'd made the rice earlier.
The rice was mixed with the vitamins and supplements, and formed into balls. As we got closer to being finished, the older elephants started creeping closer and closer to the hut, not wanting to wait for their meal.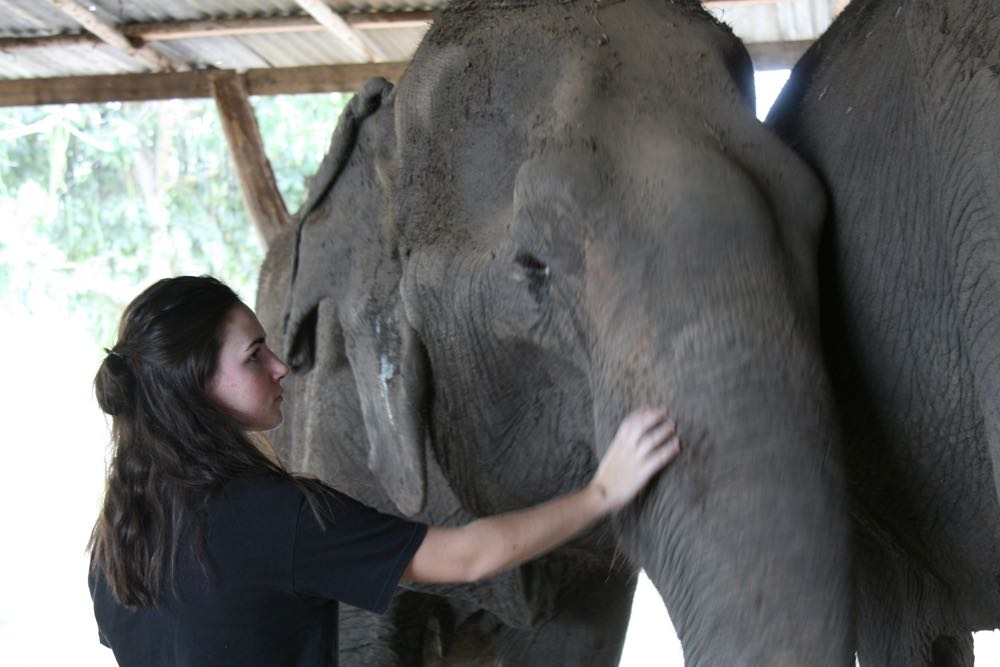 They were so sweet and gentle
And I loved that no one stopped them!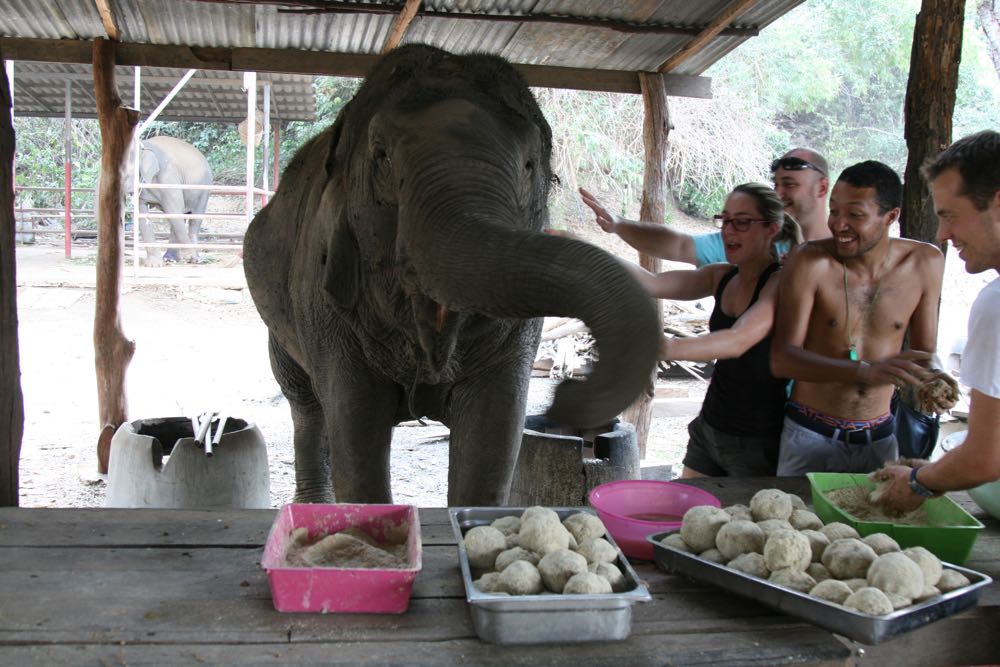 Well, we had to stop him once he started eating all the rice
Turns out feeding rice balls to elephants is impossibly more fun than feeding fruit to elephants.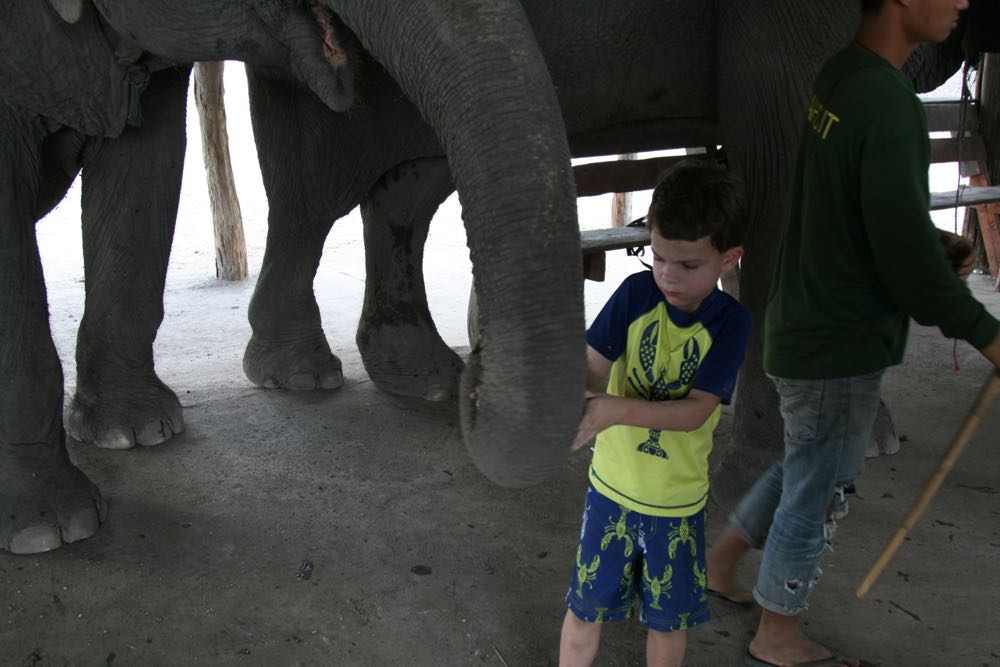 Rice is hard to hold, both for kids and elephants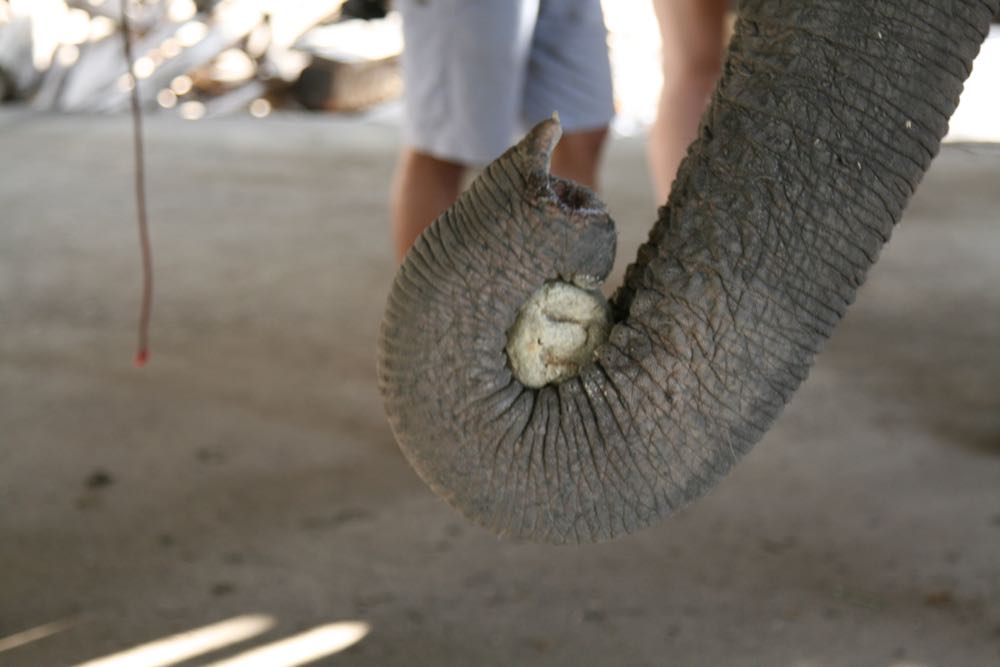 Nice of her to pose like that, right?
With the older elephants fed, we went back to the river to help give the elephants a bath.
Seriously.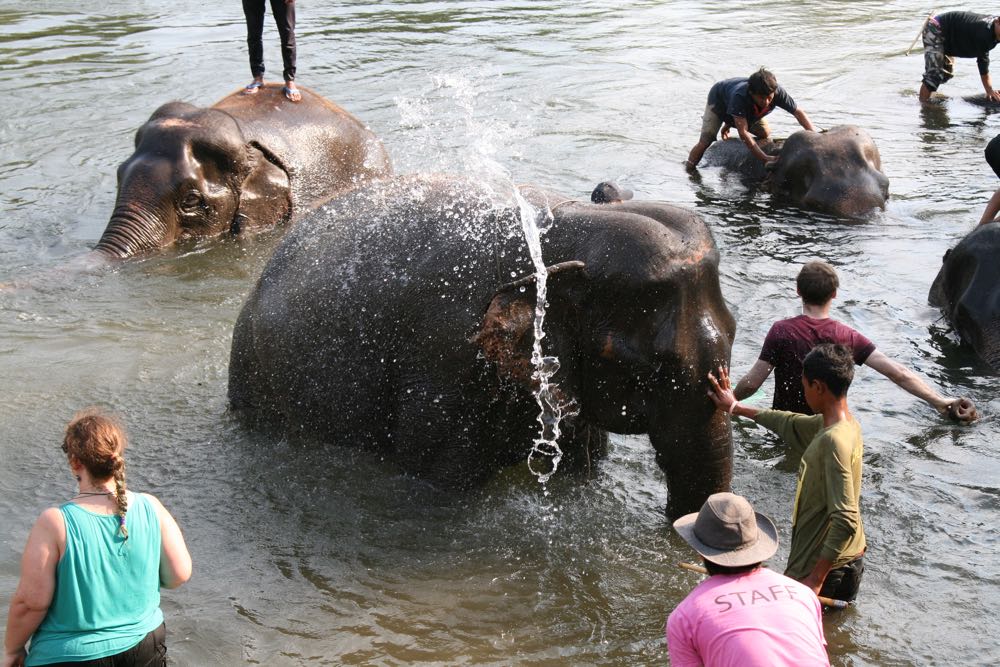 Elephant bath time!
I don't have pictures of this, because when it comes down to it, who wants to be managing the camera when you could be playing in the river with an elephant? Not me.
But putting my nephew on my shoulders so he could scrub between an elephant's ears? Awesome. Getting in a water fight with an elephant? Also awesome. Trying to rinse mud off an elephant's back? A little logistically complicated, but awesome.
After bath time we went back to the main pavilion, and helped dole out the baskets of snacks we'd set aside for each elephant earlier. Which continued to be adorable.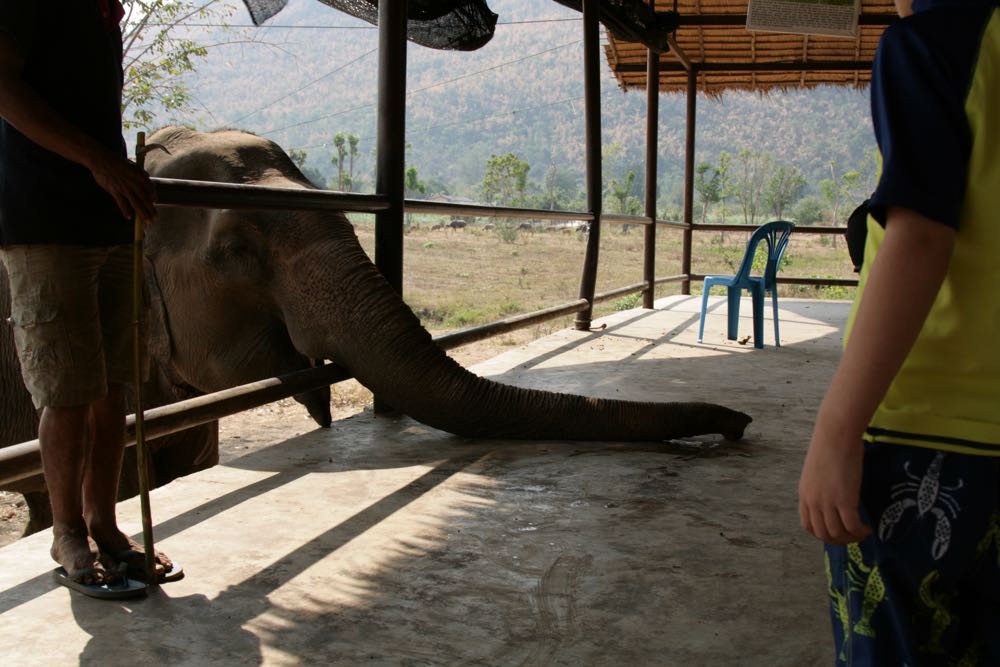 "Om nom nom!"
So it was a pretty good day, basically.
Overall thoughts on Elephant's World
At 2500 Baht (~$70) per person, this was the most expensive thing we did the entire time we were in Thailand. I would happily pay it again. Repeatedly.
The place was so calm and almost-magical, and as feeding two dozen elephants is obviously expensive you could instantly see where the money was going. So I felt really good about the time and money spent.
Besides, we got to play with elephants all day.
Has anyone else been to Elephant's World? What did you think?