---
As we'd had such an incredible experience on our recent food tour in Madrid, we decided to try something similar in Bangkok. I thought it was a great way to get to know a new city, and felt the girls would be more comfortable experiencing some new foods and eating styles if the environment was a bit more structured. The reviews on TripAdvisor were good, so we settled on the Midnight Tour from Bangkok Food Tours.
If nothing else, we figured it would keep us out of the hotel and help us adjust to the new time zone without requiring too much mental coordination.
Taking a toddler on a series of late-night tuk tuk rides is a recipe for disaster, so Heather and her husband drew straws for babysitting duty, and it ended up just being five of us on the tour. A very festive five of us, as the tour guide gave us santa hats when we arrived at the meeting point.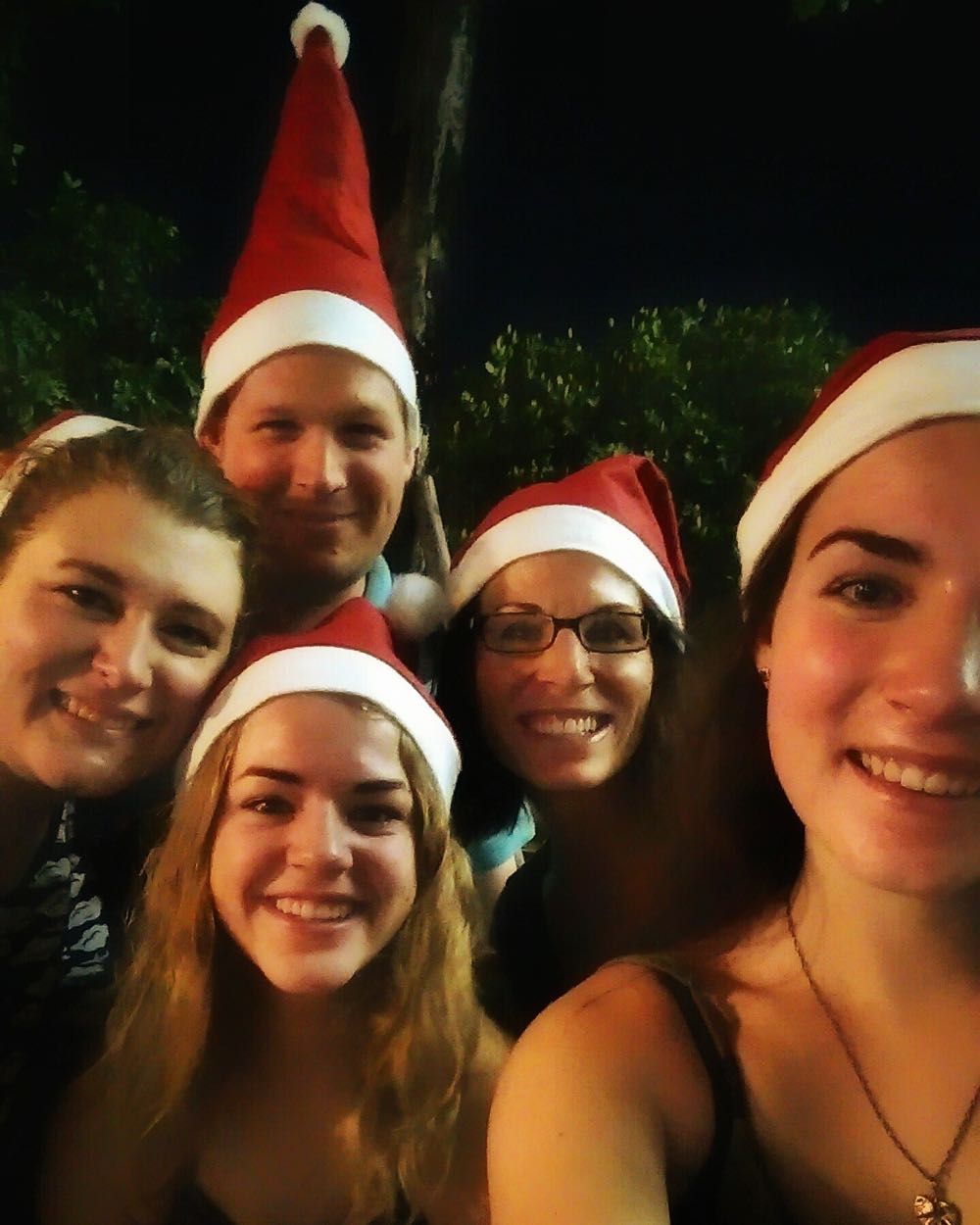 As if we didn't already look like tourists…
The meeting point for Bangkok Food Tours was at Chamchuri Square, which was about a 30 minute walk from the Royal Orchid Sheraton.
Here's one of those fancy Google maps, if you'd like to follow along:
Since we'd been on planes all day we decided to walk, which ended up being fascinating (though odiferous). I'm not sure if my favorite part was listening to my husband explain the difference between a laundry shop and a "laundry" shop to my nieces, stepping around the people who were sleeping on the sidewalks, or the rat that ran across my foot while we were waiting to cross the street.
But, you know, at least it wasn't a sterile experience.
Once we met up with the group we piled in to a fleet of tuk tuks, which was hilarious in and of itself. If you haven't had a "tuk tuk experience" in Bangkok, it's a bit like the Knight Bus:
So having a parade of a half dozen of these things motoring around the city was just incredibly entertaining.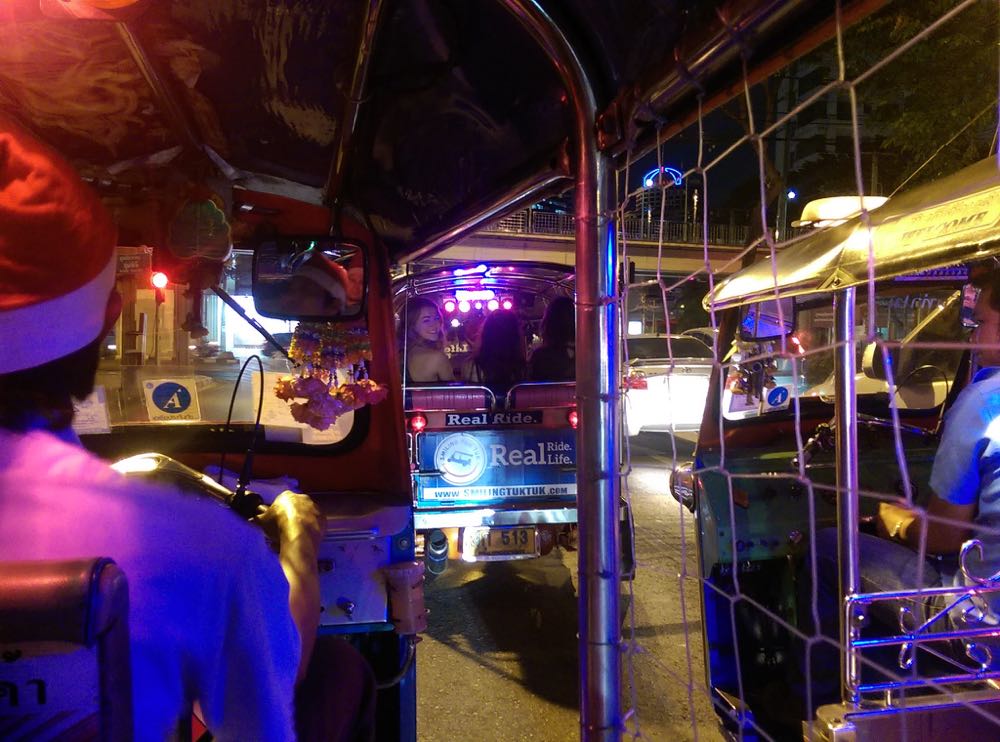 The drivers got Santa hats too, because why not?
Disclaimer before we go any further: I am not a food critic, and know approximately zero words in Thai. So if I get the names of restaurants, foods, websites, whatever wrong, just let me know, and I'll fix it.
This was our first stop on the tour, and was about a 35-minute tuk tuk ride away from the meeting point.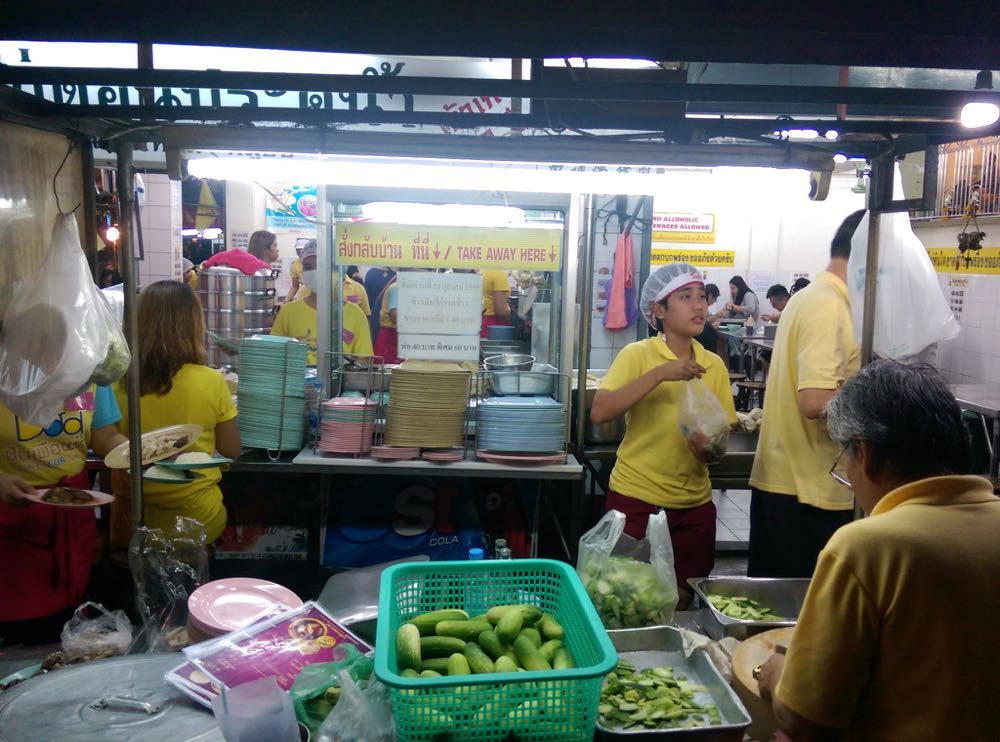 Stacks of plates and baskets of cucumbers. They turn food quickly here.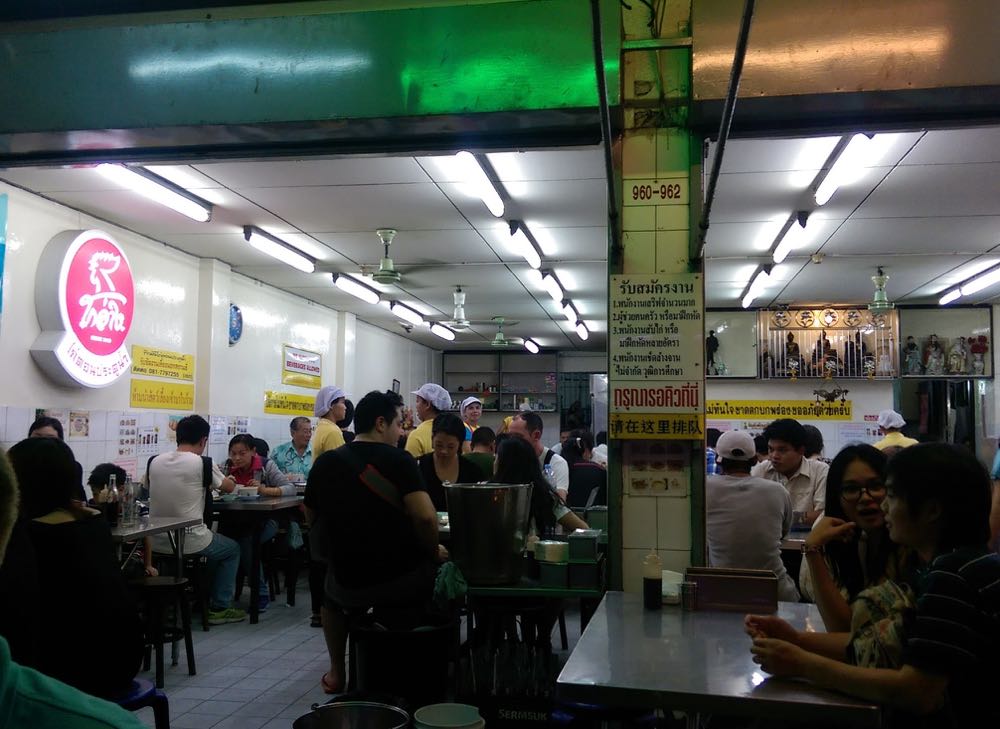 Indoor/outdoor seating
There weren't any tables available when we arrived, so our guide explained the history of the restaurant, and gave some insights into Thai cuisine, but at this point I think the group was just really hungry, because I don't remember a word of what she said.
Once seated, we received an admonition not to place our utensils on the tables, "they clean the tables, but not so well," and plates of papaya salad, Thai chicken rice, and a mango sticky rice were promptly delivered.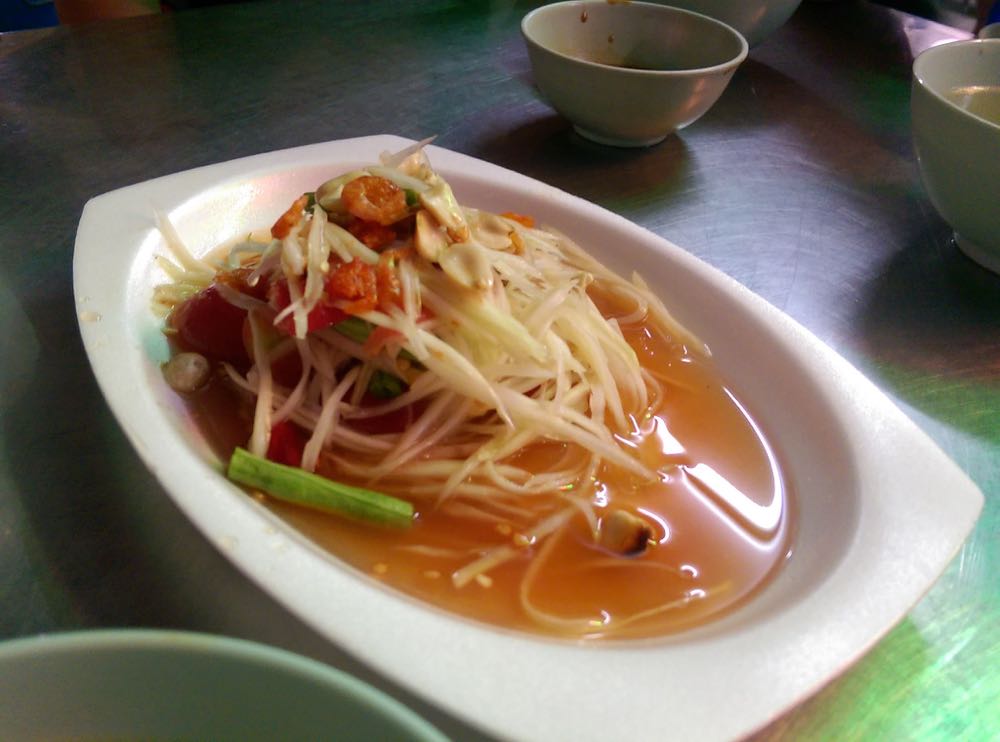 Papaya salad (I think?). It was spicy, that's all I know.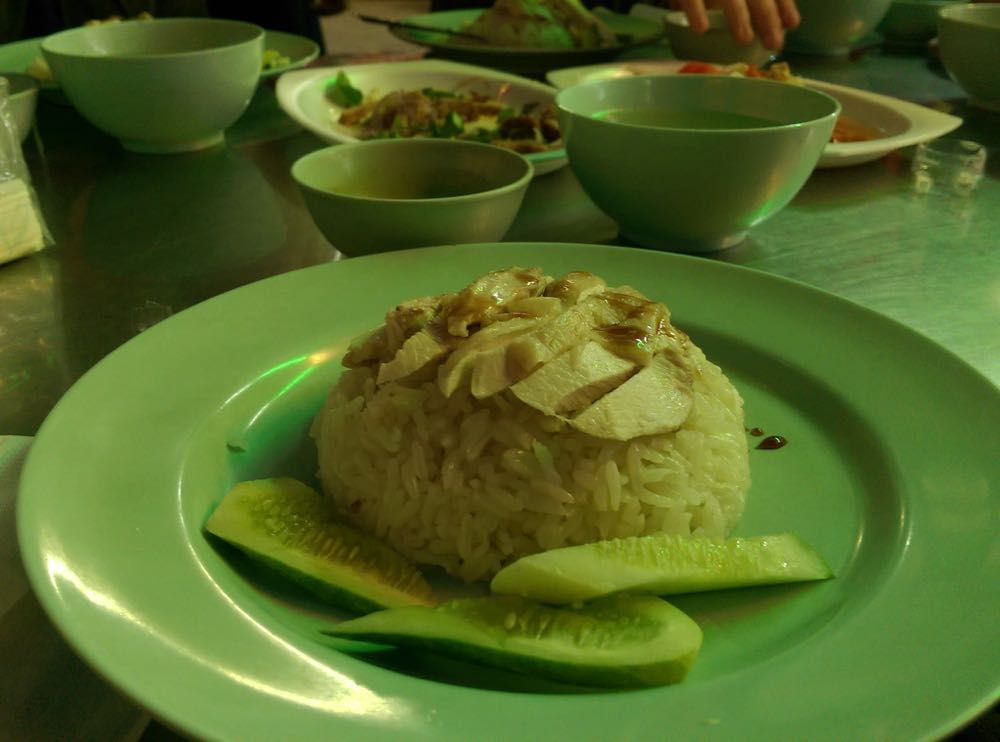 Chicken, rice, cucumbers. Simple and tasty!
The food was good, and it was a fun introduction to Asian street-style food for the girls. I don't think I would have convinced them to sit down at a place like this if we'd walked by it, but everyone enjoyed it, so we were off to a good start!
Nong Ann Kuay Teow Kua Gai
Our next stop was a tiny restaurant with an alley kitchen in the Phlap Phla Chai area of Bangkok. Still street food, just with tables.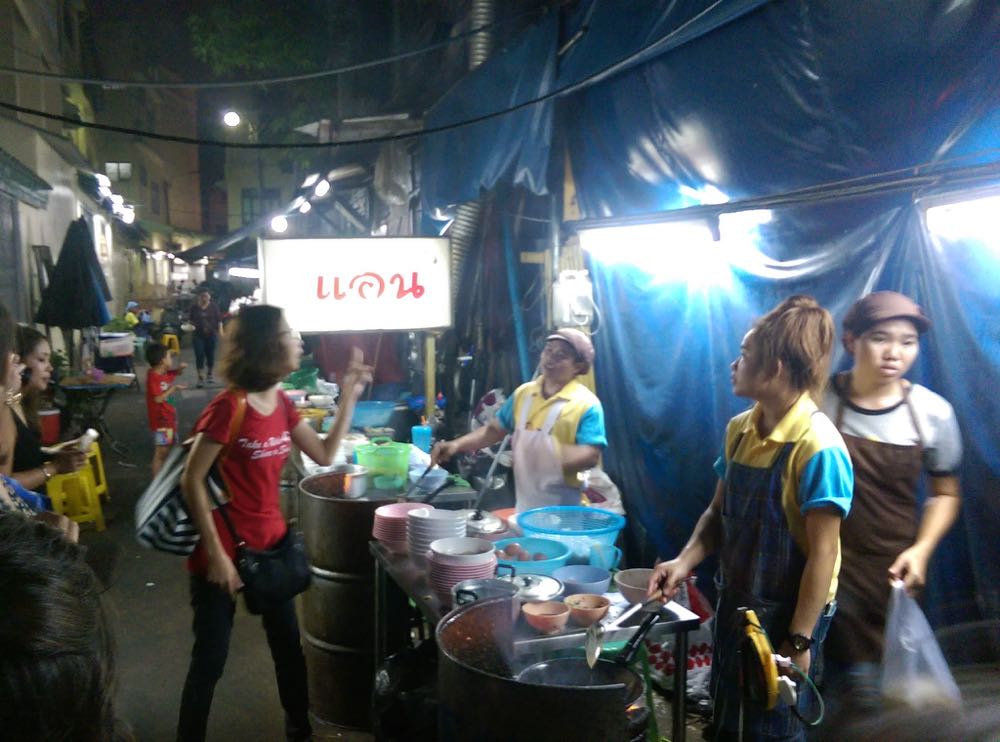 Just because there's a store front doesn't mean it's not street food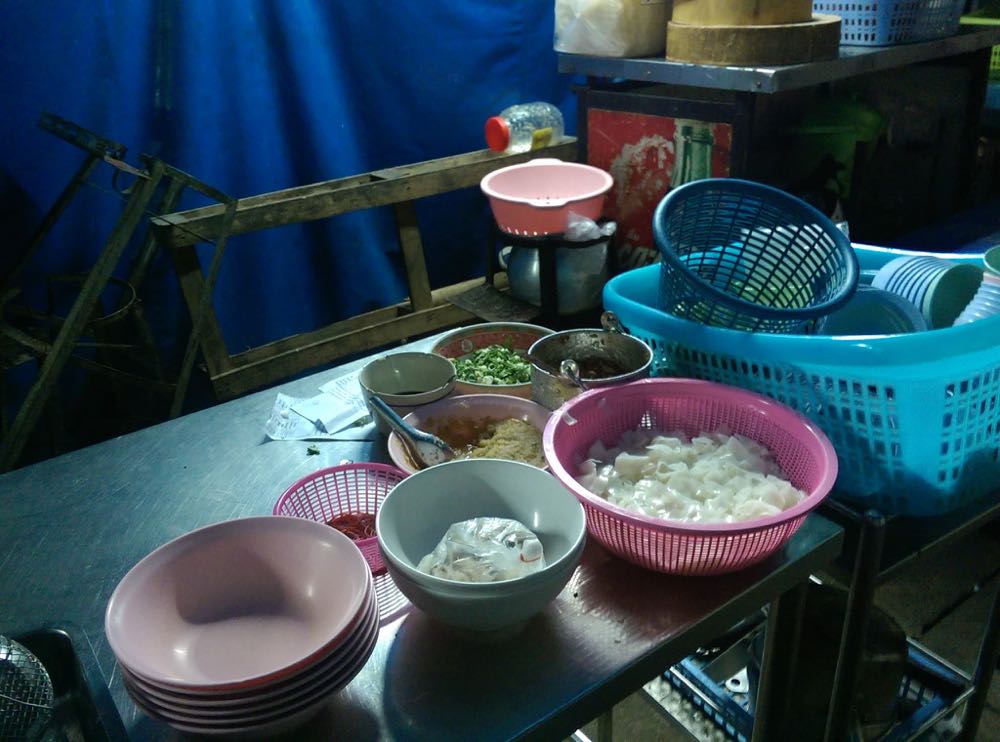 One table for prep, one for cooking, one for dirty dishes
Here we had yummy wide noodles fried with chicken, egg, squid, and deliciousness.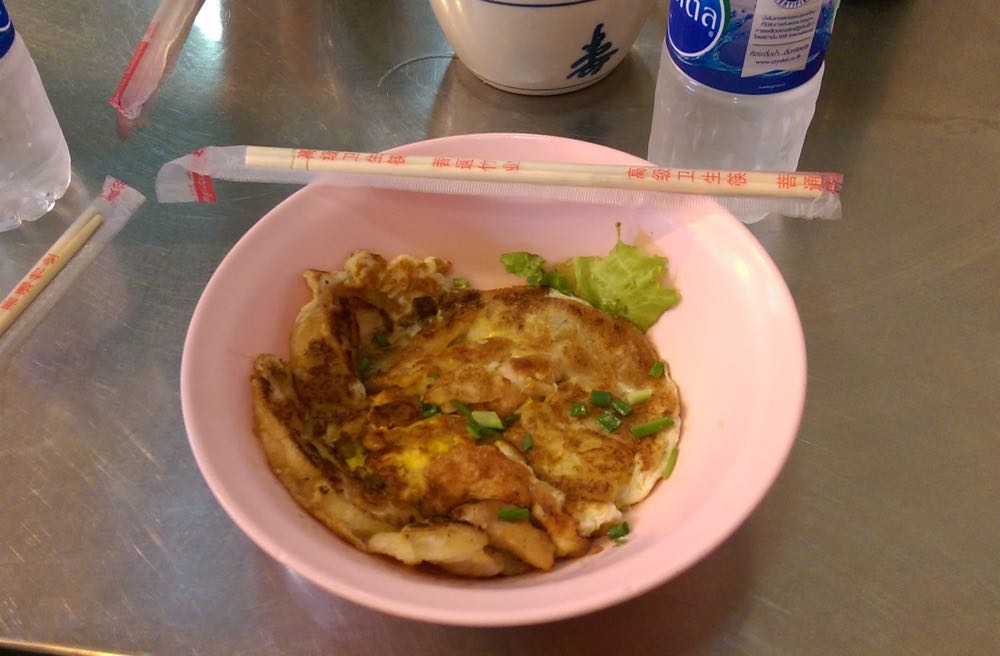 Presentation isn't really a priority at these places, we quickly learned
Apparently the unique flavors come from the charcoal pits and the oil the noodles are cooked in. Or maybe magic.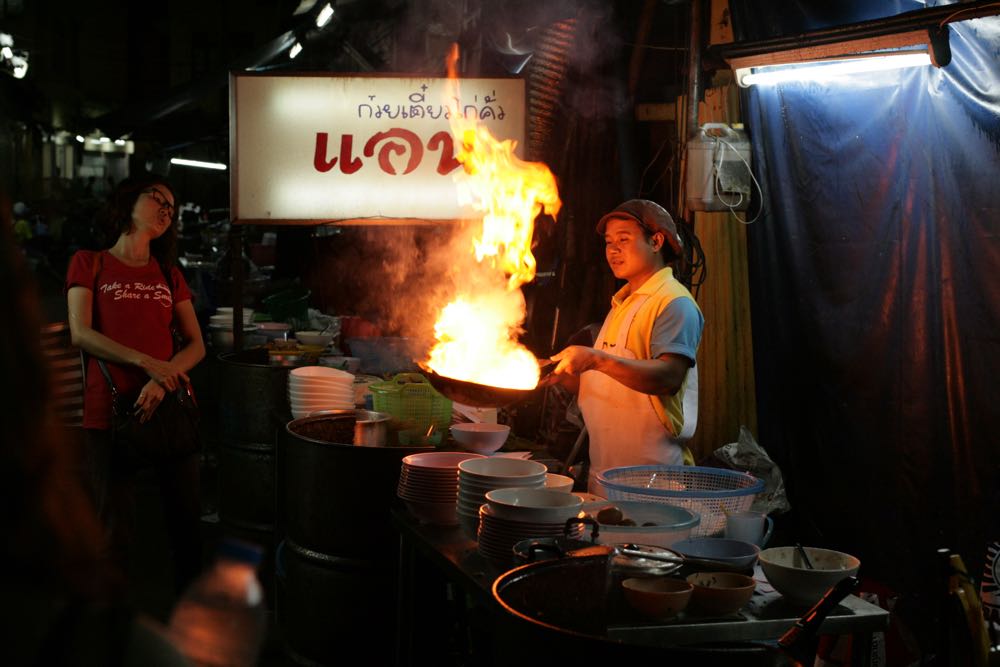 I'm going with magic.
Flower market
The tuk tuks then took us over to the flower market, and we walked for about twenty minutes through the stalls of flowers and vegetables.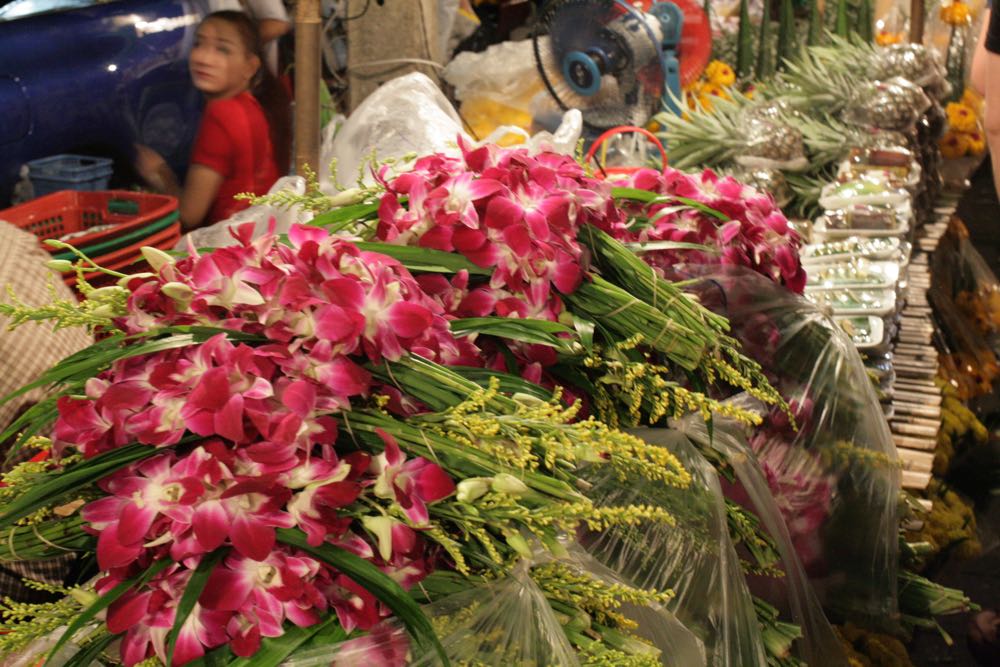 Piles and piles of orchids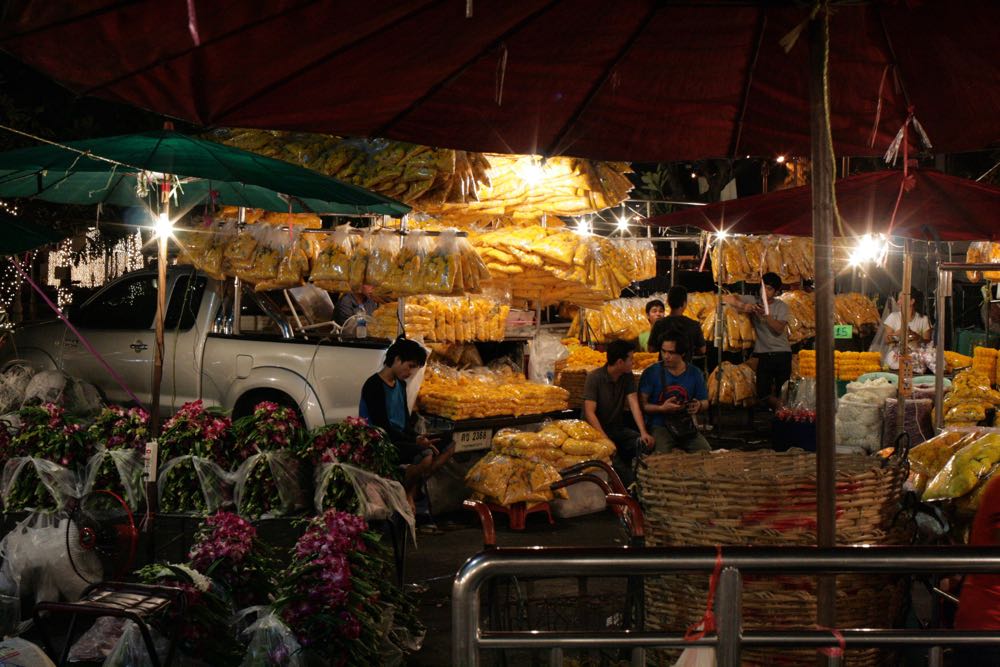 And cart-fulls of marigolds
This might sound ridiculous, but I was really surprised at how passive all the vendors were. I might have just spent too much time in rural Sicily (those ladies will literally force you to take bunches of fennel and take the money out of your hand, while their men will shout prices up and down the street while insulting the family trees of their competitors), but it seemed like no one really cared whether or not they sold anything? Maybe just me?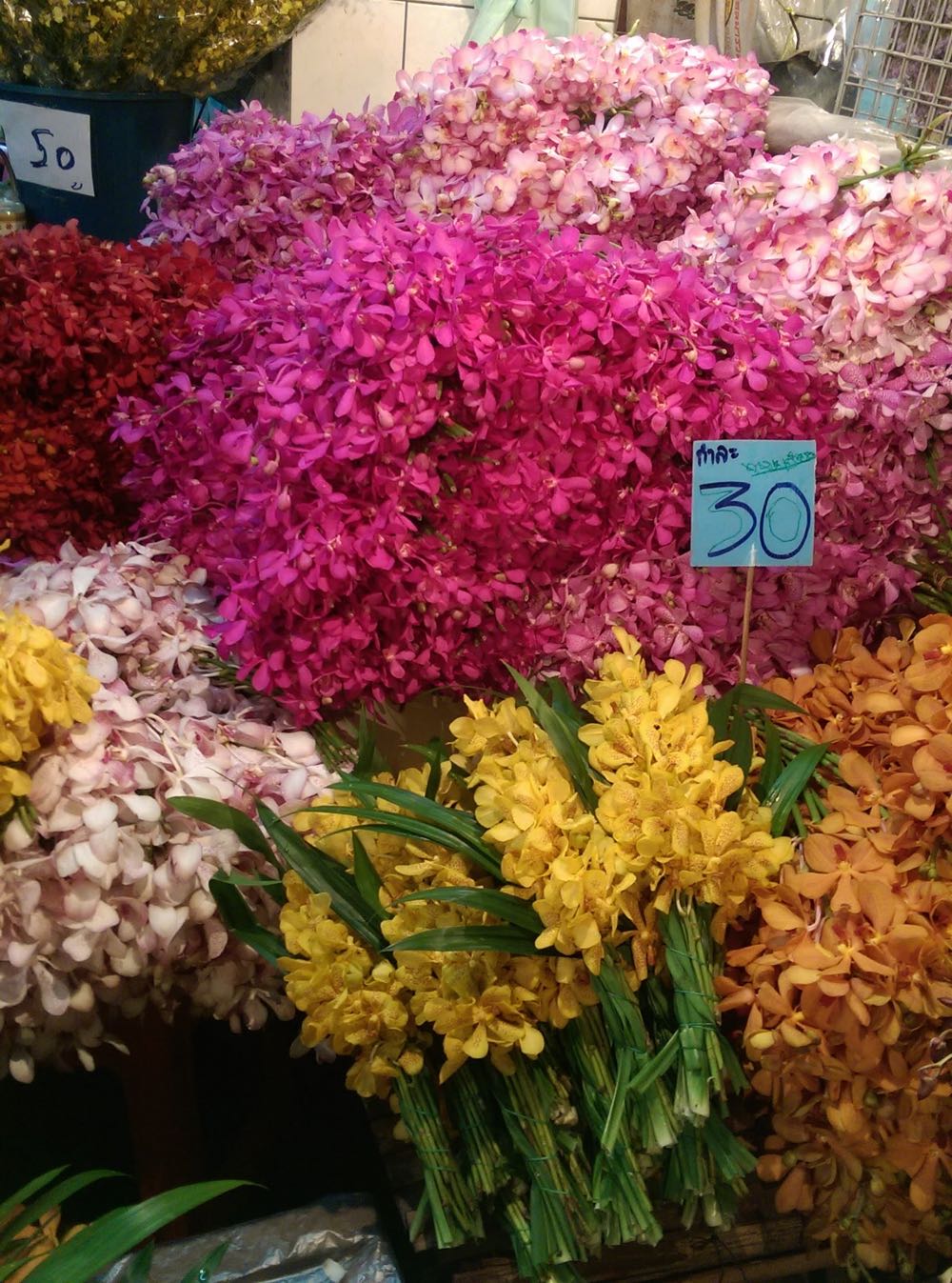 Not even a dollar for an armful of tropical flowers
The next stop was at Wat Pho, the Reclining Buddha Temple. This is someplace I would probably avoid during the day, given I'm a bit of an agoraphobe, but it was pretty cool to be there at night when no one else was around.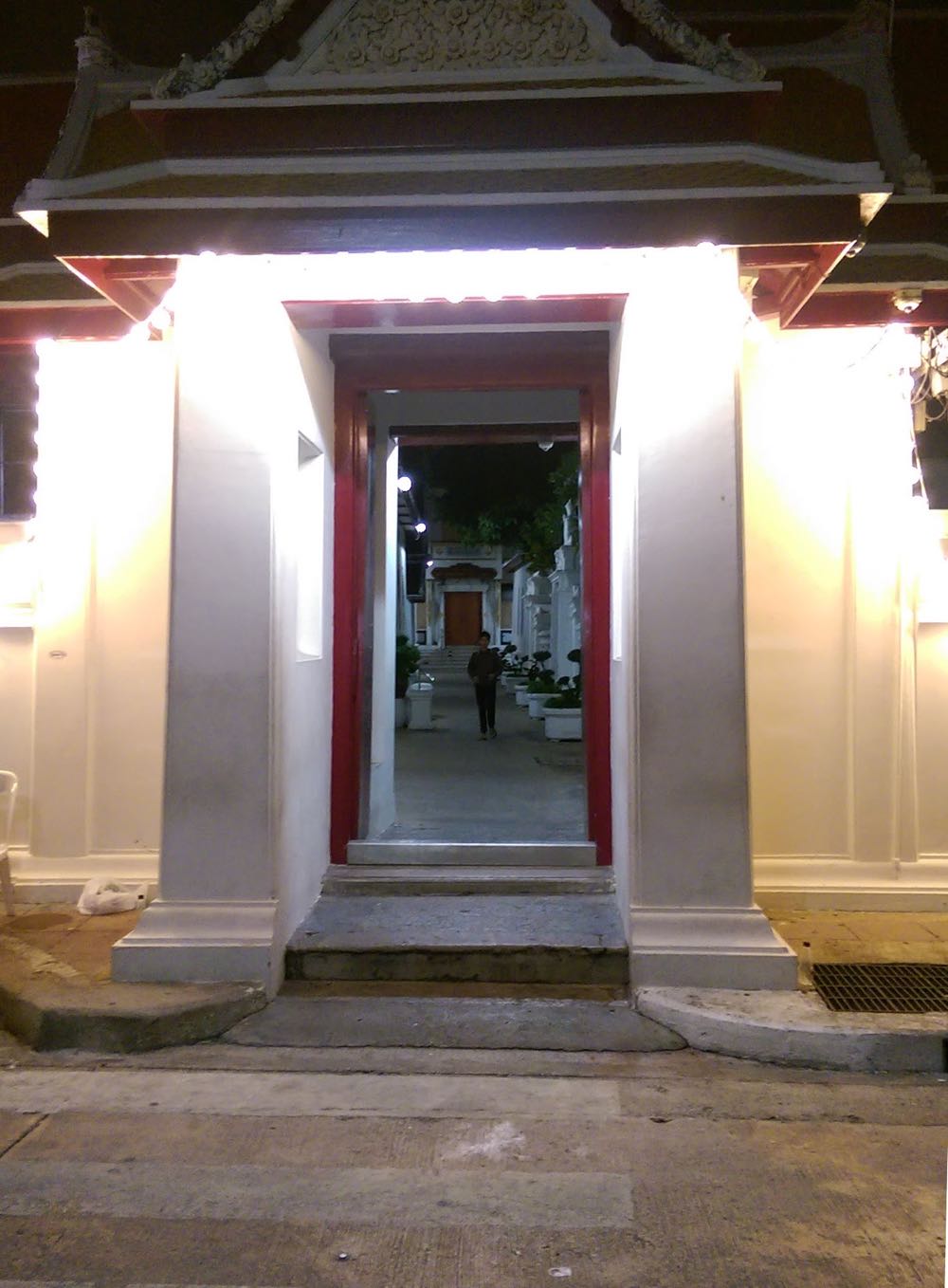 Gateway at Wat Pho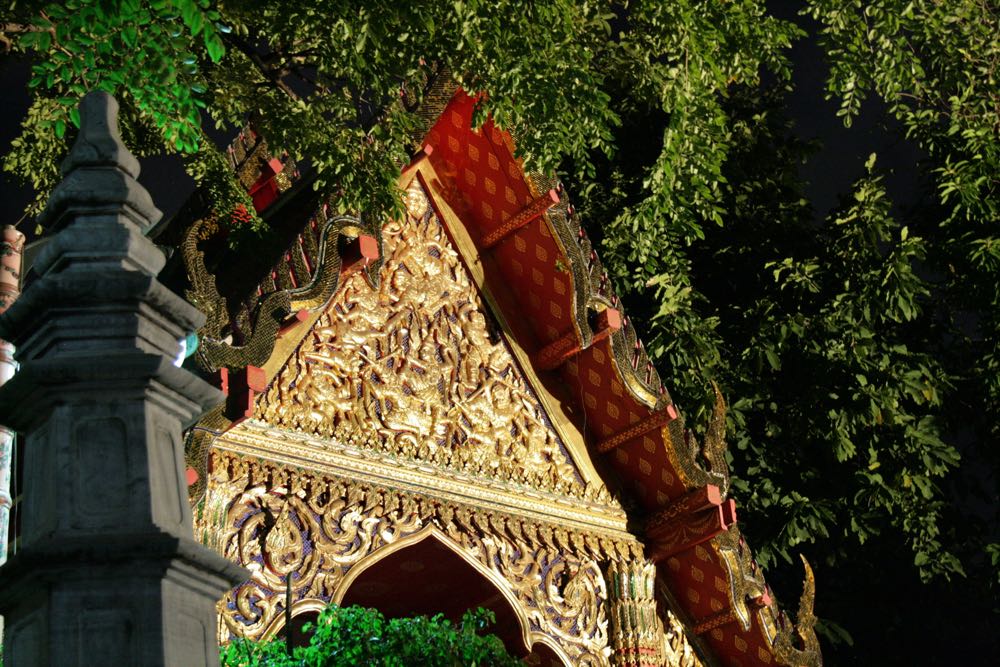 Wat Pho at night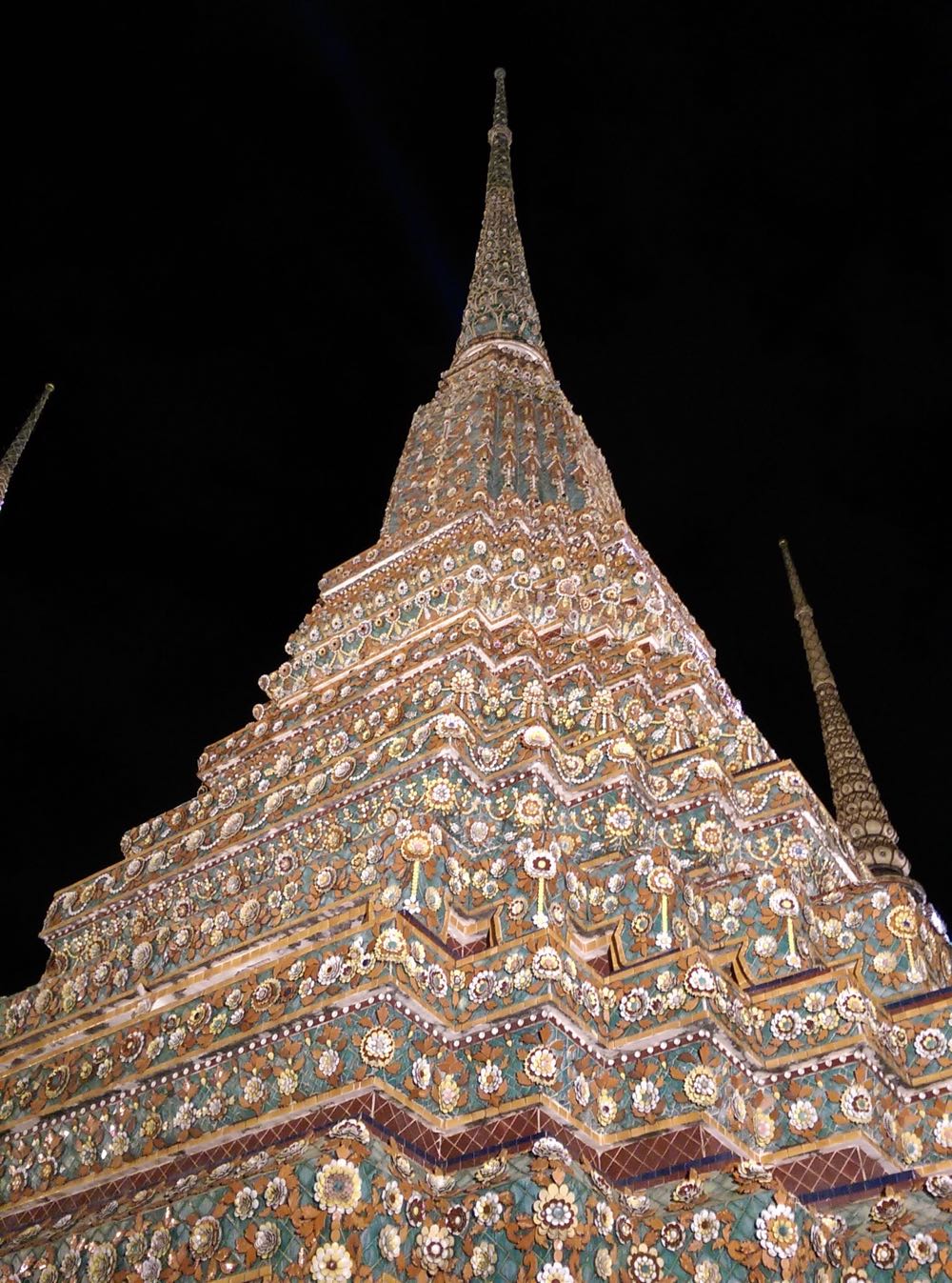 Chinese ceramics covering the chedi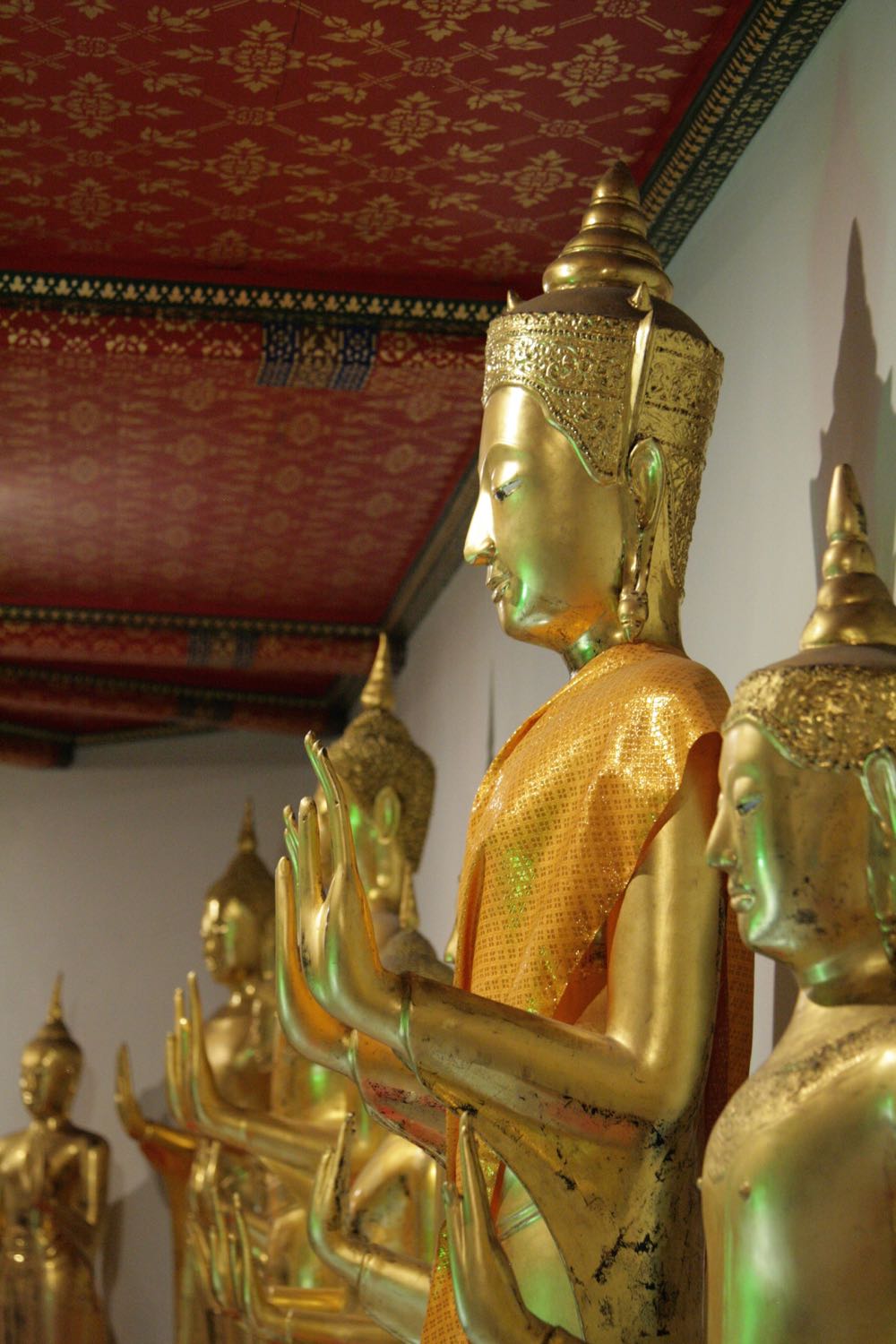 Buddha images at Wat Pho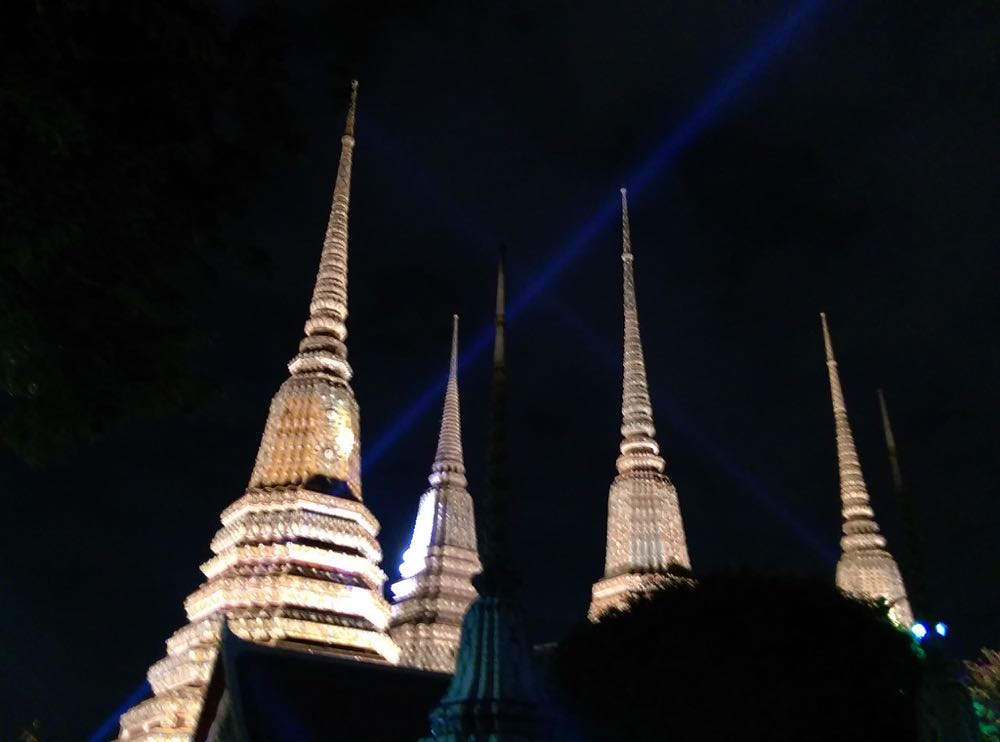 Illuminated stupas
We spent almost an hour here though, which I thought was way too long, given we couldn't go inside anywhere.
Mystery rooftop bar
Following the temple, we stopped at one of Bangkok's famous rooftop bars. I didn't catch the name, but it was up several flights of stairs of what I think was a hostel? It was a super cool neighborhood!
We were offered a choice of beer or a mocktail, and left to enjoy the views, which were spectacular: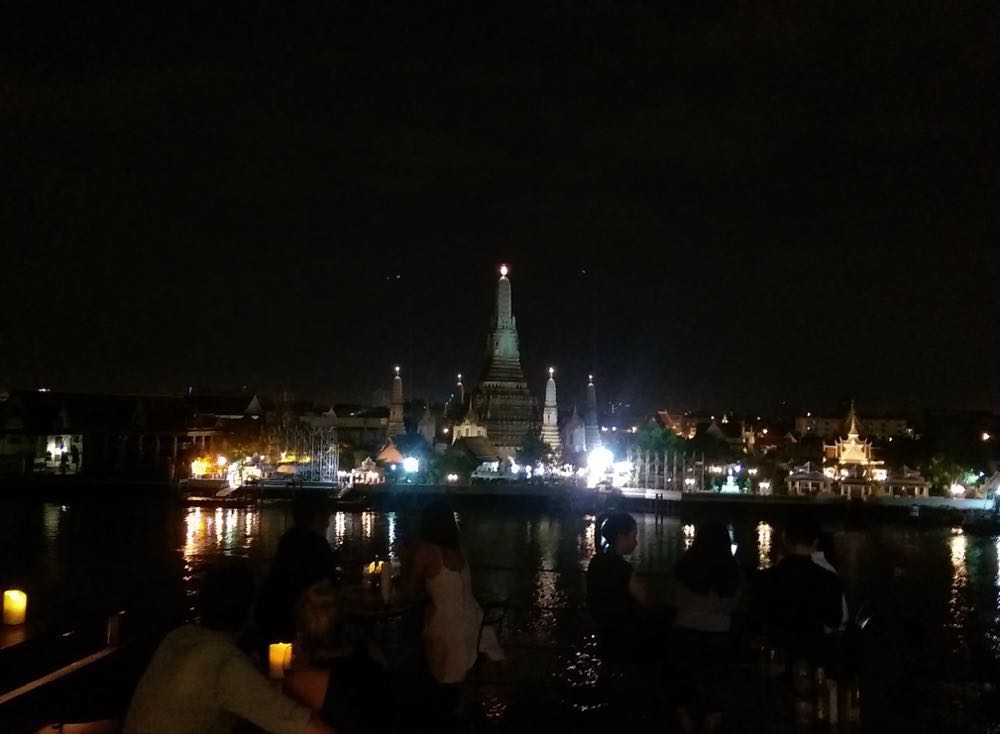 Views across the river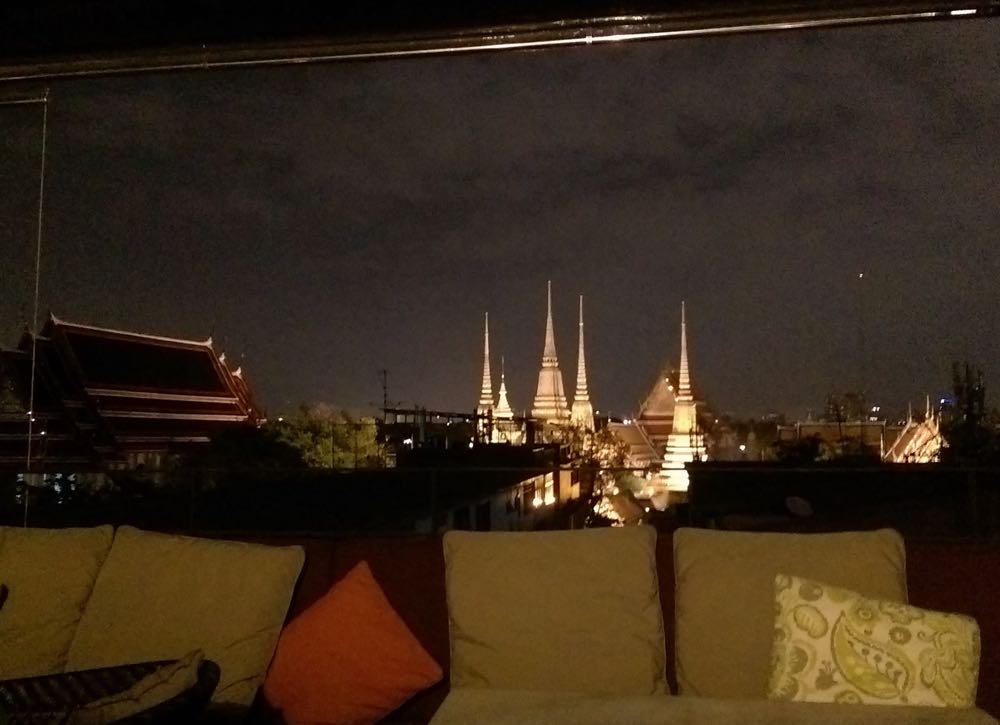 Views of Wat Pho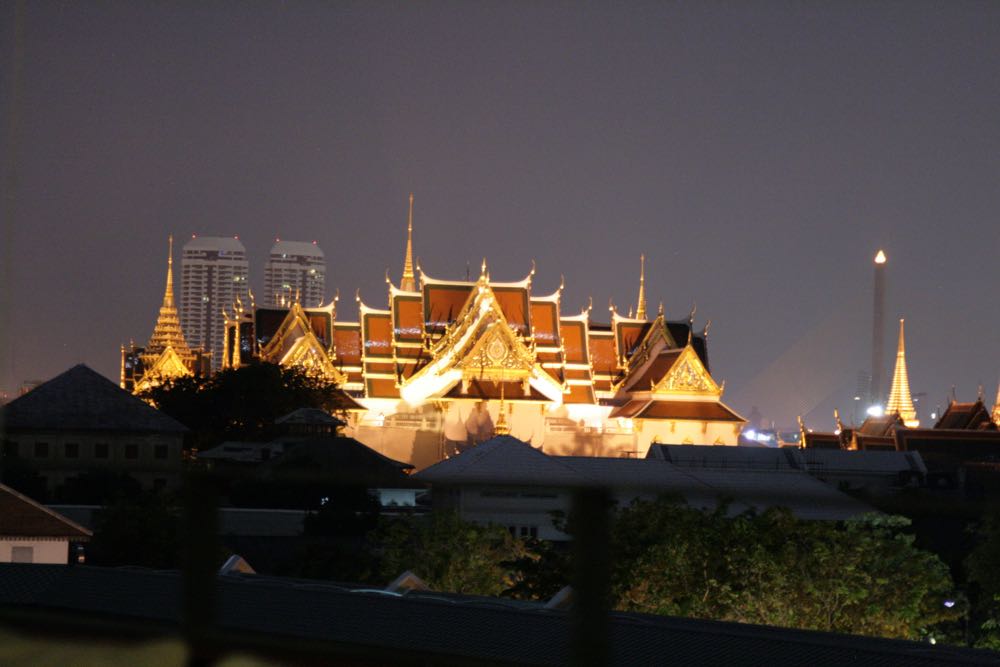 Views of the Grand Palace
Our final stop was for pad thai, at what is apparently one of the most famous pad thai restaurants in Bangkok.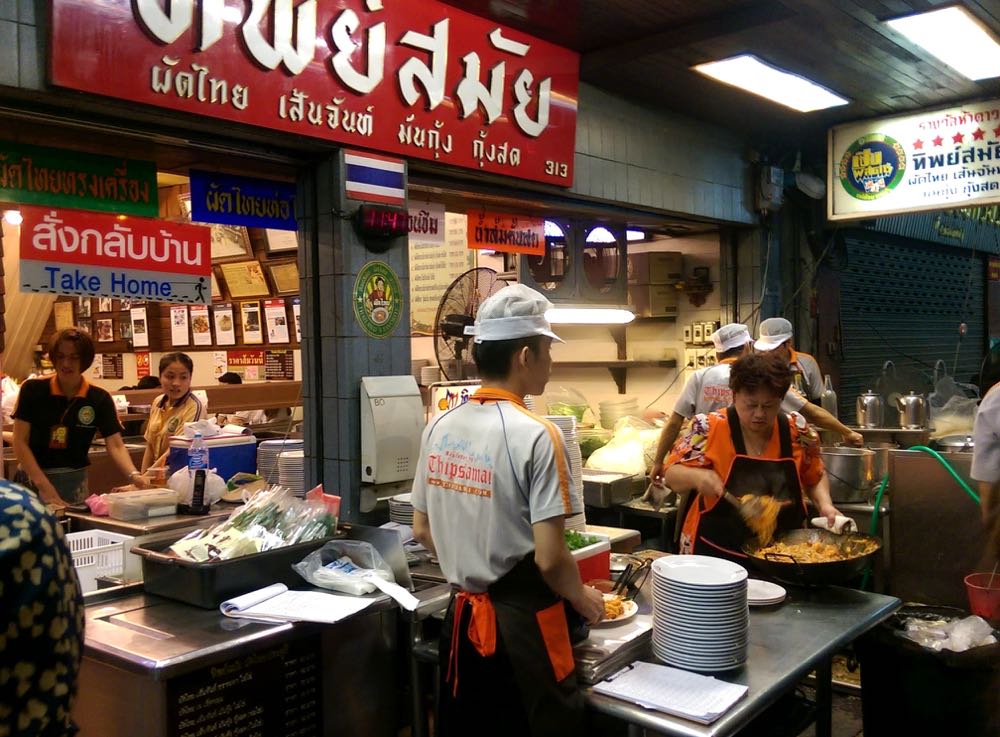 I think I watched this woman cook a few hundred pounds of noodles while we were there
The place was super busy, but the line moved quickly. This was the most expensive restaurant on the tour, but a plate of pad thai was still only 70 Baht (~$2).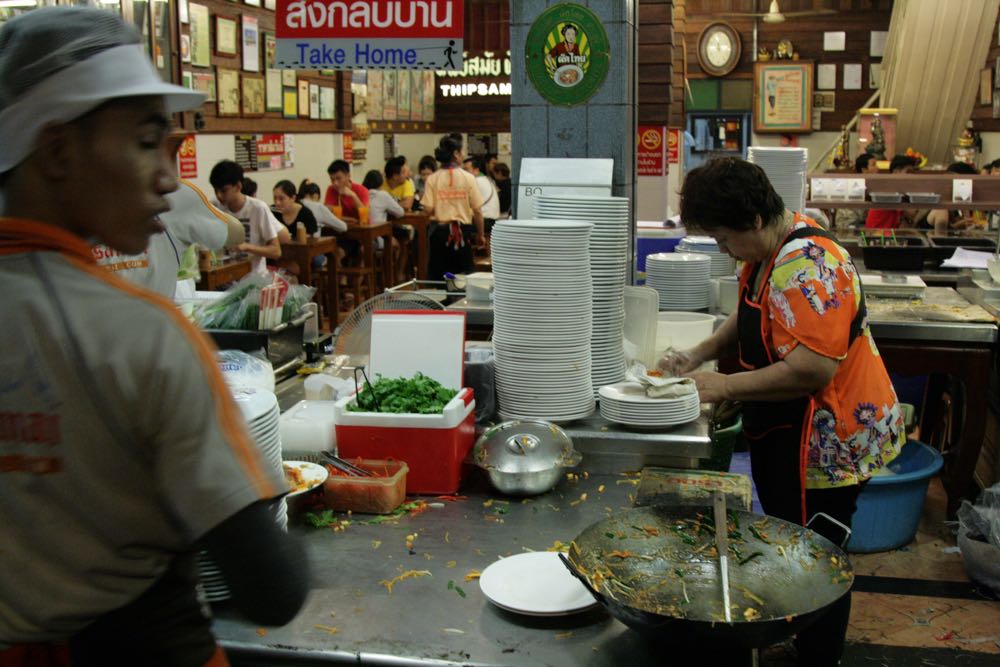 Maybe not the tidiest prep area, but amazing how many people they served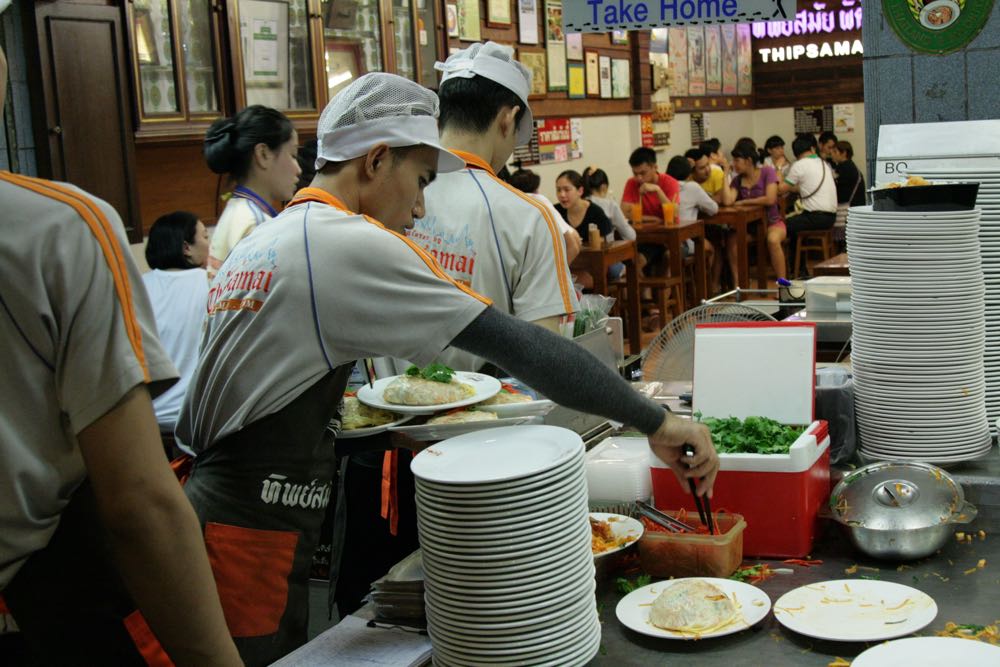 This guy took his job very, very, seriously
And holy cow it was amazing. I mean, there are probably 500 equally good pad thai places in Bangkok, so if there are others you like more please let us know, but we all enjoyed it.
I would highly recommend a stop here while you're in Bangkok, as it was a great blend being of authentic without being unapproachable, and who doesn't like pad thai?
Taxis and tuk tuks
The end of the tour is where things got really interesting (and ended up being the favorite part of the entire trip for my younger and more-adventuresome niece).
One of the great things Bangkok Food Tours provides is return transportation to your hotel. Given that it was well after midnight by the time we were finished, this is a nice touch.
There are two Sheratons in Bangkok, so I was certain to specify the Royal Orchid on our booking form. Our guide confirmed the hotel name, though the drivers seemed confused about the location. One asked the guide if it was "by the station," and when she relayed the question we said "no, by the river," and showed her my phone with the hotel name and location (in Thai).
So I was a little concerned that we were headed off to the wrong place, but you know — worst case you're ending up at another Sheraton, which isn't that big of a deal.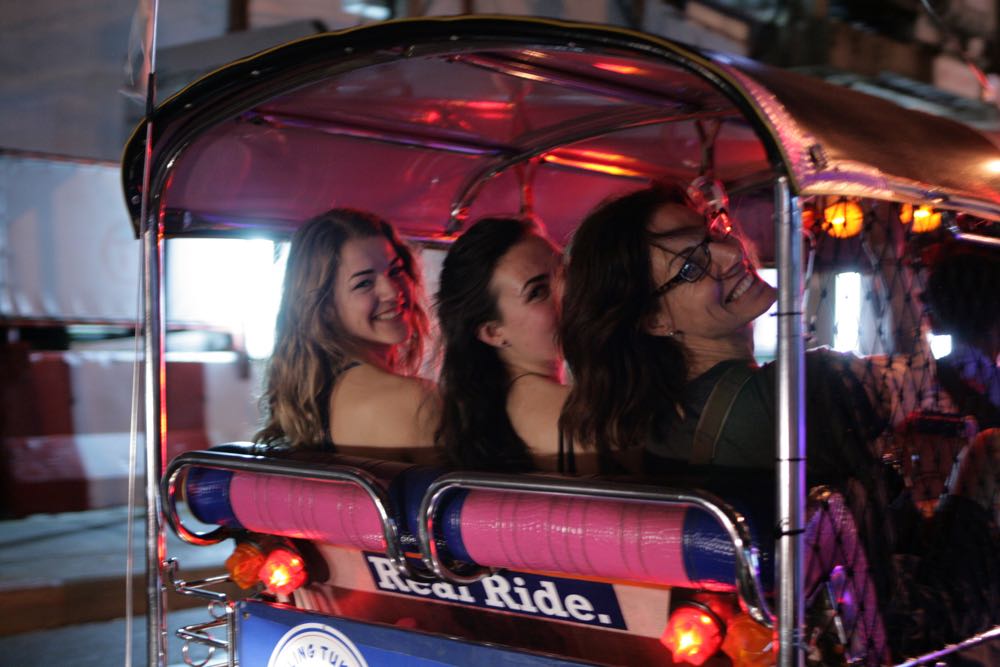 Off on a tuk tuk adventure!
We headed off in two tuk tuks (after receiving a third confirmation "yes yes, Sheraton Royal Orchid"). Heather and the girls were in one vehicle, and my husband and I were in another. After we blitzed past our meeting location and didn't turn towards our hotel, it became obvious that we were, in fact, heading to the wrong Sheraton.
Annoying, but not the end of the world.
The tuk tuks were separated in traffic, and it quickly became apparent that not only was our driver headed to the wrong Sheraton, he didn't actually know where it was either. After a few trips down Sukhumvit Road he finally pulled over to call someone. I showed him the hotel name and location (still in Thai!), but he didn't seem to understand. After sitting despondently for a few moments, he went to start the tuk tuk up, and the engine wouldn't turn over.
Clearly the guy was having a bad night, so once he started taking the engine apart I left him with a few baht and a mangled attempt at "kob khun ka" as we got out of the tuk tuk.
We flagged a taxi, who knew right away where the hotel was, but didn't start the meter and spent the entire ride trying to convince us to stop at a bar with "nice girls."
You win some, you lose some.
We arrived at our hotel about twenty minutes later, where my sweet and honest husband made the mistake of asking how much he owed. The driver actively looked sketchy and said "800 baht." I started laughing and got out of the car, and quick to catch on at least, my husband did the same. The driver began to panic, probably thinking we were going to cause a fuss or not pay him at all, and started lowering his prices. We handed him a 100 baht note, which is about what I'd felt the ride should have cost, and walked inside.
That's my general strategy for dishonest taxis, by the way. Get where you're going, laugh, pay the fair rate, move on with your day.
Meanwhile, Heather's driver had taken them to the wrong Sheraton, but at least they were at a Sheraton (said no one ever). They explained it was the wrong hotel, and the staff there tried to send him in the right direction. He then took them a few blocks, and started asking other tuk tuk drivers for directions. Heather took the same approach as we had, bailed, and grabbed a taxi (hers ran the meter, which displayed a 92 baht fare), and arrived at the hotel about ten minutes after us.
So that was exciting, but a great "stuff happens when traveling" experience for the girls. Just maybe not one I'd have liked to have at 2AM. 😉
Bangkok Food Tours bottom line
The organizational guru in me wanted to die a little at the logistics of this entire operation, even before the tuk tuk adventure. The meeting point and the first stop were really far from everything else, so there was over an hour of driving through the city that could have been streamlined.
I also felt like the length of the tour could have been cut down dramatically. We spent a really long time at many of the stops; either waiting for tables, or lingering, or listening to the guide try and share information (she talked a lot, and wasn't particularly easy to understand). Two to three hours would have been plenty of time, I think, rather than nearly five.
The tour was also very pricey at 1700 Baht (~$50) per person. I didn't think about it much when we booked, because that seems like a normal enough price to pay in most places, and we'd just come off the Madrid food tour, which was ~$100 each. Unlike in Madrid, where the prices we saw on menus justified the tour pricing, the total cost for food and drinks on the Bangkok Food Tour was less than 300 Baht per person. Even with the cost of the tuk tuks that's a pretty inflated price.
But of course, we didn't have to decide where to go, or what to order, or figure out how to get there, and there's a value to all of that as well. And it wasn't that much money in the grand scheme of things, so I was happy to pay it.
Overall, it was a fun evening, the food was great, and we went to places we wouldn't have otherwise tried. So while I don't feel it was a particularly good value, it was still a good experience. But you could go to any one of these places and have a fantastic meal for less than 100 Baht per person.
Have you been to any of these restaurants? Any other favorites?