---
Yay! We're finally to the fun part of the trip!
As best as I can tell, there is not a single chain or points-friendly hotel in all of Kanchanaburi Province, though there is a spate of local accommodations, hostels, and guest houses. Home-stays seem to be the done thing, for the most part.
I've been craving some more complicated travel — not that I don't love my life, and getting to travel in ridiculous luxury — sometimes it's just nice to switch things up. Of course, there's a limit to how rugged and isolated you can get when traveling with a family, but when my colleague Jordan suggested Kanchanaburi ("just go; it's beautiful, and you won't hear any American accents while you're there"), it sounded perfect.
Heather took on the task of finding a place to stay, and found a great place about an hour outside of Kanchanaburi city, right on the River Khwae. The house was actually on some kind of military-controlled property right at Hell Fire Pass, so it took some effort to get there.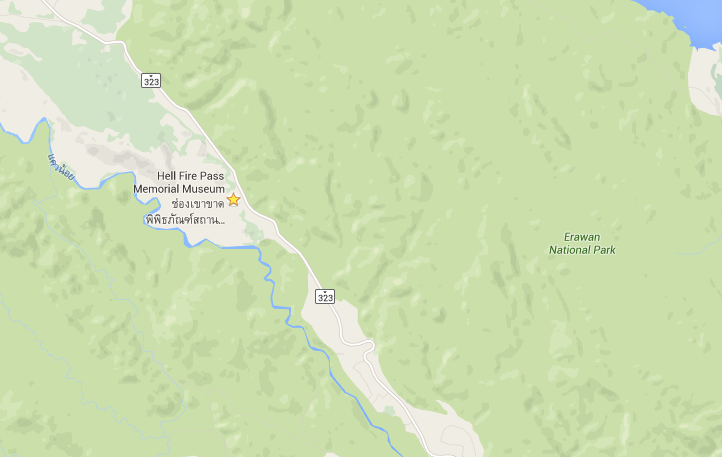 As soon as we pulled in the driveway we were welcomed by the hostess, given glasses of cold papaya juice (so yummy), and shown to our "cottage."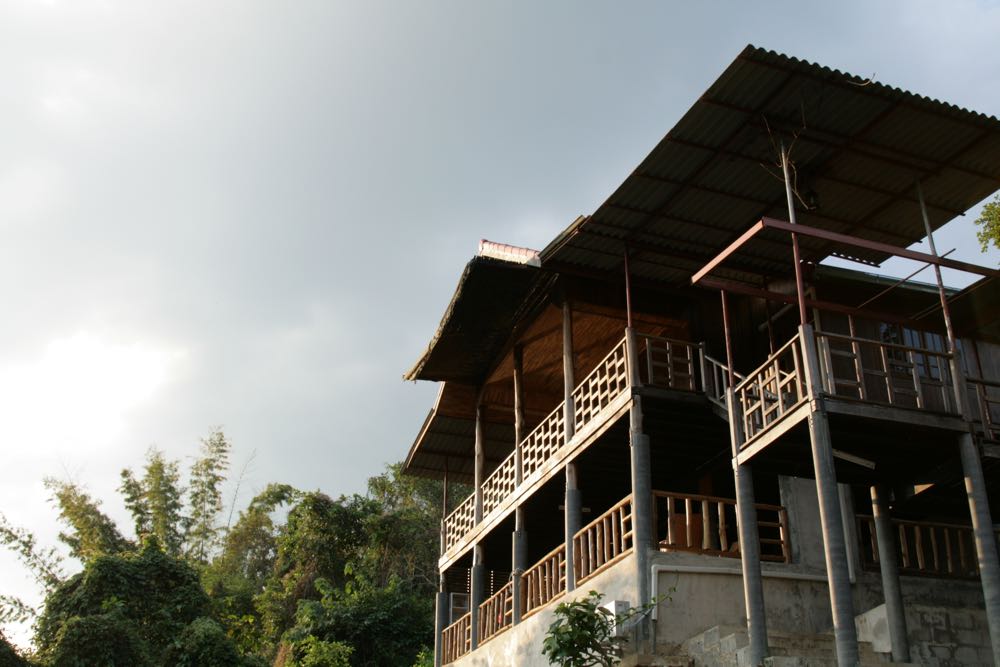 We clearly have different definitions of "cottage"
The grounds were expansive, with a reception area and a few small cabins at the top of the hill, and then a huge grassy area separating two other cabins on the riverfront.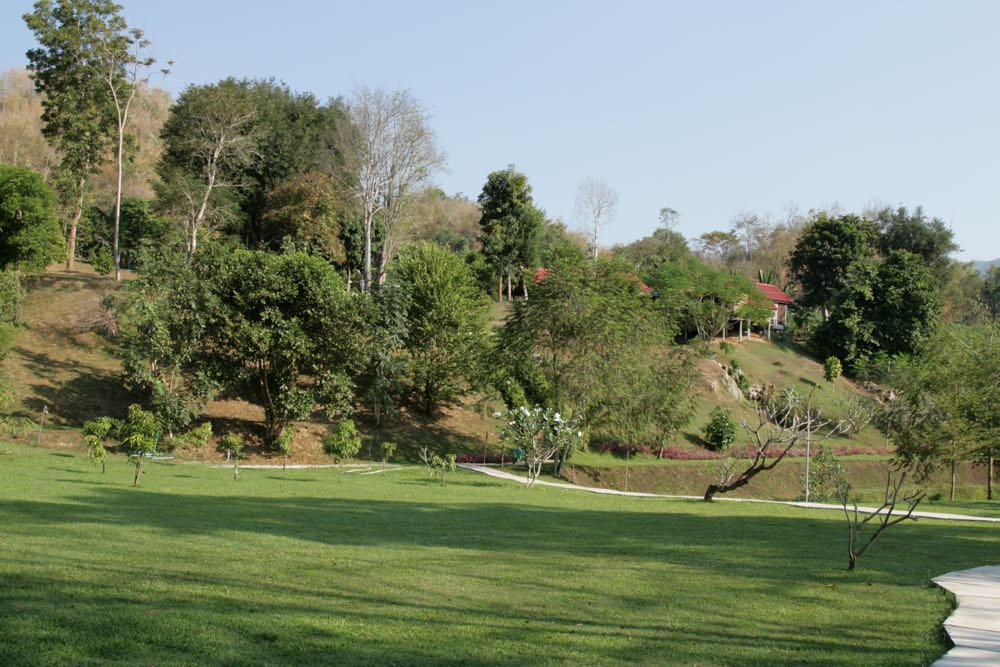 I'm not sure how many of these get rented out on a regular basis, but our cabin was completely isolated from the others. We only saw other guests one of the nights we were there.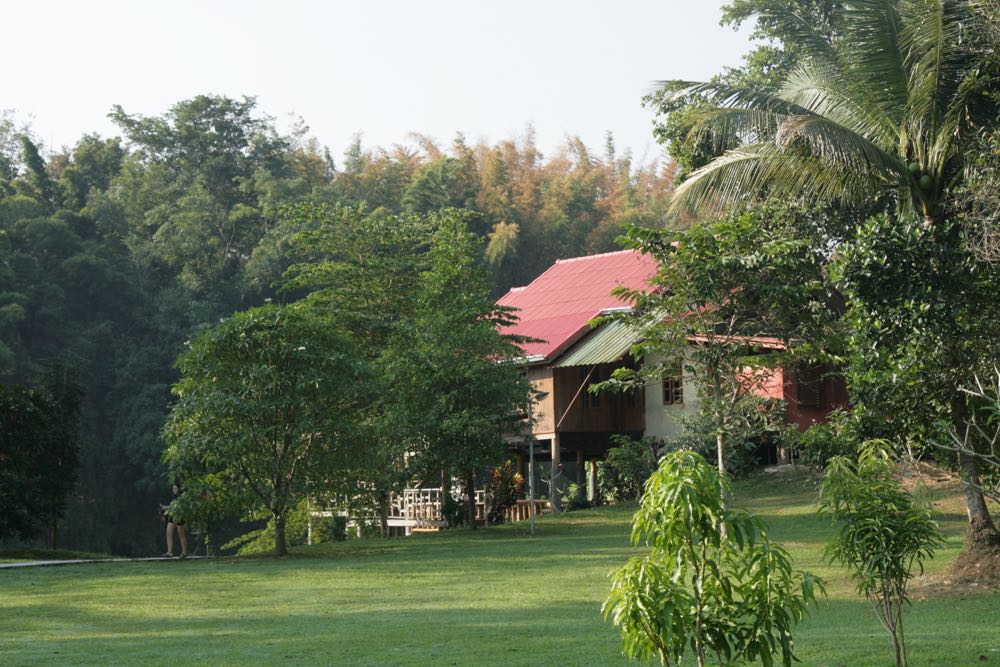 Our cabin from across the lawn
To be clear, this wasn't a luxurious property (in fact, the first time my husband looked at the pictures he responded with "Oh my."), but in terms of finding something more local and authentic to the area it was perfect.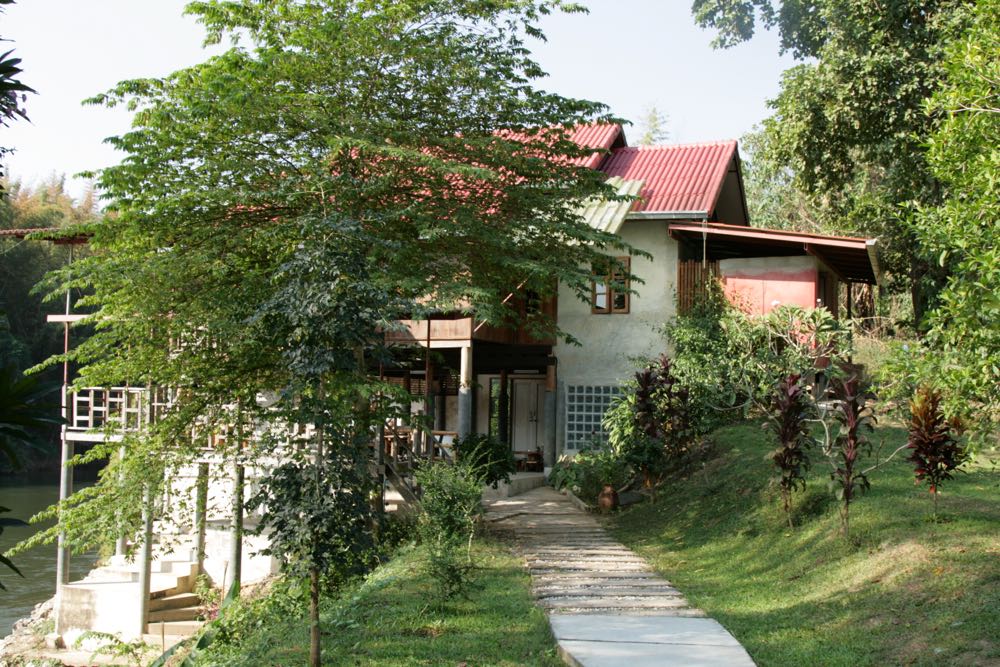 Cabin with steps up to the main living area, or down to the river
The structure was on two levels, with the main house on the upper floor. The entire front of the building featured a large deck cantilevered out over the river, where a series of rafts had been bound together to create a swimming area.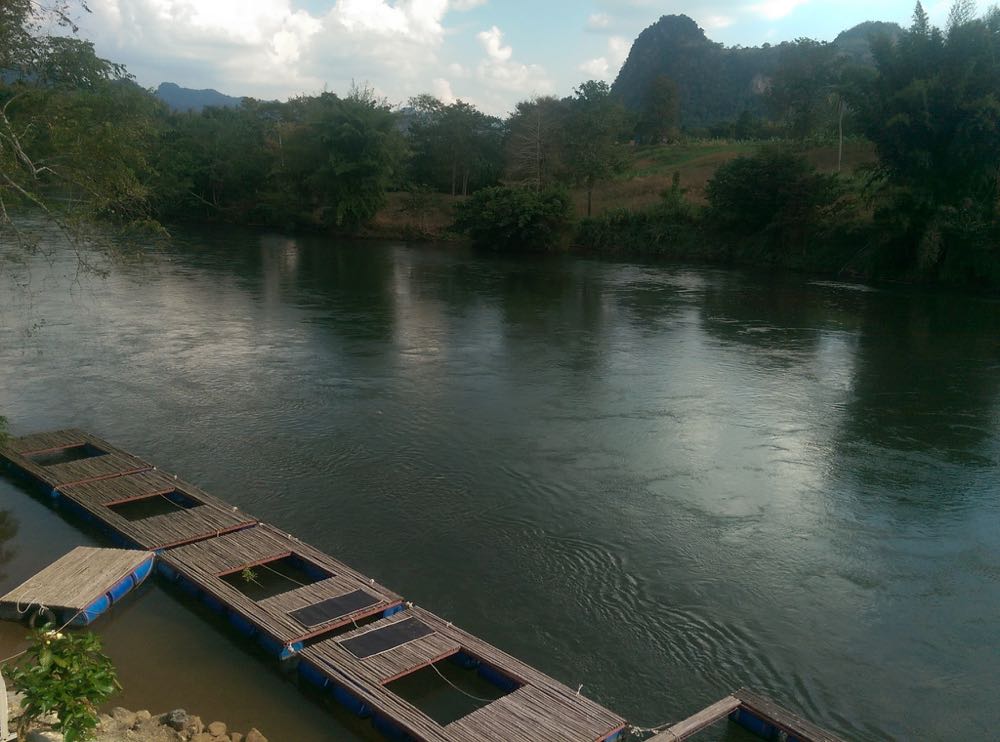 River and swim platforms
The entrance to the cabin was off the deck, and opened to a large central room with a small fridge, television, two sofas, and futons laid out for the girls.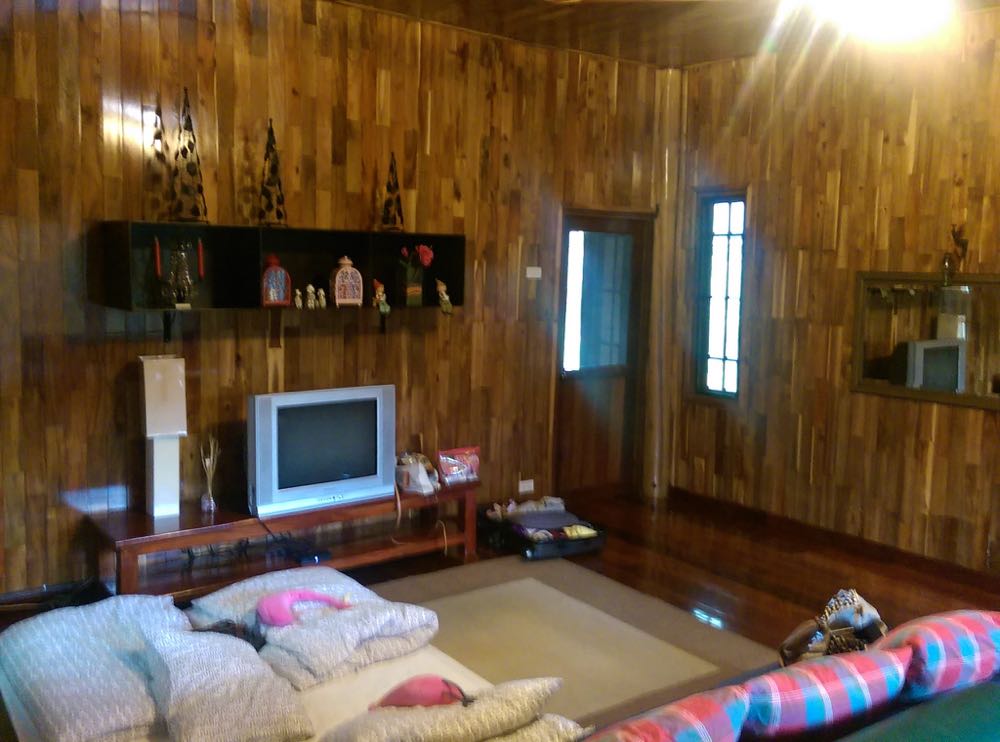 Living room
On either side of the main room, and up a small step, were two additional bedrooms. The futons were very comfortable, and everything was immaculate. We all slept incredibly well here.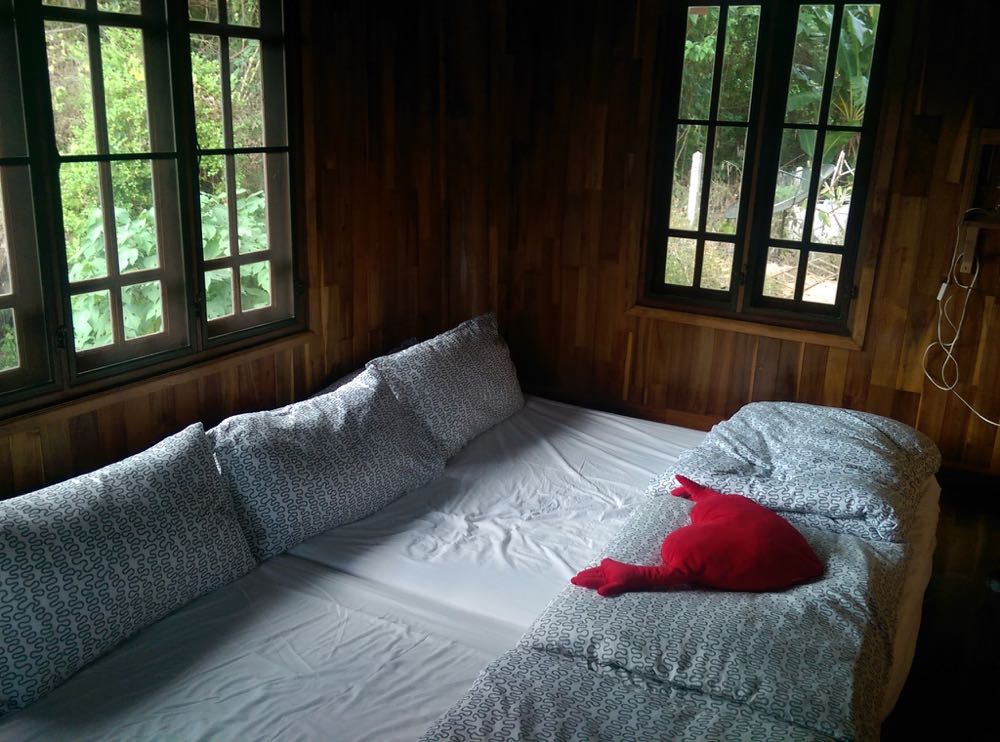 One of two identical sleeping areas
Through the back of the cabin was an indoor/outdoor kitchen, along with two bathrooms.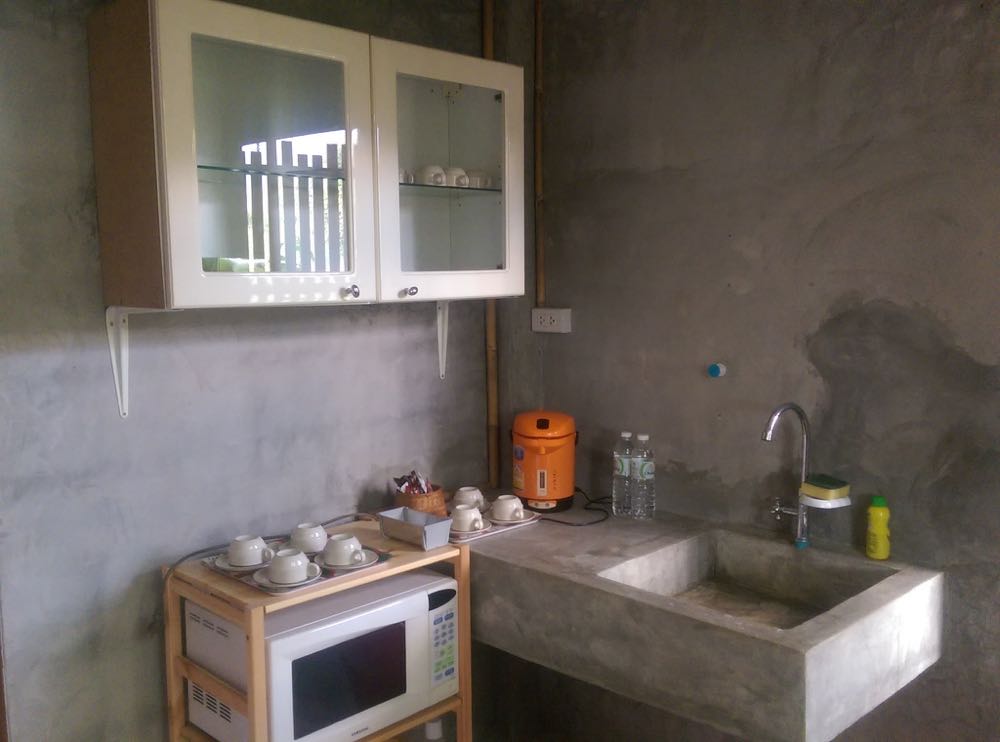 Kitchenette with coffee/tea setup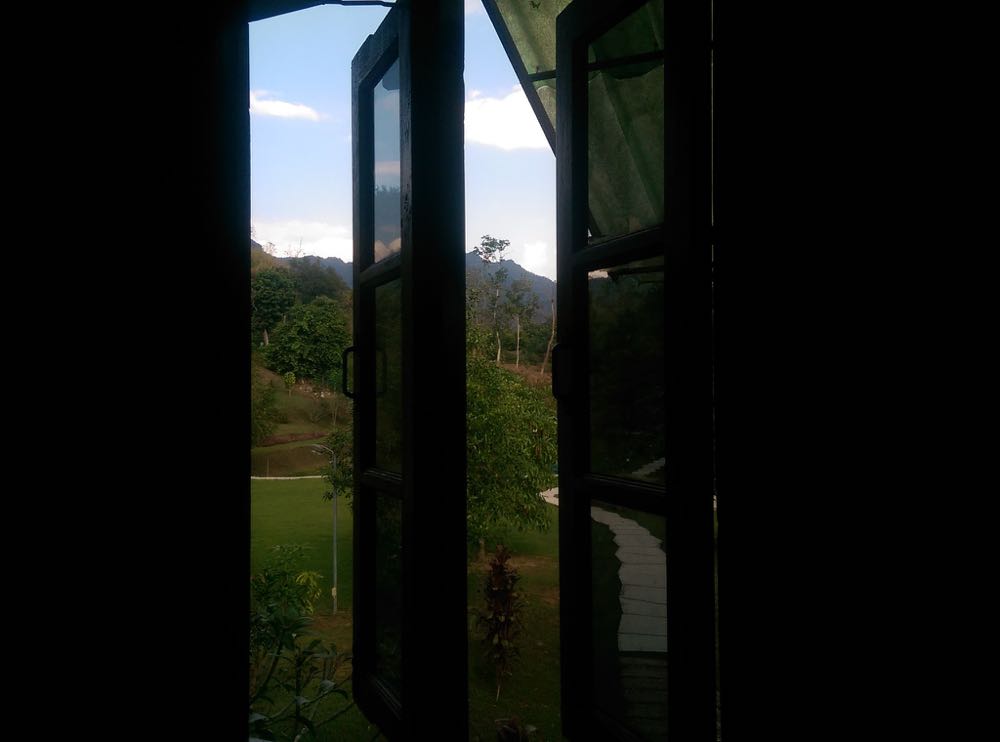 Views from the kitchen
Each bathroom had a sink and mirror, a shower, and a separate toilet space.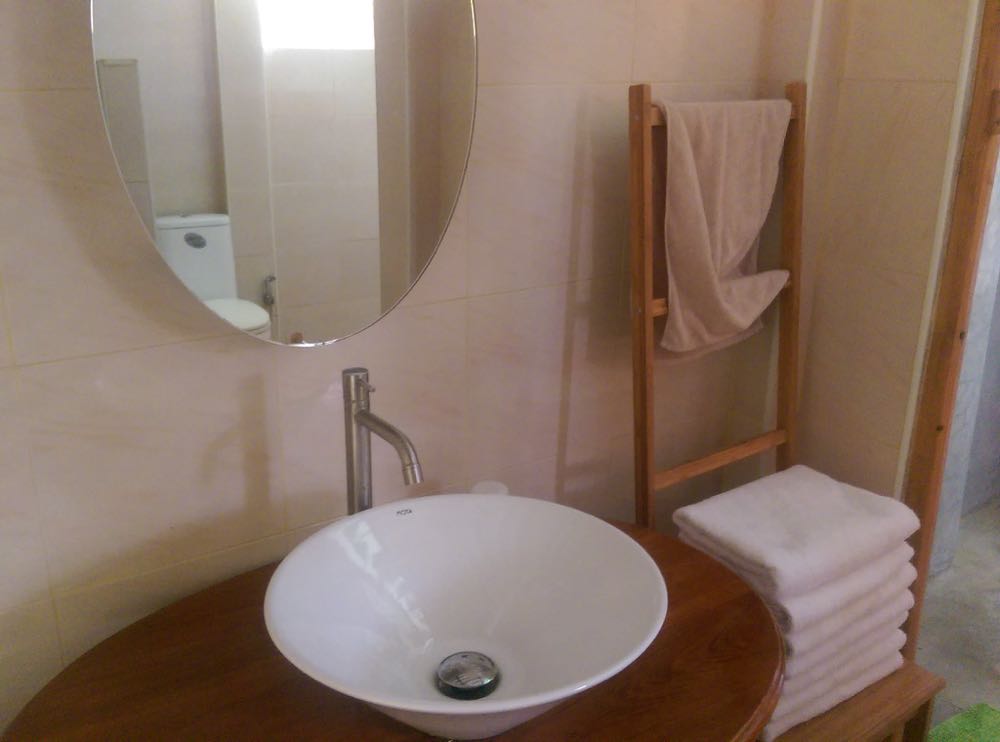 Bathroom vanity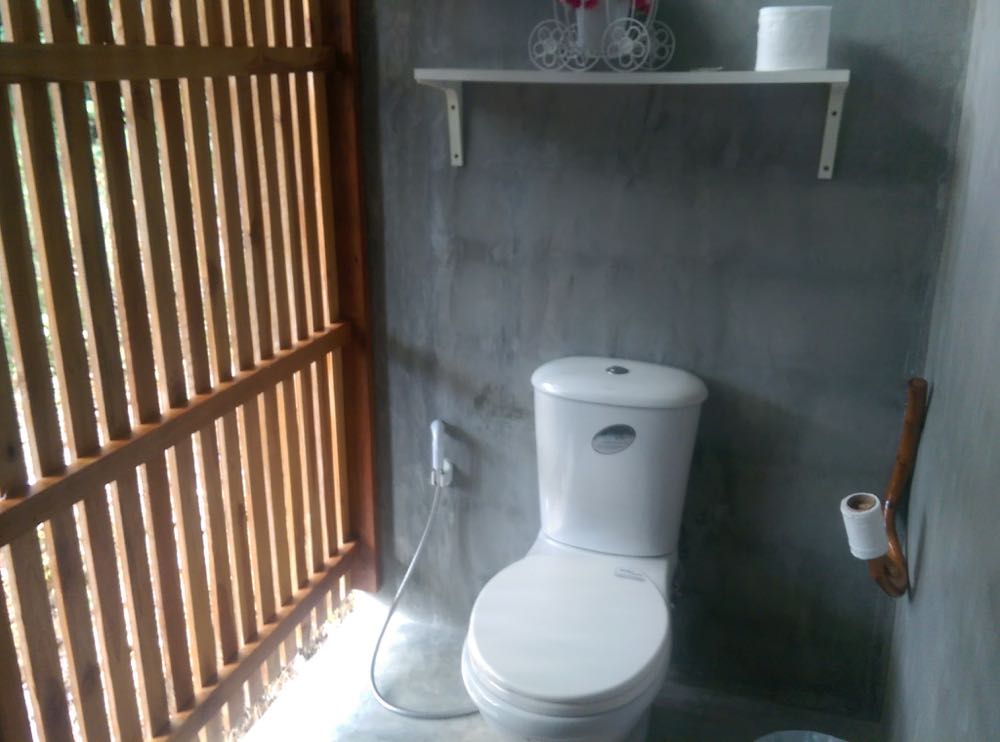 Indoor/outdoor bathroom
The bathrooms were perfectly tidy, and had plentiful warm water. Warm, not hot, but we weren't actually expecting heated water at all, so this was a spectacular bonus.
Outside of a few geckos in the bathrooms, we didn't really see much wildlife in the house, and even though the bathrooms were all open-air they were still quite private.
And the views, oh the views!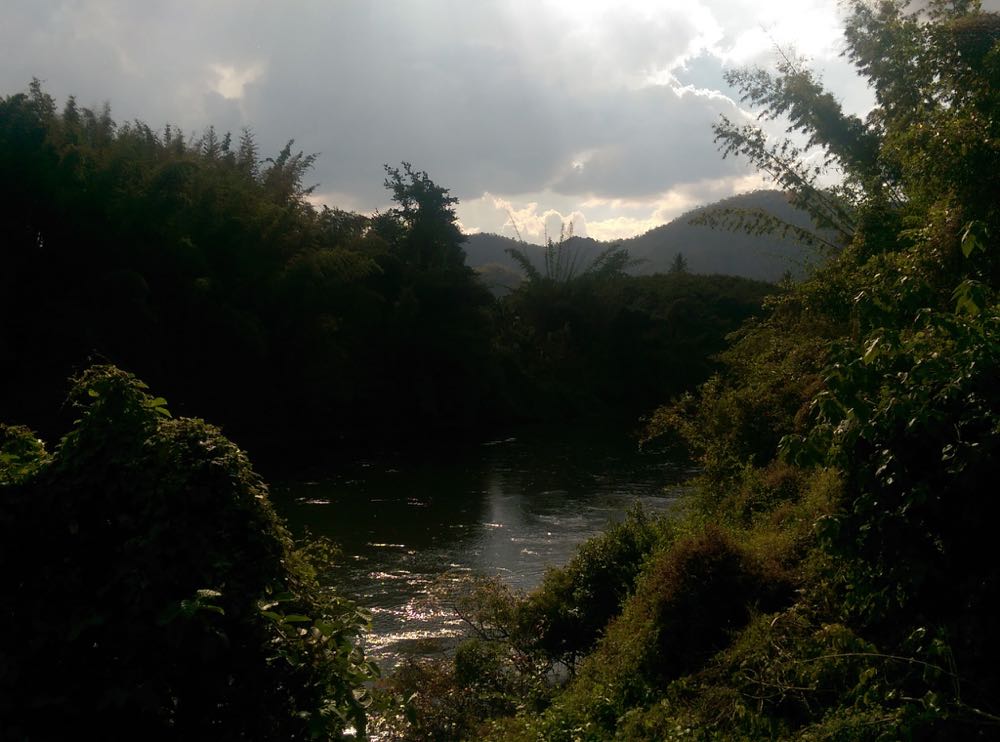 River Khwae and mountains
The ground floor of the cabin was the "dining" area, and had a hammock and some extra tables.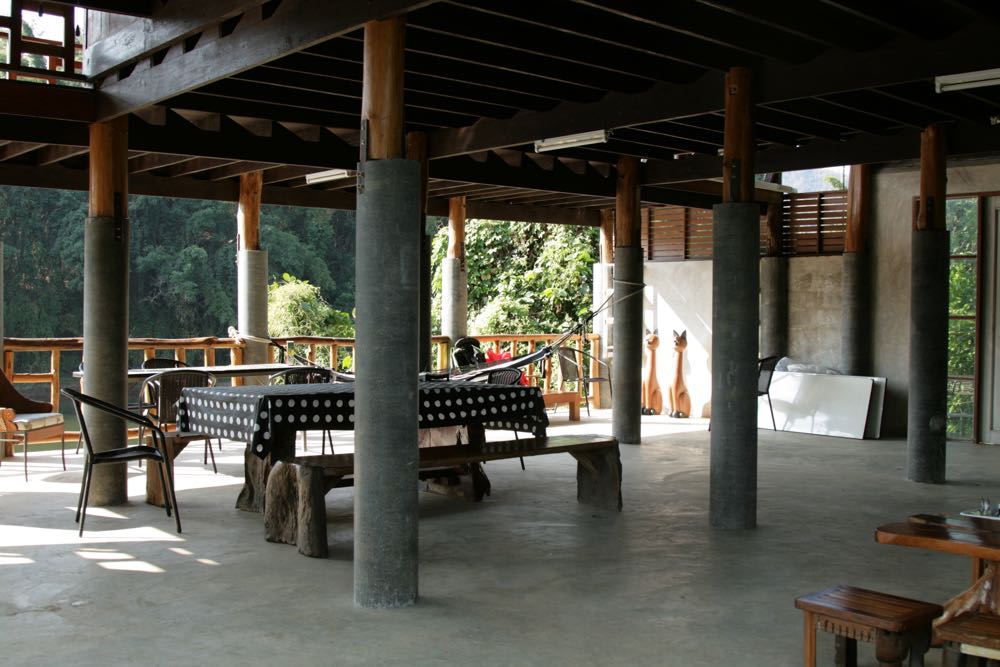 Cabin ground floor
Our rate included a full breakfast, which typically consisted of perfectly cooked eggs, sausage (at least one type), ham, bacon, grilled vegetables, fresh fruit, juice, and toast. Once the hostess realized how much we liked Thai cuisine, delicious soups started appearing at breakfast as well.
We also had the option of taking dinner at the airbnb. Given the isolation of the property this made a ton of sense for us, so while we had interesting lunches from various shops and vendors while we were out exploring, we returned every night to delicious meals at "home."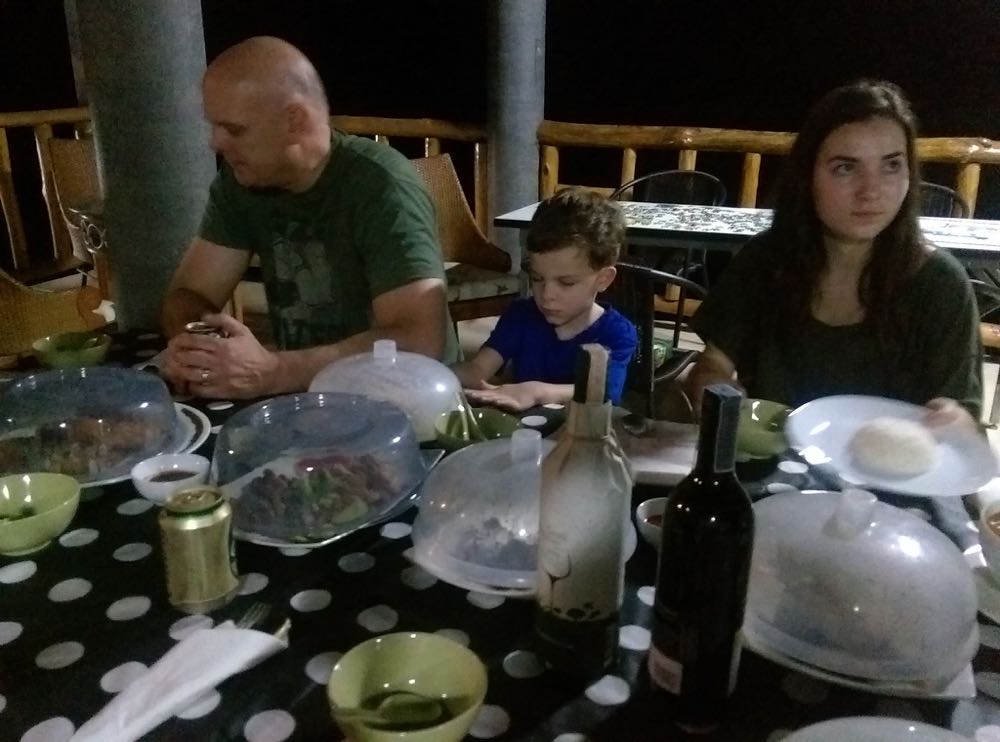 Hungry families aren't interested in waiting for fancy food photos to be staged
We gave them free rein over the menu, and had the most delicious food every night. I mean, would you like to have a Thai grandmother cook for you all week? Of course you would. The dinners were never more than 1100 baht total (for all seven of us), and always offered more amazing food than we could possibly eat.
Because the cabin was so isolated and peaceful (and maybe because we were doing so much hiking during the day), we found ourselves going to bed by 8PM nearly every night.
Which, while lame-sounding, meant the entire family was up each morning to watch the sunrise.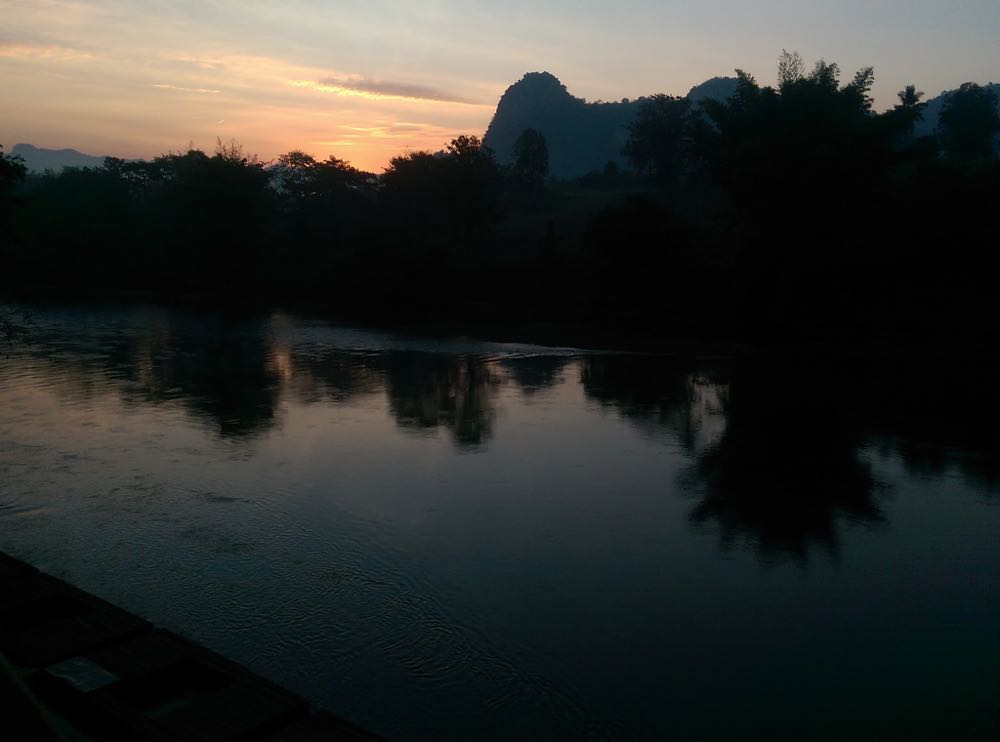 Sunrise on the River Khwae
Watching the fog roll over the river with a cup of coffee in hand, surrounded by my family (in their first-class pajamas!), was so delightful. I couldn't have special-ordered a better series of mornings.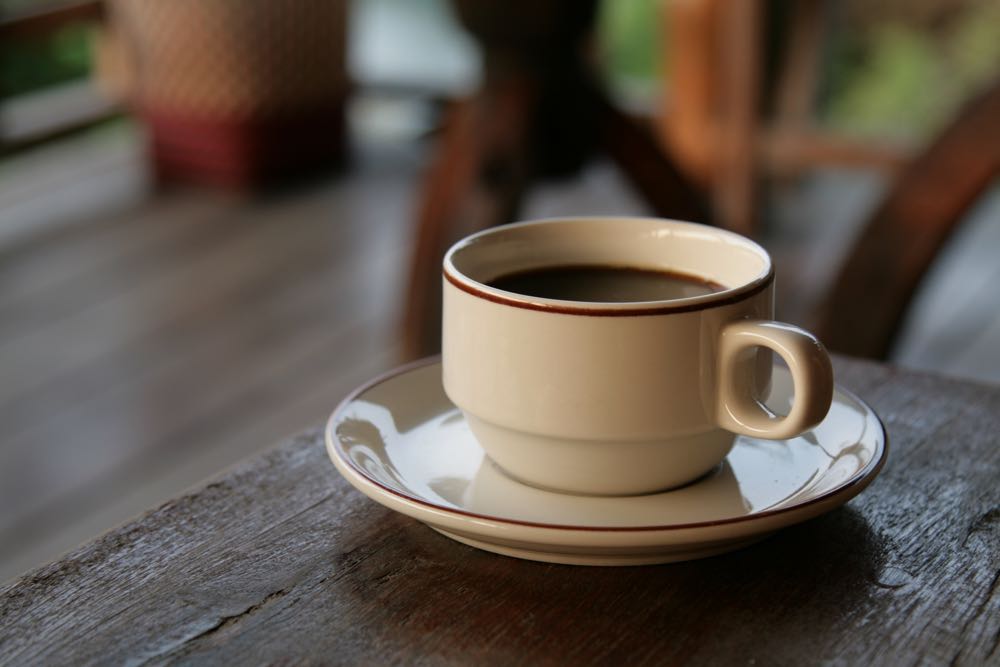 Photo credit to my husband, for what is probably the best picture of the entire trip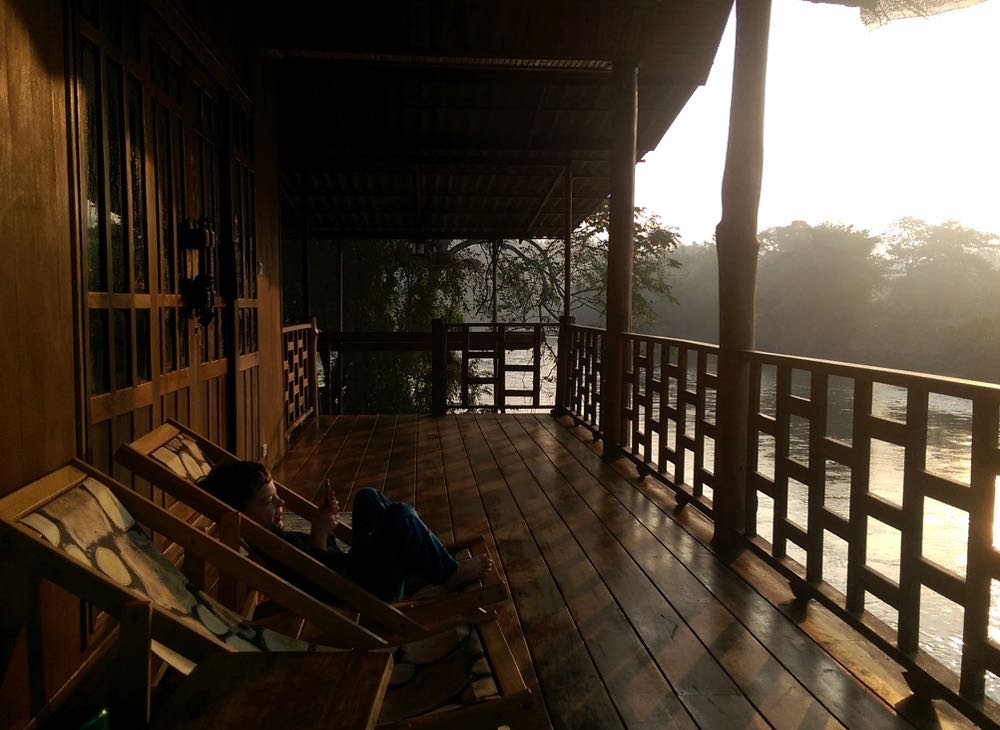 Could this be any prettier?
We spent four nights here, and had a great time playing in the river, reading books, and just visiting. It was the perfect base for exploring the area, and we felt very much "at home" during our stay. The hostess and her family went just above and beyond in helping us plan our time in Kanchanaburi, and even went so far as to help us find a driver at the very last minute. I cannot say enough positive things about the hospitality here.
So, given the space, location, and breakfast for seven, how much would you guess this cost?
Using miles & points skills for airbnb
You can't play this game for years and not have a tendency to want to maximize every lodging opportunity. And there were a couple of things that worked in our favor.
To start, airbnb gives a credit when you sign up as a new user, and also gives a credit to the person who referred you once you've completed a booking. So I referred Heather, we each referred our husbands, and we soon had our own little pyramid scheme of four accounts, each with a $25 credit.
Beyond that, American Express had an offer in fourth quarter giving $50 back on purchases of $100 or more. Gift cards were specifically included, so we bought 4 x $100 — enough to cover our stay in Kanchanaburi.
Combining the (moderate) fee for extra guests with the airbnb service fee, our total for each night was $129.
$129 – $25 credit – $50 from Amex = $54
Yep. $54 a night for seven people, including breakfast. I'm not sure you can even camp in the US at those rates nowadays, so I was pretty happy, even though I wasn't earning (many) points. 😉
I'm sure someone will be along shortly to tell me that I overpaid for Thailand though. But really, I thought it was a more than fair price.
Overall
I loved our stay here, and would return in a heartbeat. The owners were outrageously friendly and helpful, the property was perfect and peaceful, and the food was some of the best we had in Thailand.
If you're considering a stay in Kanchanaburi, even just for a night or two, this cabin is highly, highly, recommended.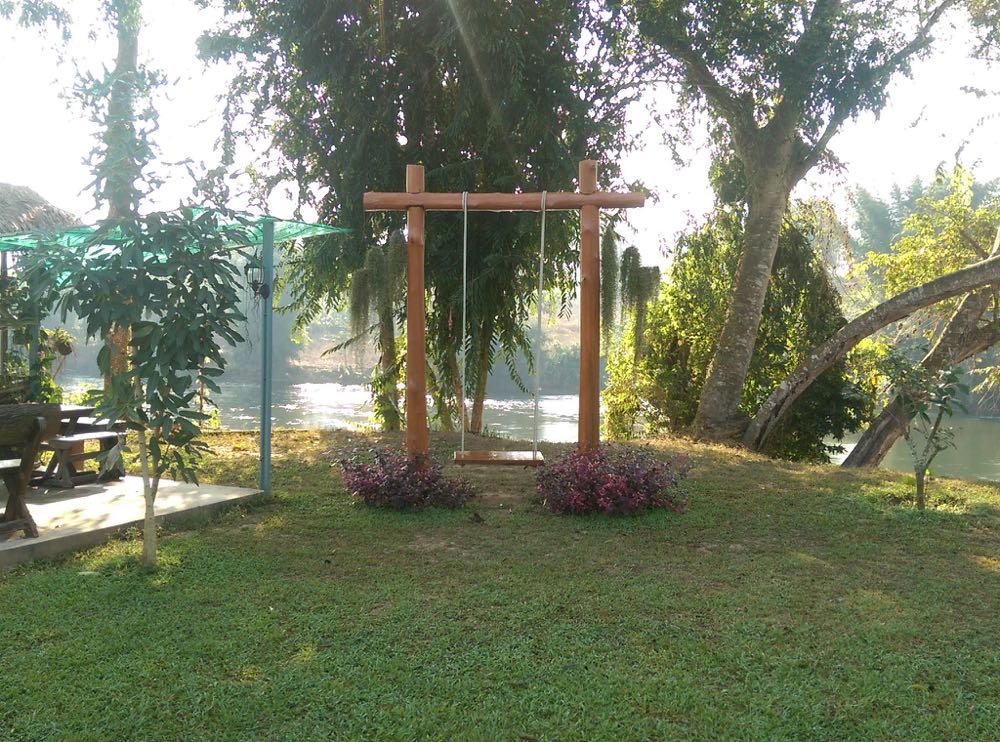 Darling rope swing and picnic area
Has anyone been to Kanchanaburi? Where did you stay?
If you don't already have an account with airbnb, you can receive a $20 credit when you sign up as a new user. We receive a credit as well, which we of course appreciate. Feel free to share your links if you're a current user!