One of my favorite things to do in the UAE is to get out of the big cities and go into the desert. During my visit to the UAE a couple of years ago I stayed at Qasr Al Sarab, which is a resort in the desert. It was one of the coolest places I've ever stayed, and I really enjoyed dune bashing, camel riding, etc.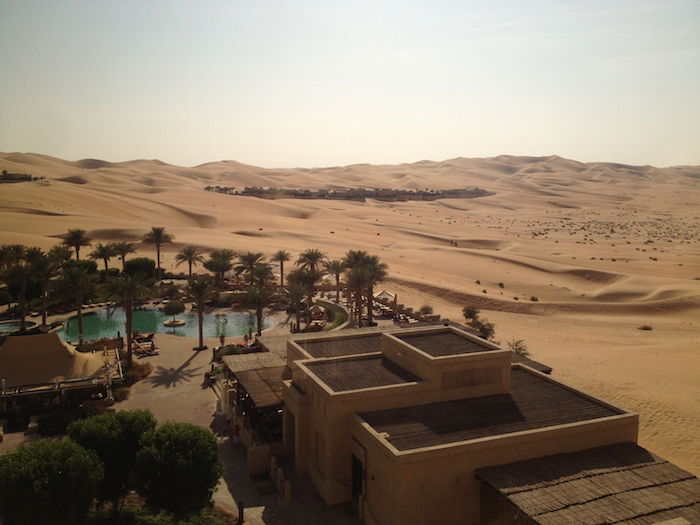 Qasr Al Sarab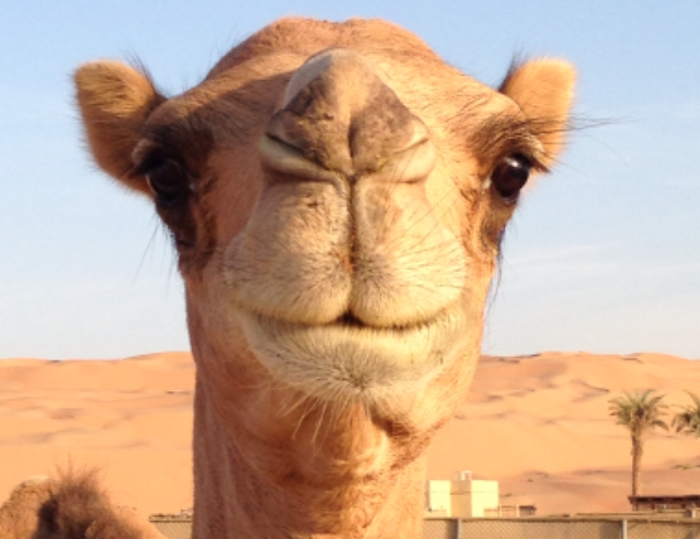 Making friends at Qasr Al Sarab
So while my dad and I stayed at the Park Hyatt Dubai for our stay, I did still want to venture out into the desert for some dune bashing.
After doing some research online, it appeared as if virtually all tour companies had the same "agenda" for sunset dune bashing. They all seemed to go into the same area, and all seemed to include dinner at a shared "camp."
The only major difference seemed to be whether you booked a private tour or a group tour. Since it's my dad's birthday I decided to book a private tour, so we could do things at our pace.
The dune bashing included the following:
Desert Dune Bashing, Adventure Dune Driving, Sunset Photography, Photographs wearing UAE's National Clothing, Camel Riding, Drawing Henna Designs, Outdoor Shisha Bar, Sandboarding, Arabic Coffee and Dates for light refreshments at Tea, The Tanoura Dance, A Barbeque Dinner with Vegetarian and Non-Vegetarian Dish and Belly Dancing.

For dinner, we use our camp and it is shared with other tour operators. We take you to our camp which is big enough to hold 50-60 people for dinner. There will be a big square stage (where dancers are performed) around which private tables and chairs will be arranged to have food.

The above price is inclusive of Private car, pick up and drop within Dubai, English Speaking driver and water.
At the time I made the booking I already explained that we probably weren't going to want to do the dinner, but rather just the dune bashing and camel ride.
We did the dune bashing, and it was awesome, as you'd expect. My dad had a blast. And it was great to have a private tour, since it meant we could do everything at our pace, stop a few more places for photo ops, etc.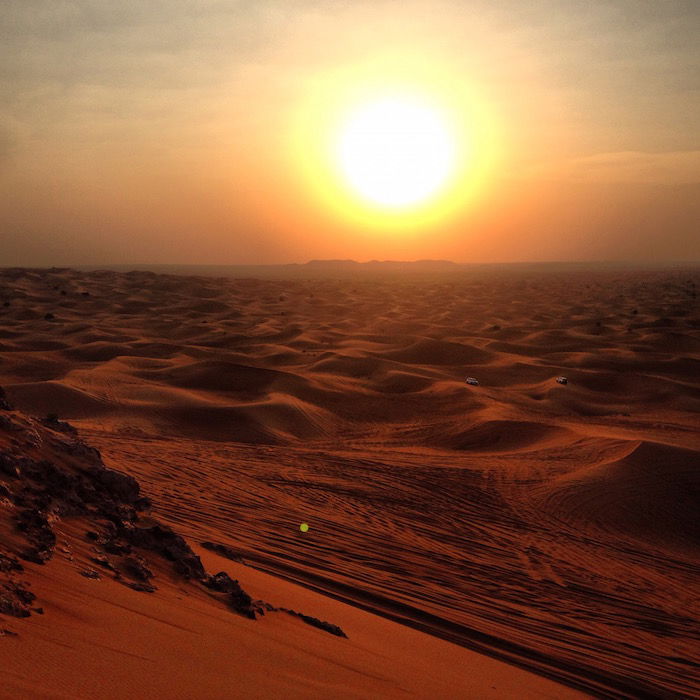 Sunset in desert outside of Dubai
It's actually kind of insane how many tour operators there are in the same area. There must have been well over a hundred cars in the same area of the desert.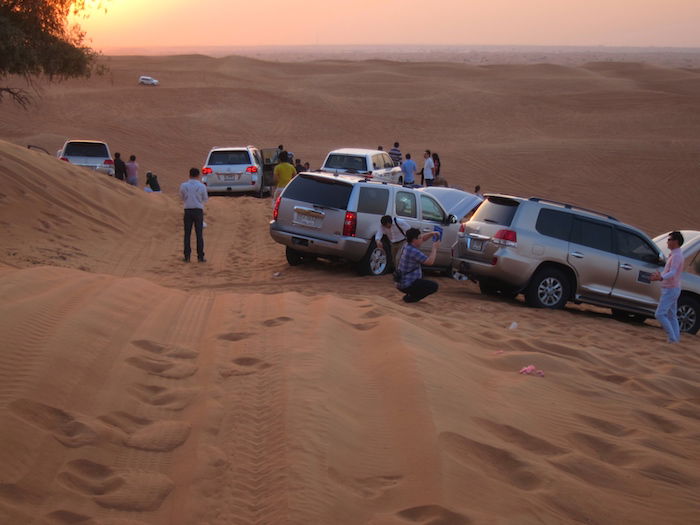 Tour operators in desert outside of Dubai
So after the sun set we were driven to the "camp." The camp is super touristy. Super touristy. But that's exactly what I expected going in. I enjoy "cultural" experiences, but I also know we're not going to get much out of a "camp" made up exclusively of a couple of hundred tourists.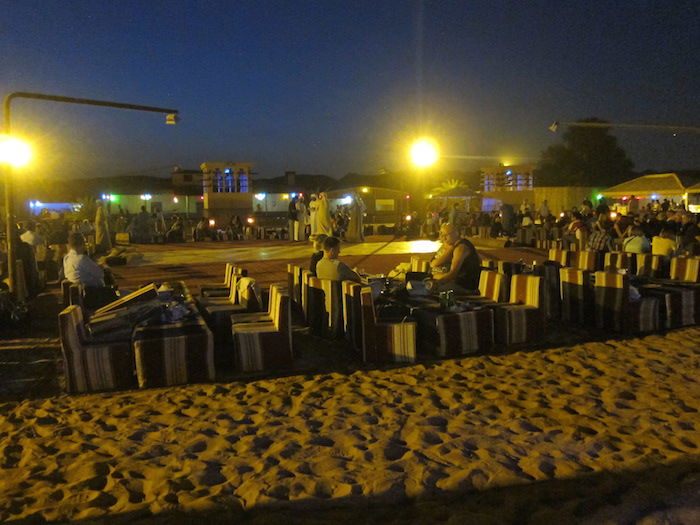 Dune bashing dinner "camp"
I figured we would at least ride camels, though then I realized that they weren't "real" camel rides, but rather it was basically just four camels that you'd sit on for a photo opp and then ride for maybe two minutes in a small circle.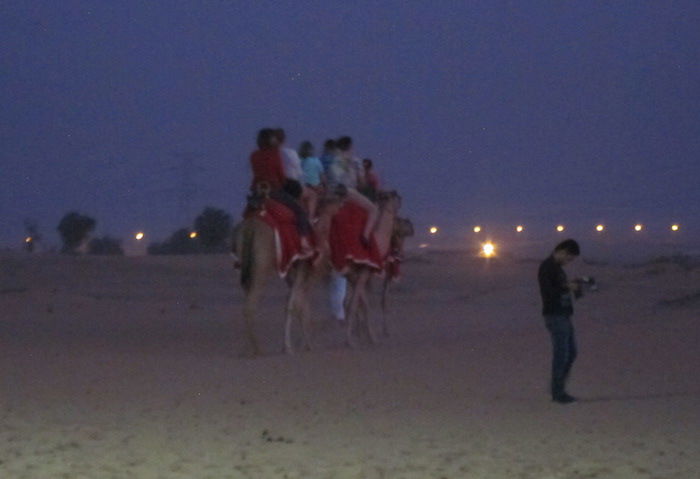 Camel rides at the "camp"
Anyway, we were perfectly happy with the tour, and the "camp" was exactly what I was expecting. But it didn't really interest us, since the food didn't look good, and it was super touristy. Since we had a private tour I explained to our guide that we were happy and enjoyed our time, but were ready to go. I also said "hopefully that at least means you get home a couple of hours early as well."
He seemed kind of shocked, and it took some serious convincing to get him to leave. "You don't want to see the tanoura and belly dancing?" "No, we're fine." "Well why not?"
I wasn't sure how exactly to politely explain to him that I thought the whole thing was a tourist trap, as I was expecting going in. So I instead emphasized that we had a great time and that we weren't at all disappointed, just to make sure that wasn't his concern.
He spent most of the ride to the hotel basically telling us about all the things we could have done at the camp. I asked for a suggestion for his favorite Arabic restaurant in Dubai, and he said "you could have had a great Arabic dinner at the camp."
The guy was nice, the tour was exactly what I was expecting, etc. But:
Is it that inconceivable that some people don't enjoy sitting at a camp with a couple of hundred tourists eating food that's high school cafeteria quality (for the record, I tried the "appetizer," and it wasn't good at all)?
Was he concerned that we weren't happy since we weren't fully "maximizing" the experience (despite my repeated attempts to explain to him that we were happy), or did I somehow offend him?
I found the whole interaction a bit strange, so wasn't sure if I screwed up here, or what…