In early May, Etihad Airways unveiled the cabins they would be placing on their A380s, which they will begin taking delivery of later this year. To say that the cabins were revolutionary would be an understatement.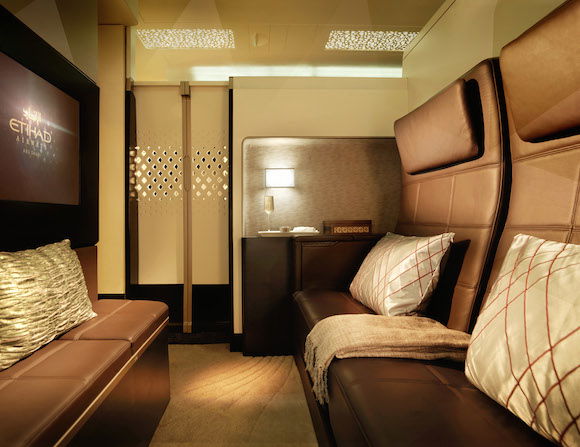 Etihad Residences living room
The pinnacle of Etihad's new product is The Residences, which is a private, three room suite with a butler. You get a living room, bedroom, and bathroom with shower. It's ridiculous, and really kind of turns first class into "second class."
Not surprisingly the Etihad suite comes at a hefty price tag of $25,000 one way between Abu Dhabi and London, which makes even first class look cheap by comparison.
I'm the only person to have independently reviewed every A380 first class product in the world:
When I heard about the new Etihad Residence class, I was simultaneously excited and sort of sad.
That's because I knew there would be no realistic way for me to review the "top" product on this A380. I've been able to redeem miles for the top cabin on every airline's A380, though there's no practical way to redeem miles for the Residences (Etihad charges their Etihad Guest members over two million miles for a one-way ticket), so I decided to try something that has never been done before.
Based on suggestions by some readers, I decided to run a Kickstarter campaign. Kickstarter is basically a platform that allows you to receive contributions towards creative projects. Some people use it for philanthropic purposes, while others use it because they think that Detroit needs a statue of Robocop.
What makes Kickstarter unique is that you set a fundraising goal and then people can contribute. But if the goal isn't reached, no contributions are taken.
So it really is an "all or nothing" thing.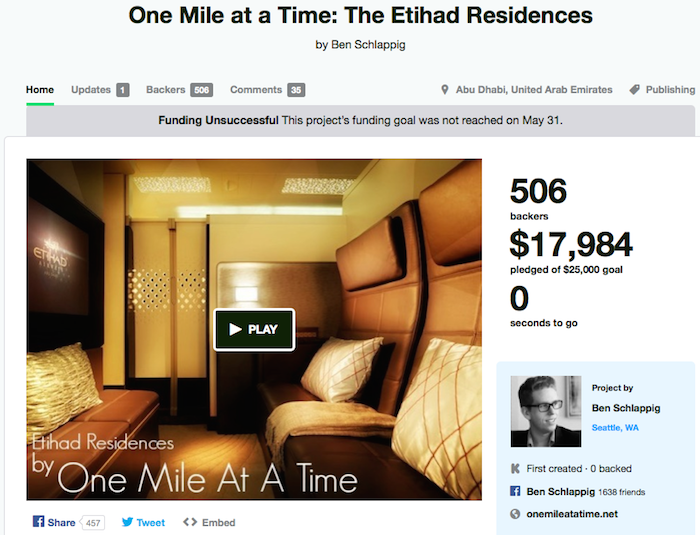 Anyway, I figured I'd provide a quick update on the Kickstarter campaign and also share some further thoughts:
I'm sorry!
First of all, I'm really sorry it took me so long to write this post. The Etihad Kickstarter ran through the end of May, and in the first few days of June my dog passed away.
I've spent the past three weeks in Florida with my mom and dad, and have been running on "autopilot" a bit too much. I haven't had the mental energy to really reflect on this campaign, so didn't feel like I could do it justice.
I'm really sorry, and I appreciate all the interest in an update.
The Kickstarter campaign wasn't funded
The Etihad Kickstarter campaign ran through the end of May, and in the end nearly $18,000 worth of contributions were made by over 500 backers. That's absolutely amazing.
So in the end it wasn't funded, but it sure as hell was a fun experience.
I posted about the Kickstarter campaign twice in the first two days it ran, and during that time we raised $12,000. I'm confident we could've reached the goal if I had written about it a bit more, though I promised I wouldn't shove the campaign down your throats, and I think I stayed true to that promise.
I'm equally happy whether it's funded or not. Truly.
Thank you!
The amount of support for this Kickstarter campaign was amazing.
Thanks to those of you that backed the campaign financially. Thanks to those of you that backed the campaign in spirit and words. Thanks to those of you that thought the campaign was completely ridiculous and laughed at it.
As I explained when I launched this:
What gets me excited every day is trying something new. Some people suggested running a Kickstarter, and I figured why not give it a shot? It was an absolute blast, I learned a lot, and I couldn't have been happier with how it turned out. This was simply an awesome experience.
The amount of support was just overwhelming. When I launched the campaign I told people there are a million better ways to spend your money, but that didn't stop people.
So thank you, thank you, thank you!
It's amazing how much interest there was
I expected there would be a fair amount of interest in the campaign, both positive and negative, but frankly I could have never anticipated the response. The Etihad Kickstarter campaign was seen by tens of thousands of people, and was even picked up by the "mainstream," including Forbes, Gizmodo, The Daily Mail, USA Today, CBS This Morning, and…
Are you ready for this? Possibly my favorite is askmen.com, where I was named one of "the 500 People, Products & Trends That Will Define The Next 12 Months" in their Pulse Report.
While I'll never in a million years do even a tenth as much good for society as askmen.com does, I still thought that was pretty damn cool! I'll have to add that tidbit to my location based social networking applications!
It amazes me how incensed some people are
I said from the beginning that the idea was crazy.
I said from the beginning that there are a million better ways you can spend your money.
And I said from the beginning that you shouldn't contribute.
As I said, my hope was that those contributing simply viewed it as an entertainment cost, because this is something that would give them a kick.
I was just as thrilled by people that said "this idea is crazy, you're nuts" as I was by people that contributed $500+ to the campaign.
But what I found incredibly fascinating is just how incensed some people were. They couldn't just say "hah, this idea is nuts," but instead had to call me and especially the people that backed the project idiots, telling them that something like this shouldn't be allowed, and/or that they shouldn't spend their money this way.
That concept fascinates me.
Like I said, it's totally beyond reasonable to think the project is crazy, but to judge people that feel otherwise and choose to contribute is just mind-boggling.
A lot of people suggested that there were better charities to spend their money on. And I totally agree, there are better ways to spend your money, but this was never intended to replace charitable contributions.
At the end of the day I would guess that most people budget their money, and hopefully allocate money for charity differently than they allocate money for entertainment. In other words, when you go to the movies on a Friday night you don't say "hmmm, should I watch the One Direction movie (great movie, by the way!), or should I save a starving child?"
But, thankfully, that's a vocal minority.
I try to live by the motto of "what other people think of me is none of my business." As long as I can look myself in the mirror and do something in good conscience, I ultimately feel comfortable making that decision.
Bottom line
The Etihad Kickstarter was just such an amazing experience.
I interacted with so many great people, got some awesome feedback (both positive and negative), and at the end of the day got to pursue something completely different than I've ever done before. While I have an awesome "job" to begin with, what gets me going every day is trying new things and seeing the results, and this was no exception.
Again, a huge thanks to everyone that supported the campaign, be it financially, in spirit, or by telling me I'm nuts. Hopefully many of you found the whole thing as amusing as I did.