This was supposed to be a really exciting week for travel. In late May I wrote about the trip I had planned to the Middle East for this coming week:
Jet Airways business class from Toronto to Brussels and Qatar Airways business class from Brussels to Doha using 67,500 AAdvantage miles
Qatar Airways inaugural A380 flight from Doha to London
TAP business class from London to Lisbon to Miami
Then a week later Qatar Airways announced there would be a delay in their inaugural A380 service to London Heathrow, due to their desire to "fine tune" their interiors. As of yet the new inaugural date still hasn't been set, unfortunately.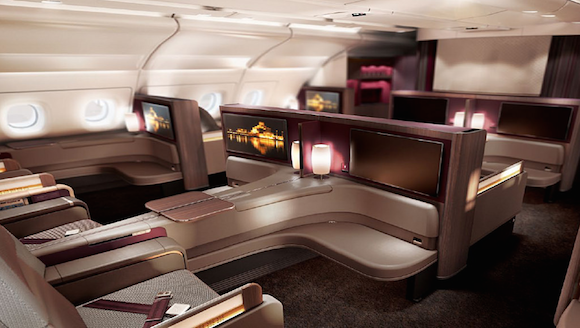 Are delays due to fine tuning of their first class product?
While I was excited about the other elements of the trip beyond the A380, I figured I'd put off the entire journey until I actually had the chance to take the trip in full.
I then looked at other options, and decided it was finally time to review Japan Airlines' new first class product. My intent was to fly from Los Angeles to Tokyo Narita, and then Tokyo Narita to Jakarta, which is a route I've really been meaning to fly. That's because:
I've never visited Jakarta
Tokyo Narita to Jakarta is the only intra-Asia route on which Japan Airlines offers a first class product, and it's a flight that's further than New York to London, so is a great way to maximize an award ticket between the US and Asia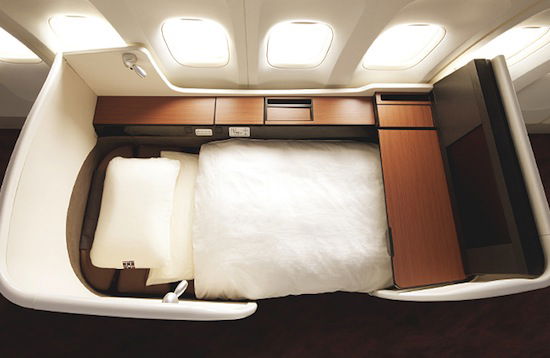 Japan Airlines' new 777-300ER first class
So I had that booked for Sunday, and was getting ready to take the flight.
I should add that it's my mom's birthday on Tuesday, and all along my intent was to visit her for a week after I returned from the above trip. She can't take off more than a day around her birthday, so we could have spent more time together if I visited next week anyway. While it won't compete with the trip to Bali we took for her "round" birthday last year, at least I'd be able to spend time with her.
Switching gears, slightly, people often ask where I get the nickname "Lucky" from. There's not actually a good reason.
Lucky was my dog's name, and growing up he was basically my best friend (I'm in no denial about being an introvert!). So when I decided to pick an online "username," I figured Lucky worked, and for whatever reason it stuck.
Well, unfortunately Lucky passed away this past weekend, which is devastating.
I'm simultaneously probably the most and least emotional person out there, and when it comes to things like this I have a brief moment where I'm ridiculously emotional, and then I quickly come to my senses and realize that there's nothing that can be done. But I do try to be sensitive to the fact that others (particularly my mom) don't get "over it" as quickly when it comes to losses like this.
Beyond that, Lucky was incredibly fortunate and aptly-named. He almost died when he was a year old due to an allergy, then had a near-miss due to health issues a few years ago as well. For the last few years he has been blind, deaf, and diabetic, but despite that was as happy as he ever was and had an amazing appreciation for life.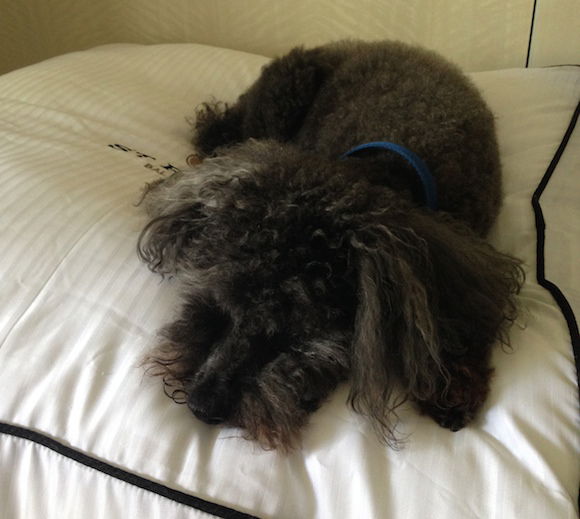 Lucky enjoying the #spglife at the St. Regis Bal Harbour this past Christmas
Lucky was also my mom's best friend, so it's especially tough on her. She always said that Lucky reminded her of her dad, and oddly enough Lucky passed away the same day of the year that her dad did, which makes her even sadder.
Anyway, my point isn't to sadness-shame all of you or anything like that, but rather to explain that I won't be able to review either of those experiences this week, though I do hope to do so in early July.
What I decided to do instead is to surprise my mom.
She thinks I'm enroute to Jakarta (I told her I couldn't refund the trip), though I'm actually in Tampa, and will go to see her shortly (she doesn't know I'm here yet). And I've also planned a getaway for her birthday for one night, which she doesn't know about (and more than deserves).
Anyway, I've said it before and I'll say it again — in the grand scheme of things miles and points don't matter, and premium cabin products don't matter. What matters is family, making the most of life, and telling the ones you love that you love them. I swapped an international first class suite this afternoon for a seat in economy, and I couldn't be happier with that decision.