As I wrote about last week, I've just started the longest trip I've ever done. I'm taking plenty of flights on all sorts of carriers and naturally looked to use miles wherever I could.
For oneworld flights, I've been crediting to British Airways Executive Club the last few years as I hold status with British Airways, and it makes sense for me to build up one balance rather than spread the miles I earn across multiple programs.
But I still had tens of thousands of AAdvantage miles to use up. I've bought and redeemed hundreds of thousands of miles in this program over the years.
As part of the trip, in November I need to get from Jordan, to Oman in the Middle East.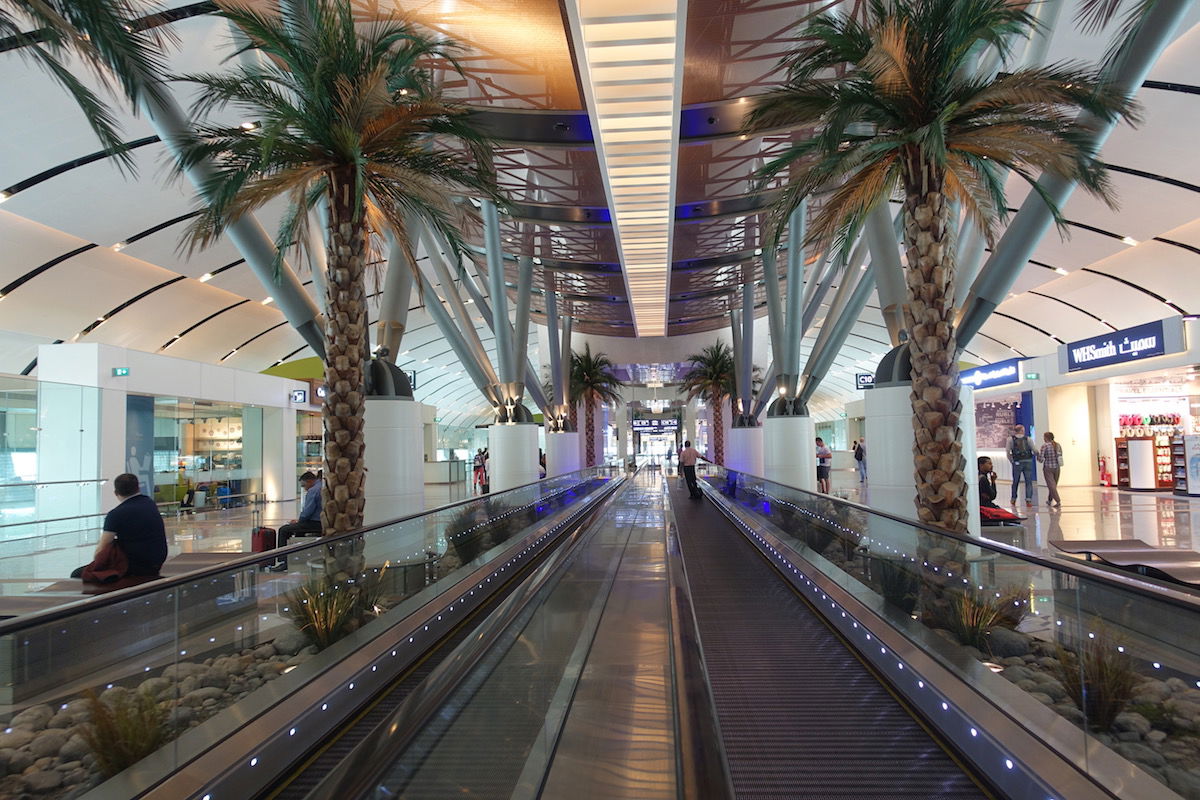 Revenue fares were expensive, so I looked to see if I could use AAdvantage miles. While Royal Jordanian is a oneworld member, frustratingly they don't fly from Amman (Jordan) to Muscat (Oman).
So I looked to Qatar Airways. There was availability on either Royal Jordanian or Qatar Airways from Amman to Doha, and then onwards on Qatar Airways from Doha to Muscat.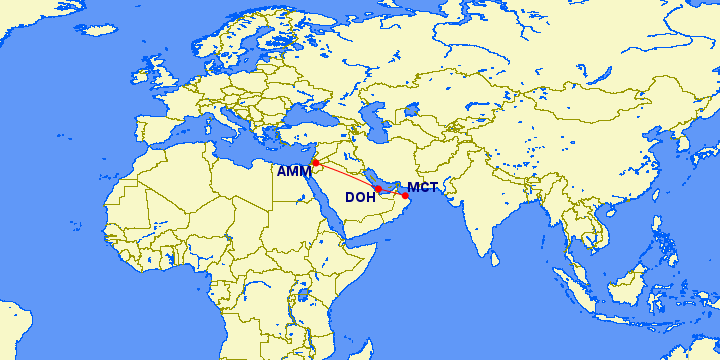 I've flown Qatar Airways business class several times, including their revolutionary QSuites which I agree is the world's best business class. My partner is also keen to visit Qatar, as I had a great free stopover there last year.
British Airways Executive Club charge per flight for redemptions, and so because there are no direct oneworld flights, this would have been too expensive to redeem Avios for and I would have received less than 1p per Avios which is my baseline valuation.
So I looked at the AAdvantage award chart for travel within the Middle East.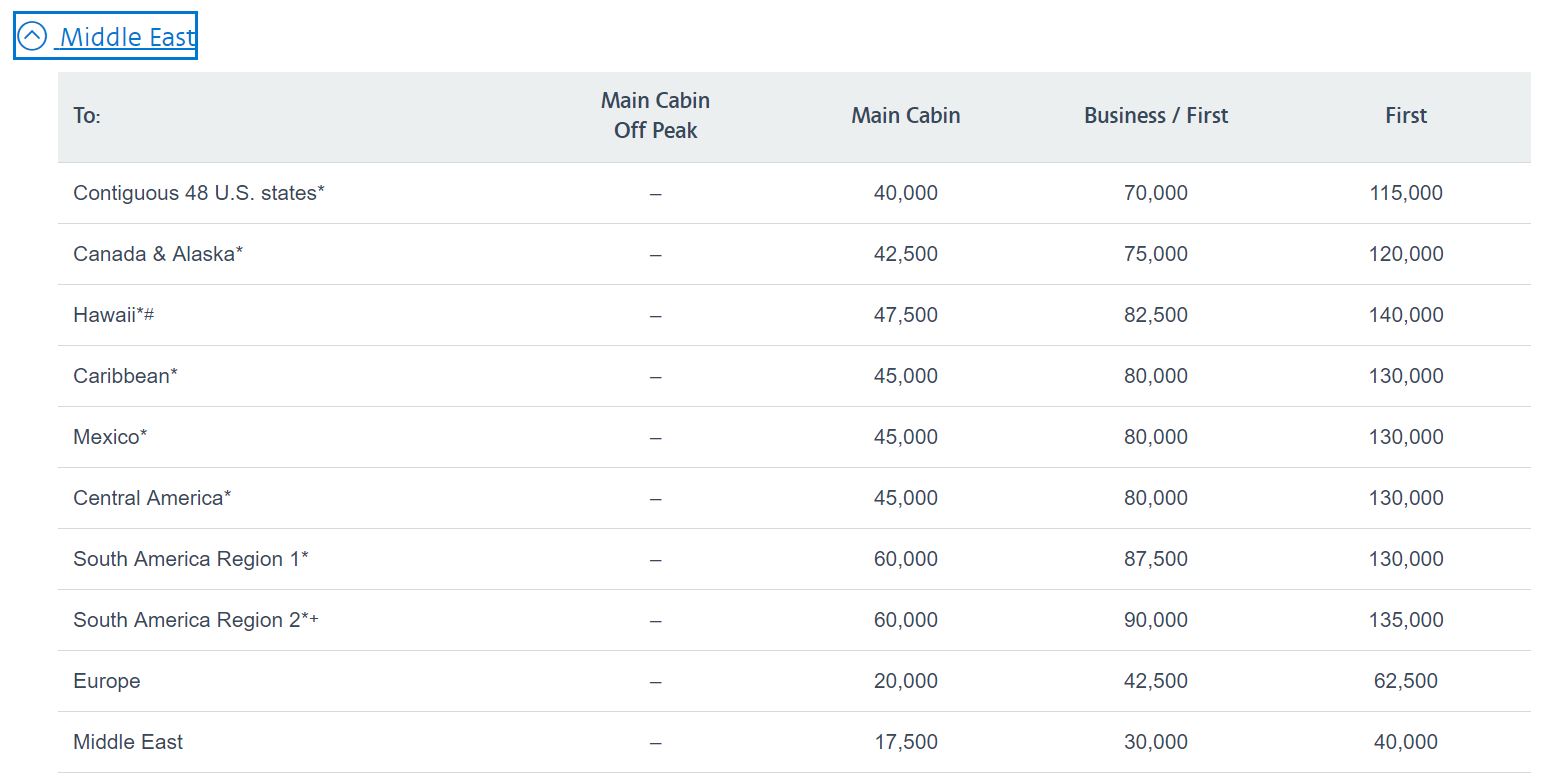 Obviously I was looking to redeem miles for a premium class redemption – so for a one way redemption it would be 30,00 miles in business class, or 40,000 miles in 'first class.' There was business class availability on Royal Jordanian from Amman to Doha, and then availability on Qatar from Doha to Muscat.
Now, Qatar Airways markets their short haul business class around the Middle East as 'first class,' although there are now far less routes because of the Gulf blockade.
I know that Qatar has an excellent short haul premium product.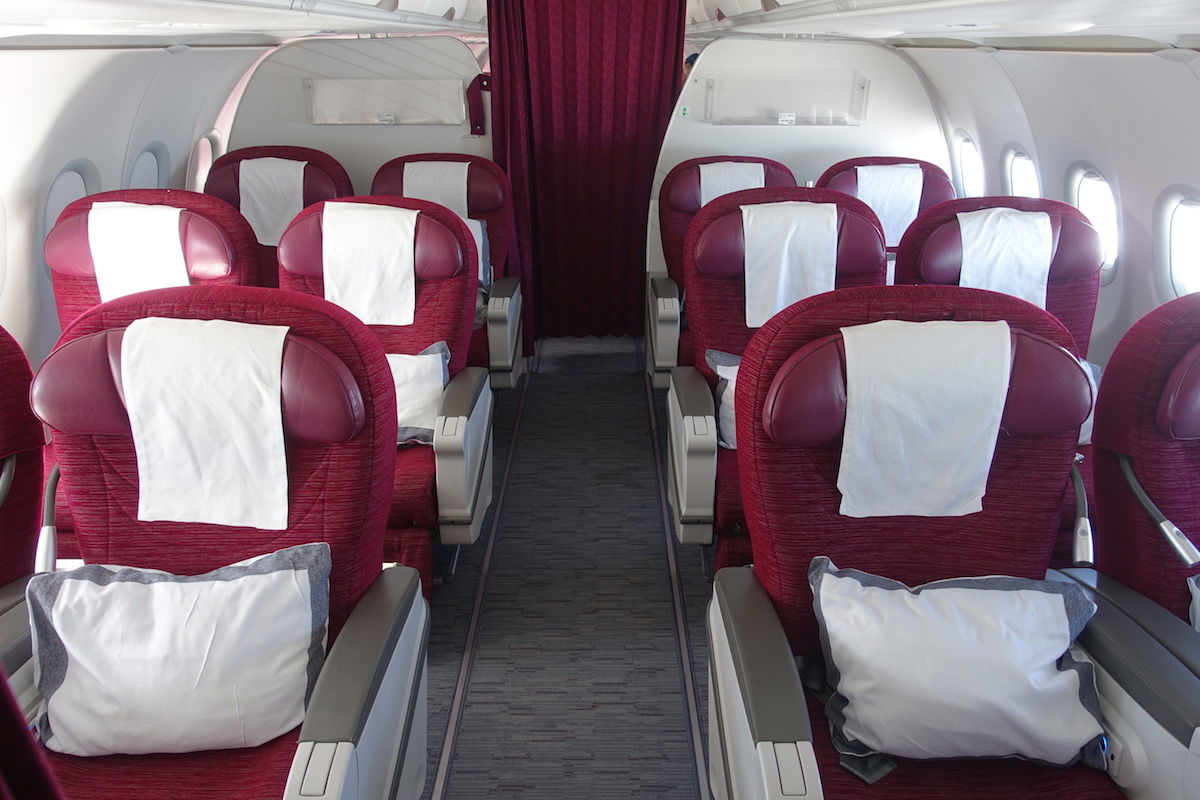 Marketing business class as first can be a positive or a negative. On the plus side, it would allow me access to the fabulous Al Safwa First Class Lounge in Doha, one of the world's best airport lounges, though the food does not look that great, especially as I would be there in the morning and breakfasts are rarely as impressive as afternoon or evening meals.
The downside, is that when redeeming miles for these flights on partner airlines, many will charge you for a first class redemption, rather than a business class redemption.
And AAdvantage is one of the those programs.
As they use a zoned based award chart, I had the choice between paying 17,500 AAdvantage miles per person for economy, or 40,000 miles for 'first class,' more than double the amount.
I did call AAdvantage a few times to explain the problem — that I was being charged the first class miles for what is really a business class flight, and while they understood my frustration, they refused to charge me the business class miles rather than the first class miles.
As I value AAdvantage miles around 1.3 US cents, that would be like paying an extra $260 per person in additional miles for the lounge access and premium onboard product.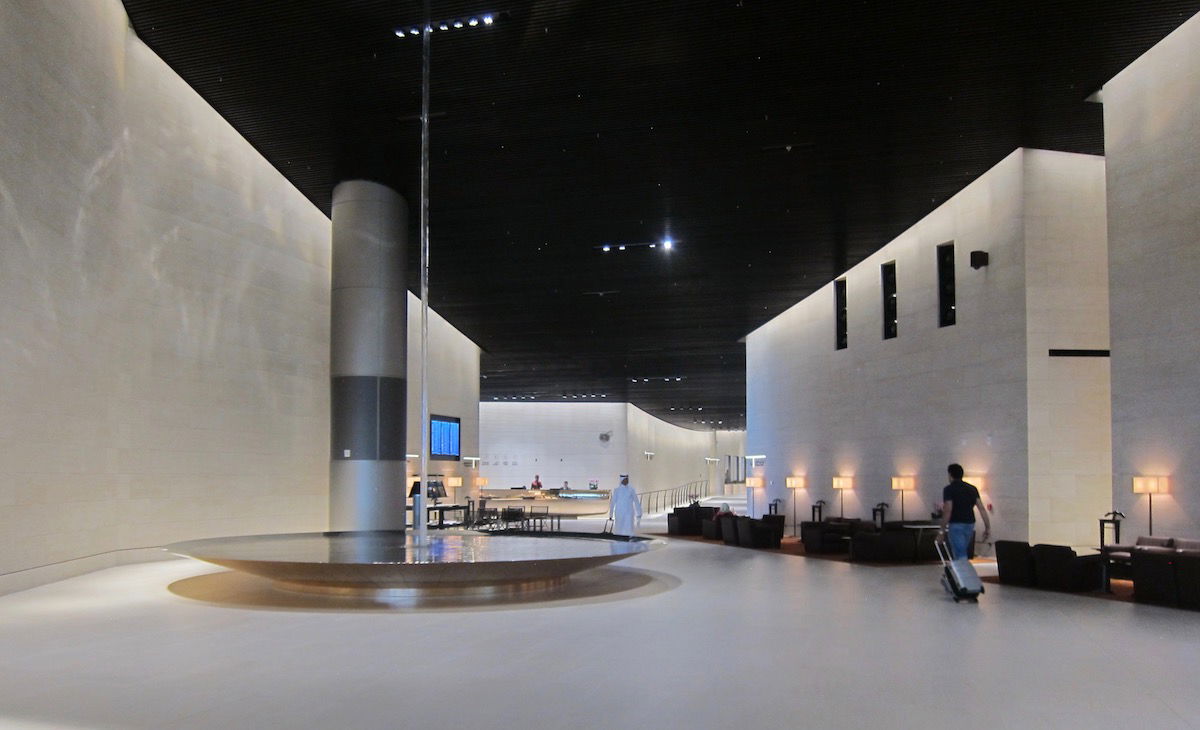 And while I'm sure the flights would have been much better than economy, they were both operated by narrow body, short haul aircraft, so not the full premium experience.
I just couldn't justify the additional expense. I don't have access to the endless credit card opportunities that many of you in the US do.
So, I made the decision to redeem 17,500 miles per person for economy. I'm an oneworld Sapphire, so will still have numerous elite benefits, although I'm aware the lounge situation for oneworld elites in Doha is dire if you are traveling economy, as they do not have access to the outstanding Al Mourjan business lounge.
If you're interested I'll review the 'oneworld business lounge' in Doha for the sole reason that I expect it will be awful (I've visited the Al Mourjan lounge a few times).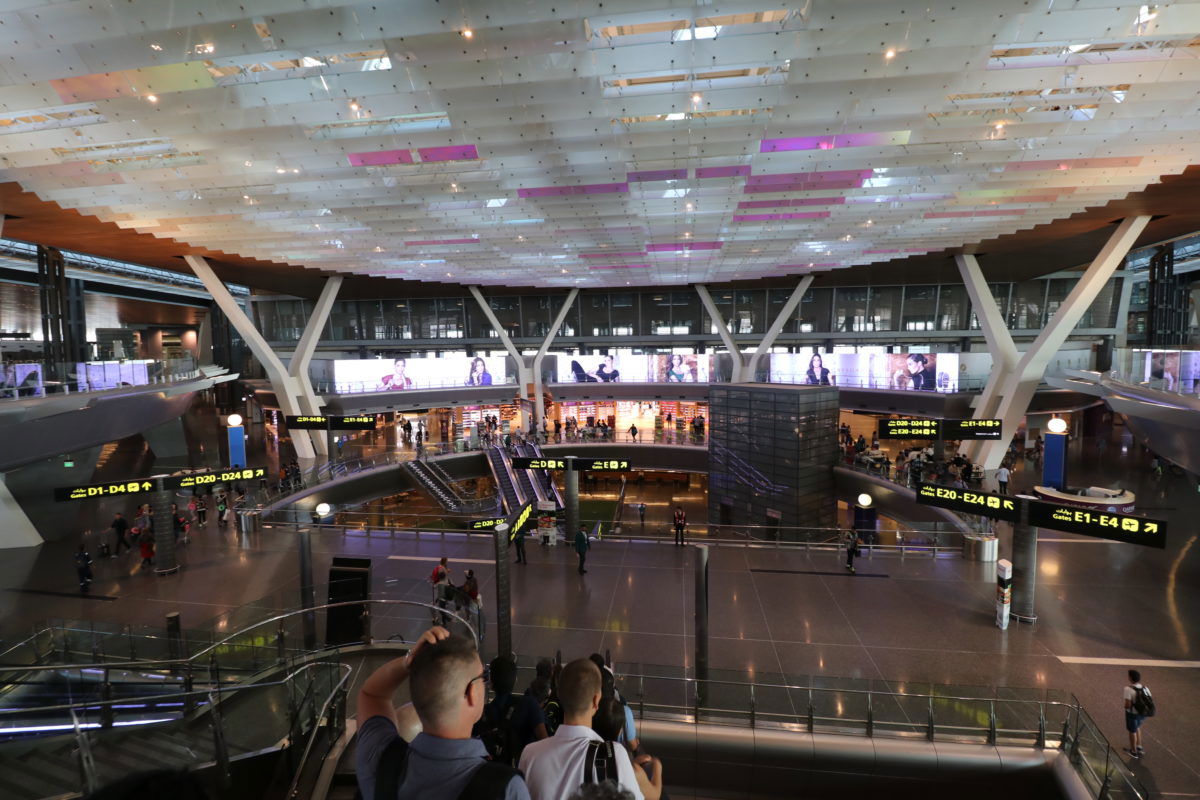 Bottom line
Normally I recommend redeeming miles for premium cabin travel. Economy redemptions are often a terrible deal.
But in this case I just couldn't justify paying more the twice the amount of miles for two very short regional products, as well as the Al Safwa First Class lounge for breakfast. And 17,500 miles is a good deal for economy as I'm saving around $300 versus a revenue fare, so obtaining around 1.7 cents value per AAdvantage mile.
I'd rather save AAdvantage miles for QSuites!
I am looking forward to experiencing Oman's brand new airport though.
I'll let you know how it goes!
What would you do in my situation? When have you redeemed miles for economy?