Alaska Mileage Plan is one of my favorite frequent flyer programs, thanks to the unique array of airline partners that they have. Unfortunately the program has lost some value the past couple of years, as we've seen some partnerships be cut.
The good news is that Alaska Mileage Plan has been adding new partners. Since last year they've added partnerships with Aer Lingus, Finnair, and Singapore Airlines.
The catch is that while they've enabled mileage earning on all these airlines, they've been slow to add mileage redemptions. They've actually done a pretty lousy job managing expectations. For example, Alaska's partnership with Finnair launched in May 2017, and they promised they'd add award redemptions by late 2017. However, up until now that hasn't happened, even though we're more than halfway through 2018.
There's some good news on that front.
You can now redeem Alaska miles on Finnair
You can now redeem Alaska Mileage Plan miles on Finnair. Alaska hasn't actually updated their partner award page (redemptions on Finnair still show as "not available"), but redemptions are now possible when you do award searches.
While there's no published award chart yet, it looks like there are quite a few award options available. The good news is that there are no carrier imposed surcharges, and as usual, Alaska allows stopovers even on one-way awards.
Alaska's award pricing on Finnair
What are the award possibilities, and how is the pricing?
You can fly one-way between the US and Europe for 30,000 miles in economy or 70,000 miles in business class.

Or you can fly one-way within Europe for 12,500 miles in economy or 20,000 miles in business class.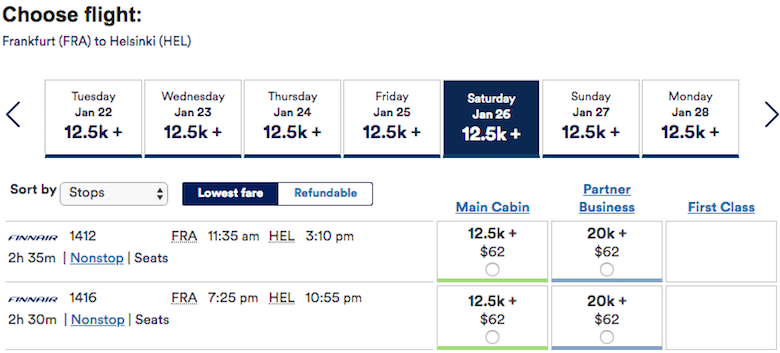 You can even book an award exclusively between Europe and Asia for 32,500 miles in economy or 60,000 miles in business class one-way.

Awards between Europe and India are a bit cheaper, at 25,000 miles one-way in economy or 45,000 miles in business class.

There are some slight discounts if traveling from the US to Asia. For example, if you booked New York to Helsinki and Helsinki to Beijing separately you'd pay 130,000 miles in business class, while Alaska charges 125,000 miles if booked together.

The same 5,000 mile discount applies between the US and India, as you'd pay 105,000 miles for a one-way business class ticket.
These are perfectly okay redemption rates, though historically Alaska has industry leading redemption rates, and these rates are just average. In many ways that's disappointing, since many of us value Alaska miles significantly higher than other currencies, which means we'd never consider this type of redemption.
Finnair isn't all that generous with award availability, so you'll have to work hard to find space. My recommendation for searching Finnair award availability is to use aa.com. Just select the route you want to fly, and then select "nonstop flights only." That will give you a good calendar overview of availability, which can be tough to come by.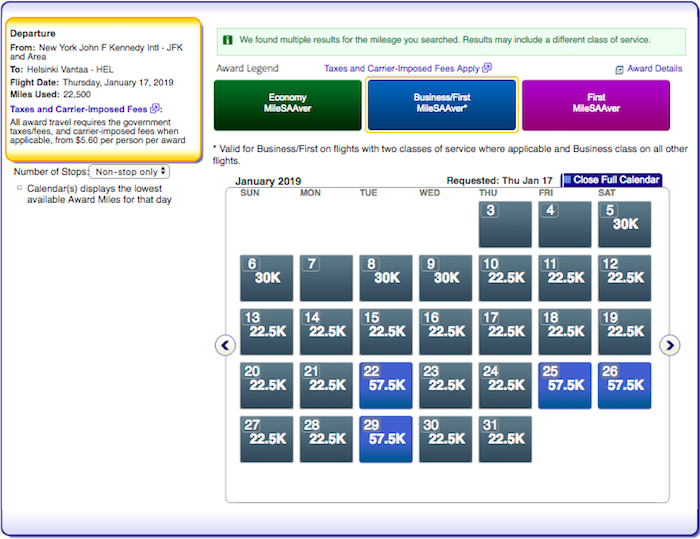 Do note that some (but not all) Finnair award availability that shows on aa.com is actually phantom space.
Where does Finnair fly?
Finnair's only year-round US destination is New York JFK, and then they offer seasonal flights to Chicago, Miami, and San Francisco.
Finnair's longhaul flights are operated by a mix of A330s and A350s. Finnair's A350s feature reverse herringbone seats in business class, and are a very nice way to fly.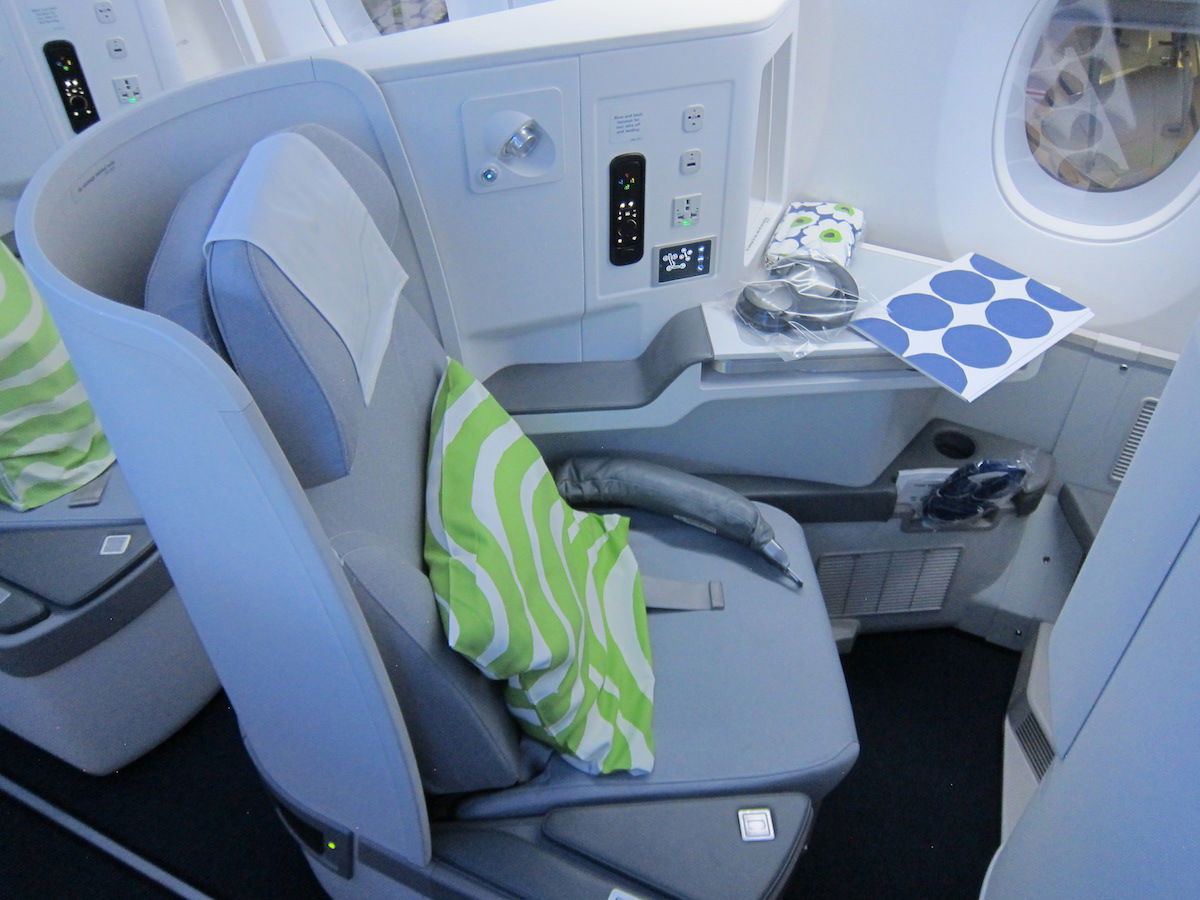 Meanwhile they exclusively use A330s for their US routes, and those planes feature staggered seats in business class, which aren't quite as good.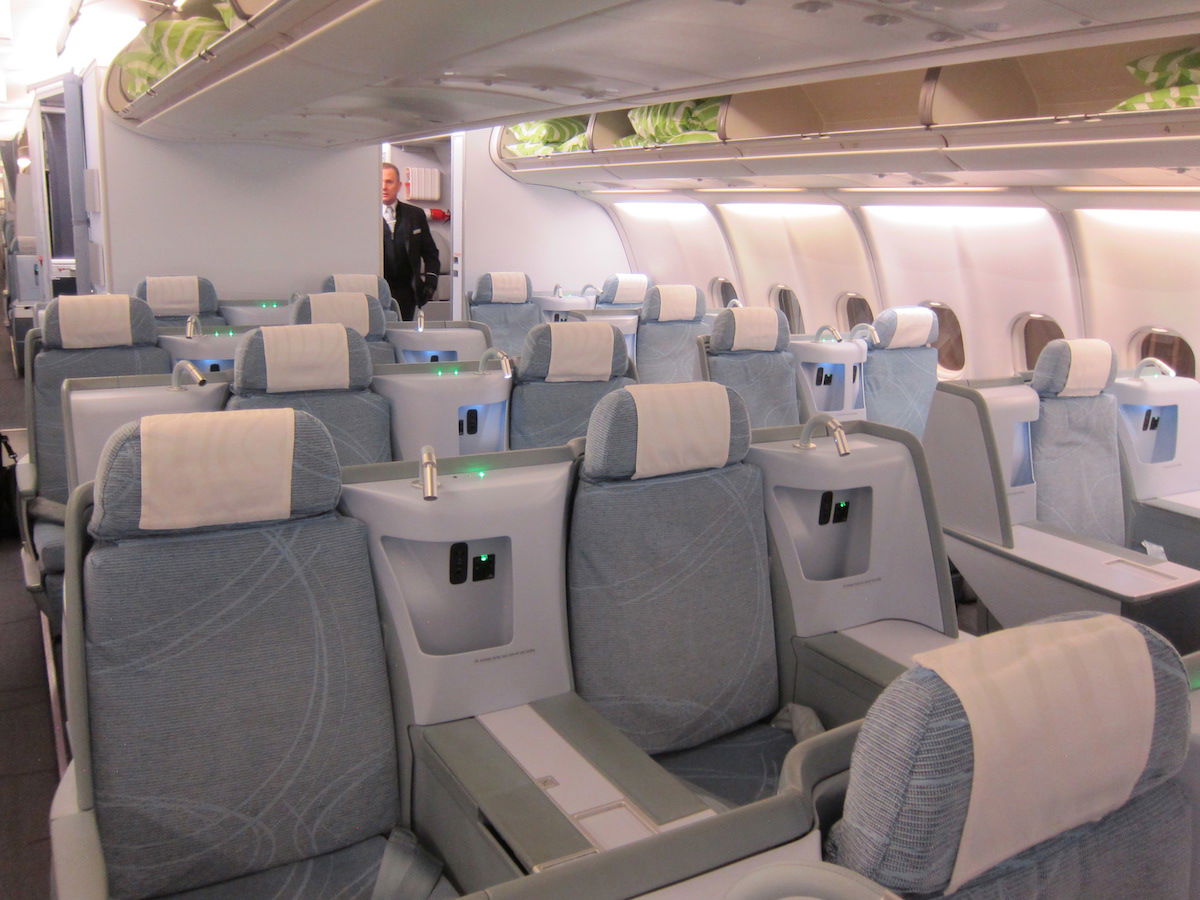 A majority of Finnair's longhaul route network is to Asia, as they fly to over a dozen destinations there.
Bottom line
Finnair is a solid airline, and it's nice to see that you can now redeem Alaska miles for travel on them. Unfortunately these redemptions rates aren't quite as good as the ones we're used to from Alaska.
For example, it costs 70,000 miles to fly one-way business class between the US and Europe, which is the same price you'd pay between the US and Asia in Cathay Pacific first class.
Nonetheless more options are always a good thing, especially another option between the US and Europe that doesn't come with surcharges. You can always potentially get outsized value with Alaska miles by doing stopovers.
Does anyone plan on redeeming Alaska miles on Finnair?