I frequently get asked about how to redeem American AAdvantage miles for travel on Etihad Airways. Back in June I wrote about how to search Etihad award space. In general, there are three general routing rules for redeeming American AAdvantage miles for longhaul travel:
American will let you exceed the maximum permitted mileage (MPM) for a city pair by up to 25%, but simultaneously says that you have to take the most direct routing. In practice that means you can usually route creatively, and when you get an agent that insists on taking the most direct routing you just hang up and call again.
The transoceanic airline you're flying has to publish a fare between your origin and destination. In other words, if you want to fly from Los Angeles to New York on American and then New York to London to Rome on British Airways, British Airways would have to publish a fare between the origin and destination.
With few exceptions, you can't transit a third region on an award ticket. The Maldives is considered part of "the Middle East/Indian Subcontinent" on American's award chart, so per the AAdvantage exception chart, the only region you can transit enroute to the Middle East is Europe.
This third point is important, especially as it pertains to awards between the US and Africa. Per the exception chart, the only region you can transit between the US and Africa is Europe.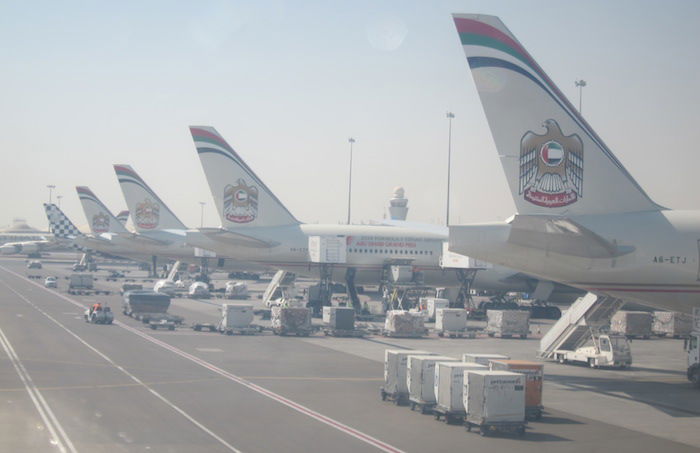 Ethiad tails in Abu Dhabi
Can you use AAdvantage miles for travel on Etihad to South Africa?
Yes, you'll just pay the combined price of multiple awards booked into the same reservation. This applies to anywhere Etihad flies outside of American's "Middle East/Indian Subcontinent" zone, not just their Johannesburg route. In fact, this works for every AAdvantage award type that isn't permitted, like routing from North America to Australia via Hong Kong on Cathay Pacific.
While I can't think of anybody who books AAdvantage awards like North America to Asia via Europe because it's such a bad value, that doesn't mean it's impossible.
While I wouldn't book an award like this, I'm only suggesting this because South Africa is such an exceptionally hard destination to get to on miles. You might book an AAdvantage award like this because:
There's no space on a permitted routing. From North America, there are only two permitted AAdvantage routings, which include flying British Airways from London, or Qatar Airways from Doha. Neither of these routes are plentiful with award space. Technically Iberia does also serve some places in Africa, though they won't get you as far as South Africa.
There's award space on British Airways, but the fuel surcharges are horrible (see below).
There's no award space at all.
Randomly pricing an AAdvantage award for next August on British Airways in business class from Dallas to Johannesburg, the surcharges and taxes total $1,744.90 roundtrip, which is just insane.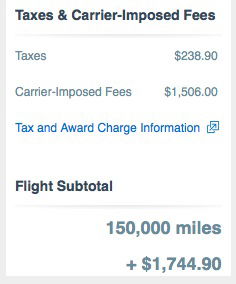 British Airways fuel surcharges on an AAdvantage award
Etihad service to Johannesburg isn't daily, which is something to keep in mind. And while business class is the highest cabin, it's still fully flat and quite nice.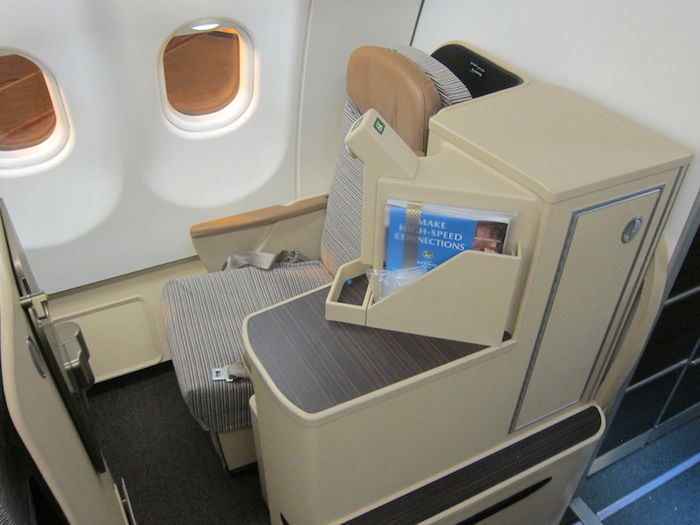 One of the flights is timed for US connections, so even if Etihad publishes fares from the US to South Africa via Abu Dhabi, AAdvantage's routing rules prohibit this on one award.


Ethiad published fares to JNB via ExpertFlyer
And while I'll just link you back to my prior post about searching for Etihad award space, here are screenshots of availability for Dallas to Johannesburg and back:


So it's something that's reasonably easy to book, it's just not very cheap.
Pricing multiple AAdvantage awards
Per the AAdvantage partner award chart:
North America to Middle East/Indian Subcontinent is 67,500 AAdvantage miles one-way for business class
North America to Middle East/Indian Subcontinent is 90,000 AAdvantage miles one-way for first class
Middle East/Indian Subcontinent to Africa is 45,000 AAdvantage miles one-way for business class
In total, you're looking at 112,500-135,000 AAdvantage miles for a one-way ticket. Roundtrip is anywhere from 225,000 to 270,000 AAdvantage miles. American will combine the price of the multiple awards with no issue, but don't be surprised if the reservations agent is shocked at the price. After all, this isn't United.
Just to be thorough, the cost for travel between North America and Africa is as follows, assuming you can book a valid routing:
North America to Africa is 75,000 AAdvantage miles one-way for business class
North America to Africa is 100,000 AAdvantage miles one-way for first class
Wait, but you can fly Qatar on one award?
I realize one thing above may be confusing. I said:
You can only legally route from the US to Africa via Europe
You can also route from the US to Africa via Doha on Qatar Airways

Doha is also in the Middle East, so why is travel on Qatar Airways permitted, but not travel on Etihad Airways? That's because there's a specific region exception list for routing rules on Qatar Airways. This applies exclusively when connecting to and from Qatar Airways at Doha Airport. So on a single award you can fly from Philadelphia to Doha to Johannesburg, for example.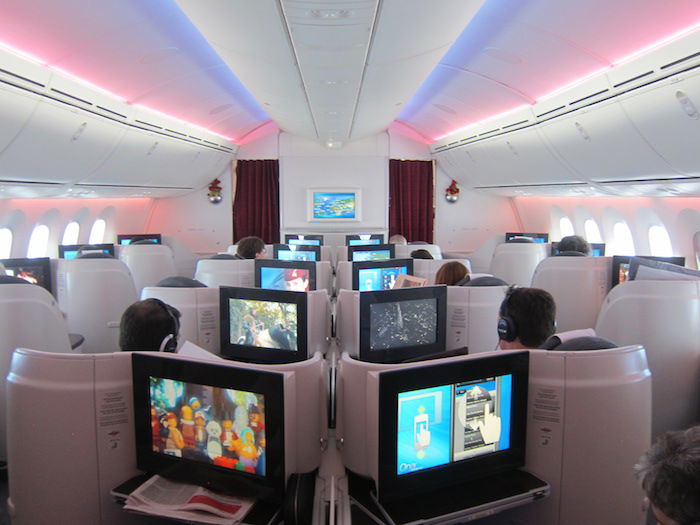 Qatar Airways 787 business class
Bottom line
I'm not preaching that redeeming miles to Africa on Etihad Airways is a good value, and I'm even saying it's something I wouldn't do personally. However, there are a lot of people who are miles-rich and struggle to use them. Also, some people plan trips to South Africa without first looking at award options, so this is always a good backup option. In almost all cases it's better than outright paying for business class.
Award price notwithstanding, I'd much rather fly Etihad than British Airways to South Africa.
After American's AAnytime standard award rates increased earlier this year, I can't help but think the perceived value of AAdvantage miles went down in a lot of our minds. Oneworld has been pretty terrible about releasing premium cabin award space to Europe, and as that's one of the two approved award routings to Africa, you're not only counting on award space to London, but also counting on award space from London to South Africa.
South Africa is consistently one of the hardest award requests that PointsPros receives.
Have you ever used AAdvantage miles like this? If so, what was your reason?