Qatar Airways is known for their incredible Qsuites business class, which is currently available on all A350-1000s, as well as select A350-900s, 777-200s, and 777-300s.
Qatar Airways has an incredibly varied long haul fleet (they seem to think that wide body planes are like Pokemon, and they want to catch them all). The next plane that Qatar Airways is expected to take delivery of is the 787-9, as they have 30 of these planes on order.
They were supposed to start taking delivery of them soon, though it looks like that might be delayed… possibly even significantly?
Why Qatar Airways' 787-9s Are Delayed
Qatar Airways is supposed to take delivery of their very first Boeing 787-9 shortly. The first 787-9 (registration code A7-BHA) is ready to go, with the full Qatar Airways paint scheme, and the plane has already done test flights.
So, why is Qatar Airways delaying delivery of these otherwise ready to go planes? Because the business class seats aren't ready to go. Qatar Airways plans on installing a modified version of Qsuites on their 787-9s, but they're having problems with the seats.
As Qatar Airways CEO Akbar Al Baker explains to AviationAnalyst:
"The good news is our Boeing 787-9 Dreamliner aircraft is ready, but we have delayed the delivery because our new business class seat is not ready.

It will have QSuite – the first time QSuite will debut on the 787, but it will be a new variant, next-generation QSuite."
Why Is Qatar Airways Installing New Qsuites On The 787?
As mentioned above, the 787-9 will be the first time that Qatar Airways puts Qsuites on the 787, as their 787-8s have reverse herringbone seats.
There are a couple of reasons they're putting new Qsuites on these planes, and the most basic reason is because the 787's cabin allegedly isn't wide enough for them to install the seats without making some major compromises. For what it's worth, the interior fuselage width of planes with Qsuites is as follows:
787 — 18 feet
A350 — 18.4 feet
777 — 19.5 feet
Qatar Airways' A350-1000 Qsuites
It is interesting that the difference in cabin width between the 787 and A350 is only a few inches, but apparently that's a deal breaker.
As it was explained to us in the past, we should expect something that is as private as Qsuites, but there might not be the option of forming a four person suite in the center section.
The other thing at play is that Qatar Airways wants to make the new seats significantly lighter than the current product. The current Qsuites aren't particularly light, and that increases fuel burn and reduces cargo and other capacity, so it makes sense to make a lighter seat a focus.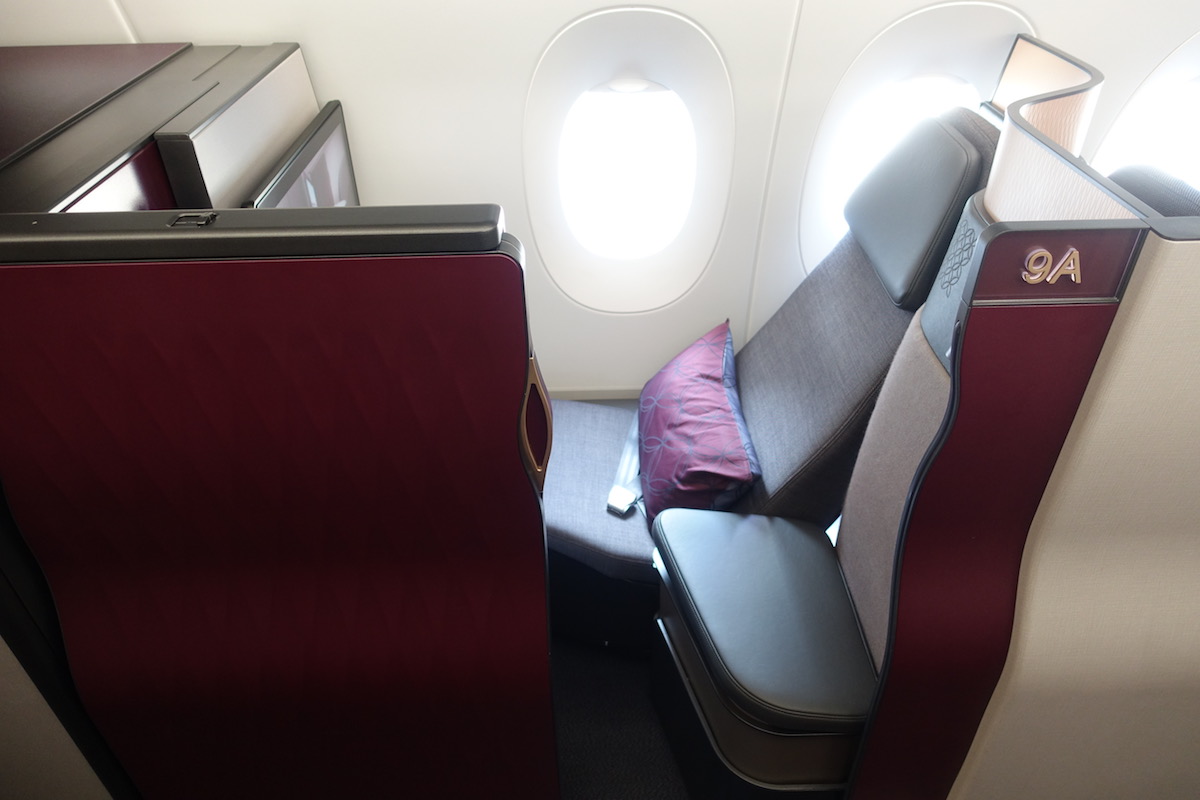 Qatar Airways' A350-1000 Qsuites
Bottom Line
Qatar Airways is notorious for aircraft delivery delays, both for reasons within their control, as well as reasons outside their control. In this case the business class seats are to blame for the 787-9 delayed delivery.
Reading between the lines, it sure seems to me like the delivery delay here might be pretty substantial. Al Baker isn't just suggesting that the seat is awaiting certification, etc., but it sounds like they're still in some stage of the design process?
I'll be curious to see if we're talking about a delay of a few weeks, a few months, or…
I also look forward to seeing just how different of a product they choose for the 787-9.