Qantas doesn't plan on operating international flights for over a year, and the airline has retired its 747 fleet, grounded its entire A380 fleet, and will soon ground most of its 787 fleet. But that isn't stopping the airline from chartering out its planes for some awesome aerial tours of Antarctica in the coming months.
Qantas' sightseeing flights to Antarctica
For over 25 years, a company has been chartering Qantas planes to operate flights to Antarctica. The planes don't actually land there, but rather they operate roughly 12-hour aerial tours of the most intriguing continent.
In past years these flights were operated using Boeing 747-400s, while they'll now be operated with Boeing 787-9s.
Here's a news segment from these flights in the past, to give you a sense of what these flights are like:
When are these Antarctica flights operating?
There will be seven Antarctica flights operated using Qantas aircraft over the coming months, departing from five Australian cities:
On November 15 there will be a flight from Melbourne
On November 22 there will be a flight from Sydney
On December 31 there will be a flight from Melbourne
On January 26 there will be a flight from Perth
On February 7 there will be a flight from Brisbane
On February 14 there will be a flight from Adelaide
On February 21 there will be a flight from Sydney
The exact timings of the flights vary, but as a general rule of thumb they leave in the morning (somewhere around 8AM), and return at night (somewhere around 9PM). The flights are generally scheduled to be in the air for around 12 hours, with about half of that time spent flying to & from Antarctica, and half of the time spent over the continent.
How expensive are Qantas' Antarctica flights?
Qantas' Boeing 787-9s are in a three cabin configuration, with business class, premium economy, and economy. However, the pricing used to sell seats is much more complex than that. As you'd expect, window seats come at a premium on this service, since the flights are all about the views.
They sell two types of business class seats, one type of premium economy seat, and three types of economy seats.

What's the pricing like? Let's look at the various options, noting that you switch seats halfway through the flight, so that everyone gets at least some views.
Here are the three options for business class and premium economy:
Business Class Deluxe (7,999 AUD) — this includes the forward business class seats with the best views, and everyone gets a window seat for half the flight
Business Class (6,499 AUD) — this includes the business class seats closer to the wing, and everyone gets a window seat for half the flight
Premium Economy Class (3,999 AUD) — all premium economy seats are priced the same, though not everyone gets a window seat, given the 2-3-2 configuration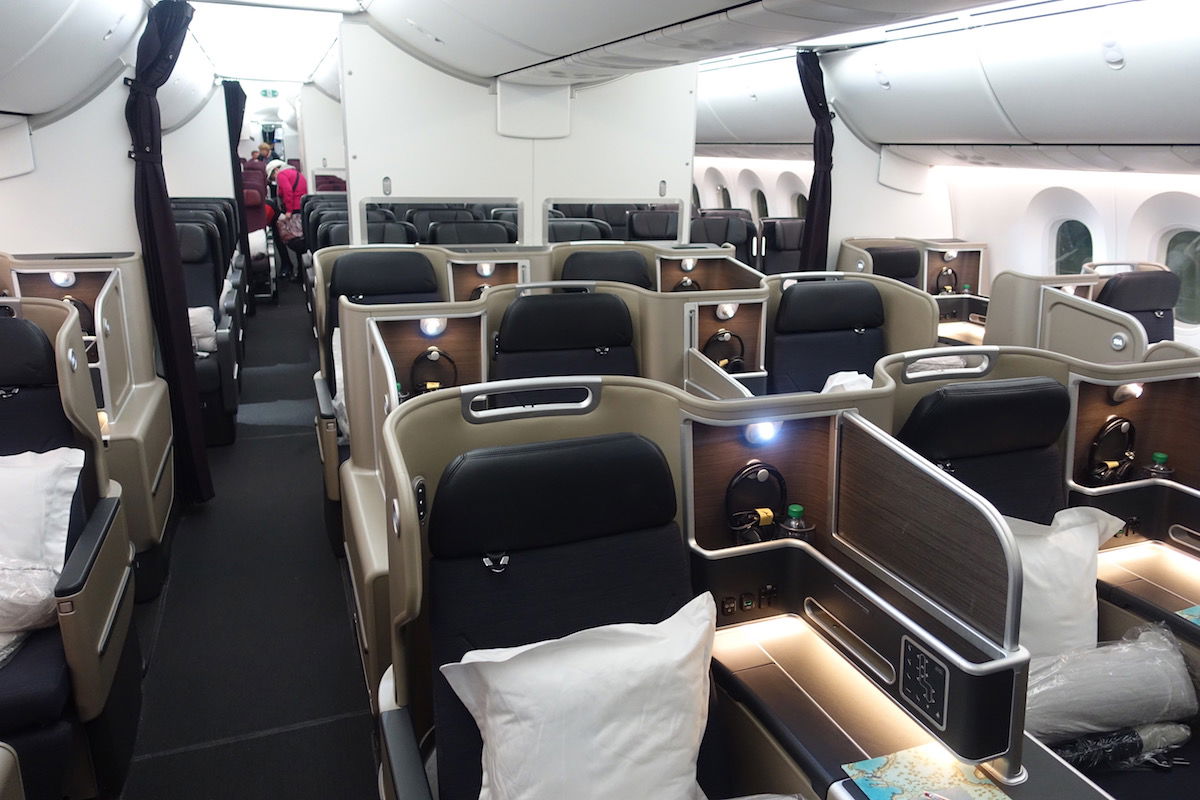 In economy the configuration is 3-3-3, though the middle seat isn't sold, so there are "just" eight seats sold per row. Here are the pricing options:
Superior Economy Class (3,199 AUD) — this includes the economy seats in the back of the plane, which have the most unobstructed views
Standard Economy Class (2,199 AUD) — this includes the economy seats with a somewhat obstructed view, due to the wing
Explorer Economy Class (1,199 AUD) — this is the only option where you don't switch seats, and you won't have a window seat, so you may be stuck doing much of your viewing from the aisle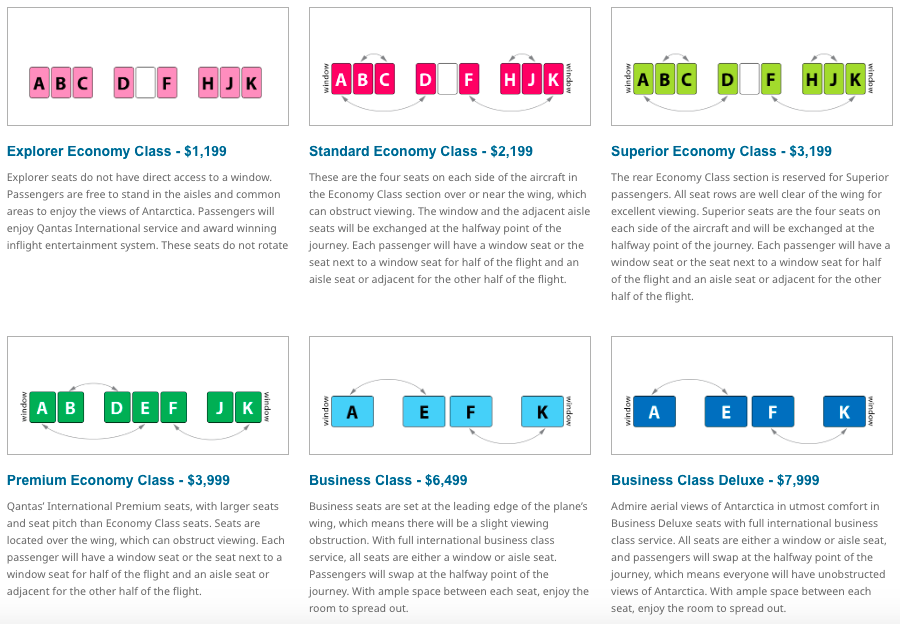 These flights are a cool concept, but…
As an aviation geek and someone who wants to visit Antarctica, I think these flights are so cool. At the same time, even if I lived in Australia and had the means, I couldn't see myself actually booking one of these:
If I'm going to spend a ton of money to see Antarctica, I'd much rather book a cruise, where I can actually step foot on the continent (obviously this isn't a great time for cruises, so I'll put this on my bucket list for the future)
While this sounds great in theory, you're spending a lot of money to potentially only have a few hours of views over Antarctica
A lot of what makes Antarctica so special is the wildlife and how unspoiled it is, and I'm not sure that's fully captured from the sky; aerial views over Greenland, Northern Canada, etc., are pretty incredible as well, and can be seen on many transatlantic flights
For those in economy, this seems borderline claustrophobic; economy isn't very spacious to begin with, and then it appears that many of the people seated in the center section of the aircraft spend much of the flight standing in the aisle hovering over those in window seats
Don't get me wrong, this seems awesome, and I'd definitely go if I won it as part of a sweepstakes, or something. However, I couldn't imagine spending so much on a seat on a flight to nowhere.
Bottom line
A company will be chartering Qantas 787-9s to operate seven flights to nowhere, flying over Antarctica. While this service has been operating for years, perhaps there will be more interest this year than ever before, given that Australians largely can't travel abroad.
While I love the concept, personally I couldn't imagine spending the money for this. I'd much rather save up and book a cruise to Antarctica at some point, which gives you more than an aerial view for a few hours.
What do you make of these Antarctica flightseeing services? Surely everyone agrees they're cool, but could you see yourself paying for the experience?