---
At this point in my trip I had a roughly 11 hour overnight at Heathrow. My flight from Tel Aviv arrived at around 9PM, and my flight to Dublin the next morning was departing at around 8AM. Heathrow is one of my least favorite airports in the world given how scattered all the terminals are. My flight was arriving at Terminal 4, while I was departing the next morning from Terminal 5.
As far as I know there are only four Heathrow Airport hotels that are within walking distance of a terminal — the Yotel, the Hilton, and the Premier Inn are within walking distance of Terminal 4, while the Sofitel is within walking distance of Terminal 5.
So this time around I figured I'd try out the Premier Inn, which just opened this past summer.
The Premier Inn is near the Hilton, though is much more reasonably priced. The cost for my one night stay ~85USD including all taxes and fees, which I consider to be a great value for a hotel connected to a terminal.
After clearing immigration at Terminal 4 I turned left and followed the signage towards hotels.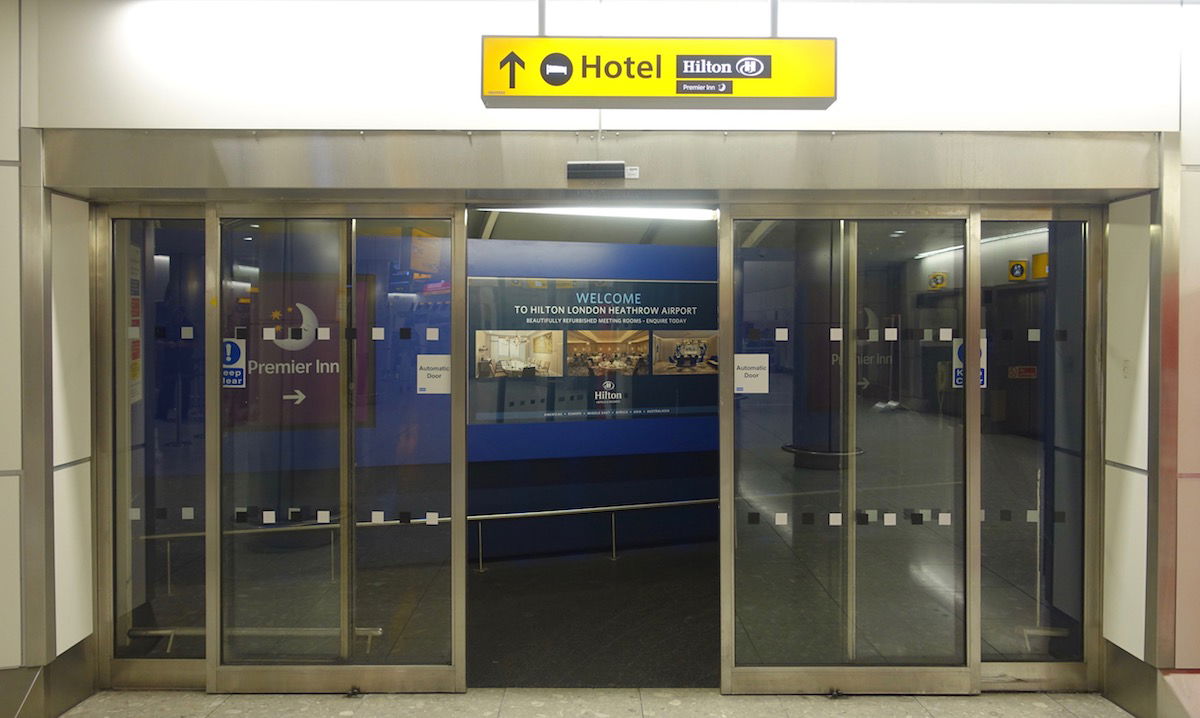 Walkway to hotels at Heathrow Terminal 4
I've taken this path many times to go to the Hilton. Even though the path is covered, note that it's not heated, so it can be a bit chilly. Personally I was happy to get some fresh air after the flight, as it was cold without being freezing.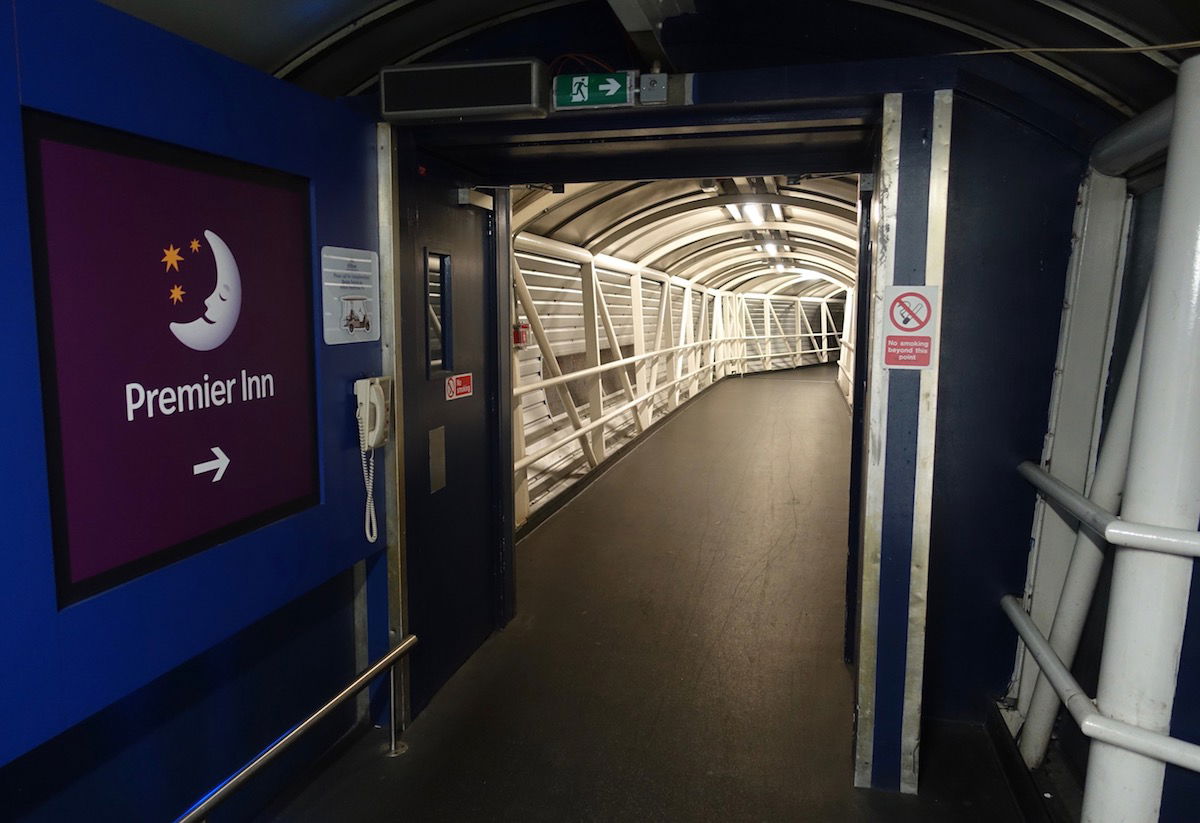 Walkway to hotels at Heathrow Terminal 4
The walk to the Premier Inn was the same as the walk to the Hilton for about the first half of the way, and then the tunnel split in two directions, with the Premier Inn being to the left.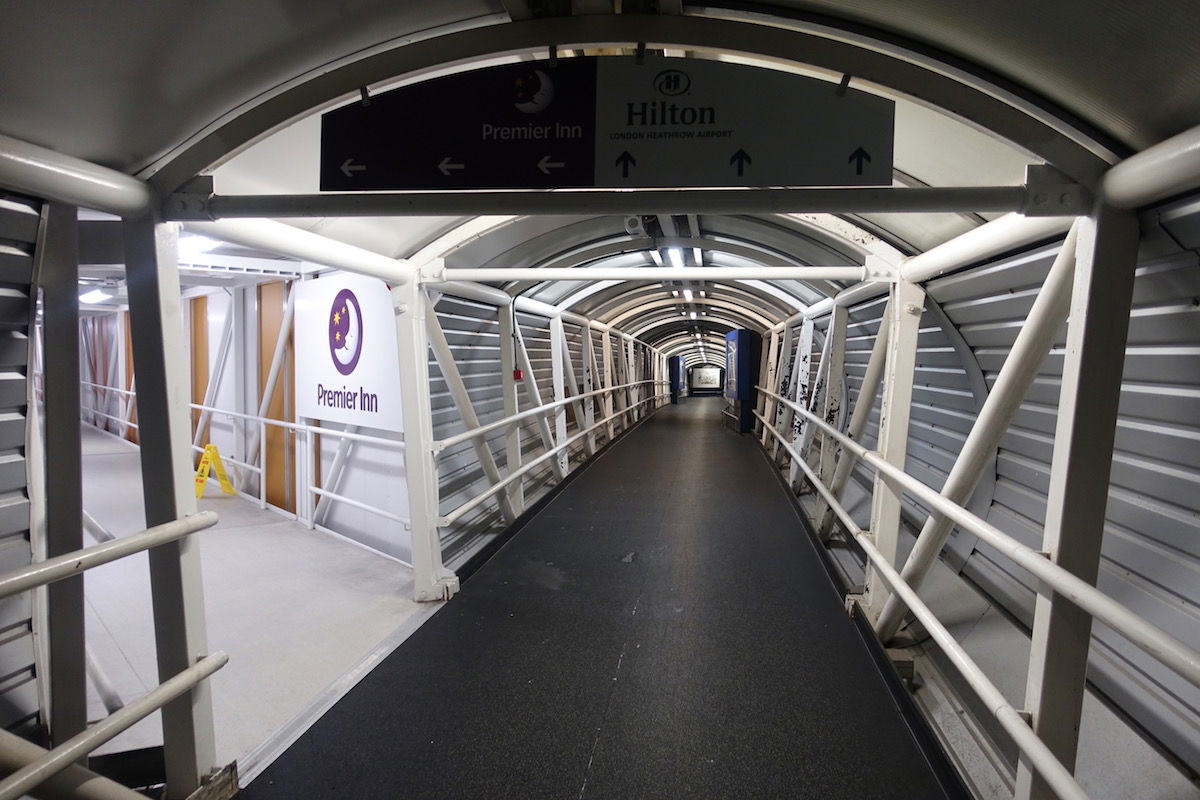 Premier Inn Heathrow Terminal 4 tunnel
Soon enough I found the rather small door to the Premier Inn, and there were a bunch of carts next to it, in case you happen to be traveling with a lot of luggage.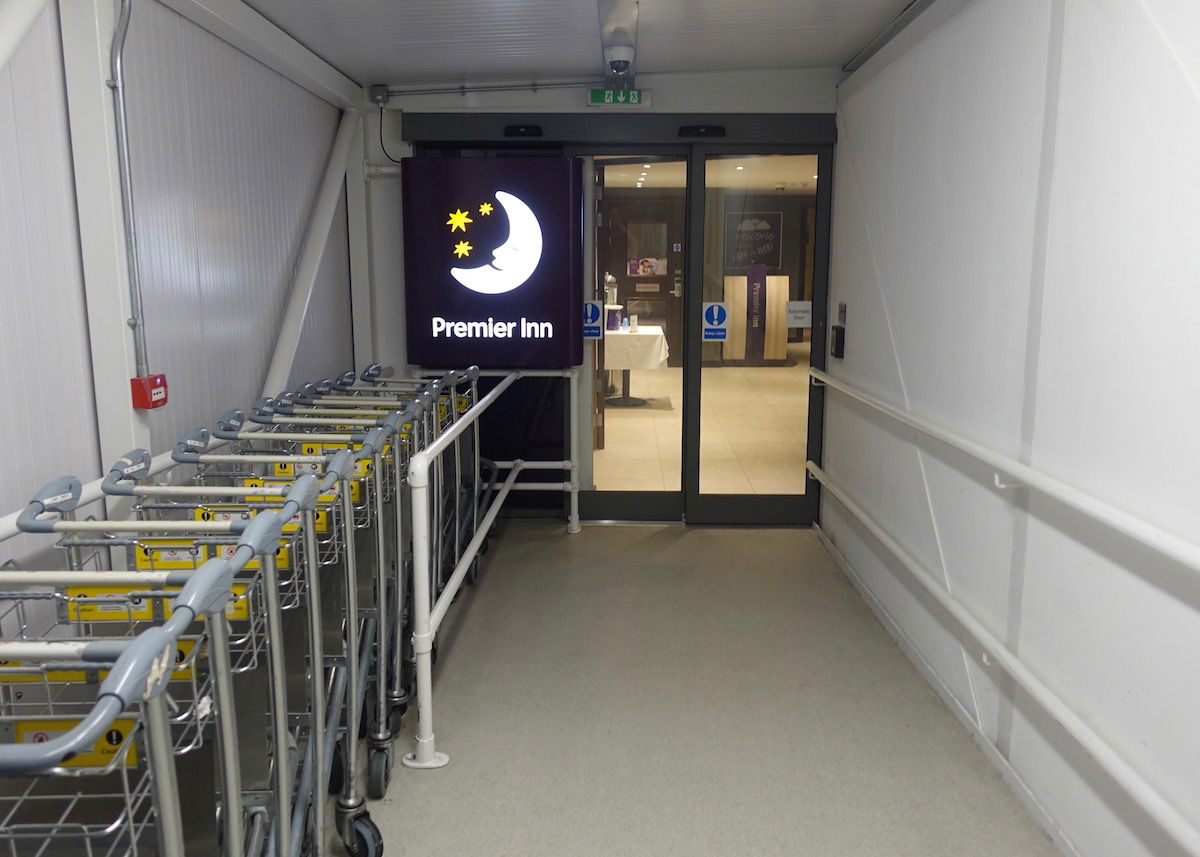 Premier Inn Heathrow Terminal 4 tunnel
This entrance doesn't actually let out in the lobby, but rather drops you on level 2, and then you have to take an elevator down a level.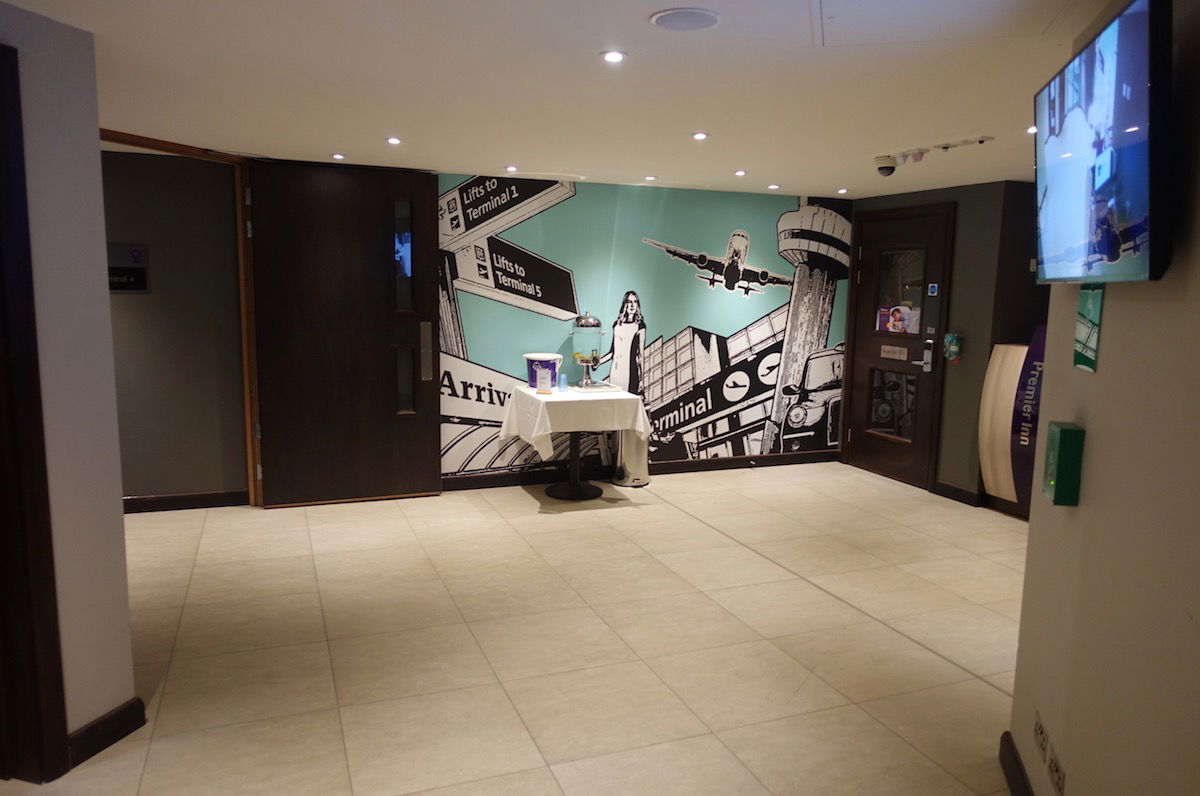 Premier Inn Heathrow Terminal 4 entrance
I have to give the Premier Inn credit for their use of technology. This was my first time ever seeing a hotel that doesn't have a traditional check-in desk, but rather exclusively uses self check-in kiosks. I've seen hotels that offer both, but this was my first time seeing only self-serve kiosks.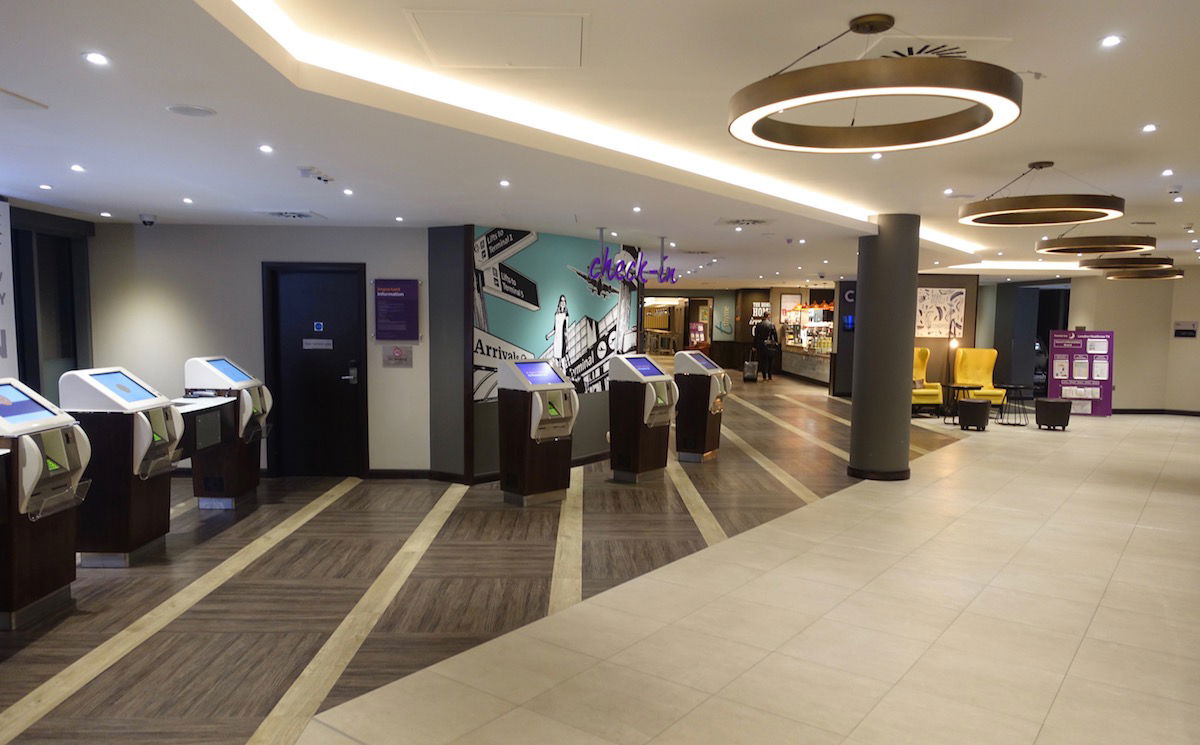 Premier Inn Heathrow Terminal 4 lobby
The good news is that there were two employees working the machines, so they'd help each guest through the process (which makes me wonder how much they're really saving in terms of staffing costs). There were lots of ancillary opportunities during the check-in process, which is perhaps one of the big motivations behind these kiosks. I was asked if I wanted to buy breakfast, dinner, premium internet, etc.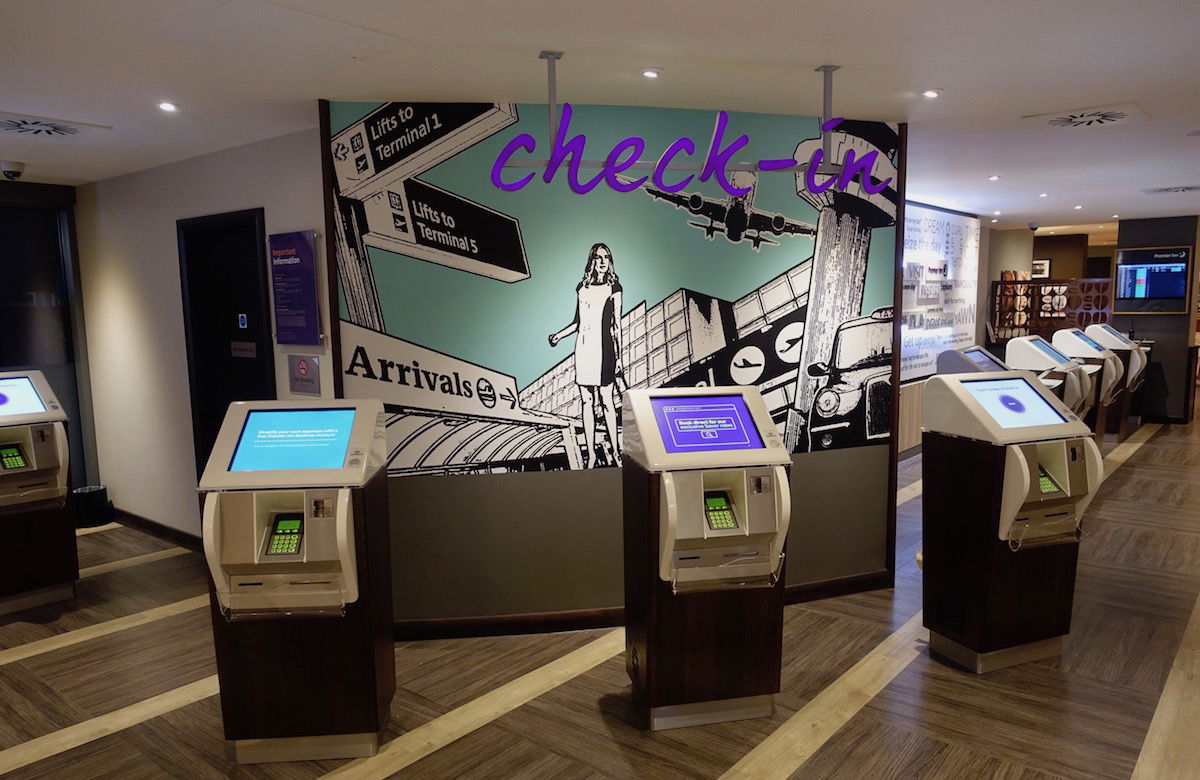 Premier Inn Heathrow self check-in
Soon enough I had my key in hand, and headed up to the fifth floor. Once on the fifth floor there was a small door leading into the guest room hallway — presumably this is to minimize noise, or something.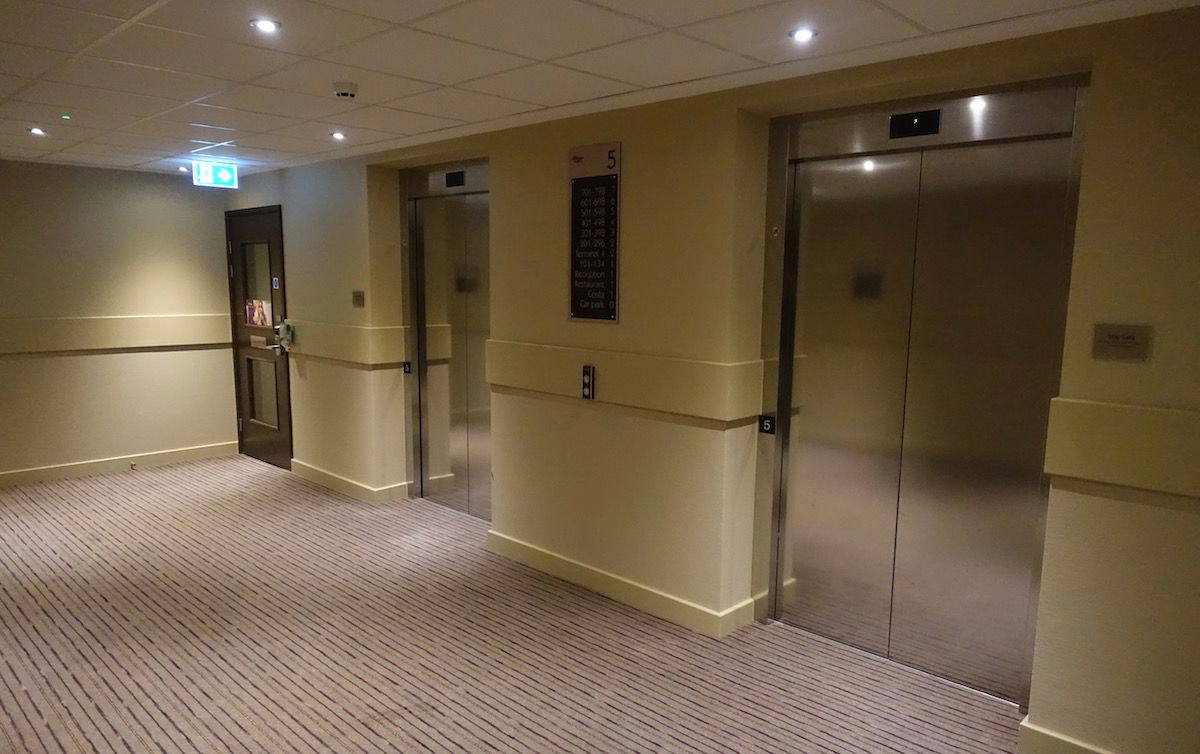 Premier Inn Heathrow elevators
This hotel is still really new, so as you'd expect the hallways felt fresh.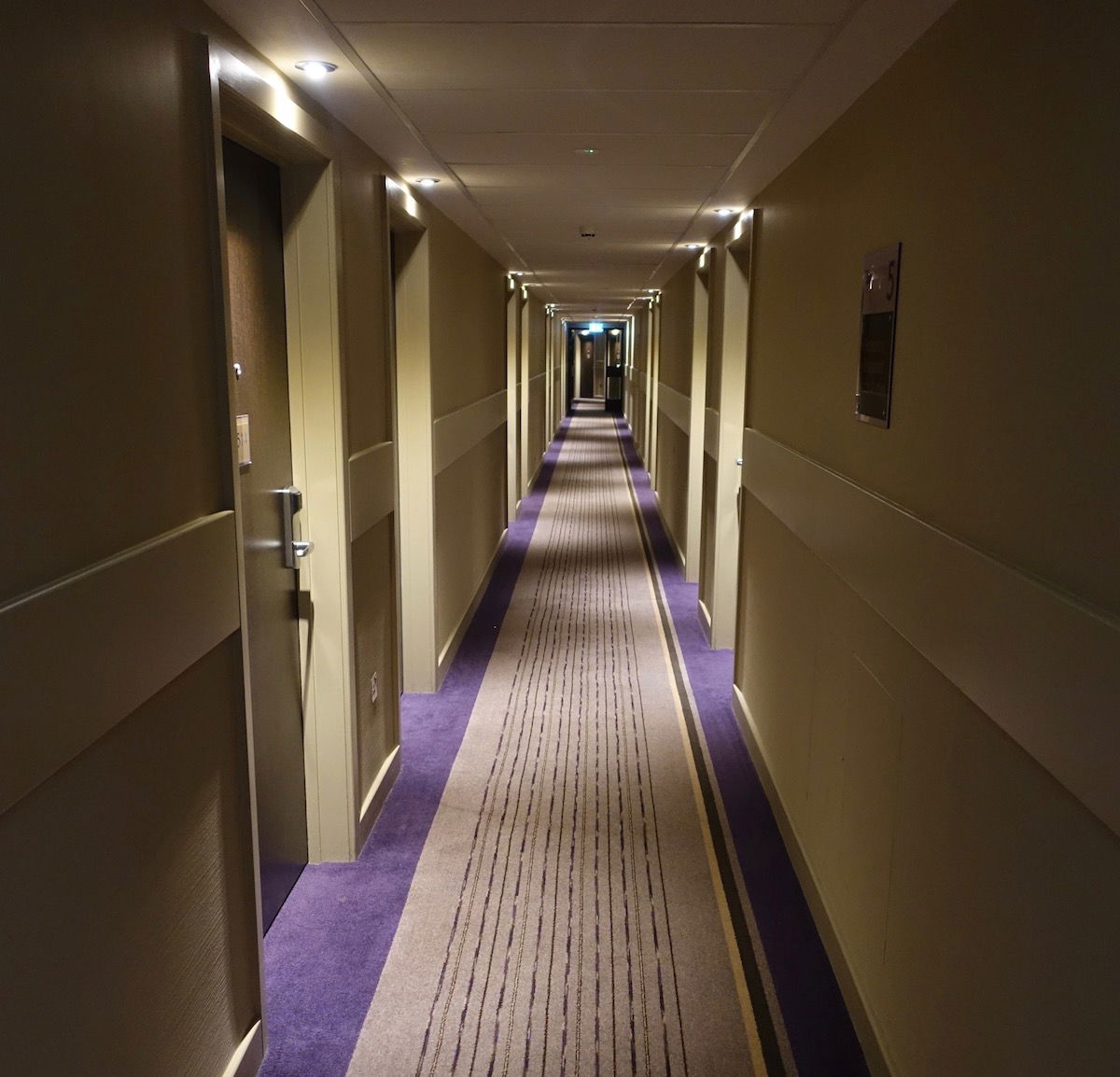 Premier Inn Heathrow hallway
I was assigned room #520.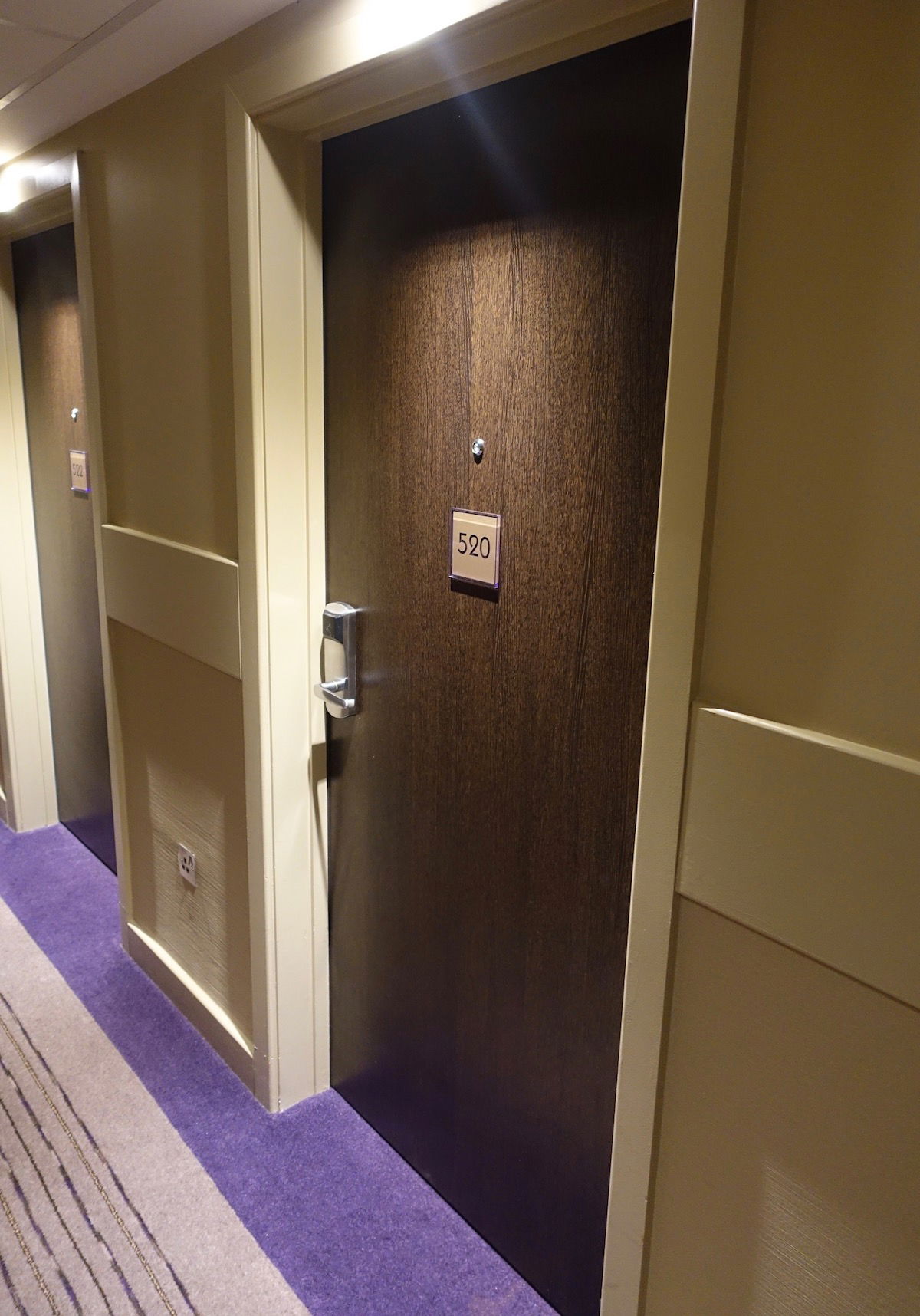 Premier Inn Heathrow room exterior
My room featured an entryway with a mirror to the left and the bathroom to the right.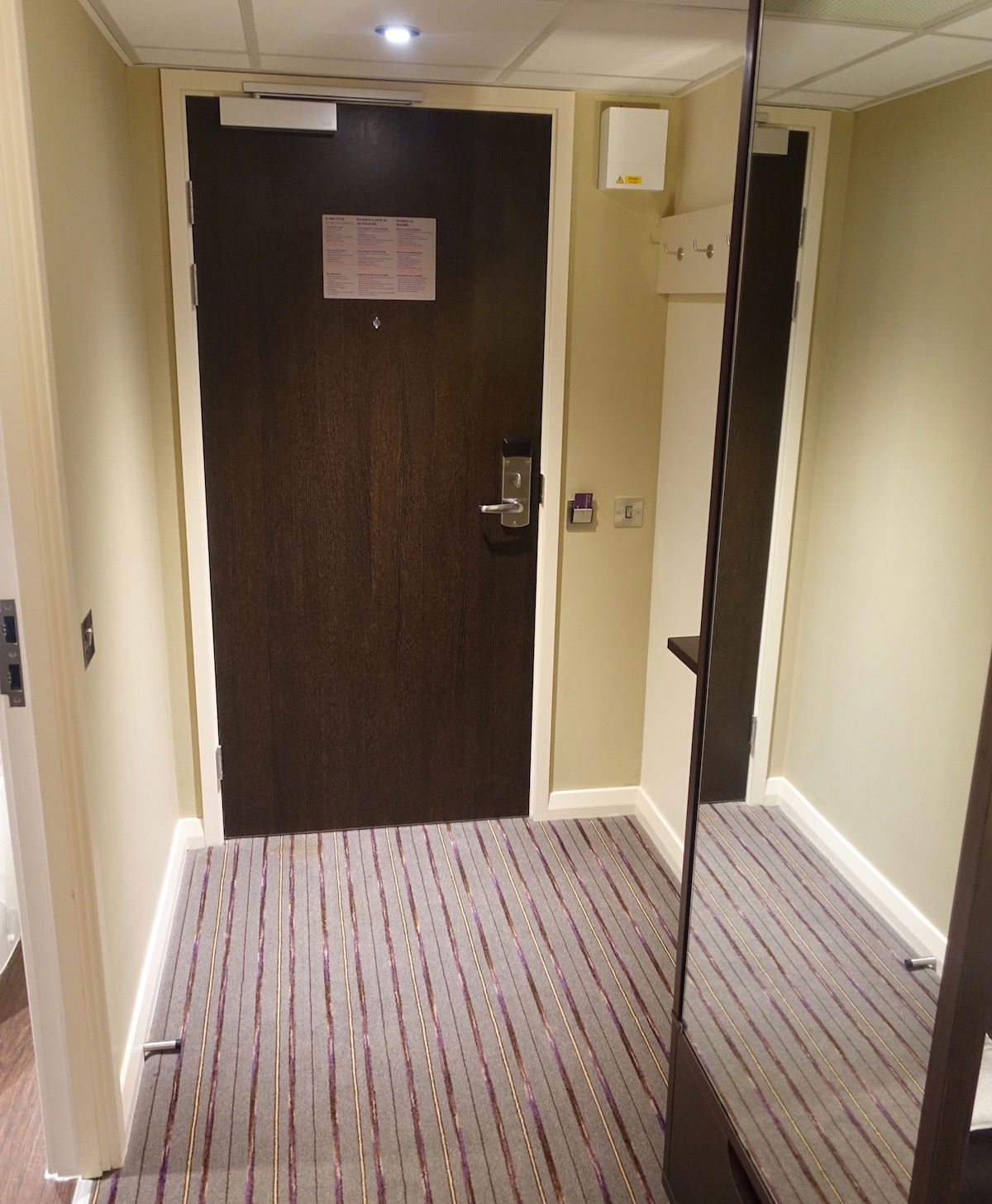 Premier Inn Heathrow room entryway
The room was an okay size, and certainly sufficient for an overnight. The bed was reasonably comfortable, though the mattress didn't seem especially high quality, and I also wish they had more than two thin pillows. Then again, this is a budget hotel, so I guess I should adjust my expectations.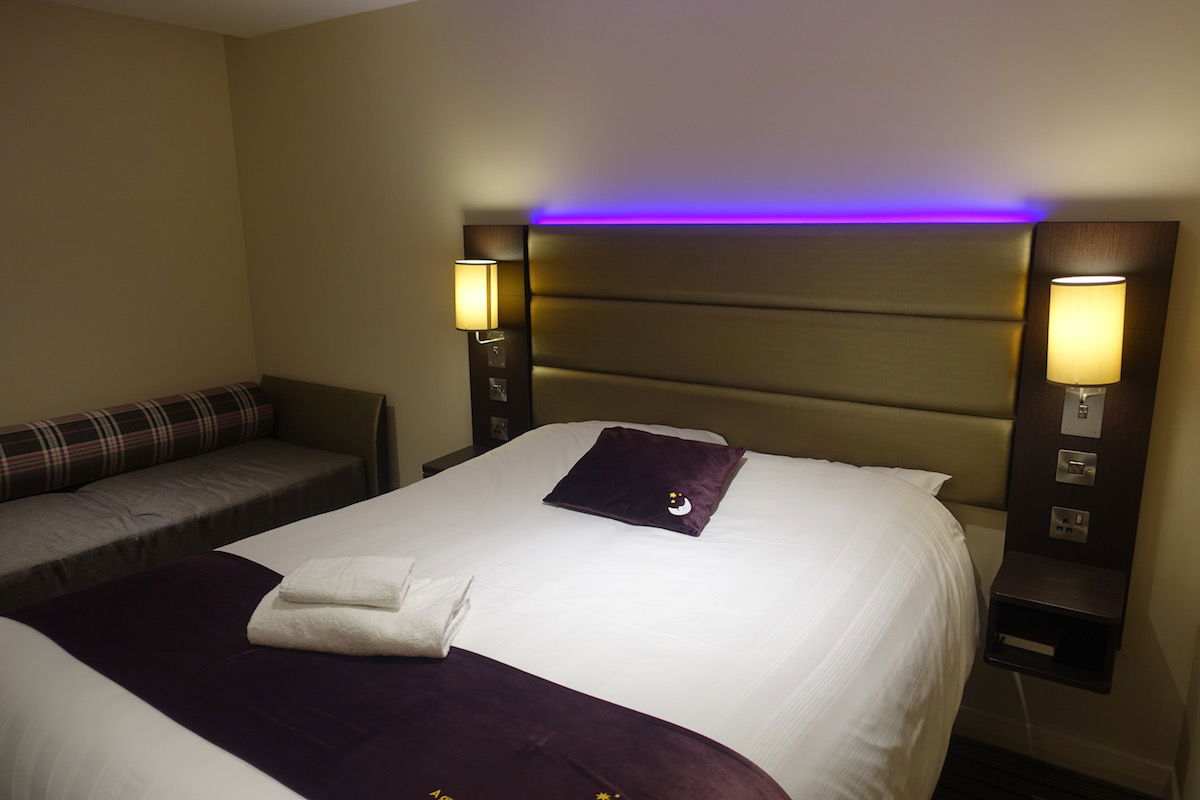 Premier Inn Heathrow room
There were no towels in the bathroom, but rather they were on the bed. I appreciated that the hotel at least tried to add a bit of design to the room, between the neon lighting above the bed, and the picture on the wall.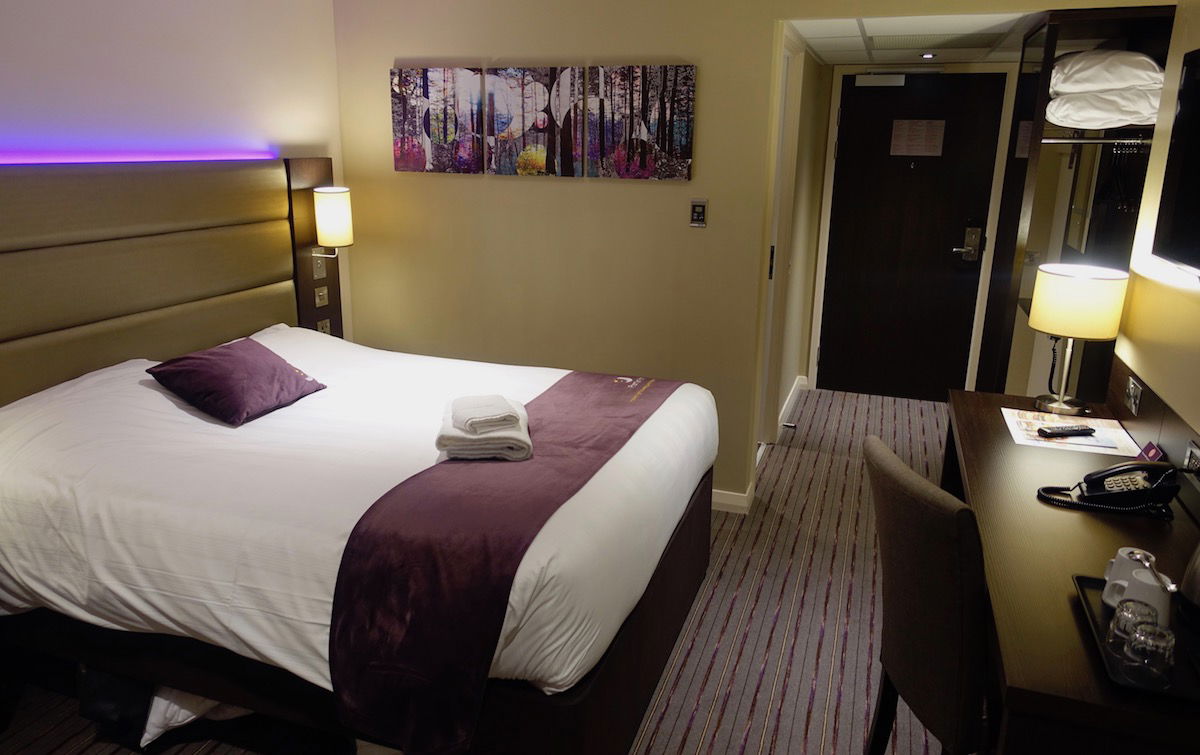 Premier Inn Heathrow room
Across from the bed was a desk and then a wall-mounted TV.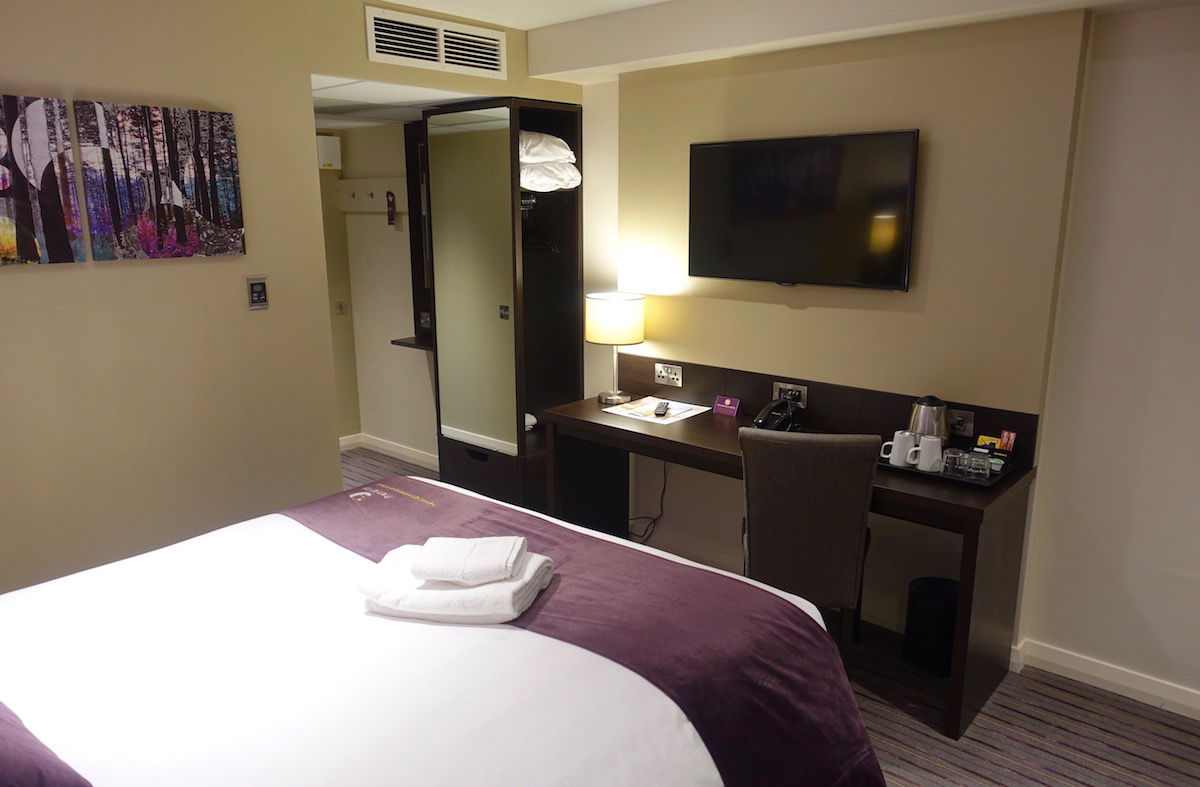 Premier Inn Heathrow room
On the desk was a kettle with instant coffee and tea.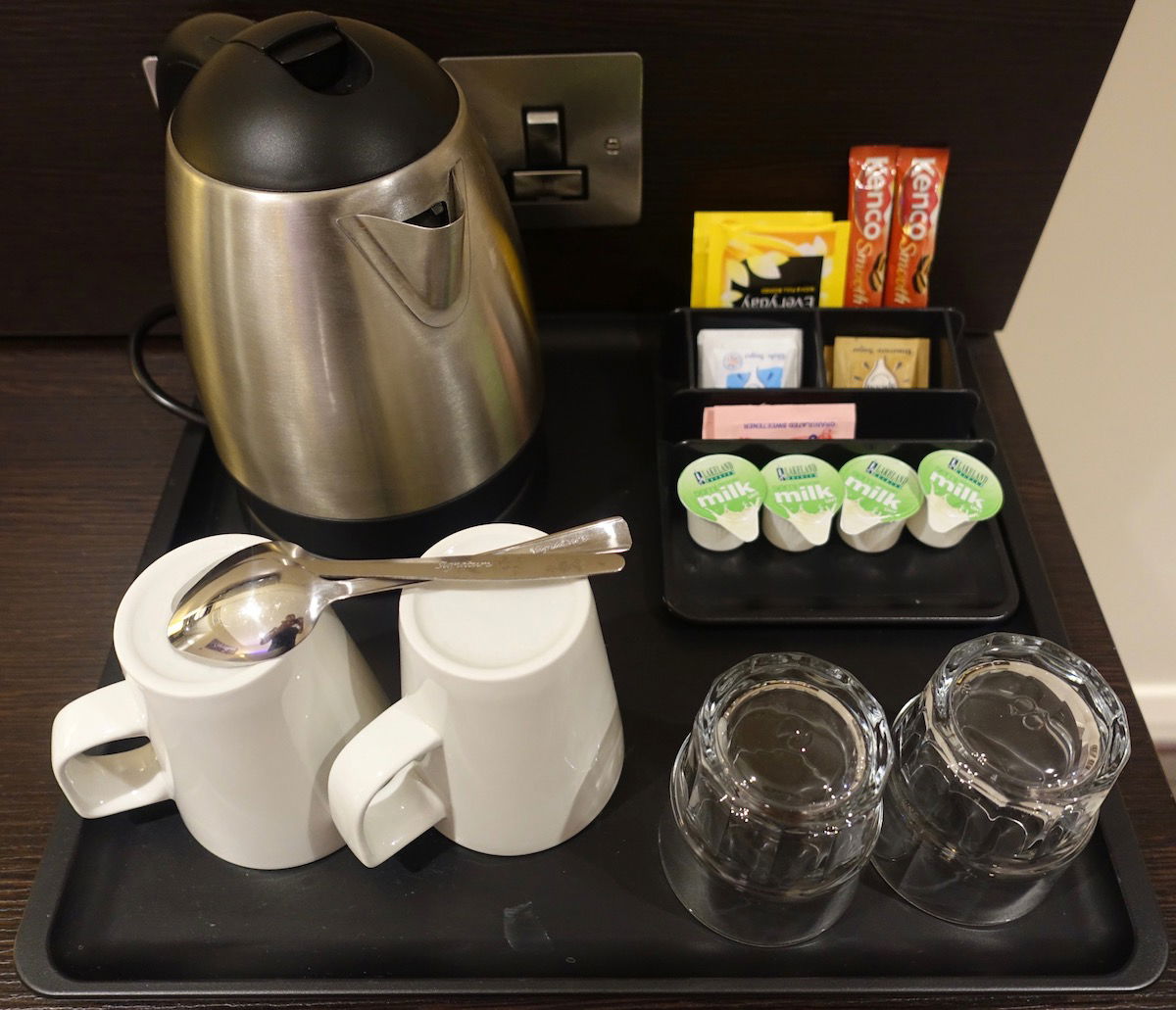 Premier Inn Heathrow in-room kettle
In the corner by the window was a daybed.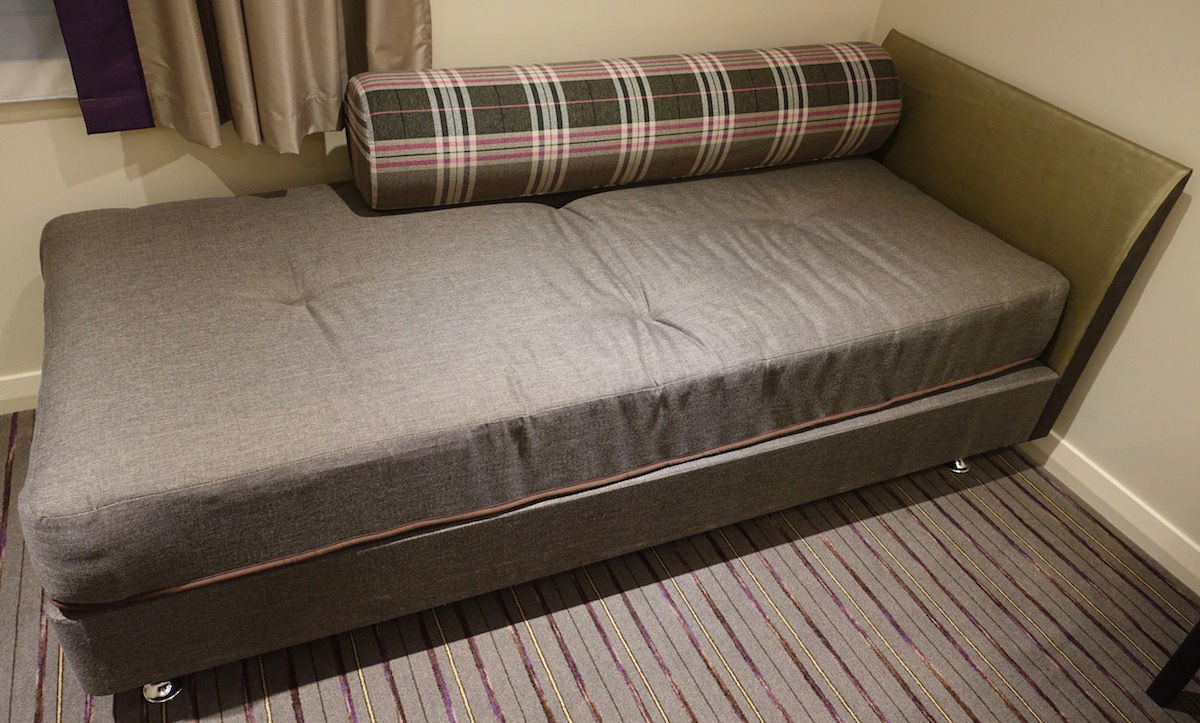 Premier Inn Heathrow daybed
There was an open comforter (or something) sticking out from underneath the bed. Hmmm…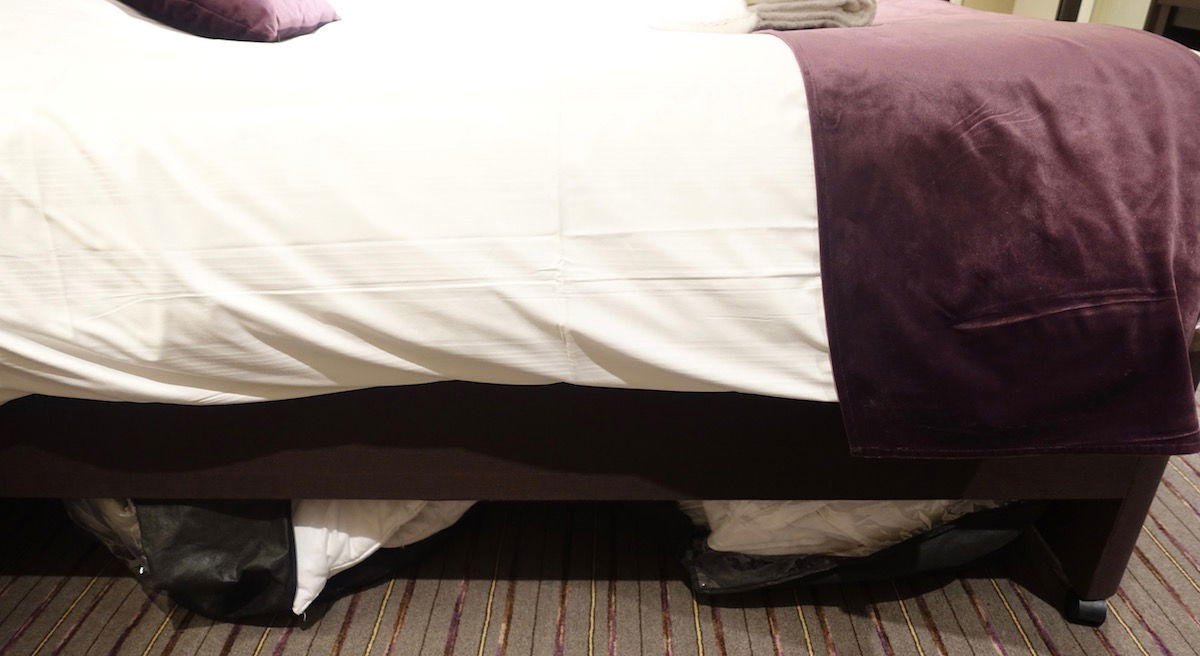 Premier Inn Heathrow room
The room had a view of a parking lot and the Hilton, and the noise insulation was good (then again, Heathrow Airport has a curfew, so noise usually isn't an issue at night).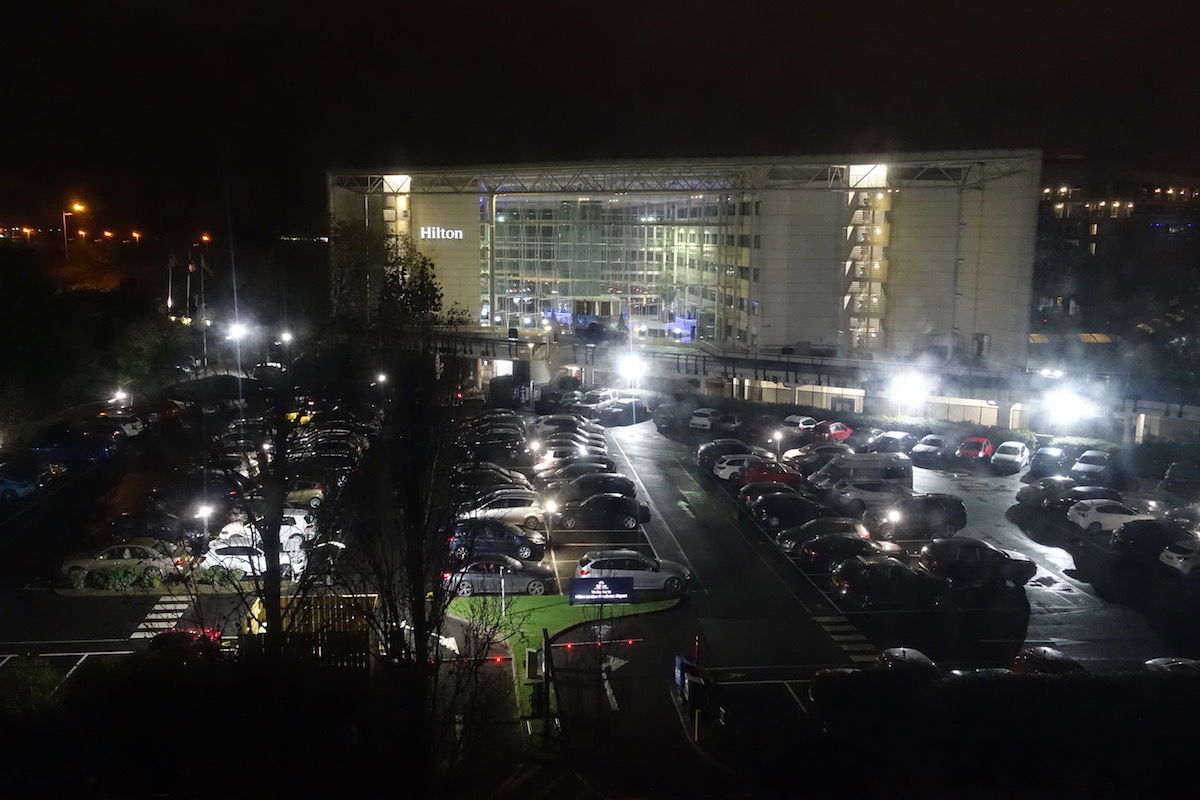 Premier Inn Heathrow view
The bathroom was definitely on the budget side as well — the sink was small, the toilet didn't have traditional toilet paper on a roll, but rather little sheets, and the shower pressure was weak.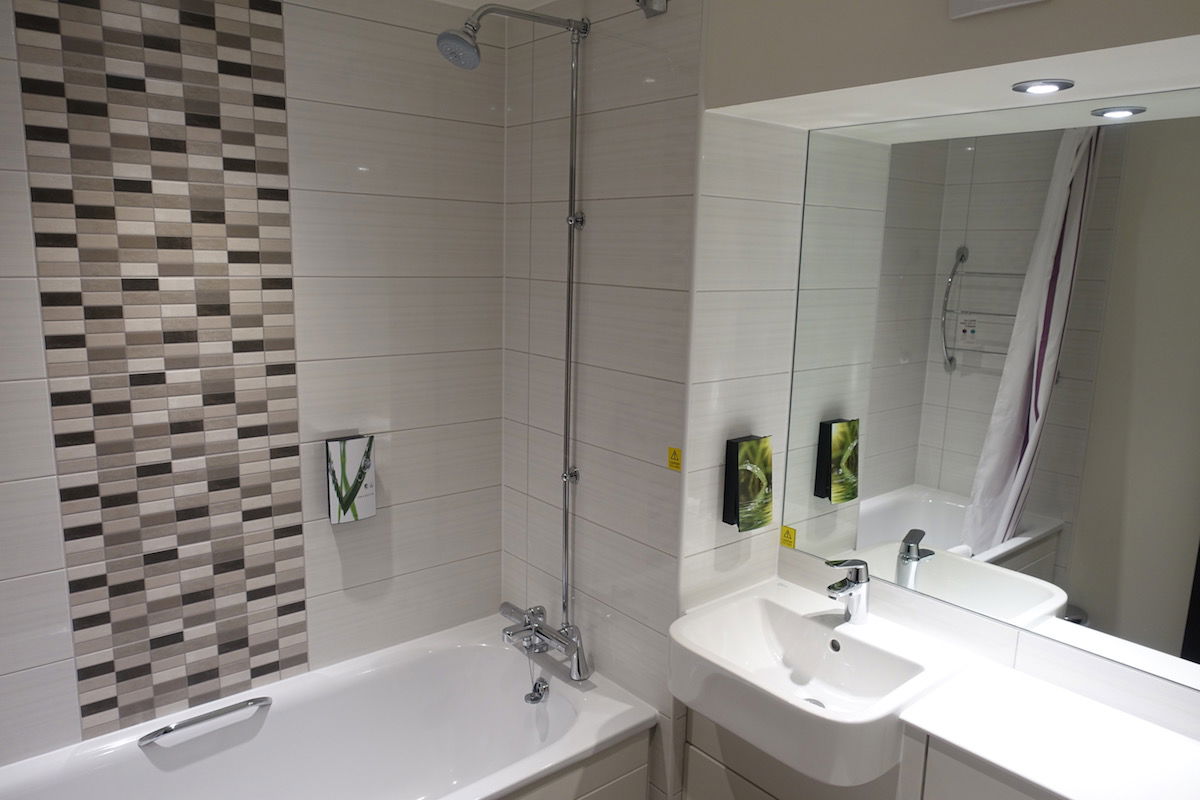 Premier Inn Heathrow bathroom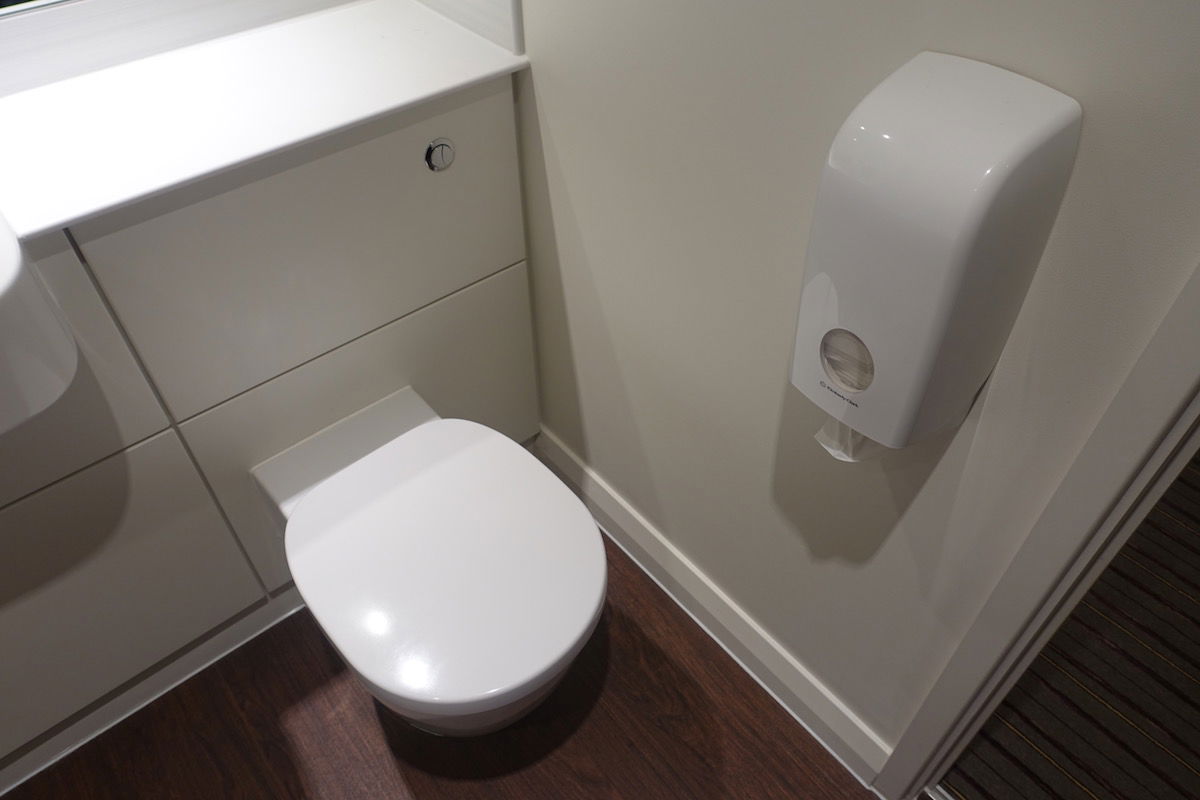 Premier Inn Heathrow toilet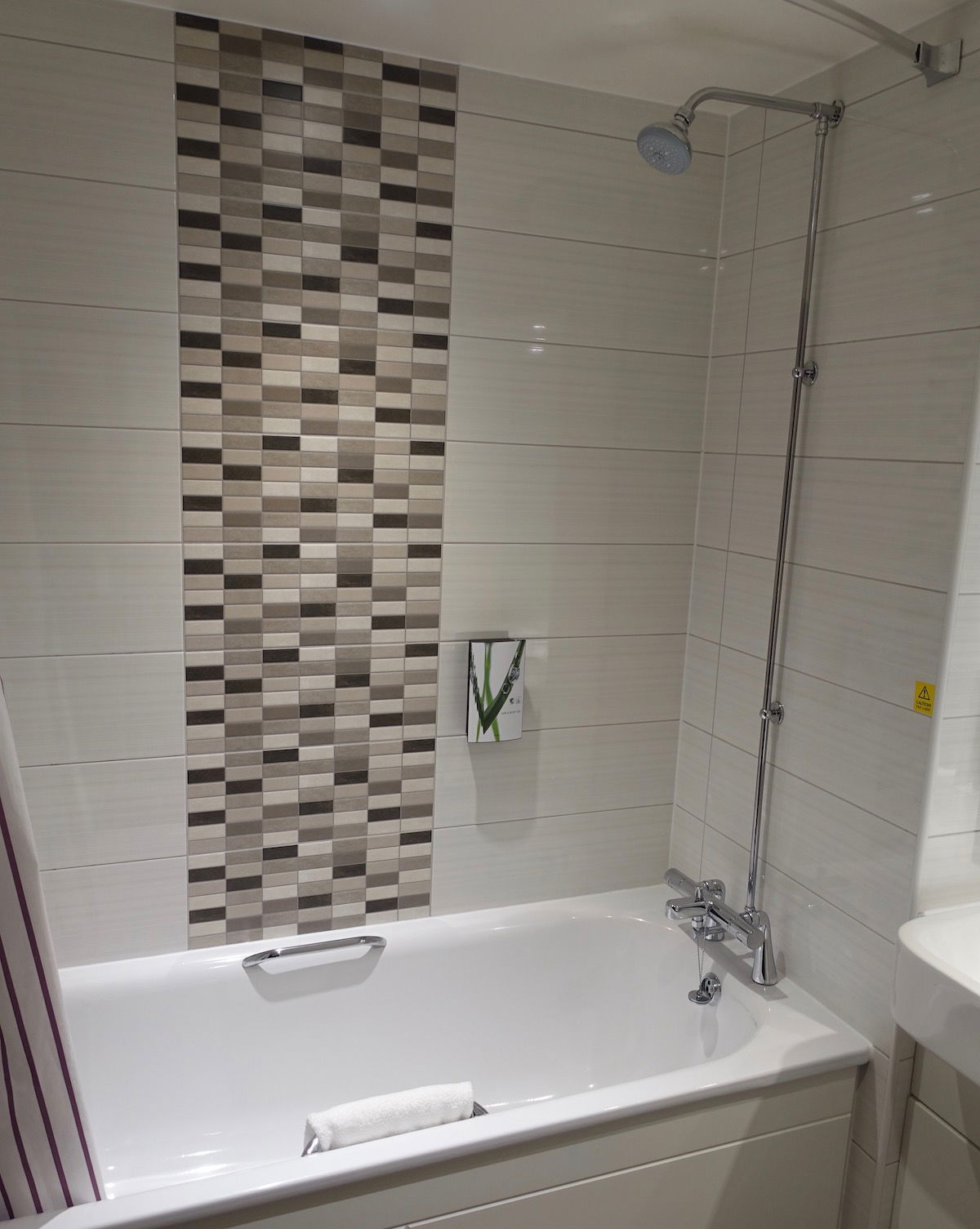 Premier Inn Heathrow shower
Both the sink and the shower had dispensers for toiletries, which I don't mind, though the problem was that they didn't work properly. Pushing on the actual outside didn't dispense anything, but rather I had to take off the casing and push on the bag inside.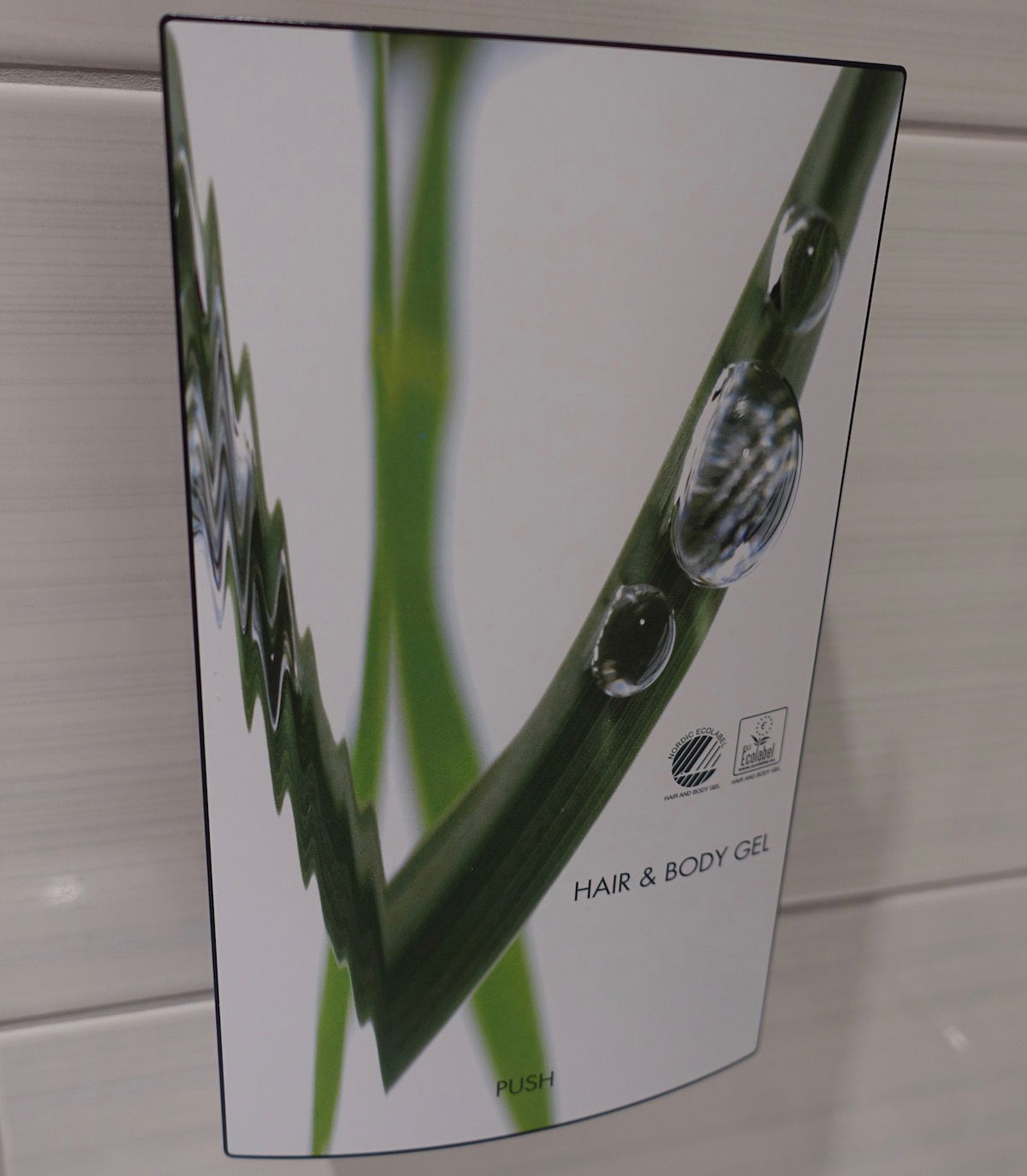 Premier Inn Heathrow toiletries
The hotel offers free Wi-Fi to all guests, you just have to enter your first and last name and email address. The basic internet was slow, though sufficient.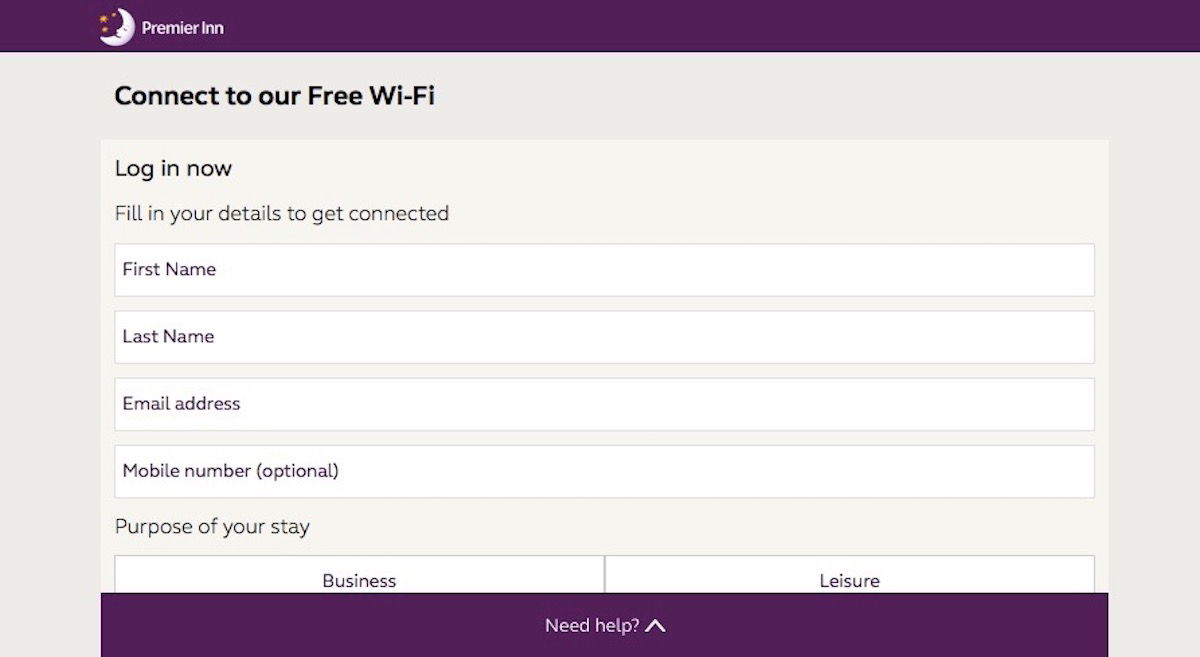 Premier Inn Heathrow Wi-Fi
Alternatively you can upgrade to premium Wi-Fi for 5GBP per day, which seems like a reasonable upgrade charge if you're there long enough.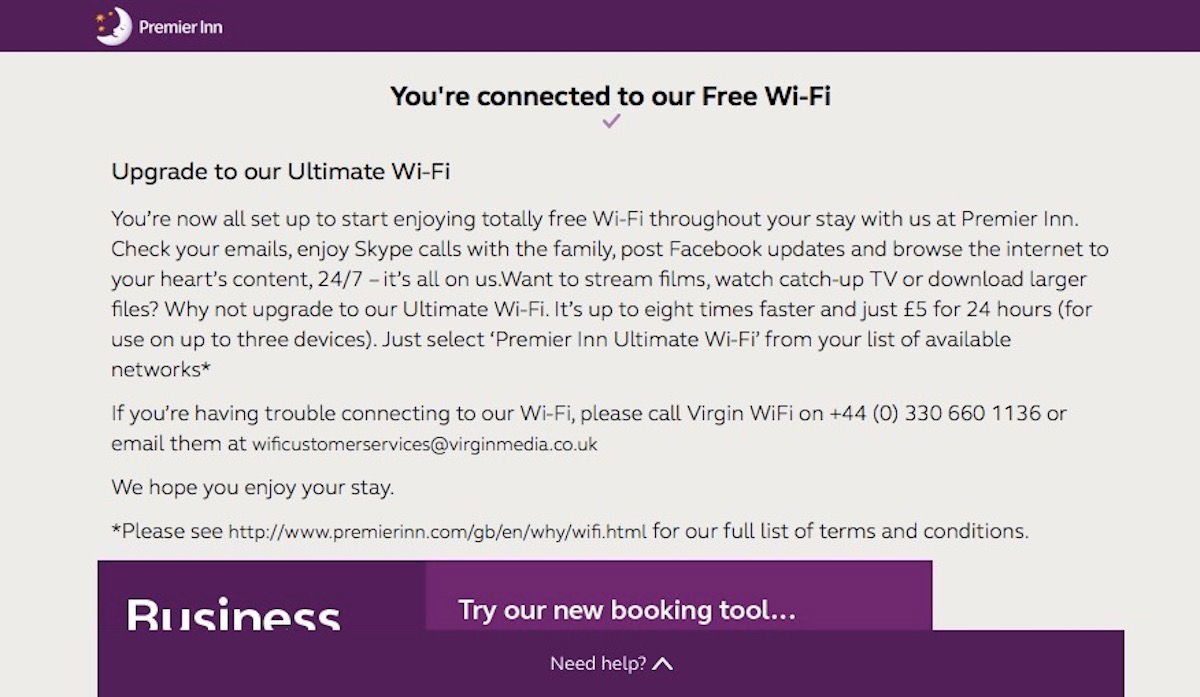 Premier Inn Heathrow Wi-Fi
Overall I thought the room was perfectly serviceable, though I was disappointed by the lack of international and USB outlets. It's one thing not to have built-in international outlets, but not even USB outlets in this day and age?
After dropping off my stuff in the room I walked around the hotel. The lobby level had plenty of seating areas.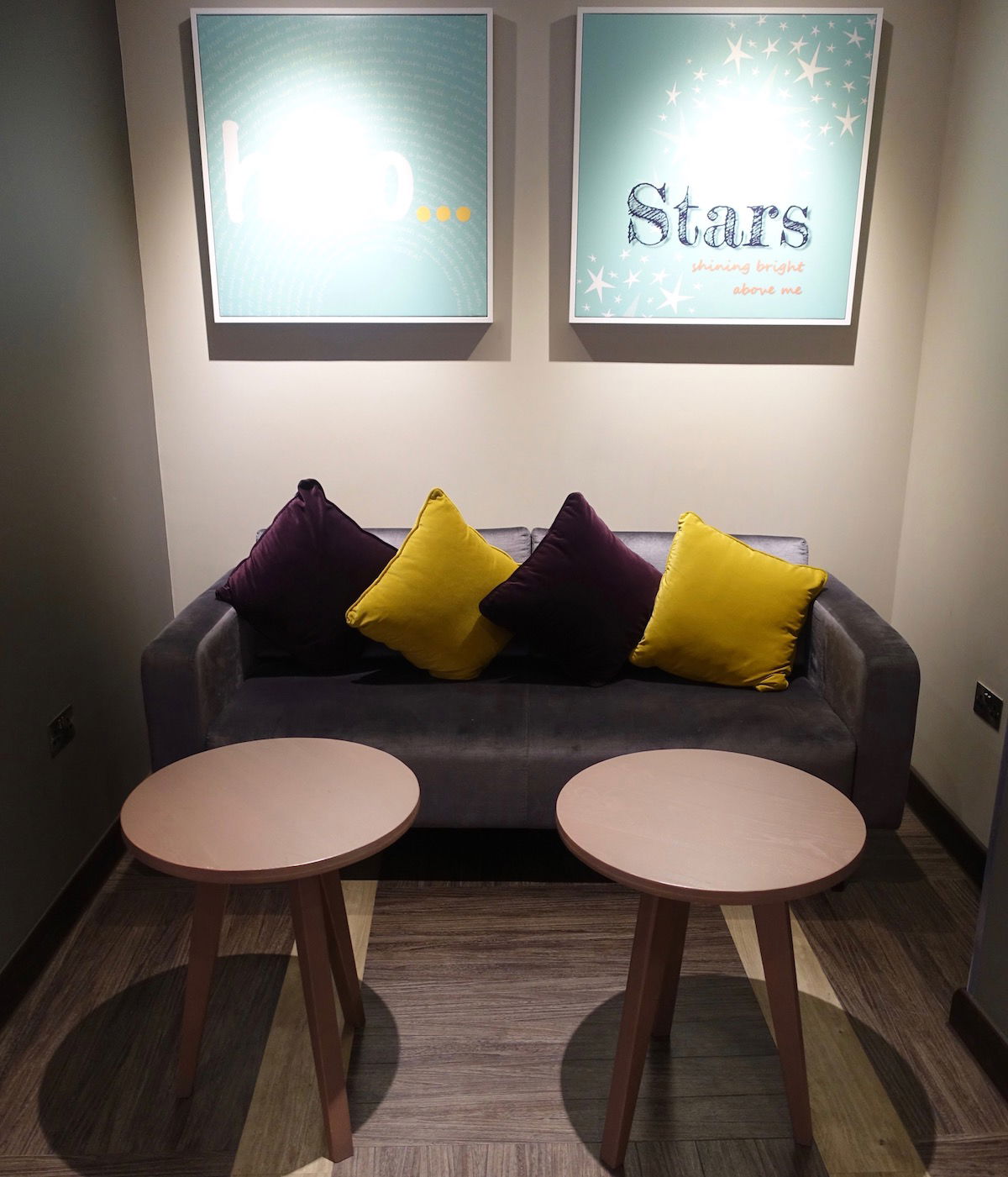 Premier Inn Heathrow lobby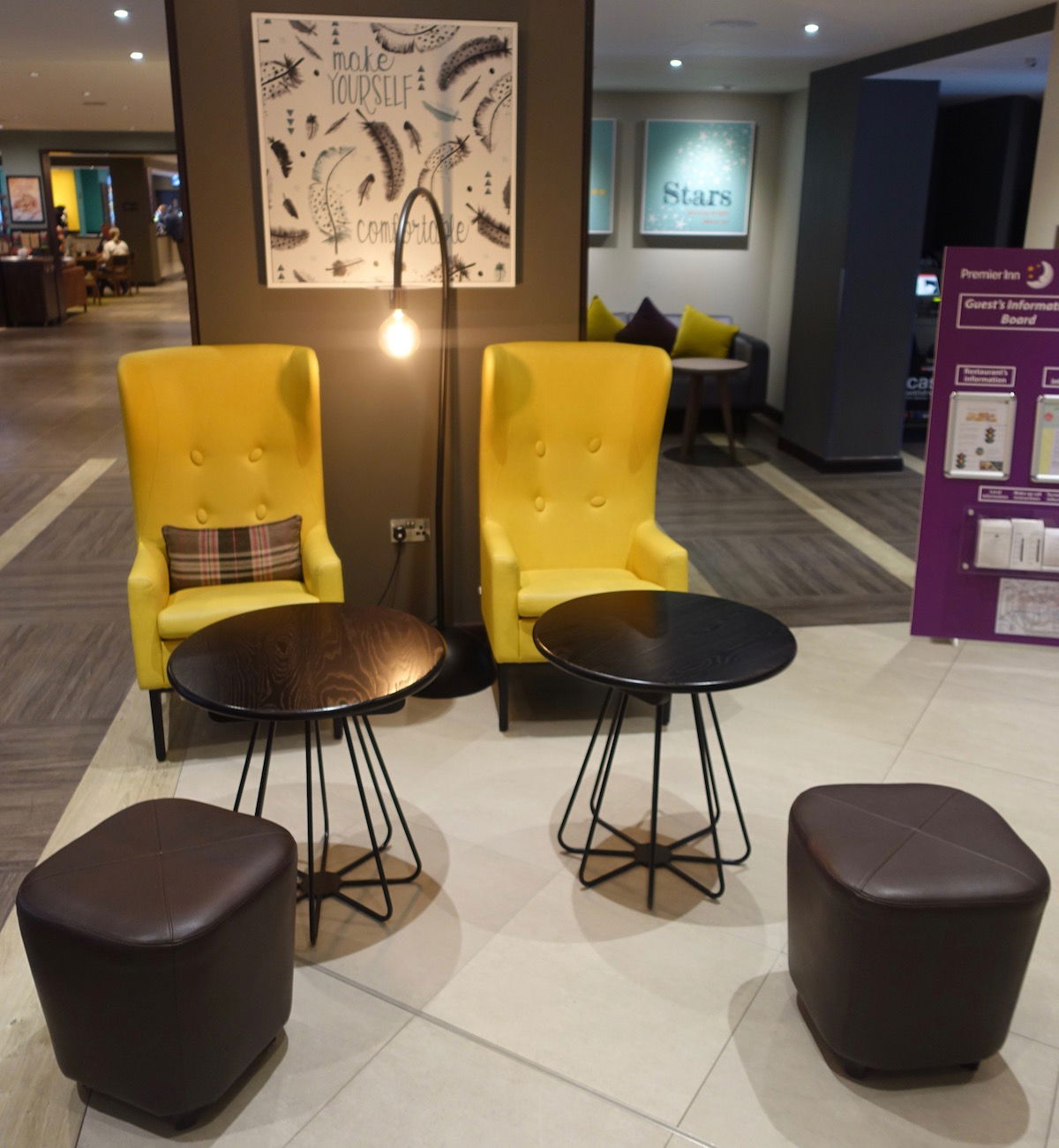 Premier Inn Heathrow lobby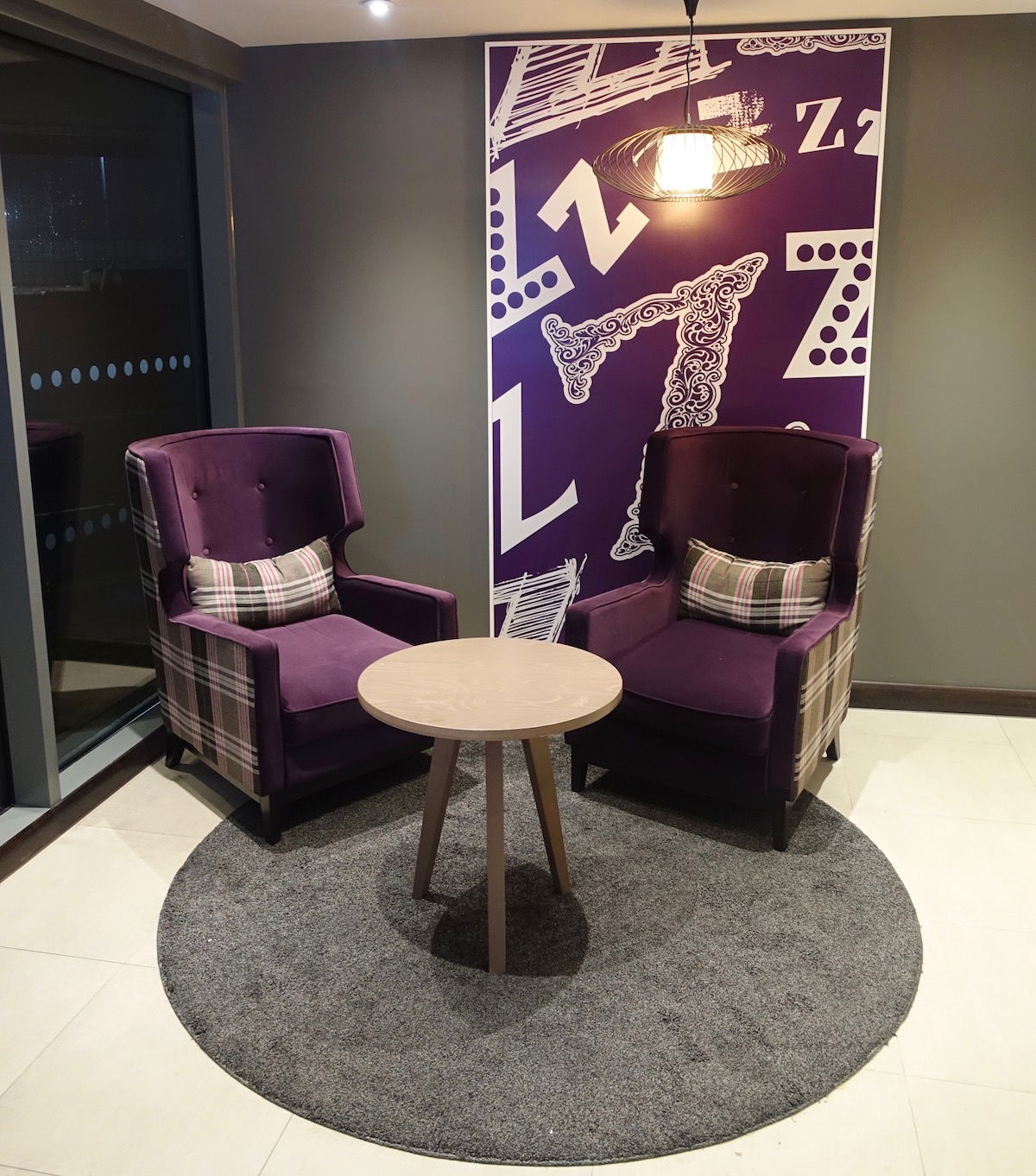 Premier Inn Heathrow Terminal 4 lobby
Just past check-in was a Costa Coffee, which is open 24/7. I so appreciate this amenity, as someone who is up during crazy hours and loves coffee. Go figure this was the one stay where I didn't have any.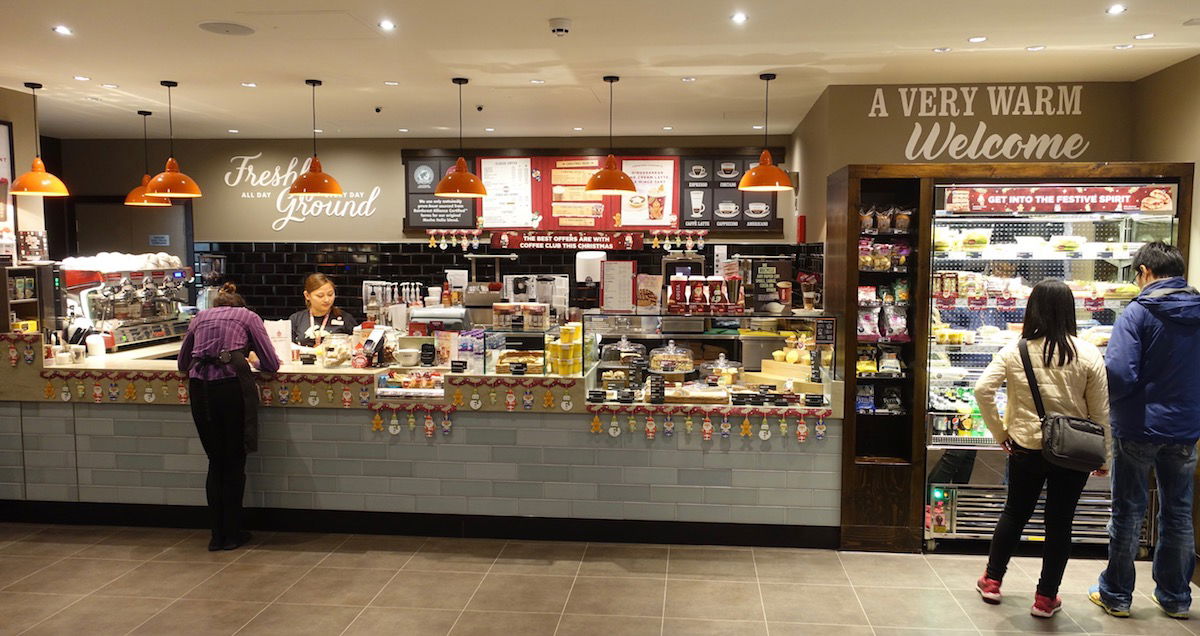 Premier Inn Heathrow Costa Coffee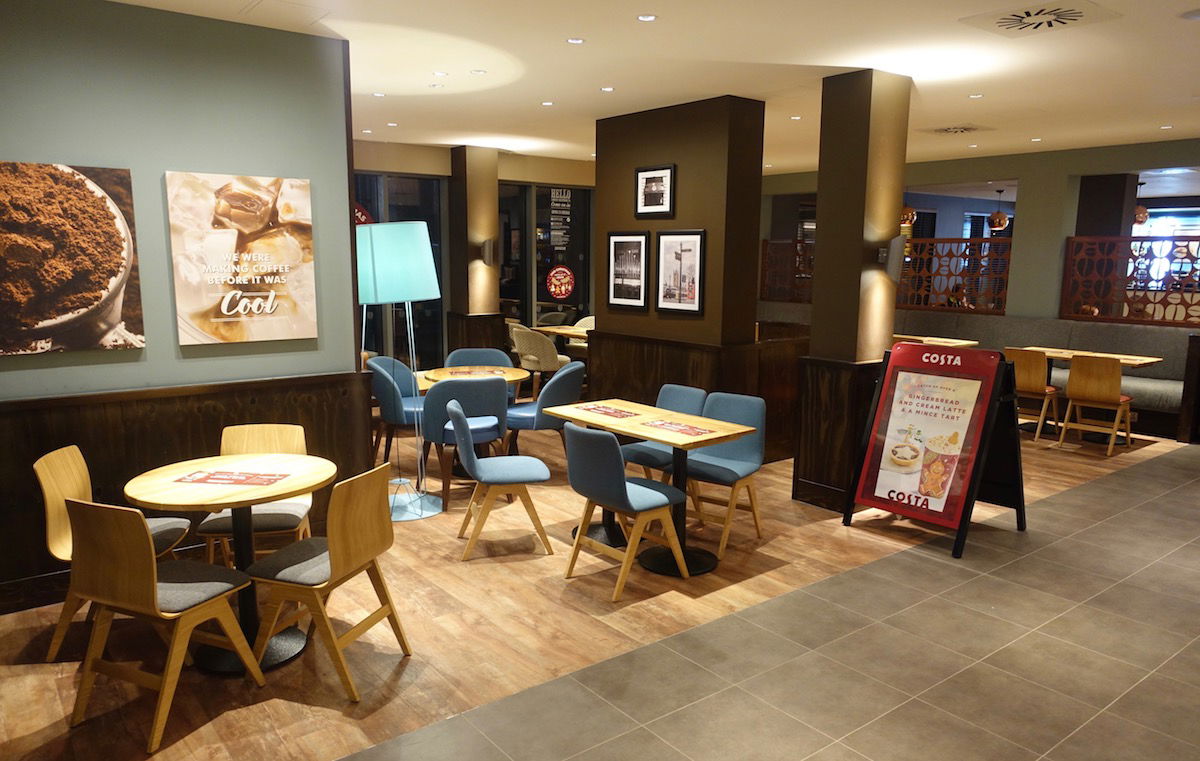 Premier Inn Heathrow Costa Coffee
Past the Costa Coffee was the hotel's restaurant, which was decent-looking, though I didn't eat anything there.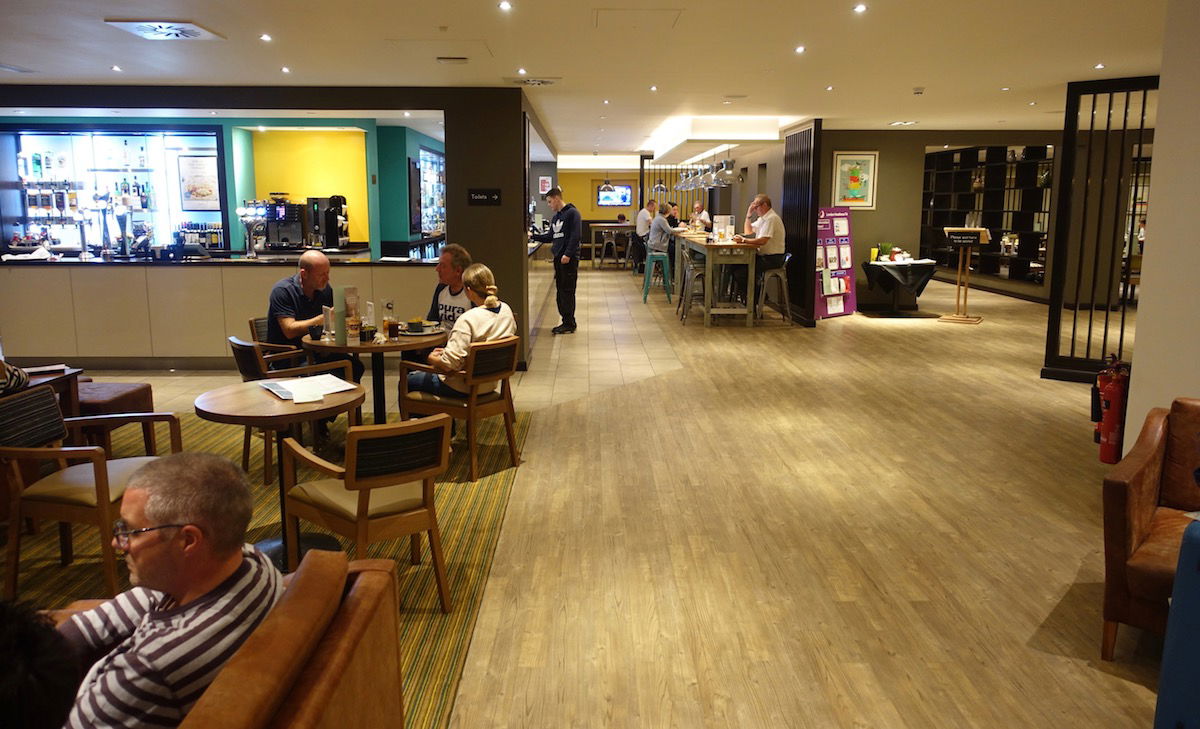 Premier Inn Heathrow restaurant
Then in the lobby they had several vending machines, including soft drinks, snacks, and even a Ben & Jerry's vending machine, which I don't think I've ever seen before.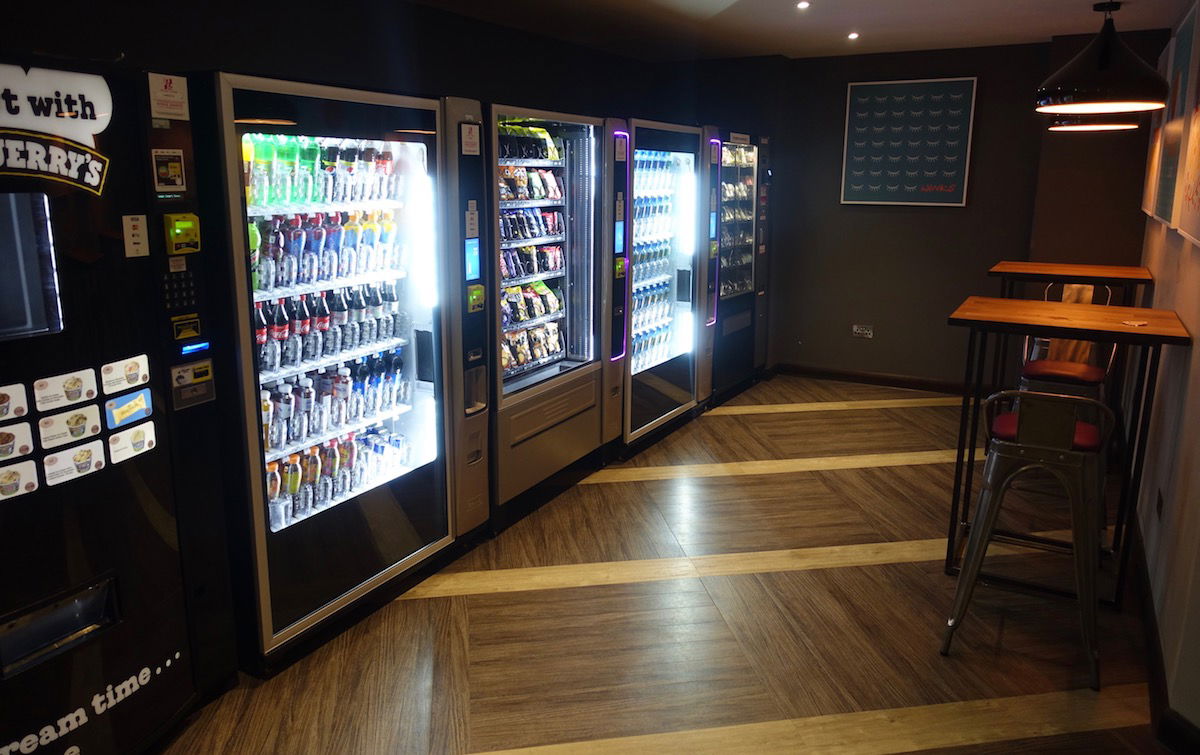 Premier Inn Heathrow vending machines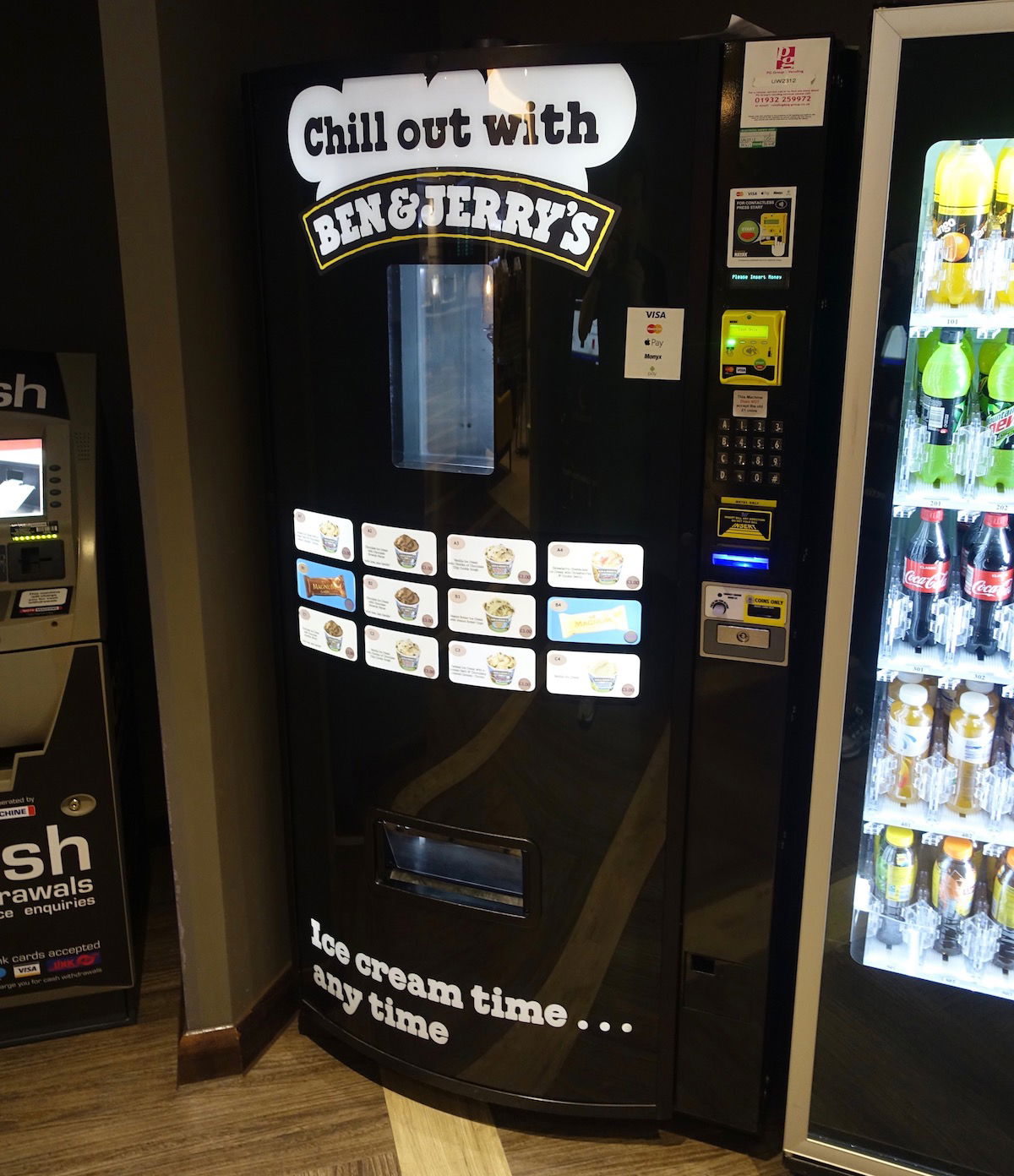 Premier Inn Heathrow ice cream machine
Rather bizarrely the hotel doesn't have a gym. I wouldn't have used it anyway during such a short stay, though I don't remember the last time I've been at a big hotel that didn't have a gym.
I got a good night of sleep, and in the morning got up super early since I wanted to get to the airport and review a lounge shortly after opening. Since I was departing from terminal 5 the best way to get there was with an Uber. Ubers pick up on the ground floor, so you have to go to the valet parking area, then the Ubers pull into the garage and pick you up. It took me a second to figure that out.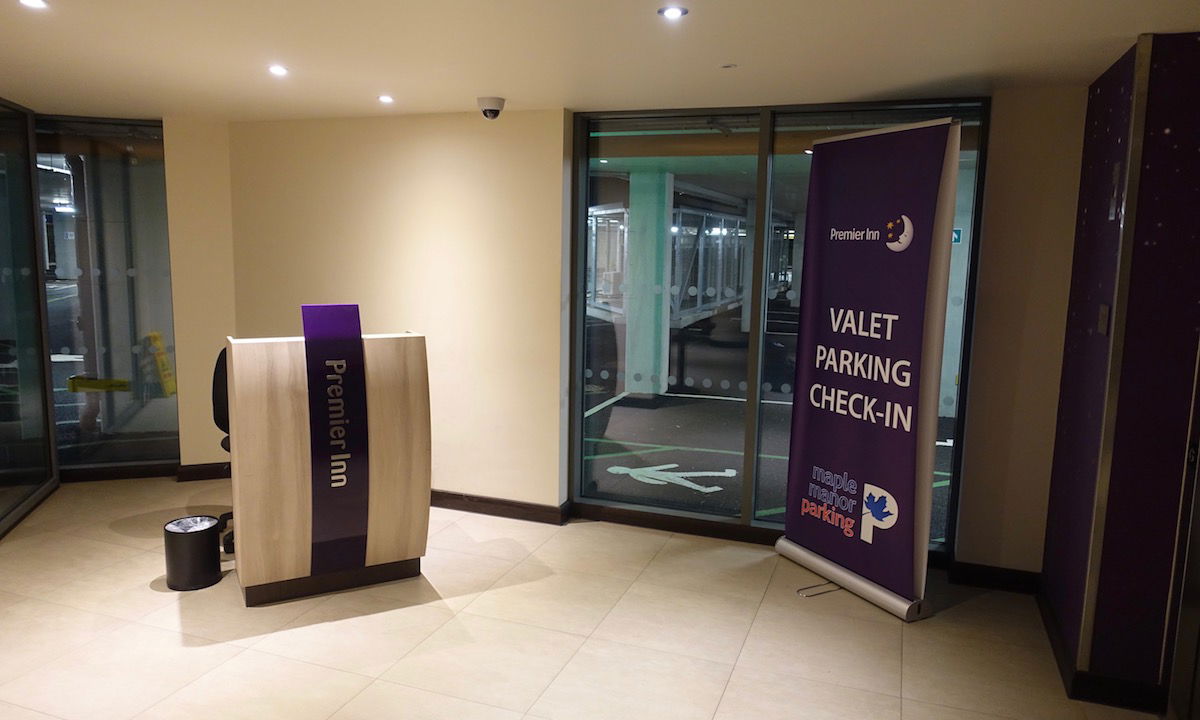 Premier Inn Heathrow Uber pick-up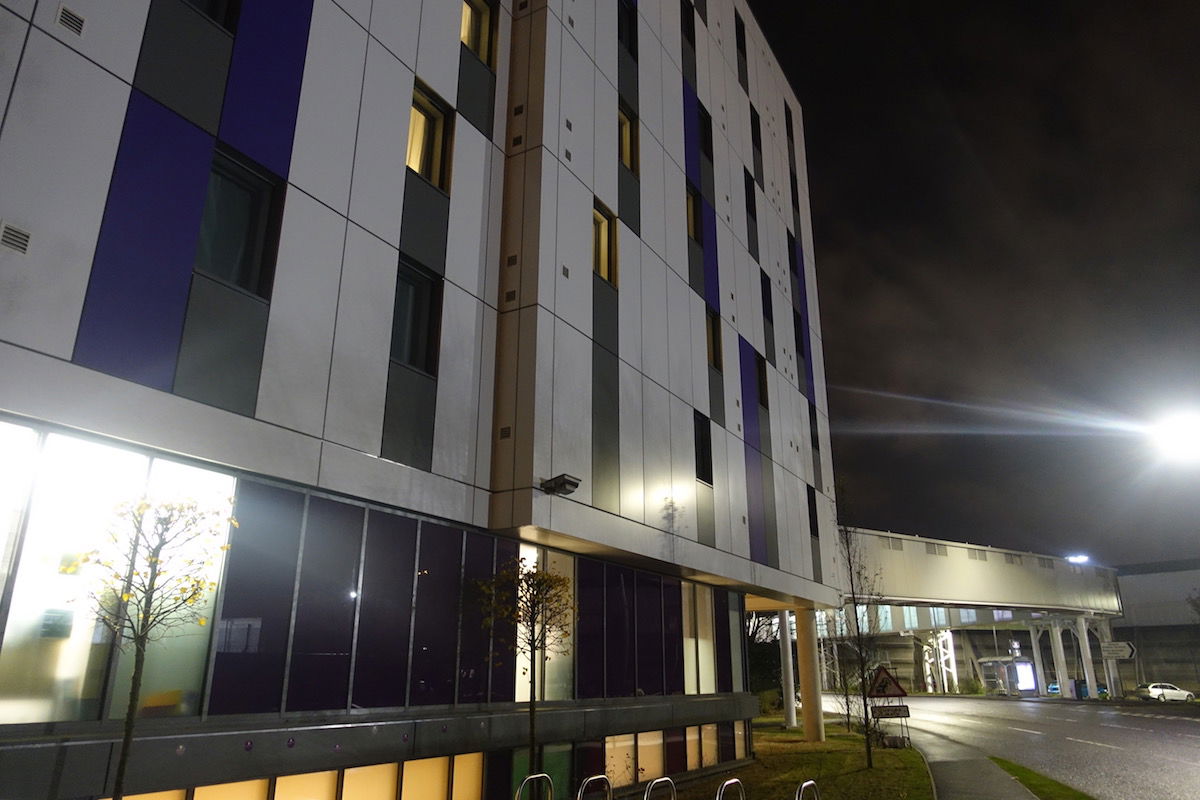 Premier Inn Heathrow exterior
Premier Inn Heathrow bottom line
Overall this hotel is a great new option to have at Heathrow. It's much more reasonably priced than the Hilton, and still feels fresh and new.
There were parts of the hotel that pleasantly surprised me, like how easy to use the self check-in kiosks were, and the 24/7 Costa Coffee. At the same time, I feel like there are some areas where they cut corners even by budget brand standards, like the lack of international outlets, the lack of a gym, and the toilet paper sheets.
Still, I'd return in a heartbeat if it's significantly cheaper than the Hilton, especially if I just wanted a place to sleep.