At the jet bridge passengers with larger carry-ons could valet check their bags, so that they'd show up on the jet bridge in Newark, rather than having to claim them at baggage claim.
Porter Airlines 139
Toronto (YTZ) – Newark (EWR)
Saturday, November 11
Depart: 4:10PM
Arrive: 5:40PM
Duration: 1hr30min
Aircraft: Bombardier Q400
Seat: 2C (Economy Class)
Rarely is a turboprop flight worth reporting on, though Porter is a special little airline. Porter operates a fleet of Bombardier Q400 aircraft, which are the nicest turboprops out there, as far as I'm concerned. Porter's Q400s have 74 seats, in a 2-2 configuration.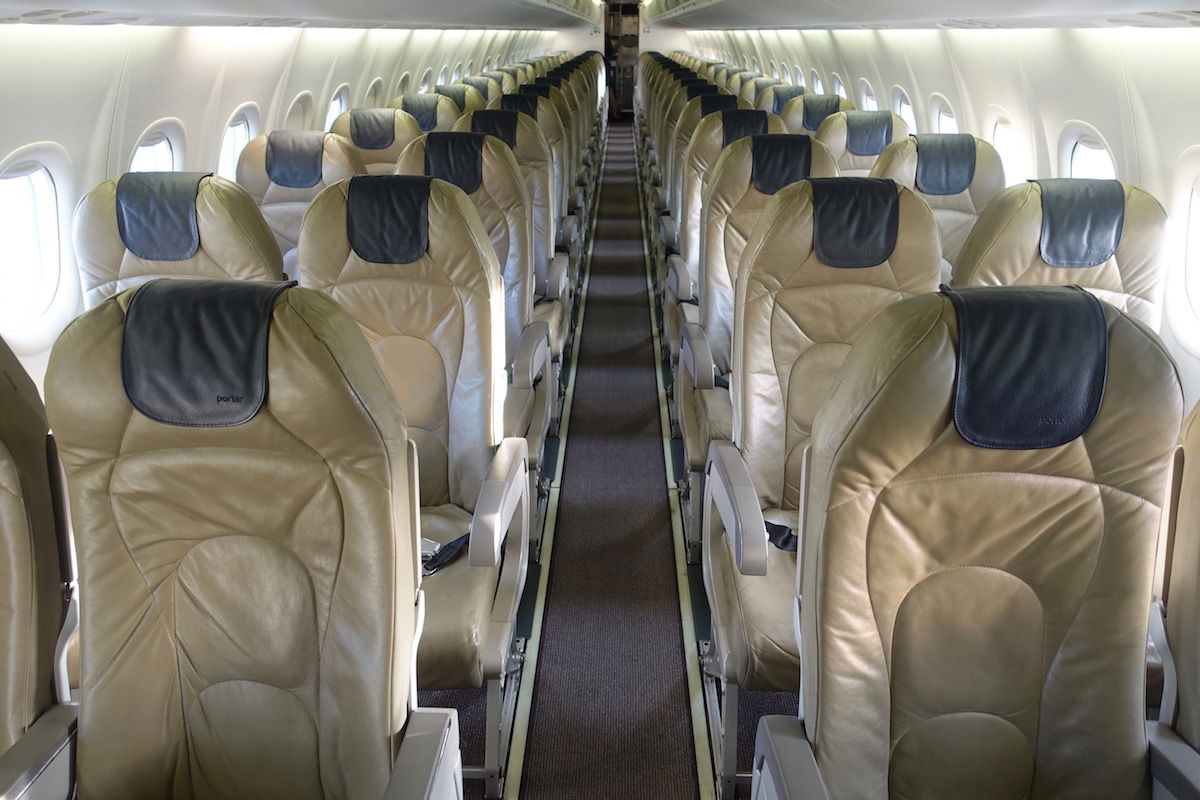 Porter Airlines cabin
At the door, we were greeted by an incredibly friendly flight attendant who verified our boarding passes and pointed us to our seats. We were in seats 2C & 2D, the aisle and window seat on the right side in the second row (though since there's no row one on the right side of the plane, we were really in the bulkhead).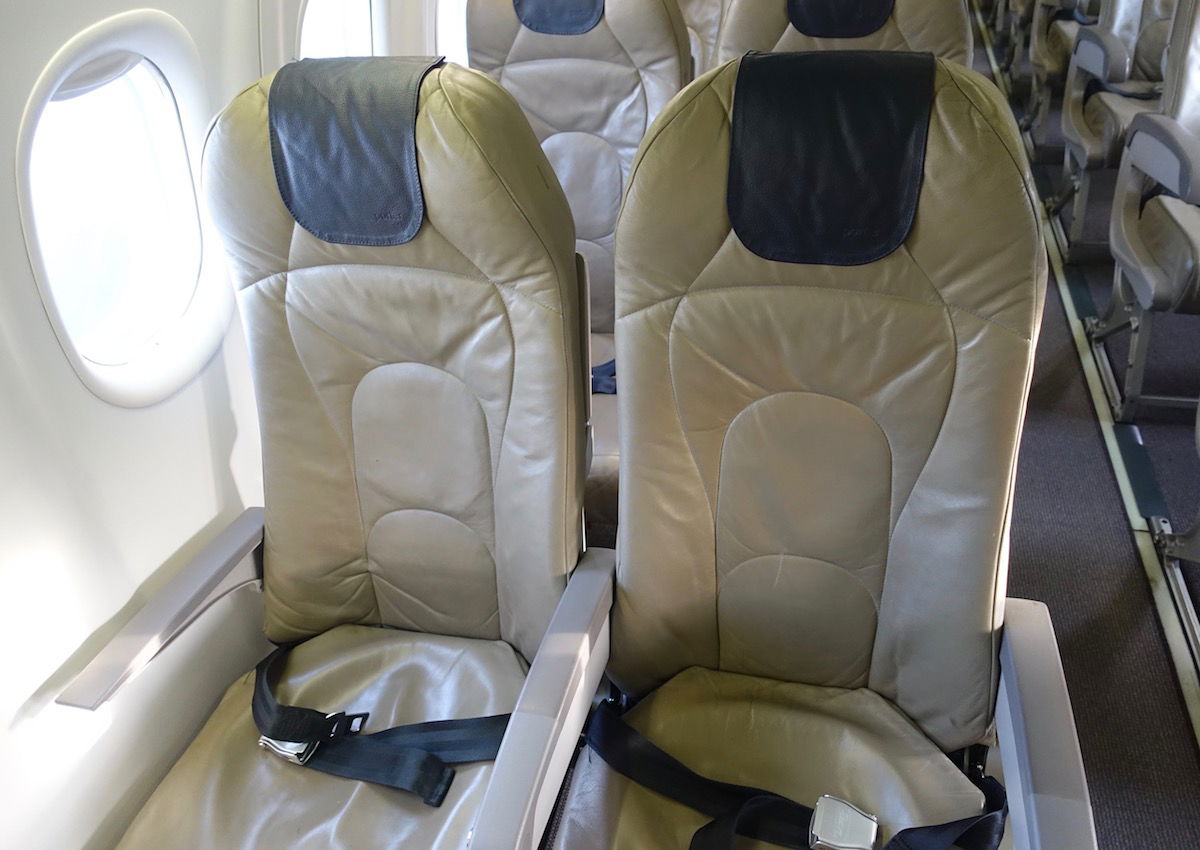 Porter Airlines seats
Porter has a generous 32″ of pitch, and the seats are well padded, so it's one of the more comfortable turboprops I've been in.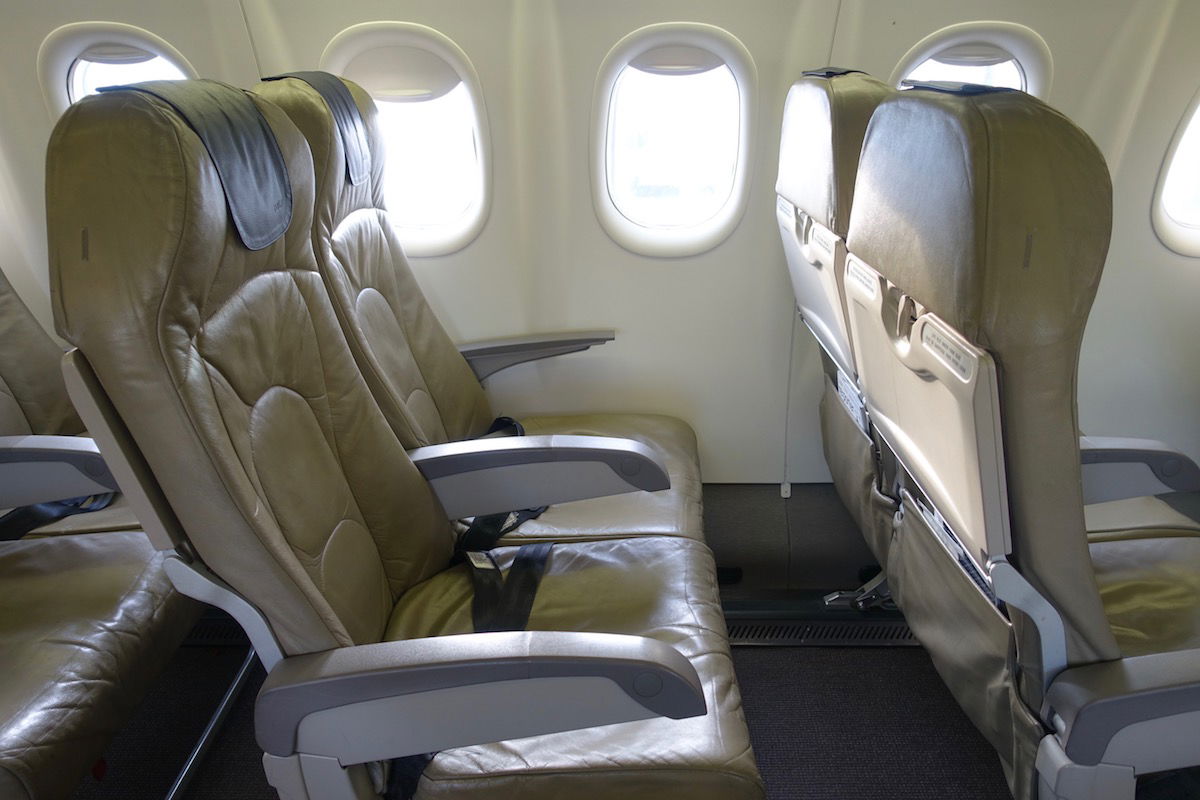 Porter Airlines legroom
We were especially lucky to be in the bulkhead, which had ample legroom.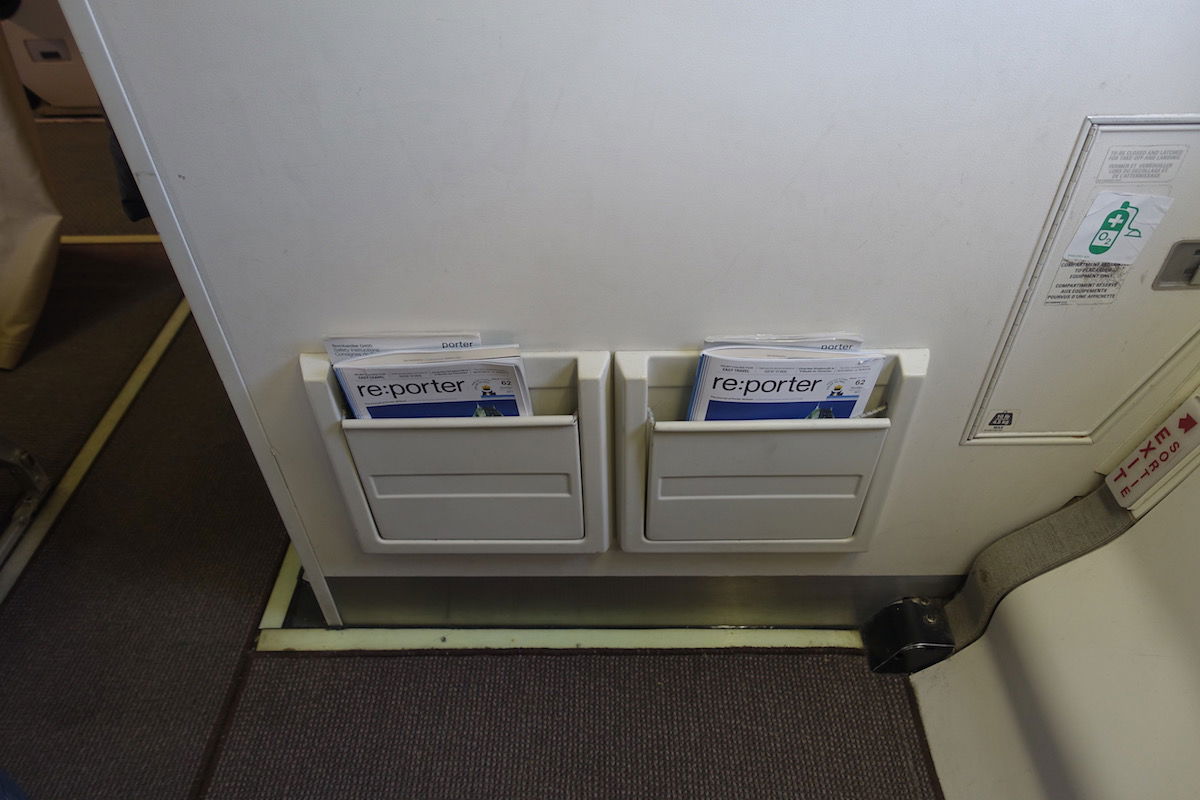 Porter Airlines legroom
I'd prefer the bulkhead in row two to the one on the left in row one, since there you're seated right across from the flight attendant jumpseat, and there are also a lot of people in "your" space during boarding.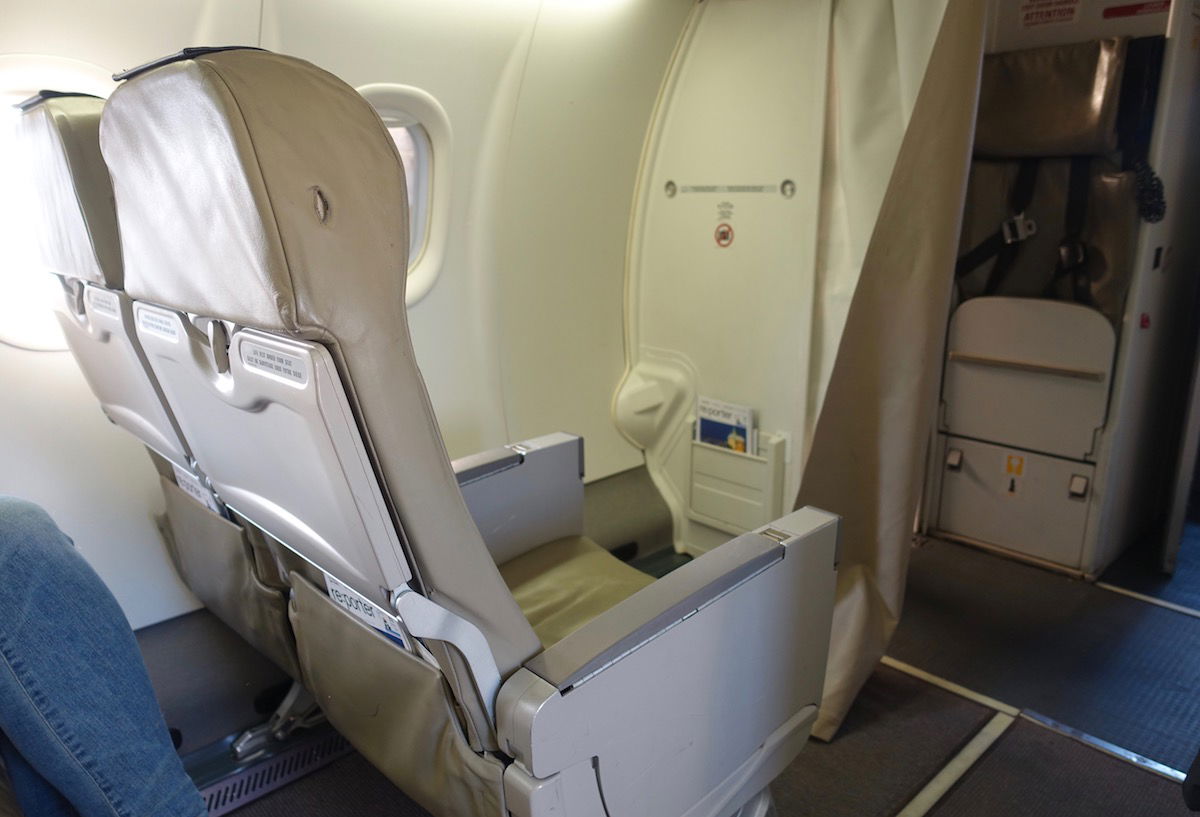 Porter Airlines seats
The tray table folded out of the aisle-side armrest, and could be folded over in half.

Porter Airlines tray table
In the literature pocket was re:porter, which is Porter's inflight magazine. It's a cute inflight magazine, and given the lack of anything else to do on the flight, I read it almost cover to cover.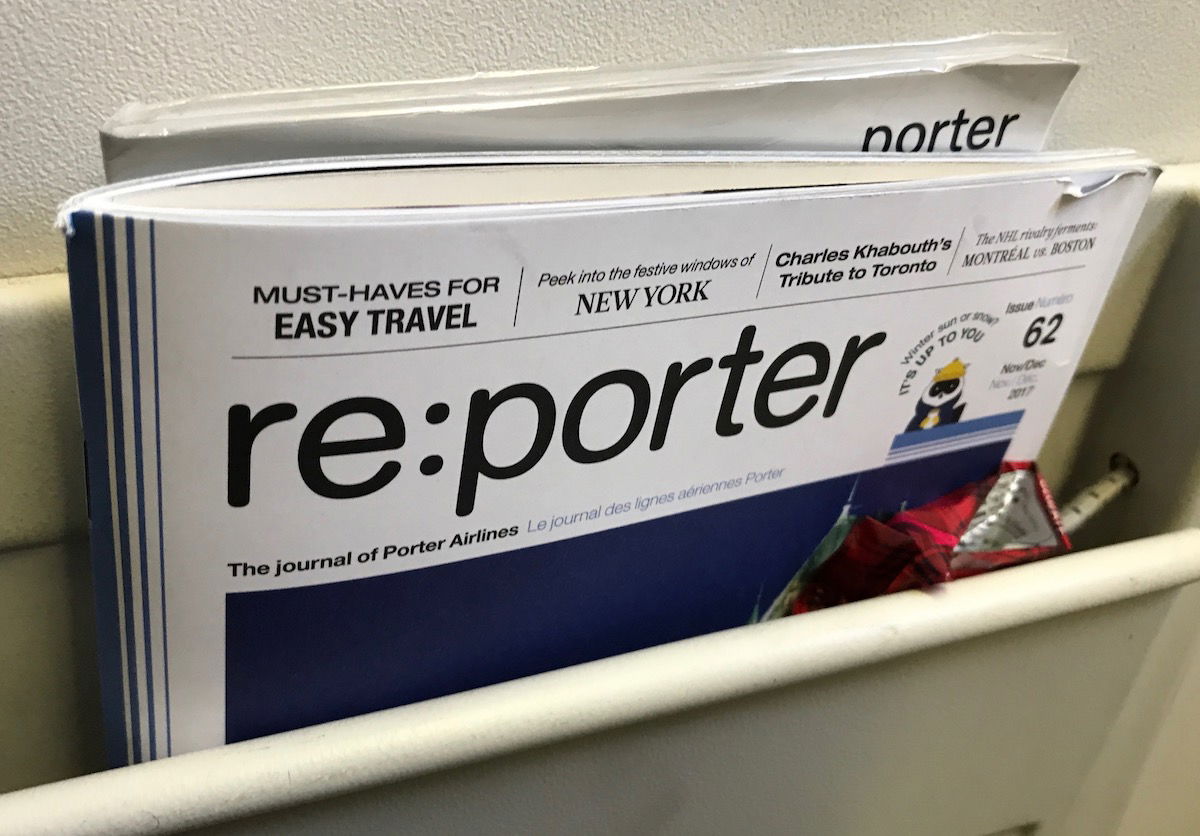 Porter's re:porter inflight magazine
Despite the flight being mostly full (there were about 10 empty seats), boarding was efficient, and the lovely flight attendant at the door greeted everyone with a big smile.
By 4:05PM the captain added his welcome aboard, and informed us of our flight time of 70 minutes. He said that we were waiting on one other passenger, and that we had a wheels up time of 4:15PM. Sure enough, at 4:10PM the cabin door closed, at which point the crew did a manual safety demonstration.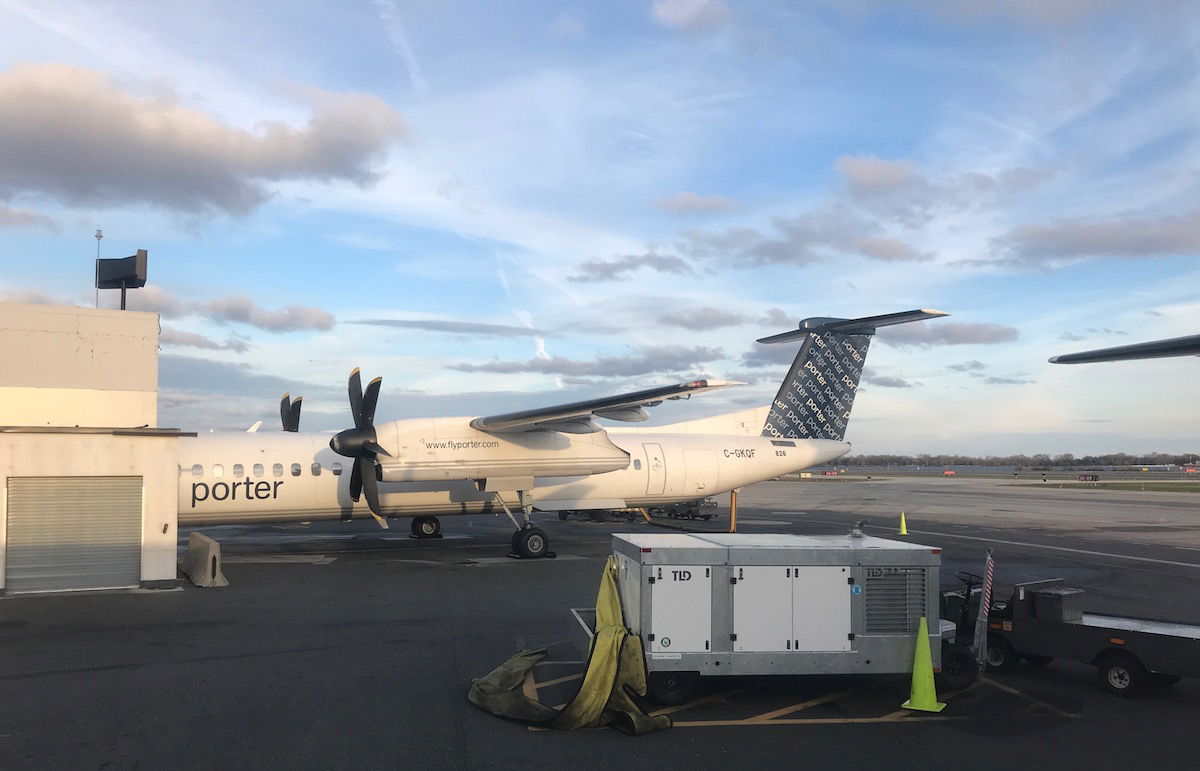 View of Billy Bishop Airport from gate
Around that time we began our pushback, which was really the first time we had a view of the whole airport, since the gate lacked views.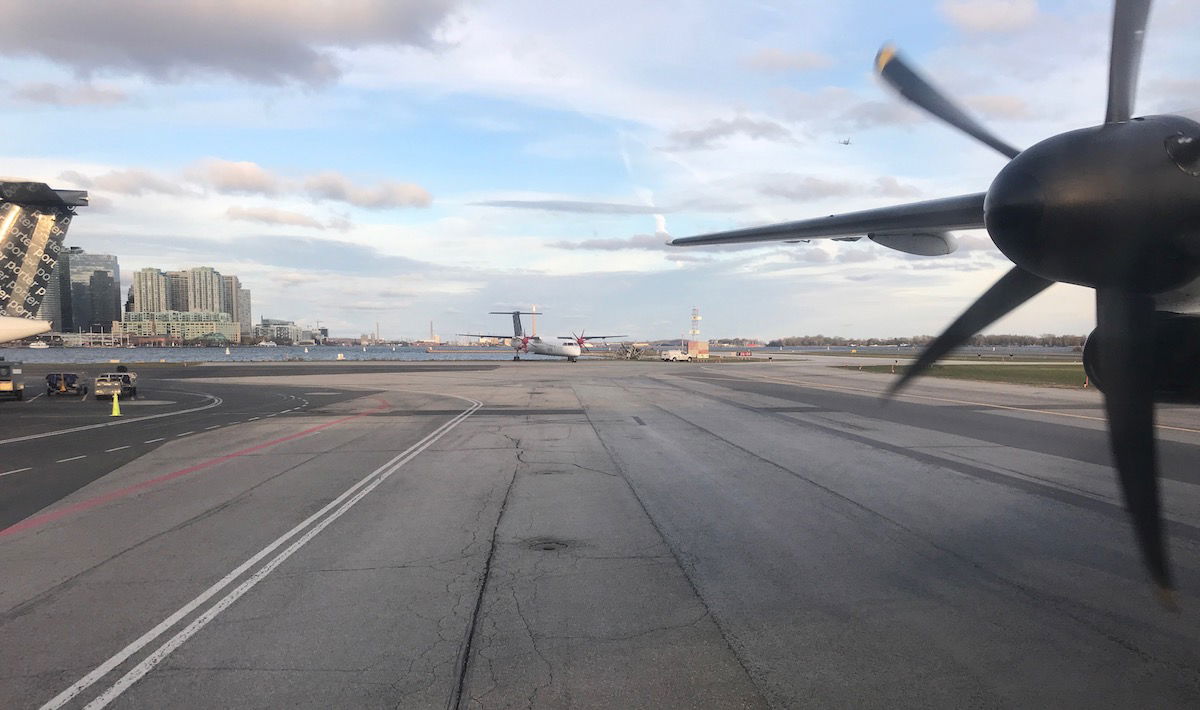 Pushing back Billy Bishop Airport
That's an airport with a view, if I've ever seen one!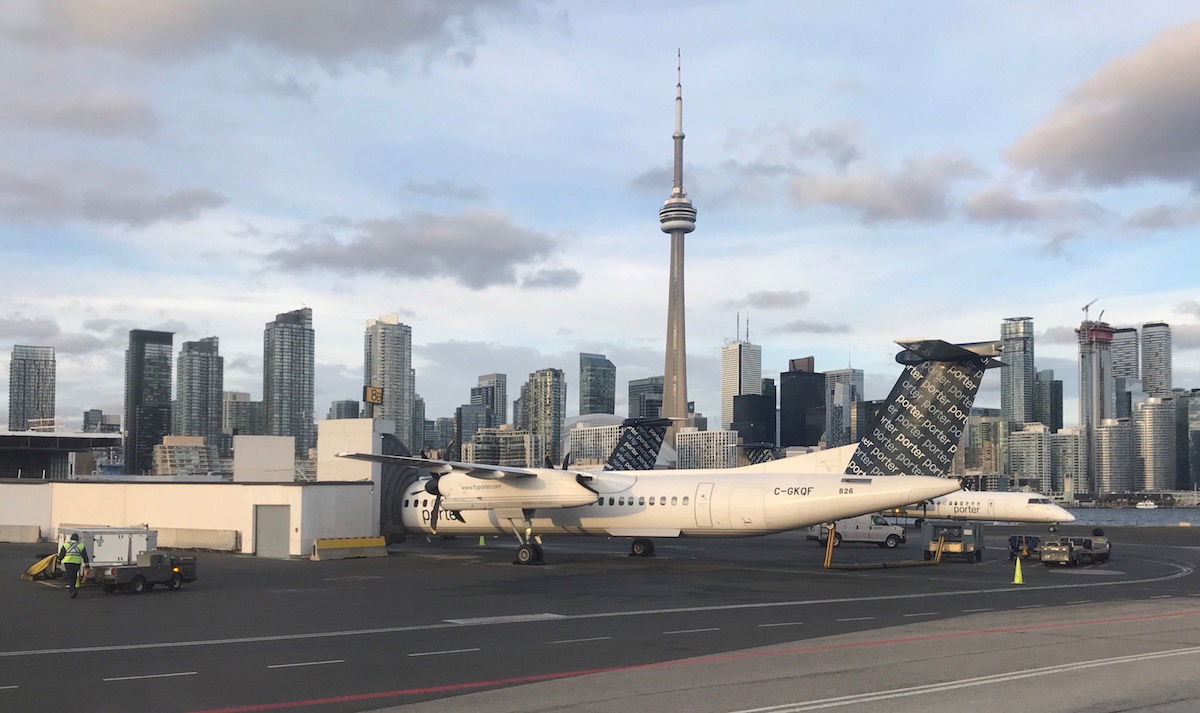 View of Toronto from Billy Bishop Airport
There were several Porter Q400s on the ground, and then also a lone Air Canada Express Q400, headed to Montreal.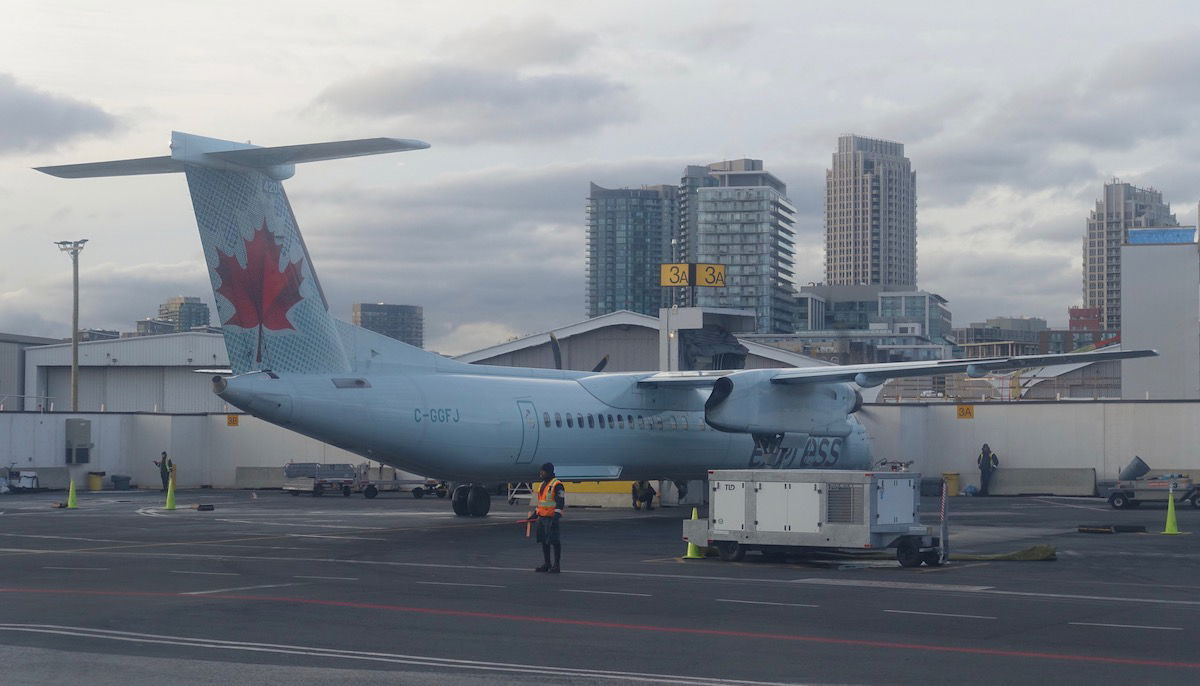 Taxiing Billy Bishop Airport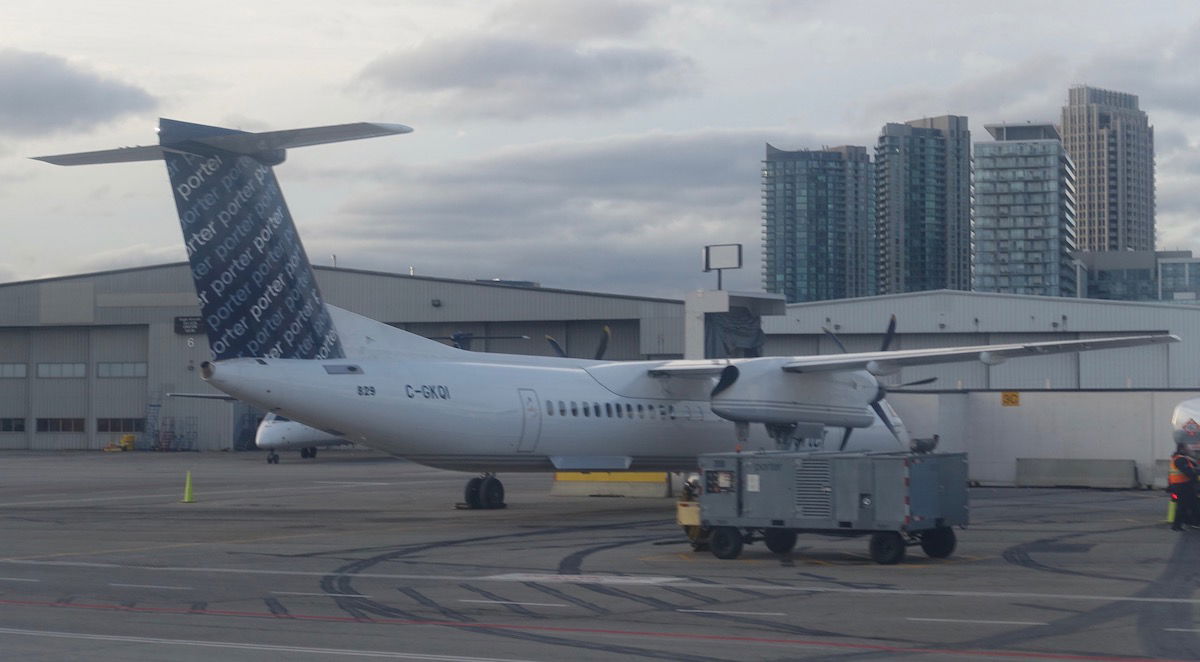 Taxiing Billy Bishop Airport
By 4:20PM we made it to runway 8, where we were immediately cleared for takeoff.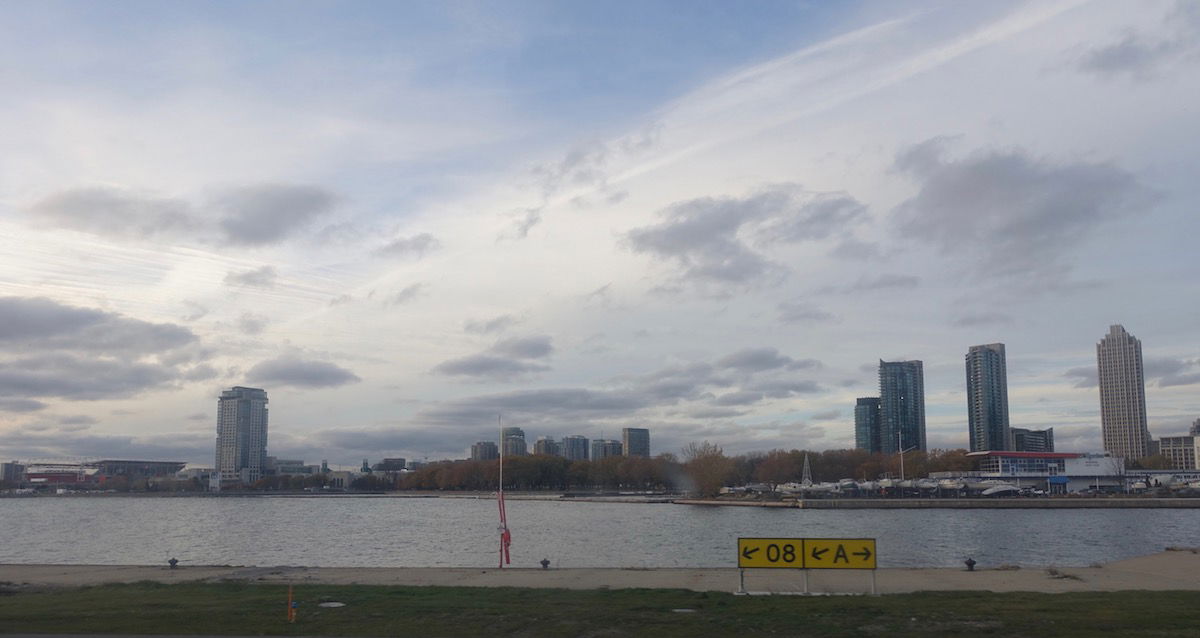 Taxiing Billy Bishop Airport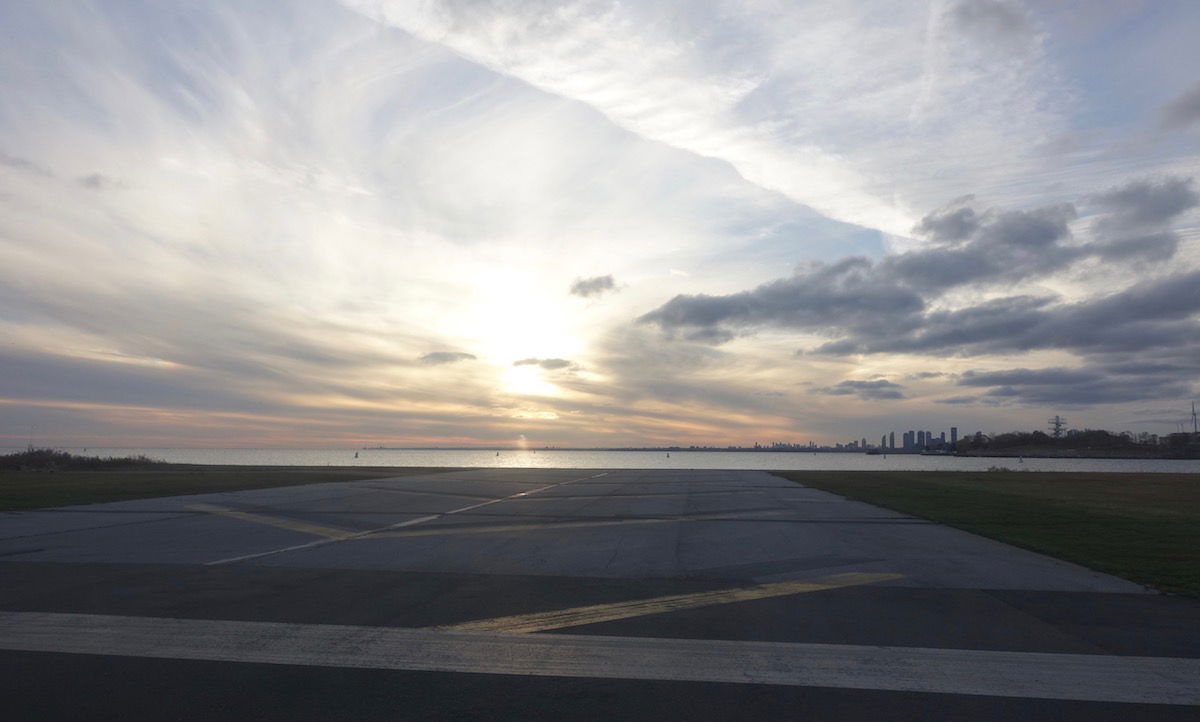 Taking off from Toronto
While the views on the climb out were fairly nice, I wish we had sat on the left side of the plane, since there was an incredible view of the Toronto skyline from there.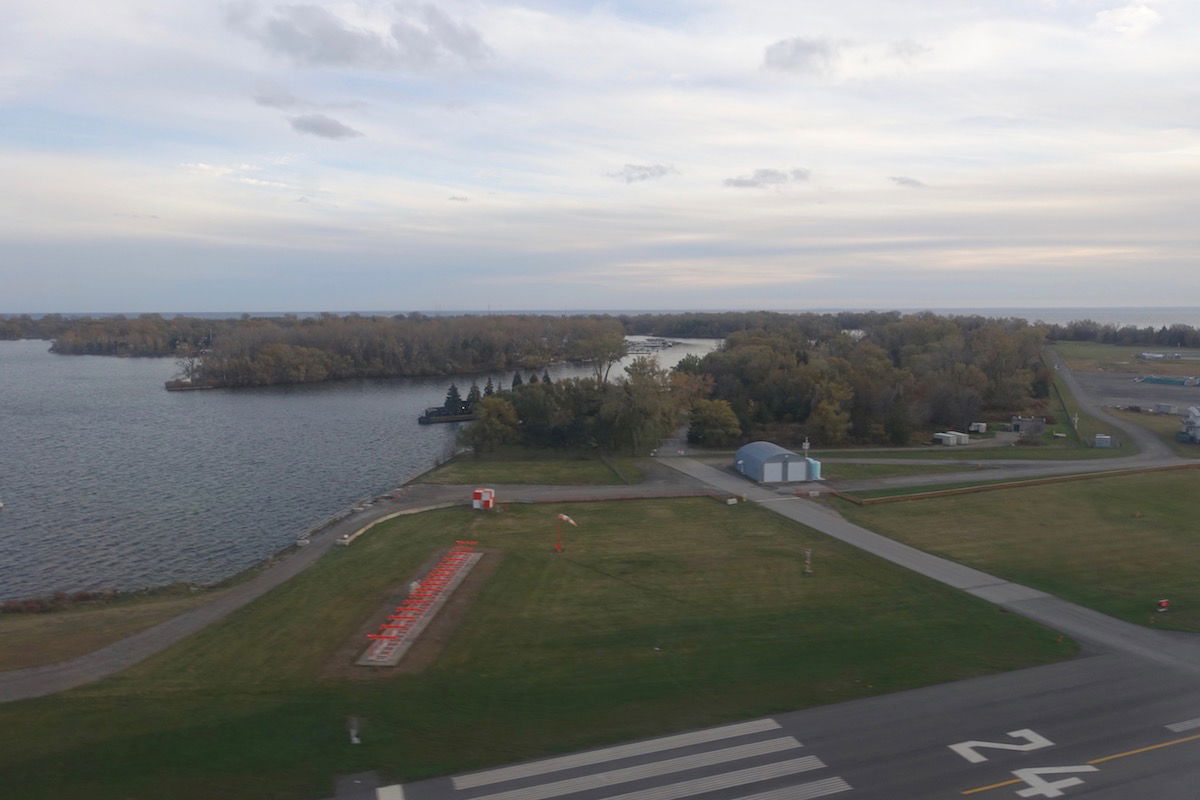 View after takeoff from Toronto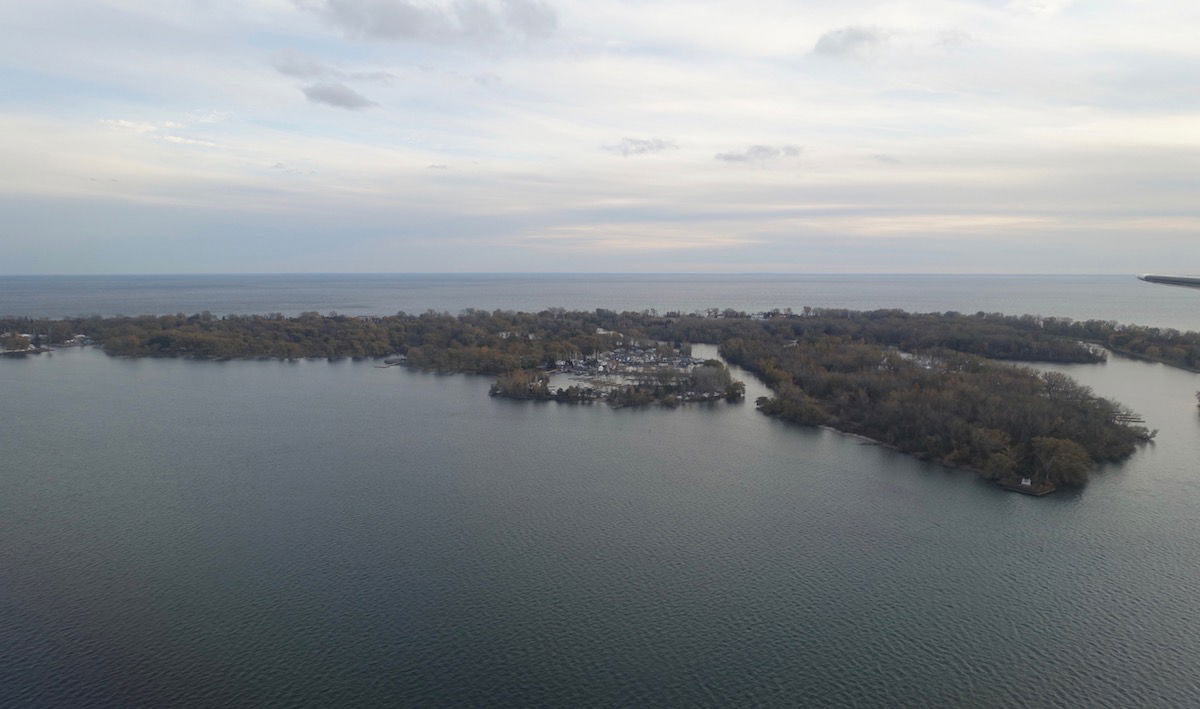 View after takeoff from Toronto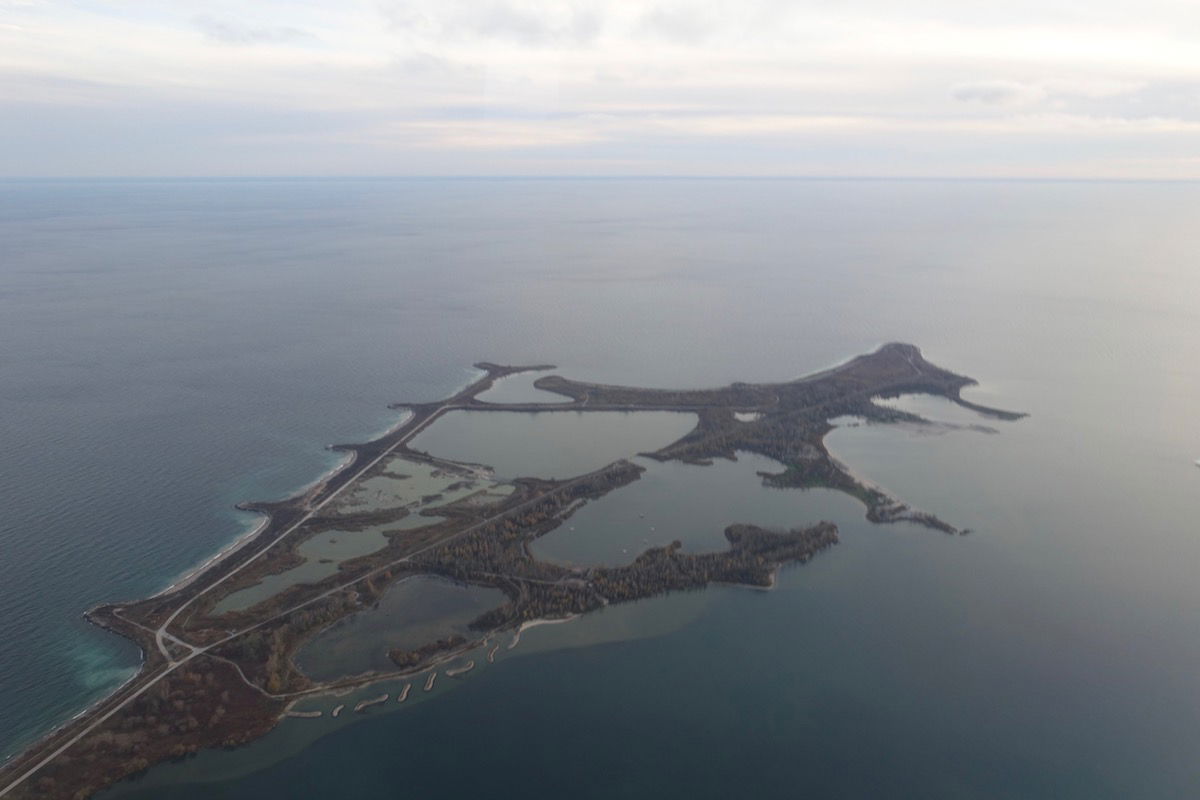 View after takeoff from Toronto
Just five minutes after takeoff the seatbelt sign was turned off, and we were treated to the most gorgeous sunset imaginable.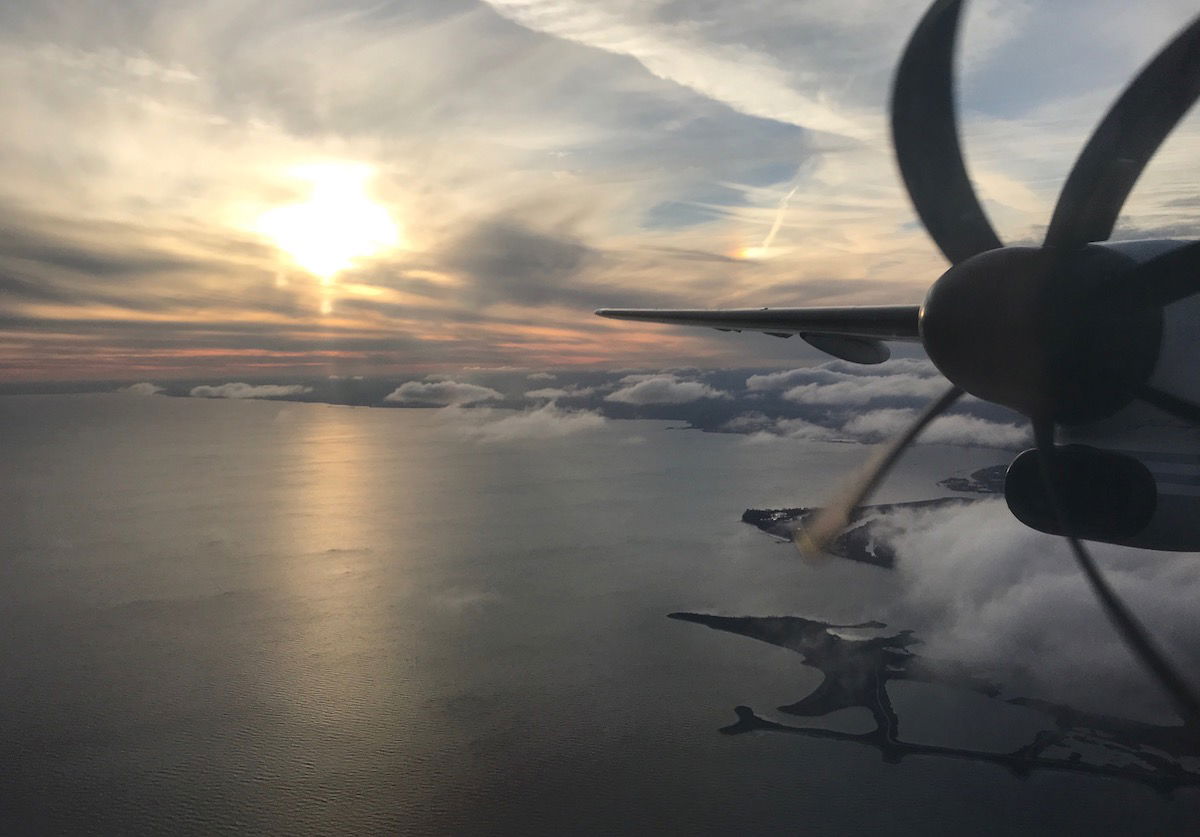 Sunset enroute to Newark
About 15 minutes after takeoff the crew passed through the cabin with landing forms for the US (my mom needed one, while I didn't).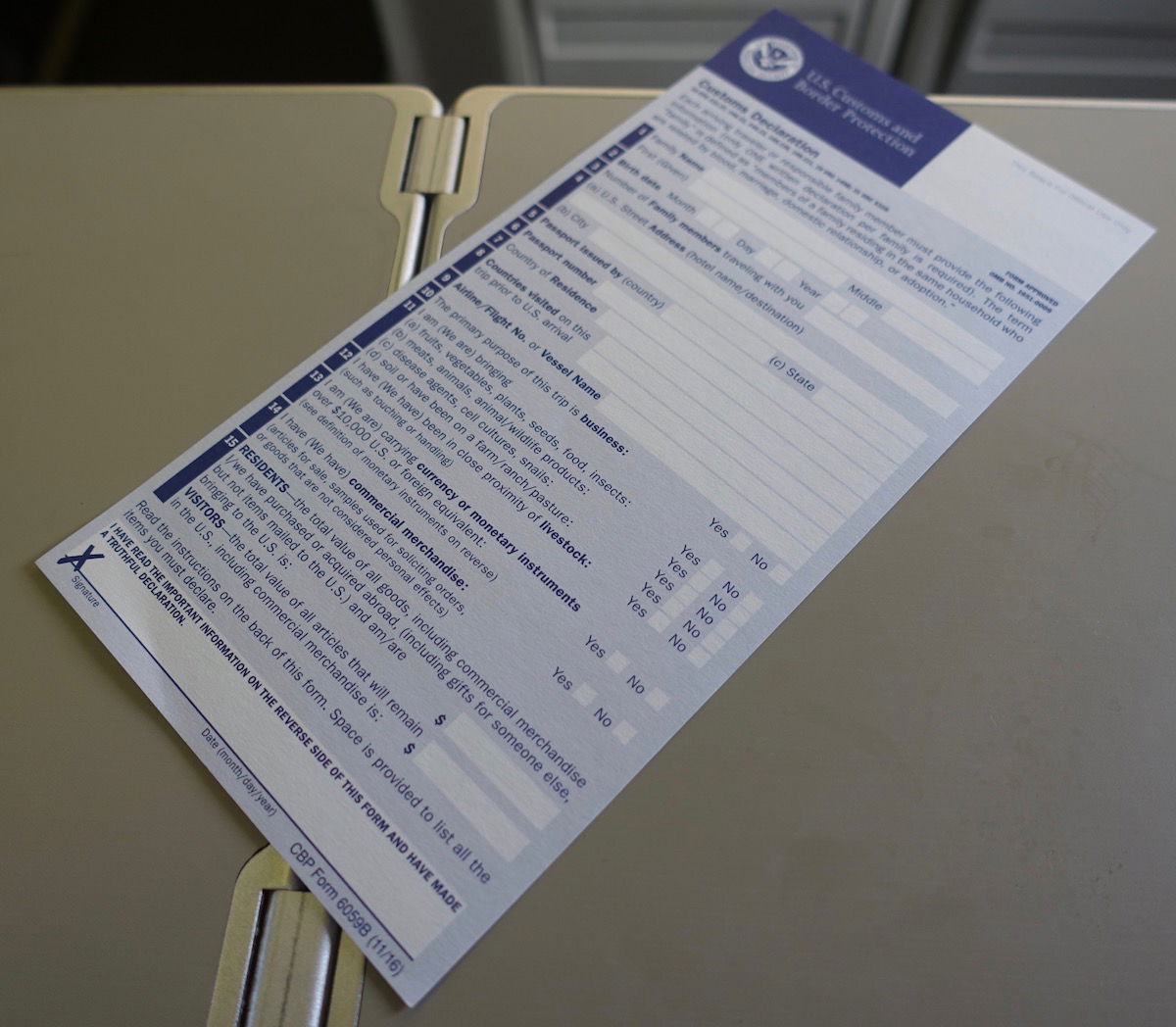 US landing cards
Then moments later they began the drink service. The drink options were as follows: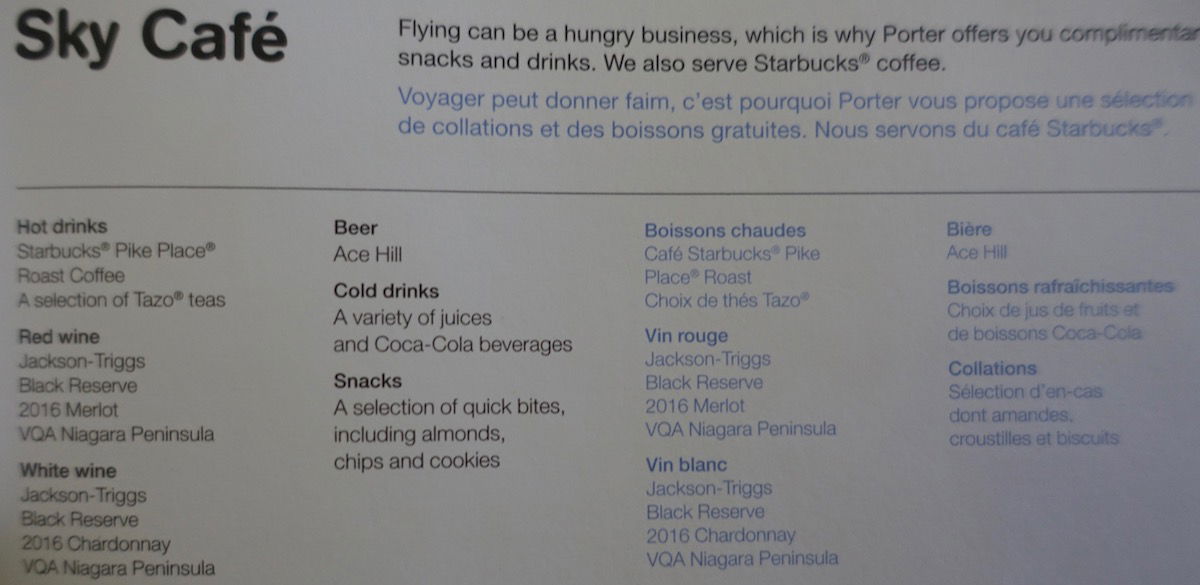 Porter offers complimentary beer, wine, and snacks. Not only that, but the drinks are actually served in glassware. This is a small gesture, but adds such a nice element to the experience, which you don't get on other airlines.
I had a glass of the white wine, while my mom had a glass of the red wine. Snack choices included Terra vegetable chips, Blue Diamond roasted salted almonds, and Walkers shortbread cookies.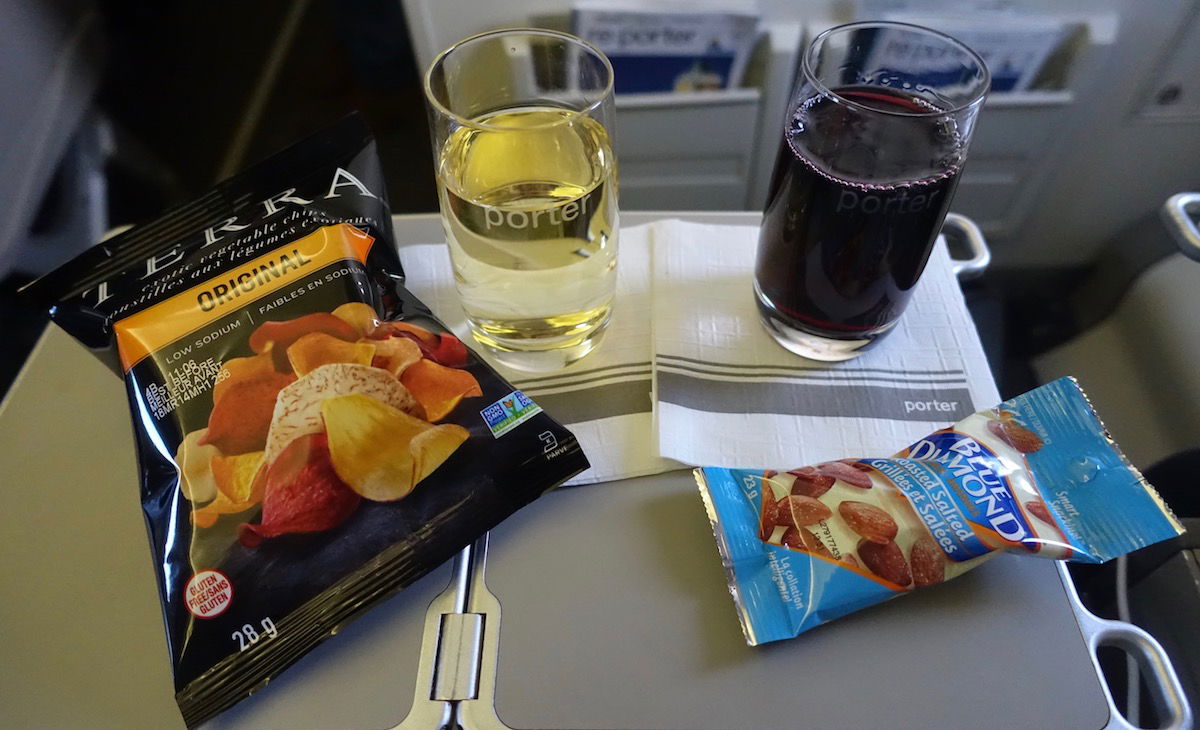 Porter Airlines free snacks & drinks
By the time the crew finished their service we were already starting our descent. I used the lavatory before landing — there was one at the front of the cabin, and it was tiny.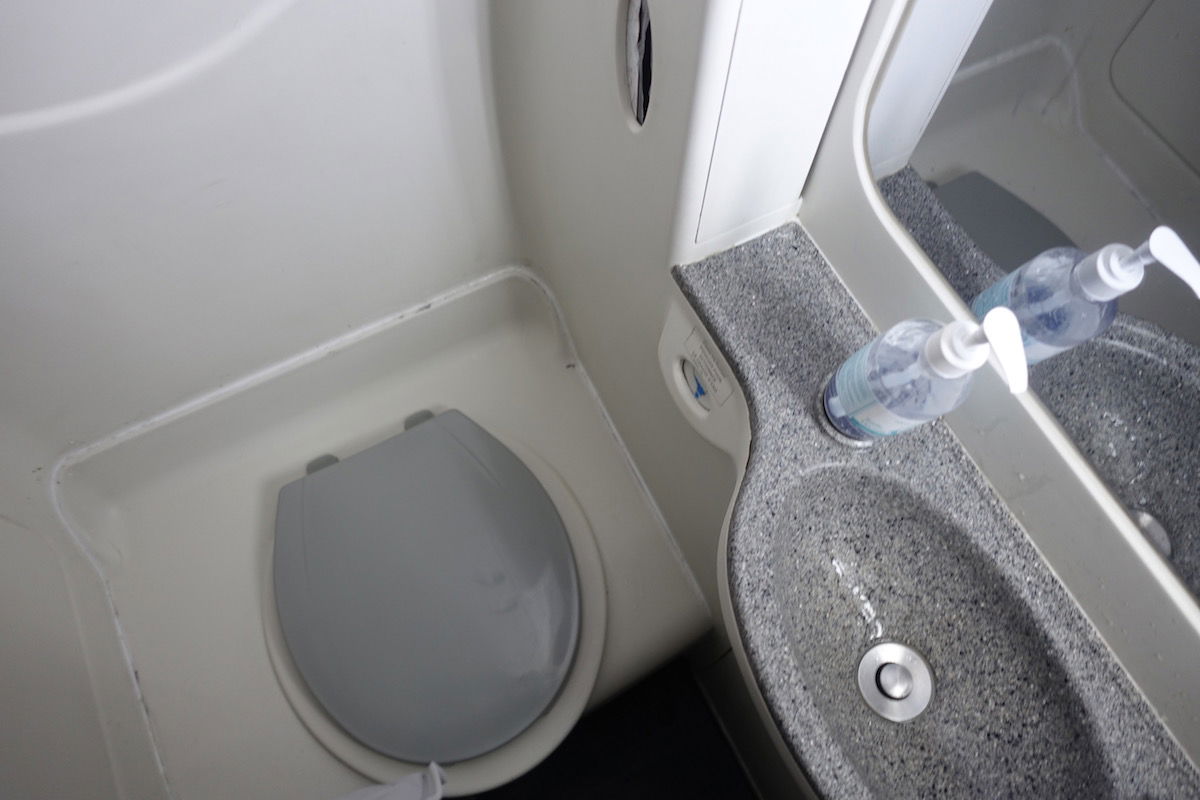 Porter Airlines bathroom
At 5PM the first officer informed us that we'd be landing in about 20 minutes, and five minutes later the seatbelt sign was turned on, as we descended through 10,000 feet. Interestingly the first officer sounded super southern (like, US southern). I'm not sure if Porter recruits pilots from the US or if Canada has the equivalent of Alabama, but…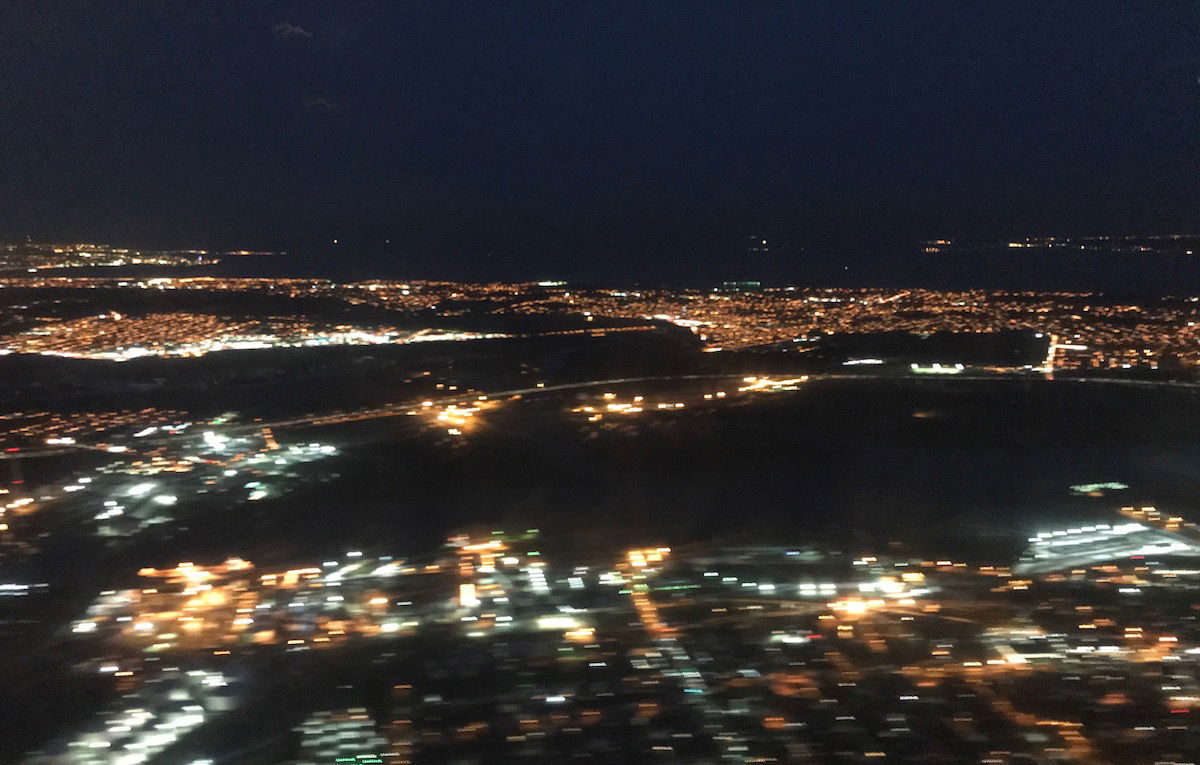 View approaching Newark
At 5:20PM we had a smooth touchdown at Newark Airport, and a short five minute taxi to the gate, where we arrived about 15 minutes ahead of schedule. There's something that really gives you perspective when you're in a Q400 and park next to a British Airways 777.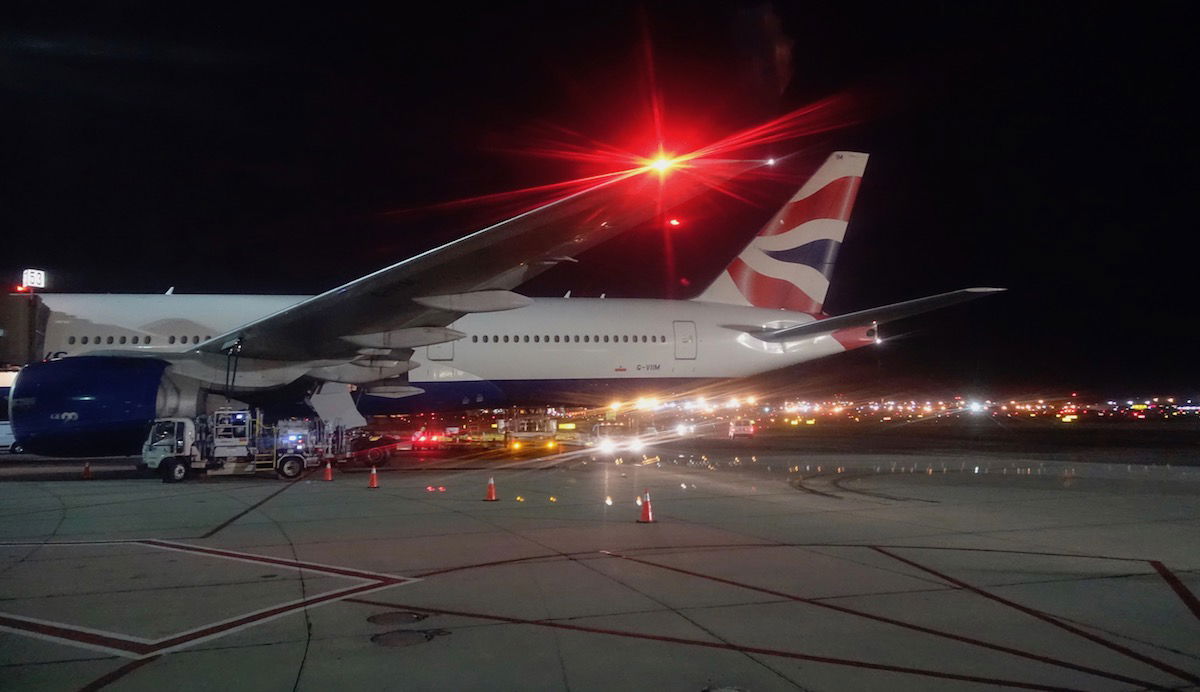 Arriving at Newark
One on the jet bridge it took about five minutes for the valet checked bags to arrive.
Porter Airlines bottom line
Rarely is flying a Q400 anything special, though I have to give Porter credit for differentiating themselves. Between the complimentary snacks, beer, and wine, and very friendly flight attendants, this was easily the most enjoyable turboprop flight I've ever taken.