"Getting there is half the fun!"
If you can relate to that quote, I'm sure you've asked yourself this general question before. If you can't relate, then please skip this post!
When it comes to redeeming miles for premium cabin travel, I've always been sort of obsessed with "maximizing value." Whatever that might mean.
Back in the day I defined that quite simply: redeeming as few miles as possible for as many hours as possible in top premium cabin products. So something like Tokyo to Bangkok to Frankfurt to Los Angeles sounded like heaven. After all, why fly direct from Tokyo to Los Angeles when you can travel almost three times the distance going the "long way?"
But hundreds of flights and millions of flown miles later, my impression of the perfect amount of travel time has changed.
I'm bringing this up because yesterday I wrote a post about maximizing the Emirates experience for travel between Dubai and London. PetterP left the following comment:
If you want to maximize the EK-F Class Experience, DXB-PTY (Panama City) starting on February 1st 2016, –
A scheduled flight of 17 hours 35 minutes plane-ride,
However, it will not be the A380 with the bar, but I guess a 777-200LR suite will do ?
You will most probably have 3 in-flight parties and 4 meals?
After more longhauls than I can count, I'm not sure I agree anymore that longer necessarily equals better.
When it comes to enjoying longhaul flying, my general perception is as follows:
The first few hours are always most enjoyable, as you typically have a fantastic meal and are still "fresh."
Beyond that, the marginal enjoyment diminishes significantly — I'm often full, tired, and maybe a bit hungover.
There's more marginal enjoyment to be had with each hour for airlines with cool amenities, like bars, showers, etc. For example, as much as I love Cathay Pacific first class, I'm usually at my seat the whole flight. Meanwhile when I flew Qatar Airways A380 first class from Doha to London, I actually spent all but a couple of hours at the bar.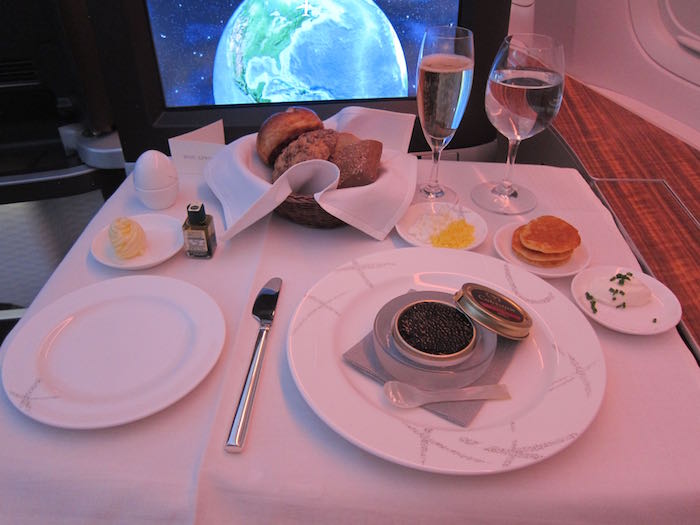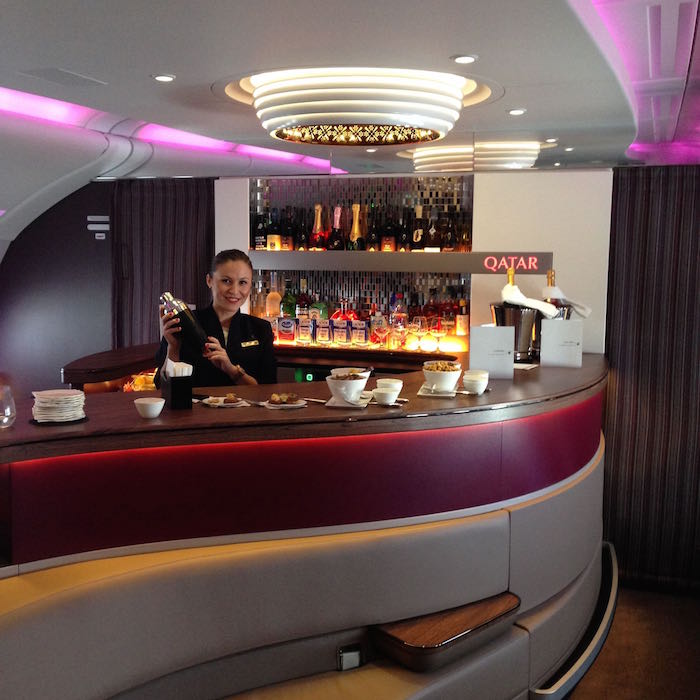 With that in mind, I think I've figured out my ideal flight lengths. In other words, beyond these limits I get very little marginal enjoyment out of flights. The perfect first class flight is one where you can both enjoy the experience and arrive well rested… at least in most cases.
Perfect overnight flight length: ~12 hours
To me this is the perfect flight length. If I really want to enjoy the flight, I typically like to stay awake for the first four hours. At least on an ultra longhaul flight. That way I can enjoy a meal service, which takes maybe two hours, and then unwind with a movie or enjoy any other onboard amenities.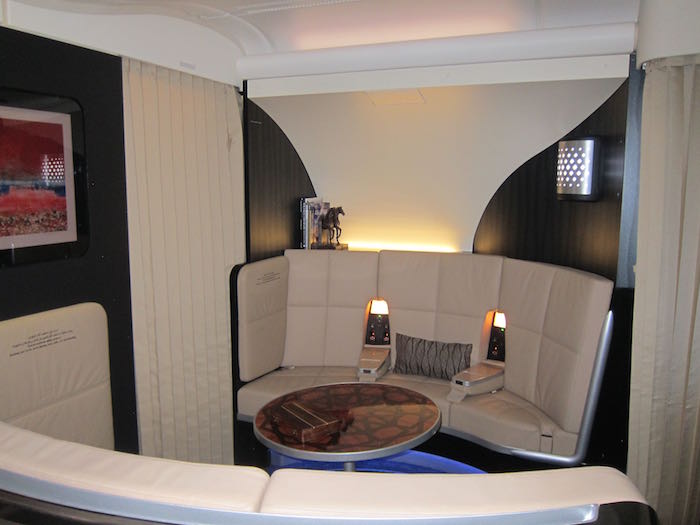 I'm not much of a sleeper, though ideally I'd get roughly six hours of sleep.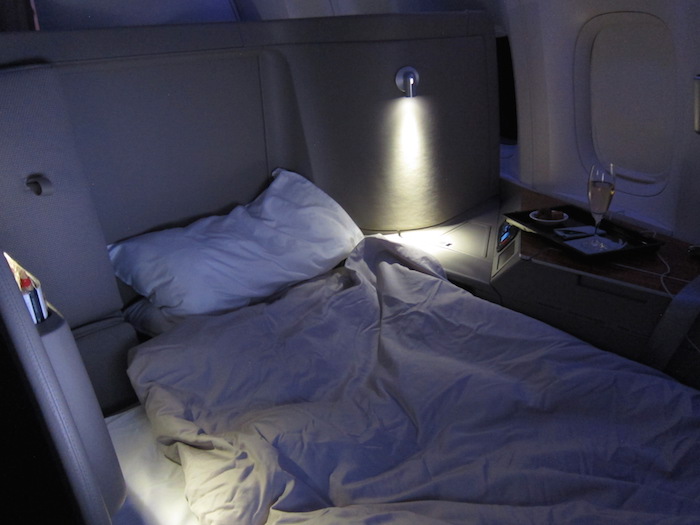 And that leaves me with two hours before landing to watch a couple more sitcoms, freshen up, and have a pre-arrival snack.
Most Cathay Pacific flights from the US to Hong Kong are ~14-15 hours, which is great, but usually the last couple of hours I'm ready for the flight to be over. Not that I'm not enjoying it, but rather that I'm not sure I'm happier onboard than I'd be in a "real" bed in a hotel, or at a "real" restaurant.
Perfect daytime flight length: ~8 hours
This might surprise some people. But I almost think the perfect daytime flight length is 7-8 hours. For example, an afternoon flight from Dubai to London which departs in the late afternoon and arrives in the evening is perfect for me.
You can enjoy a nice meal.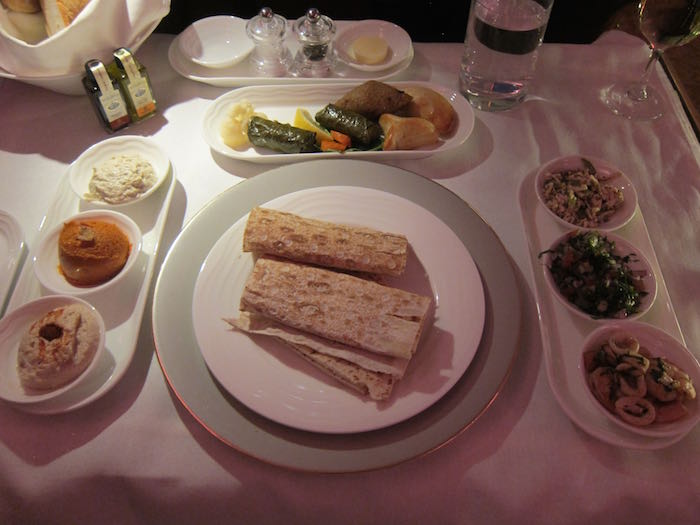 Then enjoy whatever onboard amenities there are.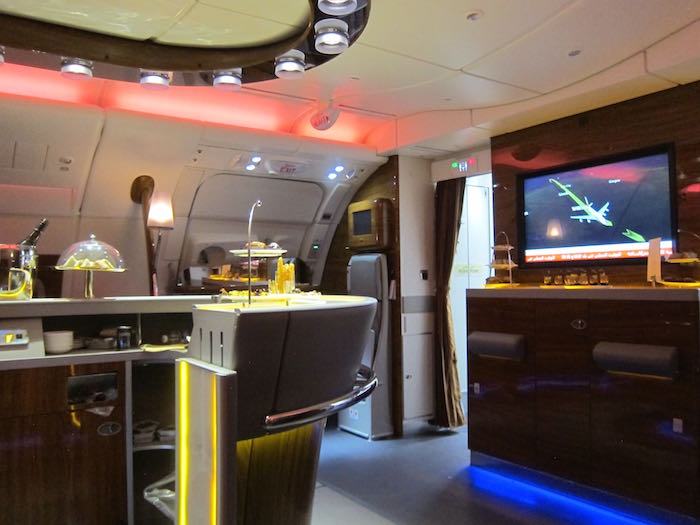 And then have another light snack before landing.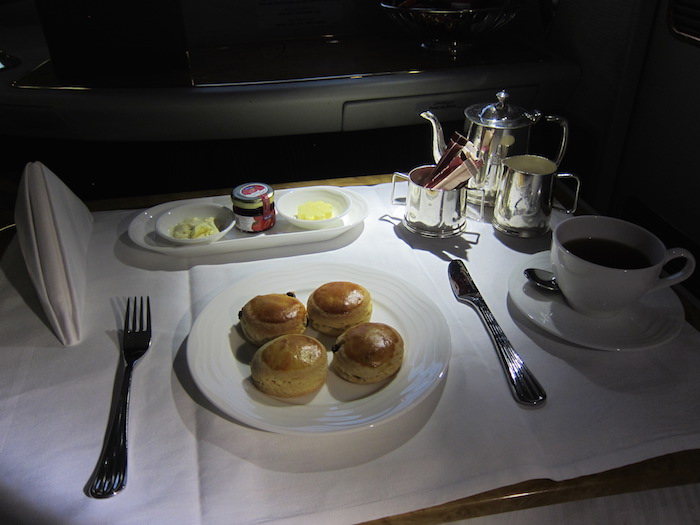 You can maximize your libation consumption onboard, and then arrive having had a great flight, even if you didn't get any rest. And since you land in the evening, you can go to bed shortly after getting to the hotel.
So even if you have an amazing bed in first class, I don't think maximizing a first class experience even has to include using it.
Bottom line
To 99% of people this probably sounds like a silly topic. But to those of us who actually enjoy the process of flying between places, I think it's an interesting topic.
Admittedly there are lots of other factors that play into the "perfect" flight length — whether you're traveling alone or with friends, how well rested you have to be when you land, exactly what time the flight leaves, etc. But the above is my general philosophy, I suppose.
I'm curious to hear how you guys feel.
If flying a top first class product, what do you think is the perfect flight length? What factors into that decision?