As I mentioned previously, over the coming days and weeks you'll see the occasional post from a fellow reader who has applied to write for OMAAT on an ongoing basis. It's possible that posts will still be in the publication queue after we've announced our decision, so we'll be publishing these anonymously. We hope you enjoy the different perspectives!
---
I'm a points geek. There are few things that make me prouder than finally ticketing an exciting and complex award itinerary.
After the initial excitement wears off, the next thing I always do is calculate the redemption value. Anything above 5 cents per mile would be reason for a celebratory dinner and maybe even a glass of Krug (a la Lucky). But recently, I've started to think beyond the cost per mile metric.
The basics of valuing your award redemption:
I've never been good at math (exactly why I watch the planes and don't engineer them). And that's why I've always been so attracted to this simple cost per mile (CPM) formula that Travis discussed in detail here:

Cost per mile (CPM) equation
This formula lets you easily compare different redemption values. The higher the CPM, the more valuable your award redemption. Unfortunately, however, there's always more to the story than a simple division problem.
As I got more involved in this hobby, I spent more and more time engineering awards that maximized my cost per mile. But as I'll explain below, between point transfer times, phone hold times, and the miles I would've earned by flying on a revenue ticket, I was actually incurring a lot of hidden costs that weren't reflected in this simple formula.
In other words, my opportunity cost was sky-high. 😉
The missing factor: opportunity cost
Conceptually, opportunity cost is the idea that the time/money that you spend doing one thing is time/money that you could have spent doing something else.

Opportunity cost: visualized
Imagine it's Thanksgiving evening and you're planning a trip to Frankfurt for the following week. What do you do when a Lufthansa first class award seat becomes available for the flight you want? Do you skip the football, pumpkin pie, and family time to spend the next hour on the phone trying to switch onto the new flight?
If you make the call, the opportunity cost is all the family time you'd miss (which, in some *rare* cases, may actually be a good thing). Often, when booking award tickets, I encounter a similarly subtle opportunity cost tradeoff.
Opportunity cost applied to award tickets
Whereas booking paid tickets often involves a simple trip to Google Flights, award redemptions are a whole different story and often entail a larger opportunity cost. For example, my dad is planning on surprising my mom for their 23rd wedding anniversary with a special trip to Israel, and he'd like to use miles.
But my dad is – to be generous – not technologically inclined, so he asked me to help with his booking.

The seats I needed to book
My dad wants to fly to Tel Aviv in business class in October 2018. I found 2 seats available in business class on Austrian, routing from Miami to Vienna onto Tel Aviv.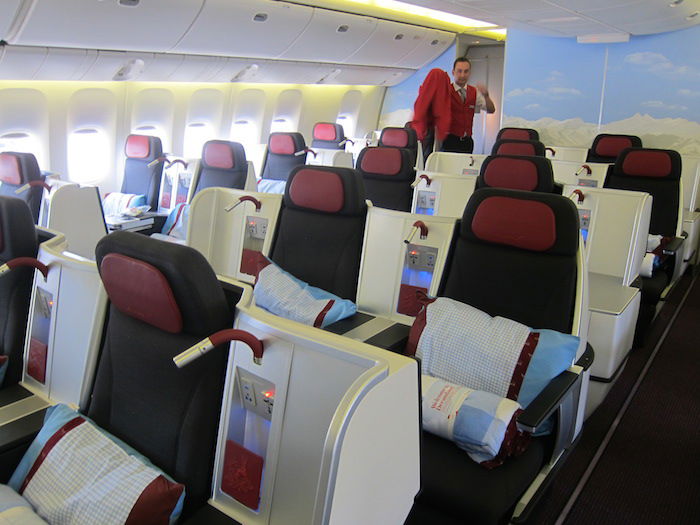 Austrian business class
"Great!" I thought, "A straightforward award – I'm almost done."
With a stash of Membership Rewards on hand, I knew that my best options for maximizing the cost per mile metric were:
69,000 Singapore KrisFlyer miles
82,500 Air Canada Aeroplan miles
So, you're thinking: who in their right mind would redeem more miles with Aeroplan for the exact same ticket?!
What the concept of opportunity cost taught me, though, is that it may make sense to book the ticket with Aeroplan, even though it costs more miles and the CPM would thus be lower.
Opportunity cost: points transfer time
| | | |
| --- | --- | --- |
| Membership Rewards Transfer Partner | Transfer Ratio | Transfer Time |
| Air Canada Aeroplan | 1000 : 1000 | Instant |
| Singapore Airlines KrisFlyer | 1000 : 1000 | ~ 12 – 24 hours |
I began thinking about the Membership Rewards transfer times to Aeroplan vs. KrisFlyer. Points transfer to Aeroplan instantly, whereas they take 12-24 hours to transfer to KrisFlyer. Since there were only 2 award seats left in business class, I knew that I didn't have time to waste – if I didn't book the seats, someone else might grab them.
So, I decided that the opportunity cost of the time waiting for the points to transfer was too high, because if I lost the seats, I would've needed to repeat the whole search process again.
Opportunity cost: phone hold times
Although it's now possible to redeem KrisFlyer miles online for Star Alliance flights, I kept receiving errors on the website when trying to select the flight.
So, in my example, not only would Membership Rewards take about a day to transfer to KrisFlyer, but also the flights I wanted had to be booked over the phone with KrisFlyer compared to immediate booking online with Aeroplan.

Internet vs. phone booking dilemma
Aside from the time I'd need to spend on the phone calling KrisFlyer to get the Austrian tickets booked, what about the possibility of a date mistake, a name spelling error, a long hold time, or an unhelpful phone agent that requires the dreaded HUCA? This could all be avoided if booked with Aeroplan online.
Opportunity cost: forgone miles
Finally, what about the miles that my parents would have earned if they paid for their flights to Israel? I often go straight to searching for awards, but sometimes when considering elite bonuses and other one-off promotions, the opportunity cost of redeeming miles is actually higher than the benefit of redeeming miles.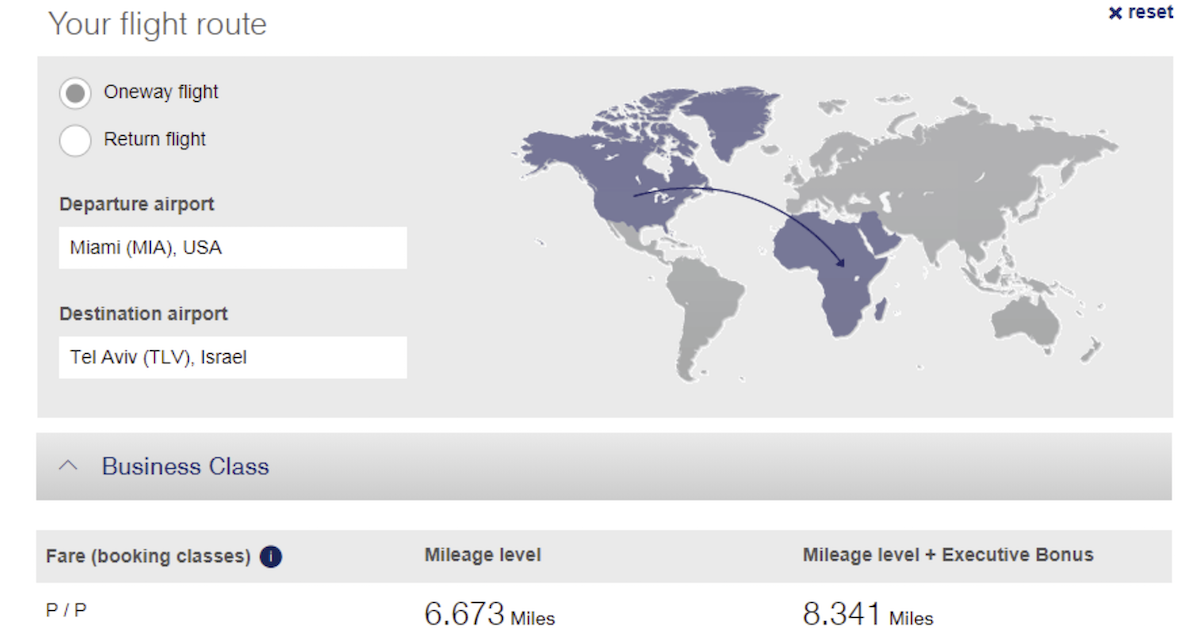 Forgone miles
Fortunately, my parents don't have any status (does that make me a bad son?), so I didn't need to consider this in my calculation.
So, what did I do?
Call me blasphemous, but in the end, I booked the ticket through Aeroplan and paid 13,500 more miles per person (how my math has improved!). At face value, I accepted a lower CPM by booking through Aeroplan.

When it's all done!
However, I challenge you to think beyond the CPM and include a consideration for opportunity cost in your own calculations of redemption value.
When was the last time you searched for award space with ANA even though it takes longer than the other Star Alliance websites that often display phantom award space? Or played with the LifeMiles website for hours to get your flight to appear for lower miles and then found out it became unavailable during the endless hours of searching around?
This example was a simple award booking; can you imagine what happens to the opportunity cost when the itinerary gets more complex?
Ways to minimize opportunity cost
Fortunately, there are a number of tools that I recommend to minimize the time you spend searching for awards, making you more productive and reducing the opportunity cost of your time.
ExpertFlyer

The ability to set award availability and seat alerts saves you from refreshing websites every day, thereby greatly reducing your time spent searching for awards and minimizing your opportunity cost.

Wikipedia Airline Destination Pages

I find these pages really helpful when searching for an award with an obscure airline.
Say you want to fly Royal Air Maroc to Casablanca. In order to figure out where Royal Air Maroc flies to in North America, look here and sort by country. This way, you can be more pointed (pun intended) in your award search for flights with Royal Air Maroc
Bottom line
Creating an absolute value for award redemptions is hard. The cost per mile (CPM) calculation is an easy way to simplify things, but doesn't factor in the opportunity cost of the award redemption. The goal of this post was to get you thinking outside the box of cost per mile (CPM), and try to consider the opportunity cost when comparing different redemptions.
My challenge to you and please sound off in the comments: how do/will you include opportunity cost in calculating the value of your future award redemptions?
Thank you for sticking with me throughout this post. I look forward to hopefully writing many more for OMAAT!
---
As a reminder, this post was guest-written by a fellow reader. Feedback is appreciated, but please keep the comments kind and constructive.