Miles Aren't Free: How To Value Your Redemptions
Miles Aren't Free: How To Value What You Earn
Miles Aren't Free: Establishing An Overall Value
---
One of the first things I discuss with people who are just starting out is to encourage them to think of their miles as currency — you generally paid something to get them either in time or money, and you will get something of value when you redeem them.
In other words, you might have Delta SkyMiles, American AAdvantage miles, or United MileagePlus miles in your frequent flyer account just like you might have Dollars, Euros, Pounds, or Yen in your wallet. All of them have some value, and they all have different values relative to each other. Determining those values, however, is tricky.
The reason you want to start treating your miles like currency is so that you can make smart decisions about when and how to acquire miles and when to redeem them.
Simply put, you should want to get "good" value when you spend your miles the same as you want to get "good" value when you spend your cash. Because in some ways, the two are fungible in the sense that pretty much everything that can be bought with miles can also be bought with cash. (The converse is not true.)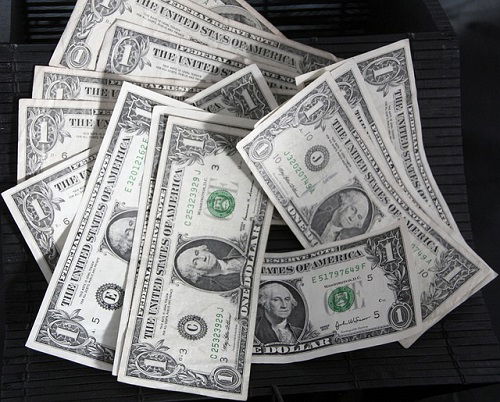 I'm not going to tell you how you should value your miles, and honestly, nobody else can tell you that either. (Though you can see how Ben values his miles here.) What I am going to do is describe a framework that you can use to think about your intrinsic mileage valuations. By examining how you earn and spend miles, we can hopefully establish some bounds around where your real valuation lies.
In this Part 1 of the three part series, I'll show how to calculate the redemption value of a couple of awards and then analyze what this behavior says about how you value your miles.
Then in Part 2 I'll apply similar analysis of your behavior to the mileage earning side of the question. This is even more important these days since a majority of miles are now acquired from means other than flying.
Finally in Part 3, I'll tie the redemption side and the acquisition side together to establish lower and upper limits on our own personal mileage valuation. And then maybe I'll talk a little bit about what behavioral finance says in terms of why we sometimes make irrational decisions with our miles.
The Mythical CPM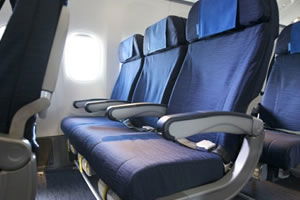 If you've ever been solicited to sign up for your airline's co-branded credit card while hurrying to catch your flight, you know that the most popular redemption on the planet is the domestic economy award. These credit card hawkers often don't even bother to advertise how many miles they're offering, instead choosing to frame it as "enough for one (or two) economy tickets."
Why? Because that's how most people redeem their miles. So how does the redemption value look in this case?
Say you want to fly from Los Angeles to Dallas round trip. American will sell you an economy ticket for $500 or you can spend 25,000 miles.
If you book the ticket using miles, you would get 2 cents of value from them because they replaced $500 worth of cash. All you need to do is divide the cost of the ticket ($500), by the number of miles you need to redeem (25,000) and you'll end up with a number in $ / mile, which is then commonly converted to cents per mile, or CPM.
In general, a higher redemption value is better than a lower one, because that means you were able to replace a lot of cash with each mile.

The CPM then is a figure of merit for just about every redemption imaginable. You can use it to calculate how much cash your award replaced on anything you redeem your miles for, be it travel or toasters. In fact, if you show up at a miles-and-points conference, you'll hear the term CPM thrown around a lot. Guys will brag about how big of a CPM they got on their last redemption like it's the fish they didn't actually catch last weekend.
Now let's think about a business class award. Let's imagine you want to fly business class from Chicago to Tokyo. American is willing to sell you that ticket for $4,000, or you can book it on miles for 100,000 miles. Using the equation we just learned, we can calculate the redemption value at 4 cents per mile.
All you need to know right now is that 4 is greater than 2. I'm not saying that one of those awards is better than the other for you, but it is a fact that the business class award is able to offset more cash than the economy award for each of the miles spent.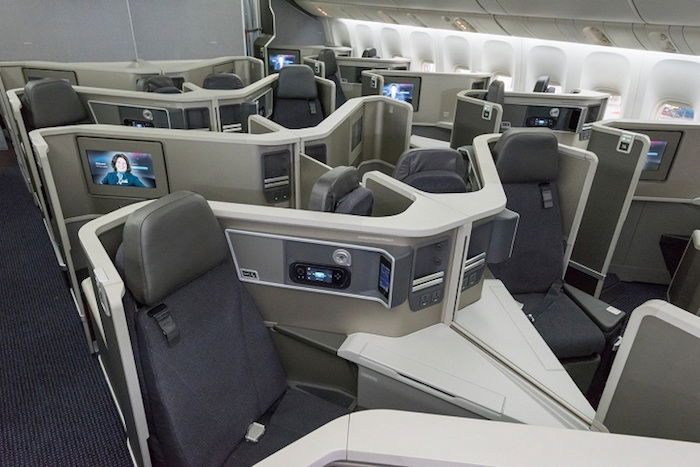 The figure below allows you to visualize the CPM of the economy and business class awards that you hypothetically have redeemed in the paragraphs above.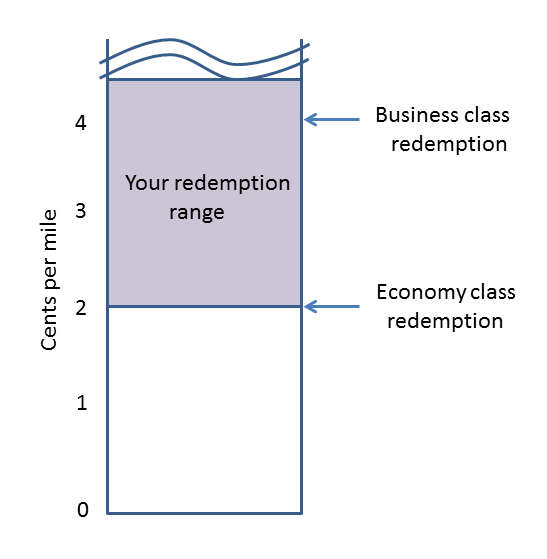 The range of redemption values is obviously huge so there's no real upper end to the redemption graph. On the top end, I've personally redeemed around 16 CPM range for a business class award that had multiple stops. (That's my fish story. It gets a little bigger every time I tell it.) On the low end, you can certainly redeem miles for far less than 1 cent, like if you choose that toaster, for example.
So you redeemed for a business class award at 4 CPM, but you also made an economy booking at 2 CPM. Clearly you're willing to take 2 cents for each of your miles — the fact that you got 4 cents once is just a bonus.
But this just tells us what you're willing to accept from someone (the airline in this case) who wants to buy your miles from you. You accepted 2 cents, but you might have accepted less.
Would you really buy that ticket?
At this point, some of you are no doubt saying to yourself, I would never redeem for a domestic economy award, so I'm going to say that I value my miles at 4 cents each.
The problem is that you might have behaved differently if you didn't have the miles and were forced to pay cash for that business class seat. Would you really have paid $4,000 for it? If so, you can stop reading here, knowing that you do indeed value your miles at 4 cents.
For the rest of us, we might end up paying for economy instead. Or heck, some of us might not even take the trip. That means that we don't actually value our miles at 4 cents because when push comes to shove and we're asked to pony up the price in cash, we chicken out and cry Uncle.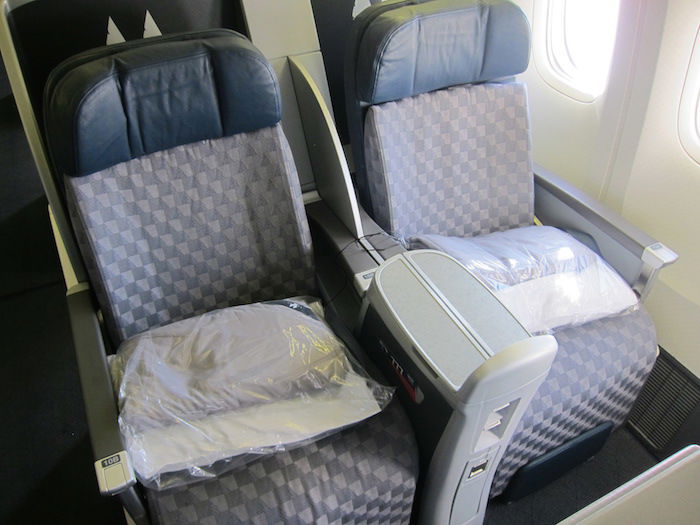 If that's the case, then all we know is that you're willing to accept a 4 CPM redemption of your miles. You can't value them at more than that or else you wouldn't have booked the award, but you may in fact well value them quite a bit lower.
The bottom line is that unless you are ready, willing, and able to book exactly the same trip using cash, redemption value only establishes an upper bound on your value of a mile.
For the math and economics nerds…
The CPM equation I have shown is only valid to first-order. That means that it is close to the right answer, but there are refinements that could be made.
The main second order effect that we are omitting here is the "opportunity cost" associated with award tickets since they don't earn miles, but paying cash for the ticket would. Therefore we should really be subtracting out the value of the miles that we didn't earn from the replacement cost of the award ticket. As an example, you can think of the business class ticket from Chicago to Tokyo as providing transportation and some miles at a cost of $4,000. Well, if you redeem miles for that trip, you get the exact same transportation, just not the miles. Therefore, you're not getting the full $4,000 in value.
This is easier said than done, however, since the logic involved is a little circular in that you can't put a value on the "lost miles" until you know the value of the miles. But that's precisely what we're trying to figure out in the first place. It's a chicken-and-egg dilemma, if you will. So I suggest that we omit the opportunity cost for now, but instead agree to remember that the redemption value we calculate is a little higher than it otherwise should be.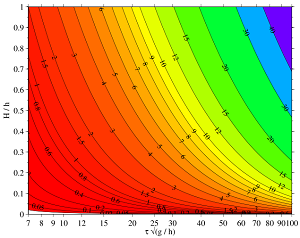 Bottom line
I like to start valuing miles based on redemptions, as that's what we're all ultimately interested in. Once you know the upper bounds on your personal valuation of a mile, you can better determine if you're using your miles well, or even getting a good deal.
Next up, we will apply similar logic to acquiring miles.
How do you approach evaluating your miles? Or do you?