Ben has written extensively about the solutions Norwegian has come up with this year to cover their reduced Boeing 787 Dreamliner fleet, while several aircraft are removed from service due to the faster than anticipated replacement of their Rolls Royce engines.
In particular, Ben has written about how:
Norwegian has this week announced further leased aircraft to operate certain New York area routes for the next few months.
Leasing companies do not usually make a huge amount of information about their products publicly available, as their airline customers would be communicating with them directly when determining if a particular aircraft is suitable to lease.
While I'm very familiar with the interior of the ex-Singapore Airlines A380, I wasn't familiar with what the interiors of some of these aircraft look like, so here's what I've been able to find, and what you might expect if you are booked on one of these flights.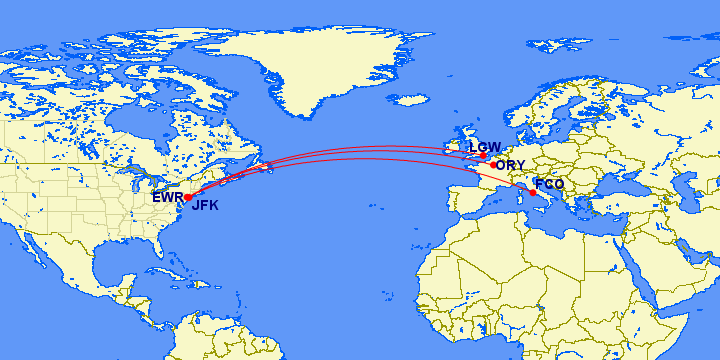 London Gatwick to New York JFK
Norwegian will operate two daily flights on this route for the next few months, despite still advertising in London tube stations that they offer a triple daily service (I expect this is only during the summer peak that has just finished).
The flight that was operated by the Hi-Fly A380 earlier this month (DI7015/DI7016), is now once again being operated by a Norwegian 787 Dreamliner. Instead, Norwegian will use a leased Wamos A330-200 on the other following daily frequency, from September 2 until October 27, 2018:
DI7013 London Gatwick to New York JFK departing 5:50AM arriving 8:50AM
DI7014 New York JFK to London Gatwick departing 11:25AM arriving 11:35PM
This flight is currently being operated by a Norwegian Boeing 787 Dreamliner on most days, before switching to the Wamos aircraft this weekend.

The seat map for this flight shows 2-2-2 seating with three rows on each window, and four rows in the centre.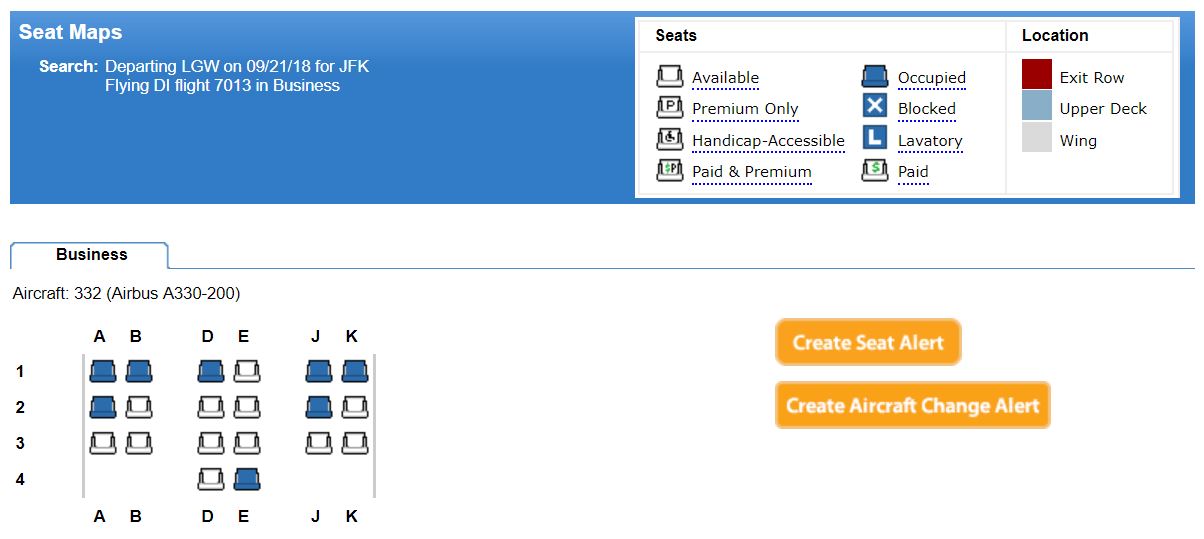 What does the Wamos A330-200 interior look like? Wamos has five A330-200s, but I believe the exact registration of the aircraft Norwegian will be using will be EC-MNY, which is an aircraft that is almost 20 years old, and has recently been leased by Wamos to Biman Bangladesh Airlines, Air Algerie and the LATAM Group.
Business Traveller Denmark has shown this aircraft has the following angled-flat seats in its business class cabin that Norwegian will use for their premium class customers, in a 2-2-2 configuration. There are 20 premium seats and 309 economy seats in a 3-3-3 layout which are likely to be narrower than the Norwegian 787 seats as the A330 cabin is narrower.
This matches up with the ExpertFlyer seat map for the flight above.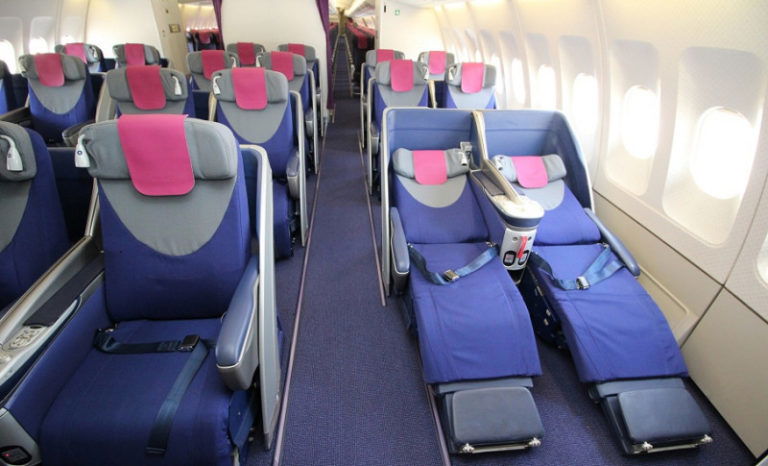 Compared with Norwegian's 2-3-2 recliner seats on their Dreamliners, this represents an upgrade for premium passengers. Economy class passengers have the same layout as the Norwegian Dreamliner that would usually operate the service.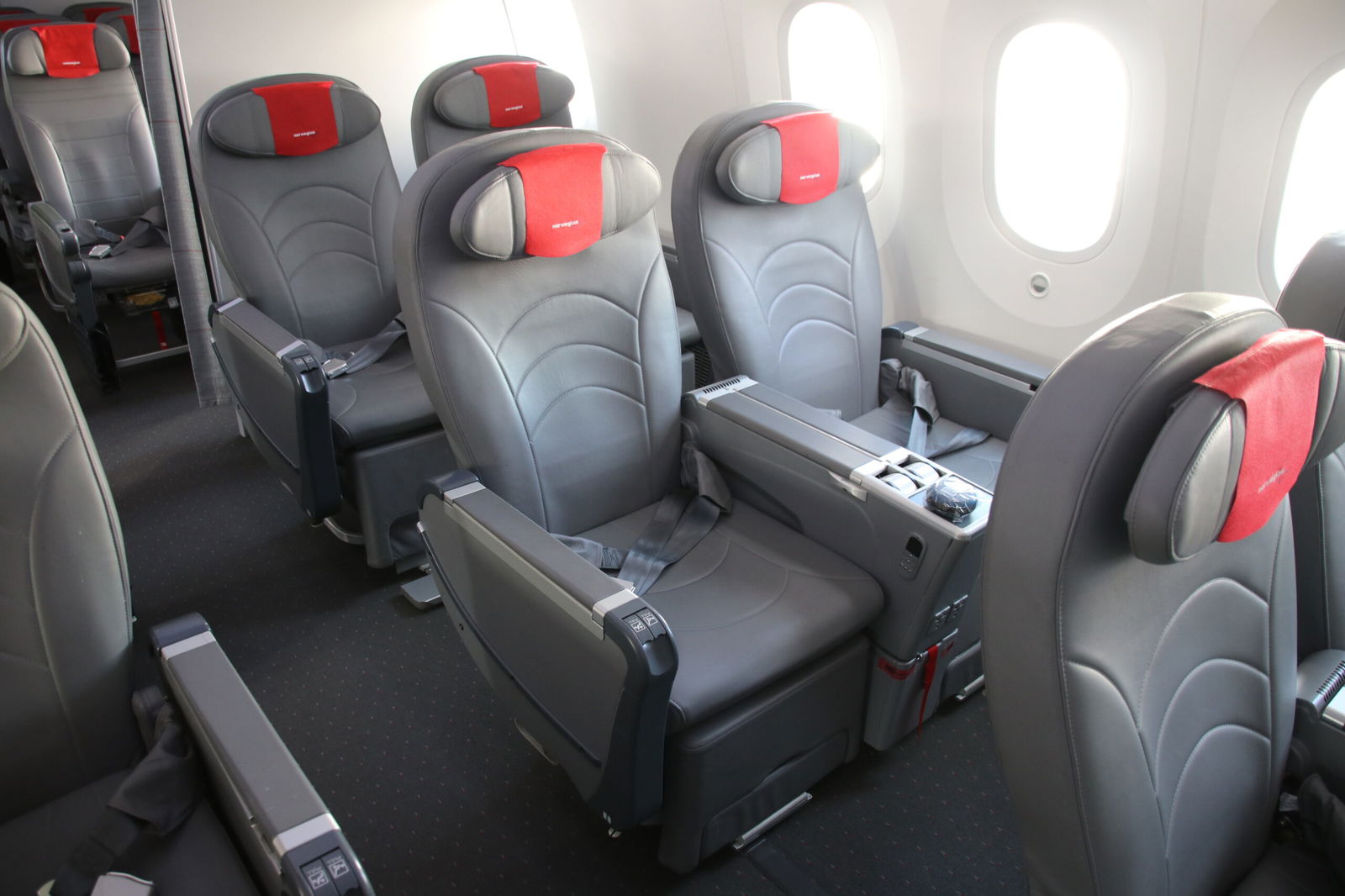 The catch is that with just 20 premium seats, it could be that quite a few passengers are downgraded.
Paris Orly to Newark
Norwegian will extend the current use of a leased Boeing 777-200ER from EuroAtlantic on its six weekly flights through October 27, 2018.
DY7191 Paris Orly to Newark departing 8:30PM arriving 10:30PM
DY7192 Newark to Paris Orly departing 12:30AM arriving 1:35PM
This flight does not operate on Wednesdays from Orly, and Thursdays from Newark.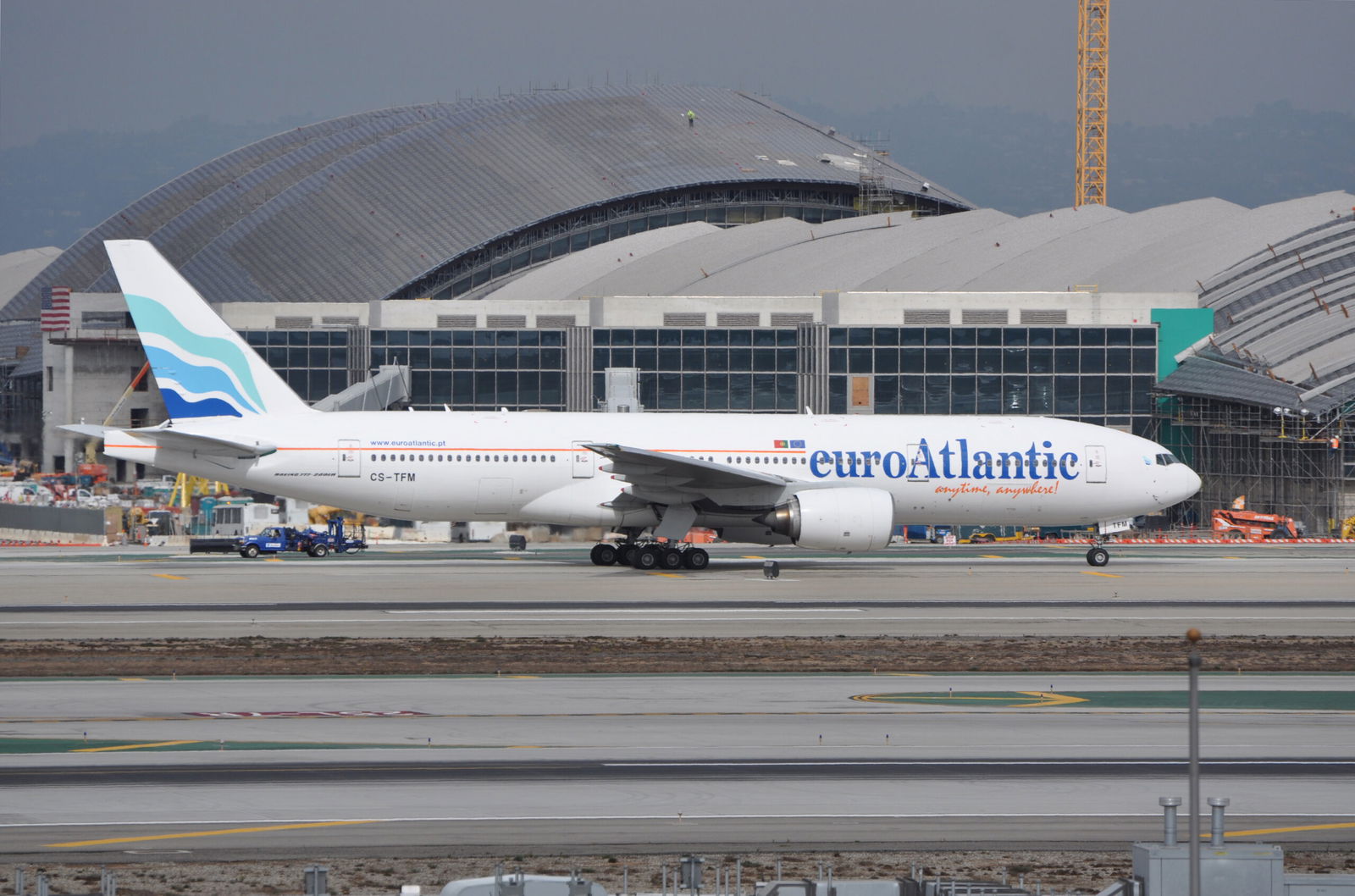 Norwegian is currently using the EuroAtlantic aircraft with registration CS-TFM, which is an ex-Singapore Airlines 777-200.
The seat map shows 2-3-2 seating in premium class.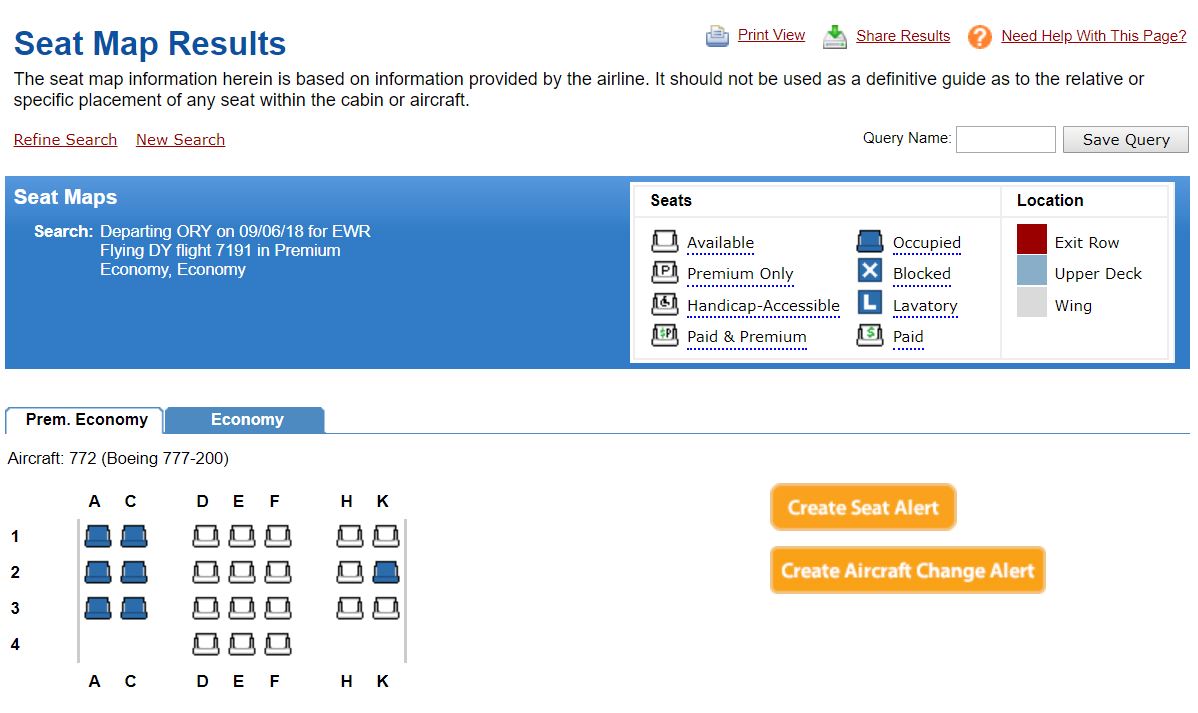 Now there are a few different images of the business class cabin of this aircraft floating around.
The Points Guy has identified these recliner seats will be used for premium passengers on this aircraft, however notes the seat map Norwegian is showing only has three rows of two seats on each window, whereas this image shows four rows of two seats.

These seats are similar in size, comfort and recline to the premium seats Norwegian offers on their Dreamliners, so won't be a substantially different passenger experience.
However DailyTrust suggests aircraft CS-TFM has the following business class seats, which are flat, also in a 2-3-2 configuration. There are only three rows on each window, which matches up with the seat map for the Norwegian flights.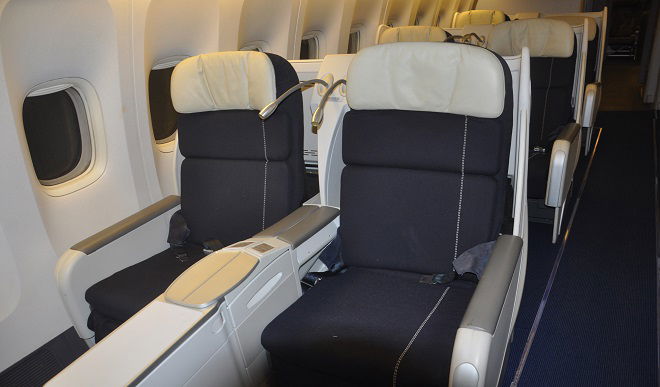 These angled-flat seats would represent an upgrade for premium passengers — if you have taken this flight operated by the EuroAtlantic aircraft and can confirm which business class seat this plane has, please let me know in the comments below.
The economy seat map shows seating in a 3-3-3 configuration, so the same layout as Norwegian's Dreamliners. Some full service airlines have 3-4-3 seating on 772s so these seats may actually be slightly wider than Norwegian's 787 seats.
The Trip Advisor reviews for this flight on this aircraft have been particularly negative.
Rome to Newark
Norwegian will continue to used a Privilege Style Boeing 777-200 on its six weekly flights (no flights on Tuesdays in either direction). This aircraft was originally scheduled to operate until September 15, but will now be extended to October 27, 2018, with the following schedule:
DY7023 Rome FCO to New York Newark departing 6:05PM arriving 9:25PM
DY7024 New York Newark to Rome FCO departing 11:30PM arriving 1:40PM
I understand the aircraft to be used for this route will have registration EC-MUA, which has previously flown for both Royal Brunei Airlines, and then Singapore Airlines before moving to Privilege Style.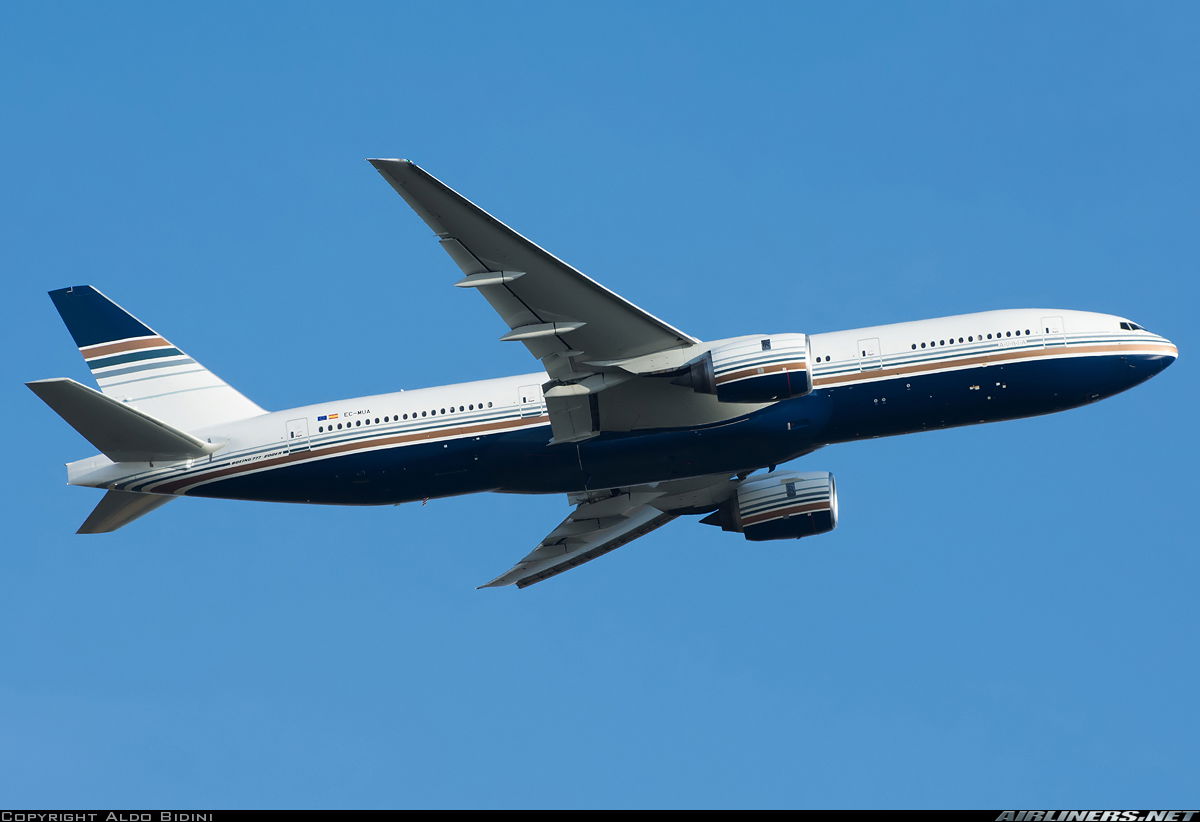 The seat map for these flights shows five rows of 2-2-2 seating in premium class.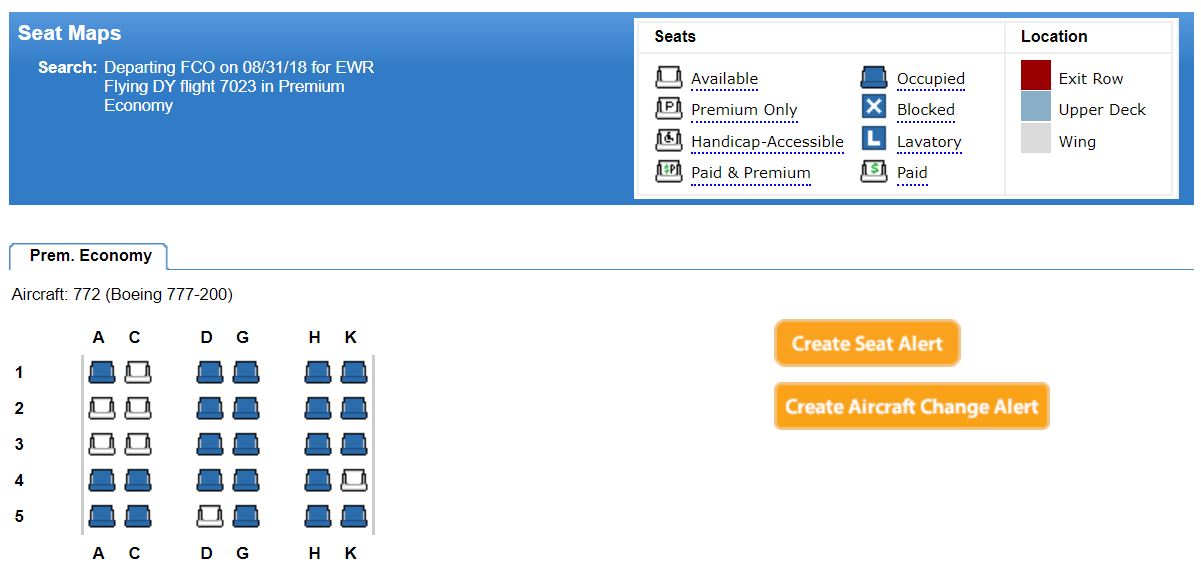 Now Privilege Air has not published any images of their business, or economy cabins for this aircraft type. This is the only 777-200 Privilege currently operates. The ExpertFlyer seat map for the flight shows 2-2-2 seating.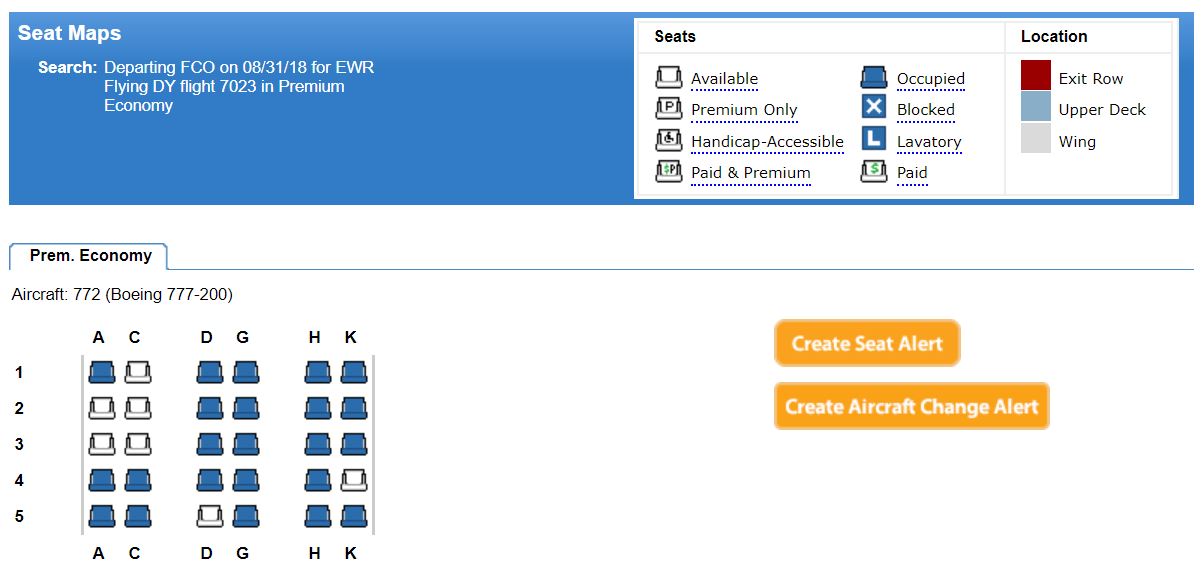 Which FlyerTalk suggests is the same seat Privilege Style has on its 767, which look like this: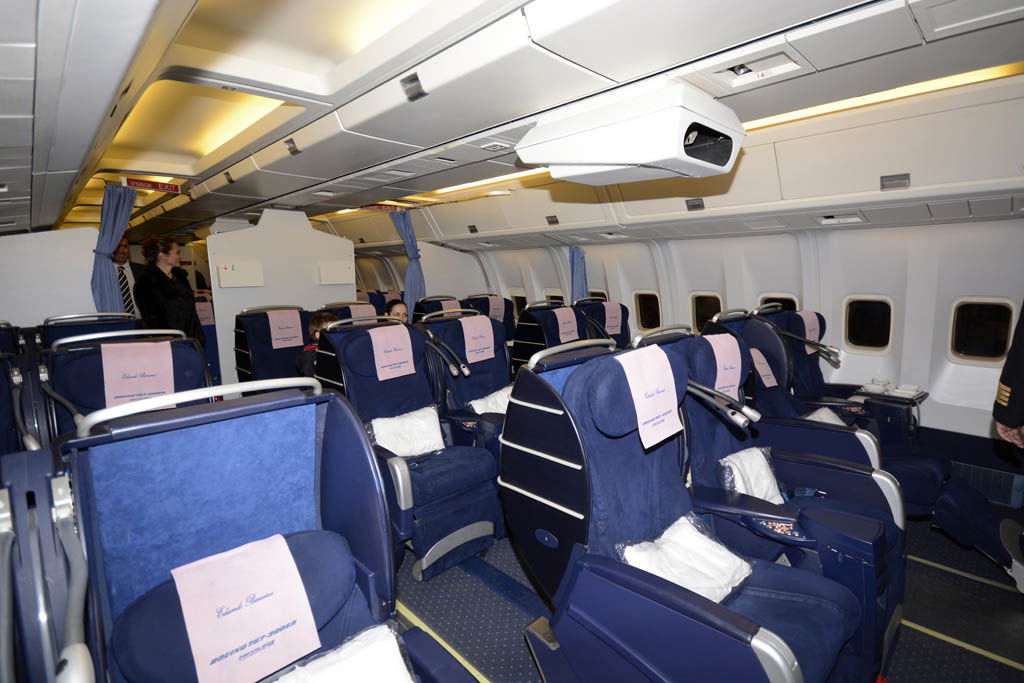 Reader Dan has helpfully already advised in the comments below that he has recently taken this flight on this aircraft and the seating is similar to the image above, although wider.
If these are the same seats as the 777-200, then premium class passengers can expect an upgrade to their experience.
Again, economy seats will be in a 3-3-3 configuration. The Trip Advisor reviews on this flight on this aircraft have actually been largely positive.
Bottom line
If you are booked onto one of these flights over the next two months, check the seat map regularly, as the exact aircraft and seat plan may change as Norwegian continues to adjust their fleet.
It's always interesting with these leased aircraft that some passengers will receive a better experience while others will no doubt be disappointed when they board. Norwegian, like Air New Zealand and Virgin Atlantic are doing what they can to continue operating these flights during the busy northern summer period.
Do remember that Norwegian is a low cost airline, so their focus on a consistent and premium passenger experience is not going to be at the same level as full service airlines.
Have you taken or are you booked onto a Norwegian flight operated by a leased aircraft?