As I first wrote about a couple of days ago, Emirates Skywards has increased its award pricing in many markets. I wanted to provide an update, as Emirates has now confirmed the devaluation, and has issued a statement regarding this.
Emirates increasing first & business class award costs
Let me start by sharing the statement that an Emirates spokesperson issued regarding this change (this was only issued after the changes started to be made, and there's still no public communication to customers about this):
"In line with current market conditions, Emirates Skywards is introducing an increase on Skywards Miles required for Upgrade Rewards and Classic Rewards booked in Business Class and First Class. The increase will be gradually introduced on reward tickets across the Emirates network between 22 December 2022 and 31 January 2023.

To reduce the impact of this change on our most loyal customers, we will be increasing the bonus Skywards Miles earning opportunities for all Platinum, Gold and Silver members travelling with Emirates.

On all Emirates flights booked from 31 January 2023 onwards, Skywards Platinum members will earn a further 100% of the Economy Flex+ Miles earned on a given route (increasing from 75%); Skywards Gold members will earn 75% of the Economy Flex+ Miles earned on a given route (increasing from 50%); and Skywards Silver Members will earn 30% of the Economy Flex+ Miles earned on a given route (increasing from 25%).

For more information on earning and spending Skywards Miles and to view the Miles calculator, please visit emirates.com/skywards."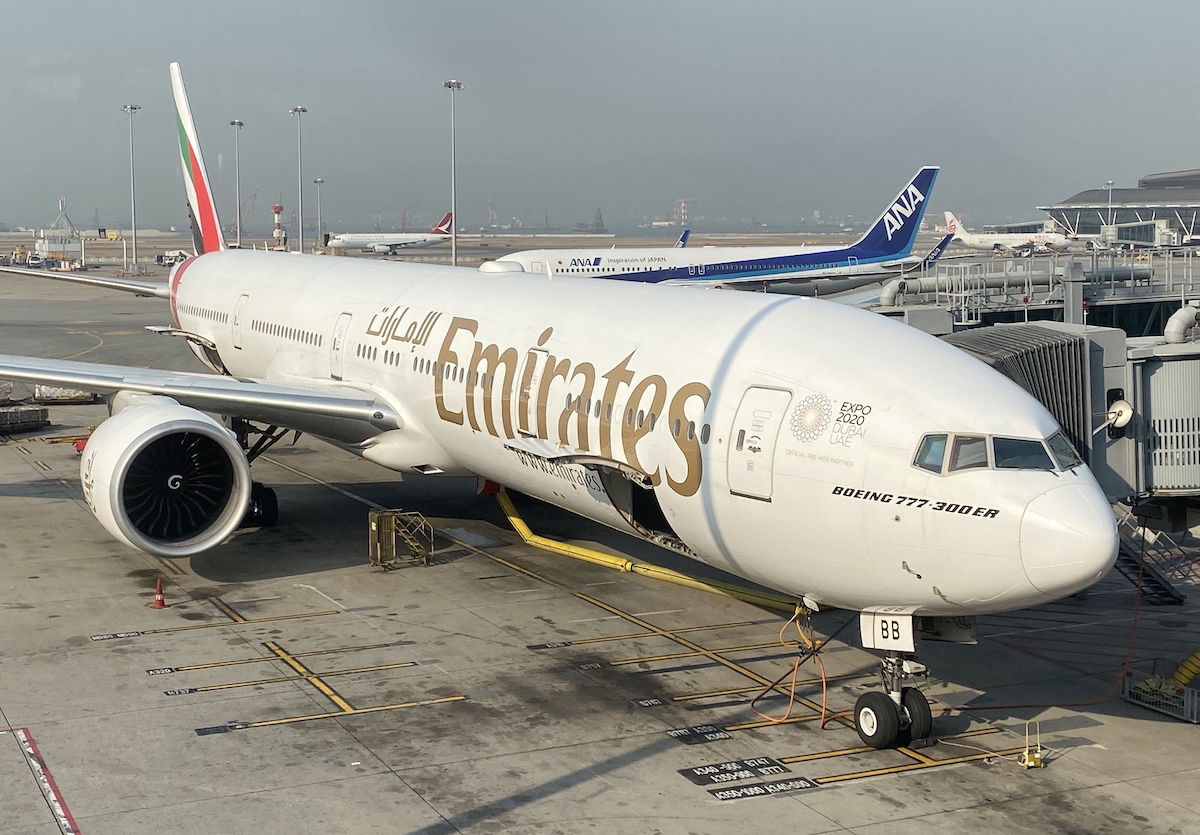 Emirates increasing premium award costs by 20%
As you can see above, Emirates is increasing award costs "in line with market conditions," but won't say how much miles are being devalued. Fortunately it's pretty easy to figure this out.
Emirates Skywards doesn't have an award chart, but rather the airline has a mileage calculator, which shows you how many miles an award is supposed to cost. While Emirates' mileage calculator hasn't been updated, award searches now return higher award costs than before.
It would appear that Emirates intends to increase first & business class award costs by 20%. Below I'll show the pricing that is displayed in the mileage calculator (the old pricing), as well as the pricing displayed when doing an award search (the new pricing).
For example, Washington to Dubai used to cost 136,250 miles one-way in first class, and now costs 163,500 miles.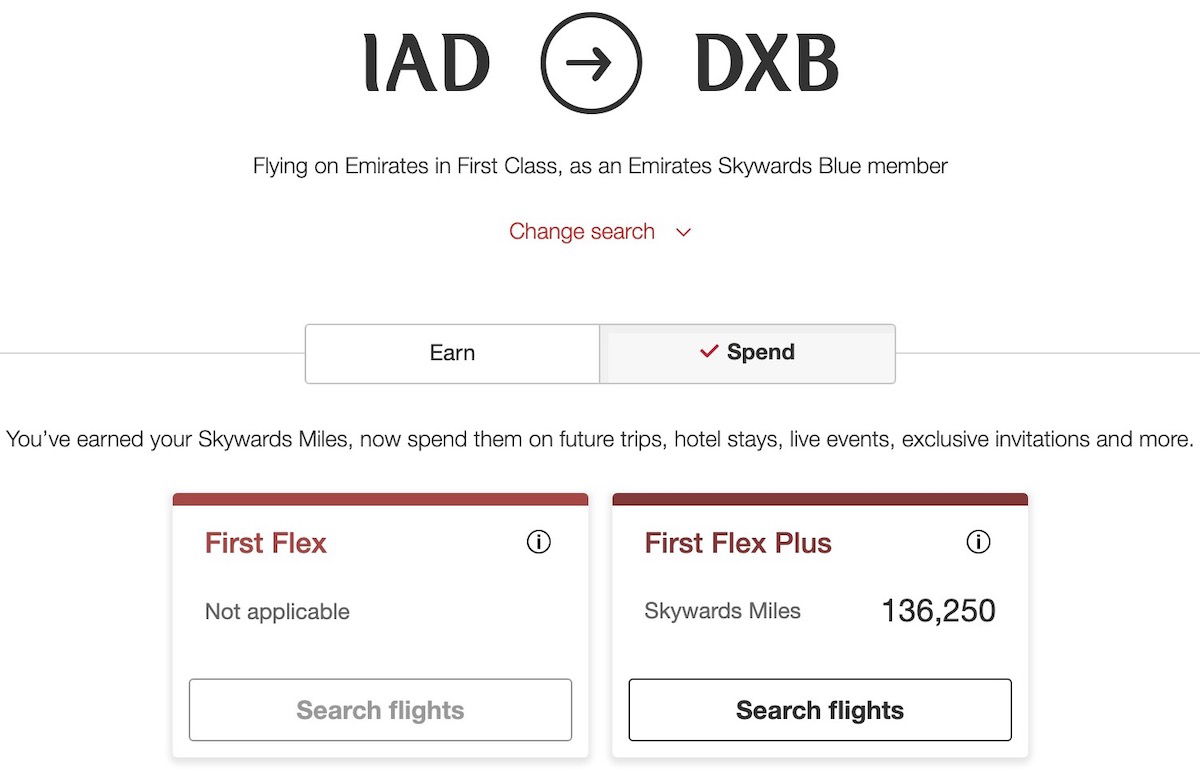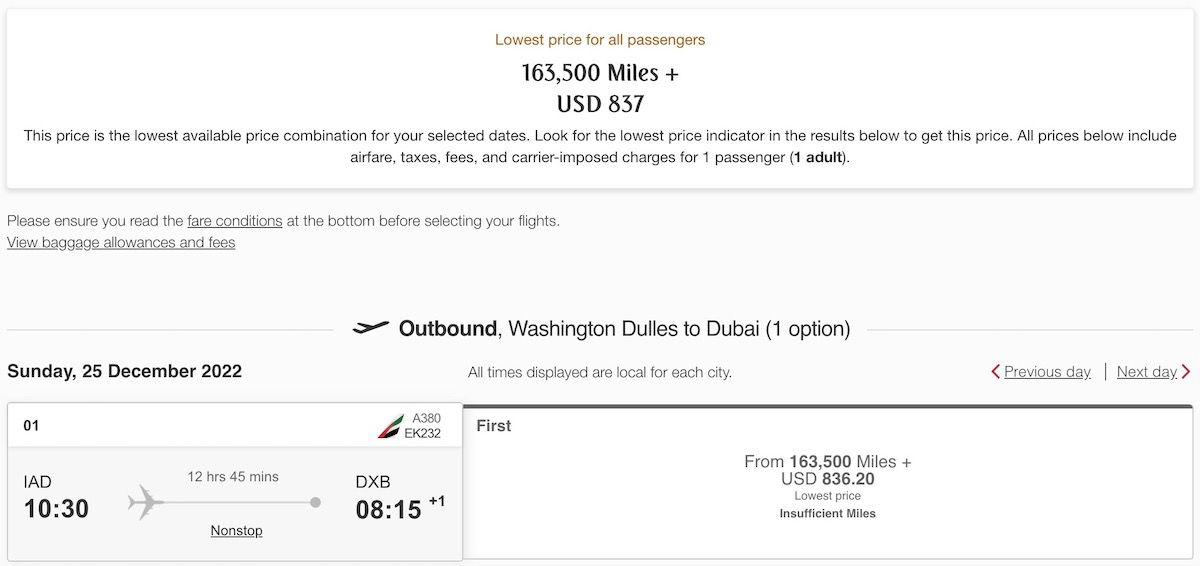 Frankfurt to Dubai used to cost 85,000 miles one-way in first class, and now costs 102,000 miles.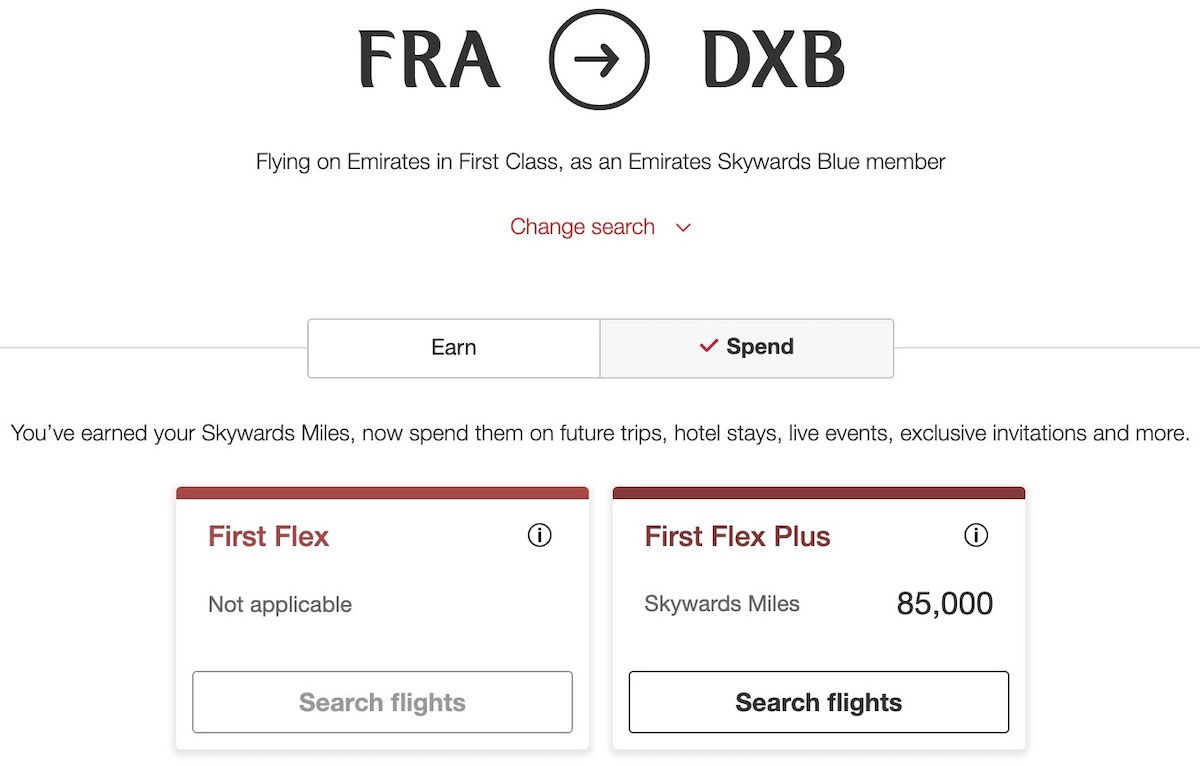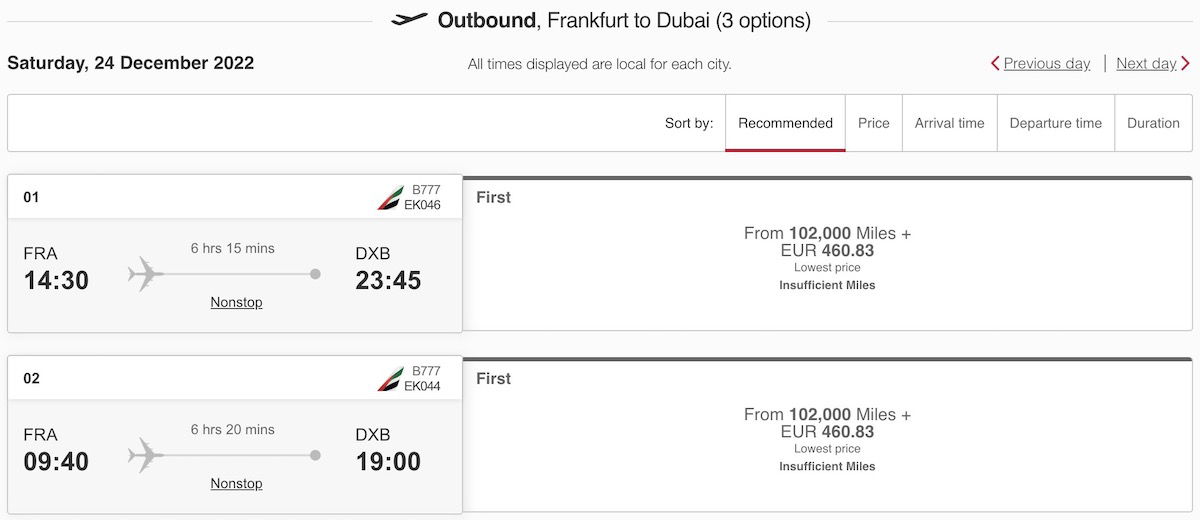 There are similar patterns in business class. Frankfurt to Dubai used to cost 72,500 miles one-way in business class, and now costs 87,000 miles.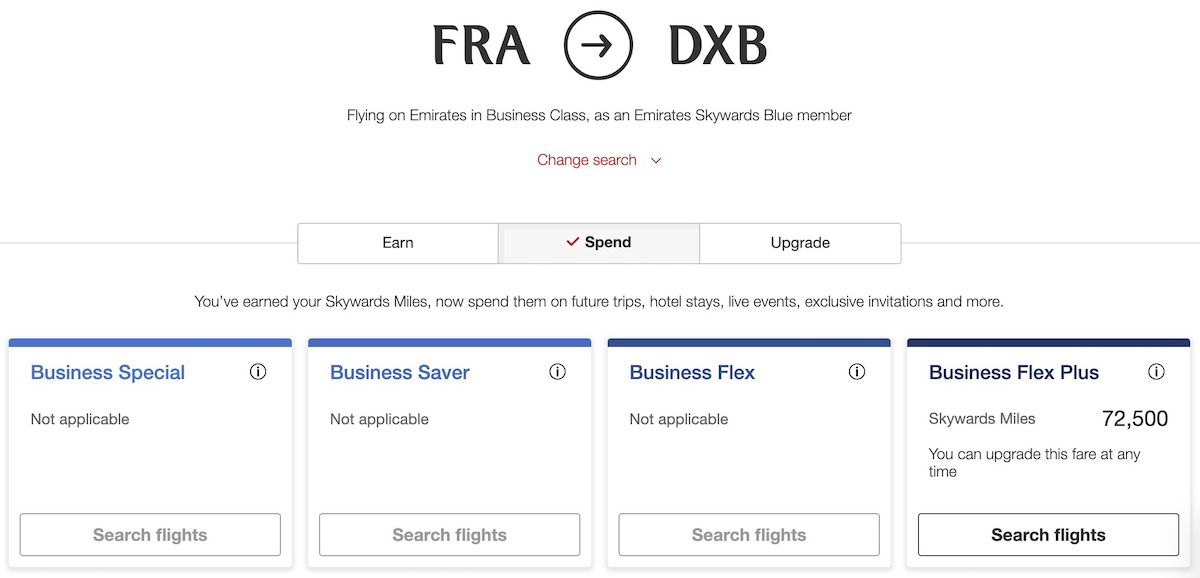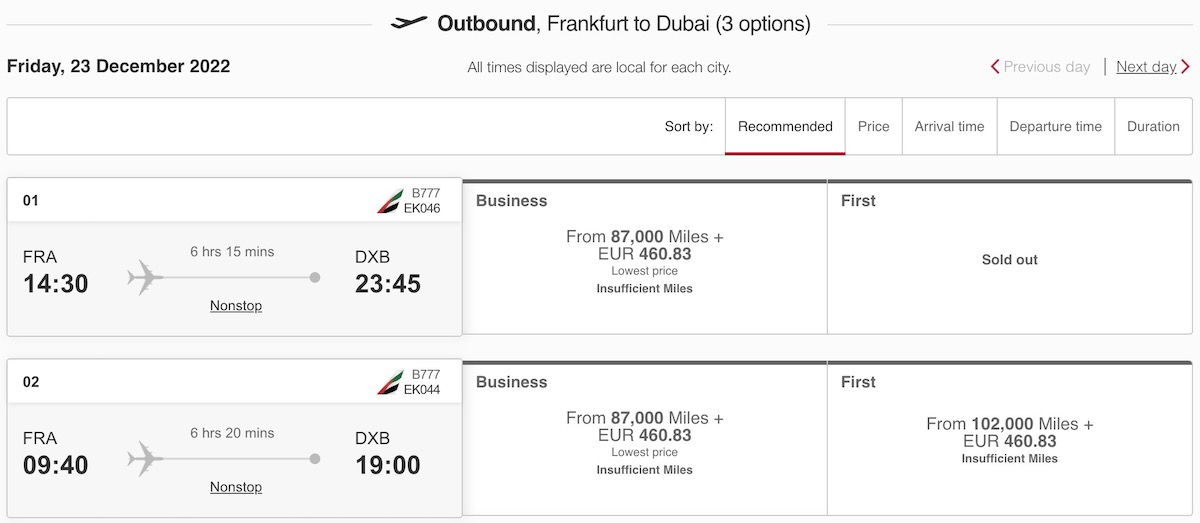 Economy award redemptions aren't impacted by these changes. It's interesting how this devaluation is being rolled out progressively.
For example, as of now Emirates' fifth freedom flights between New York and Milan and between Newark and Athens haven't changed in cost, but I imagine that's still coming. Furthermore, many connecting itineraries haven't changed in cost, so it's currently cheaper to fly from Washington to Dubai to Kuwait than it is to fly from Washington to Dubai. I imagine it's only a matter of time until that changes.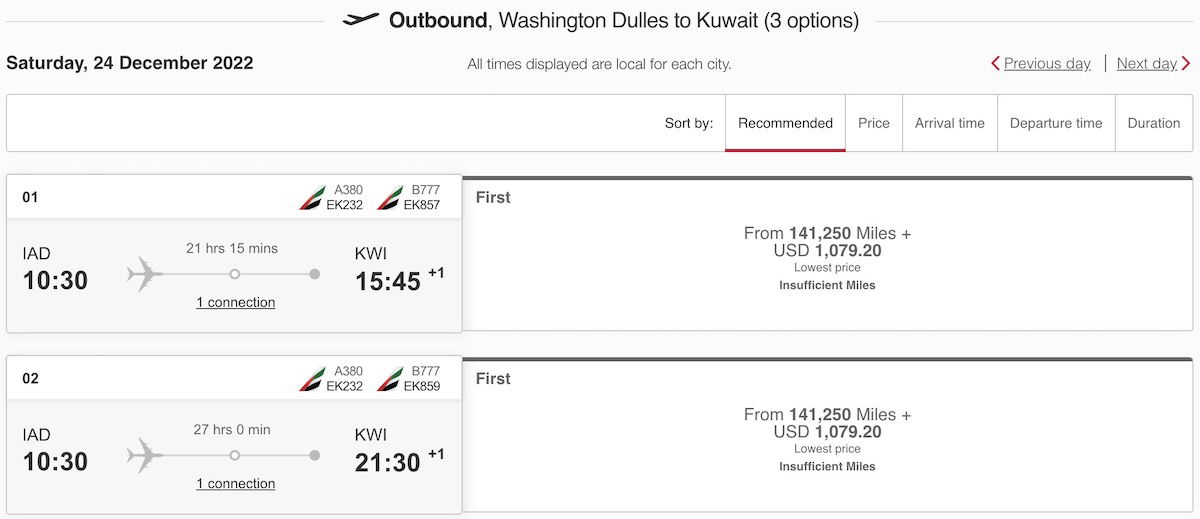 My take on this Emirates Skywards devaluation
It's of course disappointing to see this change from Emirates Skywards — a no-notice devaluation isn't exactly a great holiday gift for members. So far we've seen award costs increase by 20% in many markets, and it sounds like in the coming weeks we should expect similar increases in markets that haven't yet changed in cost.
The sad part is that Emirates had already increased business class award pricing in early 2022, so this is the second premium cabin devaluation so far this year. The issue is that it's not only that Emirates' mileage requirements are high, but on top of that you're on the hook for some hefty surcharges, which can be over $1,000 on some itineraries.
I suppose the increase in mileage earning for Skywards members is good, but it won't quite make up for the award cost increases (at least for those who like to redeem for premium cabins). For that matter, many people earn Emirates Skywards miles through transferable points currencies.
Emirates Skywards is that the program partners with all major transferable points currencies, including Amex Membership Rewards, Capital One, Chase Ultimate Rewards, and Citi ThankYou, so there are lots of ways to earn Skywards miles.
I am happy that Air Canada Aeroplan recently added Emirates as a partner. While award pricing doesn't follow Aeroplan's traditional award chart, I think in many cases this will end up being the best way to book Emirates awards, especially with the lack of surcharges and the ability to combine partners and have stopovers.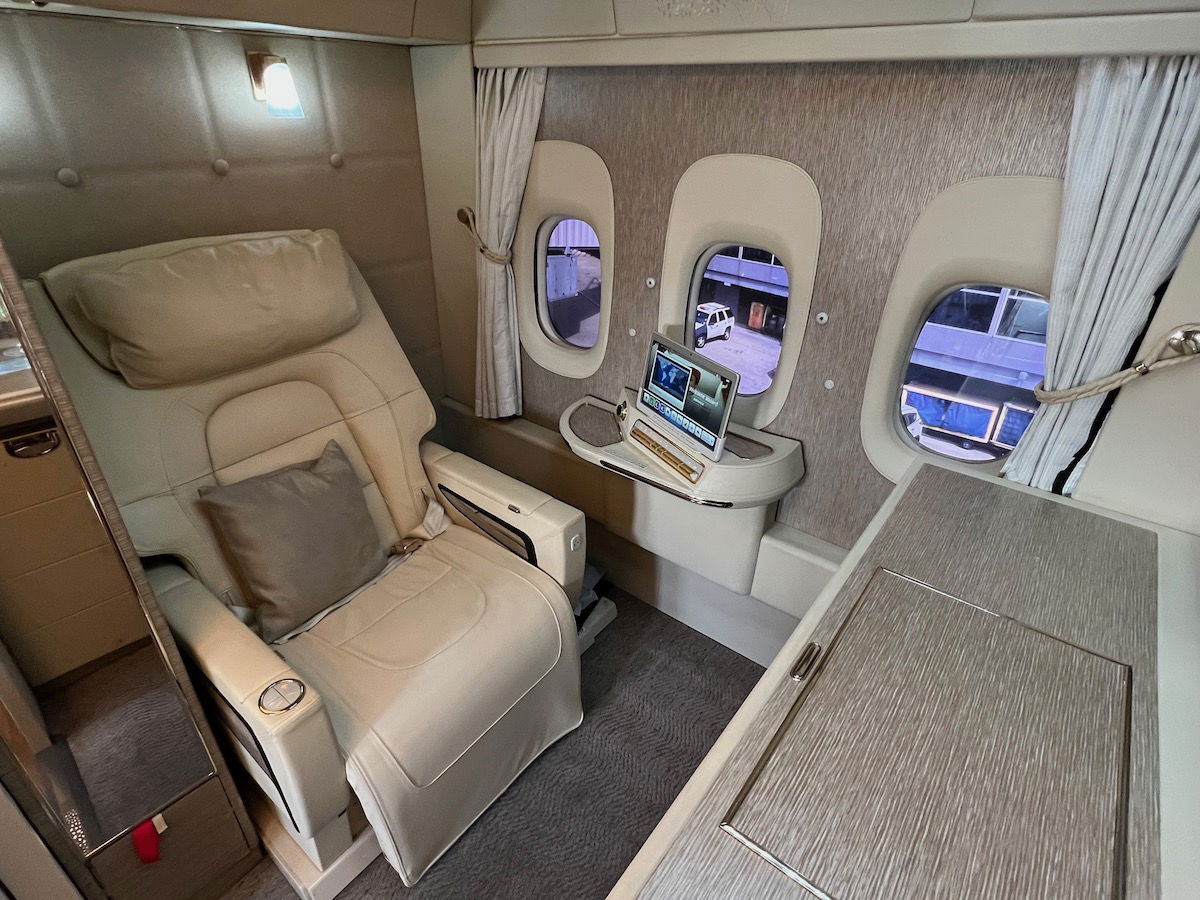 Bottom line
Emirates Skywards is in the process of devaluing all first & business class award redemptions, with a mileage increase of 20% seemingly being introduced. This is a progressive devaluation, and we should expect that all award costs will be updated in the coming weeks. This is disappointing to see, especially given the lack of proactive communication to members.
What do you make of this Emirates Skywards devaluation? What trends are you noticing with these changes?