Emirates Skywards seems to have just devalued miles without any advance notice. Business class award costs have definitely gone up, and I'm trying to piece together if there were any other price increases.
Emirates increases business class award costs
For some context, Emirates Skywards doesn't have an award chart, but rather has a mileage calculator on its website. Emirates charges different mileage amounts on many routes (even those in the same region), though award pricing on a particular route is consistent.
It would appear that as of today (February 1, 2022), Emirates Skywards has increased mileage costs in many markets. Best I can tell, this primarily impacts one-way business class redemptions, while economy class and first class redemptions remain unchanged, as do roundtrip business class redemptions. At least that's what I'm able to piece together so far.
How bad are the changes? Prices have increased somewhere around 15% for one-way business class awards. Just to give some examples of one-way business class redemption rates:
Los Angeles to Dubai used to cost 113,750 miles, and now costs 132,500 miles
Washington to Dubai used to cost 100,000 miles, and now costs 115,000 miles
Newark to Athens used to cost 62,500 miles, and now costs 72,500 miles
Dubai to Muscat used to cost 21,250 miles, and now costs 25,000 miles
The mileage calculator hasn't been updated yet to reflect the new pricing, so you can do a side-by-side comparison of the old and new pricing. For example, below you can see that for Los Angeles to Dubai the award calculator shows pricing of 113,750 miles one-way in business class.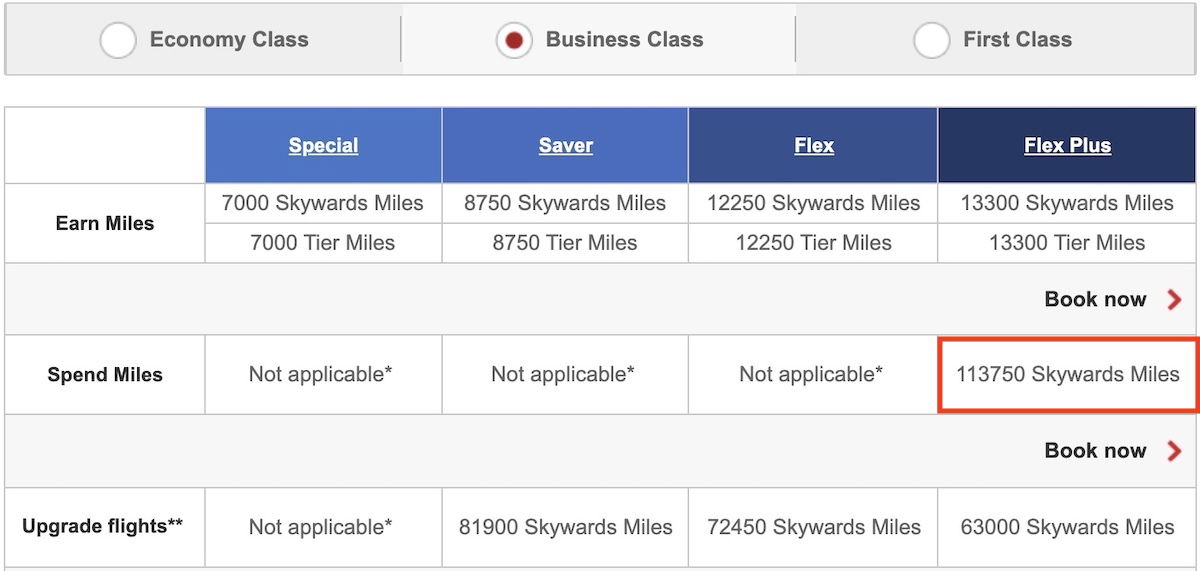 Meanwhile Emirates is now charging 132,500 miles for that ticket (which wasn't the case yesterday).

Oddly roundtrip award costs haven't changed, which sure creates quite a pricing disparity. For example, a one-way Newark to Athens business class award will cost you 72,500 miles, while a roundtrip award will cost you a total of 90,000 miles. That's very strange.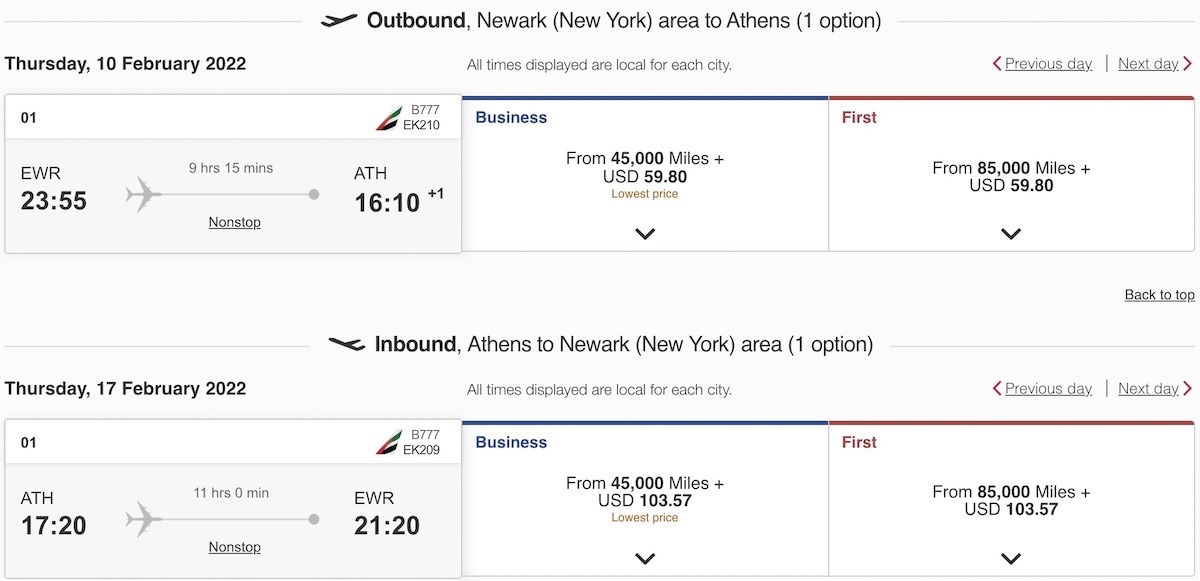 Keep in mind that Emirates Skywards' upgrade pricing is also based on the award cost (it's essentially the difference between the award cost for the cabin you booked and the cabin you want to fly), so this means that Skywards upgrade costs to business class are increasing in some cases as well (though this would mean upgrade costs from business class to first class are potentially decreasing, since the difference is now smaller).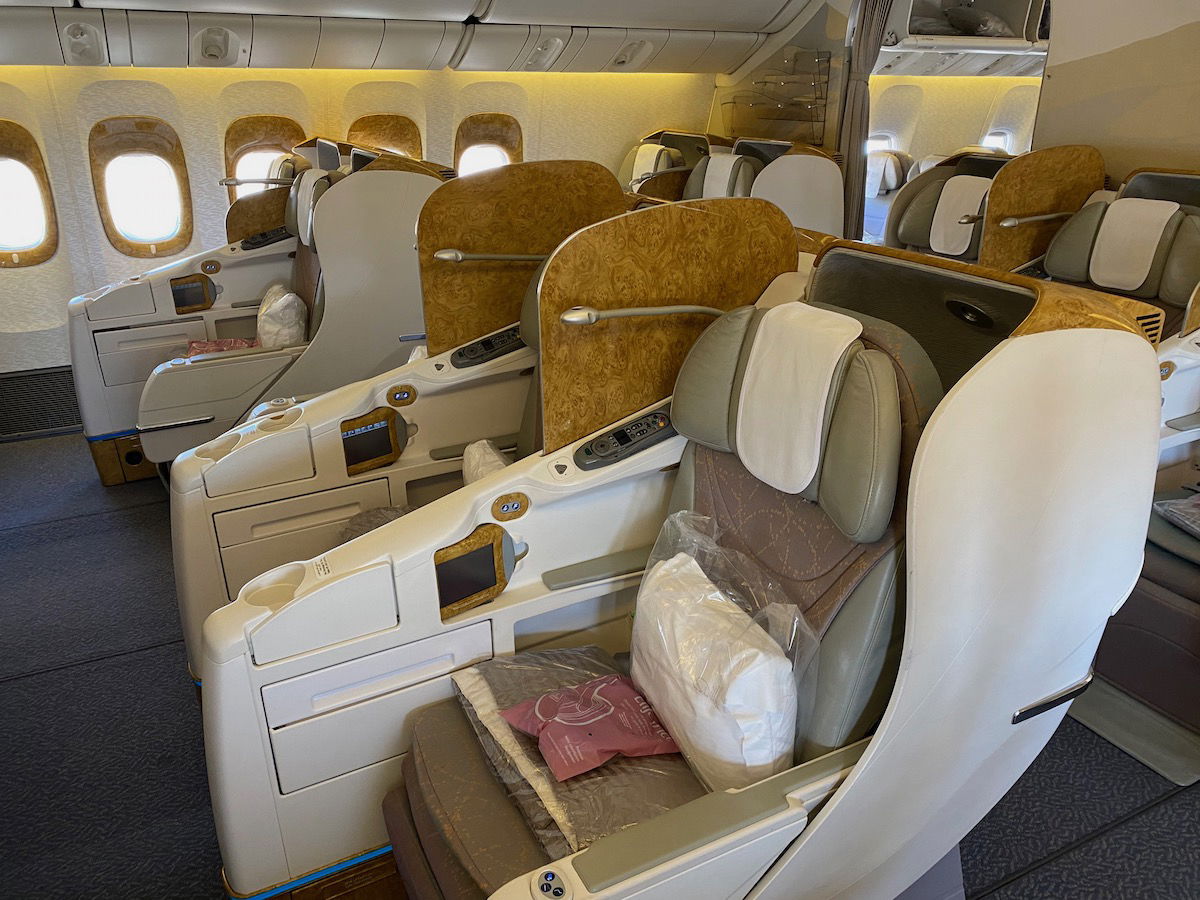 My take on Emirates Skywards' devaluation
Obviously it's always disappointing to see airline award pricing devaluations. It's also sad that Emirates chose not to provide any advance notice of this change, but unfortunately nowadays that seems to be the norm rather than the exception with frequent flyer programs.
In 2021, Emirates Skywards already devalued premium awards, as the airline eliminated discounts for roundtrip awards (compared to one-way awards). This particularly impacted first class awards. It's almost like the airline is undoing that now, by exclusively raising costs for one-way awards.
My big question at the moment is whether Emirates' devaluation is done, or if it's still in progress. It appears to me that all one-way business class awards have increased in cost, but best I can tell, there haven't been economy or first class price increases, and roundtrip business class awards haven't gotten more expensive either:
I'd be surprised if Skywards devalued awards in just one class of service
One-way awards are now significantly more expensive (per direction) than roundtrip awards, which contrasts the general industry trend
Not that I'm trying to give Skywards any ideas here, but the cost difference between business and first class awards are also minimal now (for example, from Newark to Athens it's now 72,500 miles in business class and 85,000 miles in first class)
I suppose realistically awards are much more heavily restricted in first class than business class, both in terms of the total number of seats, and the actual award availability, so that limits exposure with first class
Maybe I'm looking too much at the bright side, but at this point I'm mainly just hoping that first class award costs don't increase, and that roundtrip business class award costs don't increase. But who knows, maybe this is just a devaluation in progress.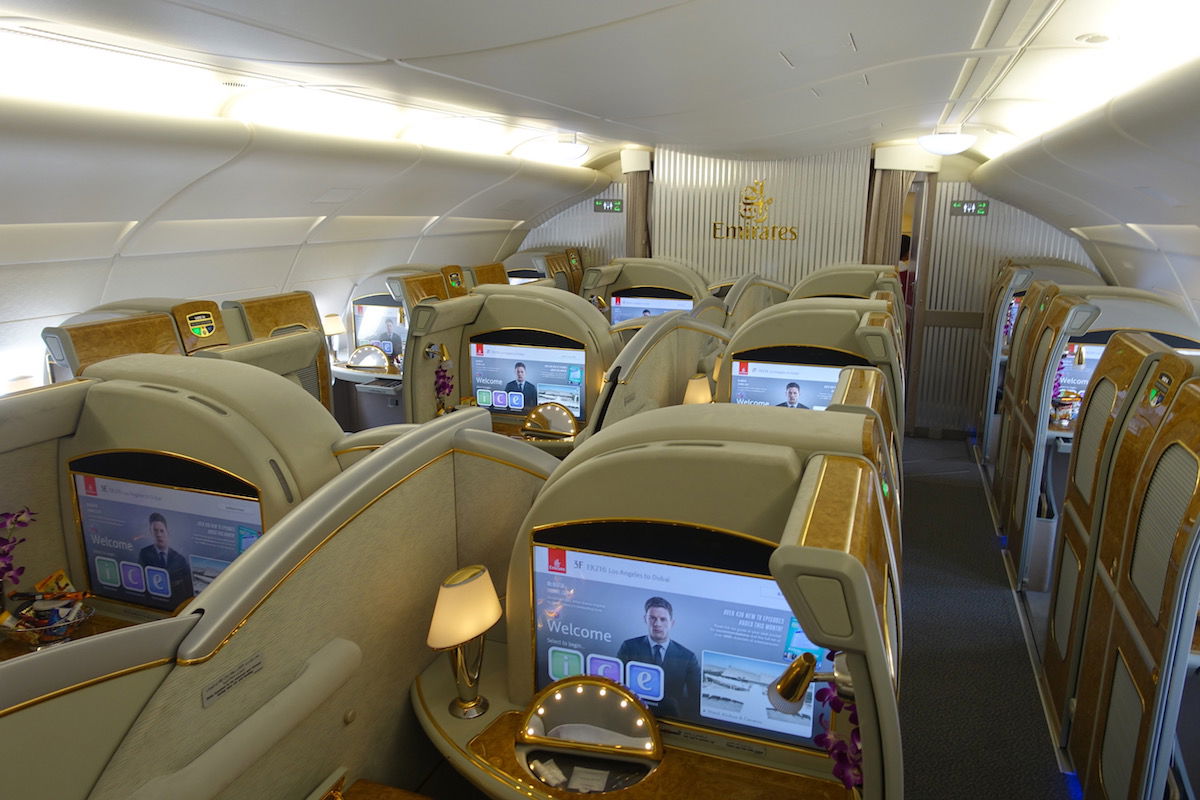 Bottom line
Emirates Skywards has devalued miles overnight, with the cost of one-way business class award tickets increasing across the board. This also impacts some upgrades, since the cost to upgrade is (in part) based on the cost of business class awards.
It's disappointing to see this change, though on the plus side economy and first class awards haven't gone up in price… at least not as far as I can tell… yet.
What do you make of this Emirates Skywards devaluation?
(Tip of the hat to Apurva)