Emirates Skywards has just increased award pricing on its popular fifth freedom flights between the United States and Europe (from New York to Milan and Newark to Athens). Fortunately there's a silver lining…
Emirates increases fifth freedom award costs
For some context, in December 2022, Emirates Skywards began devaluing its award pricing without any sort of advance notice. The execution has been awful, not only in terms of a lack of advance notice of award pricing increasing, but also in terms of the way Emirates is going about it. This is a progressive devaluation, and we were told to expect award prices to increase in different markets all the way through January 31, 2023.
Shortly after the devaluation began, Emirates updated its mileage calculator to reflect what the new award pricing should be. While price increases in many markets seemed to be 20% for premium cabins, the mileage calculator revealed an ugly detail about transatlantic flights.
These have historically been some of the best sweet spot redemptions in the Skywards program, as you could fly business class one-way for 72,500 miles, or first class one-way for 85,000 miles, all with limited fuel surcharges.
Emirates' mileage calculator revealed some absurd price increases. Even though pricing hadn't been updated, the calculator suggested (and continues to suggest) that business class would cost 142,500 miles, while first class would cost 168,750 miles, representing a massive increase.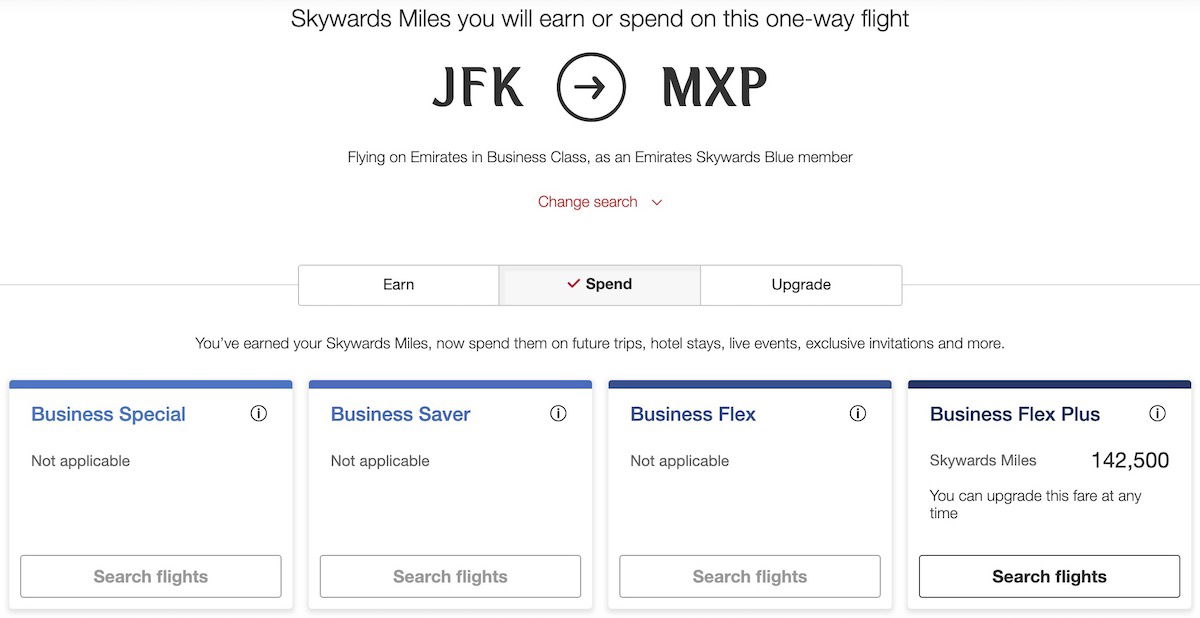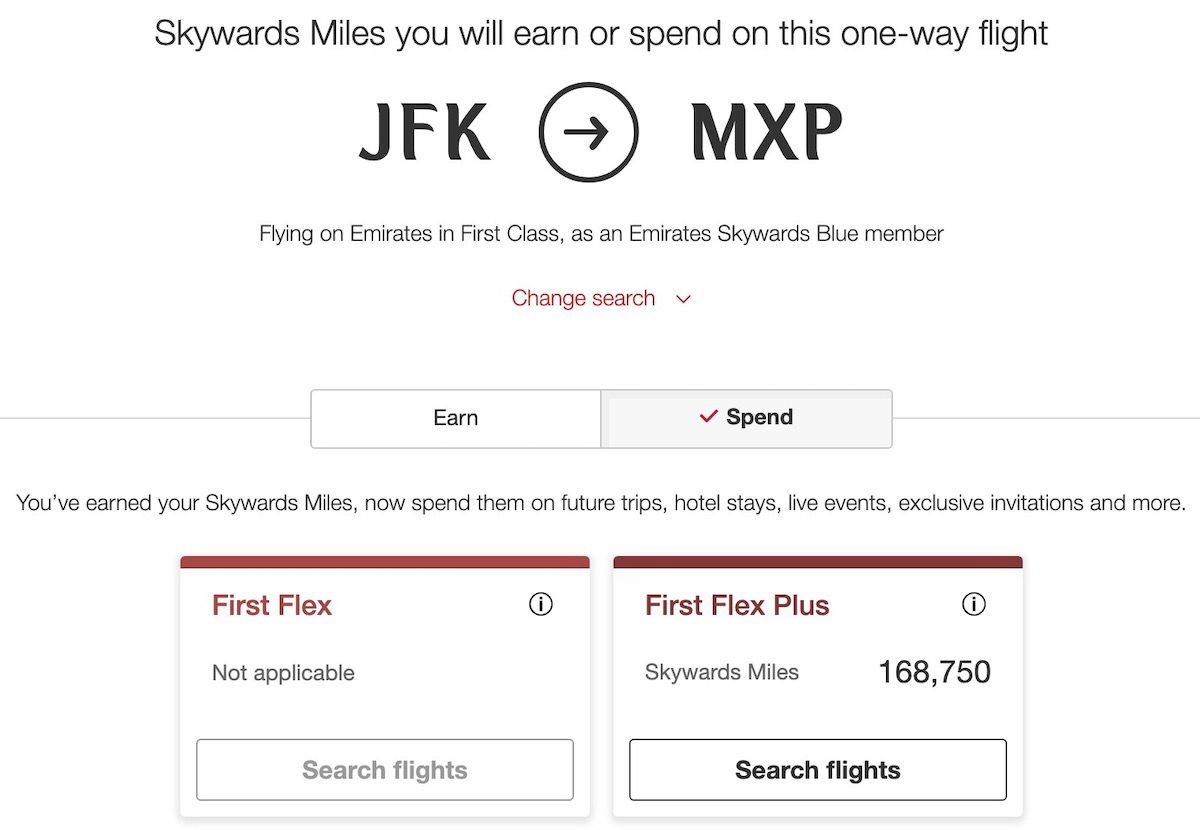 So, along those lines, there's what I'd consider to be a pretty positive update. Awards between the United States and Europe have been devalued, but "only" by 20%. We're also not seeing the fuel surcharges increased, as initially feared.
If traveling between New York and Milan or Newark and Athens, you can now expect to pay the following one-way:
87,000 miles in business class, which is a 20% increase compared to 72,500 miles
102,000 miles in first class, which is a 20% increase compared to 85,000 miles


This is great news, but this devaluation is still terrible
Even with award pricing increasing by 20% on these fifth freedom flights, I'd say this still represents a phenomenal value in first class (meanwhile Emirates' business class isn't much to get excited about, especially on the 777).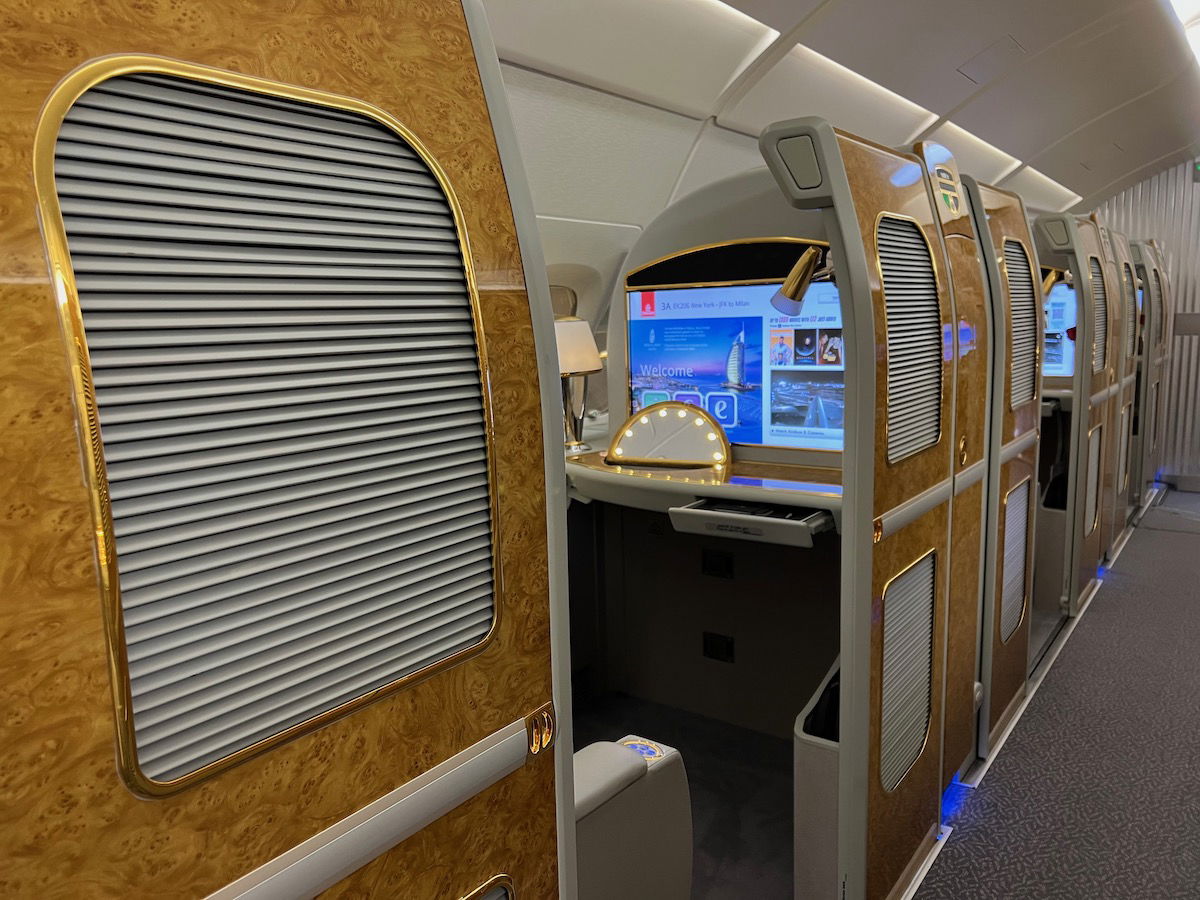 Emirates' first class is really special, so being able to redeem miles for this in advance with limited surcharges is still something I'd absolutely do, and I'd consider this to still be a sweet spot of the program.
I still can't help but comment on how poorly executed this Emirates devaluation has been. It's one thing to have no notice of changes, but then we're told that the devaluation will be rolled out over several weeks. Meanwhile Emirates updated its mileage calculator to reflect the new pricing, only for us to later find out that maybe the devaluation isn't as bad as initially feared.
A 20% devaluation is steep, no doubt, but that pales in comparison to how poorly all of this has been executed.
I mean, I guess it's also possible that the award pricing is still increasing further, and that this is just an interim price increase. Who knows, since it's not like Emirates is transparently communicating about this.
Bottom line
Emirates has increased first & business class award costs between the United States and Europe by 20%, and you can now expect to pay 87,000 miles in business class or 102,000 miles in first class one-way. Furthermore, surcharges continue to remain low.
While the business class pricing is steep for a lackluster product, I'd consider redeeming miles for first class to continue to be a good value.
What do you make of Emirates' devaluation on fifth freedom flights?