…on Saudi Arabian Airlines. Hear me out.
I know you were thinking I was going to point out the "usual" good uses of Ultimate Rewards points like 22,000 points for a night at the Park Hyatt Tokyo or 70,000 points for Lufthansa first class from New York to Frankfurt to Singapore. But nope, I've done those, and I'm looking for a different type of aspirational award. Though perhaps it's not aspirational as much as I'm just taking one for the team.
When I first started collecting Ultimate Rewards points I figured the only two "useful" transfer partners were Hyatt and United. While they have lots of other partners, the points currencies of those partner programs aren't as valuable, in my opinion.
But I enjoy trying a new airline product that may very well be awful for the sake of exciting you guys, as much as I enjoy flying Lufthansa, Asiana, or Thai first class, all of which are products that I'm very familiar with.
That's why I've increasingly been intrigued by Korean Air's SkyPass program, which is also transfer partners with Ultimate Rewards.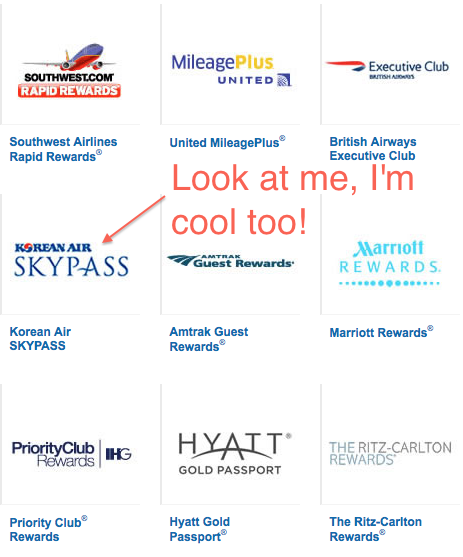 Yeah, you don't have to tell me, I know. If this whole blogging gig doesn't work out I have a career as a graphic designer. 😉
Korean Air is part of SkyTeam, which Delta belongs to as well. When it comes to redeeming for coach and business class travel, booking through Delta SkyMiles is almost always a better deal. They typically have lower redemption rates and in many cases no fuel surcharges. Furthermore, Delta is transfer partners with American Express Membership Rewards, and I value a Membership Rewards point less than I value an Ultimate Rewards points. One of the (many) weaknesses of the program is that it's not possible to redeem SkyMiles for international first class travel. The reason is that since Delta doesn't have an international first class cabin, they can't claim award seats in first class on their partners.
But the beauty of Korean Air's SkyPass program is that you can also redeem miles for first class on Korean Air and many of their partners.
Here's Korean Air's award chart for travel on Korean Air (prices are roundtrip):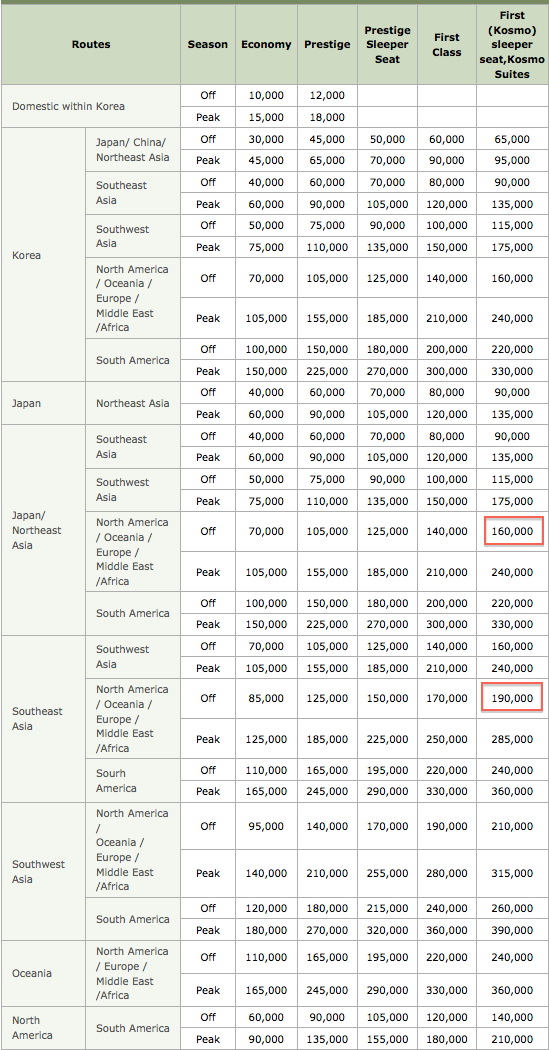 As you can see, first class from the US to Japan or Northeast Asia would run you only 80,000 miles one way. Given how excellent award availability is, that's an amazing bargain (though keep in mind there are blackout dates).
For example, there's plenty of award space from New York to Hong Kong via Seoul Incheon in Airbus 380 first class the whole way for just 80,000 miles (and available can easily be searched on ExpertFlyer):

But Korean Air has plenty of other airline partners, including the following: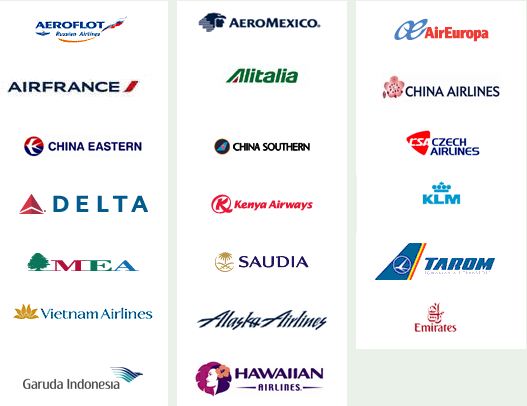 A couple of those immediately jump out to me as being interesting due to their first class products.
One of those is China Southern, because they're taking delivery of their first Airbus 380 and operating it on the Los Angeles to Guangzhou route starting in October. They have only eight first class seats and award space is wide open, so it's also quite tempting to fly with them.

Per Korean Air's partner award chart, that redemption would cost 80,000 miles one-way in first class: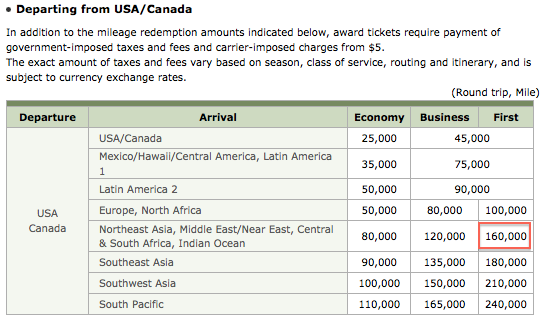 Okay, for those of you that think redeeming miles for China Southern first class is a waste when they could be redeemed for Lufthansa first class, stop reading now. Seriously.
Over the weekend I was emailing back and forth with Gary, and I think he may have very well baited me, much like my good friends in Bangkok, Shanghai, and Kuala Lumpur. I suspect he's still miffed over how right I was with my valuation of Hilton points. 😉
He mentioned in passing how tempted he was to transfer Ultimate Rewards points to Korean Air in order to book Saudi Arabian first class. Admittedly my sarcasm detector was probably a bit screwy or he was just baiting me, but it sounded like a… brilliant idea!
Not only is Saudi Arabian a dry airline (as long as Diet Coke is on tap that's fine by me!), but I can't find a single trip report on them. Let me take that a step further — I can't even find a single picture of their first class product. Or of their lounge. Or of anything. Perhaps that's for good reason, but I'm always up for a bit of fun. They have a ridiculous amount of award space as well, and on some dates release seven first class award seats on their Washington to Riyadh flight (which makes me wonder how many seats are in first class, since I can't find a seatmap online).

This redemption would also cost 80,000 miles one-way, and I'm thinking of making my final destination either Bahrain or Amman.
What do you guys think? Am I entirely nuts for even thinking of redeeming 80,000 miles for Saudi Arabian first class? I like to run this blog pretty democratically, so I've created a scientific, objective poll below, and will go with whatever answer the majority of you choose:
[poll id="18″]
All kidding aside, I actually would consider giving them a shot if it interested you guys. Assuming I don't end up in Saudi Arabian prison for taking pictures or requesting my nuts be warmed…