I'll focus on a more detailed "itinerary" when I actually get around to writing my trip report, though figured I'd provide a quick update, especially about my interactions with locals. I started yesterday morning by visiting the Petronas Towers, which are damn impressive.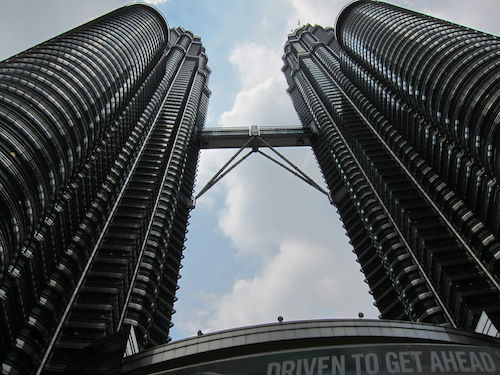 As I left the towers to walk towards the Kuala Lumpur Tower, a Malaysian lady in her mid-20s approached me. Now, I always have my guard up when traveling internationally, since there are more scams out there than I can count. I remember being in Istanbul and almost falling for the shoe shine scam, or being in Paris and almost following for the ring scam. So whenever I'm approached by someone abroad, I first check my pockets and then proceed with caution.
She walked up to me and said "excuse me, what color is your hair? I like it." Okay, that seems like an honest enough (if not slightly strange) question. I told her it was blonde(ish), and she asked if I colored my hair. I said no, and she responded that she really liked it. After an awkward pause she said her name was Rose, and asked where I was from.
The funny thing is, Americans aren't really liked around the globe, and to a large extent I can understand why. Fortunately I'm a German American with dual citizenship, so I can in good conscience say I'm from either place. However, when the situation doesn't feel "threatening," I'll be honest, and I often find they like speaking to Americans. So I explained to her I was from the US, and she asked me where. "Tampa" or "your nearest airplane" probably wouldn't ring a bell with her, so I usually just say the city that I left the US from, so in this case I said "Los Angeles."
Long story short, her sister is moving to Los Angeles next month to be a nurse, and she invited me over to dinner to meet her sister. It's not that I didn't want to go, it's just that it all proved a bit complicated since I was in the process of switching hotels, didn't know what time I'd be available, didn't have a phone, etc. She was beyond relentless, though, so that proved to be an adventure.
After that I went to the Kuala Lumpur Tower, where my admission gave me access to one of their other "attractions," one of which was an F1 simulator. Okay, that sounds cool enough, I'm in. As it turned out it was literally a 17″ Dell computer monitor with peddles set up. Yeah, not what I came to Kuala Lumpur for!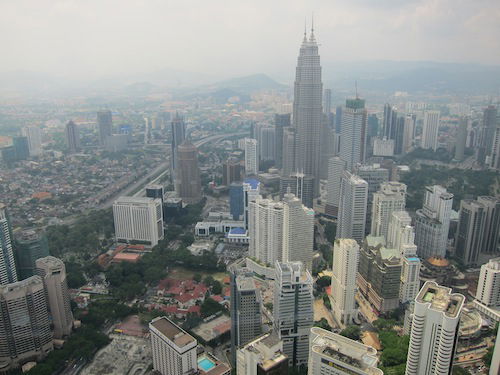 Then I went to one of Kuala Lumpur's larger malls, which had this store: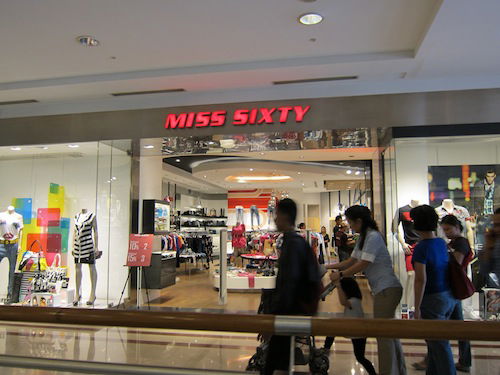 Hmm, I'll have to take my mom to Kuala Lumpur for shopping sometime. She might even like this place more than "Forever 21." 😉
Then as I was escorted up to the lounge by a bellman at the Le Meridien, he started the conversation by asking where I'm from. Again, I went with Los Angeles. His eyes grew wide as he asked if I had ever been to Hollywood. I said I had, and he responded with "isn't that where Chuck Norris is from?" I chuckled, and he said with legitimate admiration "I feel so honored to have met someone that has been to Hollywood."
On the whole I'm having a great time, and Malaysians have been incredibly warm and hospitable.