I'm having flashbacks right now to about seven years ago, shortly before I started college (that was seven years ago already?!?!?!?!). I had no clue what to expect, and wasn't sure whether I should be more scared of classes or living in dorms.
As it turns out it was no big deal, though it's a stage of my life I'm happy to be done with.
And I'm feeling almost exactly the same way now, as I'm moving into hotels full time in less than a week. For those of you not up to date on this, here are the previous posts on the topic:
Yeah, next weekend I'll be moving out of my apartment and into hotels. And I have no freaking clue what to expect. Will it be awesome? Will my hotel pet peeves send me to an insane asylum after a few weeks? Will I go crazy living day-to-day with no sense of "place?"
I dunno, only time will tell. I'm not doing this because I have to, or anything like that, but rather because I want to. I figure it's a fun experiment for a year. I'd probably get lonely if I didn't blog while doing this, though ultimately I have you guys to keep me company, which I really appreciate!
So whether it's the greatest thing ever or miserable, I'm in for a year and will then evaluate again. And for that matter most of my friends don't live in Seattle as it stands, so it may end up making me more social. We'll see…
I figured I'd provide some more updates (or lack thereof), keeping in mind that a lot of this stuff will hopefully just fall into place:
My initial "itinerary"
I've received lots of questions about what my "schedule" looks like for the first few months. As of now it's all over the place:
Through the end of April I'll be staying in the Seattle area, to make sure I get everything taken care of with my move, acclimate to hotel living, and also for Frequent Traveler University.
The only exception to the above is that I'll be going to Vancouver for a few nights around my birthday with some friends, but otherwise will be staying in Seattle.
I'll spend the first half of May in Sicily with friends. The Sheraton Catania looks really luxurious. 😉
I'll be spending the second half of May (mostly) in the Middle East, for reasons I'll be explaining in a future post.
I'll be spending the first half of June in Florida and Los Angeles. It'll be my mom's birthday, so I'll see if I can plan a trip for her (though I doubt it will be able to compete with last year's trip).
In the second half of June I'll be taking my last US Airways 90K Star Alliance award with Andrew.
And that's about as far out as I've planned. Now there are gaps in the above, though that's the general outline.
I have some travel ambitions, though I'm not sure how far I'll get in the next few months. At the top of my list are:
Fiji
Iceland
India (gotta live there for a while, after all!)
Mauritius
New Zealand (again — haven't been for seven years)
Oman
South Africa
Stockholm
Still not sure what I'm doing with my furniture
Yeah, I have to move out in the next week so it's probably something I should have put some thought into, but I'm still going back and forth. Ultimately I work best under pressure, so I'm sure I'll get it figured out. But I still can't decide between selling everything on Craigslist, getting a storage unit, and shipping it to Florida.
And it's really tough for me to make an educated decision, since I have no clue where I'll move in a year.
Obviously if a year from now I decide I want to stay in the Seattle area I'd be best off getting a storage unit here. If I decide to move back to Florida in a year I'd be best off shipping my stuff. If I decide to live in hotels long term, I'd be best off selling it.
So based on that I'm really not sure what I'm best off doing…
Still not sure how much luggage I'll take
It's something I've been going back and forth on as well. On one hand I'd love to just live out of a carry-on, on the other hand unless I want to dress like the Simpsons that's really not practical. I mean, I need at least three pairs of shoes (sneakers, casual, and dress shoes), and that alone takes up half of a carry-on.
But at the same time having more than one bag severely decreases mobility, so…
I need to avoid faux-maximizing-value-itis
I feel like I need to get a tattoo saying this on my forehead. A few days ago I wrote a post entitled "How Much Is A $100 Food/Beverage Hotel Credit Worth?" And I think it really is an issue.
As a human it's natural to want to maximize value, in whatever form it may come. For example, with Hyatt you get a 1,000 point Diamond welcome amenity with each check-in. If booking through American Express Fine Hotels & Resorts, Virtuoso, or Luxury Privileges, you get a $100 per stay property credit for certain hotels.
So there's definitely an incentive to hotel "hop" as much as possible. And as tempting as that is, there has to be a tradeoff between that and maintaining a somewhat sane life by staying in the same place. Similarly, consuming an additional $100 worth of food per stay is hardly "maximizing," unless the goal is to "maximize" the empty notches in my belt.
Conversely, Starwood has the "Make A Green Choice" program, whereby you receive 500 bonus Starpoints per night for declining housekeeping. I have a hard time saying no to "free" points, but at the same time where do you draw the line with how many nights per stay you decline housekeeping? After all, one of the nice things about living in a hotel is that you don't really have to clean up after yourself.
So points and food and credits and all that are nice, but there needs to be a tradeoff between that and sanity… I think?
Still deciding on hotel loyalty
I'm still trying to decide on how I'll split my hotel stays, though perhaps this will just fall into place naturally as I make stays over the next few months. As of now I'm leaning towards going for 100 nights with Starwood and doing whatever I can to maximize Hyatt promotions (and easily requalify for Diamond in the process). Beyond that I plan to use my Hilton Diamond when convenient, but can't say I'm interested in Hiltons much beyond that.
One status level I do kind of miss is InterContinental Royal Ambassador. I had it for years and loved how consistent the experience was. It comes with guaranteed benefits like 8AM check-in and 4PM check-out, as well as a guaranteed two level upgrade. There aren't very many hotel chains that guarantee benefits like that. Oh, and the complimentary minibar beverages don't hurt either, especially if living in hotels full time. 😉
Over the years I do feel like some of the value of Royal Ambassador was lost for consistency's sake, whereby overly generous hotels cut benefits in order to align themselves better with the terms & conditions. It's also rather frustrating that they don't honor elite benefits on award stays, which I've always found to be a total slap in the face.
If anyone happens to have a Royal Ambassador referral certificate they'd potentially be willing to part with, please shoot me an email.
Hotel snack tips?
I suppose one of the advantages of living in a hotel with elite status is that you always get breakfast included. If it's a hotel with a club lounge you get drinks throughout the day and snacks in the evening included as well.
Buy beyond that, since I won't really have a "kitchen," anyone have tips for the best ways to pick up snacks or drinks? I figure I'll always pick up a case of water at a local supermarket upon arriving at the hotel, assuming the hotel doesn't have bottled water in the gym.
I'm also mildly addicted to powdered cappuccino, which seems kind of useful living in a hotel, since you can always use coffee machines to just brew hot water and then add the power.
But in terms of snacks, I'm not sure which way to go. I don't really cook, so as it stands most of what I eat at home is:
Yogurt (I have to stay cultured somehow, after all!)
Bananas
Instant oatmeal
Cereal
Popcorn
I know, glamorous life I life. 😉
The sad thing is that aside from bananas, the rest of those are really impractical in a hotel room without a fridge or microwave. So for anyone that lives in hotels full time, I'd be curious to hear how you approach food and drinks in general.
Bottom line
This is me right now: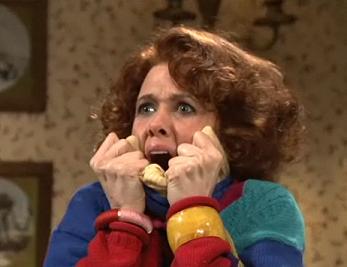 I'm a little bit excited. I'm a little bit scared. But more than anything I'm just curious how it will all end up. And unfortunately for you guys, you'll be hearing all about it. 😉
And more than anything else, I'm extremely grateful to you guys. I don't for a second take for granted that I get to do what I love every day and somehow make a living doing it. I'm ridiculously fortunate, and couldn't do it without you guys. So thanks… and hope to cross paths with many of you over the coming year.