Yesterday I wrote about how Kuwait Airways is going through a "once in a generation" rebranding, which includes a new logo and livery. While that's nice, my big question has been whether they'll actually substantially change their offerings, given that Kuwait has among the worst first & business class hard products of any airline on their fleet of two 777 aircraft.
Kuwait Airways' CEO claims that they're hoping to transform their product:
While the outward change to our aircraft will be obvious, we also hope to demonstrate that a much deeper and thorough transformation process is underway; one that will reassert our pioneering legacy in the region's aviation industry and restore a sense of pride in the national carrier of Kuwait. Ultimately, such changes will be in pursuit of asserting our position as the preferred choice for passengers, linking Kuwait to the world.
Personally I was somewhat skeptical, given that they recently introduced some A330s to their fleet with an outdated hard product. It's one thing to just have old planes with outdated products, but to me taking delivery of a new plane with a bad hard product is a pretty clear statement of intent.
Kuwait Airways is about to take delivery of 10 new Boeing 777-300ER aircraft, which will represent a big overhaul of their fleet. As of now the only plane they're using for their true longhaul routes are two roughly 18 year old Boeing 777-200 aircraft.
While Kuwait Airways has revealed the exterior of these new 777s, they haven't yet revealed the interiors. However, reader Alvin shares what's rumored to be the seatmap for these new planes.
Based on there being just eight first class seats with 84″ of pitch, it sure seems like Kuwait may be introducing fully enclosed suites, similar to what Saudia is in the process of installing on their 777-300ER aircraft.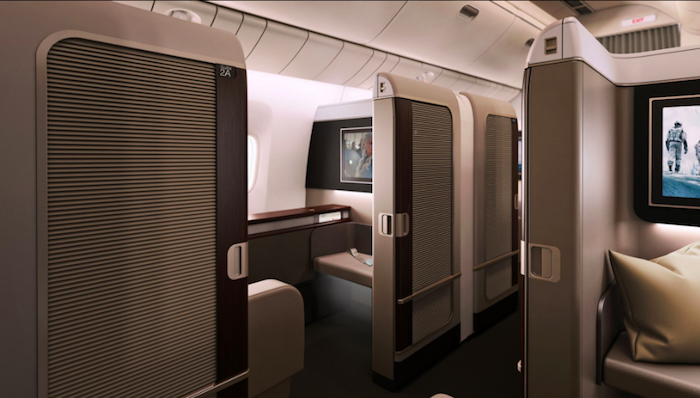 Saudia's new first class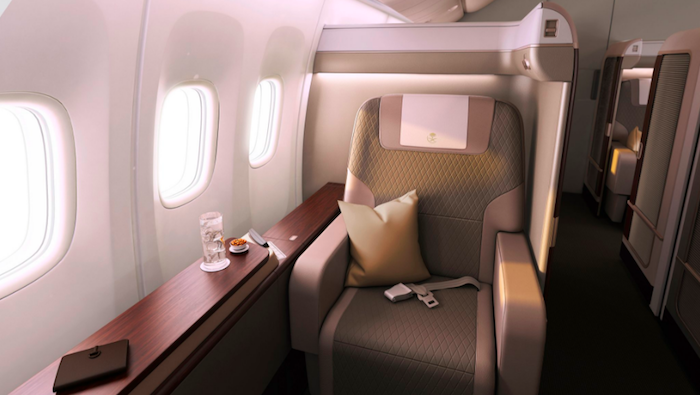 Saudia's new first class
Heck, even if their first class doesn't consist of fully enclosed suites, it will still represent a huge improvement over their old product.
Furthermore, it looks like the airline will be going fully flat in business class for the first time, given that the seat will have 62″ of pitch. I suspect they're going with the B/E Aerospace Diamond seat, similar to what you'll find in business class on Aeromexico, Saudia, United, etc.
In economy it looks like they'll have just nine seats per row, making them one of the few airlines to not have 10 seats per row in 777 economy.
Of course this is all speculation, given that as of now they've only revealed the exterior of their new 777s. It's only a matter of time until these new 777-300ER aircraft are in service, so I suspect we'll find out more details soon. Given that New York is the main destination served by Kuwait's 777s, I imagine that will also be the first route to get the new 777s. Once that's confirmed, you can bet I'll be booking a flight to review their product.
Would you consider flying Kuwait Airways once they install these new cabins?