Update: Read my full Kuwait Airways Business Class 777 Kuwait To Shannon review.
As much as we've had an amazing journey for the past two weeks, it sure is nice to be back in the U.S.
On Thursday we flew Kuwait Airways A330 business class from Dhaka to Kuwait City, and yesterday we flew Kuwait Airways' new 777-300ER business class from Kuwait City to New York, via Shannon.
For years Kuwait Airways has offered a horrible onboard product, though they're finally trying to reinvent themselves, and that starts with their new flagship 777-300ER aircraft. So I was happy to have the opportunity to fly this from Kuwait to New York yesterday (I booked a reasonable business class fare from Dhaka to New York, of ~$1,400 one-way).
First of all, I think Kuwait Airways' new livery is gorgeous.
Kuwait Airways' new 777s have eight fully enclosed first class suites. I didn't fly in one this time around, but did manage to snap a picture — they look great. I hope to fly one in the future, as Kuwait Airways also has reasonable first class fares at times.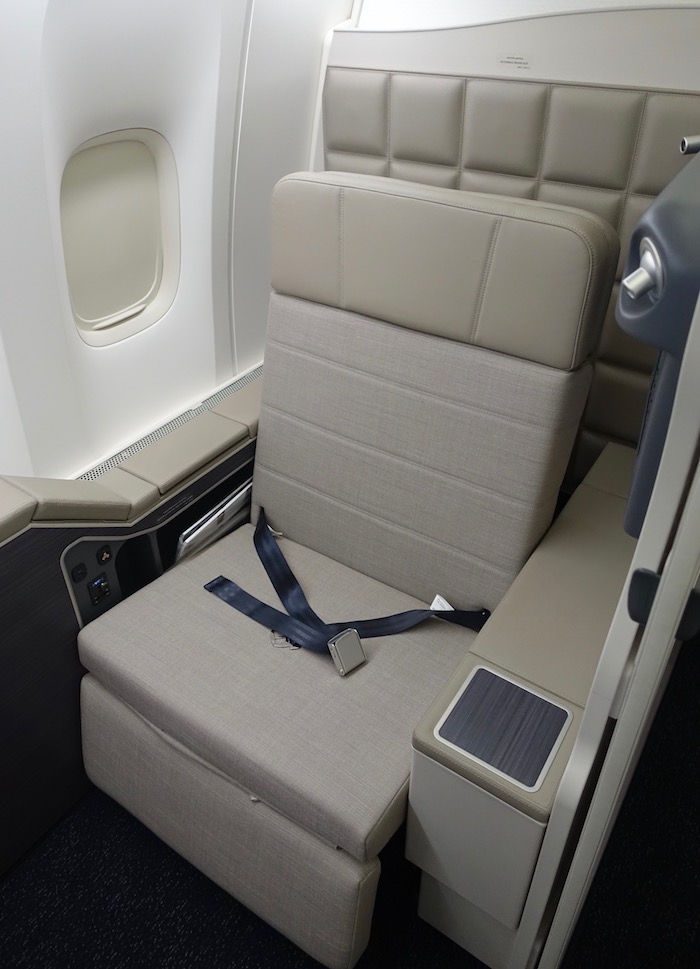 Business class, meanwhile, is in a 2-2-2 configuration. Kuwait Airways uses B/E Aerospace Diamond seats, which can also b found on Aeroflot, Aeromexico, Air China, KLM, Royal Jordanian, Saudia, United, etc. These seats are fully flat, so it's a huge improvement over their old product, but isn't a cutting edge product by any stretch of the imagination.
There are two business class cabins. Immediately behind first class are two rows of seats, and then behind the second door are a further four rows of seats, for a total of 36 business class seats. While the seats weren't cutting edge, the cabin was in perfect condition.
Fortunately the amenities on this flight were better than on the flight the previous day from Dhaka to Kuwait. An amenity kit was handed out on the first segment, consisting of Aigner amenities.
Unfortunately the pillow and blanket were the same I was offered the previous day. While the pillow was comfortable, the blanket felt cheap. If they're going to invest in their product, you'd think that would extend to the soft product a bit.
The entertainment selection was solid, with dozens of Hollywood movies, along with sitcoms. Perhaps the best part of the entertainment was the nose camera. It was one of the highest res cameras I've ever seen on a plane, even in comparison to many of the A380 cameras. Below is a picture I got on final approach to New York, for example.
As far as Wi-Fi goes, I'm a bit conflicted. It wasn't cheap — the cost was $40 per three hours. However, there were no data caps, and the Wi-Fi was probably the fastest I've ever had on a plane (probably because no one else was using it). Yes, that's expensive, but ultimately I bought three passes, and as a result was able to stay productive for the entire day. So while I'd rather fly an airline that charges ~$20 for unlimited Wi-Fi with no data caps, I'll still gladly pay $120 in order to have a productive work day while flying. That's much better than the pricing of any airline that charges based on data usage, given how much data I use.
Now, the food service on these flights confused the hell out of me. The first flight was ~7hr30min, while the second flight was ~6hr40min. The entire flight time, including the transit, was blocked at 18 hours, with the flight leaving Kuwait at 9AM and arriving in New York at 8PM. I didn't have breakfast before our flight (we left the hotel at 6AM, and didn't want to eat in their mediocre lounge), so assumed they'd serve a meal after takeoff.
Nope, instead they offered "refreshments," which exclusively consisted of the below.
Then four hours later they served a meal. On the plus side, the food quality was good. It wasn't world class, but was edible and better than I was expecting.
There was a starter and salad. The starter consisted of smoked turkey with fig jam on toast, smoked salmon on pumpernickel bread, and hummus with radicchio. The salad consisted of quinoa with olive oil, sweet chili sauce, cucumber, and tomato.
Then there were a selection of three main courses. I chose the "fisherman's delight," which had skewers containing dices of salmon, prawns, and scallops, with a curry cream sauce. It was excellent.
And then there were a variety of dessert options (don't worry, Ford and I split the below, but I got it all on one tray for a picture). These included butter cake, sliced fresh fruit, ice cream, and a cheese plate.
Even stranger is that they did the same on the second flight — they served "refreshments" again after takeoff, and then virtually the same meal again a few hours before landing.
For 18 hours of "flying," I find just two meals to be disappointing. Furthermore, the timing of the meals meant that you could never get more than three hours of uninterrupted rest. Some airlines just suck at scheduling meals, but perhaps that's a good topic for a separate post.
What I was most impressed by was the service. It was clear that all the cabin crew took a lot of pride in the "new" Kuwait Airways. They were proud of their new plane, and were excited to show it off. During meals they were efficient and friendly, though between meals they disappeared. Fortunately they always appeared within a moment when pushing the call button.
There were also some other nice elements to the service — bottled water (which they didn't have on the previous flight), Arabic coffee and dates before takeoff, menus, etc.
Fortunately the Kuwait to New York flight will be operated nonstop as of the end of this month (cutting out the silly stop in Shannon), which should solve many of the issues I had with the service flow.
Kuwait Airways business class bottom line
Years ago, when I first wanted to fly Kuwait Airways, I was interested in flying them because I thought it would be amusing. Their product was so outdated that I didn't imagine they could even be halfway decent.
While they're still far from a world class airline, the experience pleasantly surprised me. The new cabins are comfortable, and the B/E Aerospace Diamond seats are a huge step in the right direction (though not ideal for such a long flight). The Wi-Fi was pricey but fast, and had no data caps.
The food was good, when it was actually served (the timing is another story).
And the cabin crew were lovely. They weren't the most attentive bunch, but many of them were exceptionally friendly.
So while you shouldn't go out of your way to fly them, Kuwait Airways has consistently great business class fares (especially for travel to/from New York), and they're no longer an airline I'd recommend avoiding.
Would you consider flying Kuwait Airways' new 777 business class?