I have a confession to make — assuming I'm traveling alone, I don't actually care whether my flights are amazing as could be or entertainingly horrible. While a good flight is nice to report on, as a blogger I'm kind of amused when I get to report on a subpar flight. That's why I didn't at all mind my outbound flights on China Southern from Los Angeles to Guangzhou and Guangzhou to Tokyo Narita.
So for the return portion of my SkyPass award I booked Korean Air A380 first class from Seoul Incheon to Los Angeles. I really didn't know what to expect with Korean Air. I've always enjoyed Asiana's first class. Despite their outdated hard product, they're still one of my favorite airlines, between their excellent service and top notch food.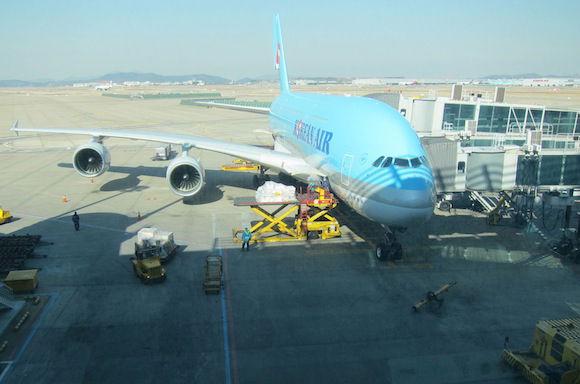 Based on what I had been told as far as Korean carriers go, Korean Air is generally known to be the more "stylish" airline, while Asiana is known to be the more "substantive" airline.
Well, based on my Korean Air A380 flight from Seoul Incheon to Los Angeles, I have to say Korean Air is 100% style and substance. The flight was literally flawless, which isn't a claim I make often.
I'll have a full trip report early next week, but here are my initial thoughts:
Korean Air A380 first class seats
Korean Air's A380 first class cabin is located on the lower deck and consists of 12 seats. The cabin has a total of three rows in a 1-2-1 configuration. So on the surface this isn't an especially private layout. China Southern, Lufthansa, and Malaysia have just eight first class seats on the A380, and China Southern, Emirates, and Singapore have fully enclosed suites.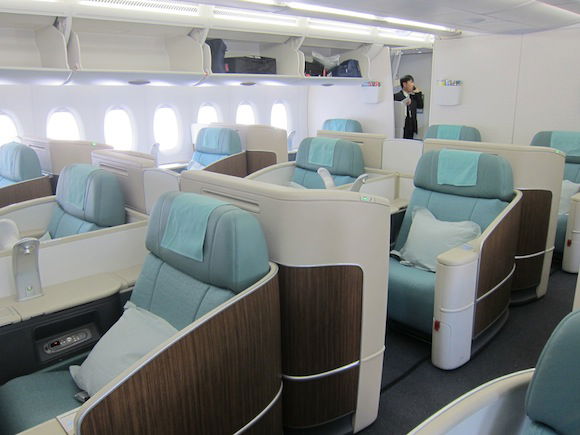 That being said, the seats themselves were extremely comfortable and spacious. Now, admittedly there was only one other passenger in the cabin, and when the cabin is that empty I almost prefer an "open" layout than a confined private suite. I'm not sure I would have felt the same way if the cabin were full, but the seat is spacious.
It's worth noting that there's also a partition that raises around the side of the seat on demand, for added privacy. So the cabin isn't necessarily quite as "open" as it may look.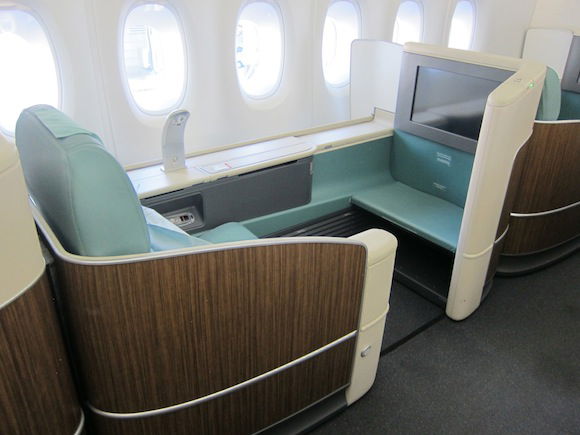 The bed was also extremely comfortable, and the bedding was top notch. After Cathay Pacific, Lufthansa, and Qantas, it was probably among the best bedding I've had.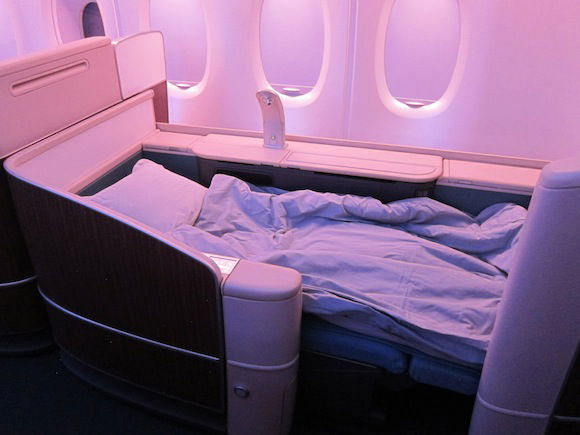 Korean Air A380 first class food & drinks
OMG — AMAZING! One of my favorite parts about flying Asiana is the excellent food, and the same was true on Korean Air.
For one, they had champagne. I know that doesn't sound all that exciting, but after having three flights in a row without champagne onboard, it was a welcome sight. And lets just say I was drinking for both the 10 empty seats and the three previous "dry" flights.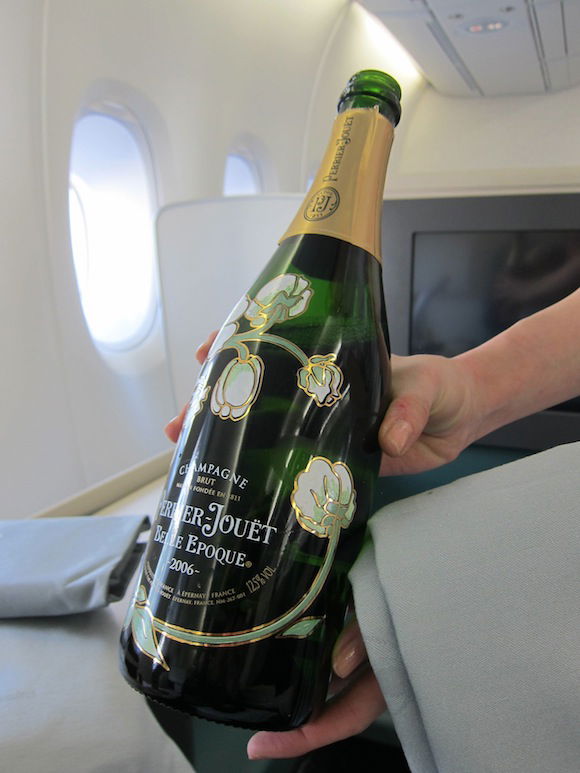 For dinner I decided to do the Korean option all the way through (well, minus the dessert), and it was phenomenal. Like, I can't even describe how good it was.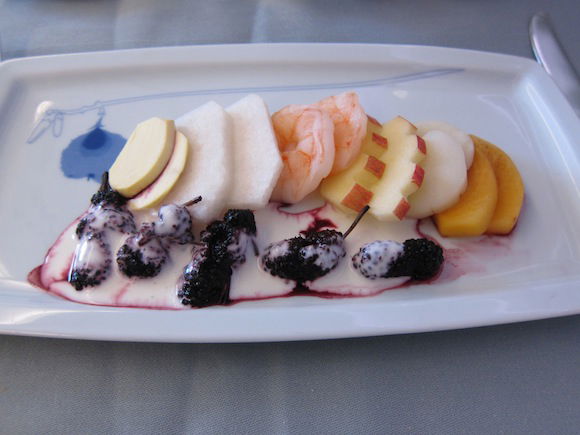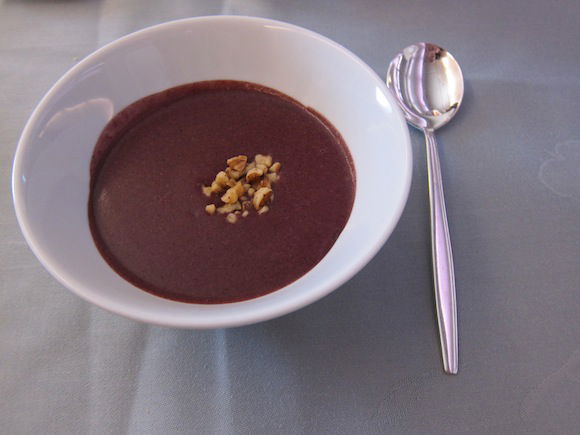 All the little touches with the service impressed me. There was a salad course, and the salad was literally made "table side" off the trolley.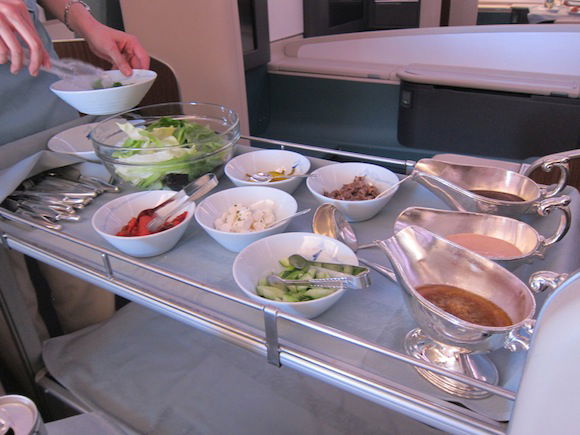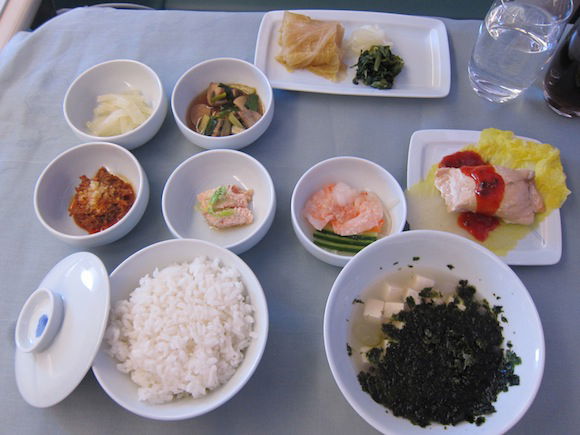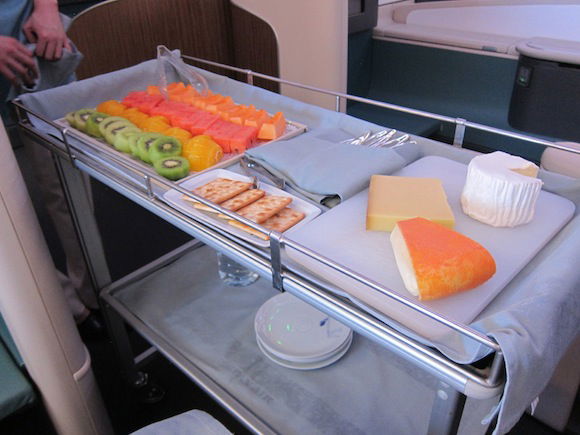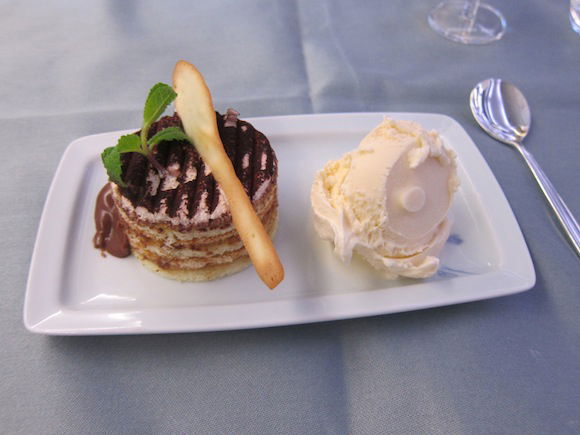 Here's another example of how good the meal service was, which will sound totally silly to anyone that doesn't appreciate small details. You know how on Cathay Pacific, Singapore, etc., they serve you yogurt directly in the plastic container in first class?
So on Korean Air I was presented with my choices of yogurt off a galley cart, and once I selected my preferred yogurt the flight attendant delicately scooped the yogurt out of the container and into a bowl. Not only that, but then she offered to "garnish" my yogurt with toasted almonds, dried cranberries, and/or raisins. That level of attention to detail left me feeling a bit tingly.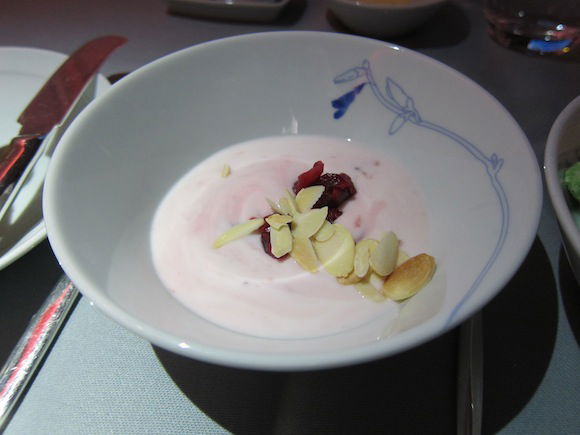 Korean Air A380 first class service
The service was amazing. The flight attendant working the first class cabin spoke English fairly well, and couldn't have been more professional, friendly, and engaging. I asked her what tasted best on the menu, and she confidently made suggestions. Not only that, but she'd follow up to ask how I was enjoying each course.
Similarly, for breakfast I ordered the western option, but since she saw I took a liking to the Korean food for dinner she proactively brought me some omija punch (which means "five flavor tea") to see if I liked it.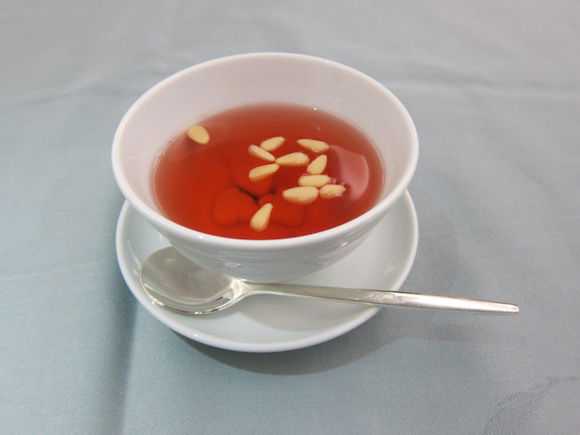 Korean Air A380 first class amenities
So I'll have a lot more on this in the actual trip report, but damn does Korean Air have a pimped-out A380. They might just give Emirates a run for their money. There's a nice bar set up in the forward galley in front of first class.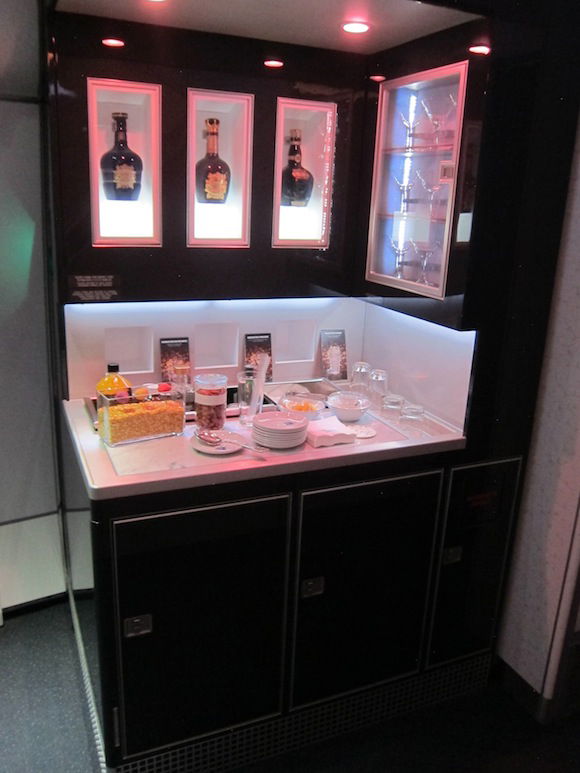 Then at the front of the upper deck is a business class lounge with a handful of seats and a nice snack setup.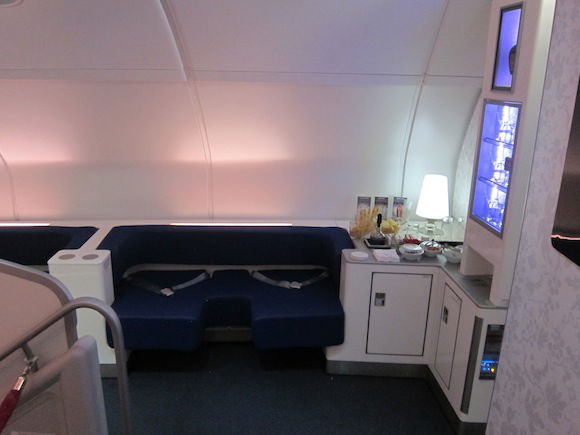 Then in the rear of the upper deck is a massive bar, which puts Emirates' A380 bar to shame, in my opinion.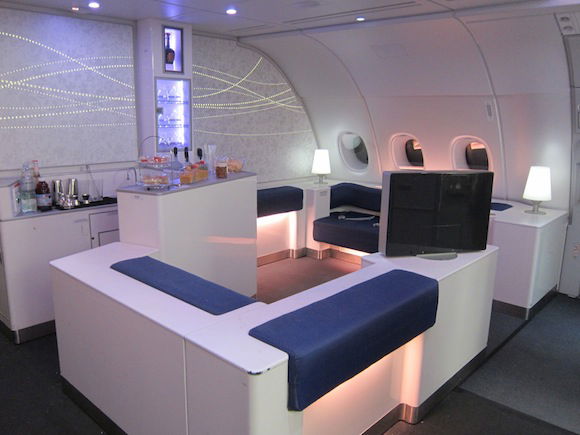 Then at the rear of the lower deck is a pretty cool duty free display. It's definitely style over substance, though still pretty nifty.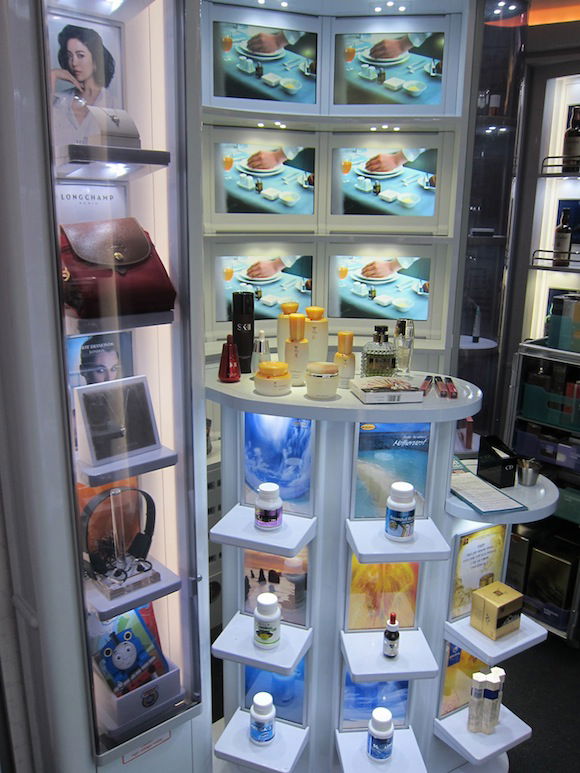 Bottom line on Korean Air A380 first class
I don't know whether I just lucked out with a great crew and an empty flight, or if this is the norm. Regardless, Korean Air absolutely blew me away, and as far as I'm concerned they have one of the top first class products out there. This is an awesome use of Chase Ultimate Rewards points, and I can't wait to fly with them again.
Stay tuned for the full trip report!