As I posted about a few days ago, I booked an award in Korean Air and China Southern A380 first class. I redeemed 160,000 Korean Air SkyPass miles for the roundtrip ticket, which would allow me try the two A380 products out there that I've yet to fly.
I flew the outbound from Los Angeles to Guangzhou in China Southern A380 First Class (aka Platinum Private Suite) on Thursday night, and figured I'd share my initial impressions. I'll keep this brief, since I'll actually be publishing the detailed trip report in about a week. Anyway, my initial thoughts:
China Southern A380 first class seats
China Southern has just eight first class suites on the lower deck. They're spread across two rows, in a 1-2-1 configuration.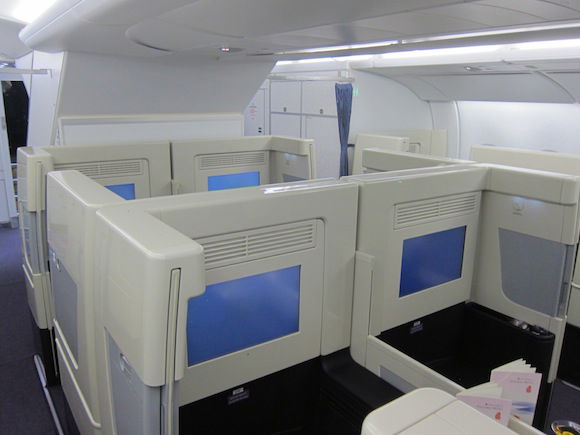 The seats look bland based on the finishes, though are incredibly comfortable, spacious, and fully enclosed. Purely in terms of the hard product it's one of the best out there, in my opinion.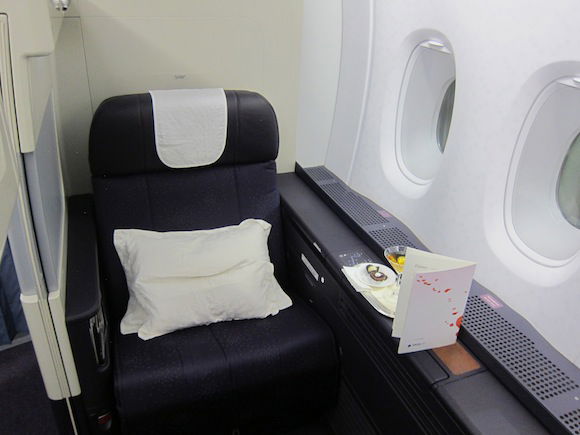 The flight time was just over 15 hours, and I managed to sleep for nearly two thirds of that.
China Southern A380 first class food & drinks
Lets start with the drinks. China Southern A380 first class must be one of the least reviewed first class products out there, so I had no clue what to expect in terms of champagne. I figured maybe they serve Krug, maybe Dom, maybe Grand Sicele, etc.
I was legitimately in disbelief when I found out their "champagne" is Duc de Paris sparkling wine.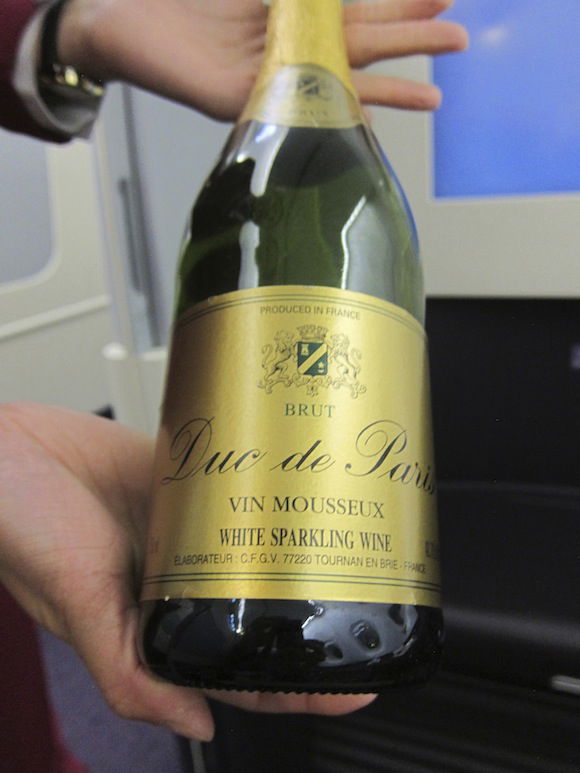 This retails for less than $5 per bottle.: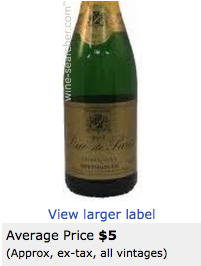 I mean, sometimes I joke about airlines serving Korbel, but that would have been considered premium compared to this. I mean, it tasted worse than the Welch's sparkling grape juice my mother would buy me for New Years Eve when I was a kid. Interestingly there was no wine or beverage list on the flight. I guess that shouldn't really be surprising from the airline that markets themselves as "serving over 8 kinds of beverage" in premium cabins on international flights.
As far as the food goes, it was perfectly edible and tasted good, but certainly simple. The meal is what I'd expect from a solid business class product, and not really first class. There was no salmon, caviar, etc. Then again, I'll take a simple meal that tastes pretty good over an overly complex meal that's entirely style over substance.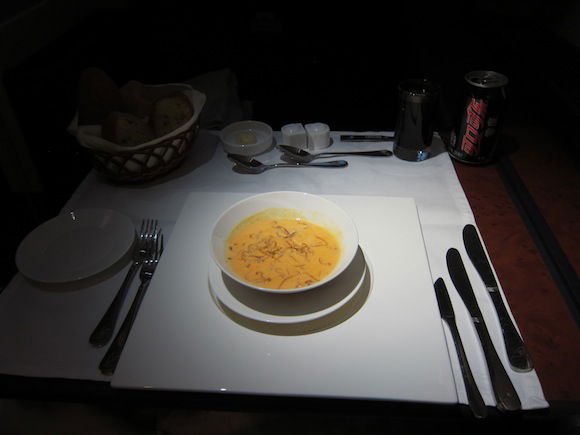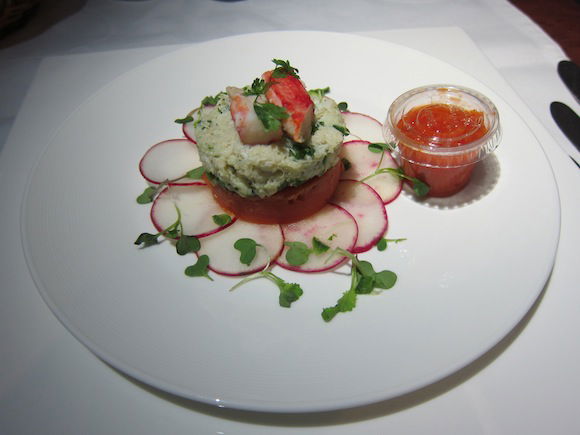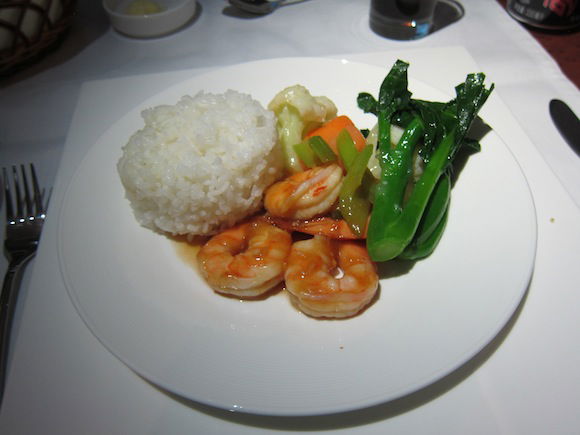 The other thing that surprised me is that there was no snack menu. I mean, we're talking about a 15 hour flight here, and the only snacks they had available were saran wrapped ham and cheese sandwiches. My favorite part of flying Cathay Pacific first class is their snack menu, between the egg tarts, crab cakes, and noodle soup.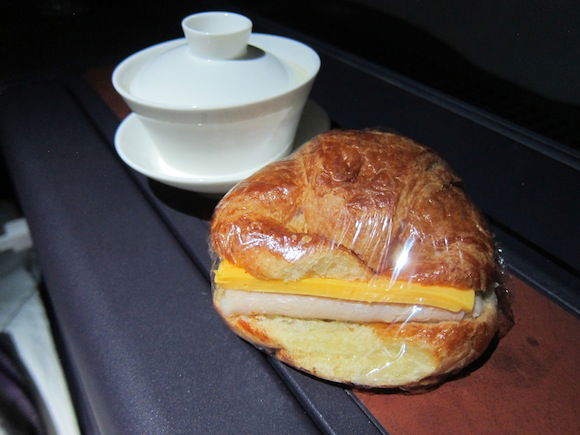 China Southern A380 first class service
Is it reasonable to expect a crew on a US bound flight to speak at least a decent amount of English? I dunno, you guys let me know in the comments.
Simply stating a fact (as opposed to judging, since I know how tough it can be to learn additional languages) — the crew didn't speak English well at all, and there were constantly communication barriers. I'm sure someone will say "well how's your Cantonese, Lucky?" So I'll answer that up front and say "no bueno!"
One small example. A few hours before landing I was drinking coffee and spilled some on my (white) shirt. The lavatory was occupied (more on that below), so I pushed the call button and the flight attendant showed up immediately. I asked for a napkin. She didn't understand me. I pointed at my shirt, made a "rubbing" motion, and asked, for a napkin. She nodded her head as if she understood what I meant.
A minute later the other flight attendant shows up — "my partner says you need something?" "Yes, I spilled coffee all over my shirt, could I have a napkin please?" Again, I'm pointing at my shirt which has coffee stains all over it. She says "ah, you would like more coffee?"
I again said "napkin," and made a rubbing motion on my shirt as if I was trying to clean it. She comes back a minute later wearing gloves with a box of Kleenex tissues. Maybe she misunderstood the rubbing motion I was making? I dunno…
So there were three passengers in first class, but for the middle 12 hours of the flight all the suites were occupied. It was bizarre. I slept after dinner and then woke up, only to find five flight attendants sleeping in the empty suites. Don't get me wrong, it doesn't bother me or detract from my enjoyment of the flight in any way, I just found it odd since I'd assume most airlines have a policy against that.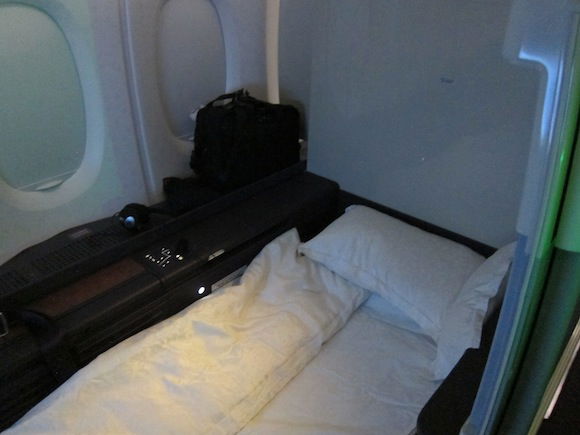 I went back to sleep and woke up, and this time all the suites were taken once again with totally different people. Except this time they didn't appear to be flight attendants, but rather passengers. One suite even had an older lady with two kids in it. What the…?
It's also worth noting that there's one lavatory in first class. That's a perfectly reasonable ratio of eight passengers to one lavatory. Unfortunately that also seemed to be the lavatory for any flight attendant looking to go number two, since it was probably occupied for 90% of the flight in 20 minute chunks intervals.
I know it's Chinese New Year and the "year of the horse," but that doesn't mean the lavatory has to be scented as such. Literally every time I went in there it reeked and there were "stains." I feel like crews should have better bathroom etiquette than that! Compare that to Singapore Airlines, where the flight attendant is literally standing outside the lavatory waiting to refresh it after every use…
Bottom line on China Southern A380 first class
Top notch hard product, lacking soft product. Lots more service "details" I'll share with the full review — stay tuned!