Don't worry folks, the adventure continues!
After a rather unique flight late last week in China Southern A380 first class from Los Angeles to Guangzhou, I was quite looking forward to my flight from Guangzhou to Tokyo Narita on China Southern.
To be honest I was kind of curious whether the flight from Los Angeles to Guangzhou was a fluke or the norm. Well…
China Southern Lounge Guangzhou
While I'll of course have a more detailed review of the lounge, this had to be the most unpleasant lounge visit I've ever had. It's not even the lounge itself that sucked, but rather the airport. It was freezing – F-R-E-E-Z-I-N-G! Clearly they didn't have heat, and I'm fairly certain it wasn't much warmer than the 45 degree outside temperature inside the terminal.
It was so freaking cold that I decided to wear gloves, much to the amusement of the other guests in the lounge. They were all shaking and blowing warm air in their hands so mostly had the same reaction, but apparently I took it one step further with my gloves.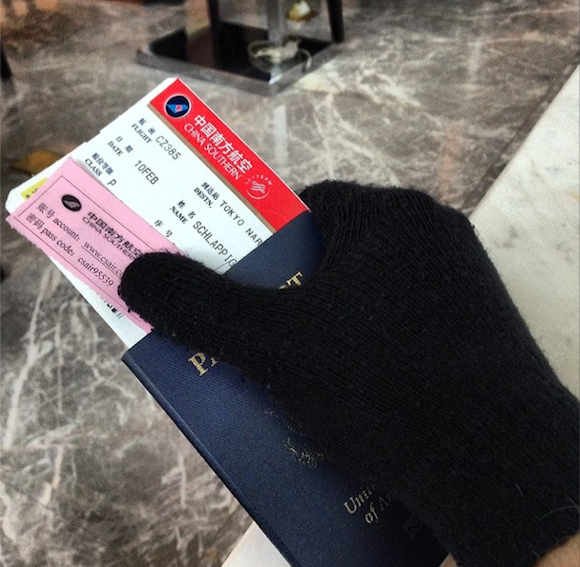 The strangest part of the lounge experience had to be that there was a lady in a uniform continuously walking around the lounge taking notes. She'd stand by my table, glance over, take some notes on a little post-it style pad, continue to the next table, etc. It was odd enough to begin with, but she made the same round just about every 15 minutes, so I got multiple visits.
Perhaps she was the social media police and was making sure there was no Facebook/Twitter/Grindr usage? Freaking weird…
China Southern A330 first class seat
So my flight from Guangzhou to Tokyo Narita was operated by an A330. This plane is pretty unique in that it has a single row of first class with four seats.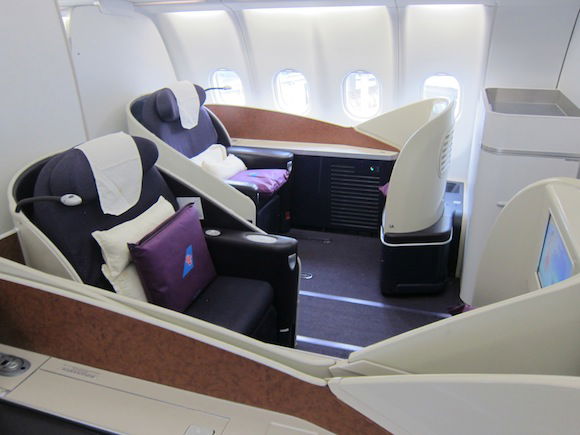 Not only was I the only passenger in first class, but as far as I could tell there was no one in business class either.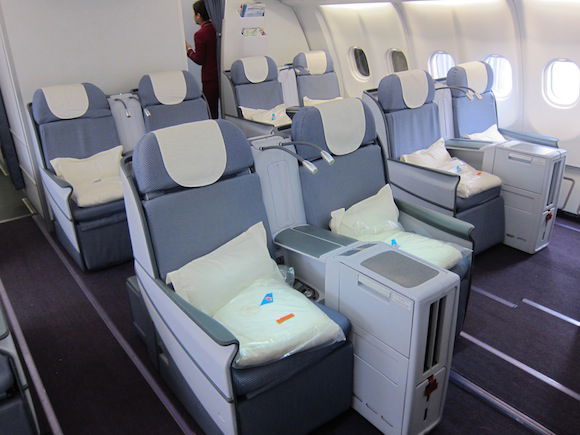 The seat itself was comfortable, and tough to beat for a 3.5 hour flight. And for that matter it's tough to beat having just about half of the A330 to yourself. Unlike on the flight from Los Angeles, half of the cabin didn't decide to upgrade themselves this time.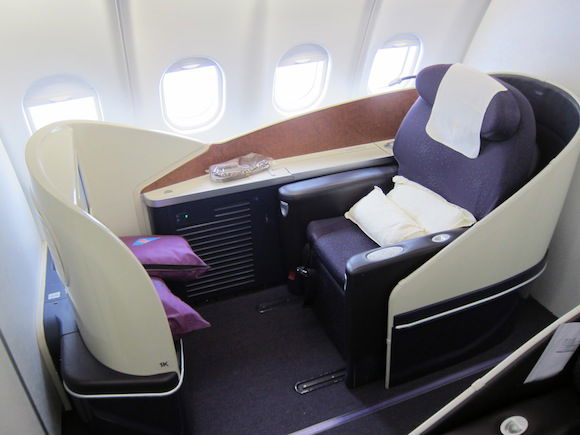 China Southern A330 first class food
Anyway, the lunch menu had the choice between "Beijing roast chicken," "tri-color rice," and "grilled beef tenderloin." I guess they decided not to cater the grilled beef tenderloin, so I selected the tri-color rice. After all, how bad could it really be?
The answer, much to my surprise, is really, really f*&$ing bad. The rice smelled what I imagine the stuff they discard at the Kibbles & Bits factory smells like… and it didn't taste much better.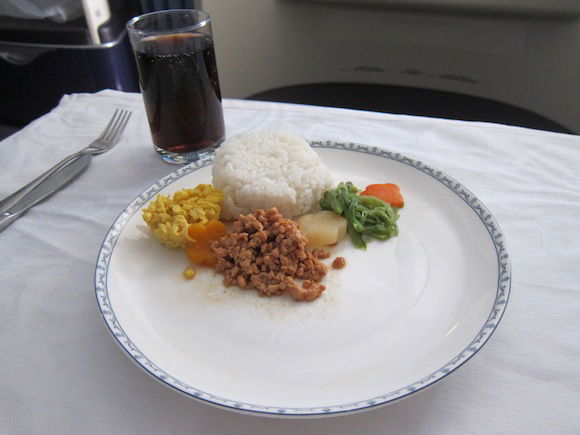 As far as the presentation goes, I'm not sure if they were hoping to cut costs by only having to wash half of the plate, or…
China Southern A330 first class service
Given that I had roughly six flight attendants looking after me, the service was actually quite attentive. That being said, it was definitely a bit awkward since I was the only passenger. There's no discreet way to check on a passenger when they're the only one in the cabin.
But here's the bizarre part. About 90 minutes into the flight, after watching a sitcom and eating lunch, I decided that I wanted to sleep. We had roughly two hours till landing at Narita, and they even provided me with a nice turndown service.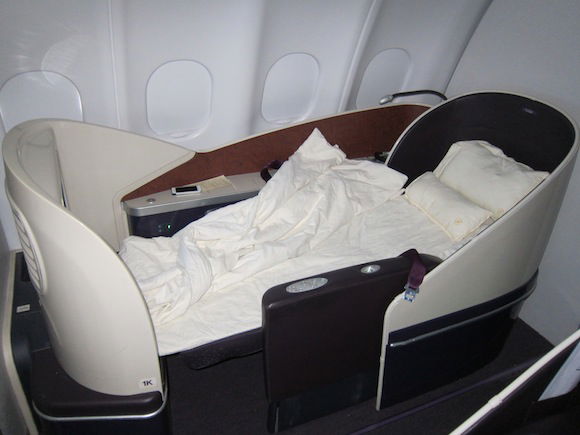 After resting for a bit – I swear I hadn't even fallen asleep – I decided to head to the bathroom for a quick tinkle. Literally the second I closed the lavatory door the flight attendant made an announcement saying we were on our final descent into Narita and would be landing shortly. That's odd, I thought, since we weren't even descending, let alone on our final descent!
I get back to my seat – there's no way I was gone for more than a minute – and my seat is in the upright position, window shades open (ALL of the window shades in the first and business class cabin), and duvet is gone.
Man, I figured I must have slept really well and not remembered it. I mean, surely it wasn't the alcohol…
I turned on the inflight entertainment, and we're still 800 miles out of Narita – roughly 1hr40min out. So I was in fact only laying down for about 20 minutes.
I show the flight attendant the screen and she says to me "we land in 30 minutes." I said "but… the screen says we have 800 more miles to fly." "We land in 30 minutes."
Rather than cause a stink I was curious to see how it played out. Does the captain have some sort of turbo charged engines he was planning on using for the last 30 minutes of the flight?
Nope, about 10 minutes later the purser comes up to me and apologizes profusely because they "were confused over the time, we are actually landing in 1hr30min."
I mean, seriously?!