Early yesterday morning I flew Jet Airways first class from Mumbai to London, which was a nine hour flight departing at around 2AM and arriving at around 6AM. In this post I'll share my initial impressions, and then of course I'll have a full trip report soon.
Jet Airways' 777-300ER first class cabin consists of a total of eight fully enclosed suites, spread across two rows in a 1-2-1 configuration. It's funny that this was my first time flying Jet Airways first class, even though I've flown on this plane on three other airlines — Turkish, Thai, and Etihad. That's because over the years Jet Airways has leased their 777s out to other airlines, so I had the chance to fly them during those times.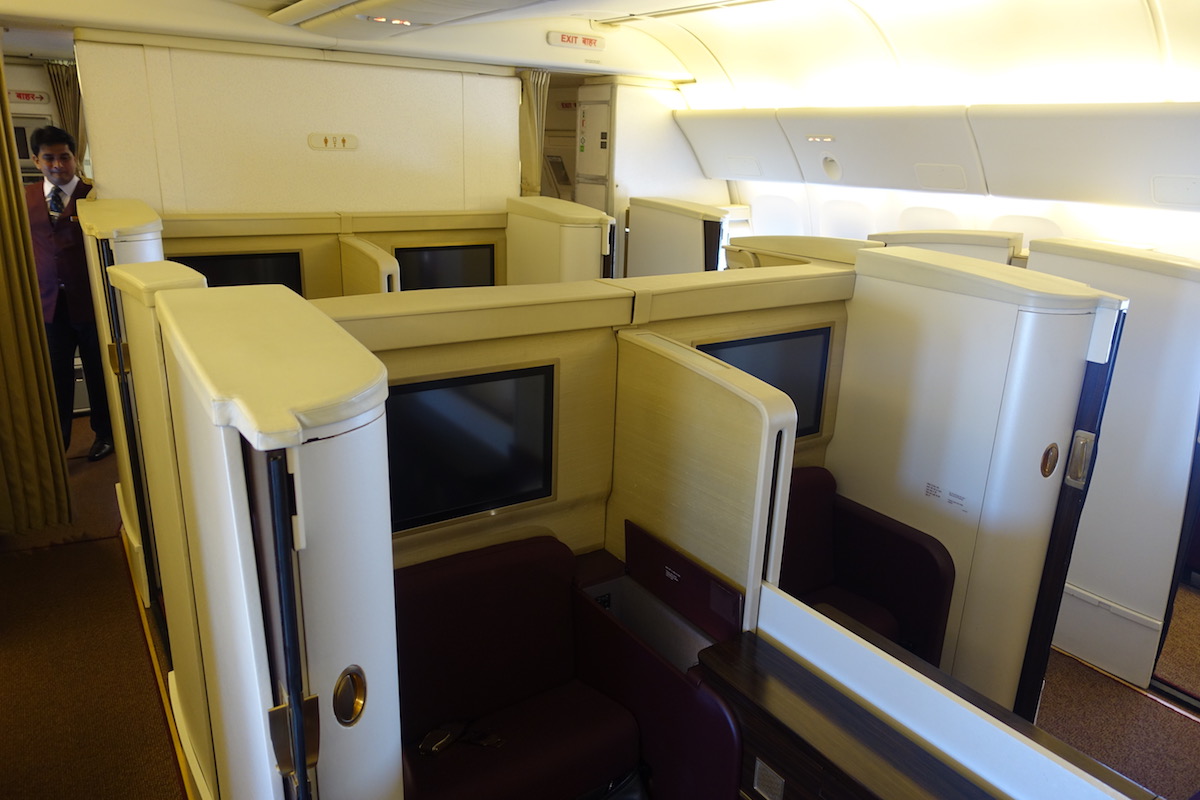 This is a perfectly comfortable fully enclosed product. No, they're not the newest seats anymore, and no, this isn't personally how I'd design a cabin in terms of the finishes, but it's a solid hard product nonetheless.
I really lucked out on this flight. While the flight was nearly full (every seat in business and economy was taken), I was the only first class passenger. Not only that, but I had two fantastic flight attendants, James and Renita, as well as the lovely cabin manager, Dolly, looking after me.
Jet Airways' soft product really impressed me. There were comfortable pajamas.
Then there was an okay amenity kit (it wasn't terribly exciting, but whatever).
In terms of entertainment, there was an extensive entertainment selection that was better than I was expecting, with dozens of TV shows and movies. I didn't end up watching anything as I slept most of the flight, but the selection was pretty good. Unfortunately Jet Airways doesn't have wifi, though.
Given that this was a very late night flight, there was a light supper after takeoff, and then breakfast before landing. Supper began with a minestrone soup, which was tasty. Also, check out that presentation!
For the main course I chose the Indian option. While perhaps not the most gourmet dish ever, it tasted excellent.
Then I had a great chocolate strawberry crumble for dessert. Jet Airways also has a big tea menu, and I had several cups of the masala tea throughout the flight. It was some of the best tea I've had.
There were several breakfast options, including two western and two Indian options. I chose the South Indian option, which tasted great. This was in addition to fruit, yogurt, and a selection of bread.
Jet Airways even has great champagne — they serve Bollinger La Grande Annee 2002.
There was a proper turndown service, so I managed to get a solid five hours of sleep. There was a mattress sheet, two pillows, and a blanket. While the mattress sheet wasn't too thick, I didn't mind, since the seat has great padding to begin with.
However, what impressed me most about the flight was the service. Dolly, James, and Renita couldn't have been friendlier or more polished. Sometimes you get friendly and well intentioned service, but it falls short in terms of execution. That wasn't the case here.
I was so impressed by the attention to detail in their service. From the way they placed everything on the table, to how proactive they were ("when I wake you up, would you like me to have a beverage ready for you?"), to their genuine friendliness, they were rockstars.
There are only two airlines in India with a first class product, with the other being Air India. I flew Air India last year in first class from London to Delhi to San Francisco, and the product was sad but well intentioned.
Jet Airways is in a completely different league. While both airlines have food that tastes good (though I'm biased because I love Indian food), the presentation and service execution on Jet Airways is on a completely different level.
Kudos Jet Airways… I wasn't expecting this. What a pleasant surprise.