I made the switch from AT&T to T-Mobile a couple of years ago, and it has almost been life-changing. Up until recently I couldn't have been happier with T-Mobile. My bill was half of what I paid with AT&T, and T-Mobile offers an excellent international data plan. Prior to that, having international data was a foreign concept to me (no pun intended), so I'm sure you can imagine how exciting that was for me, given how much time I spent abroad.
Unfortunately my feelings are slowly starting to change about T-Mobile. I always thought they were different than the "other guys" in terms of how they designed their products, but their new Global Pass is such a flop that I have a hard time wrapping my head around how they think this is okay.
T-Mobile's recent international service changes
T-Mobile made changes to their international data plan a couple of months ago. The good news is that T-Mobile expanded their international plan from 154 countries and destinations to 210+. The bad news is that T-Mobile increased the cost of international calls from 20 cents per minute to 25 cents per minute. Still, I'd consider those changes to be a net positive.
Then T-Mobile announced that they were introducing a new $5 Global Pass, where for $5 per day you can get high speed data and calling abroad. You receive 512MB of up to 4G LTE speeds and unlimited calls for just $5 per day, which I planned to always take advantage of.
Why T-Mobile's Global Pass is so frustrating
I've already written a separate post about how poorly executed T-Mobile's new Global Pass is. Ironically the issue isn't the plan as such (which I love), but how damn complicated it is to actually buy it. It's rare to see a company make it so difficult to give them money.
But as I outlined in a previous post:
You can only purchase a Global Pass for one day at a time, and up to two in a 24 hour period (which makes it especially complicated if you're buying it for someone else on your line who doesn't have access to your account, since you have to do this almost daily, rather than being able to buy it for the entire trip for them)
This should be a one-step process, but rather it takes several steps to actually sign up for a data plan
This isn't the end of the world, but I just can't wrap my head around why they'd make it complicated. I know I'm not the only one who feels this way, because I've gotten emails from several readers with similar complaints (in addition to the comments people left on the post).
My T-Mobile Global Pass issues have gotten even worse
I thought T-Mobile's Global Pass system was already hard to use, but it got even tougher to use, as I've learned over my international travels the past few days.
When I landed in Milan a few days ago I wanted to activate a Global Pass. The first problem is that 2G data is so damn slow that it literally takes five minutes to get to the page in the app where you'd add the Global Pass. Like, going between each page takes about a minute, which is ridiculous. But whatever, I don't mind spending five minutes doing that.
What's obnoxious is that whenever I'm not connected to Wi-Fi (but rather am using data), I don't see the option to purchase a Global Pass on my own line. I see it on other lines, and I see it on my line when connected to Wi-Fi, but I don't see it when trying to buy myself a pass when not on Wi-Fi (which is when I find myself buying passes most often).
See, here's what the "add-ons" page looks like when not on Wi-Fi: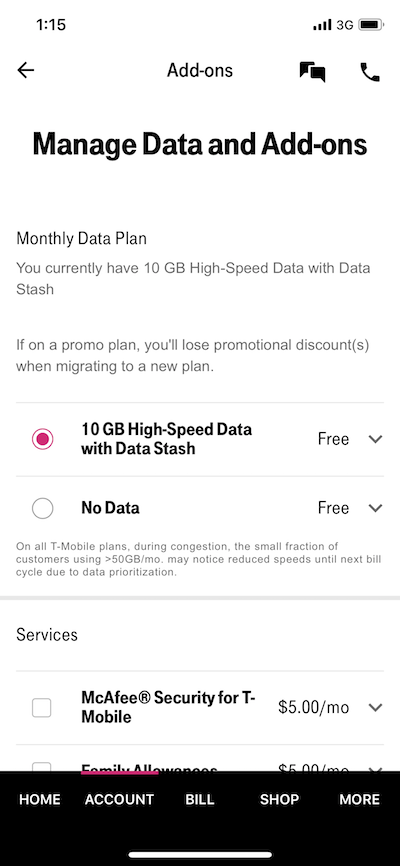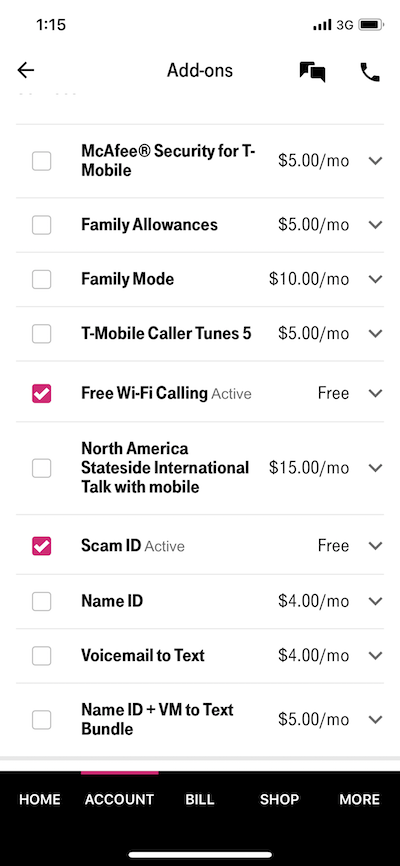 The option just doesn't appear. Is this a glitch, or what? Has anyone else faced this?
So I then started a chat with a T-Mobile representative through the app. He was well intentioned, but the entire process took over 30 minutes from start to finish, including us establishing that there was nothing else that I wanted to add to our agenda for the day.
Here's our chat: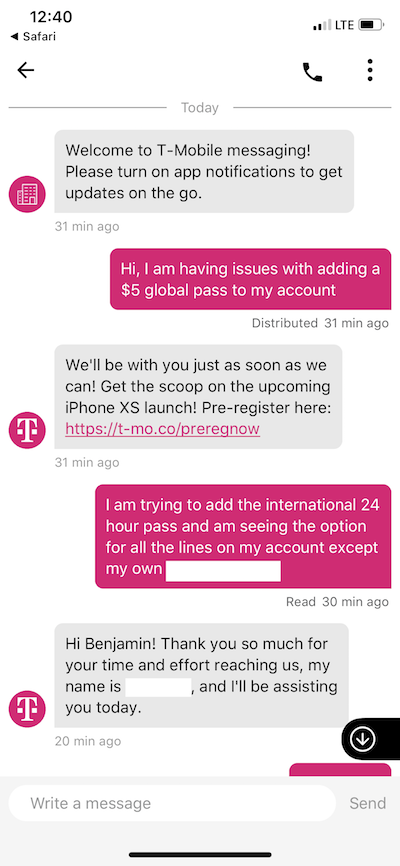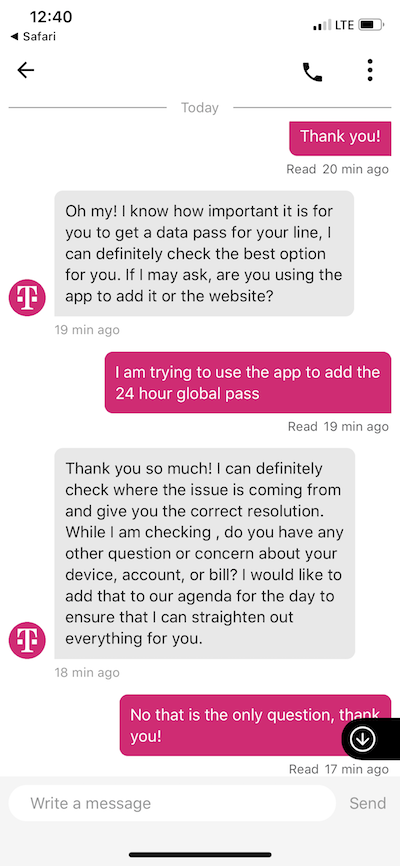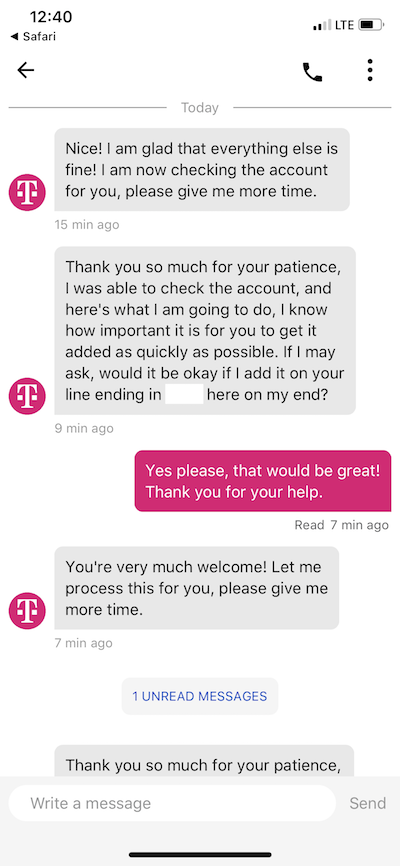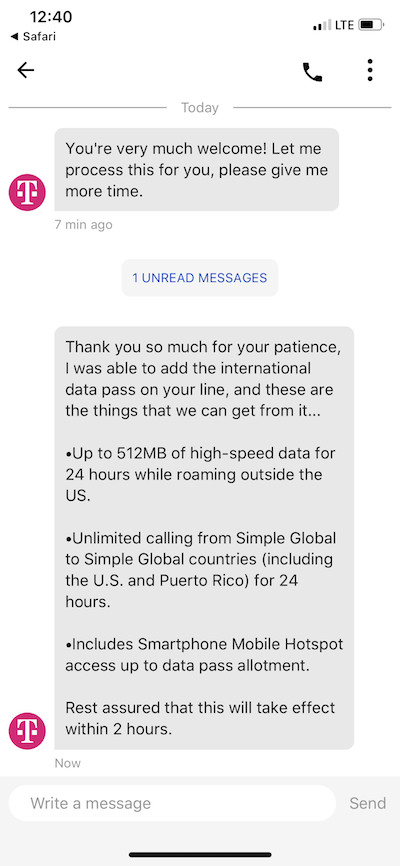 Then even worse, T-Mobile doesn't actually let you know when exactly your plan starts, so you also don't know when it ends. They are supposed to send you a text an hour before it expires in order to warn you it's ending soon, and then I try to make sure I'm on Wi-Fi so I can buy another pass before it expires. Yesterday I got a message at 1:02PM saying it was expiring in an hour, and at 1:09PM I got a message saying it had expired.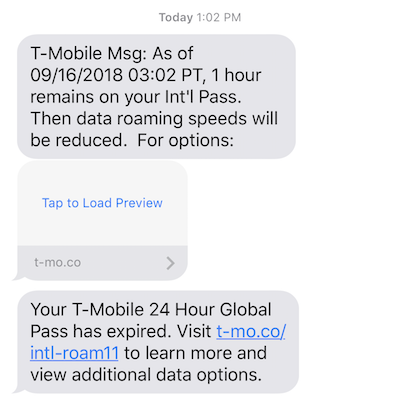 Bottom line
I've spent a couple of years now praising T-Mobile to no end for their reasonably priced, industry leading data plans, and for their no-nonsense approach to things, at least compared to their competitors. So I think it's only fair that I share my frustrations as well.
The competition has caught up, but even so, I still wasn't thinking of leaving T-Mobile.
This isn't a huge deal, at the end of the day. I guess I just need to be really deliberate about buying my passes every day, and I can do that if I need to. What irks me here so much is how poorly thought out this is.
Did any executive at the company give a Global Pass feature a try before adding it? Is this really the finished product? Is this the best they can do?
All I want is that T-Mobile makes it easy for us to pay them for a feature they offer, but they've instead chosen to make it damn complicated.
Is anyone else as frustrated as I am with T-Mobile's Global Pass, or am I the only one having these new issues with actually purchasing a Global Pass?