Last week I wrote about how T-Mobile announced some changes to their international plan. Now they're announcing a new international data option for customers, which I'm thrilled to see. Thrilled. T-Mobile changed the way I stay connected internationally, and now they're taking it to the next level.
T-Mobile's previously announced changes
Last week T-Mobile announced the following changes to their international plan, which is both positive and negative:
As of July 22, 2018, T-Mobile is expanding their international plan from 154 countries and destinations to 210+, so we'll get data in a lot more countries, which is awesome (here's the full list of countries and destinations that are now eligible)
As of July 31, 2018, T-Mobile is increasing the cost of international calls by five cents per minute, from 20 cents per minute to 25 cents per minute, which is not awesome
On balance I view these changes as being hugely positive, though others may feel differently. Personally I care more about having data when traveling abroad than I care about the cost of phone calls, so seeing T-Mobile increase the number of eligible countries by around 50% is awesome.
I've visited many countries lately that weren't covered by T-Mobile's plan. For example, in the past couple of years I didn't have data in Angola, Bangladesh, Brunei, Jordan, Mongolia, Oman, Seychelles, Tajikistan, Uzbekistan, and Vietnam, and those are all covered under the new plan.
T-Mobile is introducing a new $5 daily international pass
T-Mobile has long been innovative, and their international data plan was unrivaled for years. While you typically only get 2G speeds, that's better than nothing, and it doesn't cost you anything extra. For years T-Mobile offered this at no extra cost, while AT&T didn't offer any even remotely attractive international data plans.
In the meantime other carriers have caught up, and I've been starting to get a bit jealous. Other carriers have introduced international plans for $10 per day, where you get high speed data and calling. The benefit there is that you get high speed data, while T-Mobile only gives 2G. T-Mobile is now catching up with the competition in that way, except at half the cost and in a more comprehensive way.
As of August 1, 2018, T-Mobile customers can pay just $5 per day for high speed data and calling abroad. With this new plan you can receive 512MB of up to 4G LTE speeds and all the unlimited calls you want to make for just $5 per day.
T-Mobile will soon charge 25 cents per minute for calls, so even if you talk on the phone for just 20 minutes per day, that will pay for itself. That's not even factoring in the faster data, which is the primary draw, in my opinion.
Customers will be able to sign up for this pass in advance through the T-Mobile app or by calling customer care. Alternatively, when you arrive in a new country you should receive a text explaining the data you receive, and that will have a link where you can activate this plan, which seems like the easiest way to do so.
Here's a chart comparing T-Mobile offerings to the competition: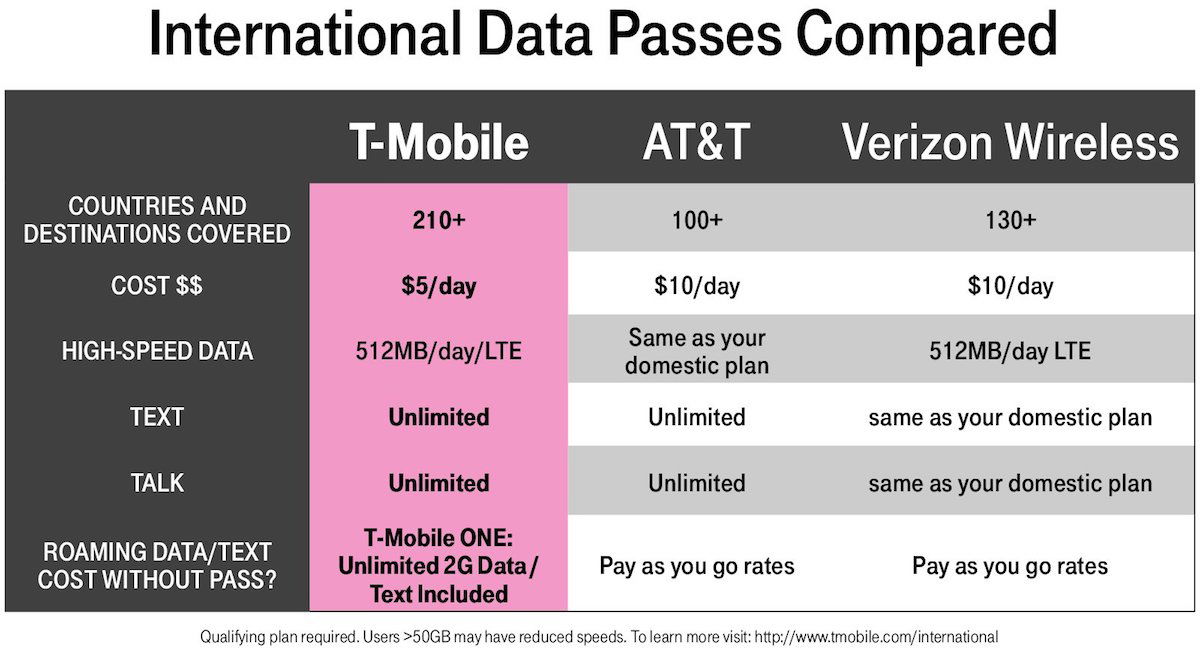 As you can see, not only is this new pass half the cost of what the competition charges, but it's also valid in over 210 countries and destinations, while AT&T and Verizon only offer this in 100+ and 130+, respectively.
Bottom line
I'm so thrilled with this change from T-Mobile. T-Mobile's international plan has changed the way I stay connected when abroad, though over time the 2G speeds have caused frustration, especially as the competition has introduced international passes for $10 per day. T-Mobile's new international plan for half the cost of what the competition charges is awesome, especially since it's valid in way more countries.
To be clear, part of the reason I'm so excited here is because I spend so much time in transit when traveling internationally, and with high speed data I'll actually be able to tether and stay productive, while that's tough to do with 2G data.
I LOVE YOU, T-MOBILE!!!
Anyone else as excited about this new T-Mobile $5 daily pass as I am?