T-Mobile recently announced some changes to its international service.
Changes T-Mobile has made to international service
The good news is that T-Mobile expanded its international plan from 154 countries and destinations to 210+, which I'm very excited about. But then T-Mobile increased the cost of international calls from 20 cents per minute to 25 cents per minute, which is obviously bad news.
Then T-Mobile announced that they were introducing a new $5 Global Pass, where for $5 per day you can get high-speed data and calling abroad. You receive 512MB of up to 4G LTE speeds and unlimited calls for just $5 per day, which I consider to be an excellent deal. I wasn't aware that they had previously offered a 1GB high-speed data plan for $10, valid for up to 10 days, as I had never used that (though I'd go through that data pretty quickly).
While I'm generally thrilled with T-Mobile's international plan (where you get international data at no extra cost), the 2G speeds were super slow, and I would have been willing to pay a reasonable premium for something better. This fits the bill perfectly.
My frustration with T-Mobile's new Global Plan
After having been with AT&T for so many years, I love T-Mobile. I love their transparency, I love their customer service, and I love the simplicity with which they do things.
Unfortunately, T-Mobile's Global Plan isn't quite what I was hoping. Ironically it's not the plan as such that I take issue with, but rather how complicated T-Mobile makes it to purchase the plan. This isn't a huge deal, but I just feel like this should be so much easier.
For example, I'm in the US this week and Ford is in Greece, so I wanted to sign Ford up for the new Global Plan. The only way to do this is through T-Mobile's website or app, or by calling. Even doing it through their app takes quite a few clicks. First, you have to select the line you want.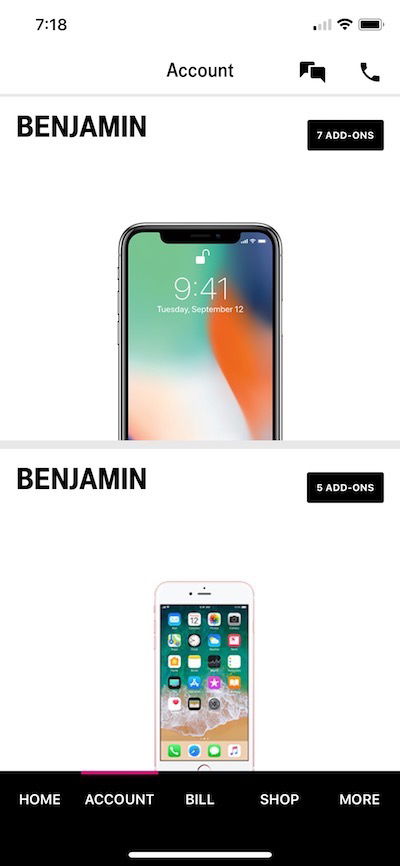 Then you have to click "Manage Data & Add-ons."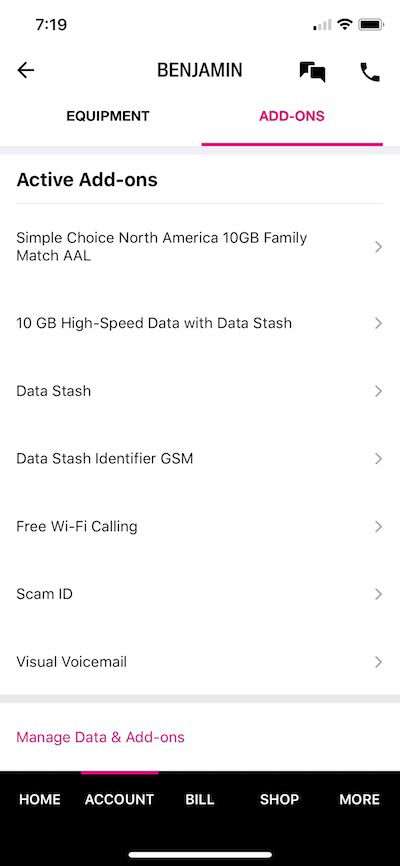 Then you select the "24 Hour Global Pass."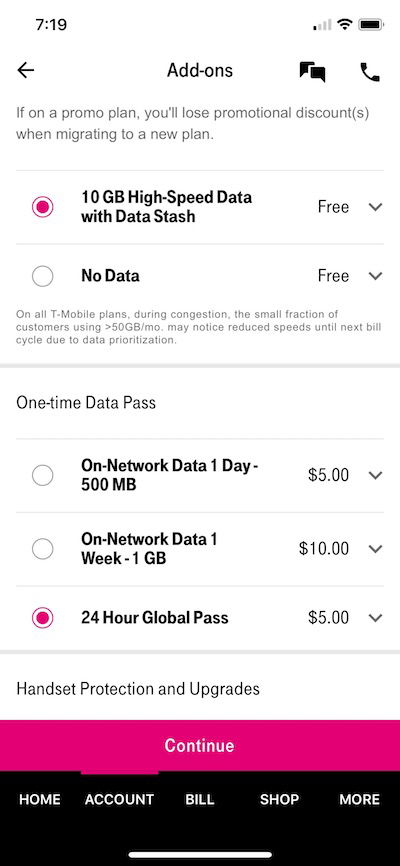 Then you have to review your order and confirm it.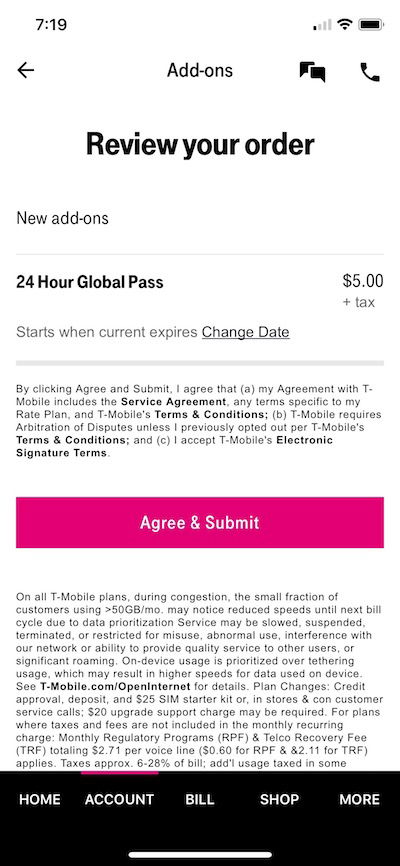 Then it confirms the order.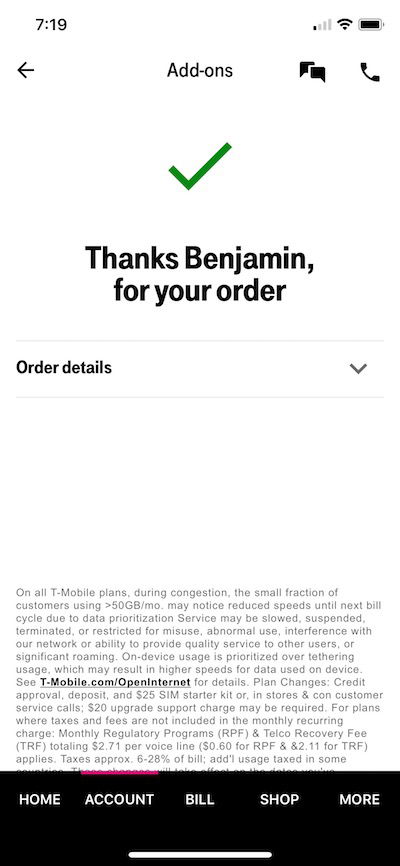 Ford is gone for about a week, so I figured I could just sign him up for it for the duration of his time there. As it turns out, that's not possible (at least based on all the research I've done). You have to manually renew this every single day:
You'd think they'd let you buy multiple passes upfront at once
If they're not going to allow that, you'd think they'd at least make it easy to extend this (like sending a text saying "your Global Pass Plan has run out, if you want to extend it, respond with XYZ to this message"); instead you have to go through the same process every time
This is especially frustrating because I'm the primary account holder and I'm in a different country, so it's annoying that I have to manually go in and do this every day, when his pass ends up running out during hours I'm asleep
The last part isn't a huge issue since Ford has my T-Mobile log-in info and is an authorized user, but for example, my parents are also on my account, and I know they'd never be able to figure out how to extend this. So when they're traveling to Germany I'll have to do this every day.
For anyone who wonders, here's what communication is like when you enter a country:
Welcome to Greece! Your T-Mobile plan gives you unlimited data up to 2G speeds and texts at no extra cost! Calls at 25 cents/min. Visit t-mo.co/intl-roam to learn more and view additional data options. Enjoy your stay!
Then when you activate the plan you get the following message:
Thank you for purchasing a T-Mobile 24 Hour Global Pass, available for use as of 08/02/2018 07:08 Eastern Time. You may need to reboot your device to activate your pass.
Then when it runs out you get the following message:
Your T-Mobile 24 Hour Global Pass has expired. Visit t-mo.co/intl-roam11 to learn more and view additional data options.
I've researched this extensively, and have called T-Mobile, but I feel like there's something I must be missing, which is why I'm writing this post.
T-Mobile: You're a company that usually makes things very easy on people. I'm happy with the new Global Plan, but please make it easy for me to give you money. Let me buy multiple passes at once, and let me add a pass with a click or two directly from a text, rather than having to go into the app and go through the same steps every time.