Update: In December 2019, Korean Air SkyPass announced some major program changes, including a significant award chart devaluation for bookings as of April 2021. Well, there's some good news on this front. As noted by reader Kwangsu, Korean Air is postponing its award chart devaluation, and it will now only happen as of April 2023.
This is fantastic news, because I'm sure I'm not the only one sitting on a sizable SkyPass balance with no good way to redeem it at the moment. You can find the full unedited original post from 2019 about the award chart devaluation below.
---
Some massive changes have just been announced to the Korean Air SkyPass frequent flyer program. Korean Air describes these changes as being implemented "to increase customer benefits." I beg to differ.
Keep in mind that Delta now owns a stake in Korean Air and has a joint venture with them, and we know what Delta does to frequent flyer programs. 😉
Why I Personally Care About Korean Air SkyPass
Korean Air SkyPass used to be a Chase Ultimate Rewards transfer partner, and was one of my favorite transfer partners at that. SkyPass had excellent redemption rates for travel in Korean Air first class, and award space was generally readily available.
Unlike oneworld and Star Alliance, SkyTeam doesn't have the same level of reciprocity of first class awards, so booking through SkyPass was the best way to redeem for Korean Air first class.
Before the partnership between Chase and Korean Air ended (in August 2018), I transferred hundreds of thousands of points, and I haven't redeemed any of those yet. While speculatively transferring points may seem dumb, the values were that good, it was a unique currency, and Korean Air has historically provided plenty of advance notice of any program changes (and this is no different).
Korean Air SkyPass Changes
There are all kinds of things changing about Korean Air SkyPass, including mileage earning rates, mileage redemption rates, elite status qualification, and more. The catch is that in some cases they've given full details of the changes, while in other cases they've only teased. So let's look at what we know so far.
New Distance Based Redemption Rates
Lets start with what I care most about, and what probably impacts OMAAT readers most.
As of April 2021, SkyPass will be introducing new mileage redemption rates. Korean Air says that the new pricing will be based on zones and categorized by flight distance. This will replace the current region-based award chart.
Korean Air highlights that economy and short haul awards will be getting significantly less expensive. They note:
Economy one-way awards between Incheon and Qingdao will decrease in cost from 30,000 miles to 20,000 miles (what a deal, I'll take 14!)
It's also noted that for Korean Air's 125 international flight routes in economy, 64 will require less mileage, 49 will require more mileage, and 12 will require the same mileage
Unfortunately the changes to premium cabin redemption rates are awful. For context, here's how much SkyPass currently charges for one-way first class awards in standard season between the US and select destinations:
North America to Korea, Japan, China, or Northeast Asia: 80,000 miles
North America to Southeast Asia: 95,000 miles
North America to Southwest Asia: 105,000 miles
North America to Oceania: 120,000 miles
Going forward, here's first class redemption rates one-way on a per segment basis in standard season:
A distance of 500-999 miles costs 37,500 miles
A distance of 1,000-1,499 miles costs 45,000 miles
A distance of 1,500-1,999 miles costs 52,500 miles
A distance of 2,000-2,999 miles costs 67,500 miles
A distance of 3,000-3,999 miles costs 82,000 miles
A distance of 4,000-4,999 miles costs 97,500 miles
A distance of 5,000-6,499 miles costs 120,000 miles
A distance of 6,500-9,999 miles costs 135,000 miles
Ouch! In other words:
A one-way ticket from the US to Korea increases in cost from 80,000 miles to 120,000-135,000 miles
A one-way ticket from the US to Bangkok increases in cost from 95,000 miles to 187,500-195,000 miles
These changes are awful.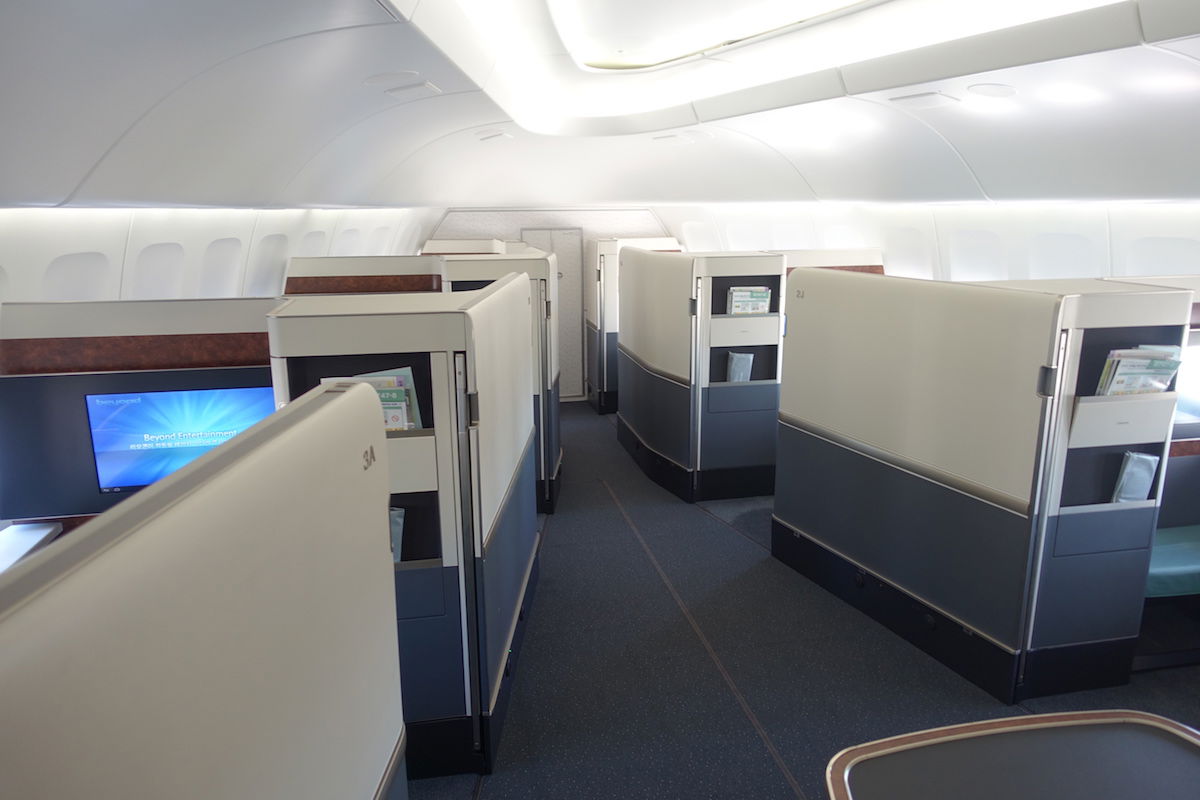 Korean Air 747-8 first class
New Mileage Earning Rates
As of April 2021, SkyPass will be introducing new mileage accrual rates. Korean Air says that these will "correspond to airfares" and will be "taking global standards and airfare levels into consideration."
While the new rates haven't yet been published, first class will earn up to 300% mileage, business class up to 200% mileage, and economy earnings rates will be "reorganized into four categories based on booking class."
So it seems they're following the industry trend here, and will award more miles for expensive tickets and fewer miles for cheaper tickets.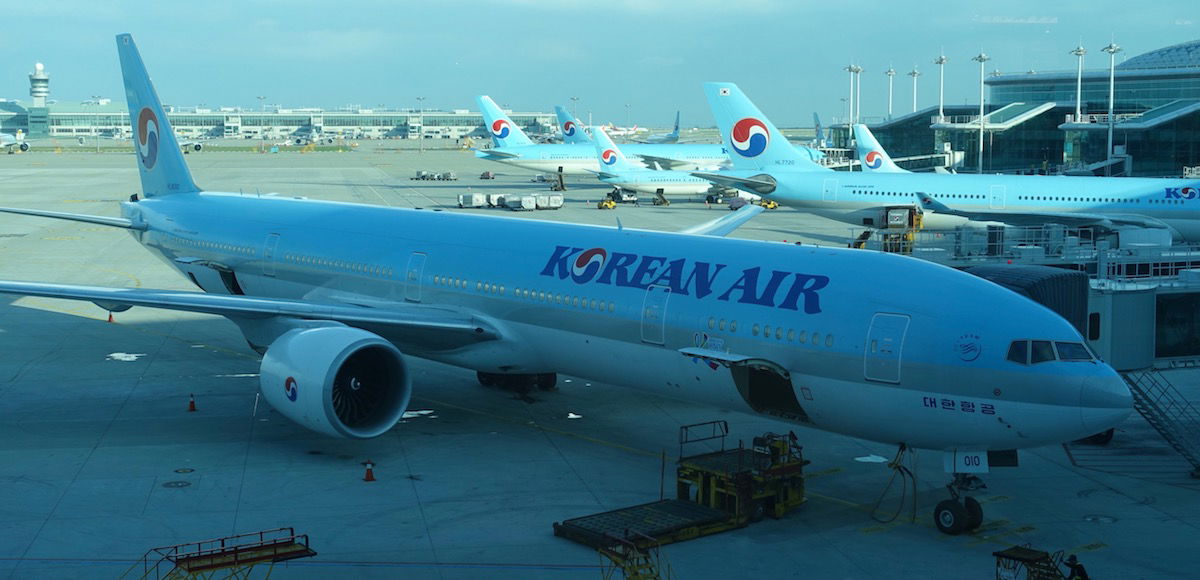 Korean Air 777-300ER
New Elite Levels
As of February 2022, SkyPass will be introducing new elite qualification requirements. Korean Air says that the requirements will be "significantly lowered," and that members will need to earn either 10,000 miles or take 10 flights in the previous year to earn status.
The existing three levels of elite membership will be replaced by four levels — Silver, Gold, Platinum, and Diamond.
Apparently the new system will provide greater benefits, such as 20-80% mileage accrual rates, free seat upgrades, and elite member level transfers to family members.
Of course I would be quite skeptical here about what this actually looks like, given the lack of details.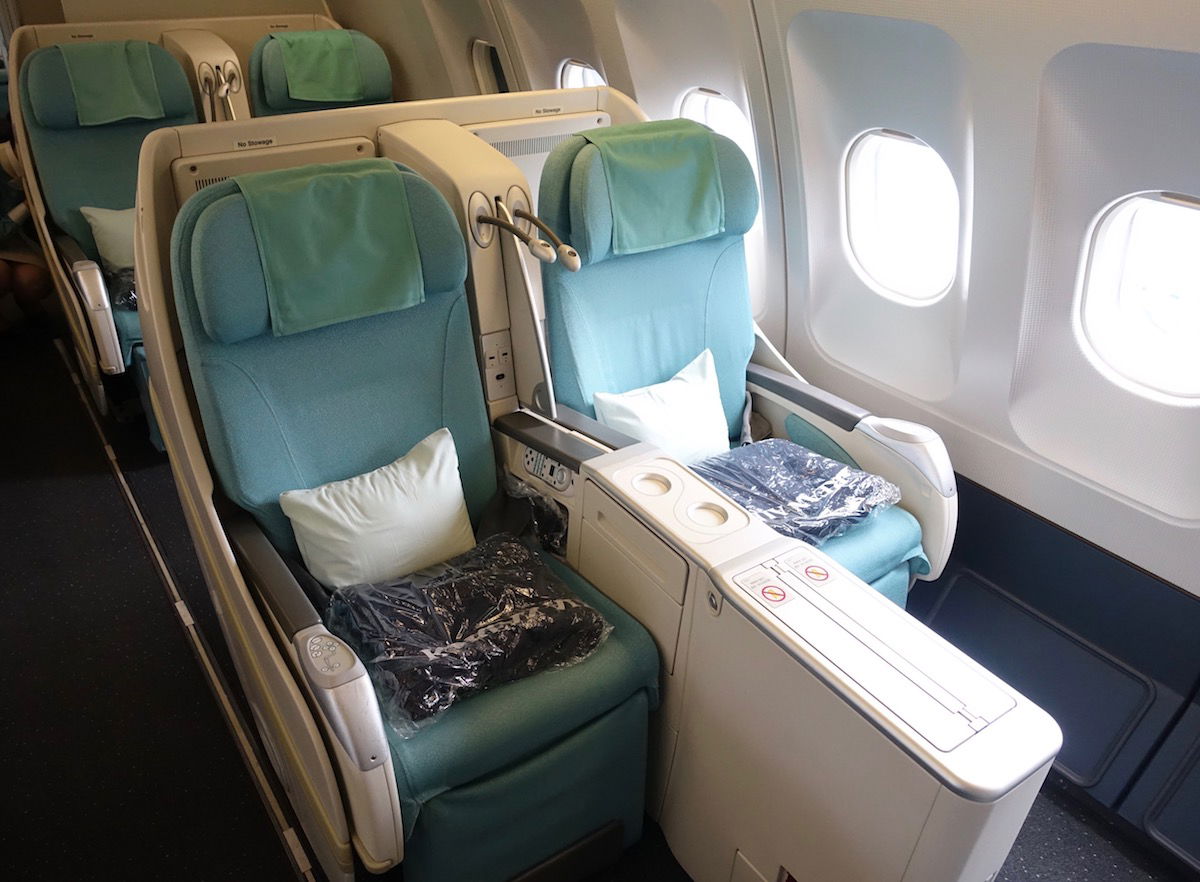 Korean Air A330 business class
New Cash & Miles Trial
As of November 2020, Korean Air will be testing a "cash & miles" payment option, allowing members to purchase flights with a combination of miles and cash. This is supposed to make mileage redemptions accessible to more passengers, who may not have enough miles for an outright award ticket.
I wouldn't get too excited here if you're looking to maximize value, since I can't think of a single airline where this option consistently represents a good value.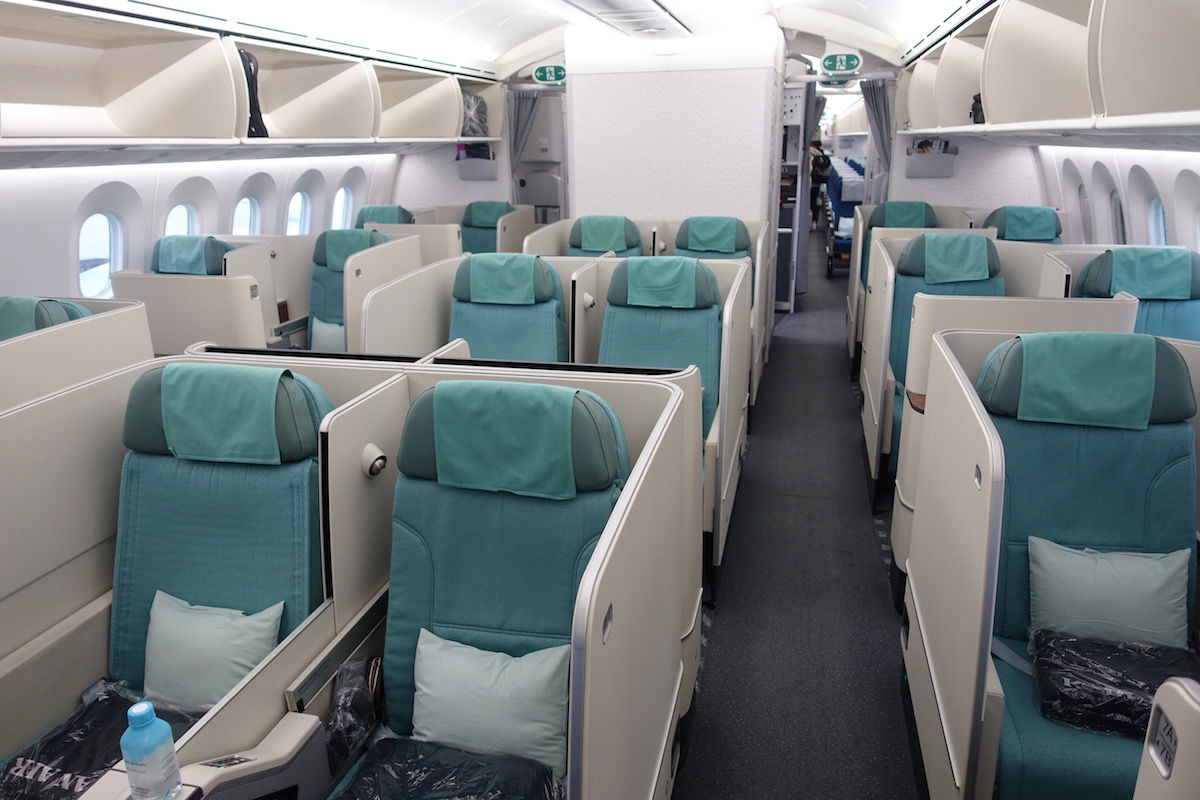 Korean Air 787-9 business class
Bottom Line
The changes coming to Korean Air SkyPass are awful for those looking to maximize value, especially for those looking to redeem miles for first & business class.
While we don't yet know all the details, we do know that the redemption rate increases are huge for first & business class travel. I have several hundred thousand Korean Air SkyPass miles that I'll need to redeem before April 2021…
What do you make of these Korean Air SkyPass changes?