Etihad was once regarded as one of the world's premier airlines. They gave both Emirates and Qatar a run for their vast oil and natural gas reserves money with the introduction of the Residence and Apartments on their A380 in 2014. Unfortunately those planes are being retired. You can only redeem for business and first class on Etihad's B787s, A330s, and B777s.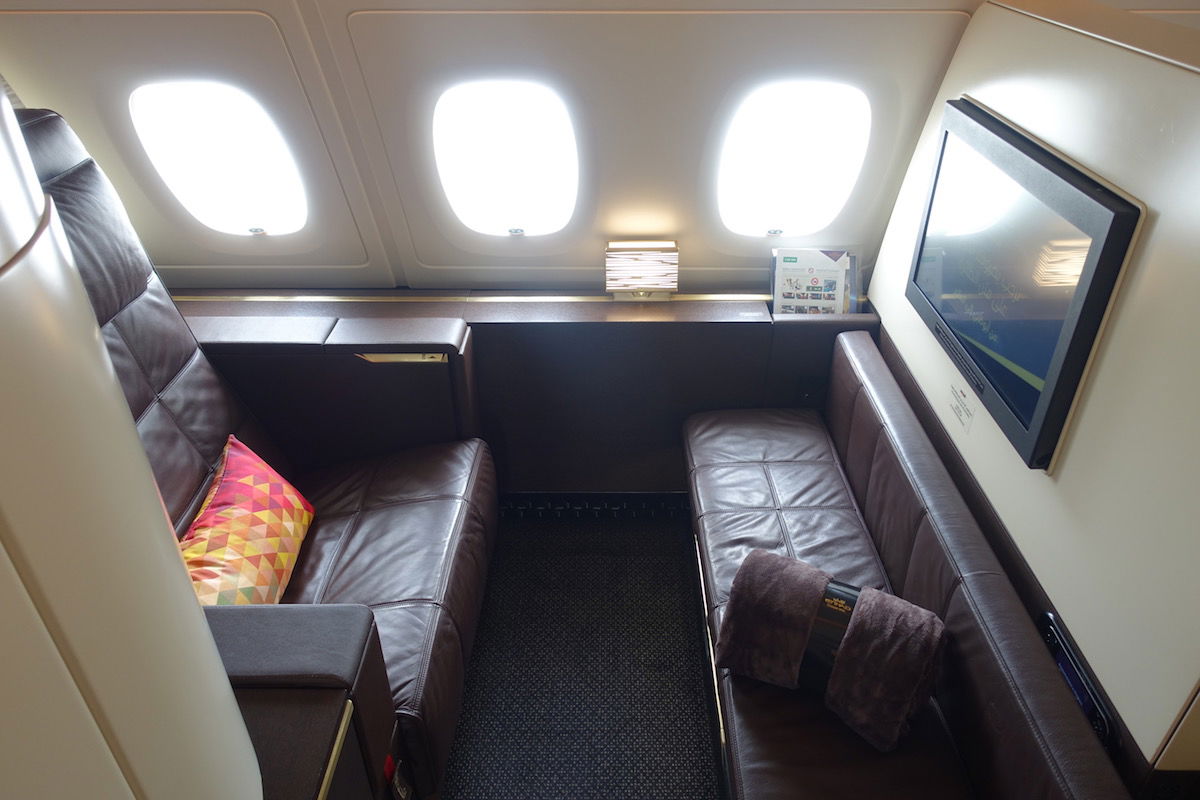 While Etihad Airways is now just a shell of its former self, it's still worth knowing about the partnership with AAdvantage and how to redeem AA miles for travel on Etihad. These awards are tricky to book, and we've outlined the steps for you here.
Etihad flies to many destinations across the Middle East and Indian Subcontinent and Africa, all of which can be reached with Etihad from the US using AAdvantage miles.
One of these easiest ways to earn American AAdvantage miles is with credit card spending. These are some of the best credit cards available to earn AA miles:
Traveling on Etihad with American miles
Redeeming AAdvantages miles for travel in Etihad first and business class has long been one of the best uses of AA miles. You can connect onwards from Abu Dhabi to anywhere in the Middle East, India, Nepal, Sri Lanka, the Maldives for just 70,000 miles in business class or 115,000 miles in first class. For just a few more thousand miles (75,000 and 120,000 respectively), you can go onwards to Africa.
Etihad award space does not show up on the American website. Agents based in the US cannot see premium cabin award space to or from the US. This makes booking these awards difficult. The trick is calling one of American Airline's foreign call center. There are "point of sale" restrictions on these awards, and agents in Oceania, Asia, and Europe can see the award space. If you want to book business or first class travel on Etihad using AA miles, you'll have to call a foreign call center, like one in the UK, Hong Kong, or Australia.
Assembling an itinerary on Etihad
Because Etihad flights don't show up on AA.com, piecing things together is more challenging than with other partners. You'll have to know how to search for Etihad award space, and then figure out what other partner flights you can combine with those flights.
Searching for Etihad award space
The best place to search for Etihad award space is on AirCanada.com. Air Canada and Etihad announced a partnership in June, 2020 and you can now redeem Aeroplan miles for travel on Etihad. If the seats are available to Air Canada Aeroplan members, they're also available to American AAdvantage members.
You'll want to search for space from the Etihad hub to the final destination that you'll fly with Etihad. You can then add on any additional segments later. Etihad awards have to be held and ticketed by phone, so piecing things together this way is essential.
Let's say you want to travel from Charlotte, North Carolina to Colombo, Sri Lanka. On AirCanada.com, you could look for Etihad award space from either Chicago, New York-JFK, or Washington, DC-Dulles to Colombo. If you find business or first class seats, those can be booked via AAdvantage.

For this example it's worth noting that SriLankan Airlines serves Abu Dhabi from Colombo, so if you only see business or first class space to Abu Dhabi, you could search for space on SriLankan to Colombo either using the BA award search tool or on AA.com (SriLankan award availability shows up on AA.com).
You would then search for your award flight from Charlotte to Washington, DC to add to this itinerary. You can try searching online at AA.com, but award pricing with AAdvantage is so variable that it's tough to tell what can be combined with partner award flights. It's best to hold the Etihad flights, then try to call to add the CLT-IAD segment later on.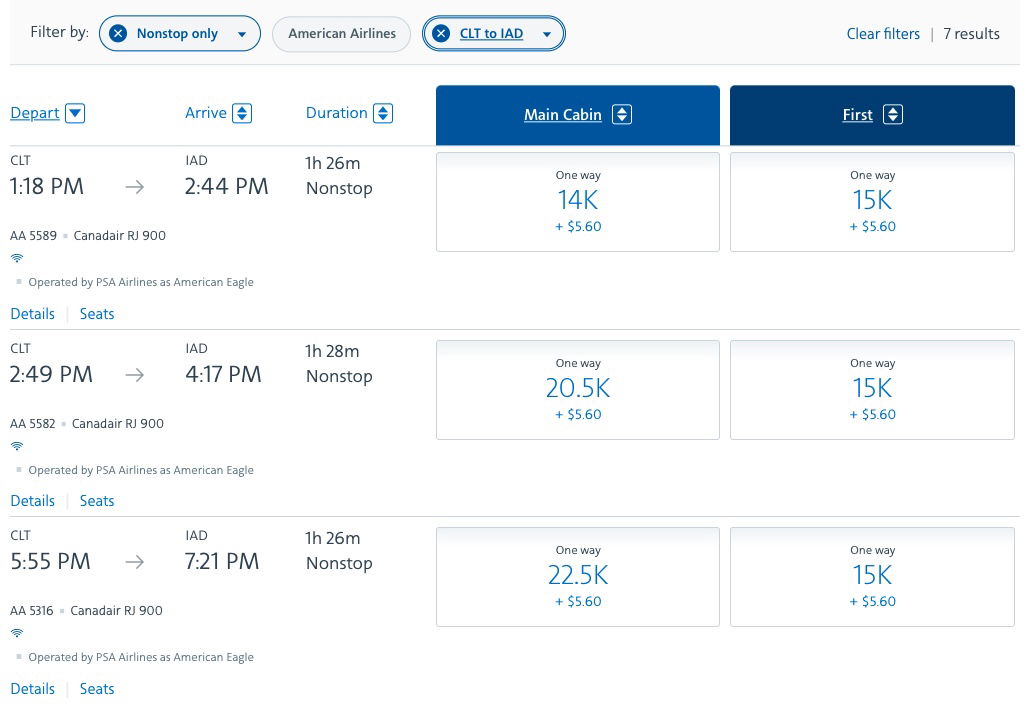 Holding Etihad flights
Once you've found the Etihad flights you want to book, you will need to call a foreign call center to put the flights on hold. It's easiest to hold the Etihad segments first, then call the US reservations line to add any positioning flights later on.
There are point of sale restrictions, and agents based in the US cannot see Etihad business and first class award space on flights between the US and Abu Dhabi. The best call centers to call are the UK, Germany, Singapore, Hong Kong, Australia, or New Zealand. Here are those phone numbers:
American Airlines UK: +44 207 660 2300
American Airlines Germany: +49 69 2999 3234
American Airlines Singapore: +65 6349 8444
American Airlines Hong Kong: +852 3057 9197
American Airlines Australia: +61 2 9101 1948
American Airlines New Zealand: +64 9 308 4014
It's worth using a service like Google Voice for low international calling rates.
If the first agent you talk to can't see the space, try calling another country's reservations phone number. What's strange about this backdoor method is that sometimes you'll call the call center in Australia and they can't see the space. Then a quick call to the Hong Kong call center and they can see the space. It can feel very random oftentimes. If you can't find an agent who sees the space right away politely hang up and try another call center.
You'll want to provide the agent with your origin and destination, dates of travel, number of passengers, and class of service. You'll also want to specify that you're looking for Etihad flights, otherwise the agent may look at options with British Airways, Qatar, or another oneworld carrier.
Once the agent finds the Etihad flights, they can create a temporary booking and hold the award space. They'll confirm the flight details and price, and take the passenger details. Be sure to ask for both the American and Etihad record locators. You won't be able to select seats until you ticket your reservation.
Filling in the pieces
Once you've got your Etihad segments on hold, you can add any additional segments. You can combine Etihad flights with American Airlines award flights, or flights on any of AAdvantage's other partners.
Positioning flights within the US for Etihad awards
Once your Etihad flights have been held via one of the foreign call centers, you can then call the US reservations line to add on the domestic flights you'd like. The agent can confirm whether or not there's saver space available to add to the reservation. You'll want to provide the agent with your existing record locator, and tell them you need to add segments on American Airlines to the award.
Remember that you can also position with Alaska Airlines within the US. As long as there's award space that's bookable for partners, you can combine that on the same award ticket with Etihad Airways. That brings us to our next point, combining Etihad flights with other AAdvantage partners.
Adding any other partner flights
You can mix Etihad flights with any of AAdvantage's other partners, so long as you don't run afoul of any of AAdvantage's other routing rules.
Let's imagine you want to get from Europe to Southeast Asia. You can connect within Europe on British Airways or Finnair to your Etihad gateway, and then onwards from your Etihad destination with Cathay Pacific, Malaysia Airlines, or SriLankan Airlines.
Generally it's easiest to hold the Etihad flights first, then call back later to add any partner segments.
Ticketing your award
After everything's on hold, you can call to ticket the award. It's usually best to call the call center from the country in which your credit card is issued, as to not run into payment processing issues.
As you most likely held this award from another country's call center, the agent may need to reprice the award and store it in local currency. This isn't an issue, but it may sometimes catch agents off guard when they see taxes and fees stored in a foreign currency.
How to select seats on Etihad
Once your ticket has been issued, the easiest way to select seats on Etihad is using the Etihad app. The website can sometimes be a bit buggy for award reservations. Sometimes it works, sometimes it doesn't. The app is much more reliable.
You'll need to download the app, then load your reservation using your confirmation code (the Etihad one, not the American one) and your surname. You'll have to select the seats then click through a series of confirmation screens.
Etihad does charge for economy seat selection, while business and first class seats are free.
Monitoring your reservation for any changes
Etihad, like many carriers nowadays, is frequently making equipment swaps and changing routes and schedules. Like with any other airline reservation, keep a close eye on your itinerary. If you receive any emails regarding a schedule change you'll need to contact AAdvantage to find suitable alternatives.
Bottom line
Even with the service cuts to Etihad's product, it continues to be one of the best products to redeem AAdvantage miles for. You can fly from the US to any destination in the Middle East or Indian subcontinent for just 70,000 miles in business or 115,000 miles in first, or continue onwards to Africa for 75,000 miles or 120,000 miles respectively.
Putting together an itinerary on Etihad continues to be challenging when using American miles, but can be well worth the effort.
Have you redeemed AA miles for travel on Etihad before? What was your experience like?