Updated: 6 days ago
For years American has offered a status challenge for Gold and Platinum status, which provided a fast track opportunity to earn status. You'd have to pay a certain amount and then earn a certain number of elite qualifying miles within a 90 day period in order to maintain that status beyond the challenge period.
They also occasionally offer targeted promotions to people with lapsed AAdvantage status, or as part of their new partnership with Hyatt. Here's everything you need to know about how these challenges work, and whether or not they are worth it.
Status Challenge to Gold or Platinum Status
These challenges are slightly more complex than they used to be, which has pros and cons. It's good news because you have the possibility of receiving status upfront, while it's bad news because there's a revenue requirement, which reflects the direction of the AAdvantage program after the 2017 changes.
American has tweaked the requirements for these challenges several times over the years; this information is current as of October 2022.
What is required for a Gold or Platinum challenge?
No matter which challenge you choose, you'll have to meet certain EQM requirements, along with the revenue requirement within 90 days from starting the challenge.
For Gold you'll need to earn 7,000 EQMs or 8 EQSs, along with $1,000 EQD
For Platinum you'll need to earn 12,500 EQMs or 16 EQSs, along with $2,000 EQD
To give some context, ordinarily Platinum status requires 6,000 elite qualifying dollars per year, so you're having to earn a third of the required annual elite qualifying dollars during a quarter of the year.
You earn elite qualifying miles at the following rate under the new AAdvantage program:

Beyond that, flights for the challenge must be marketed by American or designated partner airlines:
American Airlines
British Airways
Finnair
Iberia
Japan Airlines
Qantas Airways
Flights on other oneworld carriers, or American partners like Etihad, won't count towards the challenge.
How much does an AAdvantage status challenge cost?
American doesn't technically publish the cost for status challenges, but there are enough data points to provide ranges. In general, the cost for the status challenge will vary based on the following:
When you're starting the challenge (I recommend starting after June 15, as that will typically give you status for the remainder of the current year, and all of the following year)
Whether you are aiming for Gold or Platinum status (in general I only think this makes sense for Platinum status, as I'll get into below)
If you want status during the challenge (which is a nice option, but not always necessary)
Breaking down the costs further, here's what you can expect to pay for each option:
Gold challenge (without status advance) — $100-$180
Gold challenge (with Gold status advance) — $280-$340
Platinum challenge (without status advance) — $180-$240
Platinum challenge (with Gold status advance) — $380-$440
Platinum challenge (with Platinum status advance) — $480-$540
The best way to qualify for a challenge is typically by flying discounted business class tickets on partner airlines, like British Airways. You'll earn EQMs more quickly, and will be able to enjoy airport lounges, priority security and boarding, etc. If you're able to find business class tickets for your challenge, the premium for the status advance may not be worth it, as the main benefit otherwise would be the extra redeemable miles you'd earn based on having the status.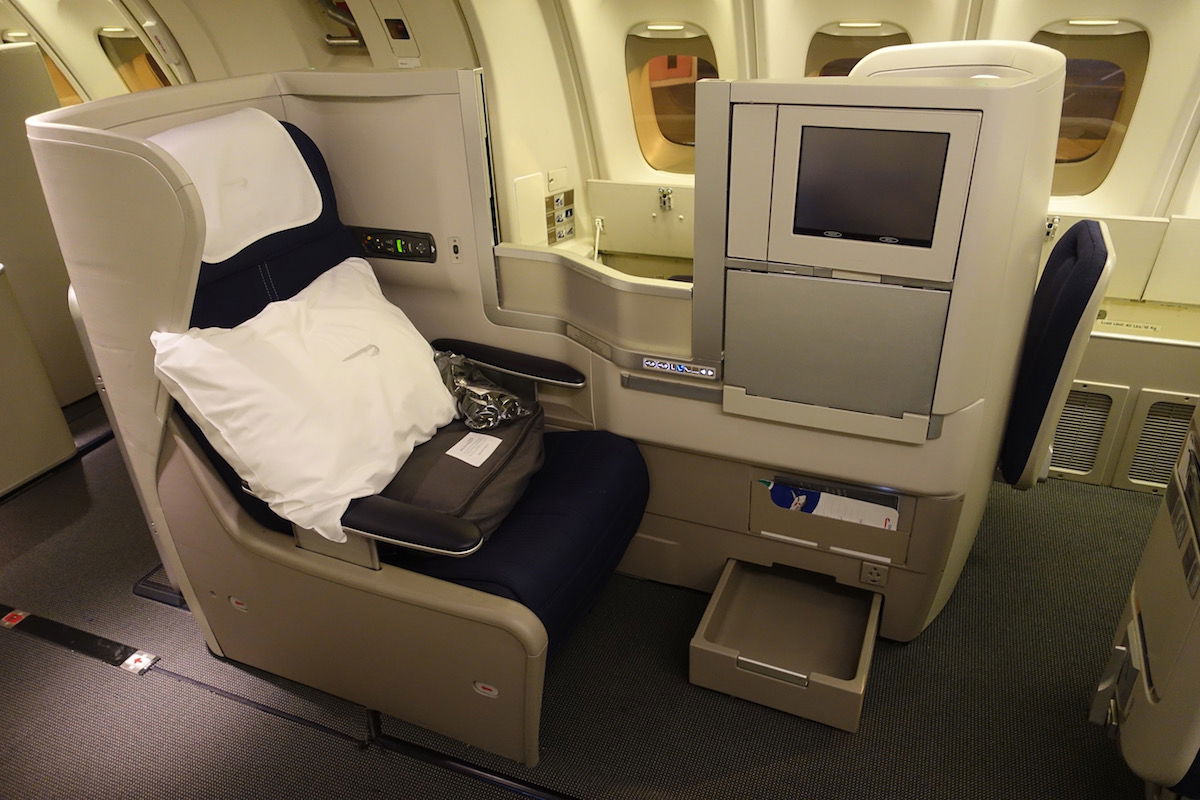 In any case, I don't suggest either challenging or paying for advance Gold status. AAdvantage Gold offers minimal benefits, so this is really only worthwhile for having Platinum while you work towards Executive Platinum.
Keep in mind that if you wanted to earn Executive Platinum status, you'd still need the full 100,000 EQMs over the course of the elite qualification year; while your status is upgraded through the challenge, you don't receive the corresponding EQMs.
Enrolling in an AAdvantage challenge
To start either an AAdvantage Gold or Platinum status challenge, start by phoning American AAdvantage at 800-882-8880.
Make sure to have your AAdvantage number, and ideally the PNRs of any upcoming travel you have booked on American and relevant partners. Let them know when you want to start the challenge (it doesn't have to be on the day you call), which status level you're trying for, and whether or not you want the status to be advanced.
Note that you can't sign-up for a challenge as a way of requalifying for your current status level, though you can use it to bump up from Gold to Platinum. Similarly, you can pay to upgrade from a Gold challenge to a Platinum challenge, and you can also downgrade from a Platinum challenge to a Gold challenge, though in the latter instance you wouldn't be refunded the difference.
Targeted AAdvantage Status Challenges
In addition to the "normal" status challenges, American will occasionally send out a round of targeted status challenge offers. American seems to send these out a couple of times per year.
We'll never know exactly what targeting techniques they use, though I imagine:
In some cases they're probably going after former elite members who now fly American less
In other cases they're probably going after non-elite members who have purchased full fare tickets on American in the past
American's targeted status challenges
These offers are typically fairly widely targeted. If you want to see if you were targeted, check your email for something from American with the subject line "Free Platinum status for you" or "Free Gold status for you."
You can also follow this link to see if you were targeted, though if you didn't get the email it's unlikely you'll be able to register.
In order to qualify for the offer you need to register before flying (though it's fine if your ticket was previously booked). Furthermore, eligible flights only include those operated by American Airlines or marketed by American Airlines for travel on British Airways, Finnair, Iberia, and Japan Airlines.
Why I'm conflicted about these targeted challenges
I find the logic of these challenges to be interesting. Anecdotally it sure seems to me like the number of offers they've sent out the past couple of years has increased, which is interesting, because it's at the same time that they've increased elite requirements.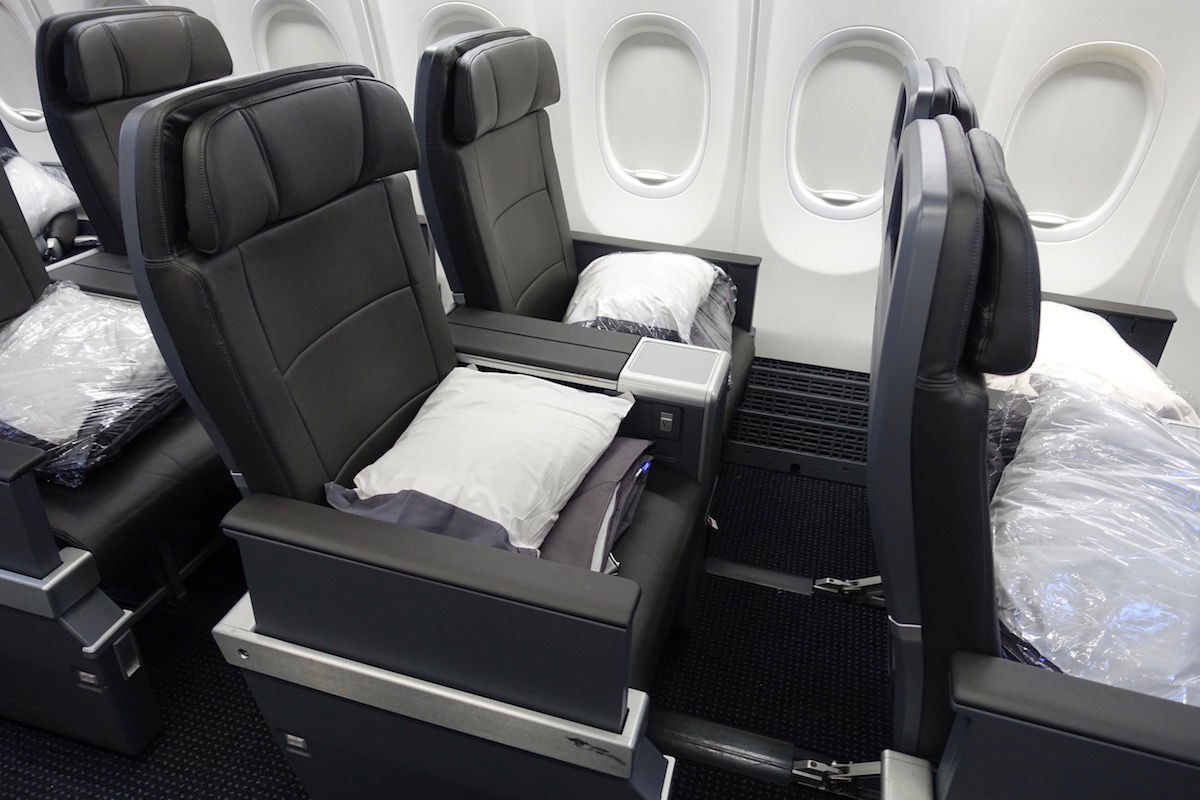 I get the concept of trying to target new customers in order to create loyalty, and sometimes it works. There are some reports of people who haven't flown American in years receiving this offer, which does make me wonder, though.
But what I question most about this is the logic of increasing elite requirements and alienating existing customers while also giving huge shortcuts to status with these challenges.
American Status Challenges for Hyatt Elites
In May 2019, American and Hyatt launched an exciting new partnership. With this new cooperation:
Hyatt elite members can earn bonus points for American flights, and American elite members can earn bonus miles for Hyatt stays
American Concierge Key members can get Globalist status, and other American elite members can participate in Hyatt status challenges
Select Hyatt elite members can participate in American status challenges

When it comes to this cooperation, that last point seems to be the least consistent so far. When members registered to link their accounts, many American elite members reported seeing Hyatt status fast track promotions.
Similarly, many Hyatt elite members are now eligible for American status challenges. First make sure that your American and Hyatt accounts are linked, and then go to the American Airlines promotions page.
Not everyone will be targeted, though quite a few people are reporting seeing offers even though they haven't been emailed about them. It seems that in general we're seeing the most offers for Hyatt Globalist members who don't have American status.

For those members, the most common promotion seems to be as follows:
Get free AAdvantage Platinum status when you register; you need to register no later than September 30, 2019
If you fly enough over a 90 day period you can earn AAdvantage elite status valid through January 2021, and the status is based on how much flying you do over a three month period:

Gold status requires 1,000 EQDs plus 7,000 EQMs or 8 EQSs
Platinum status requires 2,000 EQDs plus 12,500 EQMs or 16 EQSs
Platinum Pro status requires 3,000 EQDs plus 20,000 EQMs or 24 EQSs
Executive Platinum status requires 5,000 EQDs plus 35,000 EQMs or 40 EQSs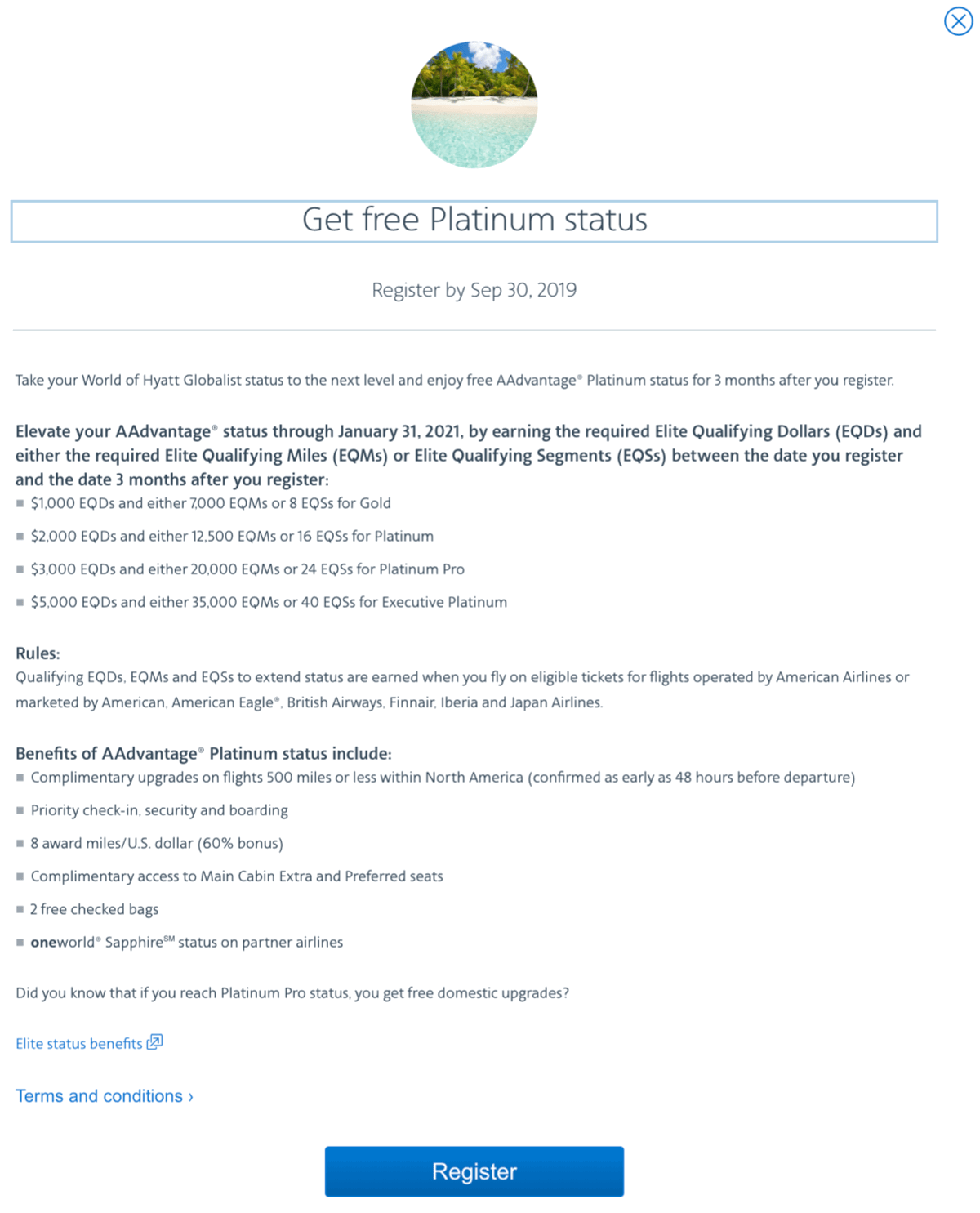 Being able to get a status challenge that can potentially earn you Executive Platinum status is pretty awesome.
Not surprisingly it seems like most of the Globalist members being targeted for this promotion are those without any American status, while those of us who are Executive Platinum and Platinum Pro seem to be getting nothing.
If you've linked your AAdvantage and World of Hyatt account, please report back on whether you've been targeted for an American status challenge, and what the terms are!
Bottom line
While tempting, status challenges aren't necessarily a no-brainer. Be sure to consider how much you'll be flying American in the coming year (and everything that goes along with doing so), and whether or not you'd organically earn the same status without paying a fee.
In general, I don't think challenging to Gold makes any sense, though a Platinum challenge could be lucrative for someone who could take advantage of the enhanced earnings rates on their way to Executive Platinum.
Do you plan on doing an AAdvantage status challenge this year?