Reader Jake asked the following question via email:
I know you have status with Alaska and American, and I was wondering if you could share your strategy for requalifying this year?
Jake is correct, my two primary airlines are American and Alaska, and last year I requalified for Executive Platinum and MVP Gold 75K:
Benefits of American Executive Platinum status
As of now I love American Executive Platinum status, and find it to be probably the best top tier status for any US airline. Being an Executive Platinum gets me:
Eight systemwide upgrades per year that I can use to upgrade any revenue fare class
Unlimited complimentary domestic upgrades (which almost always clear)
100% mileage bonus on all revenue miles flown
Access to international first class lounges when traveling on international transoceanic flights as a OneWorld Emerald
Award change and redeposit fee waivers
There are lots more benefits, but those are the ones I value the most.
Benefits of Alaska MVP Gold 75K status
Since moving to Seattle I've started flying Alaska, which is tough to beat in terms of convenience thanks to their domestic route network and frequency with which they operate many routes. What I value most about being MVP Gold 75K with Alaska is:
Why I plan on requalifying for status with both American and Alaska
I think the value in American Executive Platinum status is obvious.
While I'm sure the program will be devalued somewhat once American and US Airways create a single loyalty program, as of now the program is ridiculously generous. Given that I'm about to move into hotels full time I'll be doing as much flying as ever, and Executive Platinum status with American is a no brainer.
Alaska is tougher, at least on paper.
I'm leaving Seattle (at least technically), and for that matter even when I lived in Seattle only about 25% of the miles I credited to Alaska were actually for flights on Alaska Airlines. So a vast majority of my Alaska miles are credited from partner airlines, like Delta (remember that crazy Brazil trip?).
So the value that comes with status — unlimited upgrades, a great same day change policy — is useful, but not something I take advantage of for 75,000+ miles per year of flying.
However, Alaska miles are so valuable and they have so many partners that I can't help but continue to credit miles to them as a "backup" program.
So what's my plan for requalifying with both American and Alaska?
American Executive Platinum status requalification — DONE!
Last year it was late in the fourth quarter before I requalified for Executive Platinum status. This year I was done just two months into the year, mostly thanks to dumb luck.
How? There are consistently great paid first and business class fares between the west coast and the Caribbean/Central America. These are the rule rather than the exception.
Last year I saw some ~$800 business class fares between Seattle and Managua, which allowed routings through Los Angeles, New York, and Miami. I booked them maybe nine months ago, so at the time they were hardly noteworthy. The connection times were convenient though, and given that I was so far behind on my requalification for 2013 I booked a couple of trips, and then booked a handful for 2014 as well.
This was really more laziness on my part than anything else, though it has worked out surprisingly well.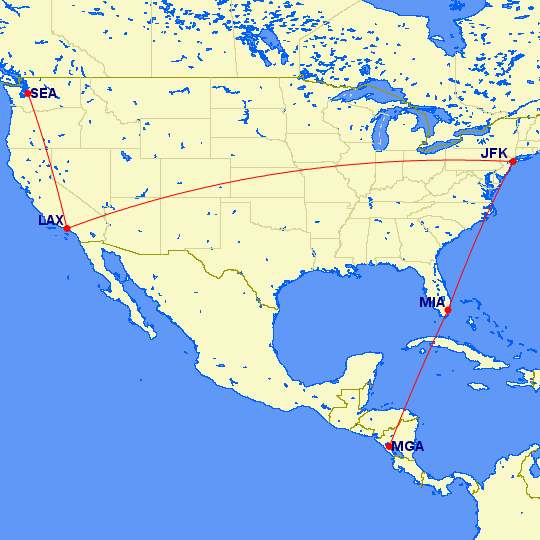 Roundtrip the routing is 11,066 base miles. Since it's paid business class you're earning 1.5 elite qualifying points (EQPs) per mile flown, for a total of ~16,600 EQPs roundtrip. That's about five cents per EQP roundtrip, which is pretty tough to beat for paid business class.
But in and of itself that's not that unusual, and there are many similar premium cabin fares still available between the west coast and Central America.
What I couldn't have expected at the time is that American would start A321 service between New York and Los Angeles, and simultaneously offer two promotions.
First they offered 15,000 bonus redeemable miles per roundtrip between New York and Los Angeles. This mileage run incorporated the New York to Los Angeles flights in both directions, so qualified.

But then on top of that American also offered double elite qualifying miles on the route for paid first or business class.
So in the end for an $800 paid business class ticket I was earning ~41,000 redeemable miles and ~22,200 Elite Qualifying Points.
I had booked four of these tickets for 2014, so that got me to almost 90,000 EQPs for $3,200… all-in paid business class. The 160,000+ redeemable miles I picked up along the way were just the icing on the cake.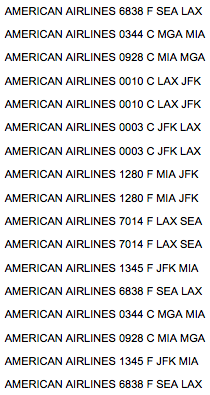 If I had realized at the time it would be this lucrative I would have shared it, though it was purely dumb luck that it worked out this well. A similar paid business class fare is still available, though it no longer allows routings connecting in Los Angeles and New York.
So I've requalified for Executive Platinum status with American already, at a value that I'd say is tough to beat.
Alaska MVP Gold 75K status requalification — I have a plan!
I was really excited when American announced their new route between Dallas and Hong Kong, which commences in June:
It'll be American's first route to Asia on the 777-300ER, which features their new business class product and Wi-Fi
I receive eight systemwide upgrades per year for being Executive Platinum, and you can't beat using them on American's new longest route
Hong Kong is one of my favorite cities in the world
As I wrote about in January, American was releasing a ton of confirmable business class upgrade space, so combined with very reasonable ~$800 fares I couldn't help but lock in a few roundtrips and confirm them in business class.
Rather than crediting those miles to American I might as well credit them to Alaska. My Executive Platinum requalification is already taken care of, and if I credit to Alaska I still earn the 100% mileage bonus. On top of that when I requalify for MVP Gold 75K I earn 50,000 bonus redeemable miles, so I come out ahead by doing this.
When you use systemwide upgrades with American you can still credit to a different airline, unlike when you just waitlist for a complimentary domestic upgrade.
Bottom line
It's kind of nice to be so far along with status requalification this year, meaning I won't do anything insanely irrational like the eight flights between the US and Brazil over 10 days, as I did last year.
For the past 18 months or so I've been suggesting that mileage running for status doesn't really make economic sense anymore, at least not for those of us who pay for our own travel. However, the redeemable miles are of course still incredibly valuable, and the miles certainly rack up much more quickly if you have top-tier elite status, so it's still a bit of a catch-22 for me.
As long as American offers their Executive Platinum members eight systemwide upgrades with no fare restrictions I'll continue to go for status with them, since it's just too good of a deal to pass up. And this year they've been especially good to me… so far!
How are you guys progressing with elite status for the year? Is it still worth it, or are you sticking to buying miles and/or flying whichever airline is most convenient?