It's no secret that I love American Airlines. There are things that drive me nuts about them, but at the end of the day I think they do the best job of any airline at recognizing their top tier elites. My domestic upgrades almost always clear, and as an AAdvantage Executive Platinum member I also get eight systemwide upgrades that can be applied to any revenue fare. That's an incredible value, and I've yet to miss an international upgrade.
That being said, I love traveling to Asia, and that's one region where American has a lot of catching up to do. Whenever American announces a new route to Latin America or London — where they're already ridiculously strong — I've always said "what about Hong Kong?"
Well, today's announcement couldn't come soon enough!
American Airlines will launch service between Dallas and Hong Kong
Starting Summer 2014, American will launch nonstop daily service between Dallas and Hong Kong. The route will be operated by a 777-300ER, which features American's brand new fully flat first and business class products. This is super exciting, as it's their first route to Asia operated by a 777-300ER, as they've otherwise only flown to London and Sao Paulo as of now.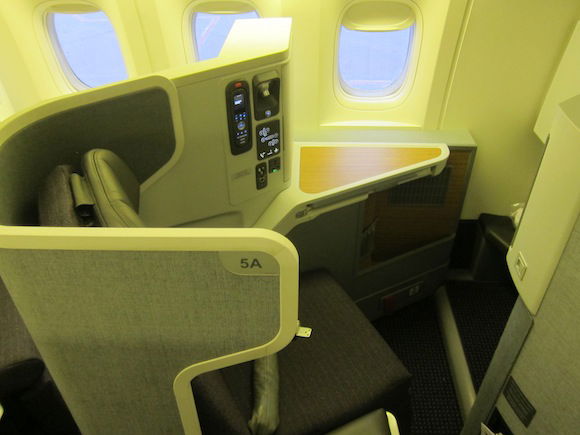 American's new business class
Subject to government approval the flight will operate the following schedule:
Departing Dallas 12:40PM arriving Hong Kong 6:00PM (+1 day)
Departing Hong Kong 1:30PM arriving Dallas 4:30PM
This is a long flight — 8,123 miles in each direction and is blocked at 16hr20min on the outbound. The economics of ultra longhaul flights can be tough, as we learned when American cut service between Chicago and New Delhi a couple of years back. This will be American's longest route.
But with a legitimately competitive business class product and all the potential for connecting traffic in Hong Kong thanks to their partnership with Cathay Pacific, I think the route has a lot of potential. Up until now American has simply pulled the "we codeshare with Cathay Pacific, so why should we fly to Hong Kong?" card. And while there's some merit to that given what a great product Cathay Pacific has, ultimately as an elite member of an airline you're getting lots more benefits for flying that airline versus a partner airline.
I can't wait to try and use my systemwide upgrades on this route, though something tells me it'll be a really tough upgrade.
American will launch service between Dallas and Shanghai
Also as of next summer, American will launch daily service between Dallas and Shanghai, which will be the only nonstop service between Dallas and China. This route will be operated by one of American's 777-200 aircraft, featuring their older first and business class product. That being said, retrofits should start on these aircraft next year, so I suspect the route will have fully flat seats in business class soon enough.
Subject to government approval the flight will operate the following schedule:
Departing Dallas 10:55AM arriving Shanghai 2:55PM (+1 day)
Departing Shanghai 4:55PM arriving Dallas 2:55PM
American already has daily service from Chicago and Los Angeles to Shanghai, though this will be a further nice addition.
Both routes strengthen options to travel between Asia and Latin America in one stop, and both flights should be on sale before the end of the year. While American still doesn't have anywhere close to as extensive of a network to Asia as Delta or United, this is certainly a step in the right direction.
Some other updates:
New York JFK to Tokyo Haneda service to be cut
A few years back Tokyo Haneda was the "hottest" thing, given that they finally opened up slots at the airport for longhaul flights. While it's no doubt more convenient for those terminating in Tokyo, the only slots opened up for airlines to operate longhaul were for very early morning and late night flights.
American couldn't make the route work and will be cutting that service later this year, with the last westbound flight being on November 29, and last eastbound flight being on December 1, 2013.
767-300 and 777-200 retrofits to begin in 2014
American will begin retrofitting their 767-300 and 777-200 aircraft as of next year. I've been told the business class seats will be fully flat and all feature direct aisle access, so I would assume they're installing a similar product to what they have on the 777-300ER.
We should see one 767 and one 777 reconfigured with the new product in the first half of next year, and by the fall the retrofitting process should be well underway.
Miami to London and Miami to Sao Paulo to get 777-300ERs
Speaking of the 777-300ER, American will be putting them on one of the daily frequencies between Miami and London as of January 2, 2014, through the end of the schedule.
American will also be putting a 777-300ER on one of the daily Miami to Sao Paulo frequencies as of November 2014, though that hasn't been loaded into the schedule yet.
Conclusion
On the whole these are really exciting changes, especially for an American flyer that loves traveling to Asia. I'm especially excited about the new Hong Kong service, which is long overdue. Again, all the new routes are subject to government approval, but this is absolutely positive news!