A few days ago, Radisson Rewards revealed some brutal loyalty program program changes. The program moved to dynamic award pricing without notice, and completely destroyed any value that existed. We've seen a fair number of loyalty program devaluations over the years, but I don't remember the last time I saw such a complete gutting of award pricing before.
There's some good news, though — you can move your points to Radisson Rewards Americas at no cost. This is something that I just did, and that I think others might be interested in doing as well.
Why you might want to transfer points to Radisson Rewards Americas
The whole Radisson Rewards concept is pretty complicated at this point:
In the summer of 2021, we saw Radisson Rewards split into two, with a separate loyalty program for the Americas; this was because the Chinese government essentially owns Radisson, and the United States has restrictions around data the Chinese government can access.
In the summer of 2022, Choice Hotels acquired Radisson Hotel Group Americas, meaning that Radisson's properties in the Americas nowadays have nothing to do with Radisson's non-Americas properties
The good news is that for the time being, it's still possible to transfer points between Radisson Rewards and Radisson Rewards Americas at no cost, even though the programs now belong to two unrelated companies
Anyway, I had ~436K Radisson Rewards points in the non-Americas program. I acquired these mostly with Radisson Rewards' credit card over the years, as the card offered an annual bonus of 40,000 points (the card has since been discontinued).
I just made the decision to transfer all of my Radisson Rewards points to Radisson Rewards Americas, even though I don't really have an immediate plans for them. Why?
Radisson Rewards has been gutted, so this is a case where the "evil" you don't know is probably better than the "evil" you do know
Radisson Rewards Americas hasn't devalued its award pricing yet, and continues to have an award chart; that being said, Radisson's portfolio in the Americas isn't exactly inspiring, and if your points are in the Americas program, you can't redeem at non-Americas properties
I assume transferring points is costing Radisson Rewards something, since the two programs now belong to separate companies, so on principle I'd at least like this terrible devaluation to cost Radisson Rewards something
I imagine at some point Choice Privileges and Radisson Rewards Americas will be merged (it's only logical, given the merger of the hotel groups), and there's some potential upside there for members
It's anyone's guess when the free transfer functionality will be eliminated; I wouldn't be surprised if it's soon, given the radical changes Radisson Rewards just made
How to transfer points between Radisson Rewards programs
Transferring points between Radisson Rewards and Radisson Rewards Americas is super easy and generally instant:
There's no cost to transfer points between accounts in the same name, and the process is easy. Once you have an account with both programs, just follow this link, and log into your Radisson Rewards account (the non-Americas one).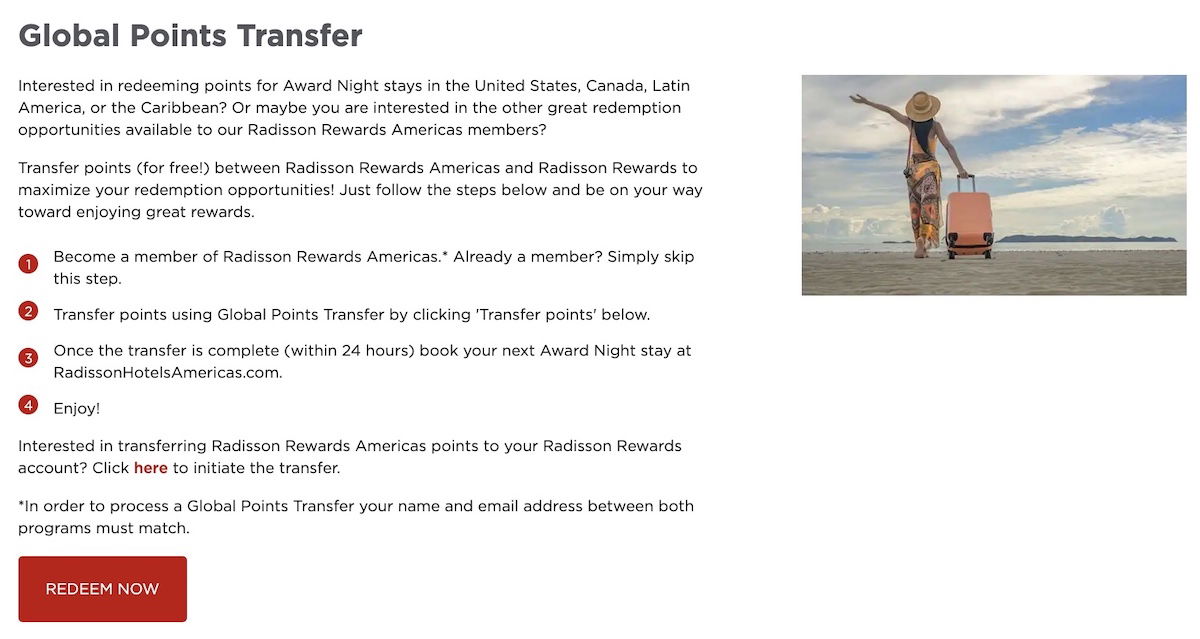 Once on the next page, you'll be asked how many points you want to transfer, and you'll be asked to enter your Radisson Rewards Americas account number. While I had 436,000 points, the transfer page only allowed me to transfer up to 420,000 points. However, I was able to make a subsequent transfer for an additional 16,000 points.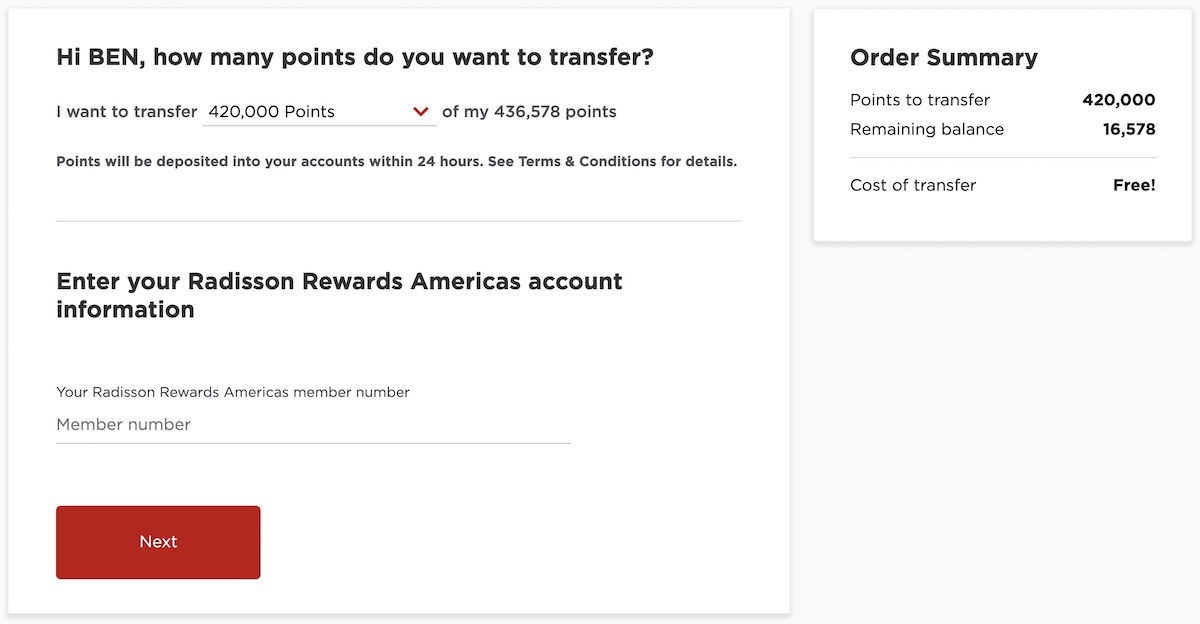 After submitting the transfer request, I refreshed my Radisson Rewards Americas account, and the points immediately posted there.

By the way, I was happy to see that I didn't have issues with this, given that one account has my first name as "Ben," while the other has my first name as "Benjamin."
What will I do with my Radisson Rewards Americas points? I have no clue. But I figure I can't be in a worse position than I was with a balance of Radisson Rewards points, and it's anyone's guess how much longer this transfer functionality is even around.
Bottom line
With Radisson Rewards' massive devaluation, it could make a lot of sense to transfer points to Radisson Rewards Americas, even without a specific use in mind for points. We know that Radisson Rewards points are now worth very little, while we don't know what the future holds with Radisson Rewards Americas. However, I'm willing to take my chances.
Anyone else moving their points to Radisson Rewards Americas?