It's a big day for Radisson Rewards, as Radisson's loyalty program is officially being split into two as of today (June 17, 2021). There's even an award chart devaluation to accompany that. I had written about this change in the past when we first learned the details, but wanted to provide a recap of that, with the new program going live.
Radisson Rewards program split into two
The Radisson Rewards loyalty program has now been split into two:
Radisson Rewards remains the dedicated loyalty program for members in Europe, the Middle East, Africa, and Asia Pacific
Radisson Rewards Americas has become the new loyalty program for members in the United States, Canada, Latin America, and the Caribbean
Along similar lines, you'll now find that all hotels in the Americas are bookable through RadissonHotelsAmericas.com, and not through the regular Radisson website anymore.
What are the implications of these changes?
Members with Radisson Rewards accounts registered in the Americas are automatically having their accounts transferred to the new program. What happens to your points, status, etc.?
You're able to transfer points at a 1:1 ratio between programs for free using the new Global Points Transfer process
If you have status in Radisson Rewards, you're able to call member services to request a status match for Silver, Gold, or Platinum tiers (seriously, they want people to call?), so that you can receive reciprocal elite perks in the other region
You're only able to earn points and elite nights with each program for stays within each of the two regions; in other words, Radisson Rewards Americas members aren't able to earn points or elite nights for stays outside of the Americas, at least not directly in the Radisson Rewards Americas program
There are still some unanswered questions. For example, will promotions differ between the two programs, or will they align promotions?
I'm not sure this clears much up, but here's a chart Radisson Rewards provided about determining which program you're supposed to belong to: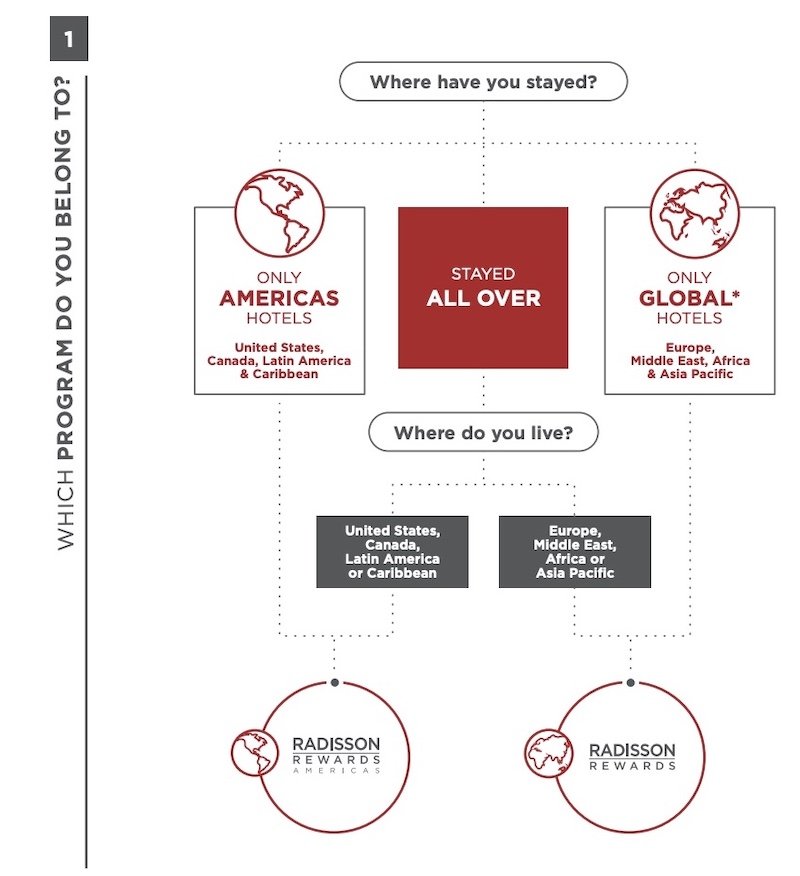 And here's a chart about determining how you can earn and redeem points: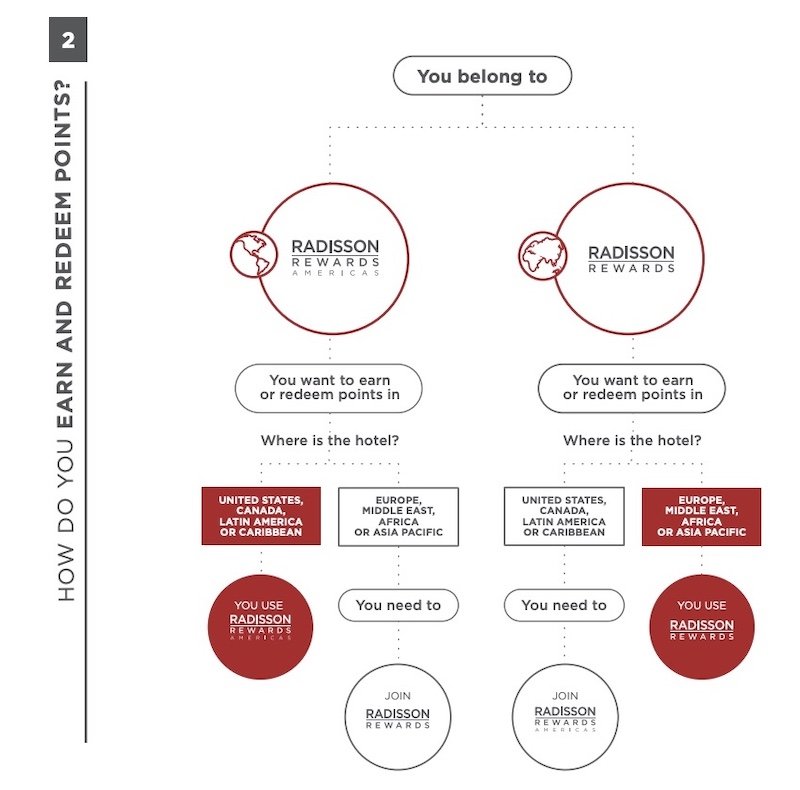 Radisson Rewards award chart changes
To coincide with the launch of the new Radisson Rewards loyalty program in the Americas, Radisson has introduced "a simplified award night experience," more commonly known as a devaluation. 😉
As of today Radisson Rewards has adjusted its award chart. As these changes are described:
The number of hotel categories has been reduced from seven to five
All category point values now increase in increments of 15,000 points
The number of hotels available for 15,000 points per night has doubled
Over 40% of hotels require fewer points (though that leaves a lot of hotels to require more points)
Here's the new Radisson Rewards award chart:

As a point of comparison, here's the old Radisson Rewards award chart:

As you can see, this isn't a particularly customer friendly change. The cheapest properties have gone from 9,000 points per night to 15,000 points per night (that's a 67% increase), while the most expensive properties have gone from 70,000 points per night to 75,000 points per night (that's only a 7% increase).
How do the price changes break down?
64% of hotels require more points
29% of hotels require fewer points
7% of hotels require the same number of points
These changes are brutal. A customer unfriendly change is being made to the program by it being split into two, and they've added a major points devaluation in just for good measure?
Never mind the fact that there aren't many aspirational Radisson Rewards properties in the United States for members to redeem at.
Why has Radisson's loyalty program been split?
Radisson isn't being particularly honest about why this change was made. According to the FAQs, here's the reason given for why the programs were split:
Why will there be two different loyalty programs?

Radisson Hotels and Radisson Hotels Americas are launching a second program, Radisson Rewards Americas program, to deliver a more localized experience. Ensuring that Radisson Rewards members will continue to enjoy great regional offers.
That's quite an explanation. Radisson is creating unnecessary confusion and making the program less compelling and global to "deliver a more localized experience?"
The real reason the programs were split is because Radisson is essentially owned by the Chinese government — it was first acquired by HNA Group a few years back, and was then sold off to Jin Jiang International, which is controlled by the Chinese government.
The US government is requiring that the Chinese government no longer have access to this type of data for US consumers, which is presumably why the programs were separated.
Bottom line
The new Radisson Rewards Americas program has now launched, and it's a program for those who have Radisson Rewards accounts registered in the Americas. It seems that this was done due to US regulations requiring the Chinese government not have access to so much data.
While I get the motive, this sounds like a pretty negative change in terms of the value proposition of the program. At least points can be transferred between programs and there is status matching, but the logistics still don't exactly sound great. On top of that, there's an award chart devaluation to go along with it.
I have status and Radisson Rewards points through a co-branded credit card, and ultimately I value this most for stays in Europe, where Radisson hotels are generally the nicest.
What do you make of these Radisson Rewards changes, including award chart changes?