In 2022, Choice Hotels acquired Radisson Hotel Group Americas. The deal was worth around $675 million, and with this, Choice Hotels acquired nine new brands, 624 hotels, and over 67,000 rooms. Up until now, we haven't seen any integration of the two loyalty programs, but that's starting to change.
Choice & Radisson add reciprocal points transfers
It's now possible to transfer points freely between Choice Privileges and Radisson Rewards Americas. For the purposes of these transfers, each Choice Privileges point is worth two Radisson Rewards Americas point. Based on my valuation of points, that transfer ratio is fair. I value Choice Privileges points at 0.6 cents each, and Radisson Rewards Americas points at 0.3 cents each.
In order to transfer points, you need to be a member of both programs. You can then access the points transfer function at this link.

The process of transferring points is pretty easy and self-explanatory from there.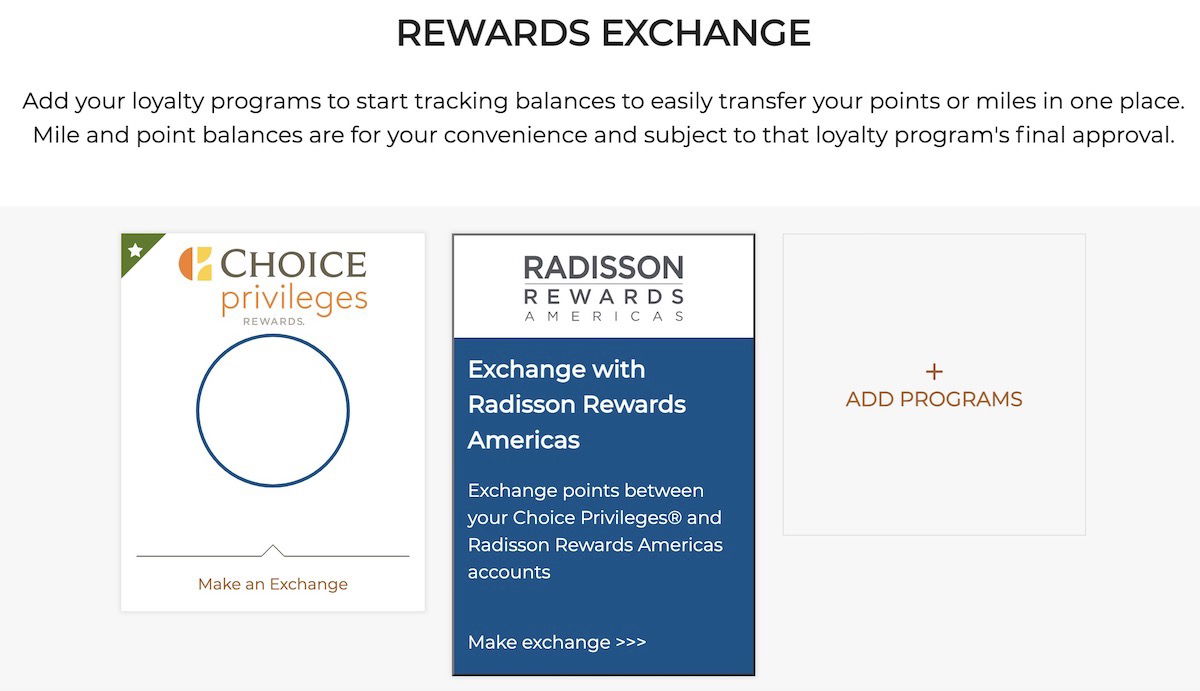 Keep in mind that on top of this functionality, it has also been possible for quite some time to transfer points between Radisson Rewards Americas and Radisson Rewards (the non-Americas program). Presumably that will be eliminated at some point, given that Radisson properties in the Americas no longer have a connection to non-Americas properties.
One other interesting angle here is that Citi ThankYou is transfer partners with Choice Privileges, and points transfer at a 1:2 ratio. That means you could indirectly convert Citi ThankYou points into Radisson Rewards Americas points at a 1:4 ratio. Personally I still don't think that's worth it in most situations, though it is something to be aware of.
Should you transfer points between Choice & Radisson?
It's great that this points transfer functionality is live, so do I recommend transferring points?
In general I see more value with Choice Privileges than Radisson Rewards Americas; however, there's no rush with transferring points in that direction, since presumably when the programs are merged, points will be transferable at the same ratio, so this isn't some limited time opportunity
Arguably the only limited time opportunity here is if you want to transfer Choice points to Radisson Rewards Americas, and then transfer them to the main Radisson Rewards program, since that option will eventually be eliminated
Personally I think Choice Privileges is an all-around more lucrative program, as you can redeem points directly for Choice's properties globally. So by all means compare award pricing and look at how you might want to redeem, but I wouldn't consider there to be some huge rush to make a decision one way or another.
Expect Choice & Radisson loyalty programs to merge soon
The ability to make reciprocal points transfers is the first step to the two loyalty programs being integrated. It's expected that later in 2023, we'll see the Choice Privileges and Radisson Rewards Americas loyalty programs merge.
Now, it's anyone's guess what that will actually look like, as no more information has been revealed on that front. Will the Radisson Rewards Americas program simply be folded into Choice Privileges, or will we see a reimagined loyalty program?
Bottom line
With Choice having purchased Radisson's portfolio in the Americas, we're now seeing more opportunities for loyalty program members. It's now possible to transfer points between Choice Privileges and Radisson Rewards Americas, with each Choice point getting you two Radisson points.
It's nice to see this functionality introduced, especially since I do think there's more value to be had with Choice points than Radisson points.
Do you plan on taking advantage of this points transfer functionality?