Air France has really grown on me over the past few years.
They have a solid first class product, and their flagship Paris Charles de Gaulle lounge is possibly the best first class lounge in the world.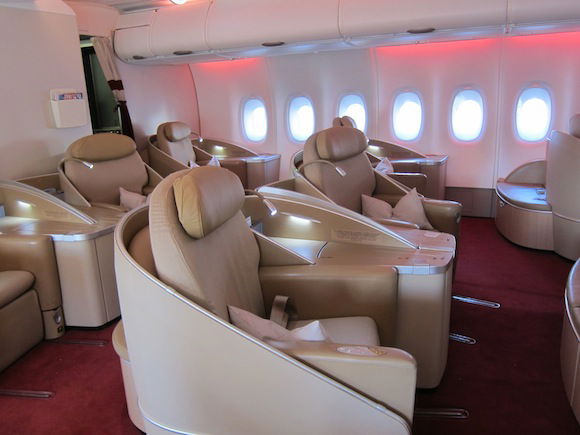 Air France A380 first class cabin
Their new business class product looks really solid, and is a great upgrade upgrade over their old business class product.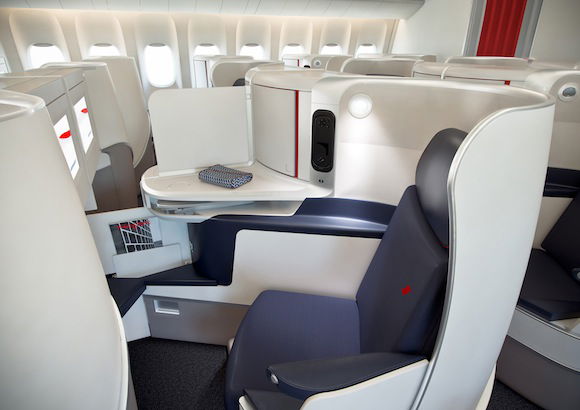 Oh, and I really, really love their marketing.
FlyingBlue, on the other hand…
Air France FlyingBlue miles can be incredibly useful for SkyTeam redemptions. For one, FlyingBlue allows one-way redemptions for half the cost of a roundtrip, which Delta doesn't. So it's a great way to book one-way award tickets on SkyTeam carriers, be it Air France, Delta, or another partner.
Furthermore, they make more award space available to their own members than to members of Delta SkyMiles, so it's a good way to lock in transatlantic business class award seats, since they're pretty good about releasing space.
Unfortunately the actual process of booking awards through them leaves a bit to be desired.
And when I say "a bit," I mean a lot.
Where do we even begin with the problems?
Air France FlyingBlue phantom award space
The FlyingBlue award search website consistently shows phantom award space.
For those of you not familiar with the concept, it means they show award space as being available which isn't actually there, and it's not until the purchase page that you realize the space isn't bookable.
This can be frustrating since Air France FlyingBlue is transfer partners with American Express Membership Rewards, so you can transfer points only to find that the space isn't actually bookable.
Broken FlyingBlue award calendar
I guess they learn this from their SkyTeam partner Delta. The FlyingBlue award calendar will consistently show dates as having award space when there isn't actually any availability.
That's really frustrating and makes the award search fairly useless.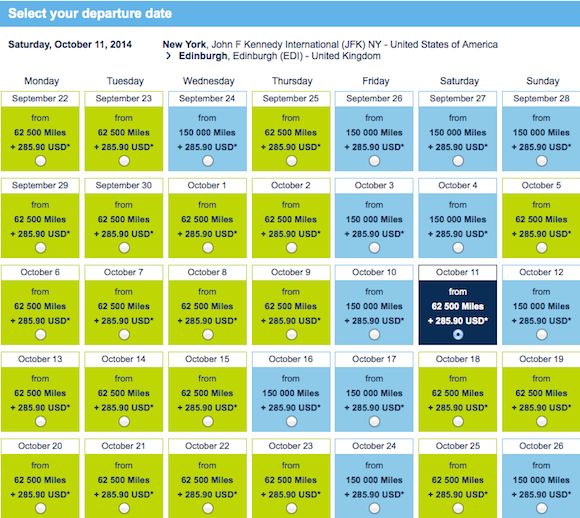 Useless US FlyingBlue call center
Air France's US FlyingBlue call center really is an embarrassment, and makes British Airways' Executive Club call center look good, by comparison (which is saying a lot).
They can't price out anything even remotely complicated, and if you ask them why, they'll say "oh, it's too complicated to explain."
Even something as simple as booking a mixed cabin award is more than they can handle, even though it's well within the rules.
FlyingBlue website outright displaying wrong price
This is a completely new one for me. I'm used to the website showing phantom award space and displaying incorrect award space on the calendar, but up until now I haven't actually seen the results page and booking page show different prices.
For example, take a look at this award search between New York and Edinburgh: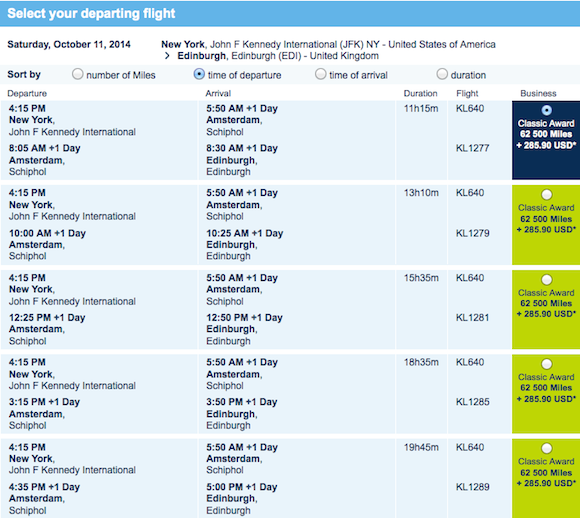 It display the one-way business class Classic Award price to be 62,500 miles, which is correct.
But then when you go the results page, it tries to charge you 65,625 miles — that's not even an award cost on their award chart!

Bottom line
Don't trust the FlyingBlue website. And definitely don't expect that the FlyingBlue call center agents will work miracles either.
Has anyone else experienced the above, being quoted prices that don't even match up with the award chart?
(Tip of the hat to Mac)