Flight delays happen. Whether due to tech meltdowns, poor crew scheduling, mechanical issues, or just bad weather — delays and cancelations can be pretty common, even on the simplest itineraries (I was delayed nearly four hours last week for a Los Angeles > San Diego flight, which is just annoying).
I've written before about how to react to travel disruptions, and all that advice is still valid for getting through the day and getting where you need to go. Ultimately, you want to control your own destiny as much as possible, versus waiting to receive help from the airline.
One useful tool in the travel self-help arsenal is the credit card you used to purchase your tickets. Several of the best travel rewards cards will reimburse you if your flight is delayed (not even canceled, just delayed!). With all the travel disruptions we've been discussing on OMAAT lately, I figured it would be helpful to go through how these programs work.
Why is delay coverage useful?
On a big trip you might consider travel insurance, which can be valuable even with award tickets. If you're traveling to/from/within Europe, or on an European carrier, you may be eligible for compensation under EU261.
For the most part, however, short and domestic trips are where we as frequent travelers can be most vulnerable. One good storm at a hub can mess up flight plans for days, and even stupid things can cause cascading problems.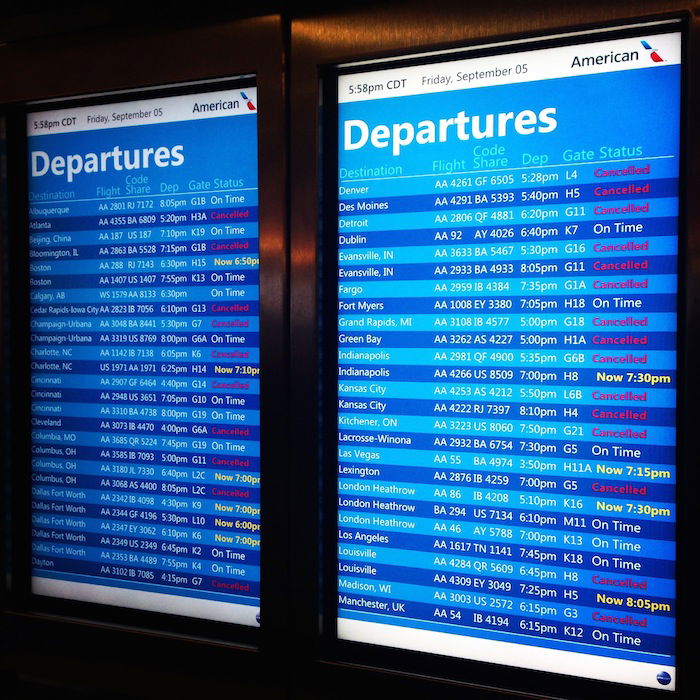 My four-hour delay last week, for example, came down to:
A broken iPad (the pilots use these for navigation/charts)
No functioning printer in the terminal (so replacement charts couldn't be printed)
Backup iPads being in the crew lounge across the airport
The time taken to fetch said iPad requiring us to de-board, as other aircraft needed our gate, and there was nowhere for us to linger
The plane needing to wait for (and be towed to) a new gate
Flow control into San Diego then delaying our departure further
You just can't anticipate stuff like that.
But you can react. I didn't have anywhere I needed to be, and was happy working from my hotspot or the SkyClub while the mess was sorted, but I could have:
Asked to be rebooked on another carrier
Asked for a later flight so I could keep my phone meetings
Bailed and driven or taken the train
Canceled the trip entirely
Having credit card delay coverage is helpful because it gives you options.
Rather than waiting to be rebooked, you could buy a new ticket. Or pay for a one-way rental car. Or you might be able to afford a stay at the adjacent airport hotel, versus taking a 25-minute taxi ride to the hotel the airline gives you a voucher for (this has happened to Andrew B). Lots of options.
And when travel starts going poorly, options become incredibly valuable.
Which cards offer delay coverage?
Of the major travel rewards credit cards, there are a few with particularly good delay coverage. The following will all reimburse up to $500 in necessary expenses after a 6 hour delay (or in the case of the Chase cards, if an overnight stay is required):
$500 benefit active after 6 hours:
Meanwhile these cards will reimburse up to the same $500 in necessary expenses, but only after a 12 hour delay (or in the case of the Chase cards, if an overnight stay is required):
$500 benefit active after 12 hours
And then a handful of cards will reimburse up to $300 in necessary expenses, again after a 12 hour delay. I would generally consider this coverage to be an "extra perk" of these cards, versus a primary reason to carry the card:
As you can see, not all card coverage is created equal.
Some offer coverage after a six-hour delay, some twelve, some longer. Some cards will cover you even on award tickets (when you've technically only purchased a portion of your trip with their credit card), others require you to put the full ticket on their card.
For international travel, I'm okay with the 12-hour mark on the various cards, and the $500 per ticket coverage is great for families as well.
On my trip to Thailand with my extended family last year, we were eligible for $3500 in travel reimbursements after flight delays caused missed connections and we had to overnight. That certainly made the $250 per-room airport hotel less painful!
I'm probably not going to bail on a big trip because of a delay. So knowing that my hotel will be covered if a mechanical issue triggers an overnight delay meets my needs just fine.
I think this comes down to personal thresholds, really, and the kinds of travel you're booking.
How does delay coverage work?
You'll want to read the specific policy terms for your credit card, but in general all these cards provide reimbursement for covered expenses incurred because of your delay.
That means you're free to make purchases as needed during your delay, without needing approval from the credit card company. Keep all the receipts, and submit them for reimbursement after the trip.
For the most part these insurance companies have been easy to work with, but it pays to have your documentation squared away. In addition to keeping track of your flight status, you can also ask the gate or lounge agent for a military excuse. This is basically just official documentation of the delay, nicely printed on airline ticket stock. Civilians can ask for these as well, and insurance companies love them.
Depending on your policy, you'll either receive a statement credit or a check. This process can take some time, so if you can't float $500 for a month or so I'd still be cautious about your delay spending.
Bottom line
Delay coverage is one of those things we don't really think about, but can make those inevitable delays more manageable.
There are other cards with similar programs, I'm sure, but these are already some of the best travel rewards cards, and I always think it's helpful to know about the extra benefits.
Have you used credit card delay or cancellation insurance? What was the process?